Amazon keyword tools can help you find money keywords for your listings. This is especially valuable when you're still trying to find out what products to sell on Amazon.
Even if you've been selling items on Amazon for years, identifying the right keywords as you pick your listings is a mega game-changer.
Without such relevant keyword data, you'll be working blind.
But with the best keywords, you can choose products that are not only in demand but have low competition.
These Amazon keyword tools also help you figure out the best terms to optimize your product listings.
Putting the data gathered from these tools to develop new product ideas and describe your listings gives you a better chance against your competitors.
Let's check out the 9 best Amazon keyword tools that give you a competitive edge.
Best Amazon Keyword Research Tool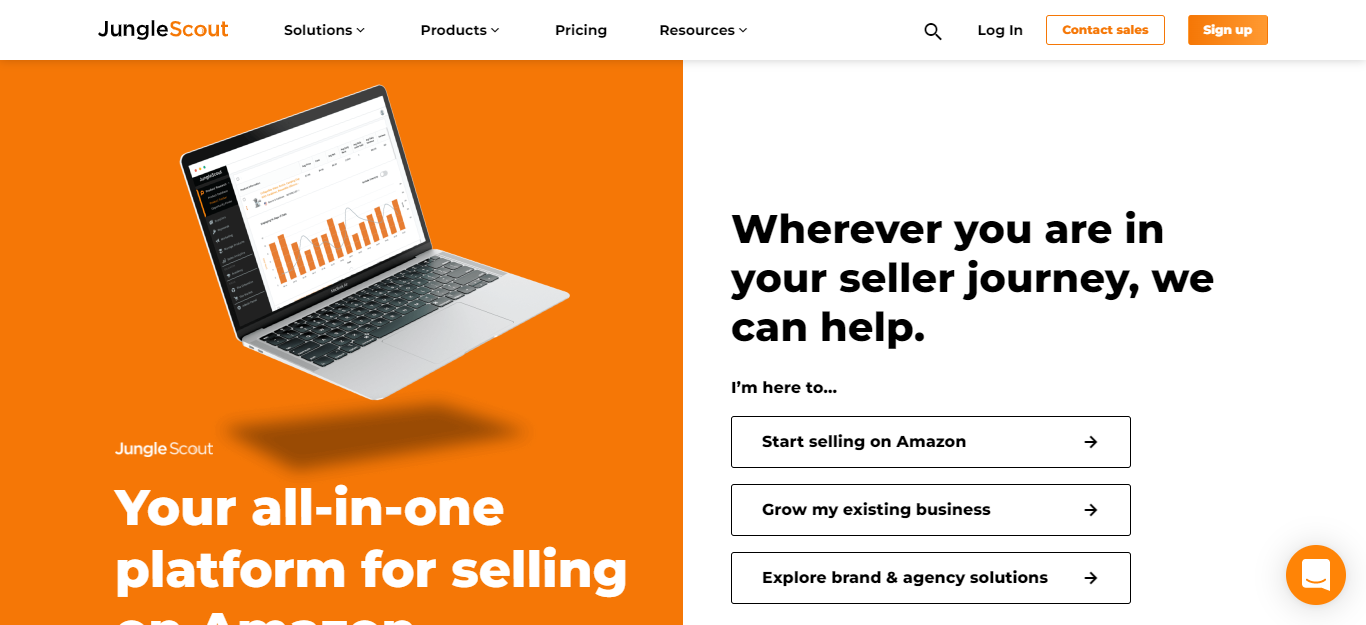 Jungle Scout is a one-in-all Amazon seller tool that offers tons of features like a product tracker, product database, supplier sourcing, inventory management, sales analytics, etc. The solution provides a keyword tool called Keyword Scout.
Keyword Scout allows Amazon sellers to discover high-converting keywords for product listings. With the keyword tool, you can see what people are searching for on Amazon and even reverse-search various ASINs to find the keywords that competing products are using and that a particular product ranks for. As well as gain vital insight into the competition's keyword strategy.
🔑 Features
Historical Search Volume
This feature allows you to analyze previous keyword performance for two months. You can also view quarterly and monthly trend data.
With the historical search volume, you can get the complete picture of any product's popularity and seasonality over time, optimize your listings, and adjust PPC campaigns.
Competitive Intelligence
One of the best ways to improve performance on Amazon is by understanding the competition. This feature enables you to use competitor insight to boost your product sales and revenue. You can find which keywords send the most traffic to your competition and include them in your product listing.
You will be able to view competition performance keyword data like search volume trends, PPC costs, and ad tracking.
Discover Top Ranking Keywords
The Keyword Scout tool collects millions of data points to reveal accurate and broad keyword search volumes to you. With this feature, you can discover quality keywords and carry out a reverse search on competing products for sponsored and organic keyword ranking data.
View Keyword Strategy in ASIN Groups
Keyword Scout allows you to reverse search up to 10 product groups to compare their related sponsored and organic keywords. It contains advanced filters that enable you to discover top-performing keywords for any group of competing ASINs.
PPC Campaign Insights
With Keyword Scout, you can view the cost per click for any keyword in broad, exact, and headline search ads. Using this feature, you will discover low-cost keywords with high-rank potential and target them in an inexpensive PPC campaign. The goal is to assist you in saving on competitive keywords to boost your campaigns.
Keyword Data
This feature helps pinpoint keywords that have the most significant impact on your product listing and advertising campaign. You can sort thousands of keywords using advanced filters, including sponsored and organic data. This helps you build a better-refined SEO tactic.
Pros
Quick access to historical keyword data
Easily conduct competitor research
Check up to 10 product groups for keyword data
Jungle Scout offers a 7-day money-back guarantee
Cons
It is one of the most expensive options on this list.
The tool has a steep learning curve, so it may take newbie users some time to get used to it.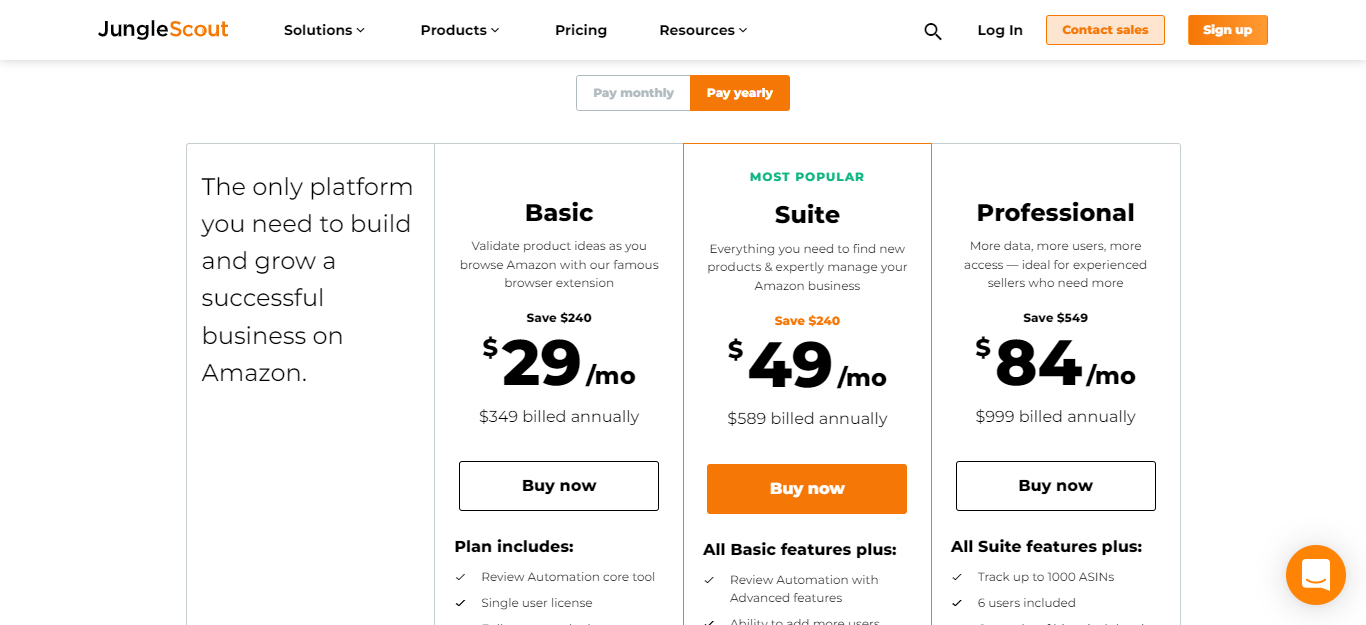 Jungle Scout offers 3 pricing plans which include the Keyword Scout tool:
Basic Plan: The Basic plan costs $29 per month; billed at $349 annually.
Suite Plan: The Suite plan costs $49 per month; billed at $589 annually.
Professional: This plan costs $4 per month; billed at $999 annually.
All Jungle Scout plans come with a 7-day money-back guarantee.
💡 Is Jungle Scout Worth It?
Their Keyword tool covers all bases you'd need during keyword research. Jungle Scout does not just provide keyword data but also features historical keyword searches for up to 2 years, per quarter or monthly. You can even check up to 10 ASIN groups in bulk.
Best All-in-One Tool With A Free Amazon Course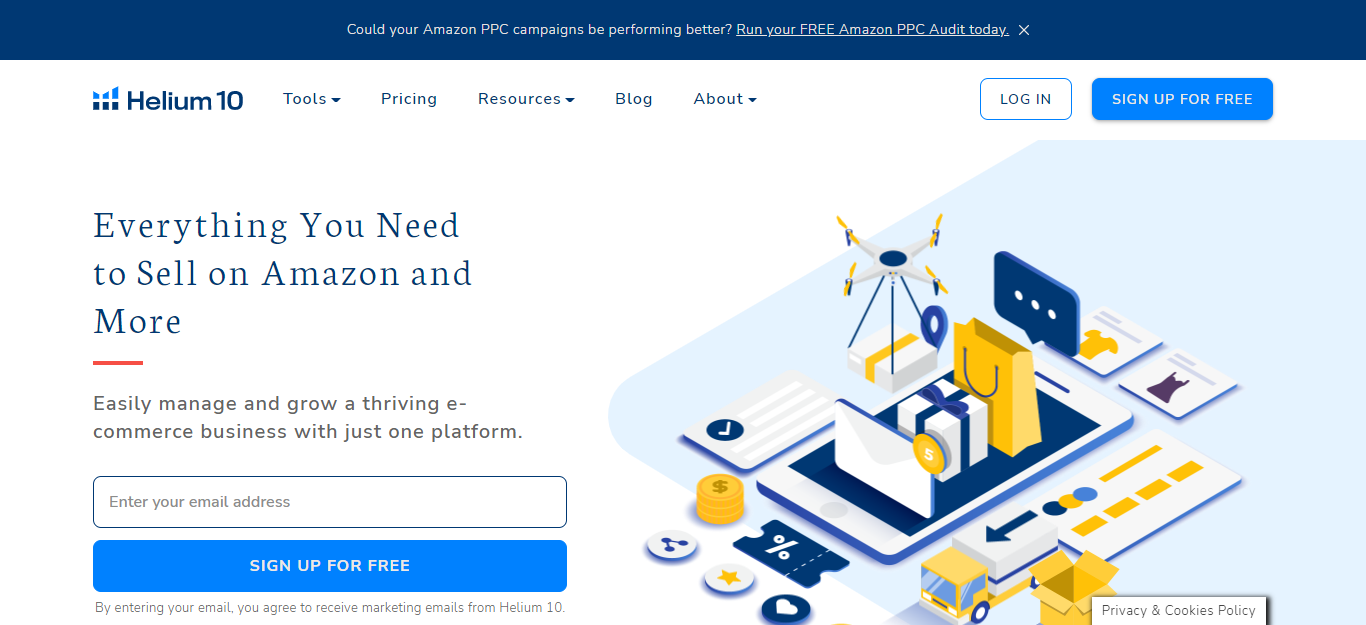 Helium 10, just like Jungle Scout, is an all-in-one Amazon tool that features everything from keyword research to listings optimization to inventory management and fraud protection.
Their keyword research tool is called Magnet and was built to simplify the search for high-volume Keywords. The tool has an extensive database of search terms that shoppers use.
🔑 Features
Here are some of the top features of this tool.
Largest Amazon Keyword Database Globally
This is where Helium 10 outshines every other tool. Magnet's Amazon keyword database is massive. You can even utilize international marketplace keyword data, not just the UK and US.
Related Keywords
With Magnet, you can search for a lone seed keyword with specific related keywords containing particular phrases.
Magnet IQ Score
The Magnet IQ score reveals the ratio between a keyword's search volume and the level of competition. The higher the score, the more the keyword's popularity amongst shoppers. A high score also implies the keyword has low competition.
Top Products
This feature lets you see which products are selling the most for a particular keyword.
Word Frequency
The word Frequency feature reveals other keywords that shoppers use related to your keyword.
Reverse ASIN Search
This enables you to put a product's ASIN in Helium 10 Magnet to generate ranking keywords for that item.
Pros
Helium 10 offers a 30-day money-back guarantee.
Largest Amazon Keyword database worldwide
It allows you to discover top products for a keyword
You can reverse search ASINs to find their top performing keywords
Magnet allows you to gauge the competition with the IQ Score feature.
Cons
Customer support is limited to support tickets. The tool does not offer live chat, a community, etc.
Helium10's pricing options are expensive for new Amazon sellers.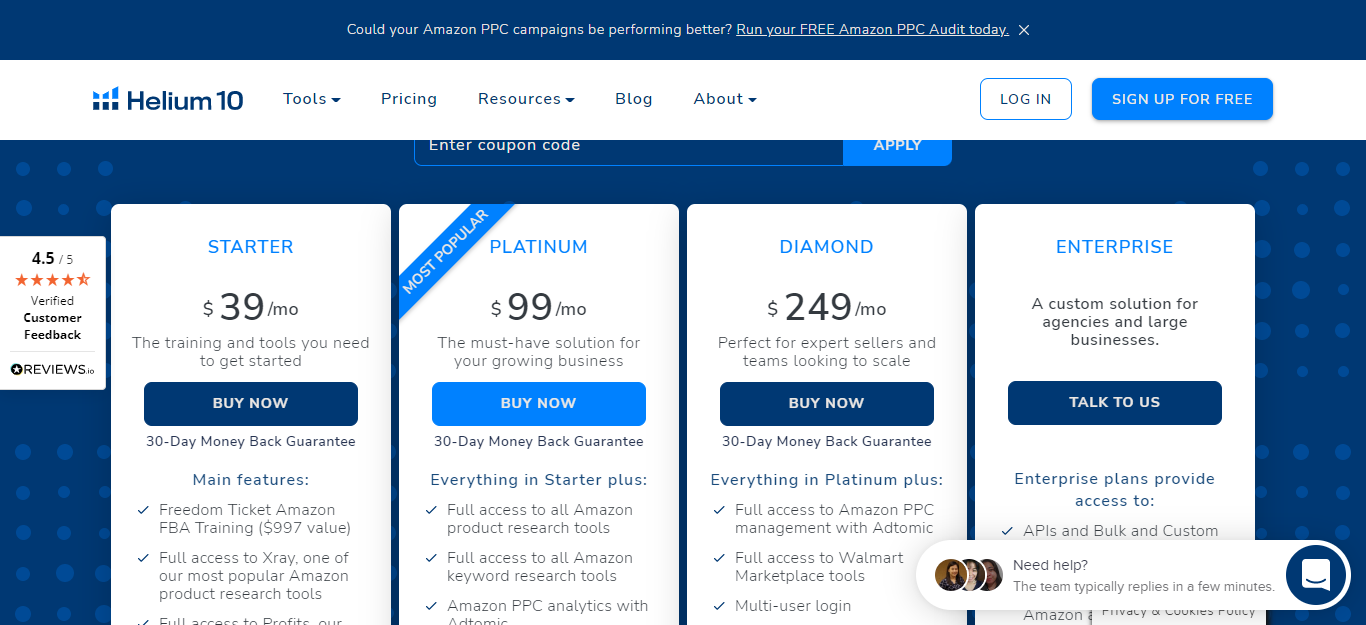 Helium10 Magnet has a free Amazon keyword tool that offers just 2 searches per day. Their paid plans start at $39 per month and get up to $249 per month.
💡 Is Helium 10 Worth It?
Helium10 Magnet has the largest Amazon keyword database on earth. This makes it an excellent tool for extensive keyword research.
Best Affordable Tool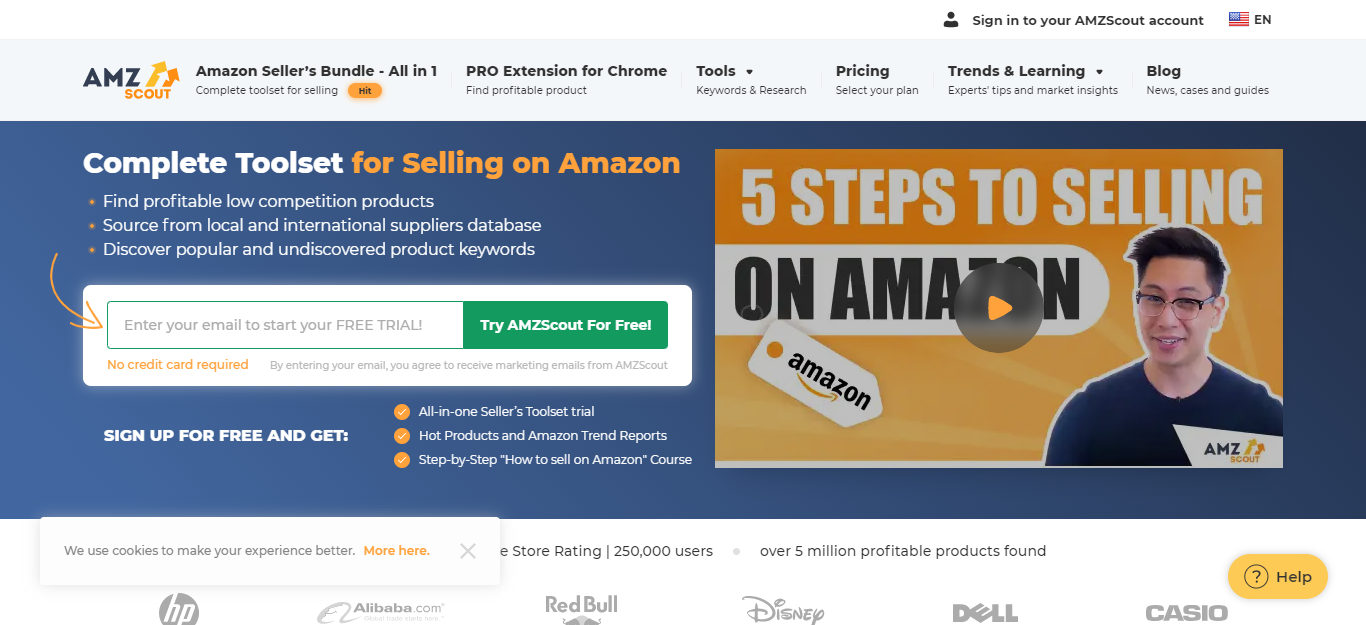 AMZScout enables you to find relevant keywords for your products, enhance your PPC campaign by taking out keywords that already give you sales by organic search, and discover the monthly search volume for any keyword.
AMAScout keyword generators provide data for more than 3 billion search terms and keyword suggestions for over 450 million Amazon products.
🔑 Features
Reverse ASIN Lookup
Input your competitor's ASIN to view which keywords they target. This will help you expand your keyword list, as well as get more traffic. There's also a relevancy score to know which particular or broad terms to include in your PPC campaigns. You can also use this to determine what terms your competitors rank for.
Amazon Keyword Search
With this feature, you can input any niche or product to find the most searched related keywords. You can also view the search H\history of any keyword to determine trends.
Keyword Tracker Chrome Extension
Using the Keyword Tracker, you can determine where your offers rank for any term. It also allows you to discover keywords you're already ranking for organically to save you PPC costs.
Pros
AMZScout is one of the most affordable keyword tools on this list
The tool is straightforward to use
It allows you to check keyword historical data
Cons
The features it offers are basic at best, nothing advanced.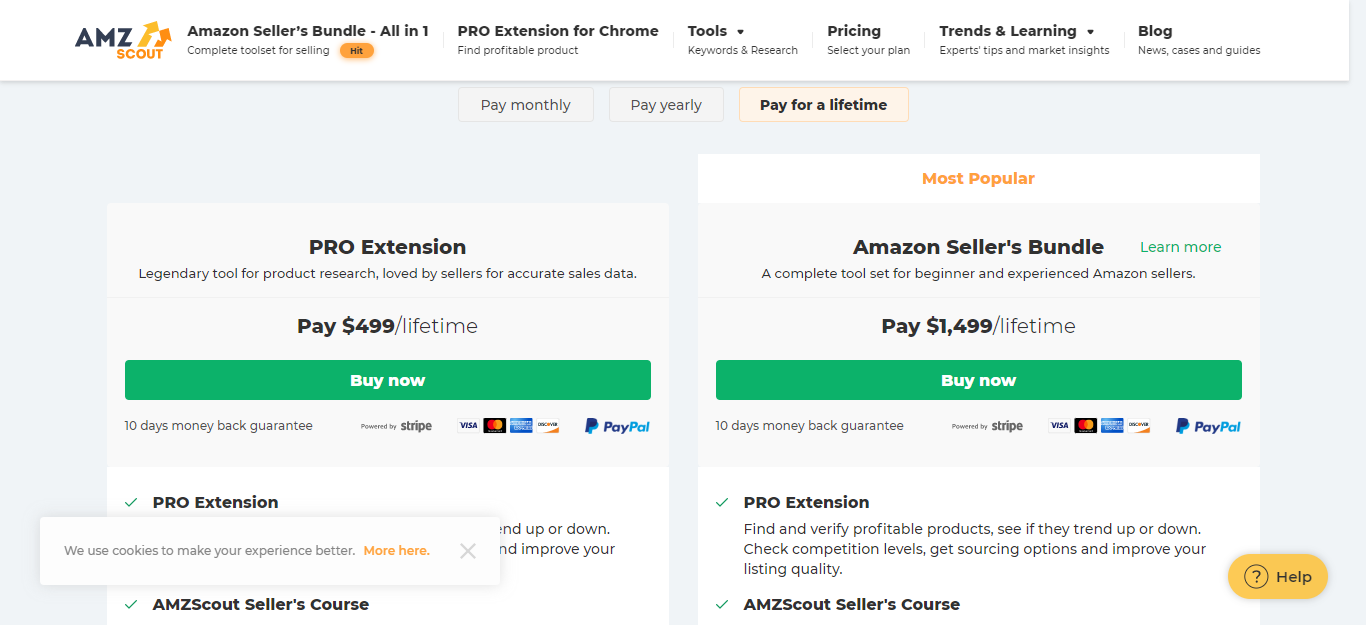 AMZScout costs $49.99 per month. But if you go for the annual subscription, it'll set you back $29 per month. However, you can opt for the lifetime cost, which is $1499. Then there's a PRO extension that costs $499 for a lifetime incense.
AMZScout offers a 10-day money-back guarantee so you can try out the tool risk-free.
💡 Is AMZScout Worth It?
AMZScout is beginner-friendly and easy to use. It doesn't include too many features, which is bad if you're an advanced seller but allows you to focus on what matters if you're just starting.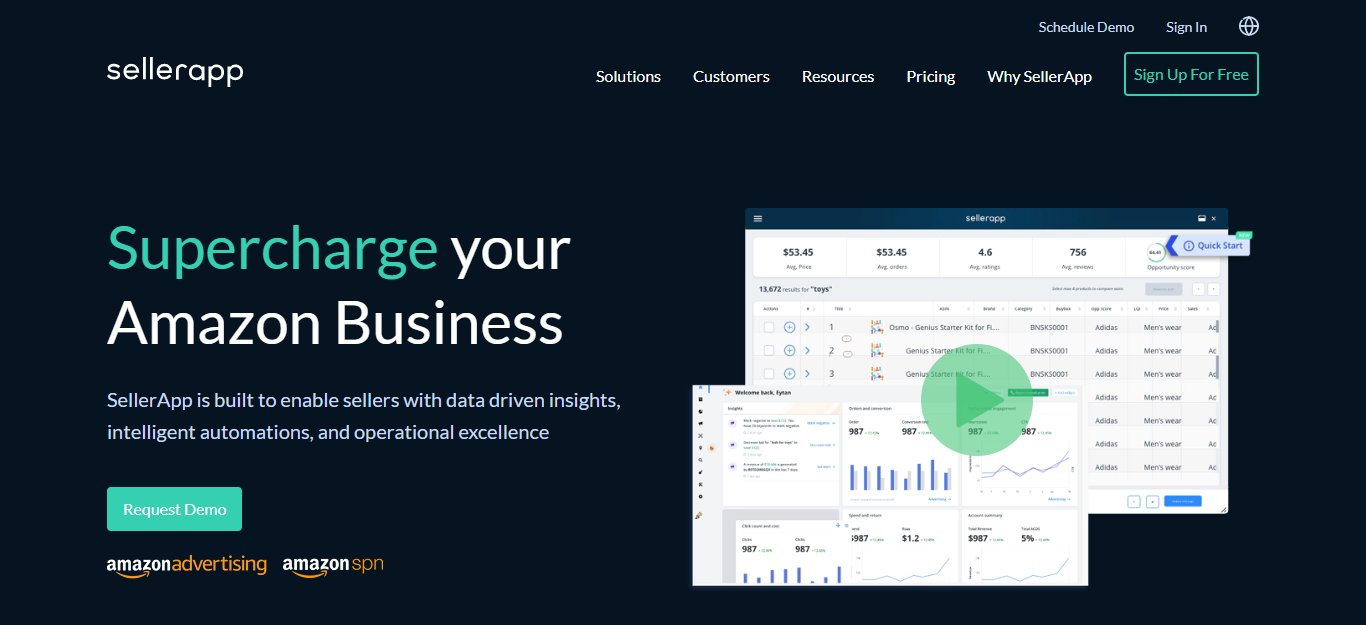 SellerApp is built to help Amazon vendors find thousands of high converting keywords in seconds. Their keyword database covers over 135 million terms, and the solution caters to 1000+ searches per day.
🔑 Features
Listings Optimization
SellerApp allows you to optimize your listings for discoverability and conversions. It reveals your product listings keywords' monthly search volume, conversion rate, and relevance score.
Keyword Strategy
This feature lets you check the opportunity and relevant score of any keyword assigned to your product. It also prevents you from spending cash on an unprofitable keyword during PPC campaigns.
Search Volume
The certifying feature lets you discover keywords that are gaining or losing popularity with your target audience. The feature also allows you to find Ant-Man keywords with low competition.
Pros
SellerApp is easy to use
The keyword research solution is free
It allows you to gain insight into the relevance of your product listing keywords.
Cons
This Amazon keyword tool doesn't do much besides the basics you'd expect.
Their keyword database is quite small compared to other options like Jungle Scout's Keyword Scout.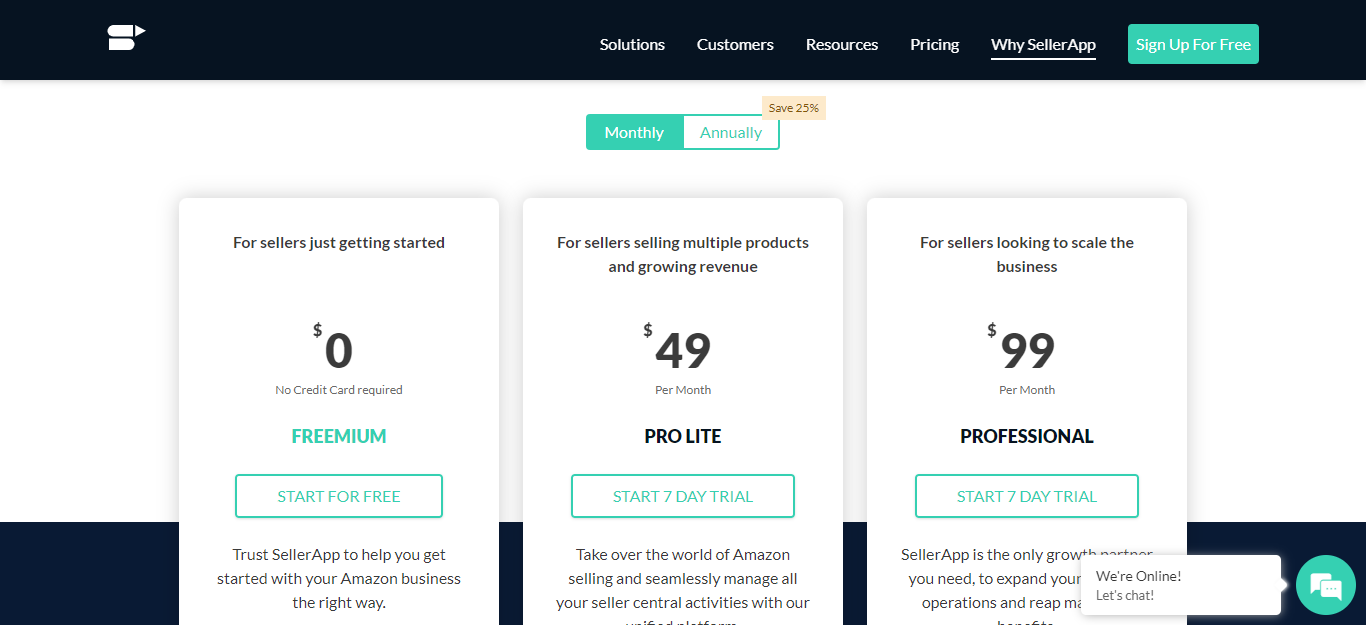 SellerApp's Amazon keyword research tool has a free version. But the paid plans start at $49 per month and end at $99 per month.
💡 Is SellerApp Worth It?
We added SellerApp to this list as one of the best Amazon keyword tools because it is easy to use and has a free version. So it's a great option for Amazon sellers who are just starting and not ready to spend the big bucks.
Viral Launch is an Amazon solution built to help grow your business with intelligible data. The tool has a keyword research solution that covers most of what you will want to check when looking for the perfect terms.
🔑 Features
Keyword Trends
With this feature, you can view which keywords are losing or gaining popularity and identify terms with low competition and high demand using an opportunity score approach.
Sponsored AD Bid Cost
This allows you to optimize your sponsored ads by enabling you to see bid cost within keyword research.
Reverse ASIN Lookup
Viral Launch provides a reverse ASIN lookup that covers every Amazon market and takes all competitors into account, not just one.
Search Volume Data
This Amazon keyword tool offers search volume estimates based on factual Amazon data and is updated many times a week. You can use both broad and exact matches to view your keywords' potential effects.
Listing Builder
This feature lets you build Amazon search engine optimized product listings.
Pros
Viral Launch offers a 14-day trial
The tool integrates with other Viral Launch Amazon solutions allowing you to gain deeper insights when needed.
The solution is easy to use
With Viral Launch, you can optimize your sponsored ad bid by knowing the keywords to target.
Cons
It does not feature any competitor intelligence ability
Viral Launch offers 3 pricing plans:
Essentials: The Essentials plan costs $69 per month
Pro: This plan costs $99 per month
Pro Plus Ads: The Pro Plus Ads plan goes for $999 per month.
The tool offers a 14-days free trial.
💡 Is Viral Launch Worth It?
Viral Launch handles the basics of what you'd require to kick start your Amazon keyword research properly.
The Ahrefs Amazon keyword tool enables Amazon sellers to discover what people search for on the eCommerce platform and align their product listings to those terms.
🔑 Features
Broad Description
This feature lets you input a broad description of your product into the tool and receive keyword ideas in return. This allows you to view your product's most popular related search terms. Ahrefs has nearly 100 million keyword data in its United States Amazon database alone.
So this typically results in thousands of keyword ideas. However, they have an inbuilt filter that refines your search by the number of clicks, monthly search volume, etc.
Accurate Keyword Data
Ahrefs does not use Google keyword planner or Amazon autocomplete to pull the data, which most Amazon keyword tools do. The data comes from analyzing the browsing behavior of actual Amazon users. The result is a more reliable and accurate search volume estimation covering the number of clicks per search, the frequency of user search, and the percentage of searches that ended in a click-through.
Amazon Keyword Research for Multiple Countries
You can view local search volume and metrics for keywords in more than 160 countries with this feature. You can even check the global volume metric to view the estimated monthly global search volume for a keyword and the top six countries with the most searches.
Newly Discovered
This feature shows you fresh keyboard ideas recently added to the Ahrefs database. Since this tool monitors real Amazon shopper behavior, the report is utilized to discover new trends and uncompetitive product ideas before anyone does.
Discover Competition Listings Keywords Ranking on Google
You can paste your competitors' Amazon listing into the Ahrefs Site Explorer, and it will show you other organic keywords that the listing ranks for in Google.
This provides additional ideas to add to your product listing and shows you the keywords to drive organic traffic to your competitor.
Pros
This tool is in-depth and is suitable for advanced Amazon sellers
You can spy on the competition to know the keywords they get their organic traffic from
Ahrefs allows you to stay ahead of the game by discovering new keyword trends
This tool uses real Amazon shopper data for its Keyword Database.
Cons
It has too many features that may confuse newbie sellers.
Ahrefs is quite expensive.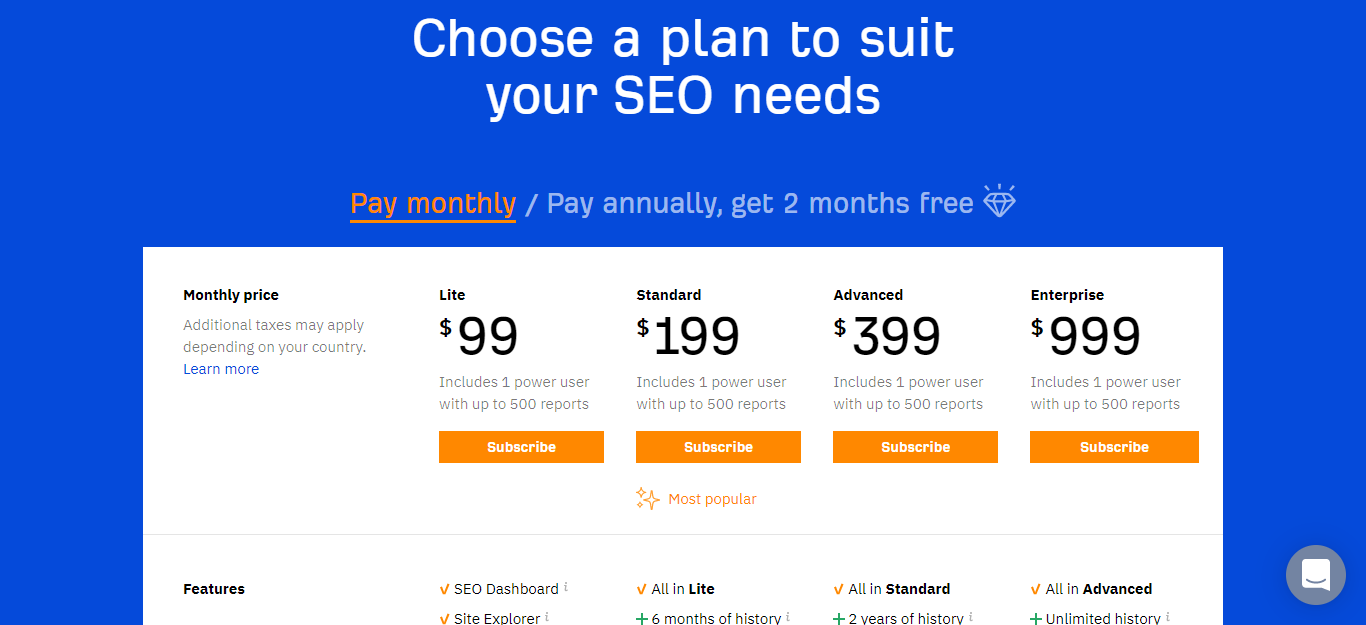 Ahrefs has 4 plans:
Lite: This plan costs $99 per month
Standard: The Standard Plan costs $199 monthly
Advanced: This costs $399 per month
Enterprise: The Enterprise plan costs $999
💡 Is Ahrefs Worth It?
Ahrefs is an in-depth Keyword Research tool built for advanced users and offers all you'd need for effective keyword research on Amazon.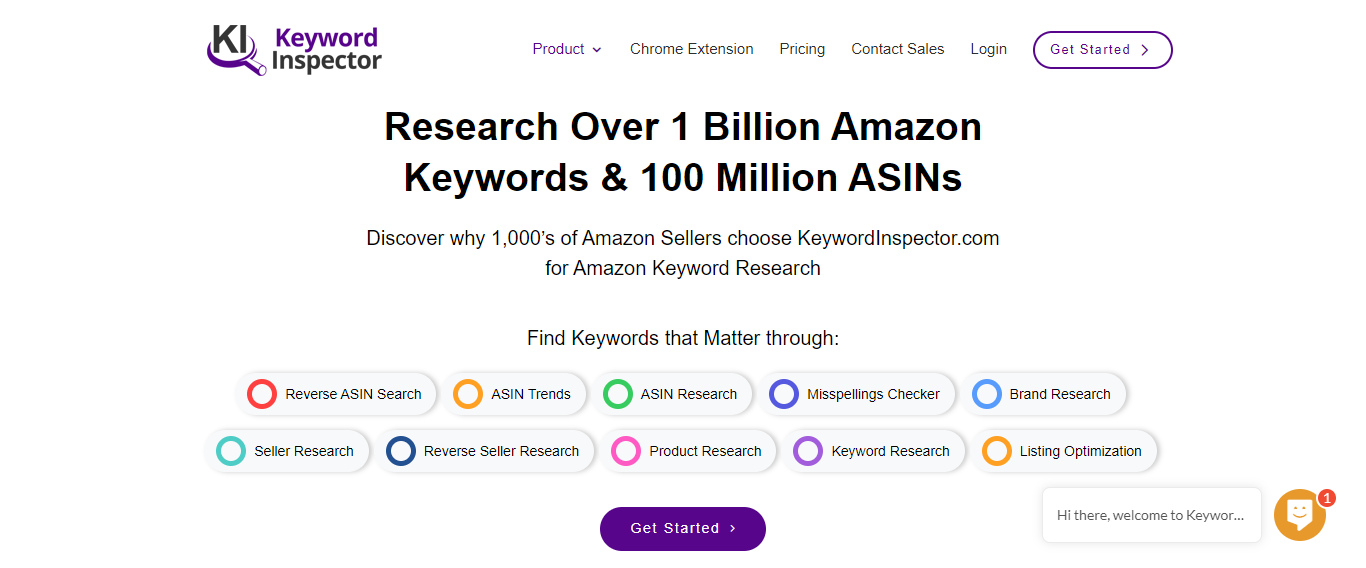 This Amazon keyword tool allows you to research more than one billion Amazon keywords and over 100 million ASINs. It incorporates the basics of what you'd expect from an Amazon keyword tool as the below shows.
🔑 Features
Check Misspellings
With this, you can find commonly misspelled variations of particular keywords and include them in your offer listings. This helps you to have a broader reach.
High Ranking Keywords
This feature enables you to analyze product listings, view historical sales trends, search and track conversion keywords as well as commonly used search terms.
Reverse ASIN search
You can check the keywords any product on Amazon is ranking for and target the same.
Keyword Tracking
Using this feature you can keep tabs on what Amazon shoppers search for as well as utilize advanced filters to thin it down to the essentials.
Pros
It has a Check Misspellings feature that allows you to spread a broader net to catch shoppers.
Keyword Inspector features keyword monitoring
Cons
The features are very basic.
It almost feels like it was hurriedly put together.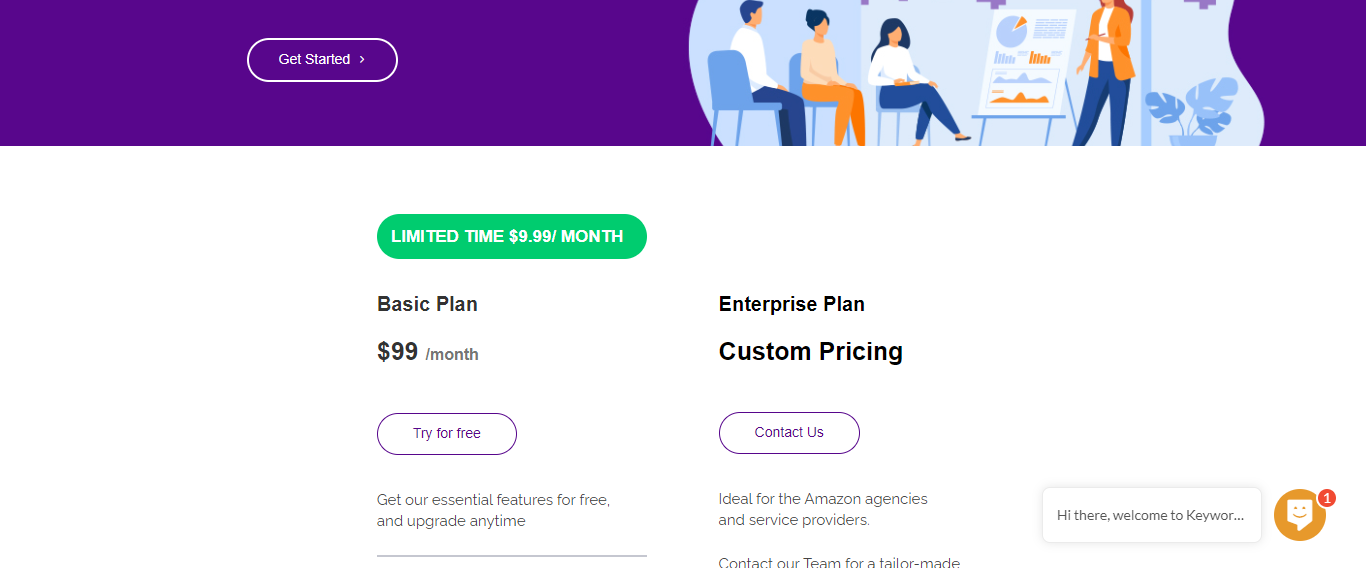 This tool offers a single plan that costs $99 per month. However, it has a 14-day free trial as well.
💡 Is Keyword Inspector Worth It?
With a database of over 1 billion Amazon keywords and 100 million ASINs, Keyword Inspector is a great choice to find profitable keywords and products.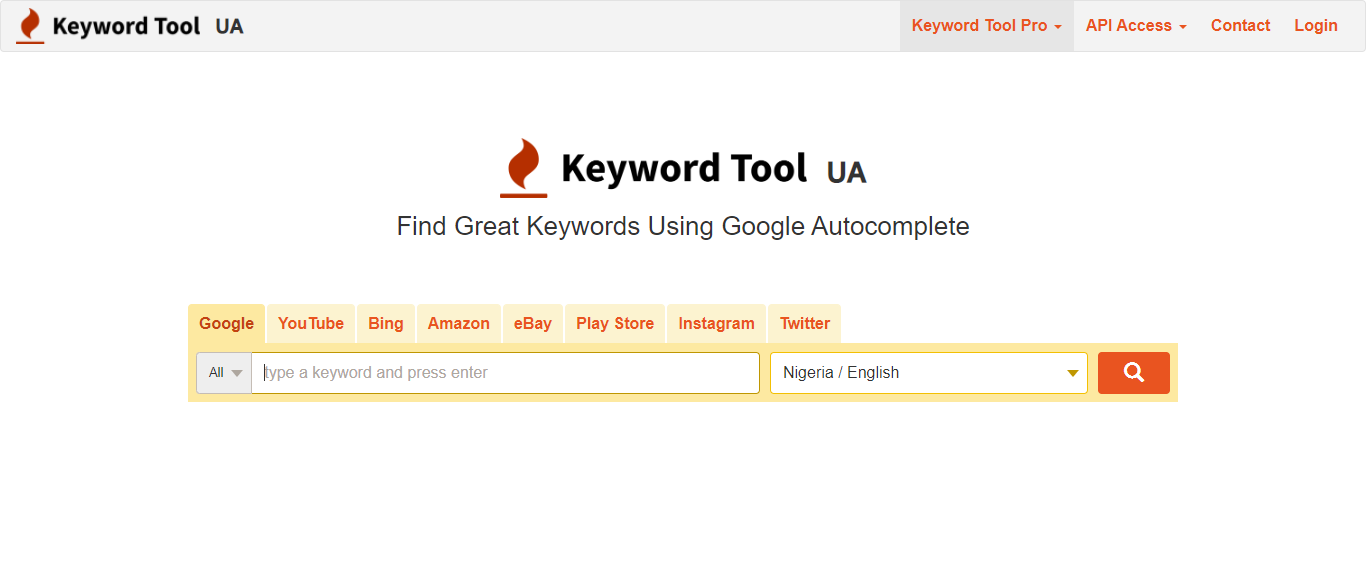 Keywordtool.io utilizes Amazon search suggestions or autocompletes to create many relevant keywords that you can use to optimize your Amazon product listing. The tool is free, but a paid version offers more keywords (twice the number of the free version).
🔑 Features
Keyword Generation
This feature generates keywords for you based on the seed keyword you input. The keyword ideas come from Amazon search suggestions.
Competitor keyword Analysis
This feature uses Google to find keywords associated with any website on the web.
Search Volume Data
The search volume data tells you how popular a keyword i
Pros
It offers multiple relevant keyword suggestions.
The tool has a free version
It has an easy usability
Cons
It only does one major thing, and that is to generate keywords
The tool is as basic as Amazon keyword research gets
It uses Amazon search suggestions and Google to gather data which can most times be inaccurate for Amazon shoppers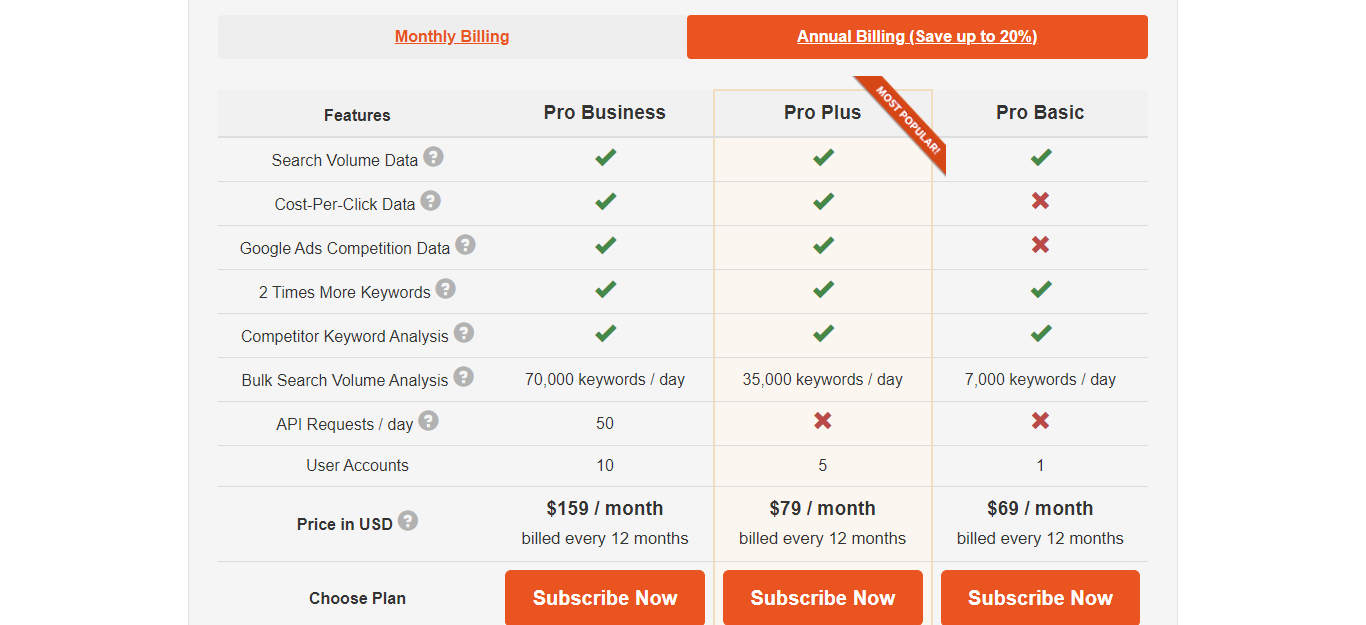 The Keywordtool.io is free but has a popular paid version of $79 per month. Other plans go for $69 per month and $159 monthly. It also has a 30-day money-back guarantee.
💡 Is KeywordTool.io Worth It?
It has a free-to-use version and is great for generating thousands of keywords quickly.
Best Free Tool
Sonar is a free Amazon keyword research tool that allows Amazon vendors to discover relevant keywords. The tool has over 100 million keywords in its database, and actual Amazon shoppers generate the keywords in various languages. Currently, the tool is only working for the United States, Germany, the United Kingdom, France, Italy, and Estonia.
🔑 Features
Keyword Translator
This lets you discover Amazon keywords in any language and optimize your listings appropriately.
Reverse ASIN Lookup
Like most Amazon Keyword tools, this feature lets you input the ASIN of the competition's product, and it'll provide keywords of that ranking item.
Search Volume
The search volume reveals the number of searches for a particular keyword.
Pros
The tool is completely free
It allows you to check the competition ASINs
You can get Keyword translations for any language
Cons
It works only for the Amazon marketplace US, UK, Germany, Estonia, France, and Italy.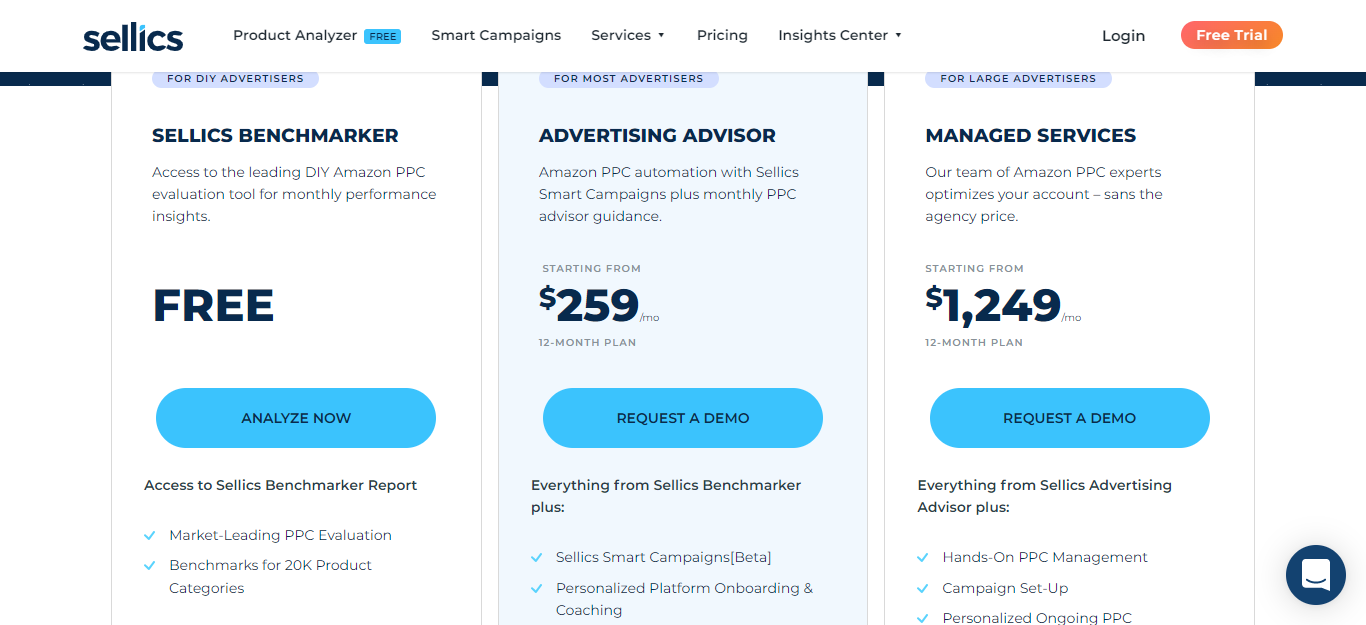 The keyword tool is completely free.
💡 Is Sonar Worth It?
It is free initially and offers a Keyword translation feature.
That's a Wrap
There you have it, the best Amazon Keyword tools that'll help you optimize your listings and keep you ahead of the game. Use the tools mentioned above to take your Amazon business to greater heights via informed data decisions.