When selling your products in the eCommerce world, what is the first thing your clients will see?
It will not be what your item looks like, how it feels, or functions. Instead, the first thing your customers will see once they receive their package is the shipping boxes in which the item arrives.
An Ipsos research states that 72% of Americans will look at the packaging when deciding which product they will buy.
This means that aligning your custom box style to your brand will help boost customer recognition and influence people to get your products.
In this article, we look at custom packaging boxes and the best custom packaging companies on the market today.
What Are Custom Boxes & Custom Packaging?
Custom packaging boxes are a valuable tool in eCommerce. They replace the standard brown shipping boxes you usually get in the mail.
Instead of using these standard, boring mailer boxes, you can create custom packaging which will fit your brand and put a smile on your customer's face.
When using a custom box, you will be able to change the colors, logos, and fonts on it and go into even tinier details to get the packaging box style you need.
Benefits of Custom Boxes and Custom Packaging
There are quite a few benefits to using custom shipping boxes. You will directly influence the customer experience when receiving your product.
Boost brand recognition
A person's experience with your brand doesn't stop once they place their order. Instead, it continues further, to the point when they are using your product and might need another one.
Many things will influence the decision they make to go back to your website, and the custom packaging can easily be one of these.
There is some magic when, instead of the standard retail packaging, you receive a branded box that tells its own story.
Custom-designed branded boxes help with your brand recognition.
Going viral
Furthermore, if your custom boxes are interesting enough, you can even get new customers solely based on this design choice and word of mouth.
Increase seasonal sales
Finally, having custom packaging means you can adjust to different needs. For example, you can push holiday custom boxes on certain holidays or change your design as you need.
So, you will need a custom packaging company that will be able to meet all your design and budgeting needs.
Let's take a deeper dive into some of the best custom packaging companies and what they can offer you.
What Are The Best Custom Boxes & Custom Packaging Companies?
Here are the best custom boxes and custom packaging companies we recommend for all entrepreneurs and small businesses. We cover everything from features, pros, and cons to see if the custom packaging company is right for your business.
Arka is a custom box manufacturer that claims to offer "the lowest minimums, competitive rates, premium materials, and quality customer service."
They offer everything from custom boxes and their inserts to custom tissue paper and stickers. The minimum order quantity is ten units, so they seem like a good choice for small businesses.
🔑 Features
You can design your custom box online.
Variety of custom items available: tape, stickers, tissue papers, carton boxes, custom boxes, and pillows.
There is Shopify and BigCommerce integration for your web store.
Arka offers 30-day money-back guarantee.
Pros
There is a good range of packaging types.
Their online design service seems excellent and full of resources.
It only takes two business days to get your design proof.
Cons
The customer support team seems to be a bit slow at times but seems to be improving.
There were a few complaints online about the time it sometimes takes them to deliver their product.
💡 Is It Worth It?
Arka seems to be a good option for various box styles and designs. They seem to strive to have excellent customer service, and while there are a few reported hick-ups, Arka seems dedicated to getting the best custom printed packaging you need.

Packola seems like another excellent packaging company dedicated to delivering everything from custom mailer and subscription boxes to breathtaking retail packaging. However, their main focus seems to be on internal packaging.
They also offer a great online design tool that lets you view the box in 3D. This way, you can design every box panel with different elements and get the rendering as you go through the process.
🔑 Features
Probably the packaging company with the most flexible pricing accommodations, which are based on many factors.
Variety of custom items available: product boxes, mailer boxes, shipping boxes, stickers, tissue paper, pouches, labels, custom tape, and hang tags.
Excellent return policy and price-matching feature.
They offer a variety of products for you to choose from.
Pros
Their price-matching guarantee means you get the best rate.
With their return policy, Packola makes sure everything goes smoothly throughout the process.
Your order quantities are very customizable.
Cons
The box dimensions can be very limiting for some people.
They only offer basic box styles, so do not expect pizza boxes, jewelry boxes, etc.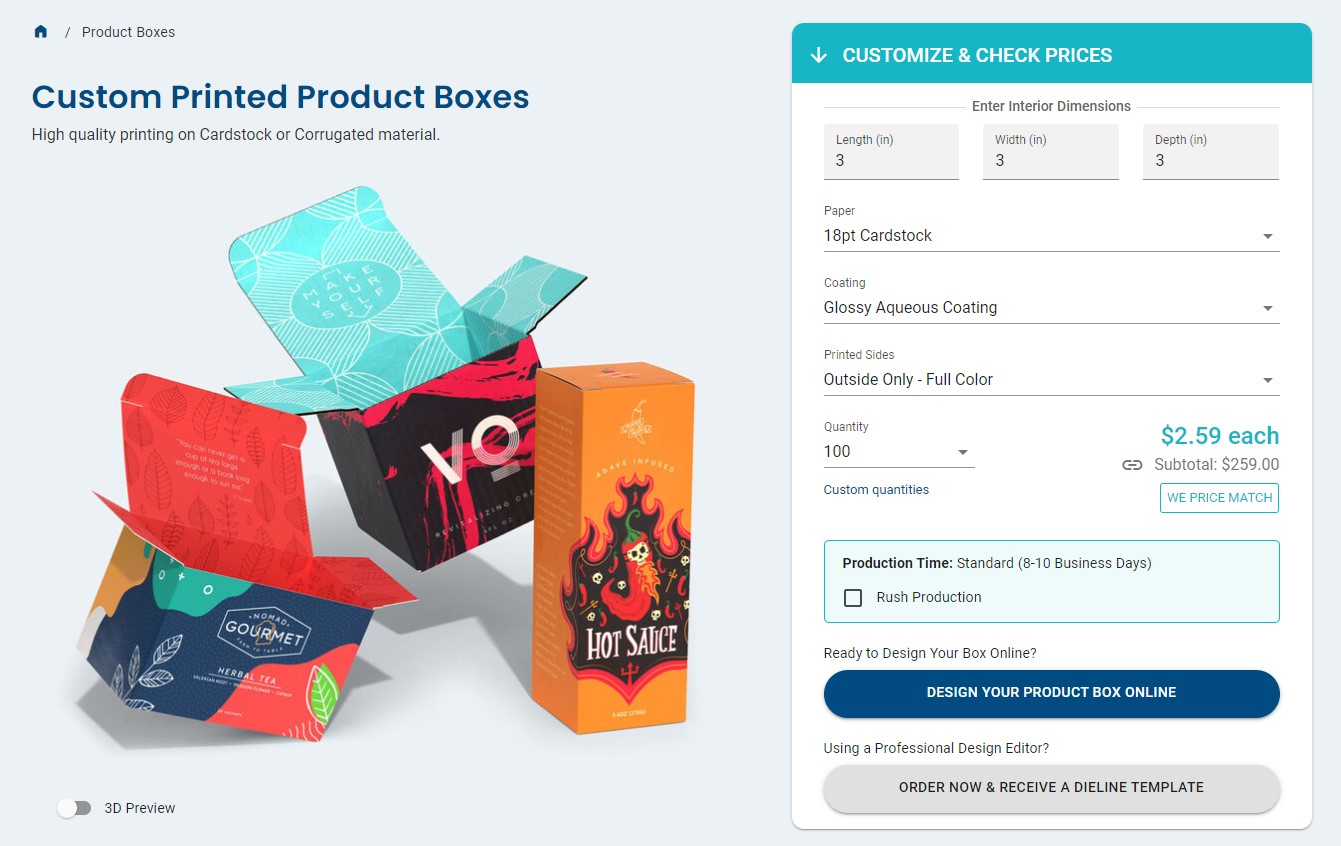 💡 Is It Worth It?
Packola probably has the best online design studio that we have seen on this list. With colorful artwork, you can make your ideal packaging solution with ease. However, the box type limitations might turn off some people away from the company.

FedEx might be a somewhat surprising choice on this list. Even though it is mainly known as the company that will help you get your packaging delivered, FedEx can also help with custom packaging solutions.
Their low minimum order quantity helps smaller businesses, while the variety of custom sizes and dimensions will suit every need you might have. If you need some world-class product packaging, then FedEx might be the choice for you.
🔑 Features
Customizable pricing and order quantity will help you with all your shipping needs.
Several custom boxes options: mailers, shippers, point of purchase, and event boxes.
It is one of the most popular brands worldwide regarding packaging, and that says a lot.
FedEx offers a vast number of product boxes. From a mailer box to a wine case, you will easily find boxes online.
Pros
Their design studio is intuitive and easy to use.
There is a considerable variety in box specifications.
You can handle bulk orders of exact quantities thanks to their pricing method.
Cons
It may take some time to reach their helpful customer support representative.
You are limited to using their company as a currier.
The samples are expensive to get.

The prices vary quite a lot, but for a 6x6x6 standard white box, they start at $8.79 per box for up to 24 boxes.
💡 Is It Worth It?
FedEx offers boxes at an affordable price, depending on your packaging order. The custom quote might be enough to get someone to work with them, but having to ship your items through the company might put off some people.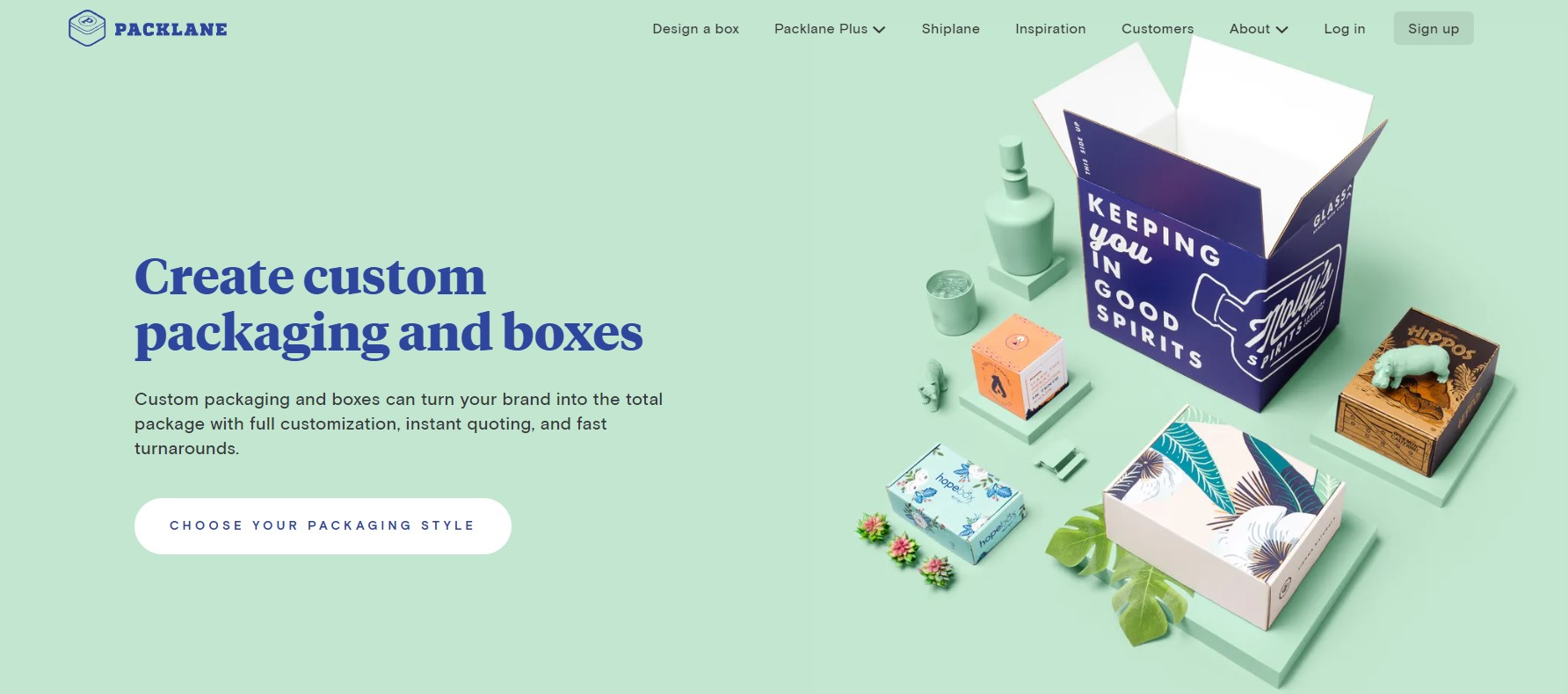 If you want to create custom packaging boxes with an intuitive design tool, then it's Packlane that you want. Their 3D design studio shines with how easy it is to use, and you will be able to get the most out of your box design skills with it even as a beginner.
However, this comes with a disadvantage as well. When using Packlane, you will be limited on the box type and size, and your wallet might struggle to get their online art studio in your corner.
🔑 Features
Packlane offers high-quality corrugated cardboard boxes.
Offers a variety of custom products: mailer boxes, shipping boxes, product boxes, econoflex shipper, rigid paper mailers, custom bags, flexible packaging, tissue paper, and custom tape
Their online design studio makes it effortless to make custom boxes (like subscription boxes, etc.).
Bulk orders will go through their "Volume Discount."
Pros
Great online design studio, which is easy and intuitive to use.
You will be able to get discounts on bulk orders.
They offer a sample kit with swatch cards of corrugated cardboard materials so you can closely add the finishing touches to your custom boxes.
Cons
Packlane puts limitations on box specifications.
They aren't too many container options to choose from.
You will not be able to order a custom number of boxes.
💡 Is It Worth It?
Packlane seems perfect for people who do not have too much experience designing custom boxes due to their tool offering all the support you will need in the process. However, the lack of flexibility in their instant quotes drags the company down.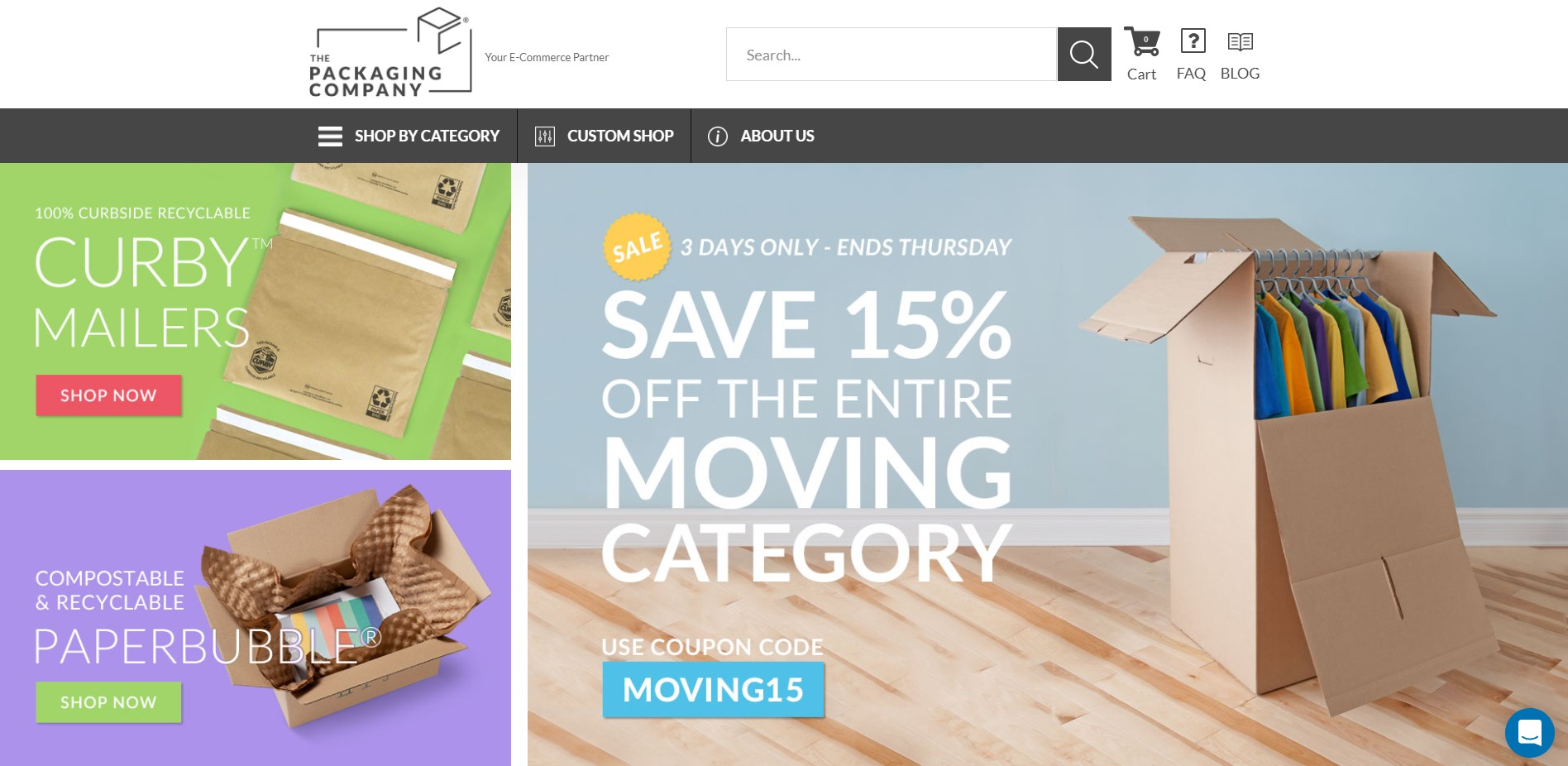 The Packaging Company, as the name suggests, offers more than just your fair share of custom boxes. Instead, with the company, you will get standard supplies, cleaning supplies, and anything else you might need when running an eCommerce business.
Their design studio offers plenty of tools for designing custom packaging supplies, but it does have the disadvantage when it comes to its instant quote. Also, like in the previous item on the list, you will not get custom order quantities, which might also hurt your budget.
🔑 Features
The mid-range price point might look good, but the minimum order quantity of 50 units can be too steep for smaller businesses.
Offers a variety of custom products: custom boxes, custom tape, custom tissue paper, custom mailers, custom labels, custom stickers, and custom coffee sleeves.
You will get an instant quote, but it can change as you keep adding design elements to your custom box.
What makes The Packaging Company shine is the variety of custom packaging products they offer. On their website, you will find everything from rigid gift boxes and fancy crinkle-cut fill for your to fill them with patterned tissue paper to make these shine even further.
Pros
There is a huge product variety on offer in their shop.
The quality of their custom packaging makes the price worth it.
The Packaging Company offers a 24-hour customer support team messaging platform.
Cons
There isn't any custom sizing for your packaging solutions, so you are limited to what the company offers.
It can be a bit more pricey, so if the budget is a problem for you, a cheaper platform (or the one that offers free design support) might suit you better.
💡 Is It Worth It?
Like Packlane, the Packaging Company seems to work well with people who have the budget. They offer a massive variety of custom product packaging, however, at a bit steeper price.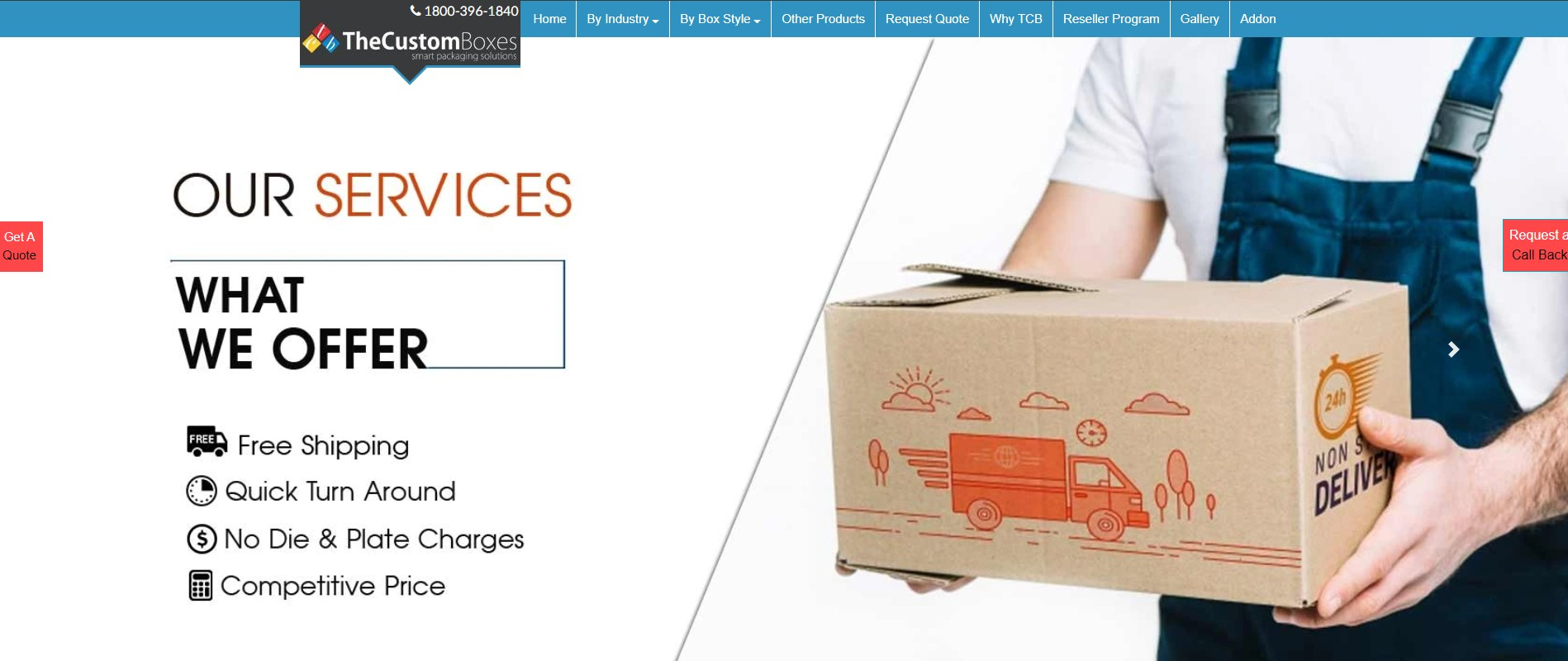 The Custom Boxes works well with people from every corner of the eCommerce world. So when you need specific packaging solutions, they will be the people you call.
From folding cartons to gift boxes, The Custom Boxes have it all. They even offer a substantial retail boxes section for all your custom retail displays in a brick-and-mortar shop.
🔑 Features
Their customer support team works round the clock.
The Custom Boxes offer free shipping and a money-back guarantee.
You will get your boxes in a few easy steps.
Pros
A wide variety of packaging solutions on offer.
The Custom Boxes have a lot of experience in the industry.
You will pay no shipping, so you can order more boxes if you desire.
Cons
They do not offer a design tool for your boxes. Instead, you will need to submit your preprinted boxes' artwork for digital printing.
The company doesn't offer instant quotes.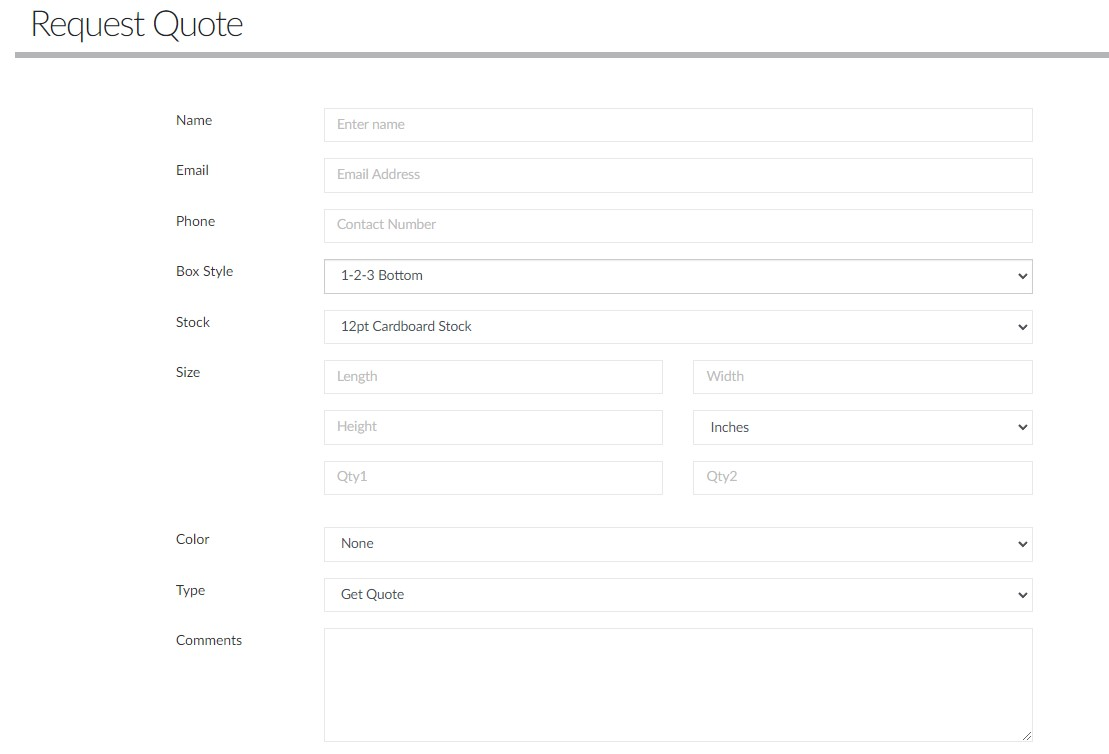 When it comes to pricing, the company requires you to fill out a form when it comes to pricing. Then, they will give you a custom quote based on your box type, size, quantity, and design.
💡 Is It Worth It?
The Custom Boxes are a good choice when you need a wide variety of branded packaging. However, the fact that there is no online design tool can be very limiting.

Refine Packaging is a company that's great for any type of business. They offer free quotes and very low minimums, and free design support if you need it.
There is also a huge variety of products on offer here. You can get anything from corrugated cartons and shipping boxes to jewelry or mailer boxes. In addition, many brands (like Old Spice, T-Mobile, etc.) work with the company to deliver premium packaging solutions.
🔑 Features
Free shipping and design support.
Swift turnaround times.
Low minimums make Refine Packaging a desirable choice.
Pros
Customizable options for your packaging solution - you get to choose the type, size, and quantity.
There are multiple ways to request a quote, i.e., via chat or by filling out a form.
You can submit your artwork for printing on the boxes.
Cons
Some negative customer reviews describe errors in the printing process.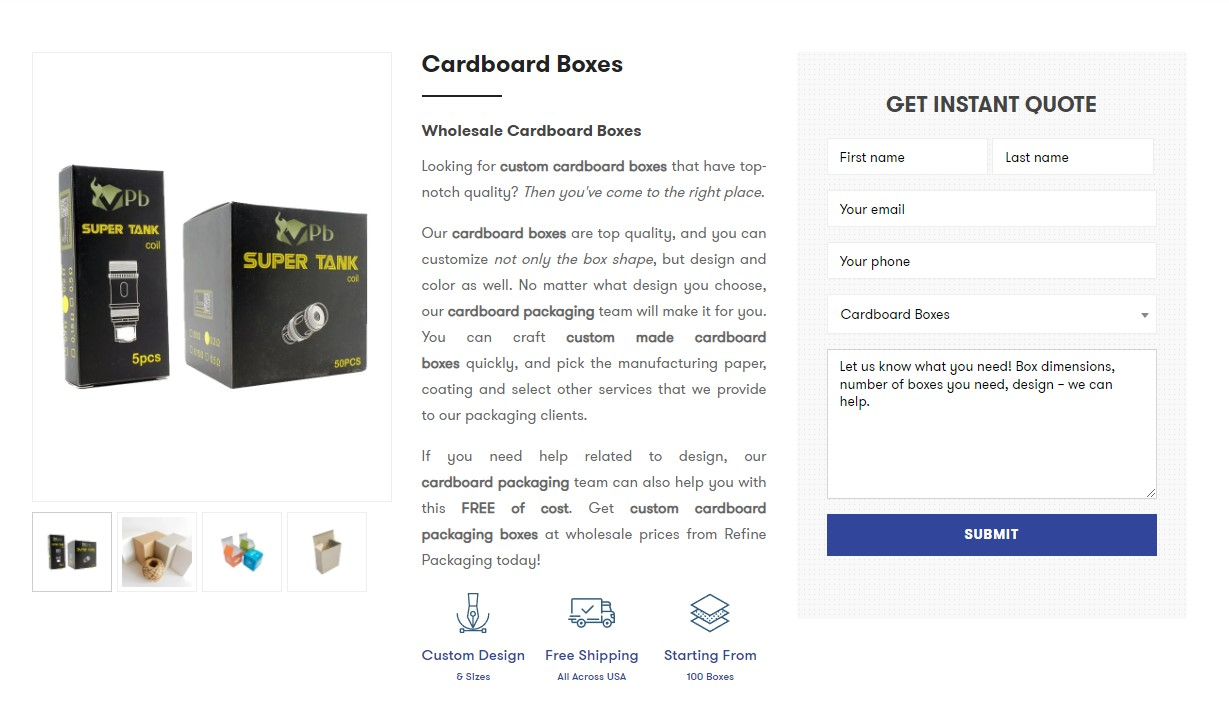 You will need to request a custom quote to get the pricing for your order.
💡 Is It Worth It?
Other than a couple of unsatisfied customers, Refine Packaging seems like a good choice. Popular "big name" brands use it, and their services seem worth the cost.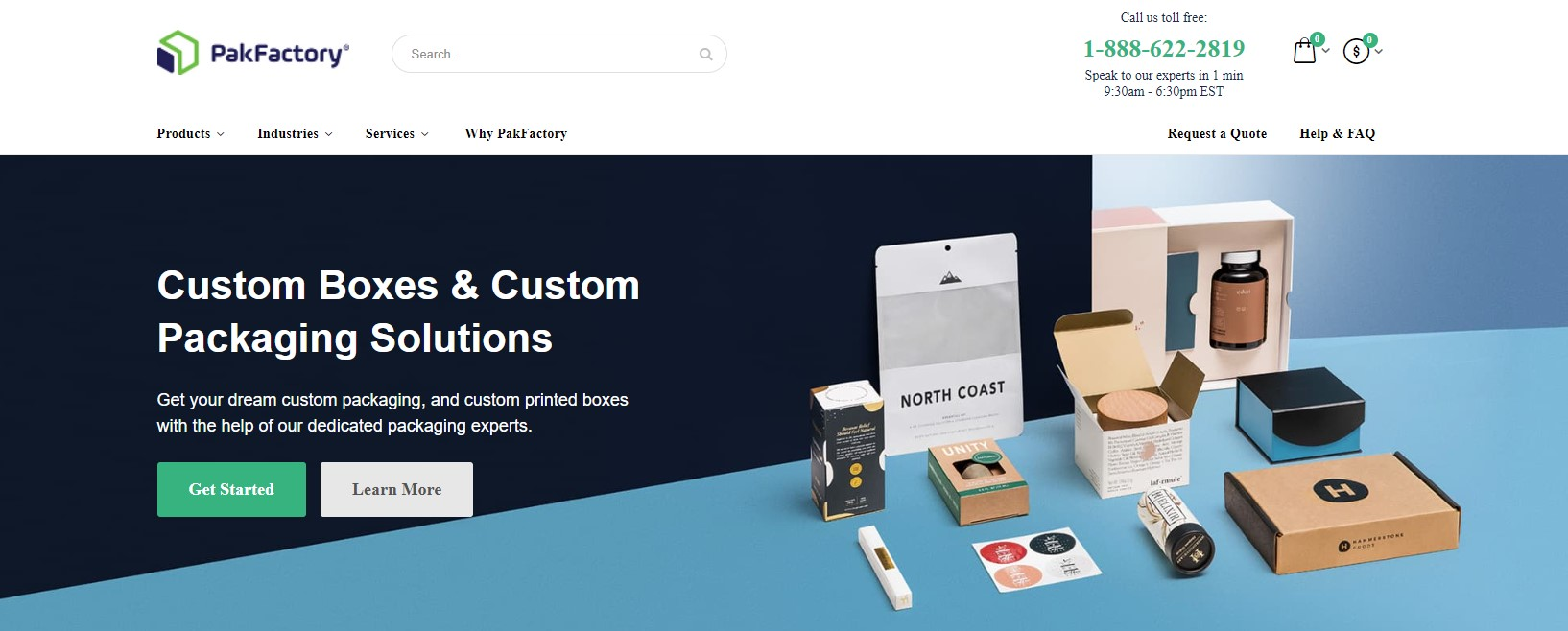 If you want a company that works with many businesses to make the best custom boxes, then it's PakFactory you want. With over 1,000 business partners, you can ensure that your custom boxes will be taken care of.
All you need to do is request a quote, and after you get it, submit your dieline artwork and specifications. The downside is that you will need a minimum quantity of 500 units, which is reduced to 250 for corrugated boxes and folding cartons.
🔑 Features
You will get a dedicated packaging specialist to help you with your quote.
There is a variety of items: from mailer boxes to custom labels.
If you struggle with designing your box, you can get a custom template.
Pros
The whole process is quick, and you can do it online.
You submit your dieline and specifications to get the box you want.
The production doesn't start until you get a sample and confirm this is what you want.
Cons
The minimum order quantity is quite large.
This seems to be an excellent company for the larger businesses due to the order quantity.
You will need graphic design experience since they do not offer a design tool.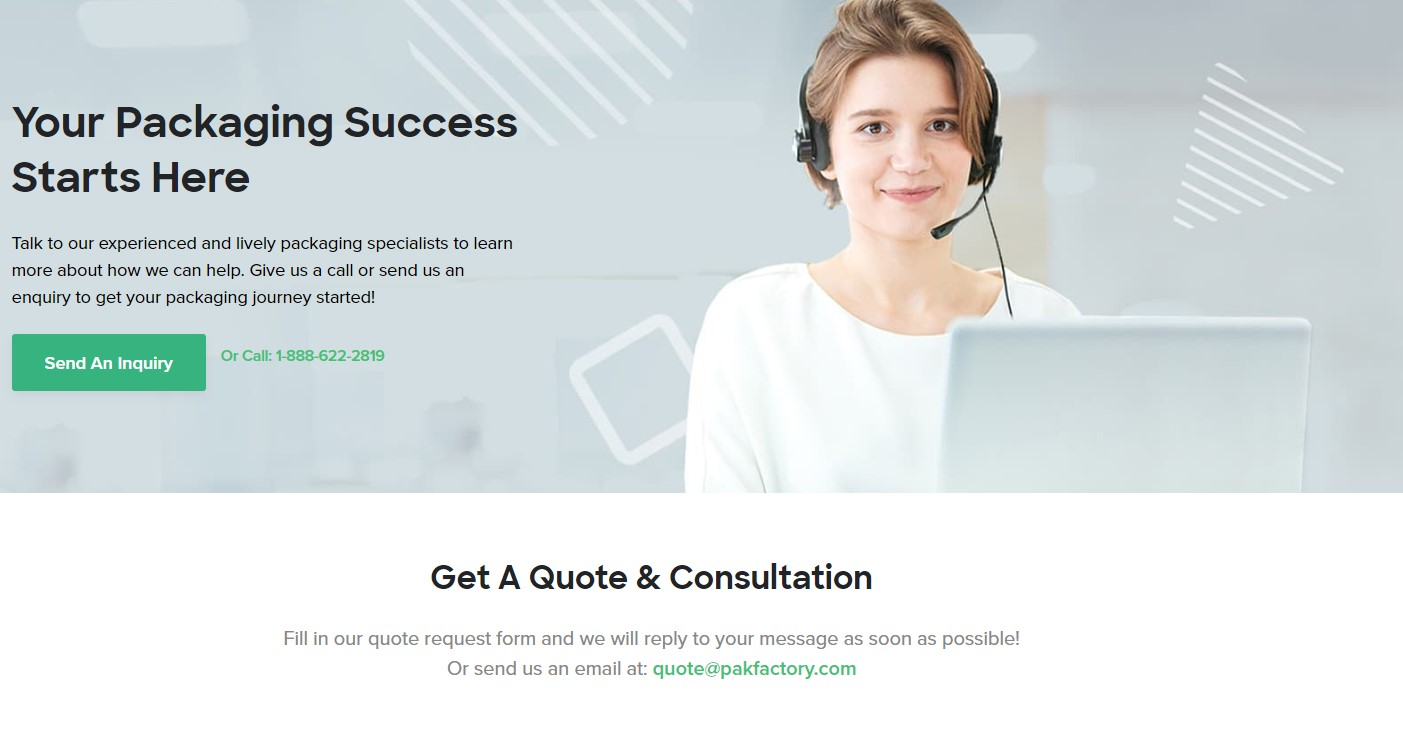 Like some other items on this list, you will need to contact the company to get a quote.
💡 Is It Worth It?
As mentioned, PakFactory seems like a good fit for larger companies or businesses with huge demand. Due to the minimum quantity order of 500, this might not be the company for you if you are just starting or have a lower budget.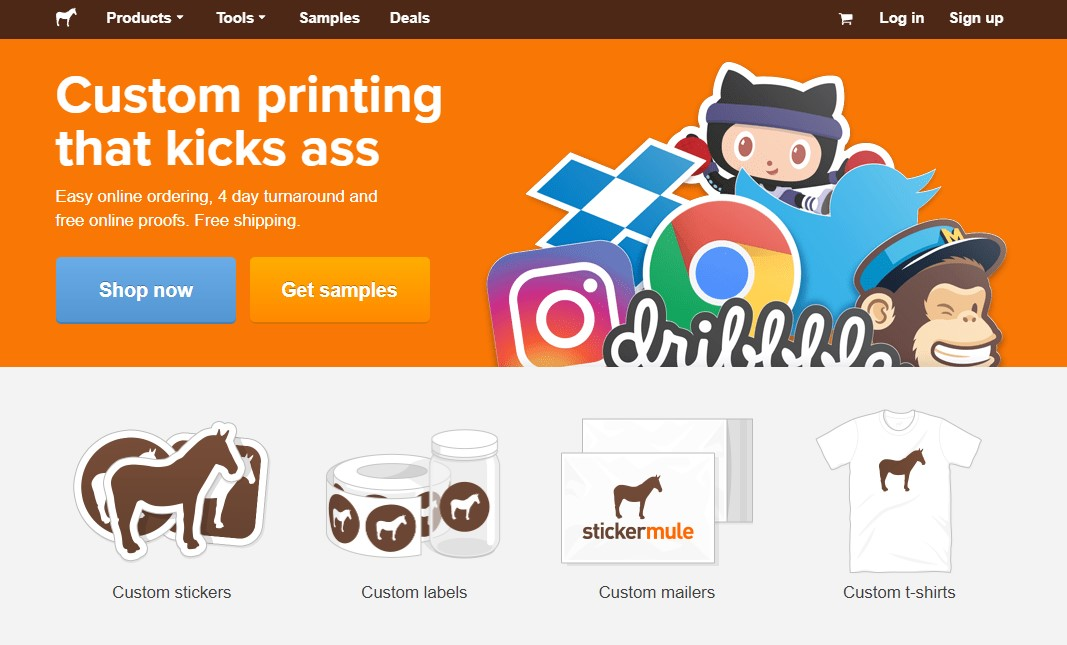 Sticker Mule is a bit different from the other companies on this list. Here, you will not find the perfect mailer box, but you will find the custom stickers and labels of your dreams for the box.
The company's specialties are poly mailers and stickers. In addition, they work with companies like Netflix, Shopify, Facebook, PayPal, etc., to cultivate that perfect shopping experience.
🔑 Features
You will get free design support from their designers.
You can get design templates that are customized to your needs.
The small minimum quantity of 10 mailers will suit everyone's needs.
Pros
You can either upload your work or use one of their many amazing templates.
You will get free shipping.
You can add customizable options to all of your orders.
Cons
There are some complaints about bad customer service because of robotic email replies.
Does not have custom boxes packaging available

💡 Is It Worth It?
If you are looking for custom poly mailers, stickers, and other accessories, this is a great company. They offer free design help and excellent shipping but cannot help you with designing custom boxes.
FAQs
How Much Are Custom Boxes?
One of the most common questions you will run into pertains to the cost of getting custom boxes. Like any artwork, getting a custom design box can vary in price.
As you may have noticed, many companies will offer a custom quote based on the colors you use, the design choices, and often the quantity of your order.
This is a simple business decision. The more boxes you order, the less you will pay per box. So, of course, you will be paying more in total, but the cost-per-box will be lower.
Therefore, it can be tough to answer this question with a precise number. You will need to plan carefully to get the best out of what the companies offer you.
How Do I Make Custom Boxes?
There are a couple of ways to make your custom boxes. This depends on the company you are using, your artistic skills, and your software.
If you are working with a company that already has a design tool, you will need to go through it to get your box.
Sometimes, this will mean simply dragging and dropping different elements, while other times, you will need to put in a little more work and effort.
Conversely, if the company requires you to develop your dieline, you can do this with any art tool you prefer.
A tool like Photoshop or Illustrator might be the best choice, but it will depend on your needs and your skillset.
Final Words
To conclude, getting custom boxes is an excellent business decision. They will increase your appeal to the customers and boost their experience purchasing your product.
However, getting custom boxes can prove a challenge for some. While some companies have great tools for making your design, others expect you to develop your ideas.
Carefully plan what you want your boxes to be, play around with the design and choose the company that will meet your needs, and you are sure to boost your sales in no time.