Die cutting machines have been a game-changer for avid crafters and hobbyists. They make the entire crafting experience more streamlined and enjoyable by automating the more tedious tasks.
Consequently, it has allowed many people to monetize their hobbies. A study of 2000 adults with full-time employment revealed that about 27% turned their hobbies into a side business alongside their careers. Moreover, the side hustle has allowed them to earn thousands of dollars per year post-tax.
Another 55% admitted wanting to convert their hobbies into a lucrative business to earn extra cash but have yet to take the first step.
Thus, if you are one of those who want to leap or simply want a machine that can accelerate your crafting efforts, you have landed on the right article.
I have reviewed the best die-cut machines with varying capabilities, ease of operation, and price points.
What Is a Die Cutting Machine?
A die-cutting machine allows you to cut a wide range of materials using a cutting tool. You can use the machine to obtain clean lines and precise cuts that are often impossible to achieve using a pair of scissors.
Depending on the die-cut machine, you can cut paper, vinyl, cardstock, leather, and even a thin piece of wood. Some die-cutting machines can also emboss and engrave, taking your projects to a whole new level.
Most people prefer an electric die-cutting machine, which you can efficiently operate with a few buttons. It works similarly to a printer, where a small computer controls the moveable blade.
You can also get a manual die cutter, which is more affordable, but the cost of buying additional dies can add up over time. It uses the die like a cookie cutter, where you cut the material using even and high pressure.
Benefits Of Die Cutting Machine
The best die-cutting machine has many advantages, making it very popular among crafting enthusiasts. These include:
Speed
The most glaring advantage of a die-cutting machine is its speed without compromising on the quality or precision of the cut.
Since it is quicker than cutting shapes by hand, you can produce numerous identical patterns quickly and easily, even with a manual die-cutting machine.
As a result, many small business owners use these machines to produce high-quality products with consistent results.
Efficiency
When using a die-cutting machine, you waste less material than other cutting methods since the machine efficiently uses the resources.
The shapes can be lined up very tightly, regardless of how complex they are, which translates into less wastage of material around the design.
Consequently, you will save the cost of wasted material and reduce the amount of waste released into the environment.
Precision
Manual die cutters use a die to cut material, so you can achieve uniformity when cutting the same shape repeatedly.
On the other hand, a computer controls electronic cutting machines, leaving little to no room for error when cutting a design.
As a result, you will consistently achieve uniform shapes and clean lines around the edges.
What Are The Best Die Cut Machines?
Here are the best die-cutting machines for all your simple and ambitious craft projects using various materials. I will also go through every machine's key features, pros, and cons and highlight why the machine in focus is worth a buy.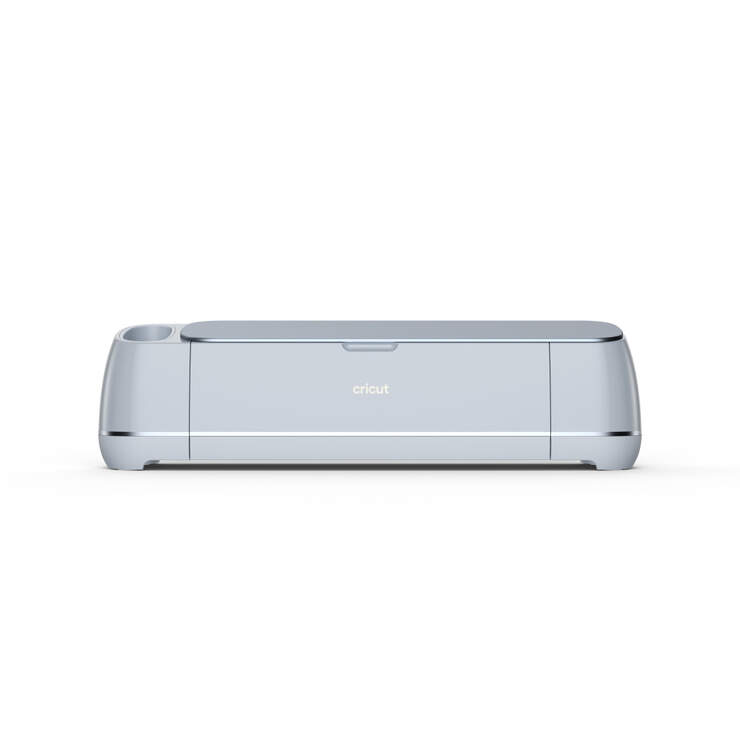 Cricut Maker 3 is the best die-cut machine on the list for several reasons. It is the latest offering by the Cricut brand, armed with the most sophisticated technology.
It can cut more than 300 materials, ranging from flimsy fabrics to balsa wood, up to 0.09 inch in thickness. Since the machine is compatible with Smart Materials that allow for matless cutting, you are not confined by the size of the mat. Consequently, you can create up to 12 feet long projects.
The versatile machine comes with an Adaptive Tool System, which allows you to use 13 different tools for cutting, writing, debossing, scoring, foiling, engraving, and more. It is also a powerful die-cutting machine with an impressive cutting force and speed.
Cricut Maker 3 is operated by the lofty Cricut software called the Design Space. It is a user-friendly app used to prepare projects for all Cricut machines. The only drawback of the software is that it needs a working internet connection to send the designs to the die cutter.
Unfortunately, the multi-feature machine comes with a hefty price tag.
🔑 Features
Adaptive Tool System: Swapping multiple blades and tools using the system is incredibly easy, saving you a lot of time and effort.
Smart Materials: They are specialized materials native to the Cricut brand that can be fed into the machine directly, without a cutting mat.
Design Space software: The software is free with every Cricut machine. You can download it on your desktop or laptop or as an app on your Android and iOS devices.
Pros
Cuts over 300 materials
Easy-to-use design software
Fast Mode for accelerated cutting jobs
Cutting force of around 8.81 lbs (4 kg)
Cons
Expensive for everyday projects
Design software requires an active internet connection
Bulky and heavy (22.7 lbs/10.3 kg)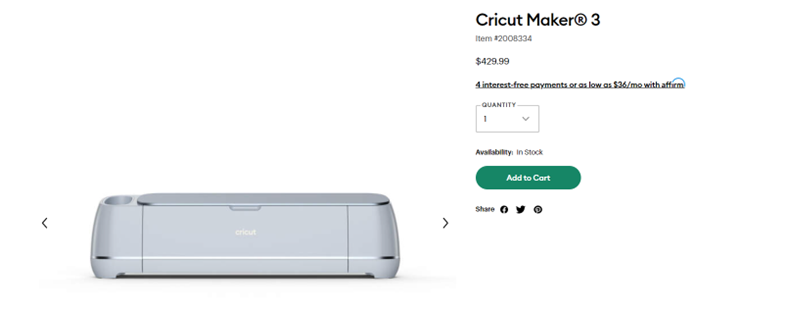 💡Is Cricut Maker 3 Worth It?
Cricut Maker 3 is the finest die-cutting machine with a spectacular feature set, which is reflected in its steep price tag. Hence, you should invest in Cricut Maker 3 if you are looking to produce professional-grade products for your small business or are an avid crafter who uses their die-cutting machine daily.
Silhouette Cameo 4 is another amazing die-cut machine and the most powerful die cutter on the list. It has a higher cutting force than Cricut Maker 3, which allows it cut through a wide range of materials up to 0.11 inches in thickness.
On the other hand, it lags in speed compared to the latest Cricut model. However, it is still 3x faster than its predecessor, making it a worthy upgrade.
The built-in Roller Feeder enables you to load an entire roll of material, such as vinyl or heat transfer material, and crank out large projects up to 10 feet in length and 12 inches in width.
Cameo 4 is available in three sizes, which are Standard (12 inches), Plus (15 inches), and Pro (20 inches). You can load multiple tools in the machine at the same time, but the carriage can only employ one tool at a time. Regardless, it is a time-saving feature.
It uses the Silhouette Studio design software, which allows you to create designs but involves a steeper learning curve than the Cricut application. You also need to upgrade to a professional edition to be able to upload files, which costs extra bucks.
The one glaring disadvantage of the Silhouette machine is that it is pretty noisy, so you have to be mindful of when you can use it. In addition, it is not very cheap.
🔑 Features
AutoBlade: AutoBlade is the standard cutting tool that comes with the Silhouette machine. It can automatically detect the blade's thickness and adjust its depth setting.
Silhouette Studio software: You can use the software to access the expansive content collection or import your designs.
Dual carriage system: The system enables you to add another specialty tool, such as the Rotary Blade, Kraft Blade, or Punch Tool, in addition to the standard AutoBlade.
Automatic tool detection: The tool detection functionality automatically detects the tool attached to the machine and adjusts the software settings accordingly.
Pros
Cutting force of approximately 11 lbs (5 kg)
3x faster than Cameo 3
Long cutting length, up to 10 feet
Matless cutting
Cons
Loud operation
The software upgrade is not free
Heavy and bulky
💡Is Silhouette Cameo 4 Worth It?
Silhouette Cameo 4 is a proficient electric die-cutting machine with a high cutting quality and commendable force. It is a viable option for professionals since it is quite accurate in its operation. However, it is very noisy, so you may be unable to use it all the time.
Cricut Explore 3 is another smart electronic die-cutting machine. It is the latest machine in the Explore series, which is more affordable compared to the Maker series.
The machine has a new and improved robust motor that delivers twice the speed of Cricut Explore Air 2, the previous model, without compromising on the precision or quality of the cut.
Explore 3 can cut more than 100 materials of varying thickness, as well as write, score, and foil using 6 different tools. It is also compatible with Smart Materials, which enables you to create projects up to 12 feet in length. The matless technology has been a game-changer for the newer Cricut models.
It uses the Cricut design software Design Space, which automates multiple settings that were previously controlled manually. For example, you no longer have to adjust the material dial according to the specification of the material in use.
It is a savvy machine with respectable features and a lower cost than Cricut Maker 3 and Silhouette Cameo 4.
🔑 Features
Smart Materials: Smart Materials compatibility allows for more creative freedom to create longer projects.
Multiple tools: The machine uses the Knife Blade, Fine-Point Blade, and Deep-Point Blade for cutting different materials, as well as a Scoring Stylus and Foil Transfer Tool for added effects.
Design Space software: The software enables you to operate the machine seamlessly. It works on all Windows, Android, and iOS devices.
Pros
2x faster than Cricut Explore Air 2
Cuts over 100 material
Cheaper than Maker 3 and Cameo 4
Cons
Inability to cut thicker materials
💡Is Cricut Explore 3 Worth It?
Cricut Explore 3 is ideal for the hobbyist looking to create crafts using thinner materials, such as paper, cardstock, vinyl, and iron-on. Its lower price is also quite attractive for crafting enthusiasts since you get exactly what you pay for, i.e., a quality die-cut machine with nominal yet impressive features.
Sizzix Big Shot Switch Plus Machine is a cool electric die cutting and embossing machine. It works like a manual die-cutting machine with cutting plates that sandwich the dies in place. Once you have layered the platform, plates, metal die, and your material, you can feed the whole assembly into the machine.
However, instead of cranking a shaft, the machine pulls the assembly in automatically, cuts your design, and releases it from the other side. There is also a reverse button if you want to abort cutting and take out your plates.
It has multiple thoughtful design features, such as an integrated storage area you can use for stowing away your tools or small craft projects and carrying handles for portability.
The good thing is that it is compatible with all the standard Sizzix die-cutting and embossing products. With a 9-inch opening and a full-width sensor, you can use any platform, making it very convenient for crafters who have already owned a Sizzix machine and its plates.
The machine can also emboss many materials, including paper, fabric, chipboard, and cork.
Big Shot Switch Plus is comparable in price to the Cricut Explore 3 and Silhouette Cameo 4.
🔑 Features
Overload detection system: The machine immediately indicates if it cannot handle the assembly, so you can fix your layers for optimum results.
Full-width sensor: With full-width sensors, you can feed cutting pads of any size (up to 9 inches), and the machine will automatically detect and adjust accordingly.
One touch reverse solution: You can stop the operation and eject the whole assembly back out with the simple press of a button.
Pros
Large format for more significant projects
Simple to use and effective
Noiseless
Can cut and emboss
Cons
Standard machine with basic capabilities
A bit heavy (19.13 lbs/8.67 kg)
💡Is Sizzix Big Shot Switch Plus Worth It?
Sizzix Big Shot Switch Plus is perfect for those who have used the manual machine from Sizzix and want to upgrade to an electric die-cutting machine. It is very straightforward to use, but if you are new to this, you may need to read the instruction manual carefully to understand the correct way to layer the assembly for best results.
Cricut Joy is the best portable die cutter since it is compact, lightweight, and very competent at what it does. The machine fills a market gap that few realized existed since most die-cut machines are either too big, too bulky, or too heavy.
On the other hand, Cricut Joy is small enough to fit inside your bag and weighs only 3.9 lbs (1.76 kg), making it perfect for crafting on the go.
Despite its small size, it can cut more than 50 materials, including paper, cardstock, faux leather, and vinyl. Most importantly, it is among the three Cricut die-cut machines that can work with Smart Materials, allowing you to create incredibly long projects up to 20 ft (6 m) in length.
The tiny machine can cut, write, and foil using 3 basic tools. It can also connect via Bluetooth to your device, similar to other Cricut machines, so you do not have to handle too many cords.
With a cutting force of 3.9 lbs (1.76 kg), you can use it for creating simple crafts like stickers, greeting cards, custom labels, etc. While it is pretty affordable, it has its limitations.
🔑 Features
Smart Materials: It is compatible with Smart Material, ideal for doing longer projects without a cutting mat.
Design Space software: The software allows you to transfer the design from any Windows, Android, or iOS device to the machine for cutting.
Pros
Portable and fun to use
Easy to store
Affordable
Cons
Unable to handle large, commercial-grade projects
A bit noisy
Limited tools
💡Is Cricut Joy Worth It?
Cricut Joy can work for both beginners and experienced crafters. However, it is perfect for you if you want to make simple projects, have a small crafting space, and want something inexpensive.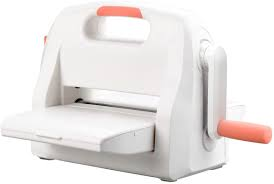 The next die-cutting machine on the list is the Bira Adjustable Die Cutting & Embossing Machine, one of the manual machines. You can operate it using a crank handle that can be easily disassembled and stowed away in the integrated storage box when not in use.
It is a sturdy machine with suction cups at the base, and the combination of the two helps the machine stay stable while you turn the crank. However, the weight can also be a deterrent if you want to move the machine around.
It has a 9-inch wide cutting platform, giving you ample space for making cards or scrapbooking. With its ability to cut fabric, you can also use it for quilting, home decor, and fashion.
The machine comes with adjustment gears that enable you to control the height, blade depth, and cutting force. The feature eliminates the need for making different plate assemblies or "sandwiches" and offers better control over your projects.
It is also excellent for embossing, using any acid etched dies, steel rule dies, and embossing folders from prominent brands. You can also use the Bira Craft Rubber Pad for embossing, which is sold separately.
While the machine is cheaper than the electronic die-cutting machines, it is also affordable compared to other manual die-cut machines.
🔑 Features
Crank handle: The handle has a soft, comfortable grip and is relatively effortless to crank.
Adjustment gear system: The system makes it easy to adjust the machine for any project using the mode knob and eliminates confusing mat combinations.
Pros
Easy to operate, once you learn the mechanics
Affordable
Compact and easy to store
Cons
The base plate may require frequent replacement
Separate dies are expensive
💡Is Bira Adjustable Die Cutting & Embossing Machine Worth It?
The Bira die cutter is a capable cutting and embossing machine, which is on the reasonable end of the price spectrum. The machine is perfect for amateur crafters because of the low cost combined with uncomplicated operation due to the clever adjustment system.
Cricut Explore Air 2 is an electronic die-cutting machine, the older version of Cricut Explore 3. However, it is still relevant enough to make the list, with a modest feature set that can fulfill most of the requirements of a standard die-cut machine.
The machine is fast and intuitive, with the ability to cut over 100 materials up to 0.07 inches (2 mm) in thickness. It has a cutting power of 0.88 lbs (400 kg), so you can churn out projects in quick succession.
With the new Dual-Carriage system, you can draw and cut simultaneously, taking your projects to the next level. Besides cutting and drawing, it can also write, score and foil using 6 distinct blades and tools.
The Fast Mode functionality enables the die cutter to cut materials twice as fast as the normal mode. Another new feature, compared to its predecessor, is the Smart Set Dial, which automatically adjusts the cutting depth, speed, and pressure according to the material.
While it is unable to cut thick materials like leather and balsa wood and does not support matless cutting, it is on the affordable end perfect machine for beginners.
🔑 Features
Smart Set Dial: Smart Set Dial enables you to select the perfect settings for the material in use to achieve optimal results.
Dual-Carriage System: The system allows you to use two tools for cutting and drawing at the same time, saving you the time and effort of swapping tools.
Fast Mode: Fast Mode allows you to increase the cutting speed by 2x the average speed for quicker operation.
Design Space software: The software is free with all Cricut machines, and you can use the app on Windows and Mac desktops, laptops, and Android and iOS devices.
Pros
Easy to use
Intuitive and efficient
Comparatively less heavy (14 lbs/6.35 kg)
Affordable
Cons
Not compatible with Smart Materials
Not compatible with newly released Cricut tools
💡Is Cricut Explore Air 2 Worth It?
Cricut Explore Air 2 has several qualities that make it ideal for novice crafters or home-based small business owners. It is not too outrageously priced, reasonably sized, and user-friendly. However, this is not for you if you want to cut a broader range of thicker materials.
Accuquilt GO! Big Electric Fabric Cutter is the best fabric die cutter, used primarily for sewing and quilting. It is an upgrade from the manual model, which requires you to turn a handle to operate the machine.
The electric machine can produce intricate designs with a simple button press at a much higher speed than the manual cutter. In fact, it is the fastest Accuquilt cutter yet, which also delivers precision and quality.
Simply place a die, your fabric, and the mat on the die cutter's platform and press the button to spur the machine into action. As an avid quilter, this fabric dies cut will save you a lot of time and effort.
Another time-saving feature is its ability to handle multiple dies and fabric simultaneously. It can cut two 6-inch (15 cm) wide dies side by side and up to six layers of fabric with a 10-inch (25.5 cm) width at one time.
It is also the most enormous GO! cutter manufactured by the brand, making it compatible with all GO! die sizes, including the new 14 inches by 16 inches GO! Big dies. As a result, you can cut much bigger fabric pieces than most other fabric cutting machines.
Lastly, it is effortless to store as the platform folds in half for a compact design.
🔑 Features
Large cutting platform: The enormous size of the platform allows you to cut multiple dies simultaneously, so you can quickly complete your projects.
Portable design: Since the platform can fold onto itself, it becomes convenient to carry the machine around.
Pros
Best fabric die cutter
Fast, easy, and safe cutting mechanism
Precise cuts
Cons
Only a fabric cutter
Dies sold separately
The price includes:
GO! Big Electric Fabric Cutter
GO! Flying Geese Die- 3 1/2" x 6 1/2" (3" x 6" Finished): Half Square Triangle-3" Finished Square, Quarter Square Triangle-6" Finished Square (55456)
GO! Cutting Mat-6" x 12" (55112)
Pattern & Idea Booklet with 5 Flying Geese patterns
User's Manual & Product Registration Card
💡Is Accuquilt GO! Big Worth It?
Accuquilt GO! Big is the perfect fabric cutting machine for you if you like quilting, and the manual die cutting machines are taking a toll on your back and hands. The machine is not cheap, but it offers high-quality, precision cutting to create uniform shapes and makes fabric cutting a breeze.
Spellbinders Platinum Cutting and Embossing Machine is another of the leading manual die-cutting machines with a smooth cutting action. It is known for its durability and robustness, with a solid steel core construction.
The machine has a cutting width of 8.5 inches (21.6 cm) and can cut more than 40 materials, including thicker materials like balsa wood, metal, felt, and cork. You can also cut up to eight layers in a single pass with the contour steel rule dies.
However, the maximum number of layers of each material depends on the height of the blade, so obviously cannot cut 8 pieces of cardboard stacked together. What you can cut is multiple layers of fabric and paper.
Moreover, it is compatible with most wafer-thin dies, etched dies, texture plates, and embossing folders, regardless of the manufacturer.
The embossing feature of the die-cut machine is also quite competent, but the quality of the final design relies heavily on the kind of embossing folder you use. A little trial and error can land you in the right spot.
The machine is extremely heavy, making it cumbersome to move around. On the other hand, the weight prevents the machine from wobbling or moving when you are cutting material.
The sleek, modern, and compact design allows you to fold the cutting platform to make it smaller and easier to store. It also has a collapsible carrying handle to make it more portable.
🔑 Features
VersaCut technology: The premium VersaCut technology offers unparalleled cutting power and strength, allowing to handle thicker, stronger materials.
Solid steel core construction: The solid steel core structure makes the machine incredibly durable and resistant to internal wear and tear
Foldable design: The cutting platform folds in half to reduce the storage space required by the machine.
Pros
Easy to use
Sturdy and durable
Compact design
Cuts a wide range of material
Cons
Very heavy (20.44 lbs/9.27 kg)
The cutting width is smaller than other manual die-cutting machines
Expensive
💡Is Spellbinders Platinum Worth It?
Spellbinders Platinum Cutting and Embossing machine is a high-spec die cutter with the ability to cut numerous materials in large quantities. Therefore, it is worth an investment if you want to mass produce your projects or cut more than fabric, paper, and cardstock.
Accuquilt GO! Me Fabric Cutter is another portable die cutter on the list, which is operated manually. It is a fabric die cut that can cut up to six layers of the material at one time. The number of layers depends on the thickness of the fabric.
The small yet functional machine can cut a wide range of fabrics, including silk, cotton, leather, denim, and wool. It is approximately 90% faster than cutting by hand using a rotary cutter or scissors, giving precise, clean lines.
The GO! Me has a cutting width of 6 inches (15.24 cm), making it compatible with all Accuquilt GO! dies up to 6 inches in width.
Similar to most manual die-cutting machines, it is super easy to use. All you have to do is layer your fabric on the die, followed by the cutting plate, and crank the handle to feed the sandwich into the machine and out the other side.
It has a lightweight, compact design, an easy-lift handle for portability, and a comfortable roller grip on the crank. It is also among the cheapest die-cut machines.
🔑 Features
Magnetic latch: The powerful magnetic latch keeps the machine folded, making it very easy to open and close the side panels.
Roller handle: The handle has a comfortable roller grip that makes it almost effortless to rotate the crank and produce your design.
Small cutting platform: While the cutting platform is only 6 inches, it is enough to create small projects and standard quilting squares.
Pros
Easy to operate
Ultra-portable
Lightweight (8.5 lbs/3.85 kg)
Cons
You have to purchase the starter kit to use the machine
Some threads remain uncut occasionally
The price includes:
GO! Me Fabric Cutter
(2) GO! Dies: GO! Cutting Mat-6" x 6"
5 patterns with easy instructions designed for all skill levels
💡Is Accuquilt GO! Me Worth It?
Accuquilt GO! Me can be the perfect companion to your bigger die-cut machines or an introduction to the crafting machines. It is ideal for small projects or crafters on the go since it folds up and becomes super compact.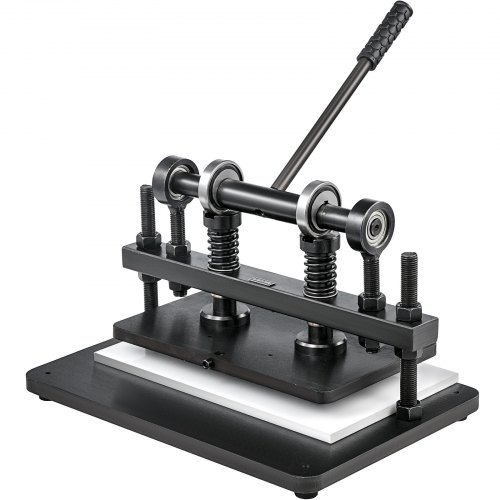 Vevor Leather Cutting Machine Manual Die Cutter is a fabric cutting machine that offers high precision cutting. It has a cold-drawn steel construction, making it incredibly robust.
It can cut various materials, including fabric, leather, foamed PVC, plastic, rubber sheets, and sponge. However, the cutting operation requires you to apply pressure to punch the design into the material, unlike the other crank-operated manual die-cut machines on the list.
The machine is equipped with a non-slip extended handle, double-guided shaft, and pressure relief pad, making it easier and more efficient to operate. It also has a self-lubricating copper ring that ensures a longer service life.
With a large, manganese steel base plate, the machine stays grounded, ensuring strong stability when you use it to press your designs.
While the machine's base plate is 13 inches by 18.9 inches (32 cm by 48 cm), the die pressing area is 8.7 inches by 14.2 inches (22cm by 36 cm). Consequently, the machine has a larger surface footprint than the usable cutting dimensions.
The machine is on the reasonable end of the price spectrum and comparable to other heavy-duty, expensive pressers.
🔑 Features
Adjustable pressure stroke: You can adjust the stroke of the die cutter up to 0.4 inches (1 cm), depending on the thickness of the material.
Sturdy construction: The cold-drawn steel structure with a large manganese steel base provide the machine with enhanced stability during operation and longer service life.
High load bearing capability: The machine can bear a pressure of 3300 lbs/1.5 tons.
Pros
Strong and durable
Large cutting area
Reasonable
Fast operation
Cons
Very heavy (99.2 lbs/45 kg)
Requires some experience in setting up the machine
It can become oily due to the self-lubricating ring
💡Is Vevor Leather Cutting Machine Worth It?
Vevor leather cutting machine has a simple mechanism that delivers fast, precise results. It may come with a steep learning curve if this is your first pressing machine. However, it is good value for money for small business owners.
Frequently Asked Questions
What Is The Best Die Cutting Machine?
The best die-cutting machine that fulfills all the requirements and hits all the marks is the Cricut Maker 3. However, it is pretty expensive, so you can also check out the Silhouette Cameo, Cricut Explore 3, or Cricut Joy for smaller projects.
What Is The Best Die Cutting Machine For Beginners?
Cricut Explore Air 2 is the best die-cutting machine for beginners since it is easy to operate, inexpensive, and versatile.
Is An Electronic Cutting Machine Better Than A Manual One?
The answer depends on your personal preference. An electronic cutting machine is extremely versatile, with more crafting possibilities. You can cut countless patterns and designs since you are not limited by the dies you own.
Moreover, it is also easy to use without putting any strain on your body since you do not have to turn a handle to create your projects.
On the other hand, manual machines are cheaper, more portable, and straightforward to operate. They may even last longer than the electric die-cutting machine one.
Features To Consider In A Die Cut Machine
Following are the feature to consider when buying a die-cutting machine:
Size
The size is imperative in determining the perfect die-cutting machine for you. Firstly, you must consider the crafting workstation and the storage space, so you choose the size accordingly.
In addition, the size of the machine is often proportional to the cutting width. Hence, if you want to create large projects, you need a bigger machine.
Work Materials
If you are a crafting enthusiast, you would already have an idea of the materials you use the most. Thus, determine which die cutters can handle those materials and make your decision.
On the other hand, if you are a beginner, opt for a machine that can work with basic materials, like paper, cardstock, fabric, etc.
Cost
Cost is another major factor to consider. However, apart from the cost of the die-cutting machine, you should also consider the price of the additional dies, tools, mats, accessories, and designs.
The cost can add up, especially in the case of a manual die cutter where you have to buy individual metal dies.
Weight
The weight of the machine is only relevant if you plan to move the machine around. It can be either for storing it away in the cupboard every time you are done crafting or carrying it around with you. In that case, you need a lightweight machine.
Contrarily, if you have a dedicated workstation with your machine firmly planted, you can opt for any die cutter regardless of the weight.
Conclusion
A die-cutting machine is a worthy investment for people who love to craft or own a small business. It makes the entire cutting operation seamless, efficient, and effortless. You can also produce multiple projects in quick succession and create the most intricate designs, impossible to cut precisely by hand.
The overall best die-cutting machine is the Cricut Maker 3, followed by Silhouette Cameo 4. Spellbinders Platinum is extremely competent and easy to use if you want a manual die-cutting machine.
With Bira Adjustable, you can cut fabrics effortlessly while Accuquilt GO! Big is best for quilting. Finally, both Accuquilt GO! Me and Cricut Joy are notable for crafting on the move.
Let me know in the comments if you want to add to the list!