There used to be a time when direct mail was the way to go if you wanted to advertise your services. Nowadays, there has been a massive shift towards digital marketing, but direct mail remains relevant.
Social media ads garnered almost the same median Return on Investment (ROI) as direct mail. The prior has 30%, while the latter had a 29% median ROI.
This means that direct mail marketing is still very much alive and kicking. What's more, it works just as well as any social media marketing campaign would.
Perhaps even more significant is the response rate garnered by these methods outlined in the same report. It showed that direct mail marketing had a far higher response rate than other methods.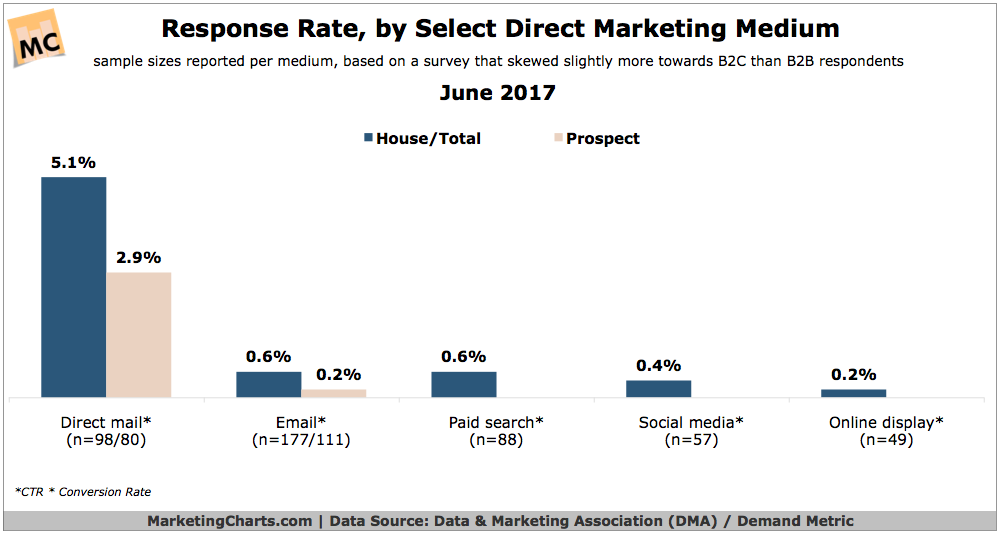 Choosing the best direct mail service is still an excellent marketing strategy to deliver impactful results.
What Is Direct Mail Marketing?
Direct mail is a marketing campaign in which the marketing materials are delivered directly to the door (or the mailbox) through a postal service.
Any physical correspondence you use to reach out to clients when you hope to convert them into your customers.
A more "modern" parallel to it would be e-mail marketing campaigns, where instead of physical marketing materials, e-mails are sent to clients across the country or the world.
Benefits Of Direct Mail Services
Many people believe that direct mail just doesn't work anymore due to the popularity of e-mail. However, this is often wrong, as the research we outlined shows. There are a few reasons for this.
Make mail more memorable
For starters, people often remember direct mail better than e-mail materials. An e-mail is easy to delete, and it takes just a second or two. What's more, a lot of e-mails look and feel the same.
On the other hand, receiving a physical copy means you at least need to interact with it somehow. People will need to figure out a place for it, even for a day. And this means that it will stay on your potential customers' minds for some time.
Direct mail services
Using a direct mail company can help you with this and make your life much easier. They will print and deliver your flyers and brochures, while some even offer design services to help create marketing campaigns that are memorable and effective.
Using a direct mail company is always a sure way to an effective direct mail campaign. Today, we look at the 23 best direct mail companies you can get in touch with.
What Are The Best Direct Mail Companies?
Let's look at some of the finest direct mail companies for entrepreneurs and businesses of any size. We looked at what they offer, their costs, advantages, and disadvantages of each of them, so you can decide which is right for you.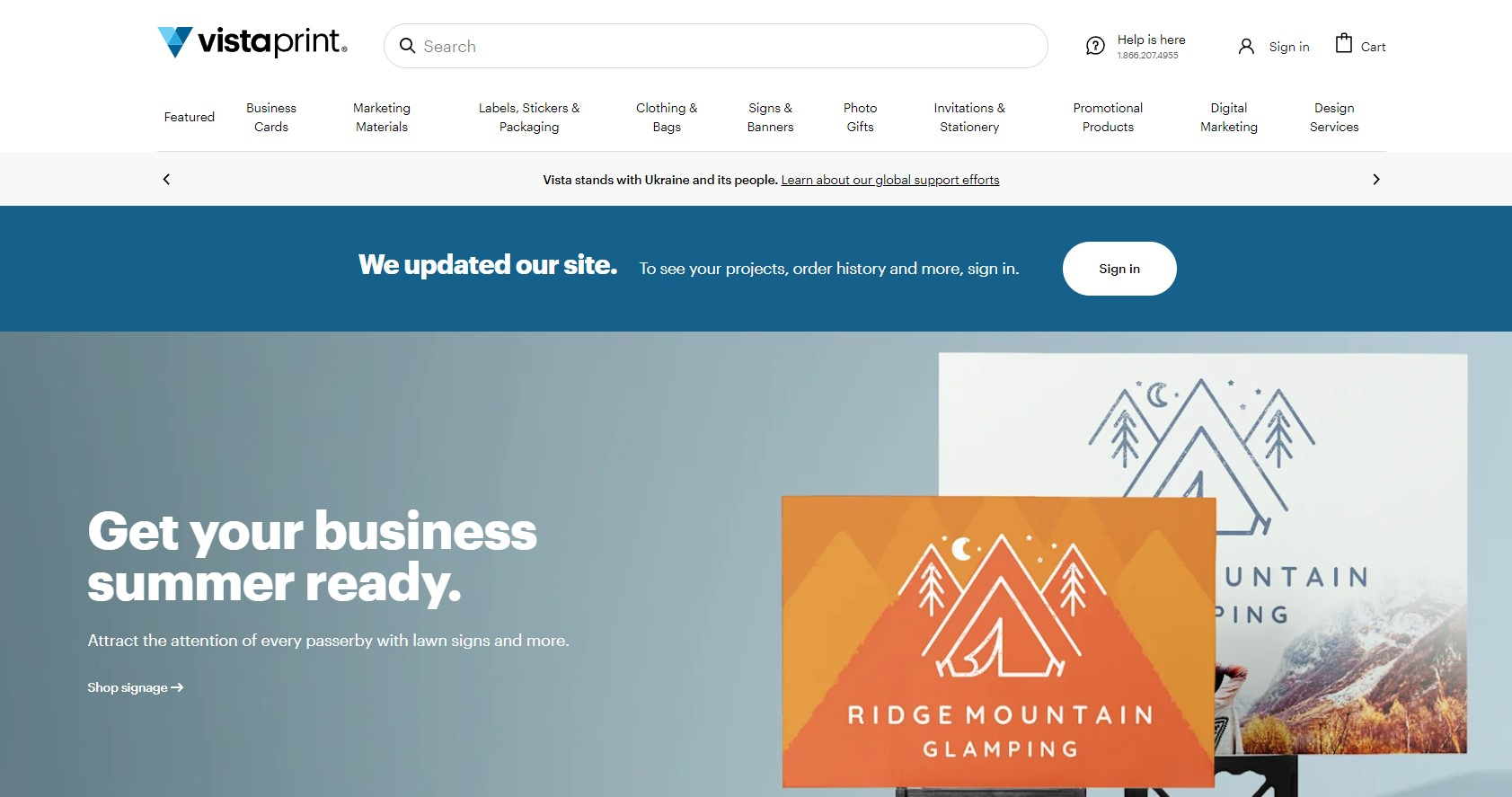 Vistaprint offers mailing services across the globe. They work with over 17 million businesses to create the best direct mail campaigns possible. What's more, they don't offer only direct mail services, but digital marketing too.
🔑 Features
Vistaprint offers design services through their online design studio so that you can customize all your products.
They also offer various products, including business cards, calendars, clothing items, etc.
You can even play with your design by using the templates offered on their website.
Pros
Excellent printing services will meet all your needs.
The software is quick and easy to use.
Templates are free and cover a lot of styles.
Cons
Vistaprint doesn't offer expedited delivery services.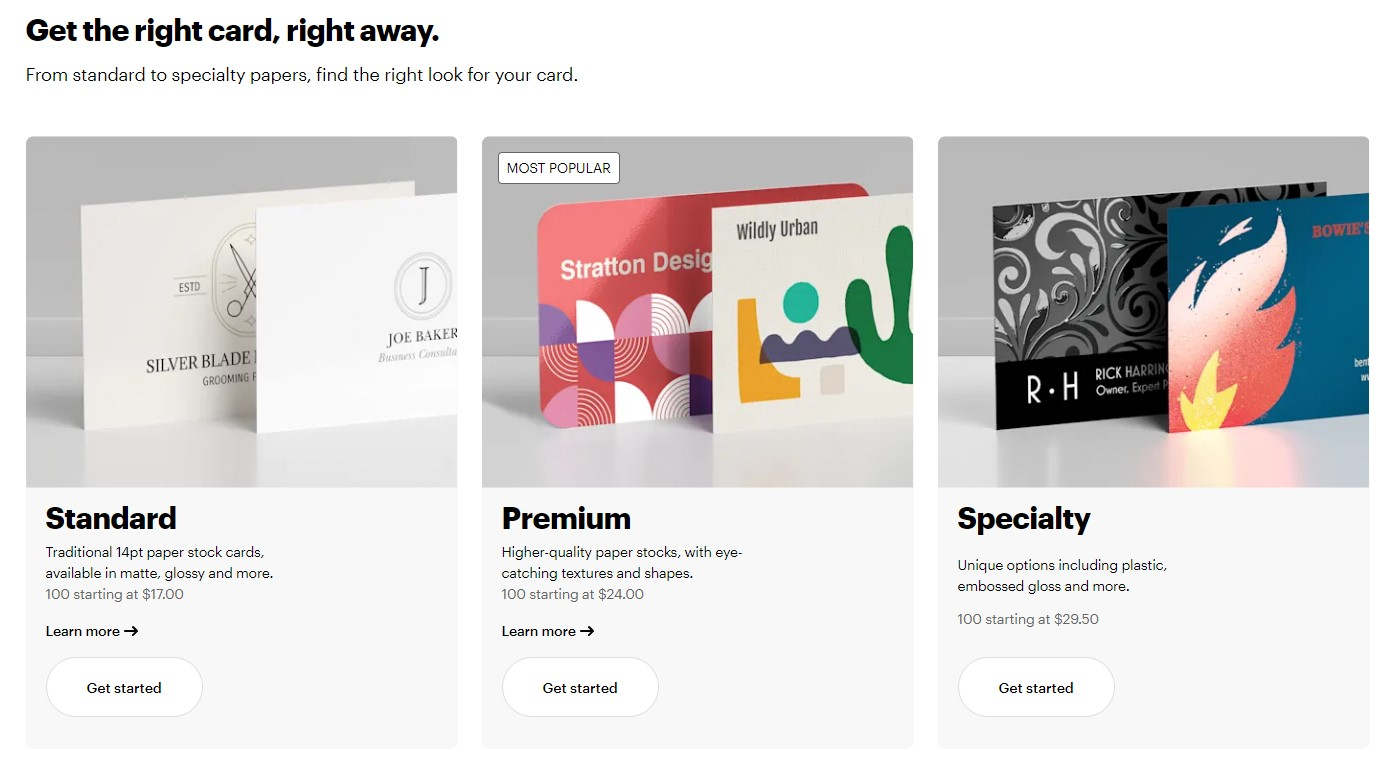 Due to the large number of items they offer, the pricing varies significantly. The business cards, for example, start at $17.00 for 100 items, but the price changes with the order quantity and quality. We encourage you to visit their website and learn more.
💡 Is Vistaprint Worth It?
Vistaprint offers a wide variety of good direct mail services, made even better with user-friendly custom design services.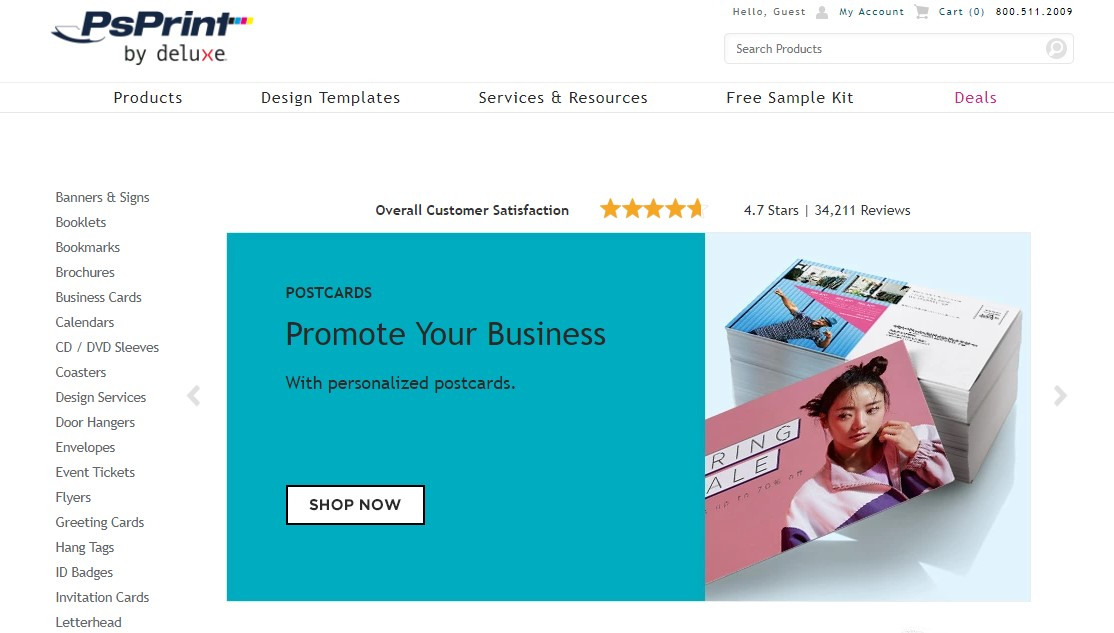 PsPrint differs from other direct mail companies in what they offer. For example, while an average direct mail service will generally focus on business cards, PsPrint offers magnets, stickers, postcards, etc.
🔑 Features
PsPrint is one of the rare direct mailing services which offers die-cut options for your labels.
There are sound design services that you can work with to create the marketing materials you want.
A huge variety of products are on offer.
Pros
Very cheap direct mail service.
The quality of the print is of good quality.
Their design services are easy to use and very intuitive.
Cons
The one thing missing from their design tool is snap guides.
The pricing of their services can sometimes be unclear and confusing.
Again, due to the massive variety of printing services on offer, the cost can vary widely based on what you need. One hundred standard business cards, for example, cost $20.39 to print.
💡 Is PsPrint Worth It?
PsPrint offers low-cost, high-quality printing services that you can enjoy. The variety on offer should be able to meet everyone's needs.

48HourPrint claims to be all about quality printing services. They offer convenience and take great pride in their customer service. They also offer anything from signs and banners to stickers and labels and print custom packaging.
🔑 Features
You can request 48HourPrint's free sample kit to test out the quality of their work.
The team reviews every order so that the quality will be the best possible.
The online design studio will help you make suitable direct mail materials with pre-made templates.
Pros
Affordable prices mean you can get your direct mail marketing materials with every budget.
The quality of their direct mail marketing services seems to be very high.
Cons
Some users have complained about the delivery time and the absence of notifications.
The customer service seems to be slow to respond, or there is a lot of waiting time.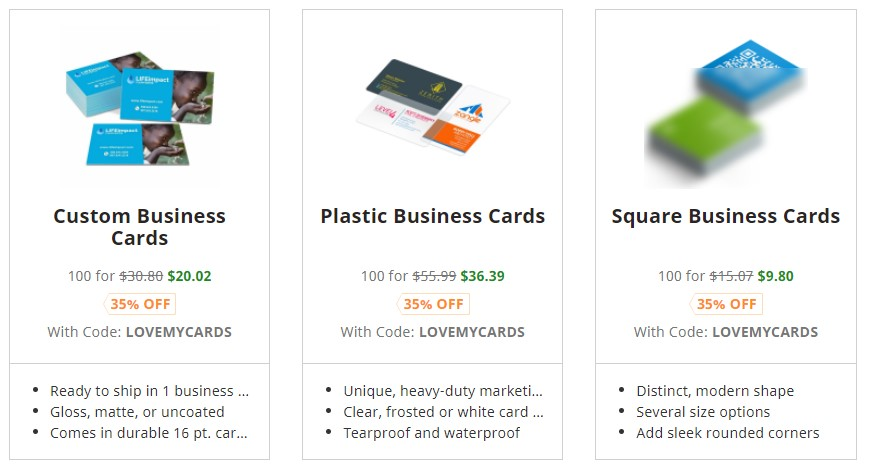 Like with other direct mail services, there is a considerable cost discrepancy regarding the products. One hundred "classic" business cards cost $30.80 (though they often offer discounts).
💡 Is 48HourPrint Worth It?
48HourPrint is another direct mail company that offers various services reasonably priced. However, the complaints about their delivery time and customer service should make people think carefully about picking them.

Overnight Prints offers one of the best direct mail services at a competitive price. However, the downside is that you must abide by their specs. There are no custom print specifications, which can be off-putting for some people.
🔑 Features
You can upload your customer list, and Overnight Prints will use their mail services to deliver your material to them.
Upload your design, and their in-house design team will work with it.
There are over 5,000 pre-designed templates for you to choose from when designing your direct mail marketing campaign.
Pros
Very high-quality printing services.
Design services are outstanding, and it's easy to create your cards.
The cost is pretty low.
Cons
You are limited to the default/standard size.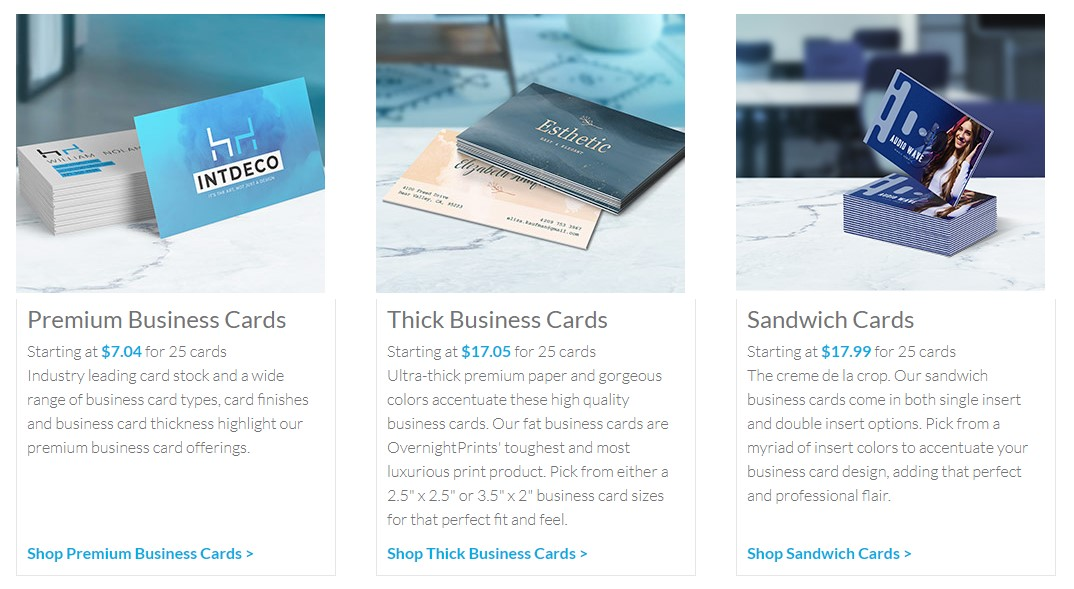 Again, the prices depend on what material you are printing in your marketing campaign. The premium business cards start at $7.04 for 25 cards.
💡 Is Overnight Prints Worth It?
Overnight Prints offer good direct mail marketing services at an affordable price. However, the specification limits can sometimes be too limiting if you want to personalize every aspect of your direct marketing campaign.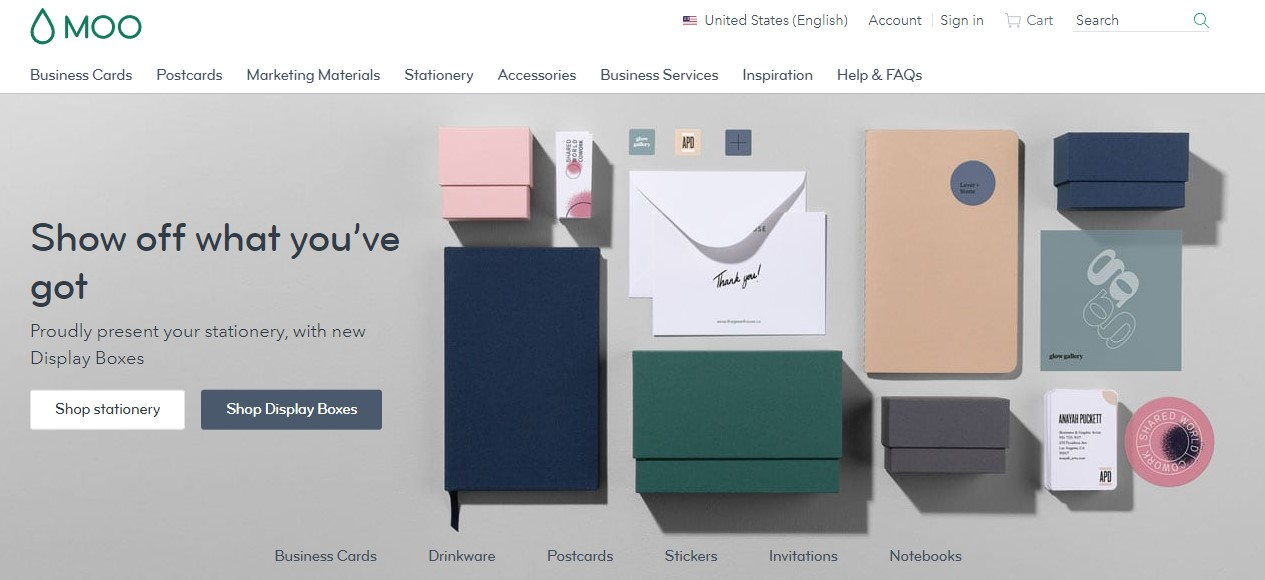 If you want the design services of your direct mail company to be easy and smooth, then MOO is the way to go. They might offer one of the most straightforward design processes on this list, but it does ask you to dedicate more of your budget to them.
🔑 Features
Very intuitive and easy-to-use design tool.
Offers a variety of marketing materials, from business cards to water bottles.
There are different tiers of service depending on your needs.
Pros
The templates are great and stylish.
Shipment packaging will protect your marketing materials.
Cons
The customization options are not the best.
Higher price tag than other direct mail companies on this list.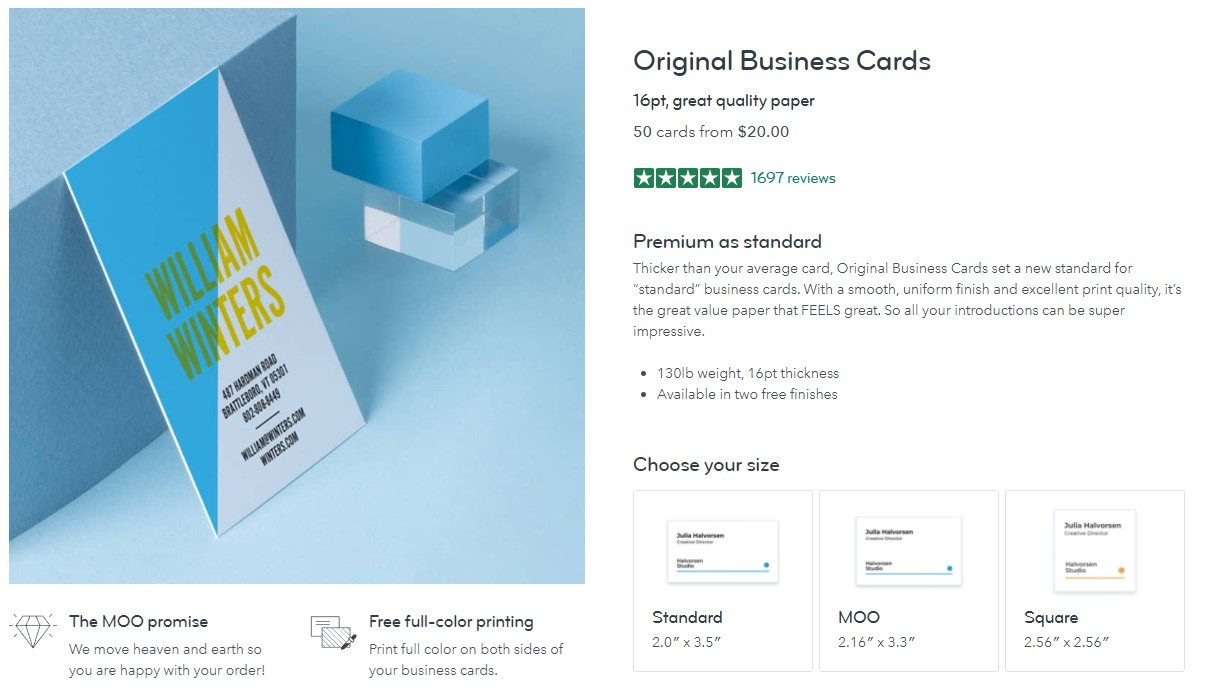 MOO will require a bit of a higher budget than other companies. You will need to set aside $20 for 50 standard business cards when working with them.
💡 Is MOO Worth It?
MOO's website design is fantastic and intuitive, and the templates they offer are stellar. However, the online editor might need more customizable options, and the prices can be too high.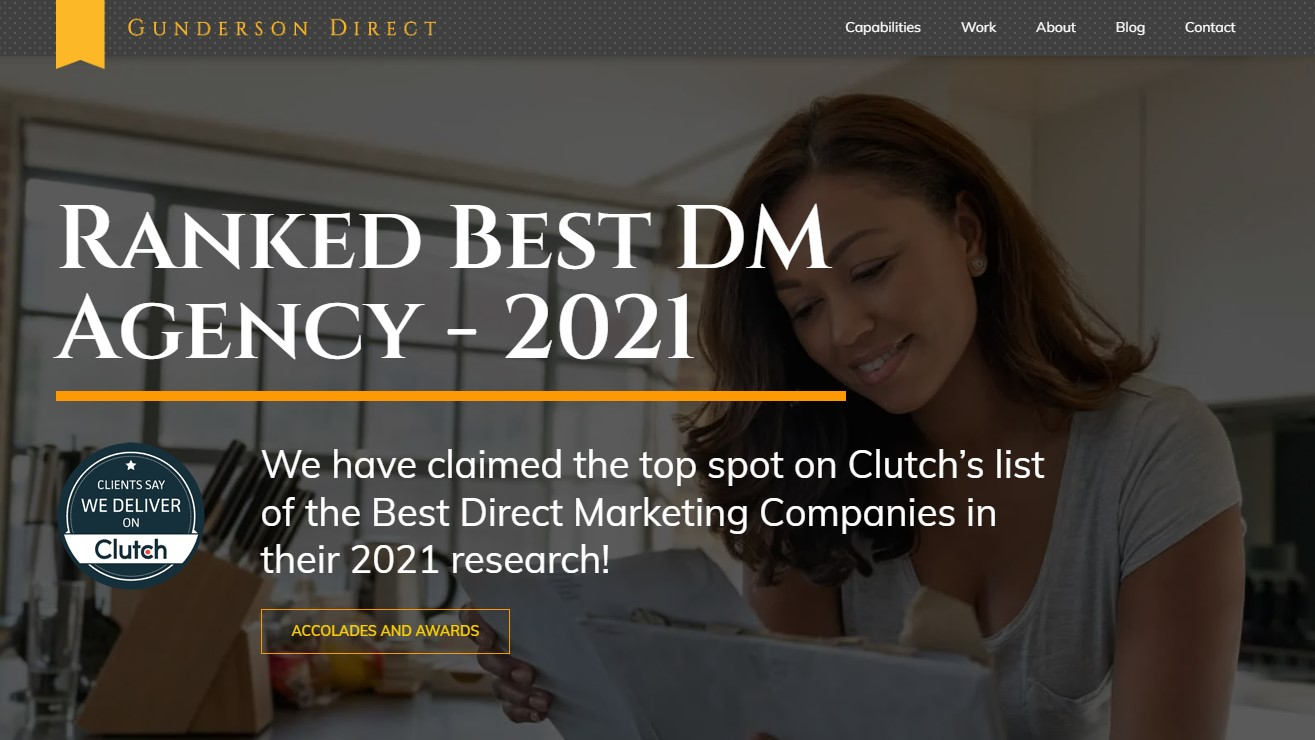 With over 20 years of experience in house mailing services, Gunderson Direct works with a business of any size to deliver excellent direct mail services. They will help you plan, design, and implement your marketing campaign from start to finish.
🔑 Features
Excellent design services and tools.
Gunderson Direct offers valuable analytics to help you optimize your campaign.
Help with strategizing and implementing your campaign.
Pros
Gunderson Direct specializes in B2B direct mail.
The ROI calculator on their website is straightforward to use.
The advanced analytics that they offer can help guide your decision-making.
Cons
Even though they work with all companies, their main focus seems to be larger ones.
The minimum order quantity is higher than with others on this list.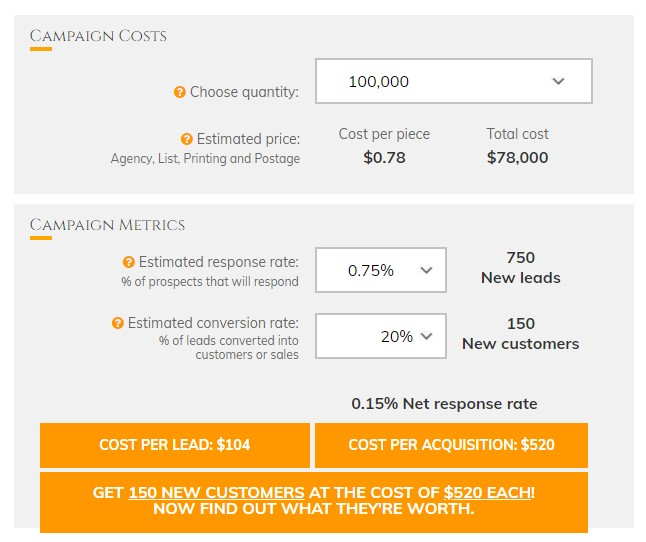 Gunderson Direct offers an ROI calculator on their website, which you will need to play with to figure out the cost for your needs.
💡 Is Gunderson Direct Worth It?
Gunderson Direct offers good direct mail services, though focusing on larger companies can be a huge detractor in working with them.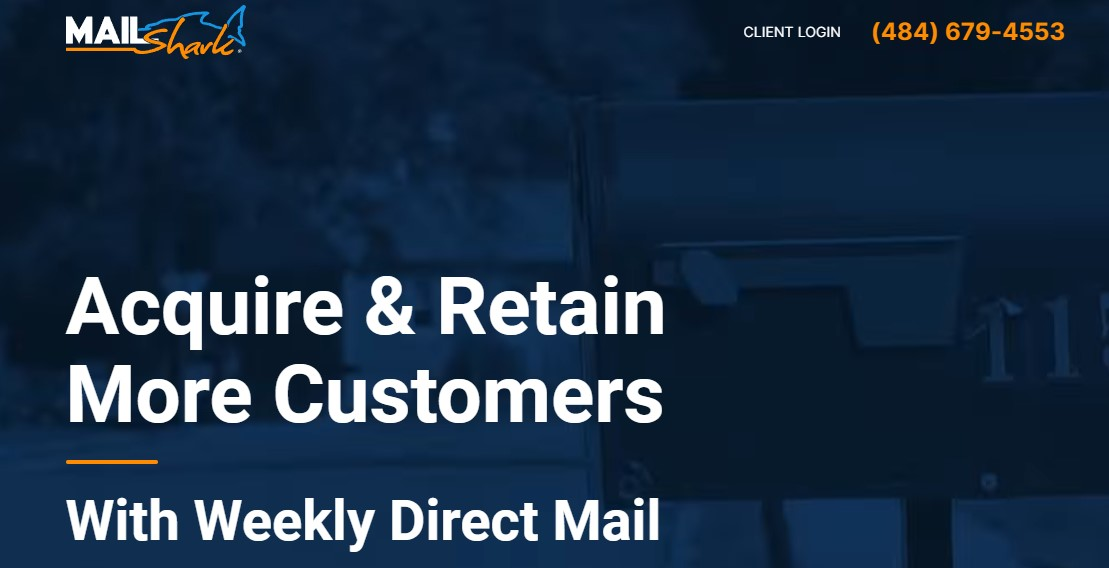 Mail Shark doesn't only offer door direct mail services. They also have marketing programs and printing services that suit your every need. Many of their clients seem to come from the hospitality industry, but they offer various services.
🔑 Features
Direct Mail Design and Printing services will help bring your ideas to reality.
They offer targeted mailing lists so that you will reach a specific audience with ease.
They have door direct mail EDDM services if you prefer to do some work yourself.
Pros
There is a lot of praise for the employees working in Shark Mail.
The cost seems to be a bit cheaper than their competitors.
The printing quality seems to be very good.
Cons
There are some complaints about how long it takes Mail Shark to print out your materials.
It seems like you might not be able to cancel the order at any time, so make sure you know what you are getting into.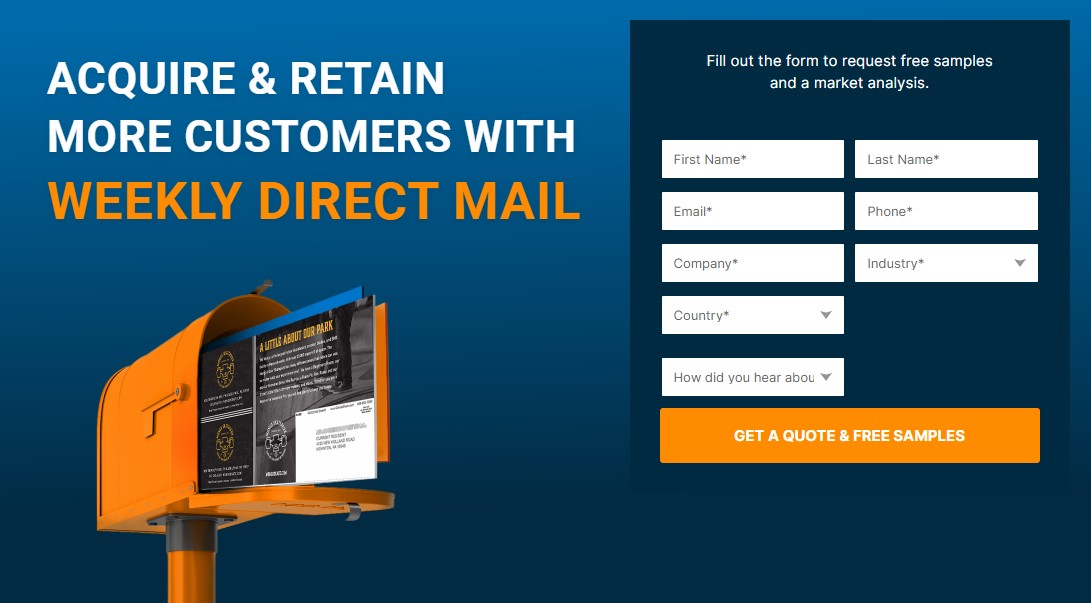 They do not offer prices on their website. Instead, you will need to get a quote and free samples from their website.
💡 Is Mail Shark Worth It?
With a good variety of services, Shark Mail seems a good choice for people in the hospitality industry.

If you need to send a high-volume order in a short period, then Next Day Flyers is the company for you. They boast a fast turnaround time, good services, and a variety of products for your direct mail campaigns.
🔑 Features
They offer custom printing services.
There are EDDM and direct mail services for you.
You can even rent their own mailing list for your needs.
Pros
The product quality is exceptional, and there are many paper options.
Their service is speedy - it is not just a boast.
You can work with Next Day Flyers to create custom mailers for your customers.
Cons
There are no tracking features for your shipments.
Next Day Flyers have an in-house design team which will cost you a bit extra to employ.
They do not offer marketing strategy services like some other companies on the list.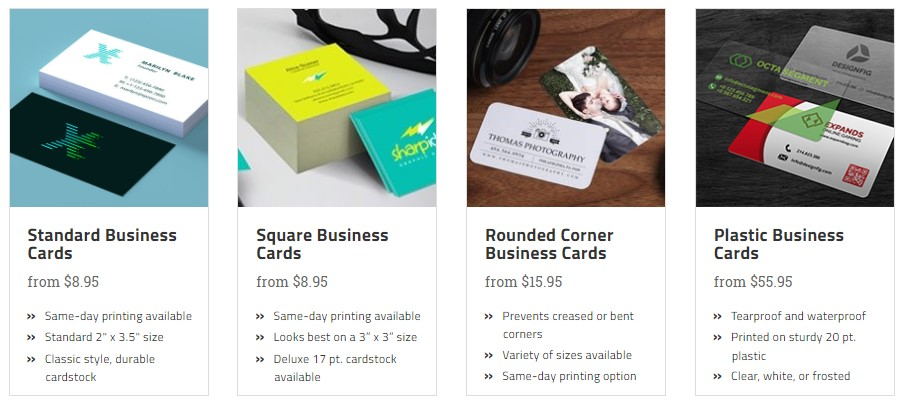 Like many companies on this list, their services differ based on what you need. The Standard Business Cards start from $8.95.
💡 Is Next Day Flyers Worth It?
With good printing speed and a fast turnaround time, Next Day Flyers seems to be the perfect choice for people struggling to meet their planned deadlines. With this company, you are bound to reach your direct mail targets.

Do you need your direct mail advertising tool to have an easy-to-use interface? Then it is Cactus Mailing that you want. Its coordinated Google ad campaigns are what sets them aside from other top direct mail companies.
🔑 Features
Cactus Mailing offers targeted mailing lists to help you reach customers quickly.
They also have call tracking services.
Direct mail postcards and brochures are included too.
Pros
There are many additional features you can choose from other than direct mail.
All direct mailers have a tracking phone number to transfer the calls to your business.
Cactus Mailing is amazing at printing promotional brochures.
Cons
Cactus Mailing is very niche-specific and focuses primarily on real estate and restaurants.
If you want direct mailers that are not brochures, you might be better off at another direct mailing company.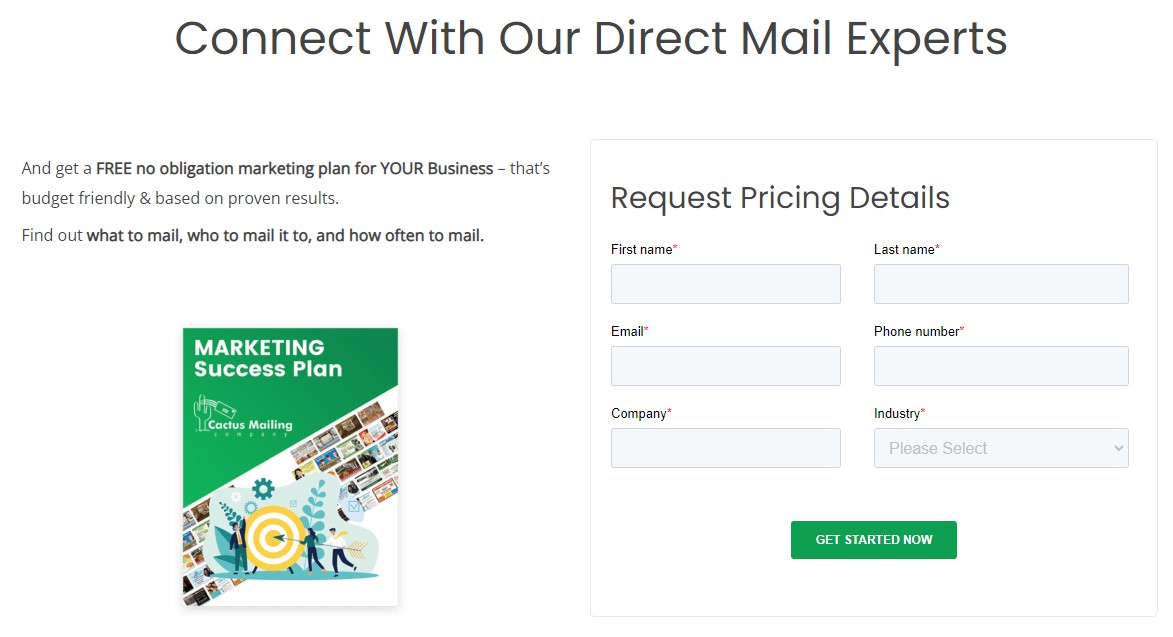 You will need to connect with their direct mail experts to get your quote. However, they do offer a free marketing strategy once you do.
💡 Is Cactus Mailing Worth It?
Cactus Mailing is a good company at what it does, and this is designing and printing brochures. Its Google Display Ads focus is also pretty great, but the lack of versatility in the niches they work in is a detractor.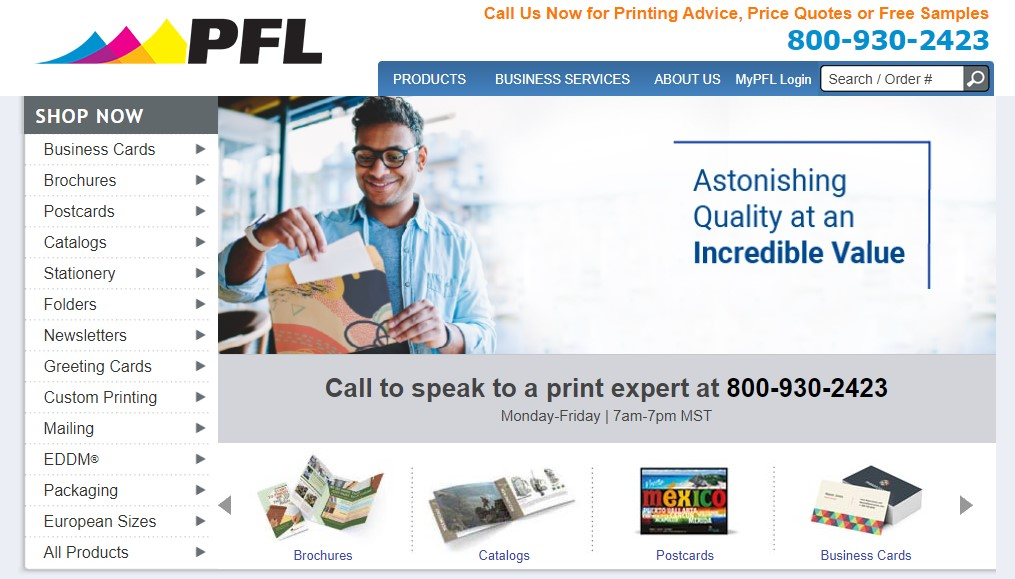 Since it was started in 1996, PFL is the oldest online print shop. This certainly makes it one of the oldest online direct marketing tools, but that doesn't mean they are not inventive with EDDM campaigns and various products on offer.
🔑 Features
They offer custom direct mail solutions to meet your needs.
A variety of direct mailing services.
Tactile Marketing Automation service.
Pros
There is a good number of products on offer.
They will support you through the entire process, from designing, over printing, to mailing products.
They provide targeted mailing lists and list "cleaning" services for better optimization.
Cons
You might feel like you do not have enough control when sending times, customization, or deadlines.
You will need in-house tracking since access to their analytics is very limited.
Not one of the best direct mail companies for small business owners.

You can get an instant quote by visiting their website. The prices vary based on the product.
💡 Is Printing For Less Worth It?
With a direct mailing service and good marketing tools, PFL is a good choice for medium to bigger companies.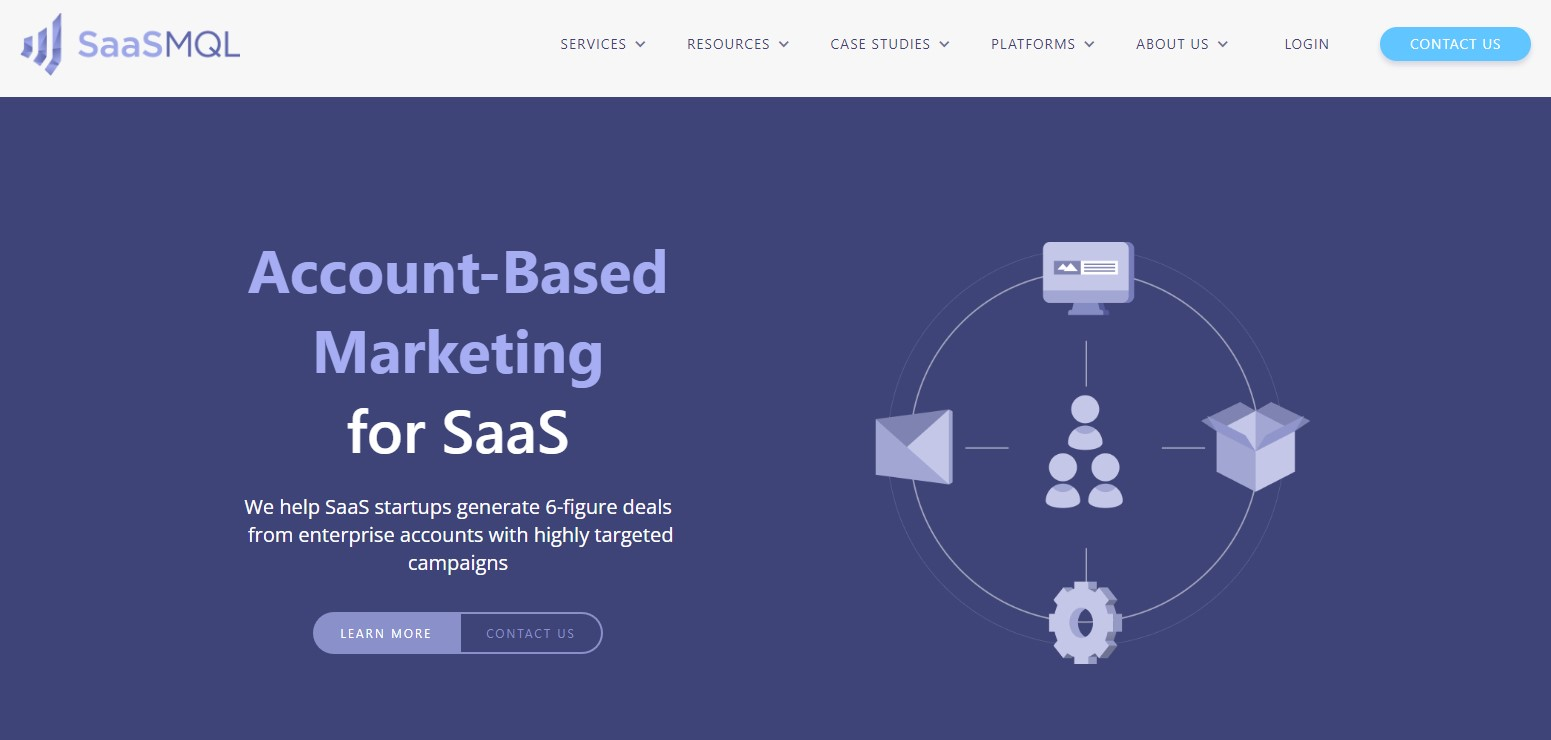 If you are looking for a full-service agency, then you need SaaSMQL. However, as their name suggests, their primary specialty is the SaaS companies.
🔑 Features
Targeted mailing lists will help with your campaigns.
They also offer ABM Analytics.
SaaSMQL works with Salesforce for campaign ROI data.
Pros
They are experts in targeted campaigns with a good focus on SaaS.
SaaSMQL will help with the entirety of your direct mailing campaign.
Their customer service is pretty excellent and will support you.
Cons
They primarily work with SaaS companies.
This is not only a direct-mail advertising company, so they might not entirely focus on it.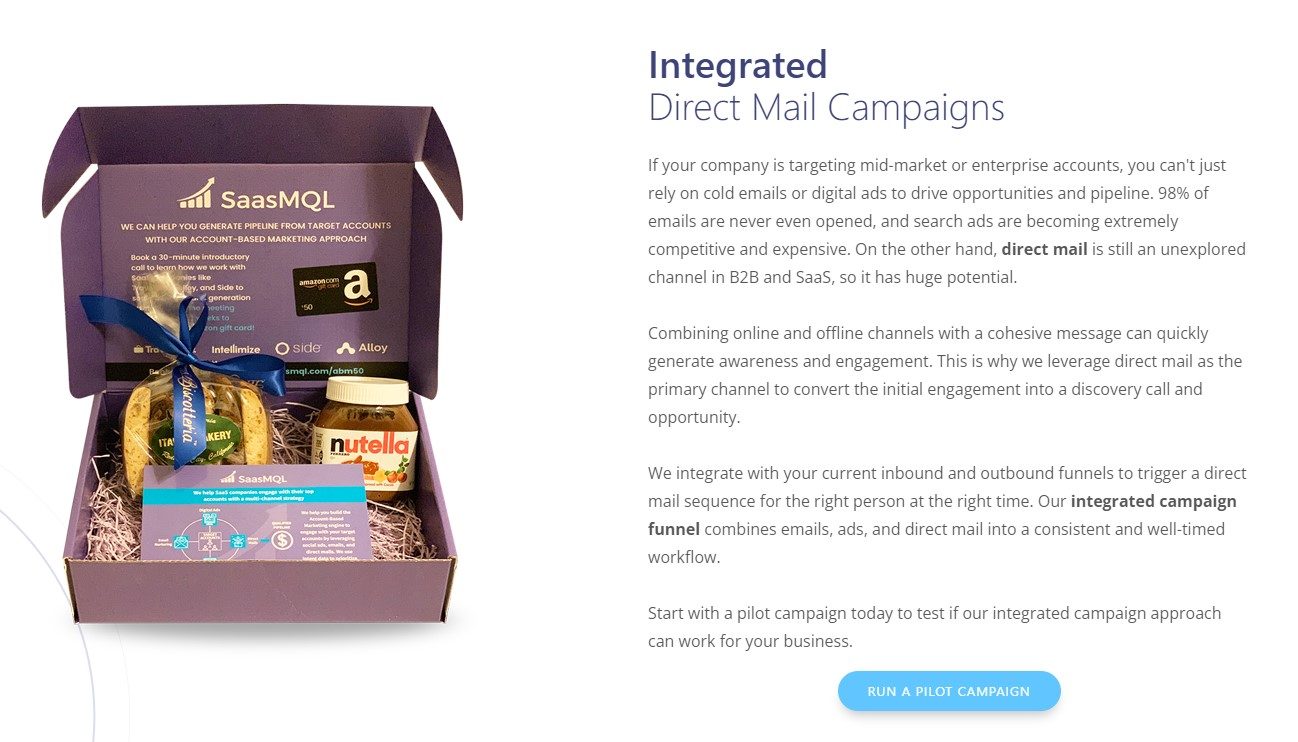 To find the correct pricing, you will need to consult with their team.
💡 Is SaaSMQL Worth It?
If you are a SaaS company, then SaaSMQL is a great direct mail marketing company. However, other companies might want to look for another best direct mail service.

If you are tired of direct mail marketing companies only working with medium or big businesses, Postcard Mania is the way to go. They are a postcard mailing service that will help you print and deliver them to your customers.
🔑 Features
They offer mailing lists for you to use.
Graphing design services are there for you.
They got direct mail API as well as retargeting.
Pros
There is a good variety of products for you.
The analytics will gather the data to track campaign results.
Their design team will help with your needs.
Cons
There have been some complaints about the communication with the company, which can sometimes take some time.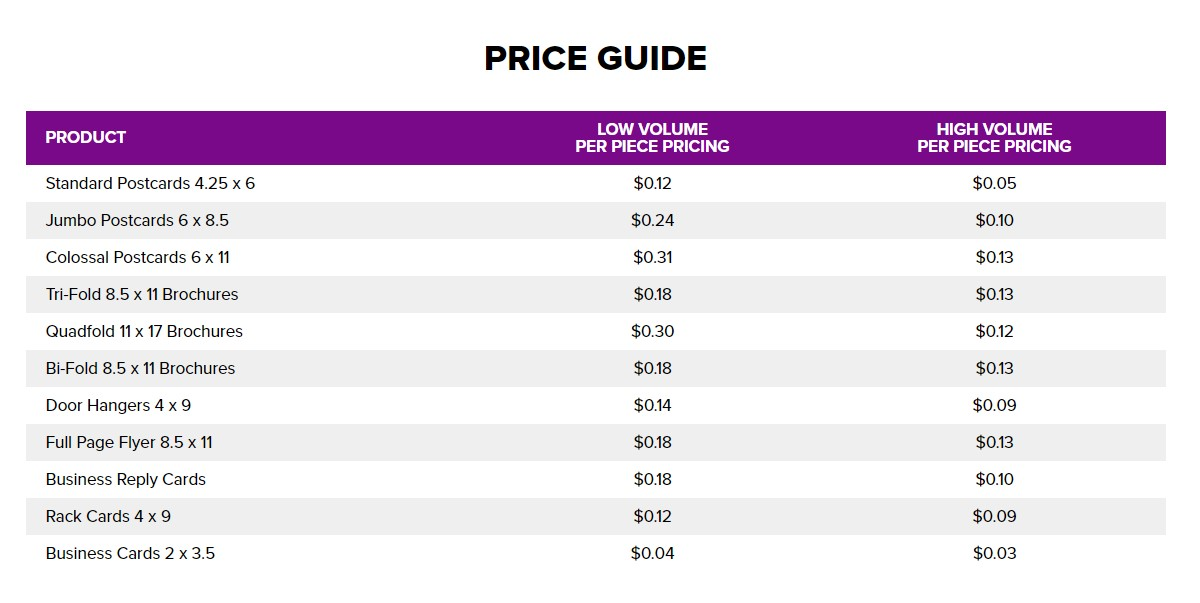 Yet again, the costs will depend on the product you want and the quantity you are planning to use in your direct mailing campaigns.
💡 Is Postcard Mania Worth It?
Postcard Mania is one of the best direct mail companies in the game. However, it is limited due to its primary focus being postcards, as the name implies.

While many direct mail services struggle when integrating with digital marketing, Modern Postcard manages to thrive in doing it. They also offer an array of great direct mail templates for the custom design of your dreams.
🔑 Features
Lists and Data will let you gain mailing lists of new prospects who will buy your products.
Their design team will help you prepare your marketing efforts or just completely design them for you.
Direct marketing services will help you develop your marketing strategy and have marketing campaigns that people envy.
Pros
Outstanding marketing support services to help you stand out.
Consumer data will shape the way you approach your marketing efforts.
Their mailing lists include consumers, businesses, etc.
Cons
The entire process takes some time.
The communication efforts on the company's part do require a bit of work.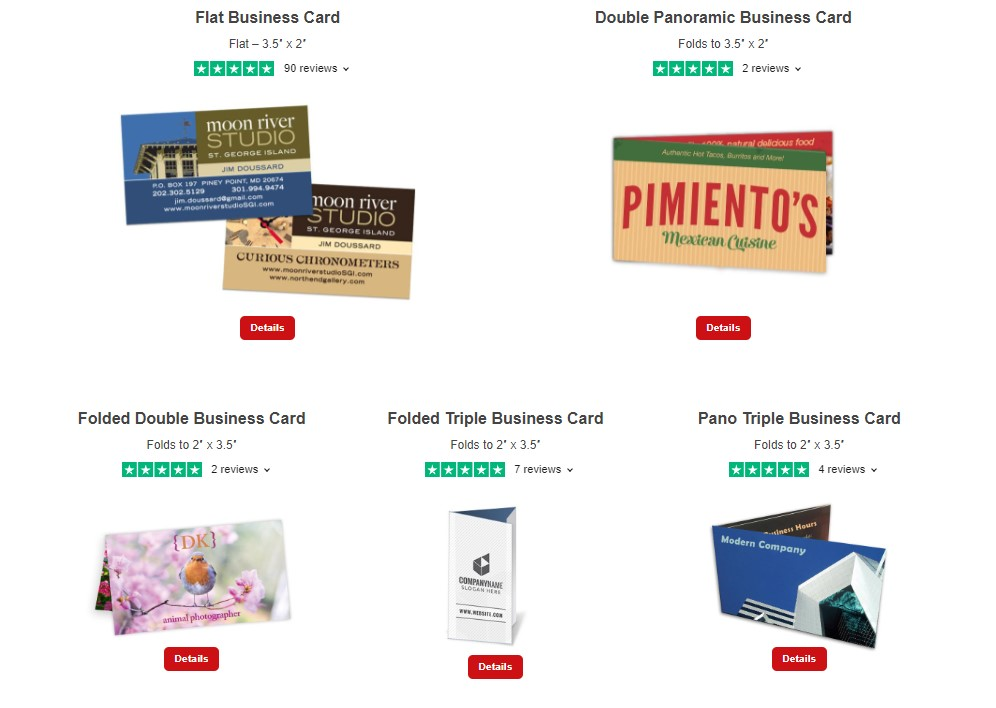 You will need to request a custom quote to get the pricing information.
💡 Is Modern Postcard Worth It?
With many direct mail templates, Modern Postcard is a good choice for those who have not yet designed their promo materials. However, the communication with their team will require some patience.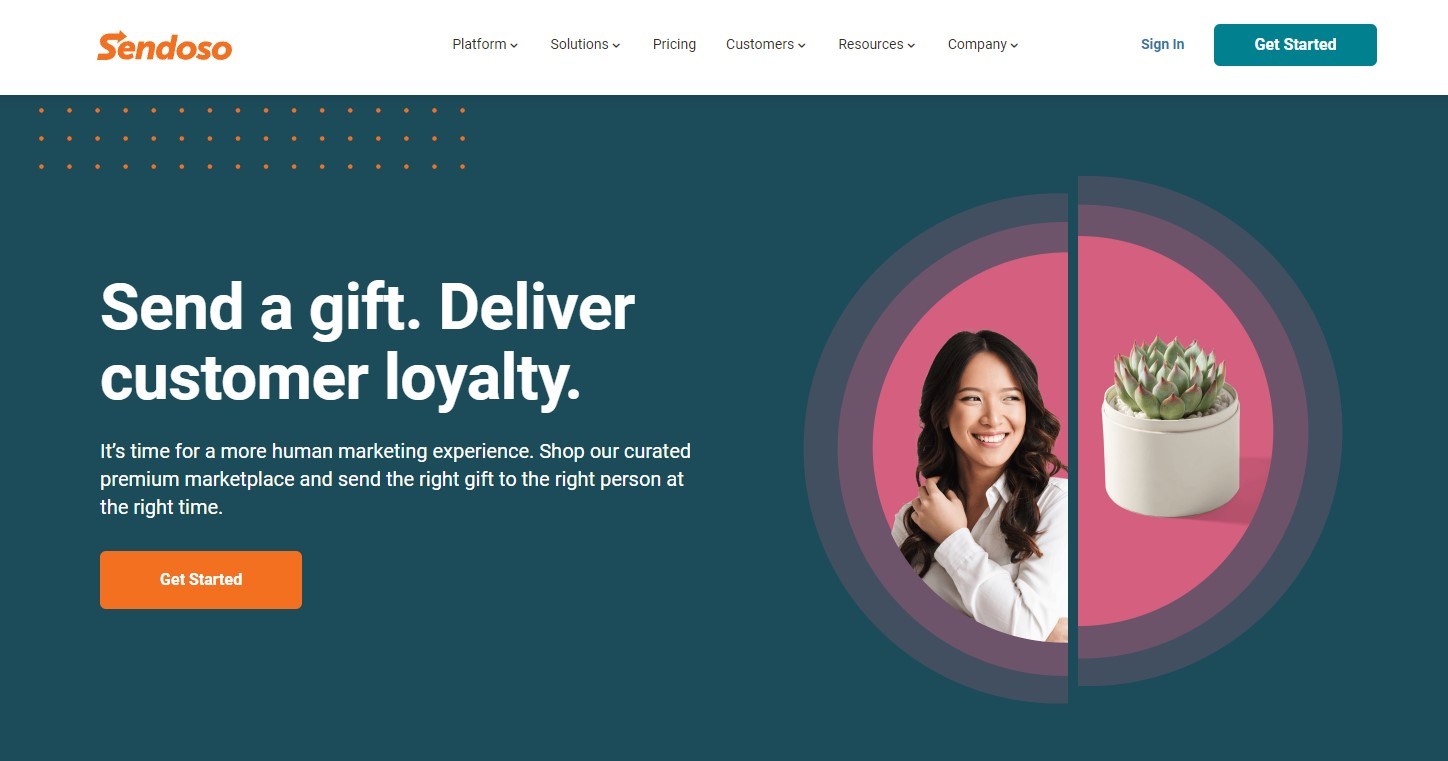 You do not need a post office when Sendoso is here. The company takes great effort in connecting you with your customers through unique gifts, virtual experiences, and much more.
🔑 Features
Source, store, and ship your goods and products.
Measure the ROI of anything you will need.
Sendoso helps with all the logistics of the direct mailing process.
Pros
Sendoso is a great way to stand out from your competition through personalized gifts or messages.
Great for mass-scale direct mail.
Perfect for your first direct mail campaign.
Cons
There are some limitations to what you can do.
There have been complaints about the app's backend, with some bugs and glitches appearing from time to time.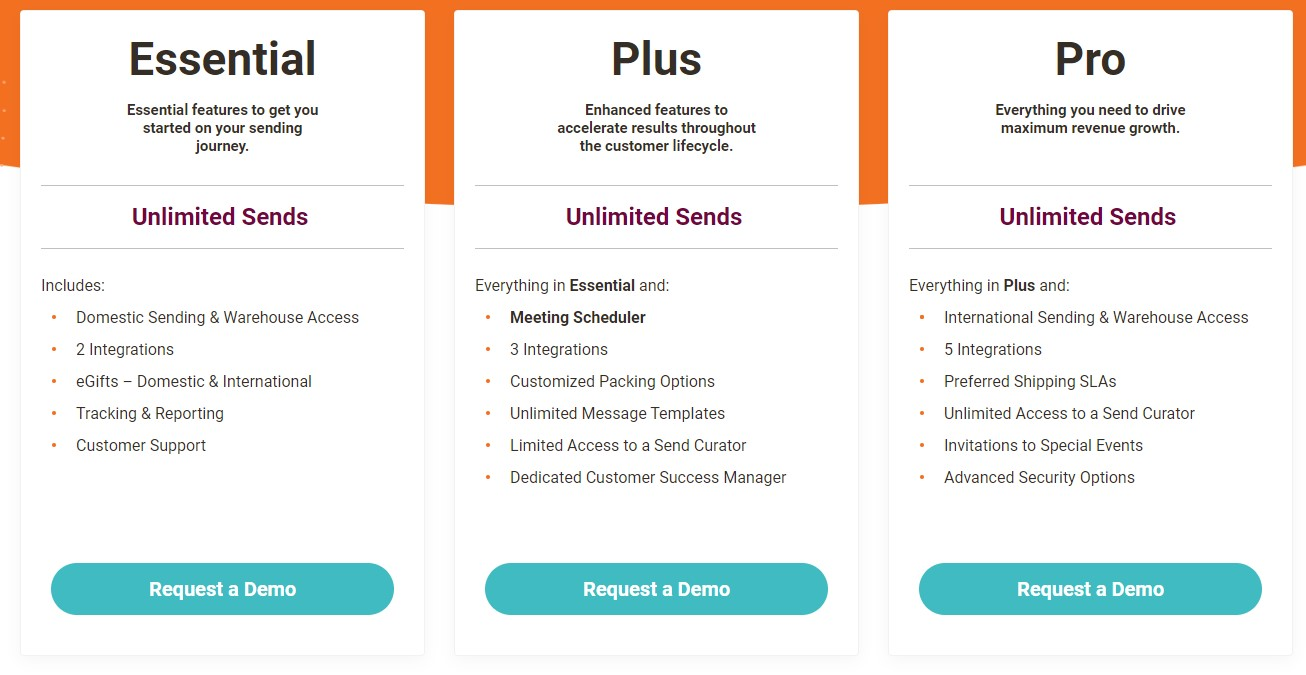 Based on your needs, there are three tiers of direct mail services to explore.
💡 Is Sendoso Worth It?
Sendoso is an amazing sending platform to connect customers with personalized messages, gifts, and virtual messages.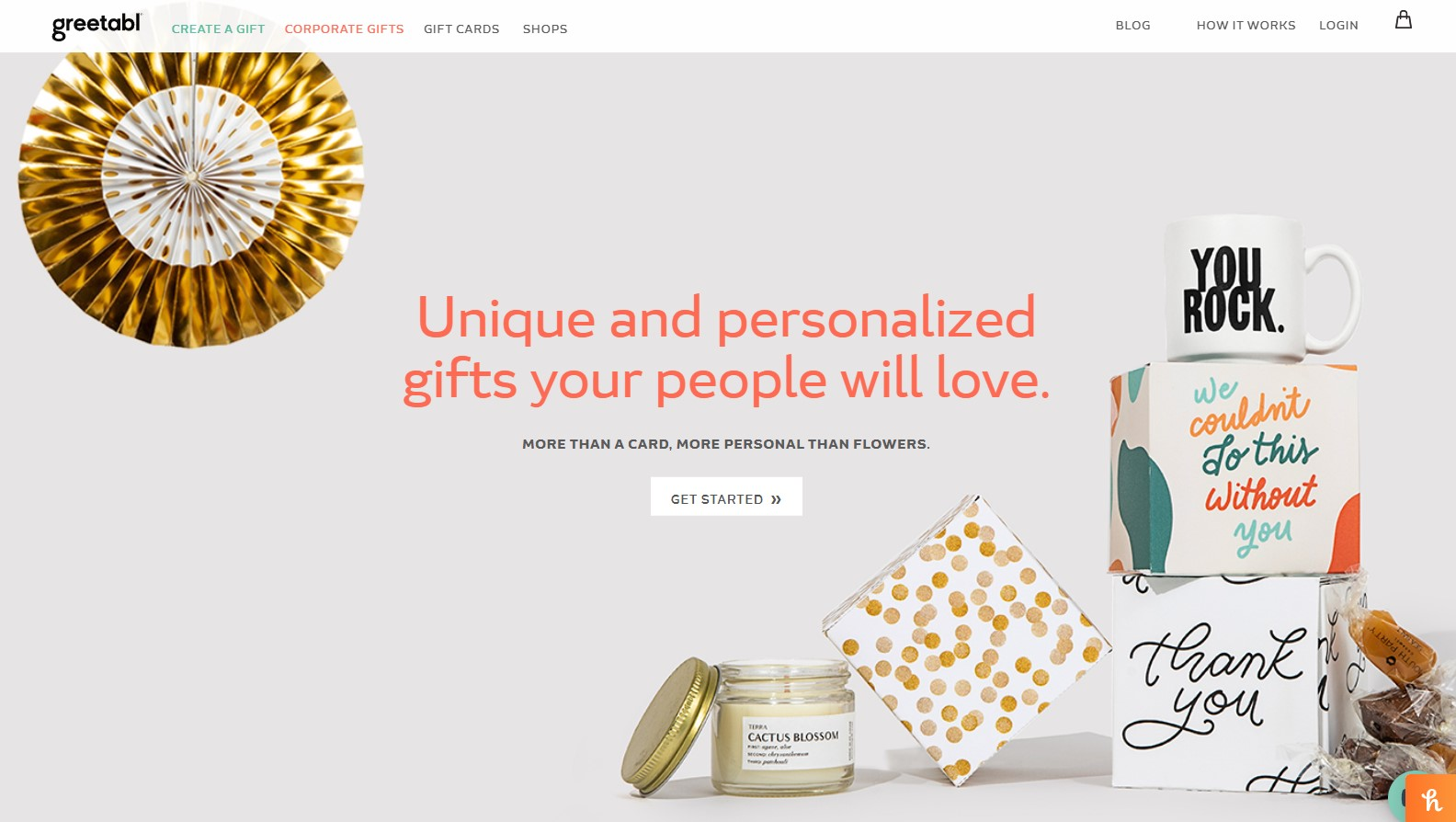 Greetabl is another fantastic direct mail service that will let you design the box and send your items for a very affordable cost.
🔑 Features
What makes them the best direct mail service is that they can handle both small and large-scale orders.
You can design your products or use one of their designs.
They have personalized gifts and messages for many occasions.
Pros
The pricing on their direct mail service is pretty great.
There are various gifts and products that you can use in their direct mail marketing service.
It's effortless to use and covers a wide range of interests.
Cons
There seem to be no bulk shipping options, so you will need to send everything individually.
Even though the cost of a shipment is low, they can add up pretty quickly.

Just like with every door direct mail service on this list, you will need to decide on the product before getting the costs of shipping it via direct mail.
💡 Is Greetabl Worth It?
The service they provide is great, and there are many things to send people. However, their focus isn't on direct mail campaigns too much, which a big business might not enjoy.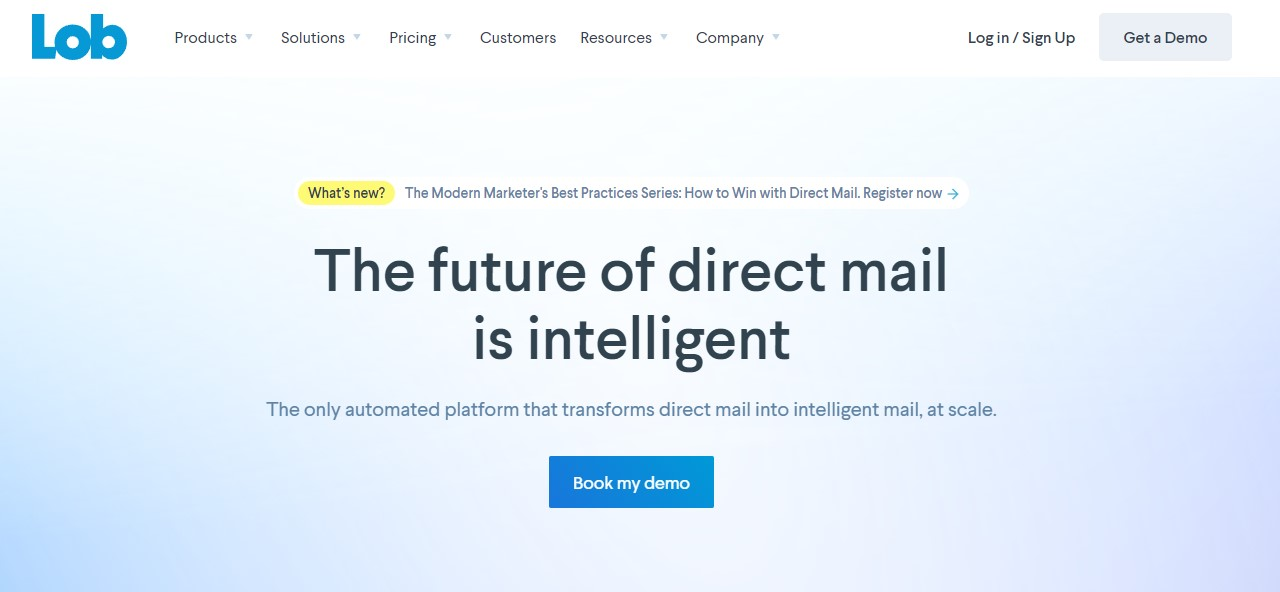 There might not be a wiser or more stylish choice for direct mail marketing than Lob. They let you control your direct mail campaigns in every aspect you can, just like you would your digital marketing tools.
🔑 Features
Automatic triggers will give you direct mail response rates to scale your campaign as you need.
There is an easy API integration for easy tracking of packages.
Their dashboard and analytics are extensive and informative.
Pros
The API is straightforward to use.
Their testing capabilities will make direct mailing easy for you.
They have optimized their delivery system to create the best direct mailing service.
Cons
Setting up their mailing services and the delivery itself can sometimes be a bit slower than the other best direct mailing services on offer.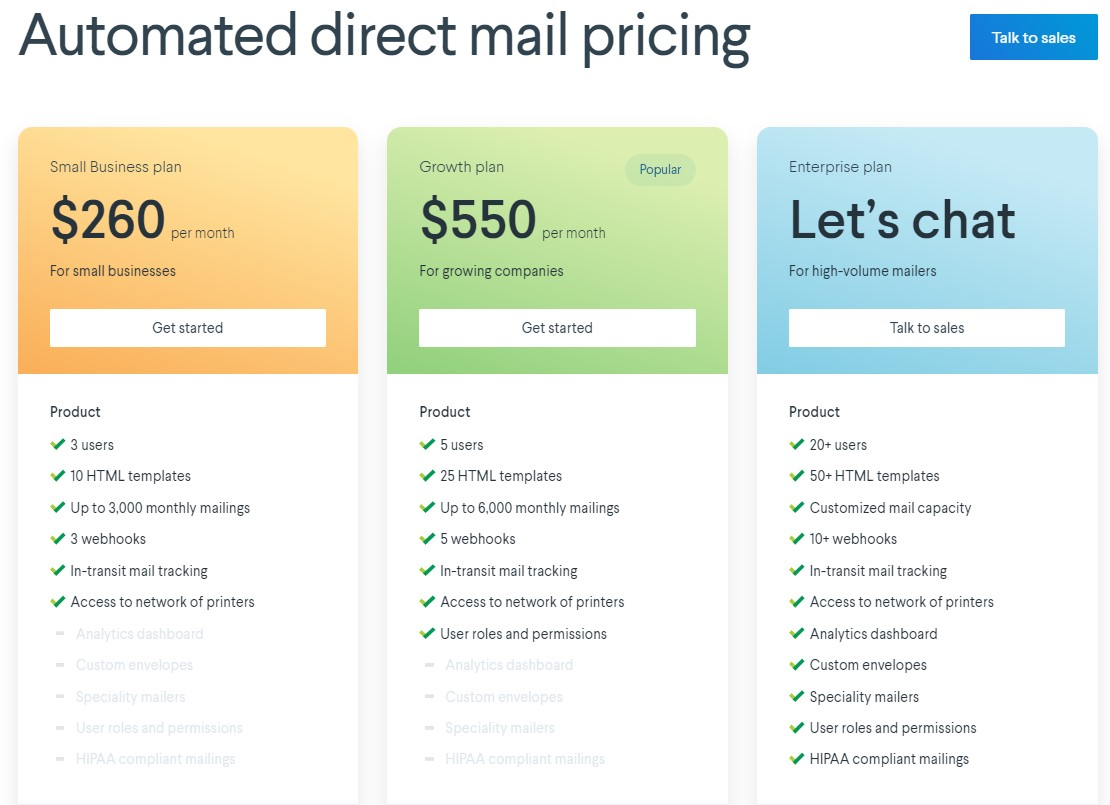 💡 Is Lob Worth It?
If you want a more profound control of the direct mail marketing campaign, with a lot of insight into the process, then Lob is a good choice. The downside is that the delivery time can sometimes stagger.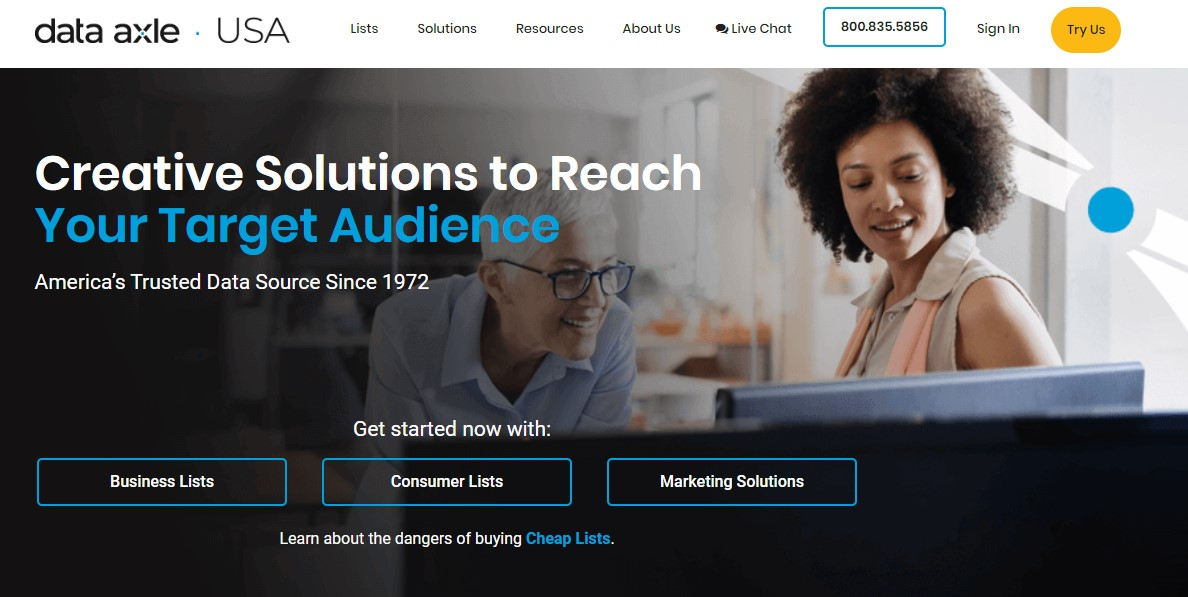 If you need a reliable direct mail marketing space, then Data Axle USA is for you. Data Axle USA does direct mail marketing with extensive databases like no other company.
🔑 Features
They offer mailing lists to reach potential customers.
Customer analysis profiling is also included in their direct mail marketing service.
They can handle sales leads for you as well.
Pros
Data Axle USA offers many products, and you can pick either the B&W or color variant.
If you have trouble designing mailers, then their team can help.
You can even send custom artwork that works best with your direct mail marketing campaigns.
Cons
They do not offer tracking services, so you might need to deal with the United States postal service.
There is so much data that finding what you need to use in your direct mail campaign might be challenging.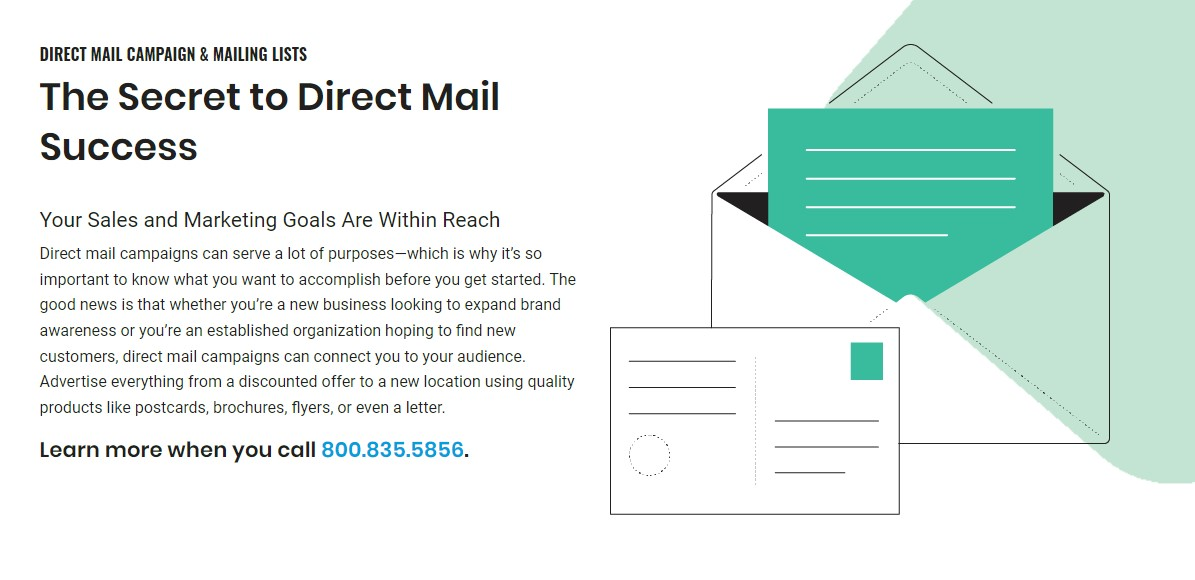 You will need to contact their service to request a quote.
💡 Is Data Axle USA Worth It?
Data Axle USA is one of the finest direct mail marketing companies when planning out your marketing efforts, but you might need to sift through all the data they offer to find what works for you.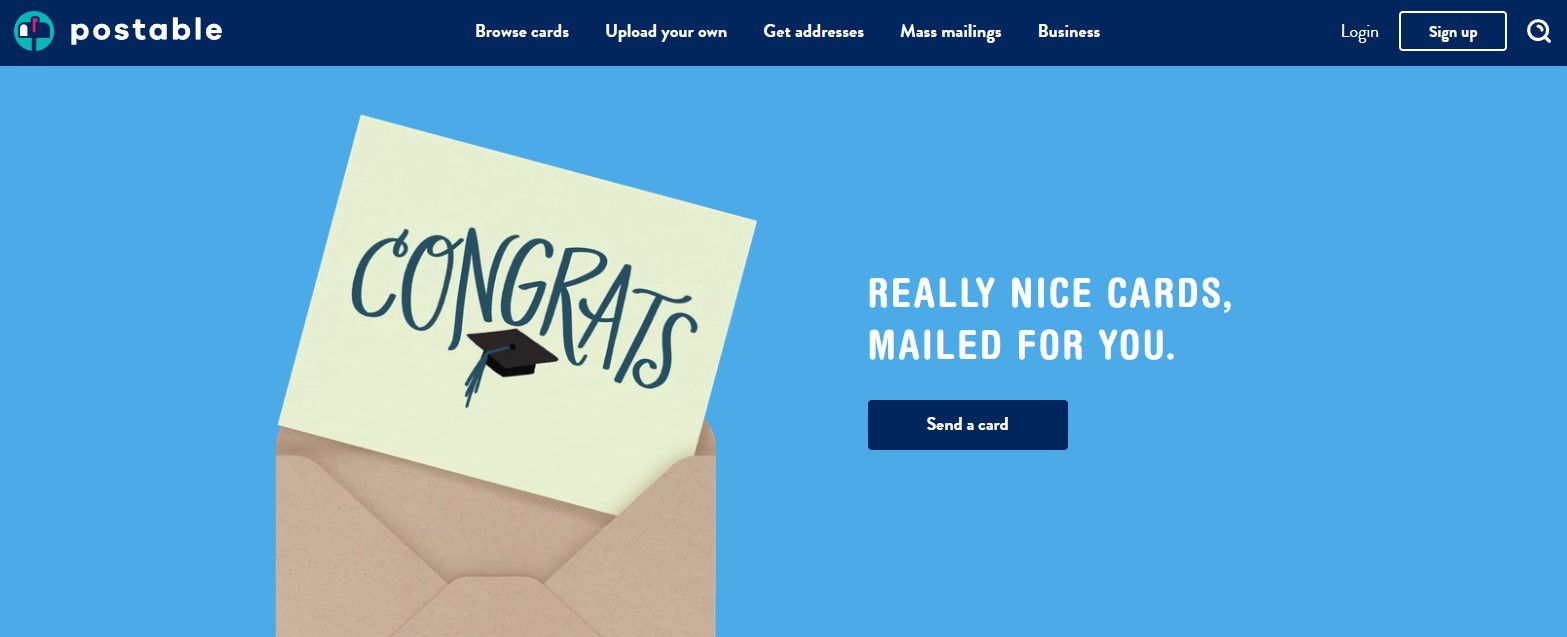 Postable differs from other best direct mail services. Apart from regular mailing services, they also offer to send custom cards with your "handwriting" font. This makes every package a bit more personal and memorable.
🔑 Features
Custom stationery to make your direct mail brochures unique.
Card printing of the highest quality.
Pros
The website is very easy to use.
The cards are made of 100% recyclable material.
Cons
There aren't too many options to pick from.
The costs are sometimes too high, but there are often discounts galore.

💡 Is Postable Worth It?
Postable is excellent for its unique cards, but the costs and lack of customization don't make it one of the best direct mail services in the game.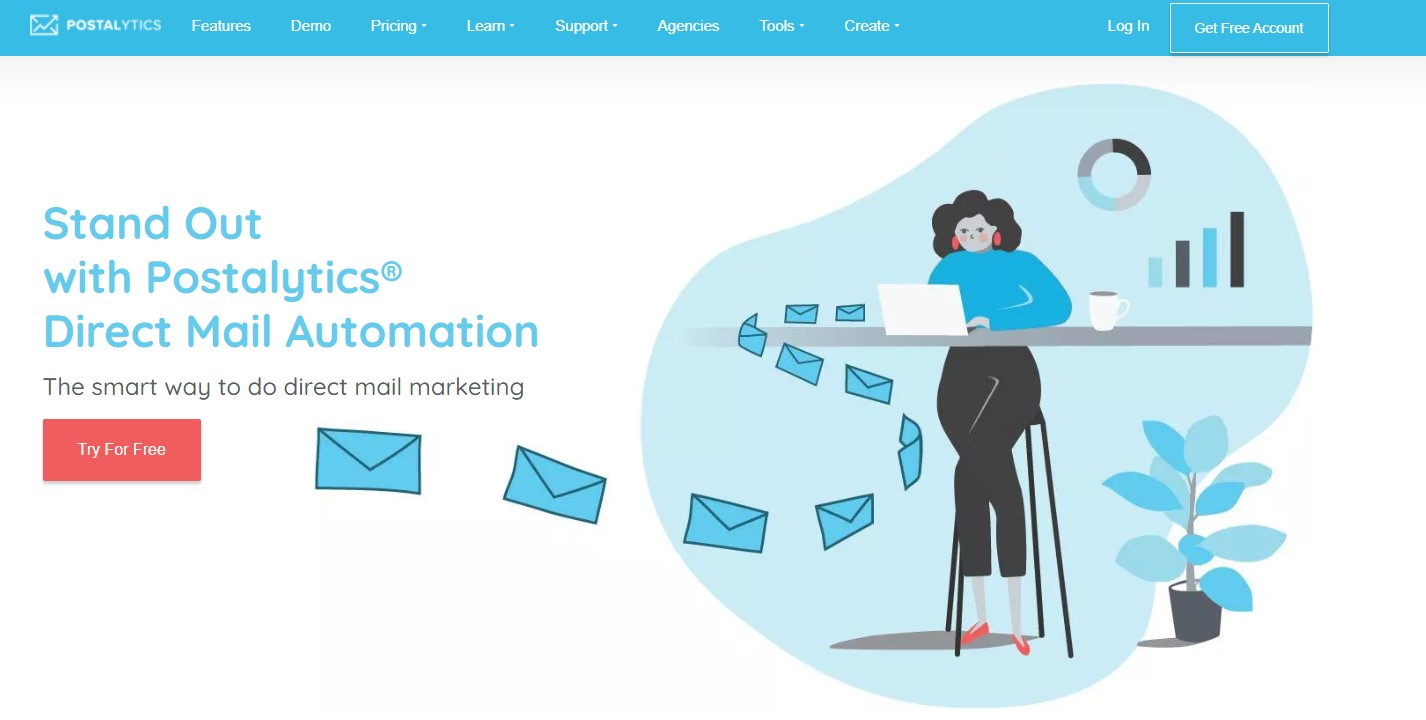 There aren't too many direct mail marketing companies that allow the level of automatic service that Postalytics does. With this every door direct mail company, you will be able to track all your products with ease.
🔑 Features
You can track the delivery and response status of everything you send.
They go through the USPS database to check the addresses you give them.
The analytics tool will help you create the best marketing campaign ever.
Pros
The tracking they offer is impressive.
Automating the direct mailing process makes it effortless.
The website is easy to use, and you do not need to leave your house.
Cons
There isn't massive customization regarding the type of mailing they provide.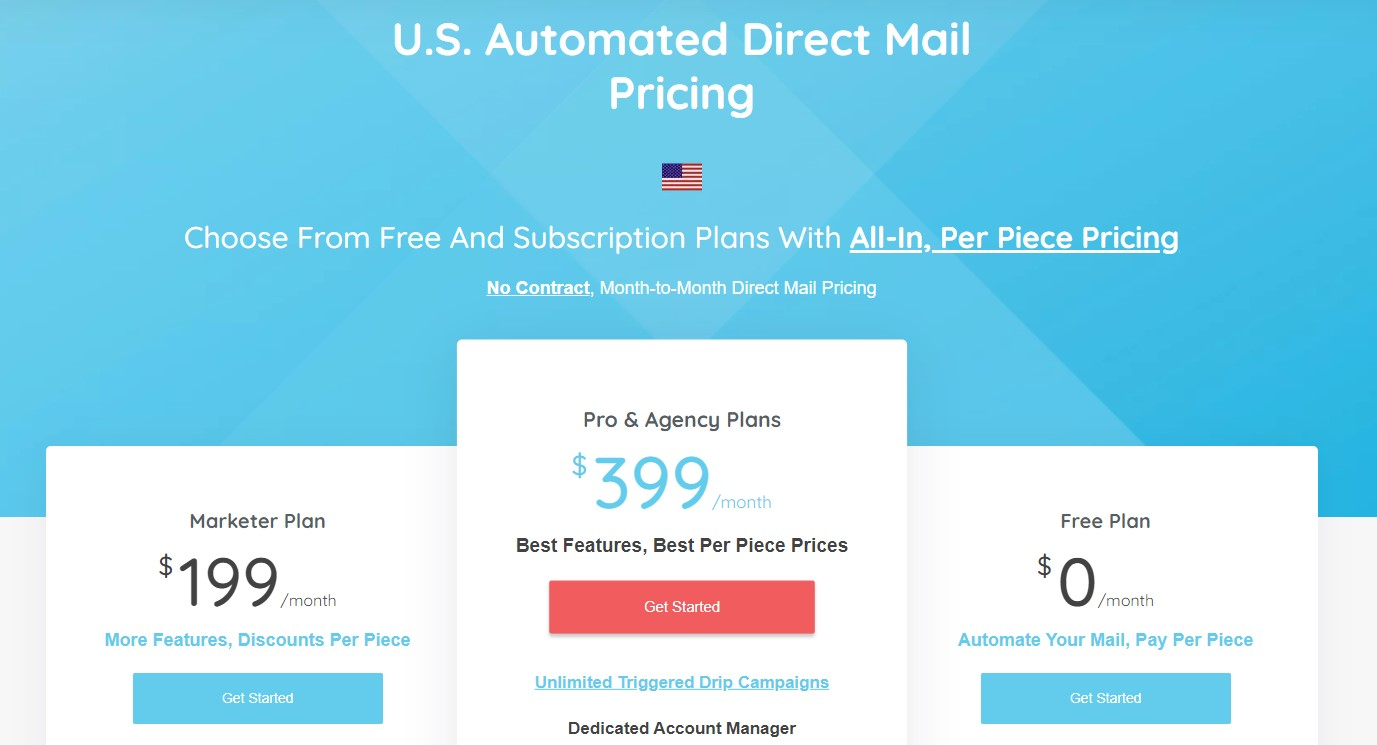 💡 Is Postalytics Worth It?
Postalytics is great for automatizing your direct mailing efforts, but it seriously lacks the versatility of shipping methods.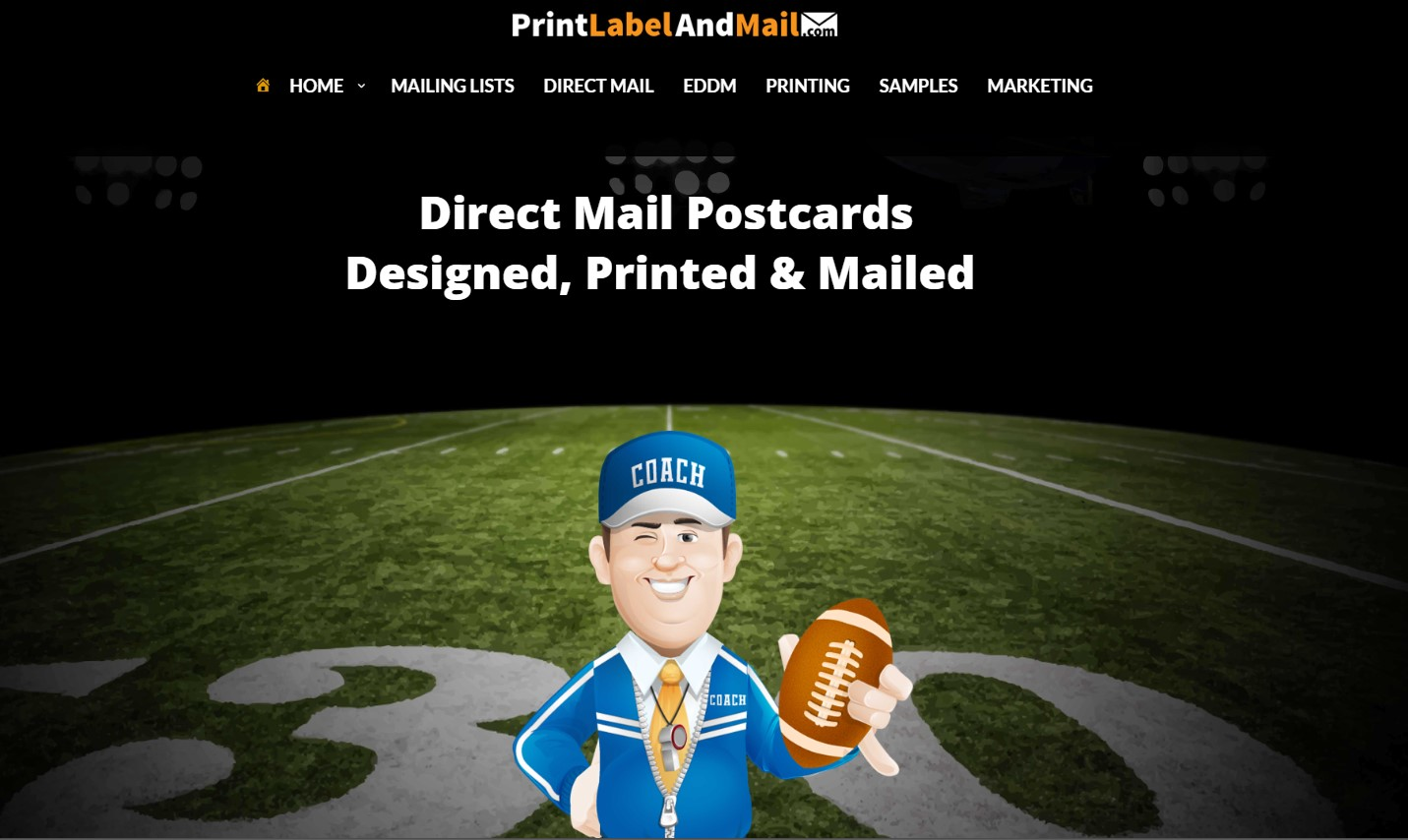 When it comes to sending postcards, there is no company like Print Label and Mail. They have been in the business for over 30 years, so they know exactly what they do.
🔑 Features
A full-service agency that will help you reach all potential customers.
Helps with Drip Campaigns as well as EDDM.
They offer mailing lists for any need.
Pros
Their team can support you when designing your campaign.
The products they offer are outstanding, and the printing is stellar.
They provide samples for you to test your ideas.
Cons
There aren't any eco-friendly options on offer.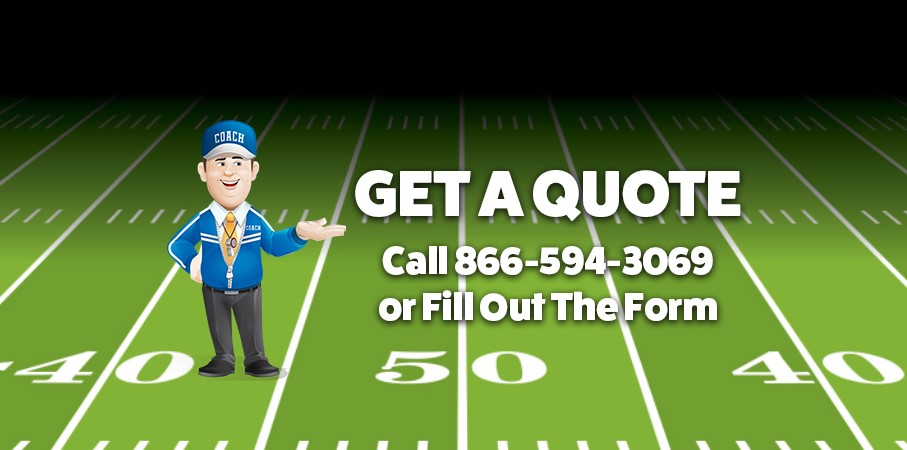 💡 Is Print Label And Mail Worth It?
Print Label and Mail is a great choice when sending postcards, but the lack of other products or eco-friendly options might make you reconsider them.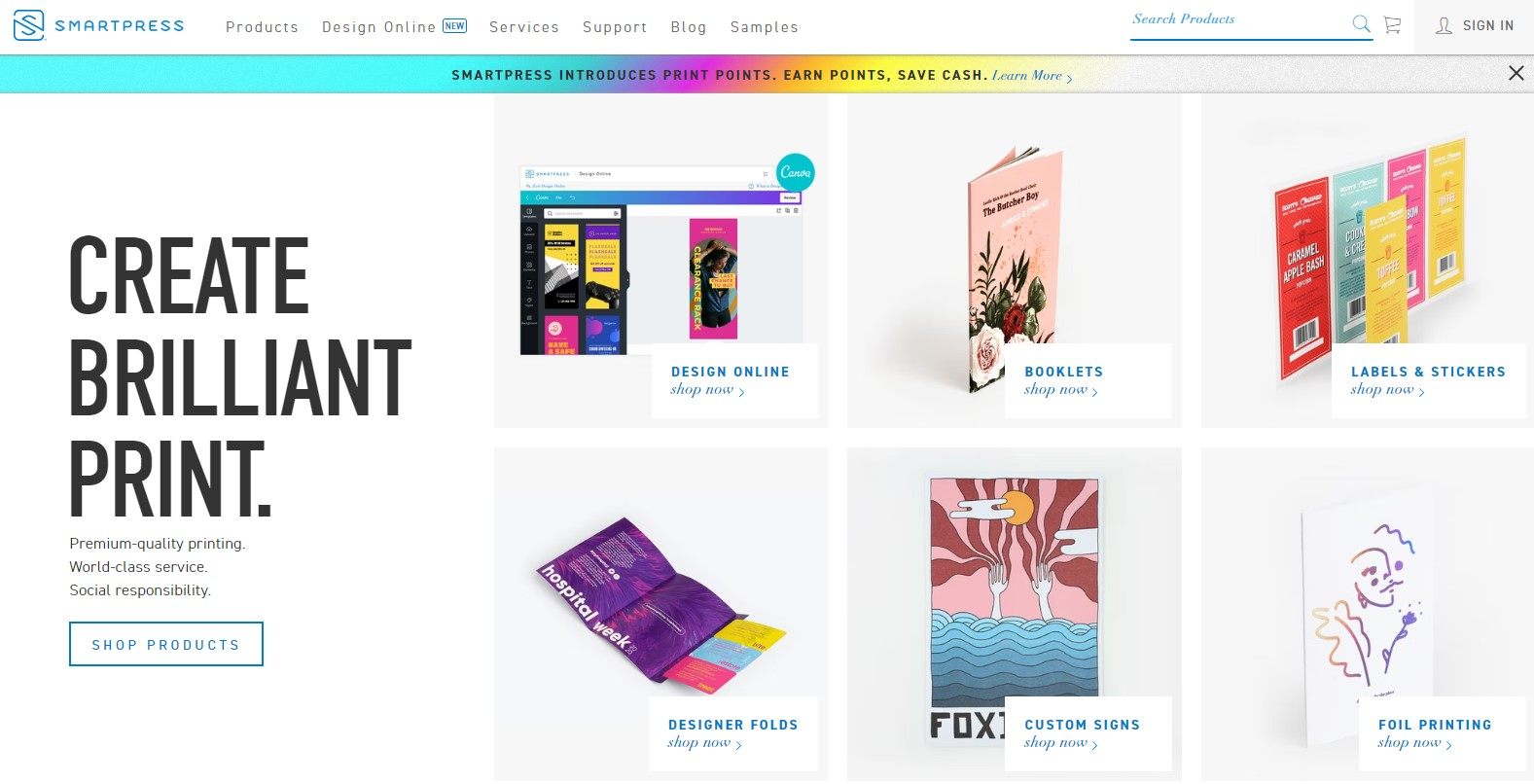 If you need a tool to help you design the perfect postcard, then it's SmartPress you want. They have brand recognition in the game, which is a reason for that.
🔑 Features
Layout services and digital layer cutting to die for.
Online list builder to help you reach customers.
They can even help you with branded websites and web to print storefronts.
Pros
Their postcard builder is a fantastic and easy-to-use tool.
Great for smaller or medium businesses.
If you need a full-service direct mail company, this is the one for you.
Cons
The costs are a bit higher due to their quality and brand recognition.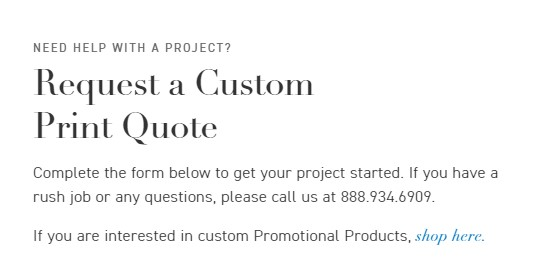 To get the info on pricing, you will need to request a custom quote.
💡 Is SmartPress Worth It?
SmartPrint is an excellent choice for small or medium businesses with a bigger budget who need high-quality postcards in their marketing campaigns.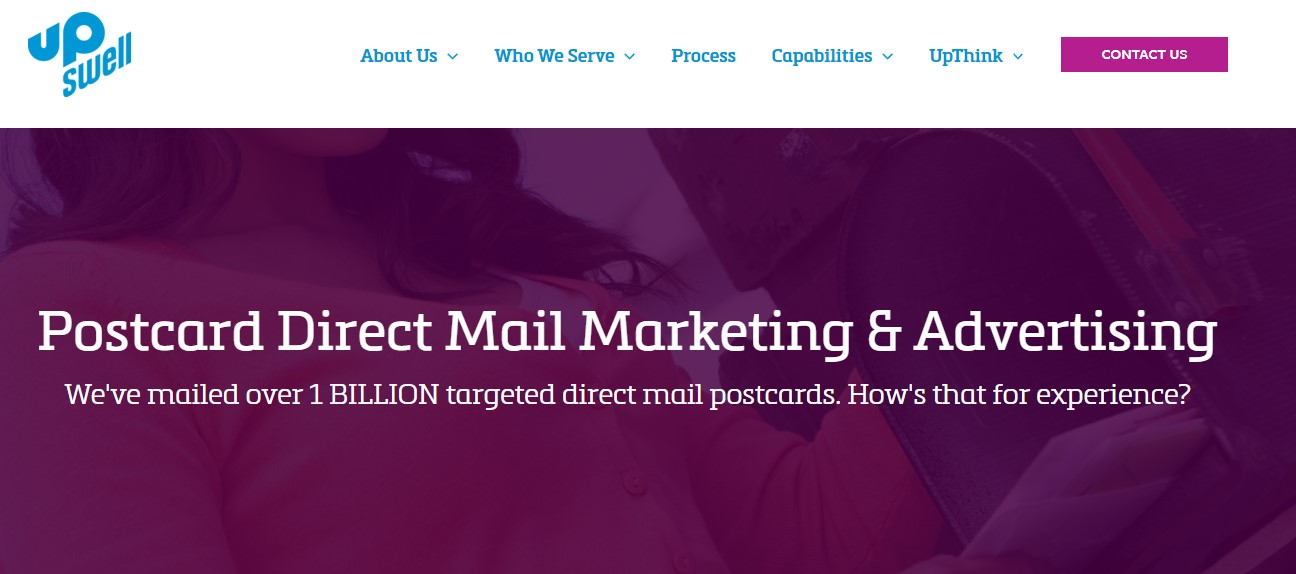 UpSwell previously went by the name of Mudlick Marketing, and they help businesses at any stage of development with direct mail needs.
🔑 Features
Display advertising services.
They can manage your social media marketing as well as direct mail efforts.
Mail2Mobile will use geofencing to create well-targeted mailing lists.
Pros
There are call-tracking options available.
Data reports are very detailed and can help you shape your marketing efforts.
Cons
There isn't a vast product variety on offer.
The product sizes are also somewhat limited.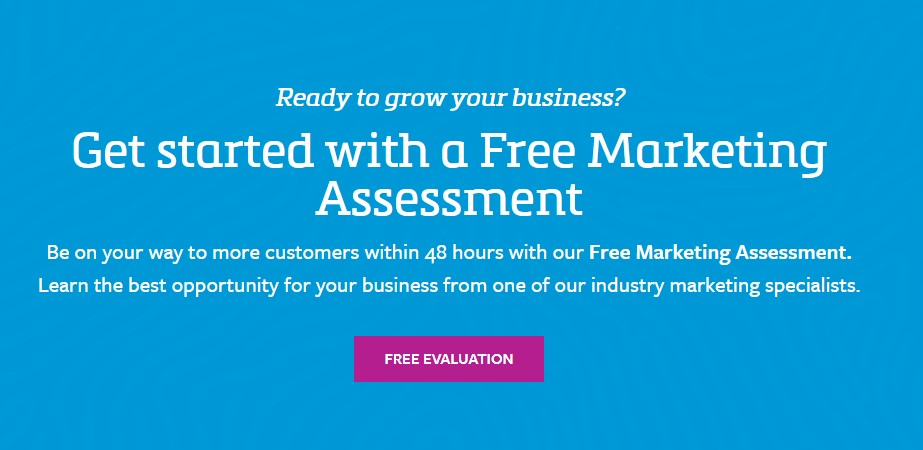 Start with a free marketing assessment and move on to request a custom quote afterward.
💡 Is UpSwell Worth It?
UpSwell seems to be an excellent fit for businesses looking to grow and expand, but their products are limited.
FAQs
Is direct mail still effective in 2022?
As discussed at the beginning of the article, direct mail still works very well. There are many reasons for this:
First, mailers will be very memorable to clients.
Second, you can create unique promotional materials.
Finally, your materials will stay with potential clients longer than e-mail.
How to find the right direct mail company?
Since there are so many different companies on offer (as you can notice in this article), it can be tricky to find the right one.
The main thing you need to do is to think about your needs. For example, do you need help designing the marketing campaign or just printing out and sending your products?
Depending on this, you should look for the company that will best fit your needs and expectations, and budget.
Finishing Words
In summation, there are a lot of direct mail companies with a massive variety of services on offer. PsPrint seems to be the best for smaller businesses, while Next Day Flyers are perfect for high-volume shipments.
By figuring out what your business needs are, you will be able to find the right fit for you - and reach new clients quickly and with style.