Email marketing continues to be one of the most potent and most effective forms of marketing.
More than 70% of the customers prefer email as the primary communication channel from businesses to SMS, push messages, and direct mail.
Moreover, around 60% of the consumers have purchased because of a marketing email compared to only 12.5% who "considered" converting through social media.
Unfortunately, your email marketing will only deliver these promising results if you can generate leads effectively. So how do you find prospects and, most importantly, their email addresses to leverage your email marketing strategy?
This is where the email searching tools come into play!
Let's explore the best email finder tools with their features, pros, cons, and pricing plans.
What Is An Email Finder Tool?
An email finder tool helps you find and connect with prospective leads to acquire more customers and grow your business. It automates and expedites the tedious discovery of personal and business email addresses available online on various web pages. Consequently, you can focus on creating a successful email marketing campaign.
What Are The Benefits Of A Sophisticated Email Finder Tool?
Managing a business and promoting it to reach more clients demands time and effort. Therefore, it makes sense to automate parts of your business plan that do not require a human touch.
Moreover, you need to stay ahead of your competition and source as many leads as possible to boost engagement and drive sales. A robust email finder tool allows you to achieve these goals more efficiently and quickly.
Following are the benefits of the best email finder tool:
Generates new leads
The most apparent advantage of email finder software is that it helps you curate an email list comprising the most relevant leads. Combining these marketing prospects and content tailored to attract your audience increases the chances of conversion exponentially.
You can also enjoy a better ROI and succeed at email marketing when you target people explicitly based on their interests. This strategy is always better than blindly casting a wide net, so you do not waste efforts on people who are not interested in your products or services.
Develops your business
Another advantage of an email finder tool is finding and connecting with various individuals who can help you develop your business. These include potential investors who might be willing to contribute to your company, like-minded people interested in becoming your business partners, or key influencers who can help promote your brand.
Thus, an email finder can introduce you to many opportunities that can take your business to the next level. It all comes down to what you need at the moment to expand your reach.
Recruits the right talent
An email finder tool can also help you discover the right talent for your business model. You can use the software to find experienced candidates within a specific niche, reach out to them to set up an interview, and determine if they can be a valuable part of your team.
Using an email finder to reach out to potential candidates can help you save time and resources and speed up the entire recruitment process. Moreover, it can help you acquire top-notch employees who may not be actively looking for jobs otherwise.

Snov.io is an all-in-one outreach automation platform packed with innovative features. It allows you to find verified email leads and Catchall emails. The solution is fast and efficient in discovering complete prospect profiles, including email ids, names, social profiles, and job positions, from multiple domains and LinkedIn profiles.
🔑 Features
Single and bulk search options based on names and domains, company profile search, and social URL search
Sophisticated email finder chrome extension to scrape pertinent email addresses from any website or social channel you are on
API to integrate the tool with your software or CRM
Prospect list export in CSV, XLSX, and Google Sheets formats
Email tracker and email drip campaigns
There are five paid plans, all with unlimited users, as well as a free plan with 50 credits per month:
S: $39 with 1000 credits per month
M: $99 with 5000 credits per month
L: $189 with 20,000 credits per month
XL: $369 with 50,000 credits per month
XXL: $738 with 100,000 credits per month

💡 Is Snov.io Worth It?
Snov.io is best for sales reps, marketing specialists, sales development representatives (SDRs), business development representatives (BSRs), event organizers, recruiters, and startup CEOs. It is also relatively inexpensive compared to other tools used for recruitment purposes, but it is not the most reliable one.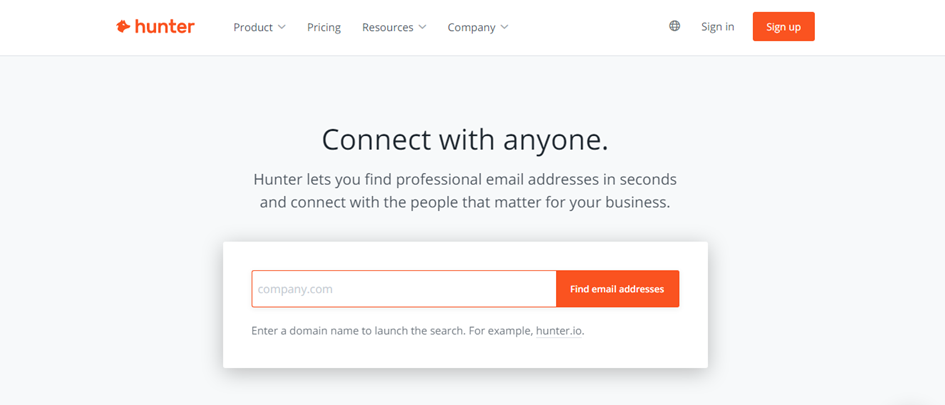 Hunter.io is a simple email finder tool that allows you to find the email addresses of professionals by bulk using the company domain. Formerly known as EmailHunter, it is amongst the first email finders to become available.
🔑 Features
Advanced domain search provides you with the names and email addresses of employees found on the company website, along with scoring
Chrome extension to help you find a list of emails available on any website such as Twitter or LinkedIn
Email address search using first and last name to find professionals working in a company
Email verification, email tracking for Gmail, accurate search filters, and millions of emails indexed and stored on the database for easy retrieval
Team account option for large marketing teams
API call to find any email address simply
There are five paid plans:
Starter: $49 with 500 searches per month
Growth: $99 with 2,500 searches per month
Pro: $199 with 10,000 searches per month
Business: $399 with 30,000 searches per month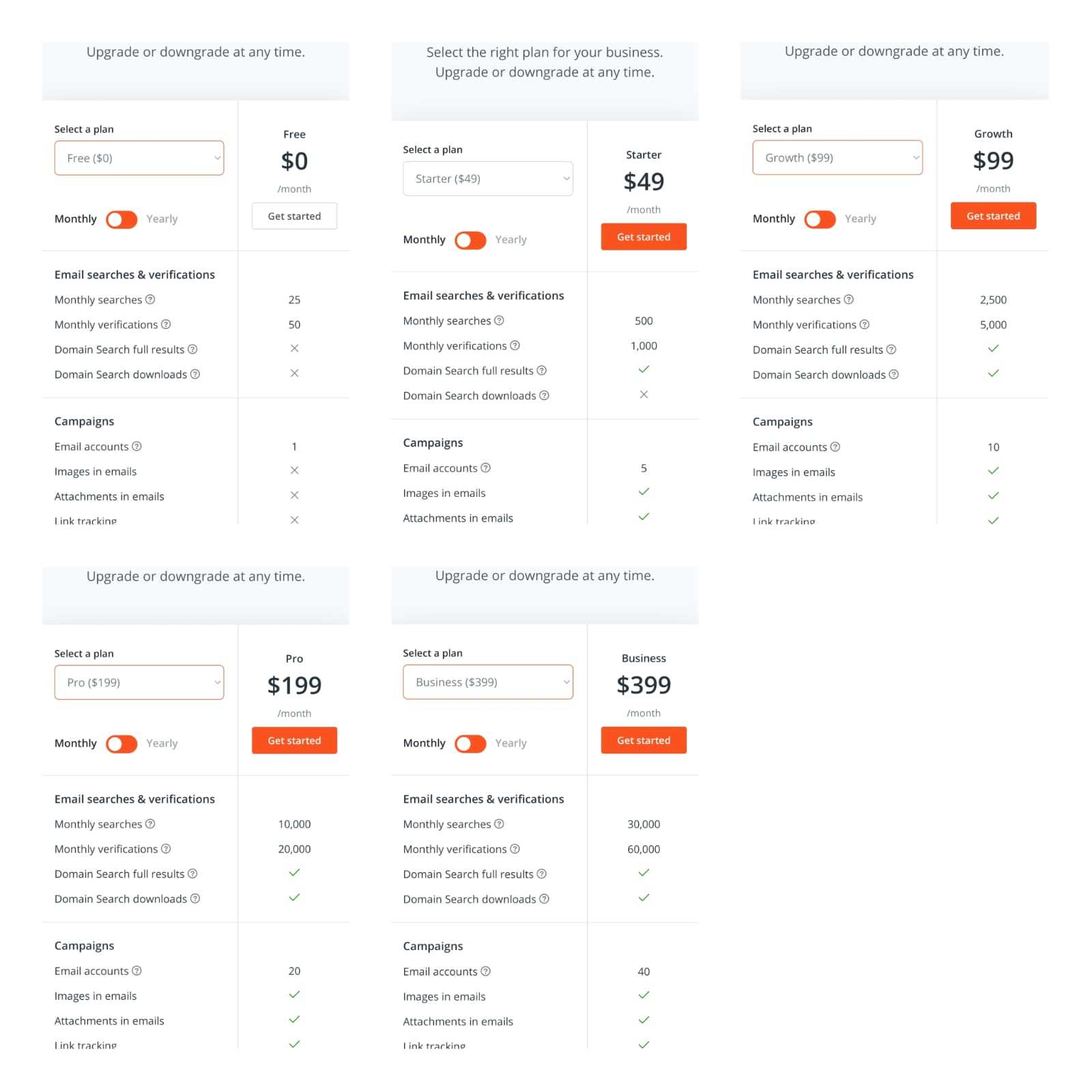 💡 Is Hunter.io Worth It?
Hunter.io is designed for marketers, recruiters, and sales teams belonging to businesses of all sizes. If you use cold email campaigns to fill your pipeline, this solution is ideal for you.

Skrapp is an excellent email-finding tool for curating a list of verified B2B leads. It scrapes public web pages and uses data-matching algorithms to guess emails based on a company's email patterns. Hence, you can use it to connect with the top management of an organization to grow your business.
🔑 Features
Single and bulk email searches using the company name, website, or lead's name
Domain search, email verification, and the ability to export prospect list as a CSV or XLSX file
Nifty Chrome extension that integrates with LinkedIn and allows you to see verified emails in your Sales Navigator searches
They offer four paid plans and a free plan with 150 emails per month:
Starter: $49 for 1000 emails per month and two users
Seeker: $99 for 5,000 emails per month and five users
Enterprise: $199 for 20,000 emails per month and eight users
Global: $299 for 50,000 emails per month and 15 users

💡 Is Skrapp Worth It?
You can use Skrapp's Chrome extension if you want to generate a prospect list for your B2B sales outreach using only LinkedIn. The tool is quite proficient in email research for cold emailing and prospecting.

Nymeria is another valuable tool to track down emails from professional network profiles on social platforms. With Nymeria, you can discover email addresses, verify them, and easily export contacts to your spreadsheet. You can also categorize contact data into manageable lists of valuable leads. However, it lacks the search feature options.
🔑 Features
Chrome extension to help you build email lists from multiple social channels, including LinkedIn, Twitter, Facebook, GitHub, and many other websites
Prospect list export in CSV and XLSX formats, complete with prospect data, contact information, and custom notes
API that allows integration with your workflows
They have three basic paid plans and the opportunity to create a custom plan for a large enterprise, all with unlimited members:
Nano: $39 with 100 contacts per month
Micro: $79 with 300 contacts per month
Kilo: $159 with 1000 contacts per month
💡 Is Nymeria Worth It?
If you have a limited budget, you can use Nymeria for both personal and professional emails as it offers the most affordable plans and a generous free plan. Since all the plans allow unlimited users, you can benefit from them if you have a large team.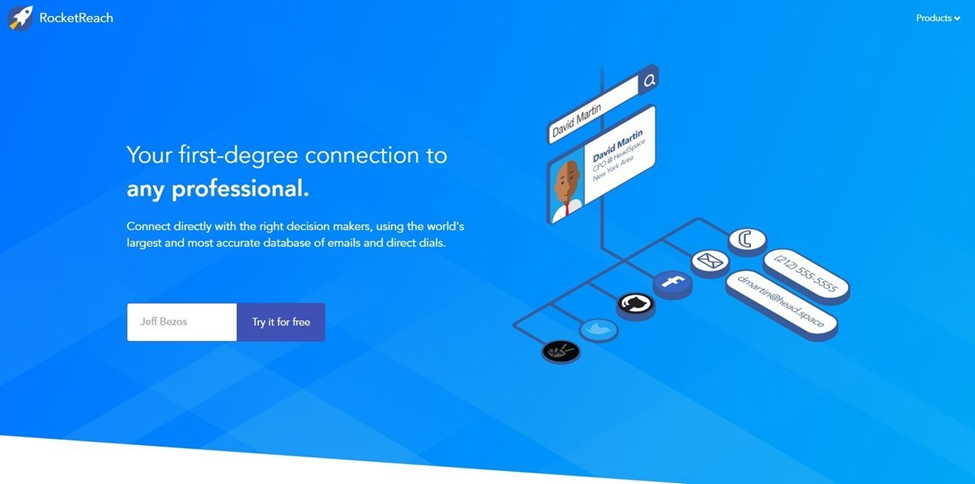 Rocketreach has a vast database that helps you connect with over 700 million professionals based across the globe in 35 million companies. You can find verified personal and professional email addresses, direct-dial phone numbers, and social media accounts from more than 50 sites with a single search.
🔑 Features
Advance bulk email search based on various criteria, such as location, position, and keywords, as well as bulk lookups
Chrome extension to extract emails from LinkedIn, AngelList, Google, and Crunchbase
API access, Zapier integration, and Salesforce Integration
There are three individual paid plans, but you can try it out free with five lookups per month:
Essentials: $59 with 125 lookups per month
Pro: $119 with 300 lookups per month
Ultimate: $299 with 833 lookups per month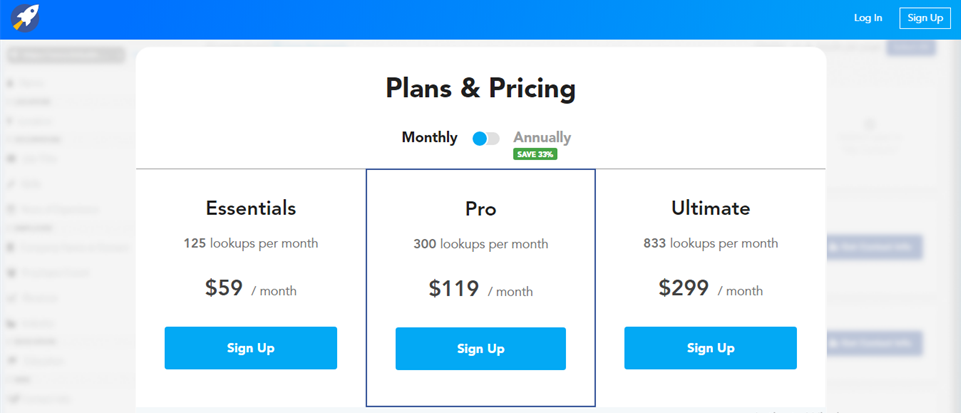 They also offer Team and Enterprise plans for small (up to five members) and large companies simultaneously.
💡 Is RocketReach Worth It?
RocketReach has earned the trust of some of the leading businesses of the world, including Apple, Amazon, Facebook, and Google. Therefore, it is not surprising that it is one of the pricier Chrome extensions, useful for sales and marketing reps, recruiters, and headhunters.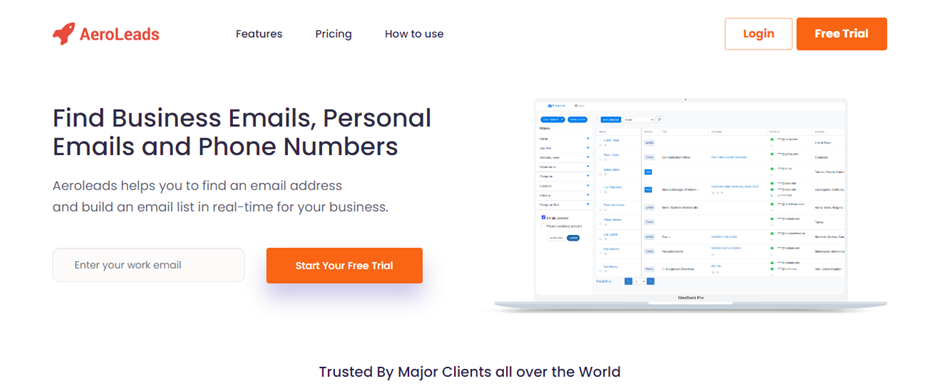 Aerolead is amongst the popular email finder tools that help you capture and automatically validate email addresses from multiple websites. It helps you curate an accurate prospects list and their contact details. The software is user-friendly, works in real-time, and makes finding emails efficient and streamlined.
🔑 Features
Chrome extension to help you discover leads from LinkedIn, AngelList, Xing, etc.
Detailed information about the leads with up to 15 data points
Search features including bulk domain search, name of company websites, etc. to accelerate your email finding efforts
Seamless integration with third-party apps such as Salesforce, Zapier, Zoho CRM, HubSpot CRM, and so on
The tool offers three paid plans, along with a custom-built enterprise plan:
Take Off: $49 with 2000 credits per month and one user
Climb: $149 with 8000 credits per month and five users
Cruise: $499 with 30,000 credits per month and unlimited users

💡 Is AeroLeads Worth It?
If you are looking for accurate leads and prospects with extensive contact info and are amateur in the field, Aeroleads is for you. It is a powerful tool with easy-to-use software that automates your email search process for quick results.

Anymail Finder is among the top email-finding tools with high search accuracy. It has a unique feature where you can search for a prospect with just the job title to help you find qualified leads.
Anymail Finder searches millions of web pages to find addresses and performs direct server validation to improve your cold email outreach. The tool can be used as a web or an API-based service.
🔑 Features
Multiple search options, including single and bulk emails, domain search, and bulk domain search
Pay only for 100% verified emails and save money if the tool returns invalid or uncertain emails
Ability to access to Anymail Finder identification tool using API
Available as a web app
There are multiple paid plans with unlimited users as well as a free trial with monthly 20 verified email addresses:
$49 for 1000 verified emails per month
$99 for 5000 verified emails per month
$149 for 10,000 verified emails per month
💡 Is Anyfinder Mail Worth It?
Anymail Finder is designed for businesses of all sizes from startups to large enterprises. If you are working with a limited budget, it can be the perfect, well-rounded tool for you since you only pay for 100% verified email ids.

VoilaNorbert is simple email finding software that can find any corporate email address with a name and the company domain name. It can also verify email addresses and has an excellent user interface, which is very easy to use to effortlessly fill up your pipeline with authentic leads.
🔑 Features
Individual and bulk email searching using the name and company URL
Prospect list export to help you download your list to CSV, XLCS, or Google Sheets
Chrome extension to search for company contacts online
Robust integrations with 13 different apps, such as Zapier, Pipedrive, and Salesforce
API for seamless integration
The pricing includes four different paid plans and a free trial with 50 leads (found email addresses):
Valet: $49 for up to 1000 leads per month
Butler: $99 for up to 5000 leads per month
Advisor: $249 for up to 15,000 leads per month
Counselor: $499 for up to 50,000 leads per month
💡 Is VoilaNorbert Worth It?
VoilaNorbert is another simple-to-use tool. It is great for professionals who want to build long-lasting relationships with new leads for sales purposes, recruitment, PR, and marketing.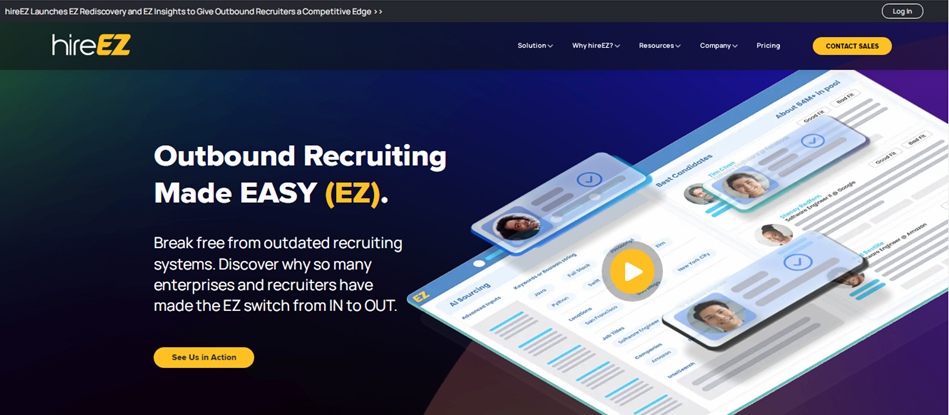 HireEZ (formerly known as Hiretual) is an email searching tool specifically designed for hiring and recruiting prospects. Thus, you can use it to extract prospect information, such as email addresses and phone numbers, from Facebook, Twitter, and LinkedIn profiles.
🔑 Features
AI to collect information and build a complete prospect profile
Ability to find helpful information for the recruitment process like seniority, experience, and compensation range
Chrome extension, CRM integrations, and individual and bulk email finder.
HireEZ has a professional plan, best for independent recruiters, for $199 per month and a custom plan that you can customize according to your requirements.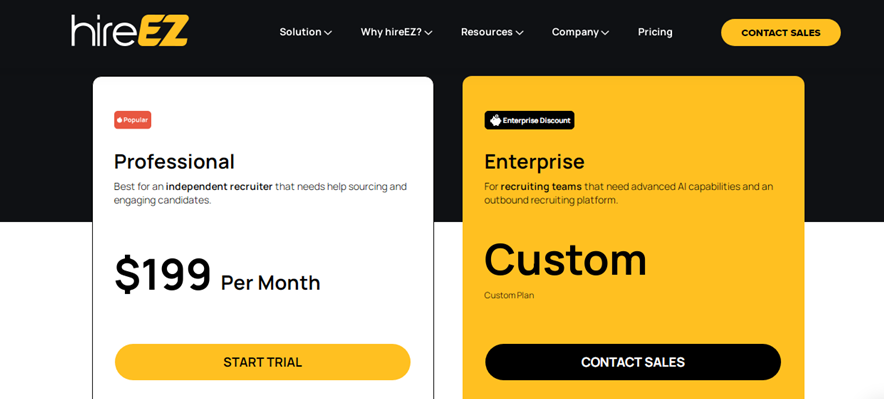 💡 Is HireEZ Worth It?
If you are looking to hire competent professionals to expand your team, HireEZ is the tool for you. Since the solution can highlight various factors that determine an individual's employability, it takes the guesswork out of the recruitment process. However, the tool is not cheap.

FindThatLead is email-finding software that helps you find emails related to URLs and manage the following mailing list to generate successful a email campaign. Simply enter the company's URL in the search engine, and you will have a list of all the business emails with that domain name.
The advance verifying algorithm ensures the accuracy of your email list to reduce bounce rates. However, the tool lacks API.
🔑 Features
Chrome extension, which is rated amongst the best, to pull the prospect's email address from their LinkedIn profile, and a web app
Accuracy score beside each email id for a robust customer database
Ability to find verified email addresses
Use it for individual or bulk email finding
You can try FindThatLead free with 50 credits for the first month and later opt for one of the monthly paid plans:
Growth: $49 for 5000 monthly credits and one user
Startup: $150 for 18,000 monthly credits and four users
Suite: $399 for 30,000 monthly credits and six users

💡 Is FindThatLead Worth It?
FindThatLead is another solution with an intuitive interface curated for businesses of all sizes. Moreover, it offers lead segmentation and lead generation, so you can focus on generating more targeted email strategies as soon as you have the email addresses available.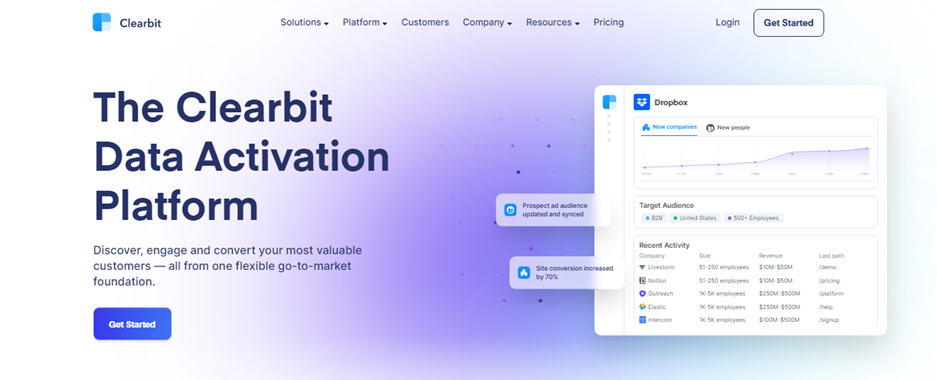 Clearbit is an intelligent email-finding tool with powerful bulk email-finding capabilities using the company name and first name or job title. You can also use it to determine a prospect's phone number, name, location, and address.
Clearbit integrates with your Gmail account to help you find emails quickly and easily.
🔑 Features
Integration with tools such as Marketo, Salesforce, Zapier, Segment, and Slack
Helps you target niche audience by analyzing customer needs, identifying prospects more likely to convert, and putting them on top of the list
Chrome extension, API, and email tracking/automation
More than 200 million contacts at 20 million companies around the globe
Clearbit offers a free plan with up to 50 credits as well as paid plans. The plans are categorized as Enrichment, Prospector, and Reveal and cater to different business needs, volumes, and add-ons.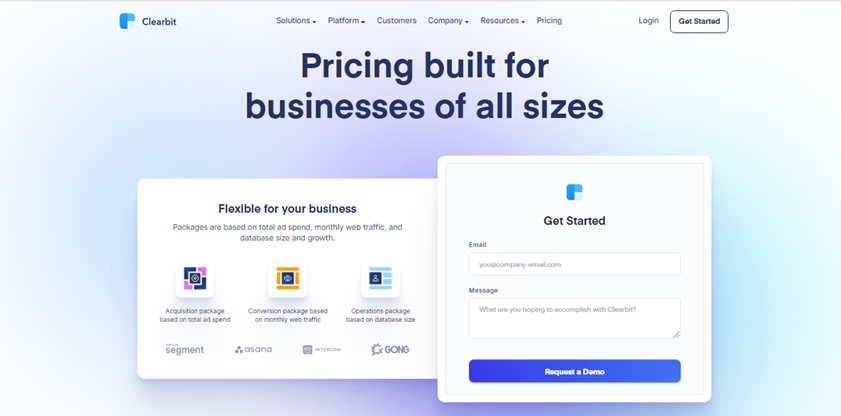 💡 Is Clearbit Worth It?
Clearbit is a powerful sales force automation solution, useful for both sales and marketing managers. However, it lacks multi-user functionality for teams. The pricing system allows you to pay for the services you use instead of a one-size-fits-all solution. This can help you manage your cost if you have a limited budget.

Discoverly is another one of the email finders designed for recruiters and among the free email finder tools. You can use Discoverly to leverage social platforms for your candidate outreach. The tool gathers a prospect's social information from various social platforms and displays the relevant information on a convenient sidebar in your email inbox.
🔑 Features
Offers effortless integrations with Gmail, Facebook, Twitter, and LinkedIn
Available as a Chrome extension
Provides complete social contact info with context
Discoverly Pricing Plans
Discoverly has the free plan only, and there are no pricing tabs on their website.
💡 Is Discoverly Worth It?
Discoverly is ideal for you who want to find promising candidates using social media platforms but lack the resources to invest in an email finding tool.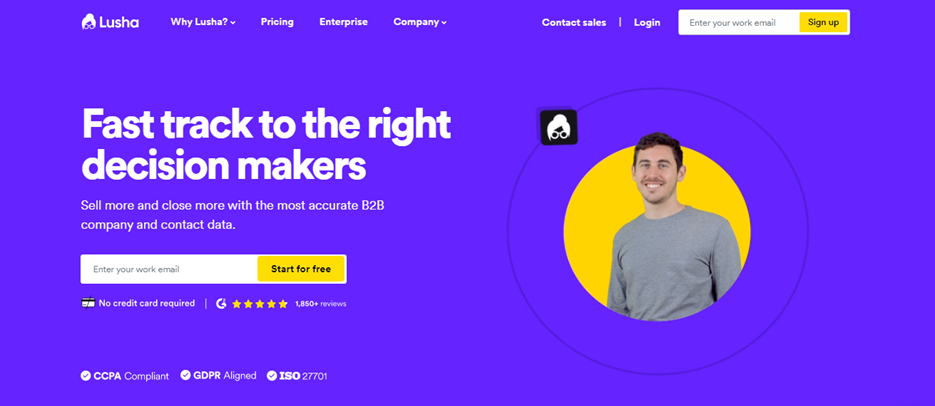 Lusha is available as a Google Chrome extension, where the plugin helps you scrap prospects' contact data, including the email addresses and phone numbers, incredibly easily. The software is designed explicitly for discovering individual emails of sales prospects, job candidates, and company decision-makers within seconds.
🔑 Features
Contact details search on social media web pages
Lofty plugin supported by Gmail, LinkedIn, and Salesforce
Ability to determine the phone numbers and company information of people sending you emails on Gmail
API connection for Enterprise plan subscribers
Lusha has four monthly paid plans:
Starter: Free plan with 10 credits per month
Professional: $39 per month per user with 40 to 200 credits (1 to 5 users
Premium: $59 per month per user with 140 to 350 credits (2 to 5 users)
Enterprise: custom-built plan billed annually

💡 Is Lusha Worth It?
Lusha is a handy tool, available as a Chrome extension, relevant for sales teams, HR pros, and SDRs. It is comparatively cheap, owing to a simple feature pack that is nevertheless useful for establishing connections with leads, candidates, and contacts.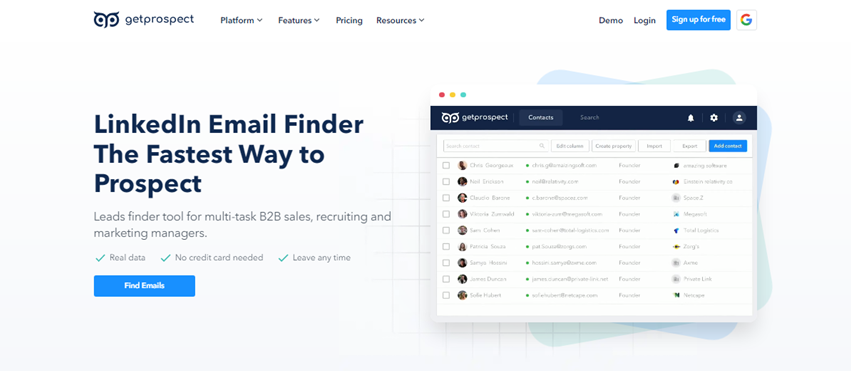 GetProspect is a LinkedIn email finder that works to enrich your prospect list with verified email addresses. It is helpful for B2B prospecting, as it helps you get in touch with the right people. You can search for contacts by name and domain on any company website or LinkedIn.
🔑 Features
Search option for bulk email by uploading prospect lists
Individual email and bulk domain search by location, company name, job position, or domain
Advanced API and Chrome extension for finding and saving authentic leads
Integration with LinkedIn, Salesforce, Gmail, and Pipedrive
GetProspect offers four paid plans and a free plan with 100 email addresses per month, with unlimited users:
Starter: $49 with 1000 email addresses per month
Basic: $99 with 5000 email addresses per month
Plus: $199 with 20,000 email addresses per month
Pro: $399 with 50,000 email addresses per month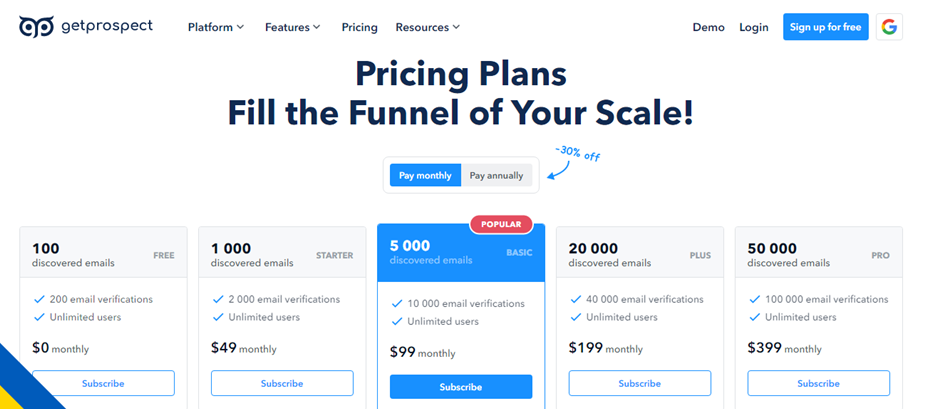 💡 Is GetProspect Worth It?
GetProspect is comparable to Skrapp, as it is also an email finder that uses LinkedIn to enrich your B2B prospect list. However, GetProspect is cheaper with a free plan.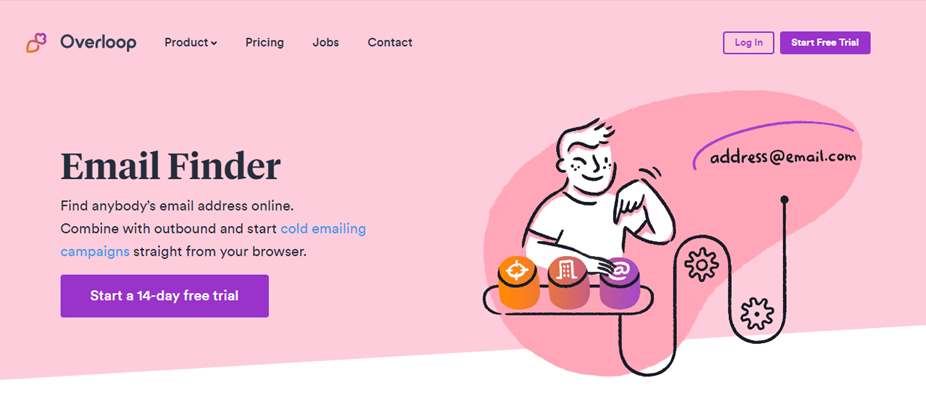 Overloop ( formerly known as Prosect.io) is also one of the popular email finding tools, part of the sales automation platform. It can help you curate high quality, verified list of publicly available, relevant email addresses easily and quickly.
Thus, you can connect with your prospective customers via personalized cold email campaigns and achieve your lead generation targets using the omnichannel platform.
🔑 Features
Single and bulk email search using prospect's first and last name, and company's website domain
Ability to export prospect list in CSV and Google Sheets format
Chrome extension to find business emails from LinkedIn profiles and company websites
API call to discover any email addresses, along with corresponding contact details
Integrations with your existing tools
Overloop has three paid plans and a 14-day free trial:
Lite: $39 for 50 credits per month per user (maximum of three users)
Standard: $79 for 250 credits per month per user (unlimited users)
Advanced: $129 for 500 credits per month per user (unlimited users)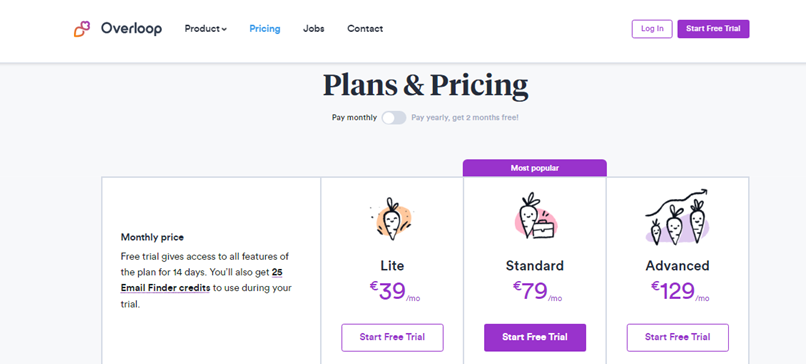 💡 Is Overloop Worth It?
Overloop is a CRM created for an outbound sales team with multiple features, including email finding capabilities. If you are looking for intelligent sales automation software, Overloop will be ideal for you. However, its price reflects the extensive list of features it offers, so opt for another tool if you want only an email finder tool.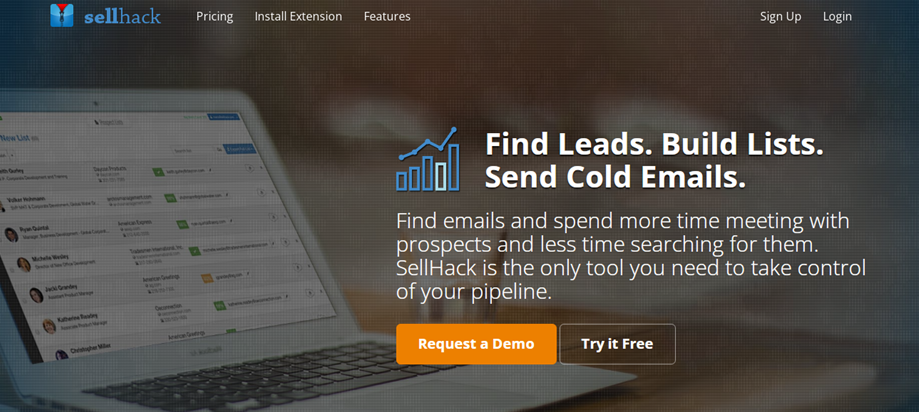 SellHack is a straightforward sales tool that scours public sources to find email addresses, using the prospect's name and company domain.
🔑 Features
An extensive 12-step, real-time email verification process to provide you with only the authentic leads
Bulk email search by first, last, and company name
Chrome extension and web app to extract leads from LinkedIn automatically
There are four paid plans:
Lite: $5 for 100 email credits per month
Basic: $19 for 350 email credits per month
Starter: $49 for 1000 email credits per month
Pro: $99 for 2500 email credits per month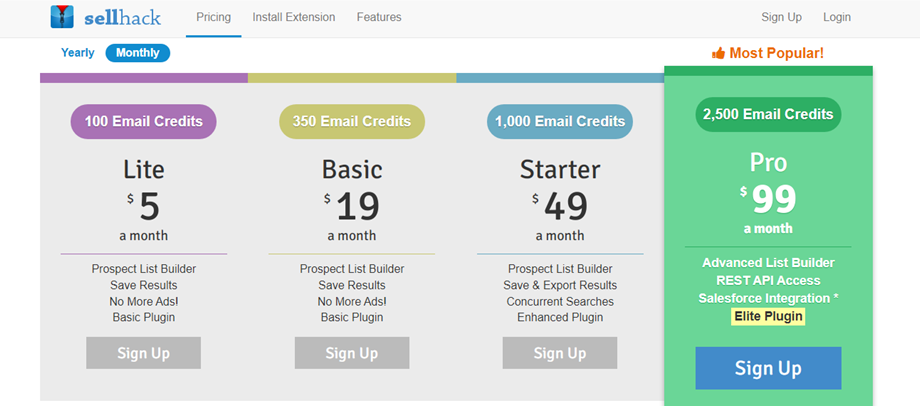 💡 Is SellHack Worth It?
Sellhack is designed to help the recruitment, marketing, and sales teams' prospecting and lead generation efforts. It is also comparatively cheaper than other tools on the list.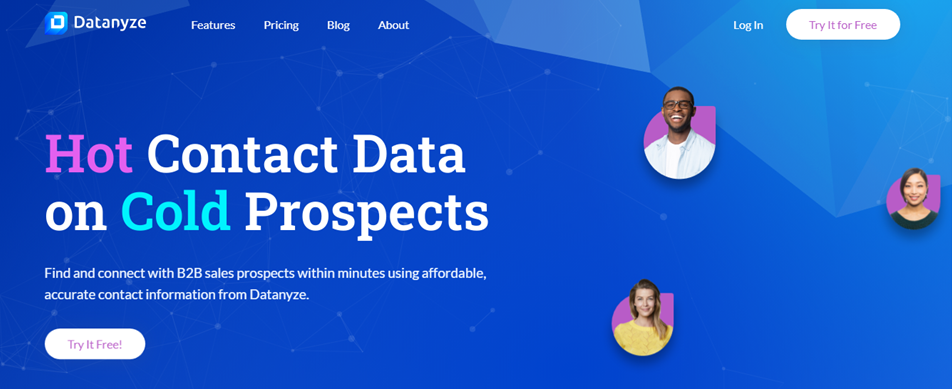 Datanyze is a dedicated Google Chrome extension to help extract email addresses from web pages in the most efficient manner. Consequently, you can build a highly viable and targeted list for prospecting purposes. It can also provide helpful information regarding prospects' buying behavior, location, or company, so you create a more relevant cold email.
🔑 Features
Data capture, including email addresses and phone numbers from LinkedIn profiles and company websites
Ease of exporting contact list to your sales email tools with a single click
Individual and bulk email finding, but more efficient for individual emails
Streamlined integrations with Salesforce, Google Spreadsheets, Marketo, and Hubspot
Available as a Chrome extension and web app
Datanyze offers a 90-day free trial with ten credits per month and two types of paid plans:
Nyze Pro 1: $29 for 80 credits per month
Nyze Pro 2: $55 with 160 credits per month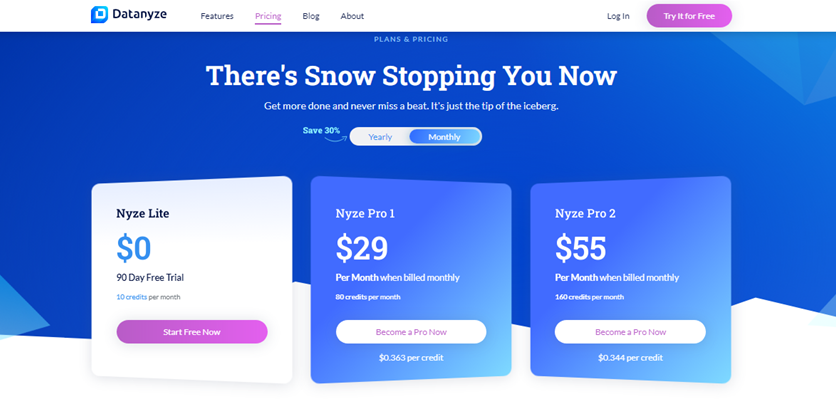 💡 Is Datanyze Worth It?
Datanyze is helpful for sales and marketing professionals based in the USA, Canada, and Europe. It is another excellent tool for people operating on a modest budget, with a generous free trial and nominally priced plans.
Features to consider when choosing an email finder
The wide variety of email finder tools can complicate choosing the right one. Moreover, before choosing an email finder, you need to know its key features and compatibility with your business.
Below is a list of the essential attributes of email finder software to consider to make an informed decision:
Price
The amount you are willing to spend on email finder software depends on the size of your company and your expectations from the feature set. Most tools that offer the basic features are available at a nominal monthly fee or a discounted yearly fee.
However, you can also opt for one that offers a more extensive or custom plan and consists of a range of sophisticated features, depending on the scale of your business.
Some tools also offer free plans with a cap on the number of emails you can find. These are useful for people who are just starting to generate leads or require the occasional email checks.
Bulk email finder
Since you want to reach out to the maximum leads possible to increase your growth opportunities, look for tools that can find addresses in bulk. It is a valuable feature that helps you connect with a large number of people interested in a specific niche.
Bulk email verification
Apart from finding email addresses, you should also ensure the authenticity of the email ID. Thus, an email verifying feature can help you check the correctness of the address and improve the quality of your email list, leading to a more effective email marketing campaign.
Domain search
The domain search function can help you acquire a list of verified email addresses of potential clients using a domain name. The feature also allows you to connect with the decision-makers of another business by using a name and URL to find B2B prospects.
Social network search
Another recommended feature in the current digital environment is the social media search option. Social media platforms harbor millions of potential leads that can help you generate a valuable email list. Thus, you can benefit from an email finder tool with social network search.
Integrations
Today, most businesses use a host of automation tools to manage their marketing and sales processes. Therefore, it is imperative for an email finder to integrate with other management platforms and offer easy synchronization so that you can have a holistic approach to all your data and ongoing campaigns.
API
Look for the software with an API since this functionality allows you to incorporate the email finder solution directly into your platform. You can also find email addresses associated with a profile on a social network using the API. Luckily, many quality tools have API as a part of their feature set in recent times.
Support
When choosing an email finder tool, it is essential to factor in the technical support offered by the company. Occasionally, you may run into an issue while using the tool, and it helps to have someone available to resolve the issues efficiently. The support can be through live chat or phone calls.
Reviews
Client reviews are not exactly a feature, but they can be instrumental in gaining insights about the tool. Since most reviews are authentic, you can get an unbiased opinion about the solution and its features from experienced users. Often, product reviews are one of the primary deciding factors.
Final Thoughts - Pick The Best Email Finder Tool For Your Business
For a prosperous email marketing campaign, you need a host of qualified leads. The core purpose of this article was to provide you with an extensive list of innovative email-finding tools, along with their key features and pricing, so you can curate a verified prospect list to fuel your outreach efforts and subsequent sales.
Now that you have all the information about most of the top-rated email finders, you can decide on a solution that works best for your business needs. You can base your decision on your affordability, lead generation goals, or business model. You can also try out different software using the free trial before committing to a tool.