Spam emails and unwanted correspondences are the banes of having an email address. These messages often overwhelm your inbox to the extent that you miss the important emails that require your immediate attention.
According to Statista, 47.3% of all the emails sent out in 2020 were spam. The figure translates to an astronomical number of unsolicited emails that is simply outrageous. While some of these emails are annoying yet harmless advertising mailings, others can contain dangerous malware that can put your personal information at risk of being exposed.
Verizon's Data Breach Investigations Report (DBIR) determined the prevalence of malware and concluded that a staggering 94% of malware was delivered via emails. A majority of these spam messages contained attachments disguised as Office doc files and Windows apps.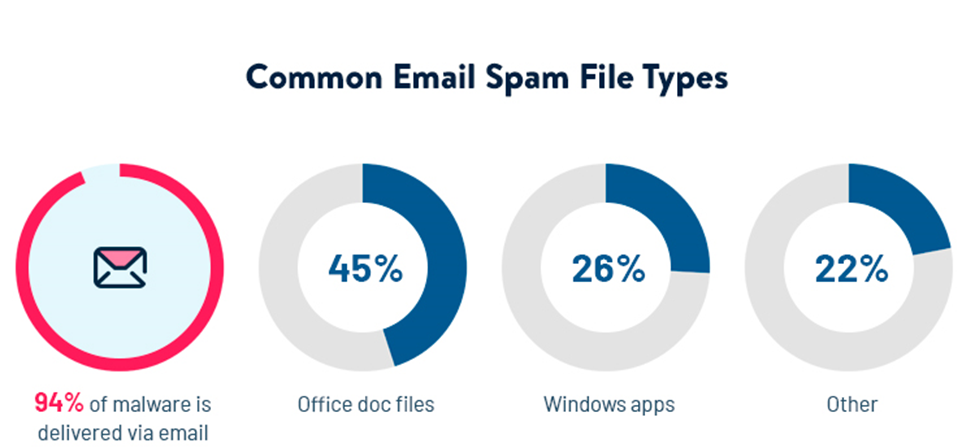 So, how can you protect your online persona and prevent your email address from being exposed unnecessarily?
The answer to that is using a fake email generator!
What Is A Fake Email Generator?
The best fake email generator is a temporary tool that helps the user create fake email addresses. You can use the temporary email address to use online services and access websites that ask you to register before proceeding further.
It also allows you to reply to or forward emails anonymously and reserve your personal or professional email address for emails from people you know personally or professionally. The disposable email address can further receive emails similar to a regular mail address.
Benefits Of A Fake Email Generator
If you are still doubtful about using a fake mail generator, check out the benefits it can offer:
Keep your online identity safe
These days, most websites ask you to enter an email address before allowing you to view their content, interact with their blogs, or download their services. Apart from using your emails to send your newsletters and promotions, these site owners sell your data to third parties at a hefty price.
Unfortunately, while you can be careful about sharing your mail address with a fishy or a lesser-known website, the practice is even prevalent in large companies. Their terms and conditions state that they can divulge your information to other agencies in the fine print.
The mishandling of your personal information is one of the primary reasons you should use a fake email generator. On top of the dozens of work emails, the last thing you want is to deal with countless spam messages.
Create a getaway email address
You can use these temporary mail addresses to communicate with strangers on online forums, classified ads, dating apps, etc. This will allow you to quickly extract yourself from the communication if the situation turns south.
Determine unethical websites
Finally, using a different fake email address for every website can help you keep track of sites that share your personal information with other agencies. Simply check the number of spam on each email account to deduce who leaked your data.
What Are The Best Fake Email Generators?
More and more people realize the importance of using fake email addresses to ensure the privacy and safety of their personal and professional mailing addresses. Thus, countless fake email address generators are available online in response to the heightened demand for these tools.
Below is a list of handpicked best fake email generators, in alphabetical order, along with their pros and cons:

Dispostable is an excellent fake email generator service with a seamless user interface. While many generators recommend a random id, Dispostable provides you with the freedom of creating your custom email address. However, the only condition is that the address should end with @dispostable.com.
You can quickly generate unlimited fake emails for free using this service. However, you cannot send a fake email message with it.
🔑 Features
Automatically deletes received emails: Once you have read the emails, they are automatically deleted to protect your privacy.
Allows for custom email ids: You can create your fake email address, which will enable you to opt for an id that is easy to remember.
Pros
Simple and clean interface
Suitable for beginners
Allows you to generate multiple disposable email addresses
Cons
Unable to send email messages using the fake id generated through the service
Dispostable Pricing
Free
💡 Is Dispostable Worth It?
Dispostable is a simple email generator that allows you to generate fake email ids on a straightforward platform completely free.

EmailFake.com has a similar straightforward user interface as Email Generator, which lets you create multiple email addresses as you require. However, gaining access to a fake email address is a three-step process in this tool.
You have to create the domain, register it, and set up domain name servers. The website guides you through each step so you can tailor your fake email quickly.
🔑 Features
Choose any domain name: You can enter any domain name you want to create an email address that appears more plausible and authentic.
Reasonable email validity: The fake email address has an extended validity, where the exact number of uptime days is displayed on the homepage.
Available in multiple languages: The service is available in 16 different languages.
Pros
Intuitive interface for easy navigation
Personalization capabilities of domain and user names
No registration required
Automatic and instant display of inbound emails
Cons
Three-step process before you can get started
EmailFake.com Pricing
Free
💡 Is EmailFake.com Worth It?
EmailFake.com lets you create as many email addresses without any registration. You can select your username and domain to set up the temporary address and start receiving emails instantaneously.

Email Generator lets you generate fake email addresses with a single click. Simply visit the website and select the "Generate new email" tab, and you will have a fake email account ready for use. You can also enter your username.
The fake email provider takes things further and allows you to choose any domain name from a drop-down menu.
🔑 Features
One-click fake email generation: Simply and quickly generate a disposable email address for a website sign-up, email confirmation, or test account creation.
Select multiple domains: You can choose from up to 15 domain names.
Pros
Fast servers that show you all incoming emails immediately
Multiple options to create a customized email
No registration is required to create a fake email account
Cons
Refreshing the page can cause you to lose your temporary mailbox
Email Generator Pricing
Free
💡 Is Email Generator Worth It?
Email Generator is equipped with competent servers that begin displaying emails as soon as you create a burner email id by entering your username and selecting a domain name.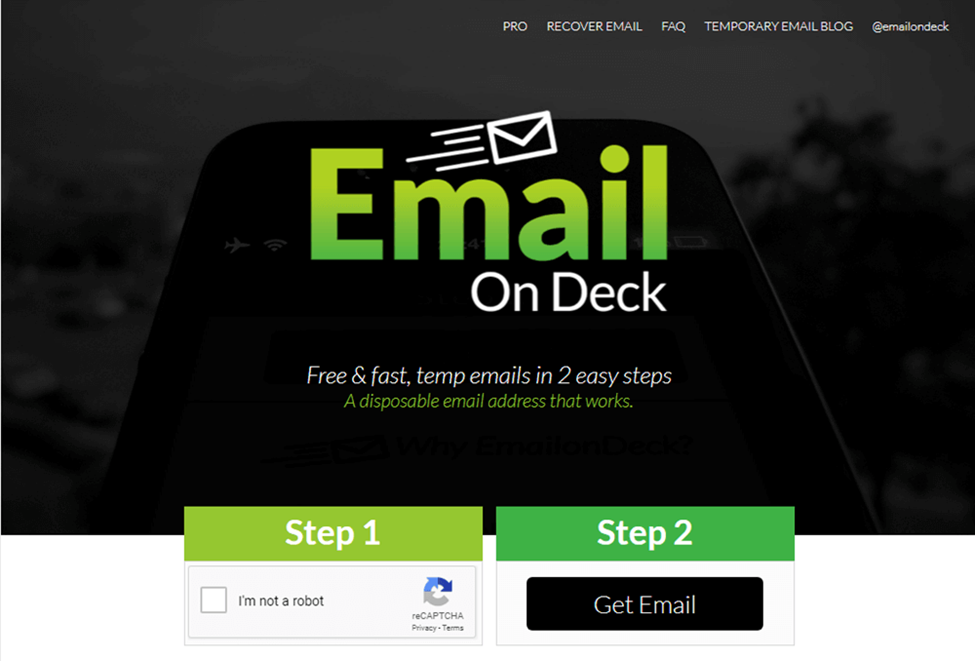 Email on Deck is a popular fake email generator that provides a temporary email id after a simple security verification process. While it may be annoying for some people who prefer a bare-bones email generator, the extra steps do not require much time.
The service has a minimalistic yet modern interface and has been featured on multiple mainstream news outlets, including Fox, ABC, and NBC.
🔑 Features
Auto-update of inbound emails: The service automatically updates the inbox to display new messages.
Automatic email address generation: You will receive an email address as soon as you bypass the CAPTCHA
Ability to send and receive emails: In addition to receiving emails, you can also send out messages, useful functionality to maintain privacy.
Pros
Automatic deletion of old emails
Bitcoin and cryptocurrency-friendly
Ability to send messages to another Email on Deck user
Built to protect your privacy from the intrusion of spam
Cons
Two-step fake emails generation
Subscription required to unlock additional features
It does not state the exact lifespan of the fake email
Free with the option of a PRO subscription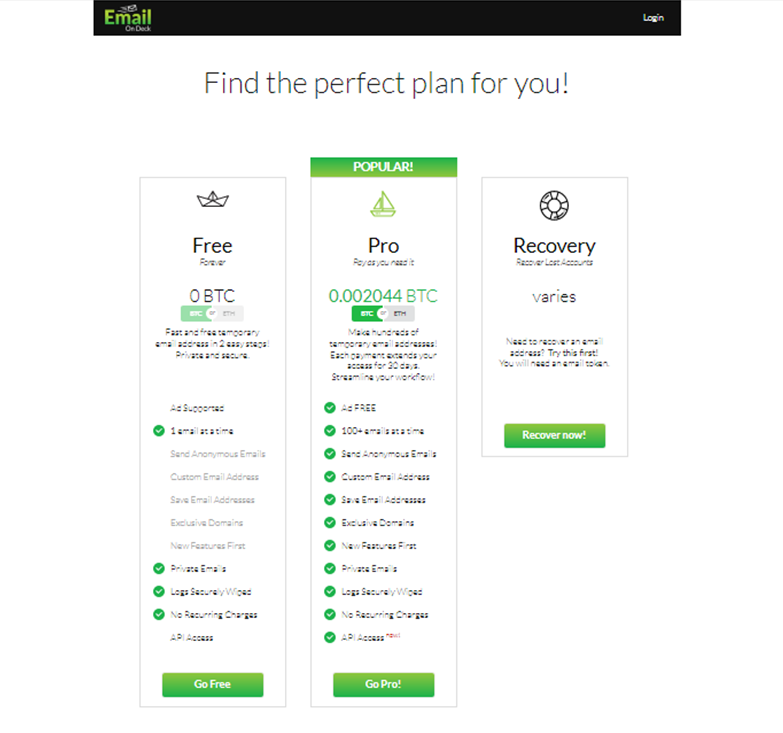 💡 Is Email on Deck Worth It?
Email on Deck furnishes you with a fake email account in a few seconds. However, the exact lifespan of the email address is uncertain, so it is better to use it for scenarios when you want a quick email id for a short period.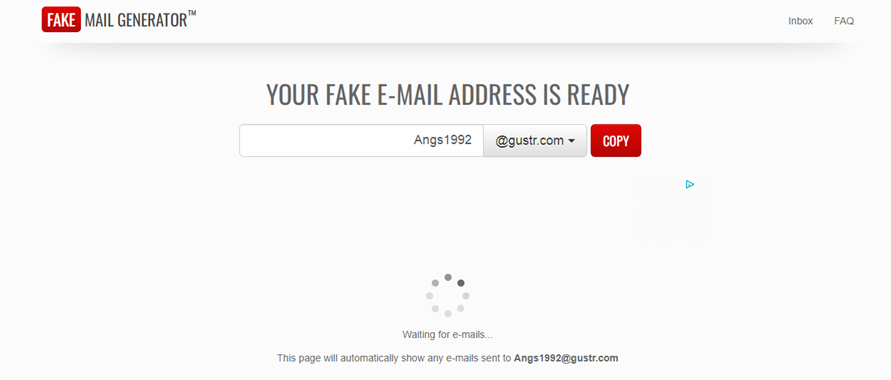 Fake Mail Generator generates fake email addresses that are active for an entire day, comparable to others on the list. You can choose from 10 different domain names for your temporary email addresses, where a few of these domain names are country-specific.
The service requires no registration and provides you with instant gratification in the form of a throwaway email address. All you have to do is select a domain name, enter a fake email id, and you can start sending and receiving emails.
🔑 Features 
Country-specific domain names: You can choose a more targeted domain name depending on your location to attain a level of authenticity.
Prompt email address generation: You get a throwaway email address as soon as you enter the website.
24-hour email lifespan: Once you receive an email account, it is automatically activated for an entire day before it is deactivated.
Pros
Option to personalize fake temp mail
Ability to both send and receive emails
It does not require registration
Cons
The website displays a lot of ads
Fake Mail Generator Pricing
Free
💡 Is Fake Mail Generator Worth It?
Fake Mail Generator generates a disposable email address as soon as you open the web page, which is active for a total of 24 hours. You can use it to send and receive emails.

Getnada is a straightforward disposable email generator that offers 10 domain names, including @getnada.com and @getairmail.com. You can even enter in a username of your liking. Moreover, the service does not log your details.
The best part is that all the inbound emails are displayed automatically, so you do not repeatedly have to refresh the screen. You can use the temporary email for as long as the domain remains active, but email messages are deleted after a week.
You will be notified a month in advance if the domain in your use is being shut down, giving you plenty of time to transfer your emails to a new domain.
🔑 Features
Automate page update: The page is automatically updated to show you new messages, so you do not miss any incoming messages.
Automatic email deletion: Individual emails are deleted after seven days to make space on the servers.
Available as a Chrome extension: You can conveniently access the service using the Chrome extension.
Android app: The service offers a mobile application for Android devices for easy accessibility.
Pros
Unlimited email address validity
Protection against spam emails
Intuitive and modern interface
Cons
Getnada Pricing
Free
💡 Is Getnada Worth It?
Getnada can provide countless temporary email addresses to send and receive emails. The high level of automation, Chrome extension, and Android app make the service stand out from the crowd.
Guerrilla Mail is arguably among the best fake email generators and one of the oldest email address generators. You can create unlimited fake email accounts with a single click without prior sign-up and choose from more than 10 different domain names.
🔑 Features
Ability to send emails with attachments: You can upload an attachment of up to 150 MB per email, which is automatically deleted after 24 hours.
Scramble Address functionality: You can use the Scramble Address feature to make your account incredibly secure.
Automatic deletion of spam: The generator automatically deletes future spam emails sent to the burner email address.
1-hour email validity: The email id expires 60 minutes after you generate it.
Pros
Multiple domains to choose from
No registration required
Reliable fake email generator
Scrambled Address functionality for added security
Cons
Dated user interface
Burner email address lasts for one hour
Guerrilla Mail Pricing
Free
💡 Is Guerilla Mail Worth It?
Guerrilla Mail is one of the original email generators, which is competent and safe to use. It offers a one-hour email lifespan, where you can receive emails and send them with attachments.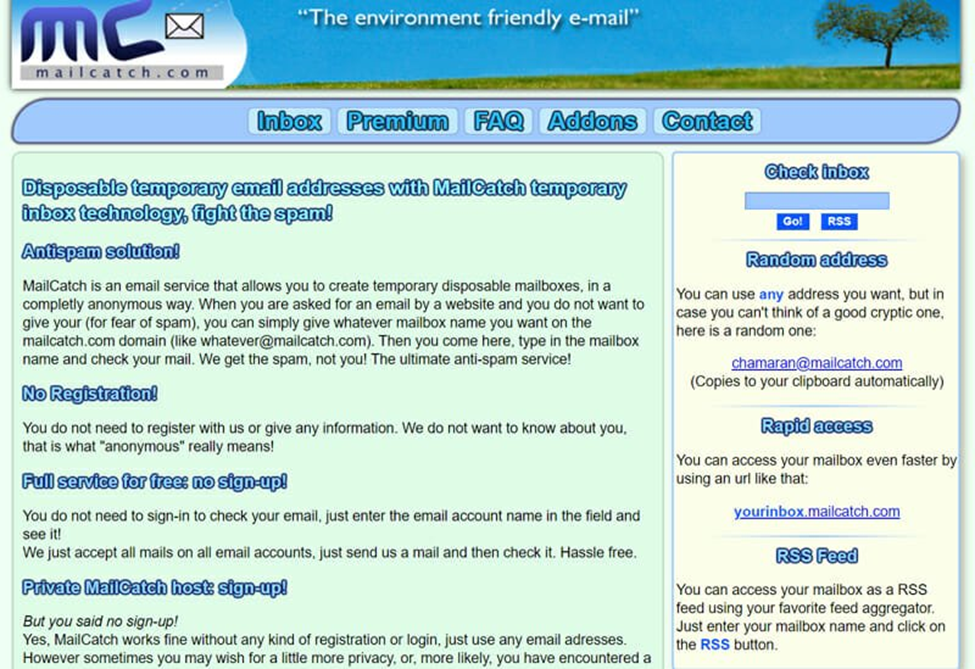 MailCatch is one of the fake mail generators that offer complete anonymity when generating a disposable email address. You can choose your log-in name, but the email id would end with @mailcatch.com.
Moreover, you have to register for a premium account for a private domain name. Premium MailCatch users can also access the Email Forwarding functionality. You can set up a timed automatic forward to receive a selected few emails delivered to your personal or professional email address.
There is no fixed validity of an email address on the free service. This creates uncertainty, which can be a downside of an otherwise excellent fake email solution.
🔑 Features
Custom username: You can select any username between 1-25 characters, but the domain name remains fixed.
Email Forwarding feature: You can forward emails with the Premium version to safeguard the important messages.
Auto-removal of fake email addresses: Fake email ids are removed periodically depending on the server load.
Pros
Uncomplicated usability
No registration process for the free version
Ability to send and receive mails
Cons
Lack of domain name options
No fixed duration for auto-deletion of emails
Outdated user interface
Free email service and a Premium option for a small monthly subscription fee.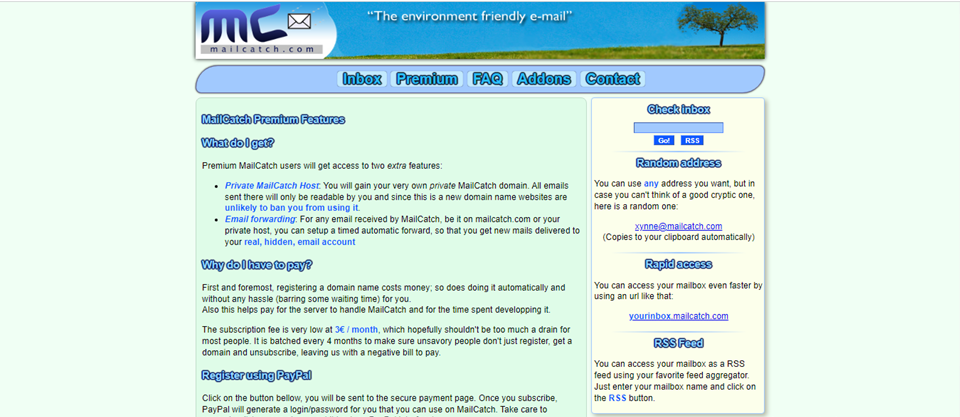 💡 Is MailCatch Worth It?
MailCatch is an efficient anti-spam solution, despite an out-of-date interface. It lets you create a temporary email account without registration or sign-up, so you can start using the mailbox immediately.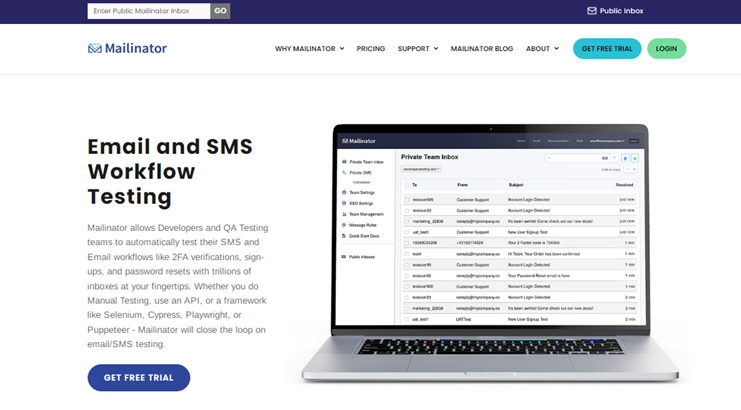 Mailinator is a sophisticated temporary email address generator designed to create a fake email address on-demand without any sign-up. It is a public email service that accepts and displays messages sent to any email address on the Mailinator domain.
You may share your inbox with multiple users, so you can use it to sign up for a web service or test simple email workflows. Depending on the number of messages arriving, the emails are automatically deleted after a few hours to make room for the new ones.
To generate unlimited IP locations and emails using a private domain, where no one else can access your emails, you will have to pay. You also get 50 MB of storage space in your inbox with the paid version, which means no auto-removal of messages.
🔑 Features
Public email address generator: Multiple users can use the same inbox, which makes the email address less private.
Auto-removal of spam messages: The spam emails are deleted automatically, but you can review the discarded emails before they are permanently removed from the servers.
Pros
No need to sign-up to create and use fake email ids
Possibility to upgrade with privacy options and storage plans
Simple and straightforward to use
Automatically removes spam emails
Cons
No fixed time for auto-deletion of mails
Not suitable for people looking for a simple temporary email generator
The public version is a receive-only system
Public inbox is free, while private ones are paid. You can choose between Business, Business Plus, and Enterprise plans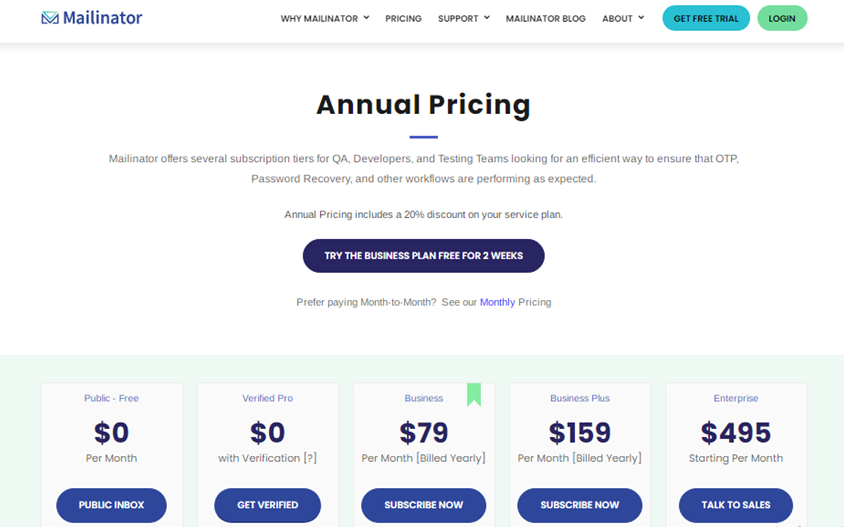 💡 Is Mailinator Worth It?
Mailinator has a free version that allows you to send emails only. However, you can subscribe to the premium version for added features and more flexibility.

MintEmail is a simple fake email address generator that grants you a fake email address as soon as you visit the website. You can use the randomly generated email address or create your custom id with a fixed domain name, i.e., @ci.MintEmail.com.
The no-click system is incredibly convenient as it allows you to start receiving emails almost immediately. Simply bookmark the mailbox and access it directly instead of logging in repeatedly.
It also provides an email forwarding opportunity to any email address, unlike any other free email address generator. Finally, you can customize your email expiry time to have more control over your inbox.
🔑 Features
Sophisticated notification system: New message notifications are kept front and center and displayed on the title bar, ensuring you do not miss any incoming messages.
Auto-email generation: You will receive a useable email id as soon as you access the site.
Ability to bookmark your mailbox: You can enter the website to your bookmark section to access the mailbox conveniently the next time you want to use it.
Pros
No-click temporary email address generation
Custom email validity duration
Ability to redirect inbound email
Cons
Absence of domain name options
MintEmail Pricing
Free
💡 Is MintEmail Worth It?
MintEmail is another straightforward fake mail generator that allocates an email id without registration or sign-up. The distinctive feature of the tool is the notification framework that keeps you updated about incoming emails.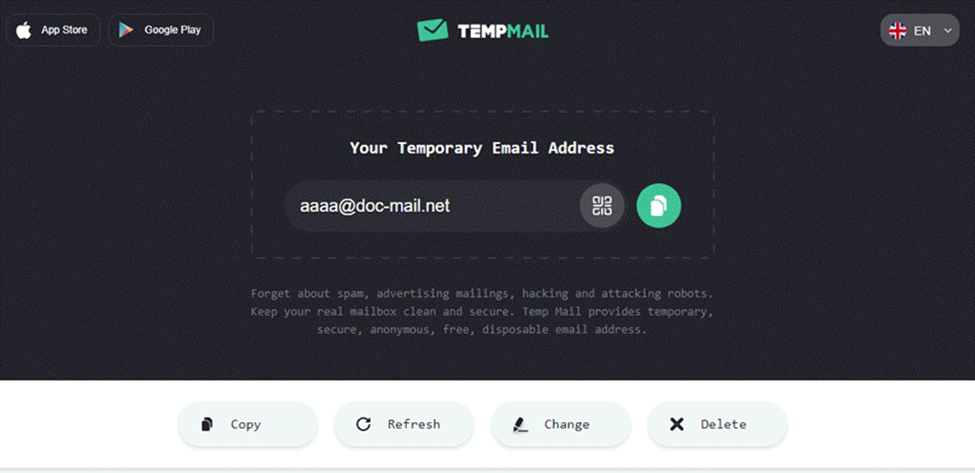 Even though Temp Mail is a fake email generator, it creates fake email addresses with believable domain names such as @doc-mail.net. All you have to do is visit the website and wait a few seconds for your fake email id to appear on the screen. You can copy the temporary address or share it using a QR code.
The service regularly deletes old server messages but retains the address until you delete it yourself. You can also download the Temp Mail app, available for Android and iOS users, offering in-app purchases to unlock several additional features.
The premium features include an unadulterated ad-free experience, additional email storage, custom domain names, enhanced security, multiple inboxes, and more.
🔑 Features
No-click fake email id generation: You are furnished with an email address immediately upon accessing the site.
Advanced throwaway email service: It is armed with credible-looking domain names that convey authenticity.
QR code functionality: You can share the email address created on the service using a QR code.
Available as a mobile app: The app is available for both Android and iOS devices.
Pros
Polished throwaway email service with a sublime UI
Competitive mobile app
Cons
Inability to send fake mails
Premium features on the paid version
Temp Mail Pricing
Free and premium plans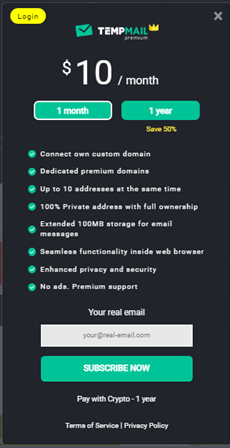 💡 Is Temp Mail Worth It?
Temp mail is one of the best fake email generators with a nifty interface and a capable paid app, brimming with quality features. You can also use the free version for a readymade email address.

Tempail is a fake mail generator that provides you with a fake email address for an hour. It comes with a clean interface and a new QR code feature that enables you to access your email address within the timeframe.
You can also permanently delete your email address from the servers with a handy "Delete" button present on the homepage.
🔑 Features
Auto-assigned email addresses: The username and domain name are assigned to you automatically when you enter the site.
1-hour email validity: The email address is deactivated after an hour.
Social media sign-up: You can use the fake emails created by Tempail to sign up for social media sites, including Twitter, Facebook, and websites.
Pros
No sign-up required
QR code feature to access the email account
Social media compatibility
Cons
Tempail Pricing
Free
💡 Is Tempail Worth It?
Tempail is another one of the fake email generators that get the job done without any sign-up or registration. While the burner email account is compatible with social sites, it is only valid for a short period.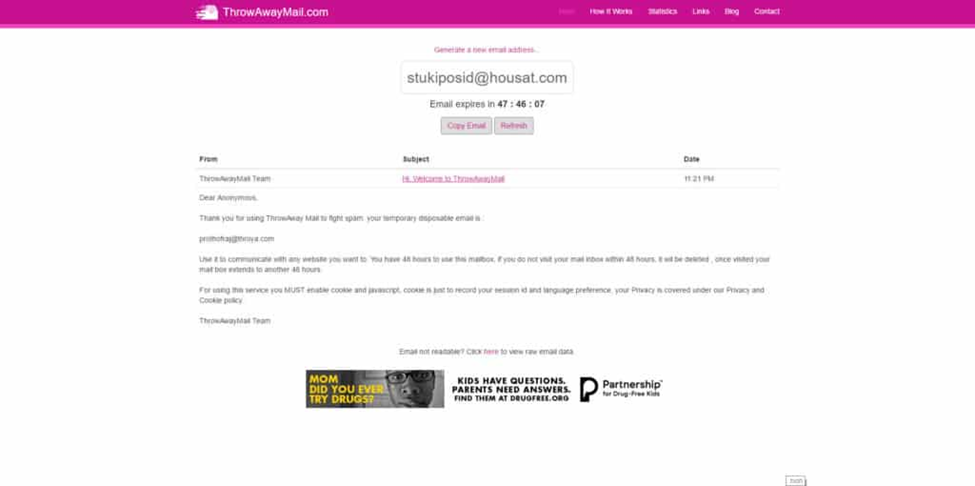 ThrowAwayMail is similar to most of the online email generators on the list, apart from generating fake email addresses that are valid for 48 hours.
The longer duration takes the element of urgency out of the equation, allowing you to use the email id multiple times for the website's sign-up system or confirmation emails. Moreover, you do not have to share your email addresses with others.
To get a fake email id, click on the link at the top of the homepage and start receiving emails instantaneously. Since you do not need to sign-up, you can ensure complete anonymity. However, you have to go through CAPTCHA before gaining the email address.
🔑 Features
2-hour validity: Temporary email ids are only active for 48 hours.
Verification process: You need to pass through a CAPTCHA to acquire an email account
Pros
Reasonable email validity
No registration required
Ability to send and receive emails
Cons
Lack of email id customization
ThrowAwayMail Pricing
Free
💡 Is ThrowAwayMail Worth It?
ThrowAwayMail provides you with a disposable email address as soon as you pass the verification process. The email is active for 48 hours, and you can use it to send and receive emails.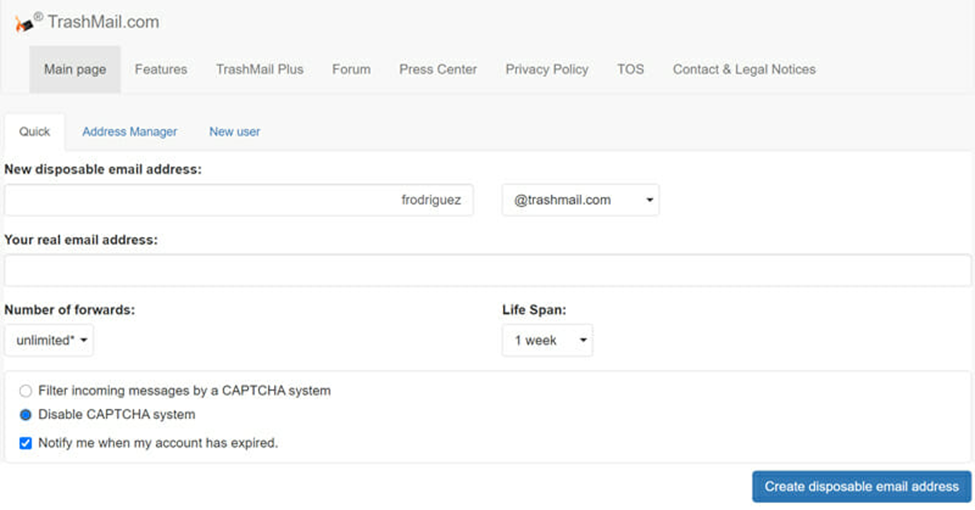 TrashMail is another fake email address generator that has been around for a while. The online service does not require you to sign up, making the process of creating throwaway email addresses effortless. Select one of the domain names available, add a username, and start using your temporary email id.
The fake email address generator furnishes you with mail forwarding to your personal or professional email account so that you can protect your inbox from spam emails. Moreover, your emails are forwarded via a secure SSL connection. However, the functionality is only available to TrashMail Plus members.
🔑 Features
Email forwarding functionality: Transfer important emails to your account using the forwarding feature.
Secure online service: You can send your emails via an SSL secure feature, available for TraskMail Plus subscribers
Password protection: You can apply a password to your temporary id
Pros
SSL data encryption
Unlimited email forwarding capabilities
Custom email lifespan
Inbound email scanning via CAPTCHA system
Cons
External ads on the free version
TrashMail Pricing
Free and paid versions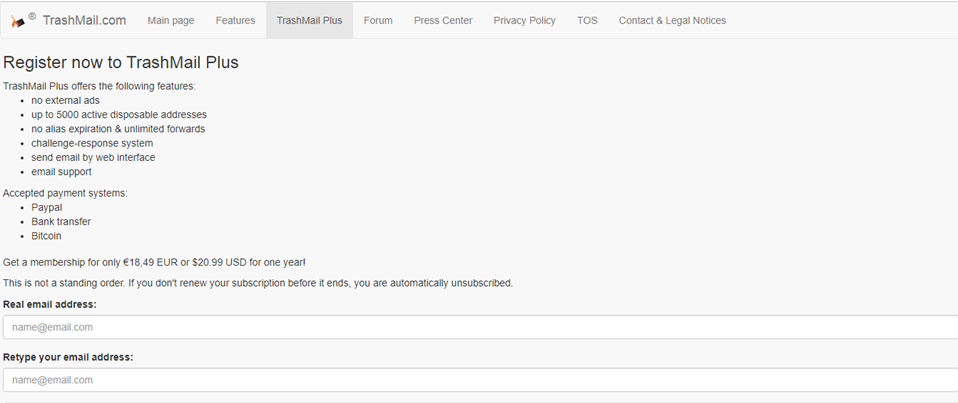 💡 Is TrashMail Worth It?
TrashMail is among the most secure online services that ensure the safety of your email address every step of the way. Consequently, it is different in that regard from other fake email generators.

YOPmail is another great option to protect your email account from spam. The fake mail generator creates disposable email ids with a one-click system, where every address ends with @Yopmail.com.
You can use the auto-generated random email to ensure added security or enter a custom user id and a domain name for enhanced personalization. You can also manually remove the account at any time.
🔑 Features
Ability to create random and custom email id: You can go with the email account generated by the service or enter in your username and domain name.
8-day email validity: The email address lasts eight days, which is quite generous compared to most fake email address generators on the list.
Pros
Unique burner id for every user
Generous 8-day validity
Option to create a custom id
Cons
Inability to send emails
Clunky UI
YOPmail Pricing
Free
💡 Is YOPmail Worth It?
Despite the unsophisticated interface, YOPmail does its job well and dispenses an email id that is valid for more than a week. You can also delete the email address if you do not require it anymore.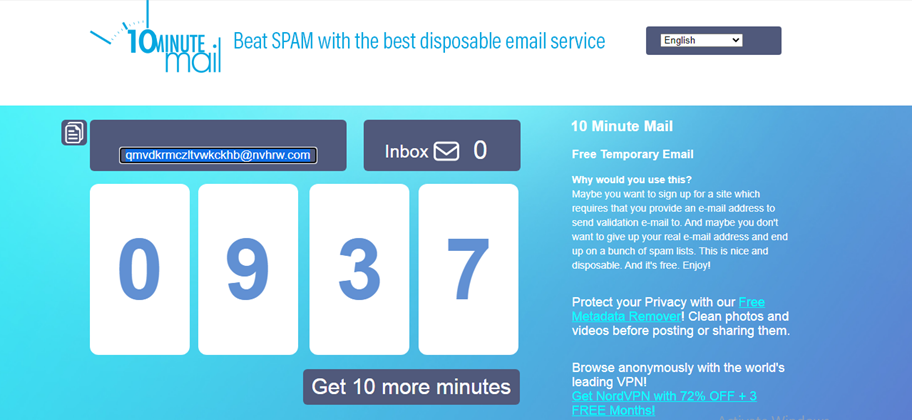 Last but not least is the 10Minutemail. It is fast, secure, and simple to use. As the name suggests, the service creates fake email ids that are automatically deleted every 10 minutes, along with the emails.
You can reset the countdown with a simple click if you need the email address for a bit longer, but it can get cumbersome over time. Therefore, use the service only if you want a fake email address for a brief time.
You do not have to register to use this generator, as a temporary email address is generated as soon as you enter the site. This also means that you do not have the liberty to determine your username or domain name.
🔑 Features
Ability to generate unlimited email addresses: There is no cap on the number of email accounts you can create at a time.
Automatic fake email creation: The service does not require you to sign-up before getting an email address.
Pros
Fast and straightforward to use
Attractive web outlook
Cons
No custom domain names
Inability to send emails
10Minutemail Pricing
Free
💡 Is 10Minutemail Worth It?
Opt for 10Minutemail service if you want an email id immediately and for a brief window of time, as the account deactivates after only 10 minutes.
Conclusion
Fake email address generators are handy tools to create burner email accounts that protect you from unwanted emails and spam messages. Consequently, you can divert all your attention to the relevant information in your inbox and improve your overall productivity.
With the comprehensive list above, I have included a wide range of the best fake email generators with varying functionality and ease of use. So the next time you want a temporary email account, you can go through the list and pick the most suitable email generators to create a fully equipped fake email id.
Comment below the fake email address generator you might consider using or if you want to add to the list!