One of the staples of running a successful business is having happy customers. If they are satisfied with your services, they will always come back for more and refer their friends and families to your business.
For a business of any size to be healthy, it is imperative to grow continually. This does not mean only retaining old, satisfied customers but always working on attracting new, potential ones. The best way to do this is by designing an attractive referral program.
This is not a new idea. Grand View Research published a report which states that the global loyalty management market size in 2020 was valued at a staggering $6.79 billion, and it is only predicted to grow more.
Knowing this, it is evident that your business needs a referral program. And to manage it, you will need to find the best referral program software that fits your needs.
What Is A Referral Marketing Software
Referral marketing software is an essential tool in creating your referral program. Every program often consists of various moving parts, from existing clients and their rewards to new leads and what you can offer them.
If you do not have a platform to manage all of these, you can create a massive mess for yourself and your clients.
Through software, you will be able to juggle all of these parts, and you will also be able to track the progress of your referral program, gain valuable information on how it is doing, and improve it as you go.
Benefits Of A Referral Marketing Program Software
But why would you even deal with all of this if you do not need a referral program? Dealing with the existing clients and the new ones, marketing and trackers can seem like a tricky balancing act.
However, there are quite a few crucial benefits of having a referral marketing program software.
Save money
Money is often the most important thing a business will care about. And generally speaking, marketing campaigns will cost you a lot of money before you start seeing any benefits.
When running a referral program, you can set up rewards that will not hurt your budget, sit back and watch your leads grow. People will talk about your business themselves, and you will not need to do much for this. All you need is a good program.
Free marketing
What's more, the process is straightforward once you correctly set up your rewards. You will not need to develop creative ways to promote your business because your clients will become its spokespeople.
They will themselves promote you in any way they can, and all you will do is benefit from it. Therefore, starting a program like this will mean you are only reaping the rewards with minimum effort at the start.
What Are The Best Referral Programs?
In this article, we will look at the best referral programs available to use. We will look into their features, pros, and cons to compare them and help you get the best idea of what to use.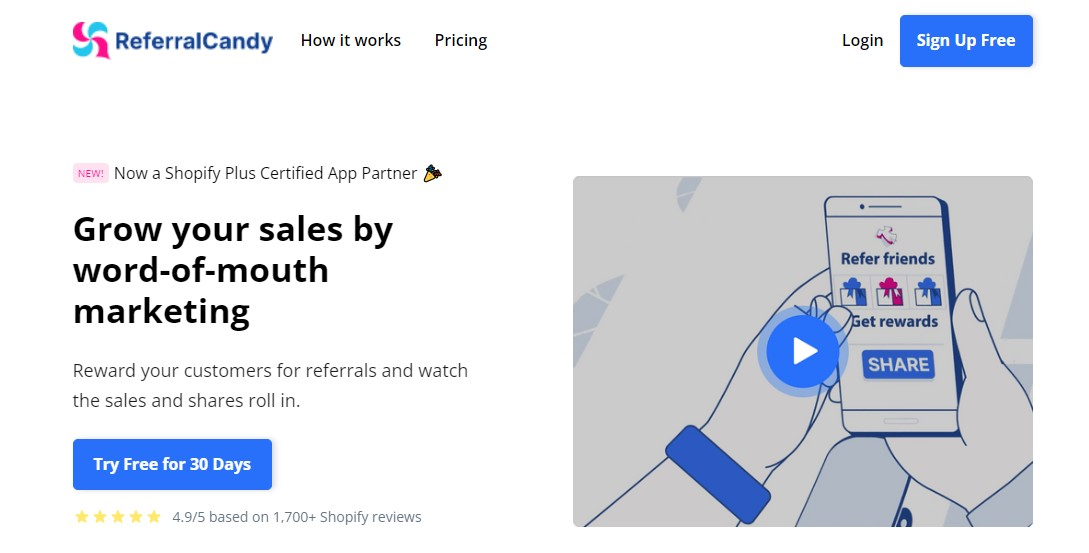 Referral Candy is a referral marketing software perfect for those just starting their business and looking to expand. It is also a very old referral program - started in 2012, it is probably one of the first.
The leading target group for its referral marketing is online stores. With an easy set-up, you will be able to reap boosted sales just like Amazon, Etsy, Shopify, and other big-name clients of Referral Candy.
🔑 Features
Customization options for the program and the rewards.
Easy to change the look of everything.
The dashboard displays analytics, contacts, and campaigns for an accessible overview.
Pros
Intuitive and easy to get started.
Lower costs when compared to other referral marketing software tools.
Lots of templates for emails.
Cons
The base plan requires monthly commissions.
Some components are pretty limited.
You can only run one referral program.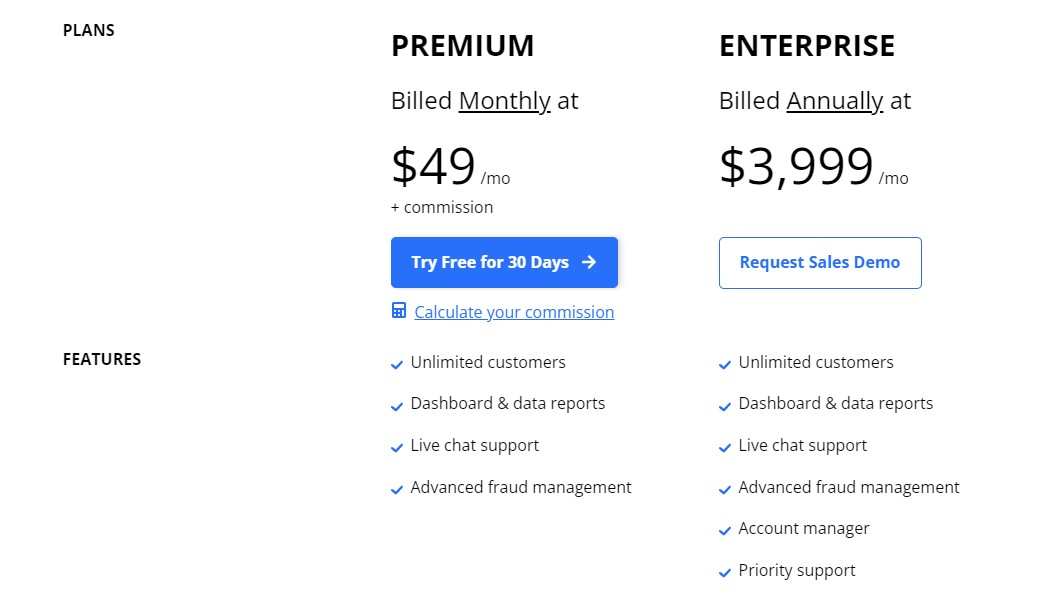 💡 Is Referral Candy Worth It?
Referral Candy is a great beginner's marketing referral marketing tool. Its affordable cost makes it a desirable referral software, but the features are too limited for more significant business needs.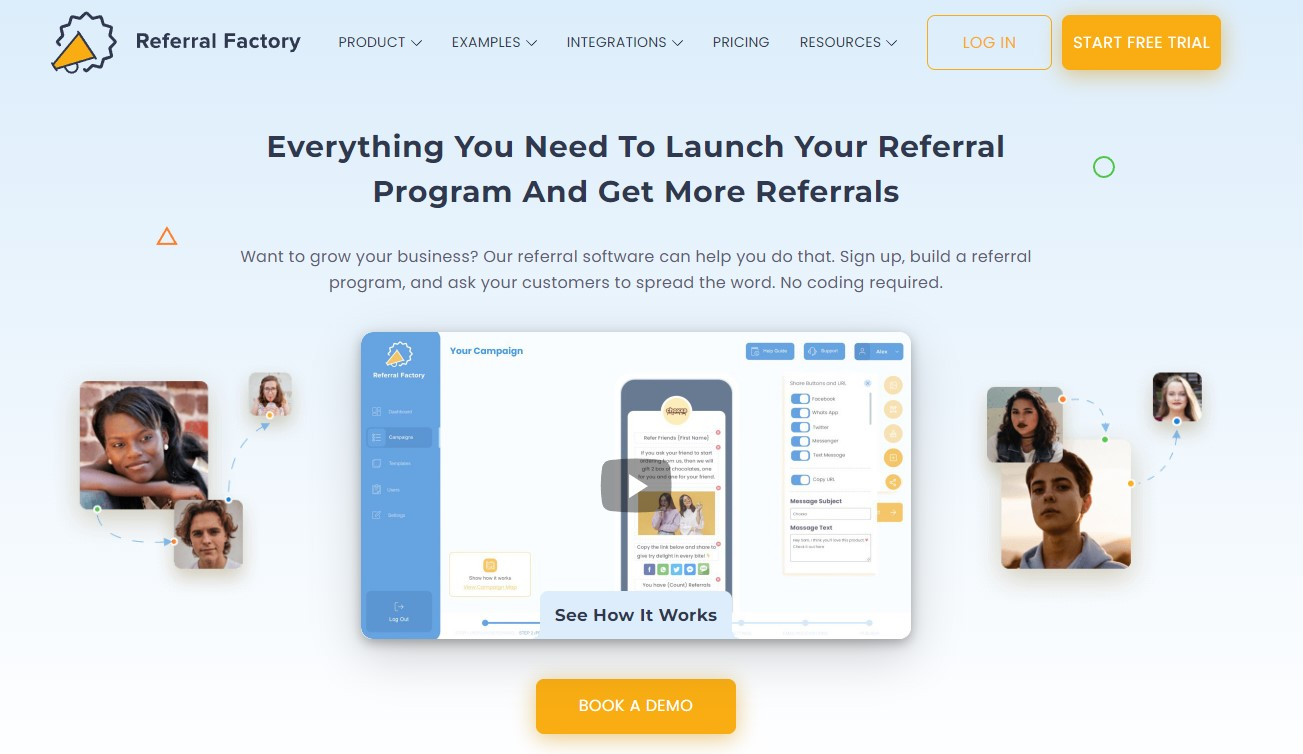 If you need an abundance of referral programs, then Referral Factory is for you. With over one thousand templates, you can be sure that you will find the right referral program that you need.
It's great because it can automate referrals from start to beginning. Enrolling, tracking everything, and managing rewards have never been more straightforward when you have Referral Factory on your side.
🔑 Features
Setting up any part of your referral program is accessible from within the software.
Access all the data and analytics in real-time to plan further steps.
Communication tools will help you set up notifications and triggers to encourage the participants in your referral programs.
Pros
Track performance through unique reporting features.
You can export the data to CSV files for further analysis.
Referral Factory can adjust for any referral program you have planned out.
Cons
Their UX (user experience) can sometimes feel a little outdated.
Sometimes, the customization options will require a lot of work.
💡 Is Referral Factory Worth It?
Referral Factory gives you complete control over rewarding your customers, which is desirable. However, designing your referral campaign can sometimes be challenging or feel outdated with this referral marketing software.

If you want a referral program software that will help you track your sales with ease and engage customers, then it's Refersion that you want.
Even though it is primarily an affiliate program software, you can also use it as an excellent referral marketing software tool. If you are running an eCommerce business, you can even integrate it into the website through different apps or its custom API.
🔑 Features
Refersion connects amazingly well with other platforms.
Precise and detailed analytics features will let you plan your future referral marketing with ease.
The marketplace feature lets you publish an "offer" with what you need and how much you will pay for your referral program.
Pros
Tracking your sales is very easy and intuitive.
The customer support is very responsive and reliable.
Integrating Refersion is easy and fast.
Cons
Affiliate features are very limited for affiliate software.
The cost is higher than other competitors.
Payment methods are also not varied.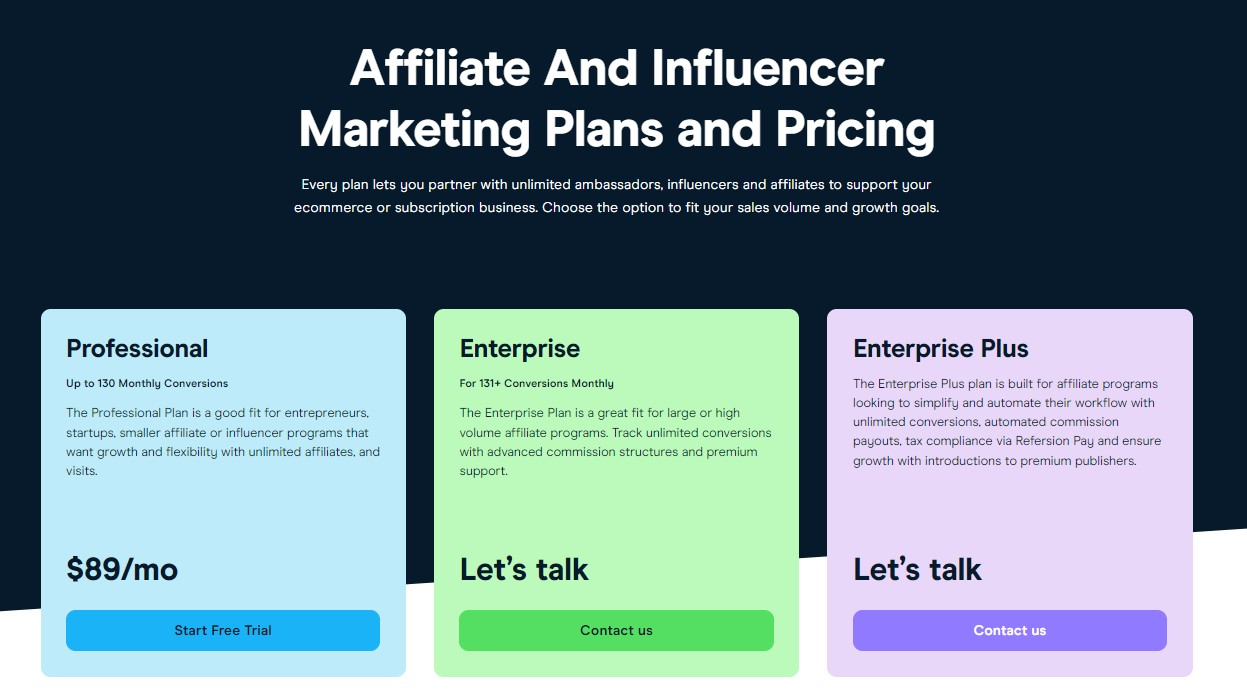 💡 Is Refersion Worth It?
Refersion is excellent if you want to pay special attention to your sales. A lot of its features are great for analyzing and reporting on them, and this referral program software can help you understand your data on a deeper level.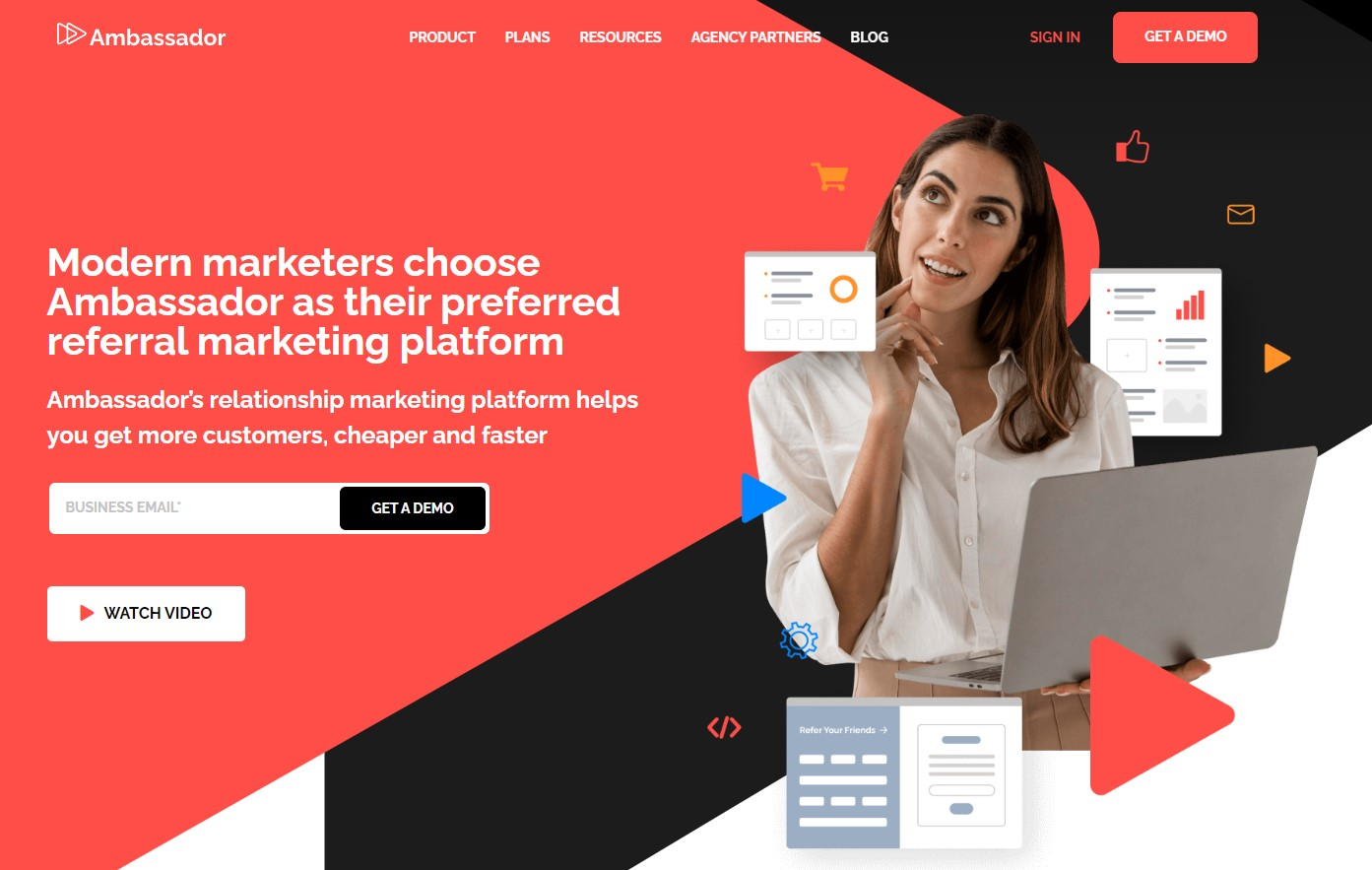 Are you looking for targeted and personalized referral campaigns? Then look no further than Ambassador. This referral marketing platform will help you enroll your customers and affiliates and track your KPIs.
What's more, you can optimize your referral program in real-time as opportunities arise. You can even change your incentives to find what fits best and automate your reward process.
🔑 Features
eCommerce integration is effortless.
You can run multiple marketing campaigns at the same time.
There is phone and online support for any problem that might arise.
Pros
The reward payment is very versatile.
Their platform serves multiple functions for easy management.
Ambassador has a great onboarding process to help you get started with your first referral program.
Cons
The setting up phase can take some effort and time.
Customization options are limited when it comes to referral marketing campaigns.
The reporting system could be improved by becoming more robust.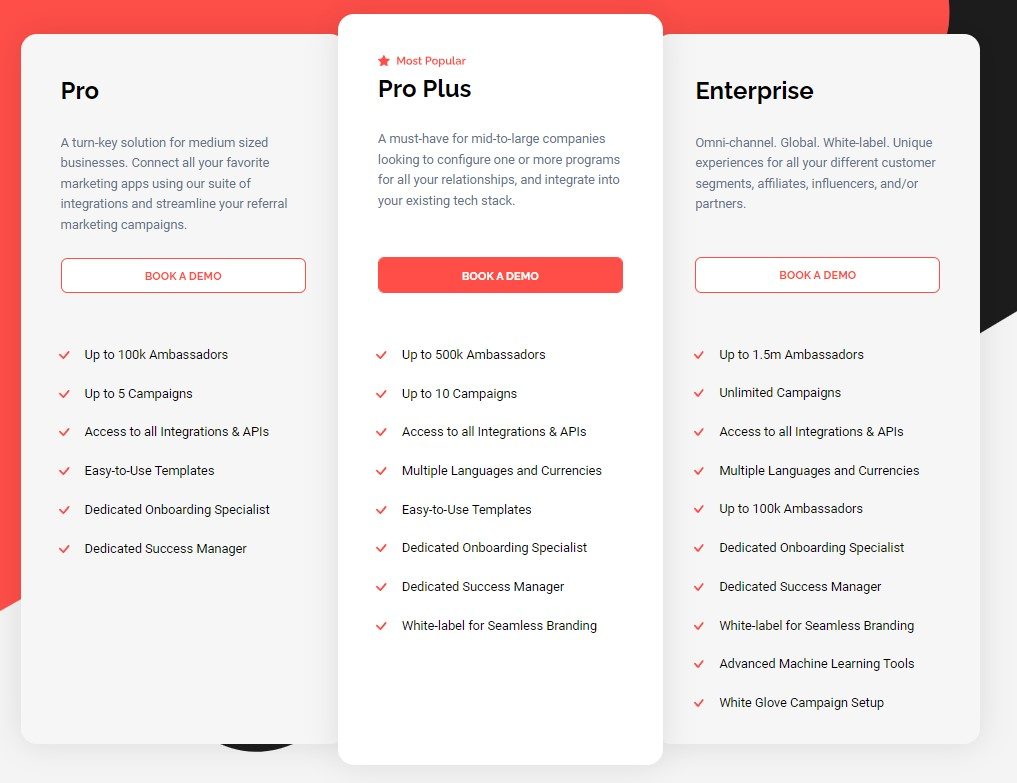 💡 Is Ambassador Worth It?
The main advantage of Ambassador is that it is an all-in-one referral marketing software. Whether you are looking for affiliates, partners, influences, or advocates, you will be able to handle it all with this tool.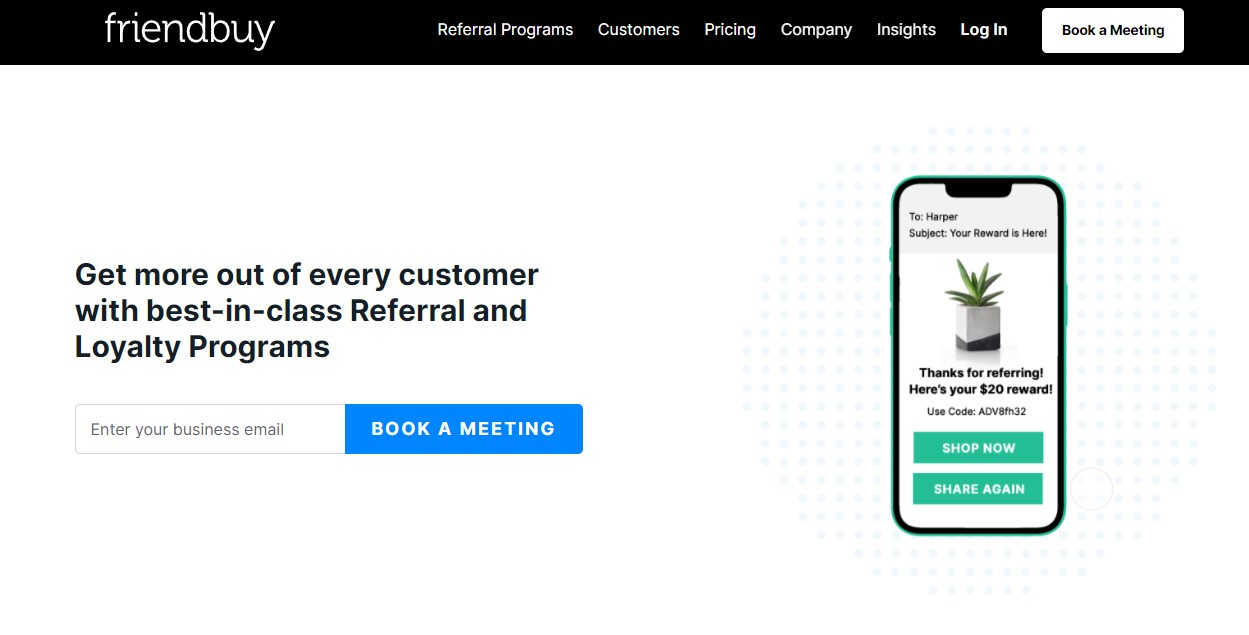 FriendBuy is the referral marketing software you want if you are looking for email capture widgets. It will help you launch your referral program quickly and without any hassle.
What's more, it offers great widget customization and templates. These are mobile-friendly and encourage your clients to share and refer people to your business.
🔑 Features
Automated reward fulfillment.
Various rewards, including coupon codes, loyalty programs, gift cards, account credits, etc.
The email widgets come with templates that will help you maximize your gains from the software.
Pros
You gain access to what people say about you when sharing your link.
Widgets are a somewhat unique approach to customer referral programs.
The user-friendly interface makes this a great referral marketing software solution for beginners.
Cons
The dashboard, however, often feels clunky and can use some work.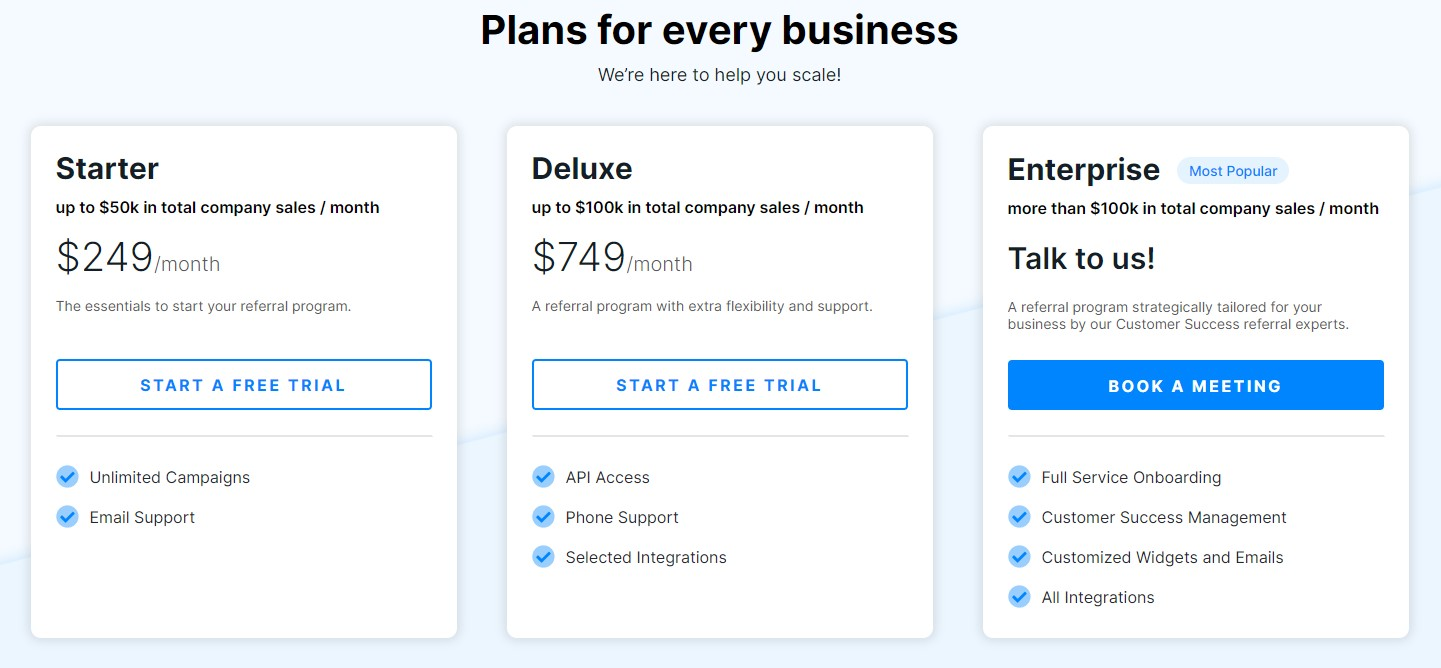 💡 Is FriendBuy Worth It?
FriendBuy helps you optimize your own referral program through A/B testing and various widgets and tools. However, the higher cost makes this a referral tracking software, not for everyone's budget.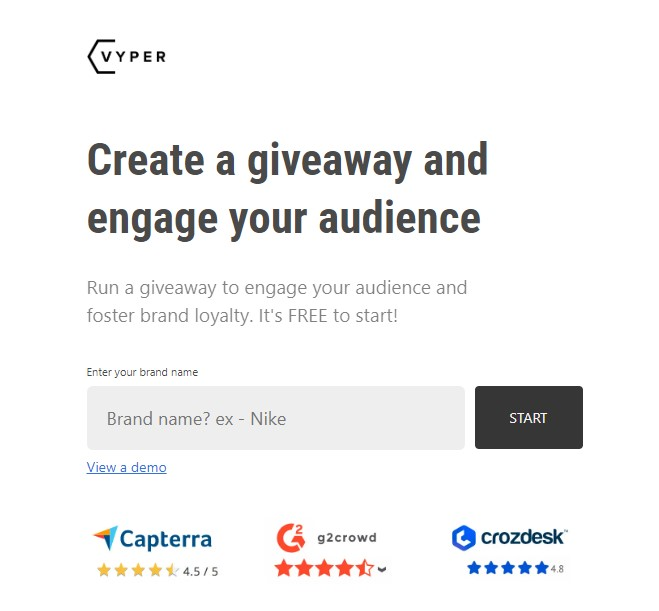 VYPER is the perfect program software for those looking to create viral campaigns. It has the functionality of most other referral marketing tools, including campaigns and loyalty programs.
However, VYPER sweetens the deal by adding giveaways and leaderboards to inspire your loyal customers to compete through the gamification process.
🔑 Features
Their builder makes it easy to create a successful referral program that will fit your brand.
You get the choice of how you will present your referral program - as a chat widget, landing page, or embedded.
There is a free trial period where you can test its referral tools.
Pros
The builder is very flexible and easy to use.
A free trial period is always a plus.
It helps you track purchase referrals and leads.
Cons
The free plan offers only 250 leads, and you can earn only $250 per month.
The software is still new (in its 2.0 version), so there aren't any success stories yet.
💡 Is VYPER Worth It?
The fact that VYPER offers a free testing period is a desirable prospect. The flexibility in its builder also makes this a fascinating online referral marketing software.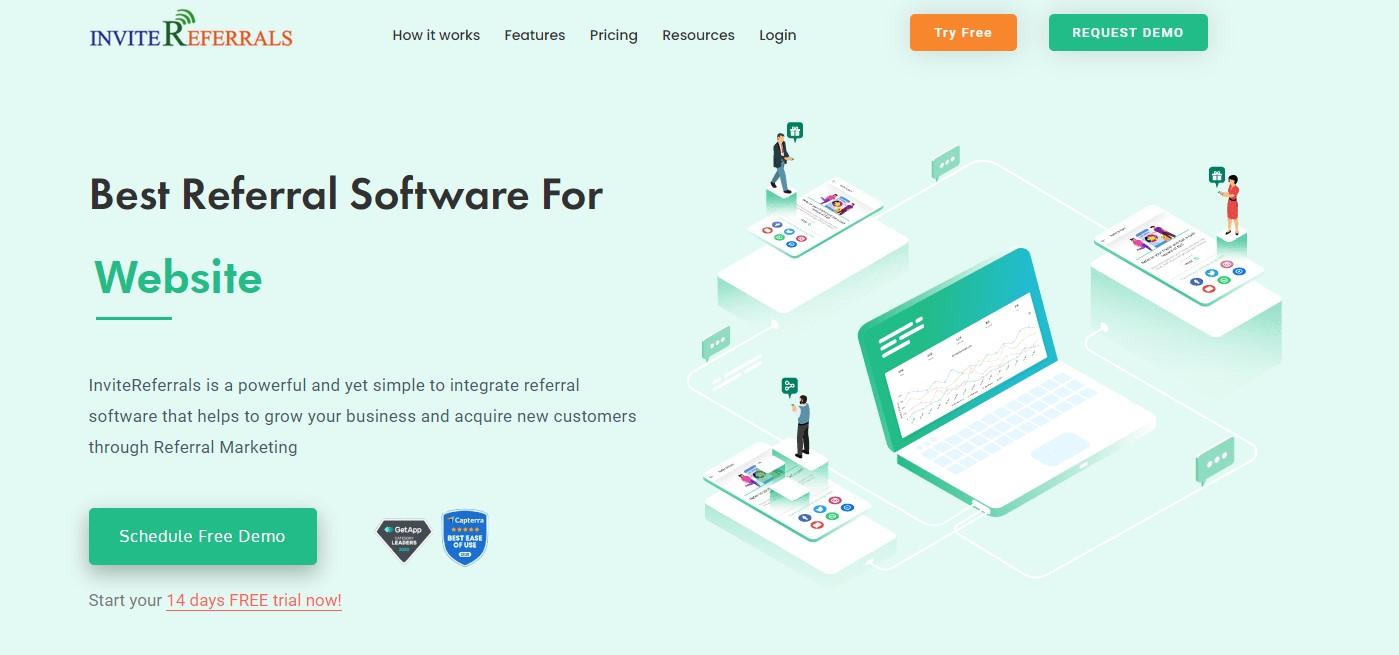 If you want a simple referral marketing solution that will help you design and implement your referral program, then InviteReferrals is what you need. They boast of offering insight into your customer referral program like no other tool.
On top of that, they run multiple referral marketing campaigns like giveaways, contests, and goal-based customer referral programs.
🔑 Features
InviteReferrals integrates well with any eCommerce marketing platform, from Shopify to MailChimp.
The mobile application makes it easy for existing customers to invite their friends.
Finally, the customer analytics will help you measure the success of your referral process and adjust it as you see fit.
Pros
A dedicated success manager (in specific plans) will ensure your referral program is fantastic.
The integration with third-party apps is effortless.
Analytics are thorough and informative.
Cons
There is a limited number of campaign participants.
The design options are pretty limited.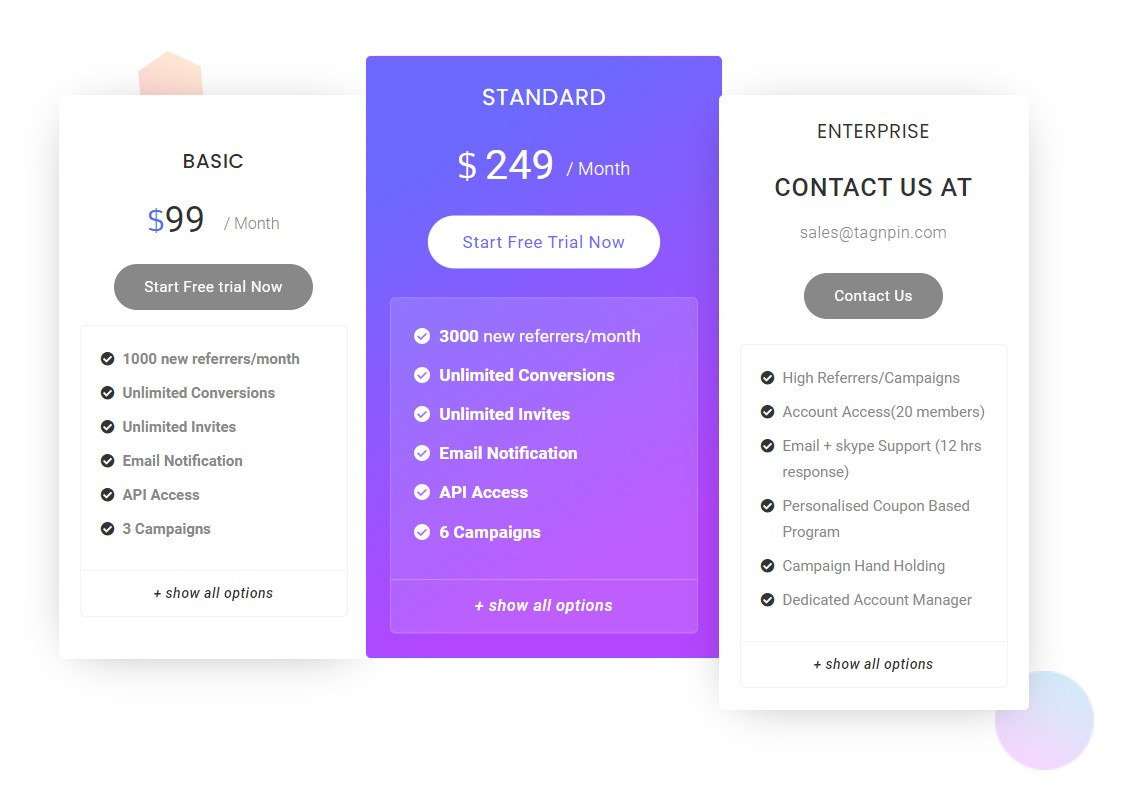 💡 Is InviteReferrals Worth It?
InviteReferrals is one of the best referral marketing software tools for designing and implementing your own referral program. However, more design options are something to be desired.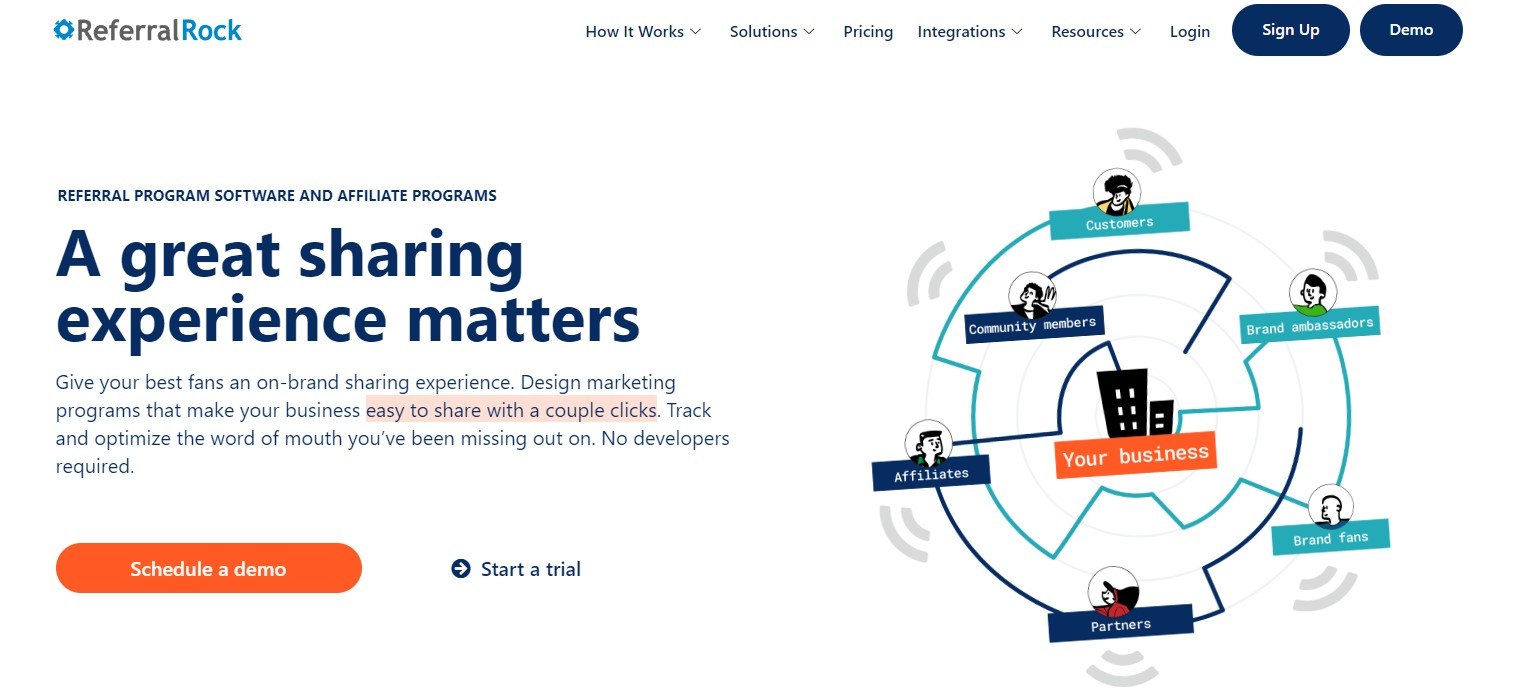 Referral Rock is the tool you want when you are looking to automate your referral marketing programs. You can set up your personalized customer referral program and engage more customers through dual-side rewards, social media sharing, etc.
Referral Rock also lets you set up SMS marketing, referral widget strategy, etc. The one-step Google Analytics will also give you valuable insight into your referral program performance.
🔑 Features
You can incorporate your referral program directly into the interactions your existing customers have.
Your referral partners will have multiple ways to share your referral link through Referral Rock.
The pre-draft messaging feature lets your customer communication match your brand.
Pros
Quickly acquire customers through the referral program.
Referral Rock has an intuitive and easy user interface.
Exceptional customer service with a dedicated success manager to guide you through the process.
Cons
Reporting on your referral process is relatively limited.
Customization options are pretty sparse.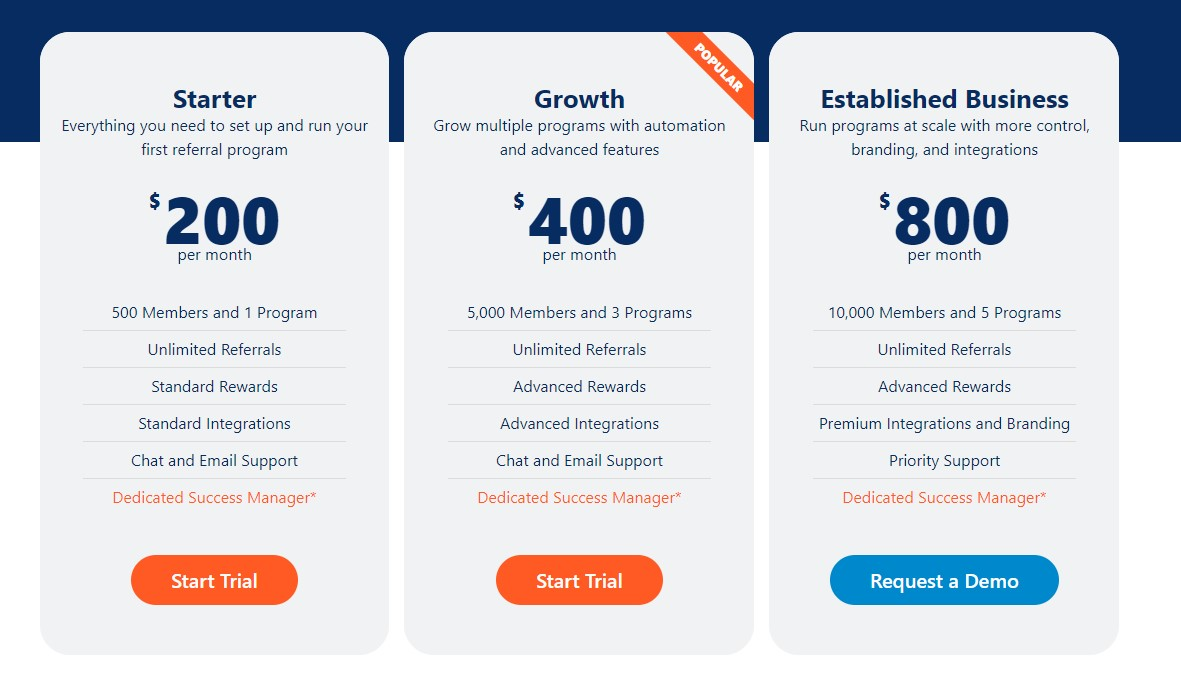 💡 Is Referral Rock Worth It?
Referral Rock is one of the best referral program software for businesses just starting with customer loyalty programs. However, its high cost can serve as a detractor for many entrepreneurs.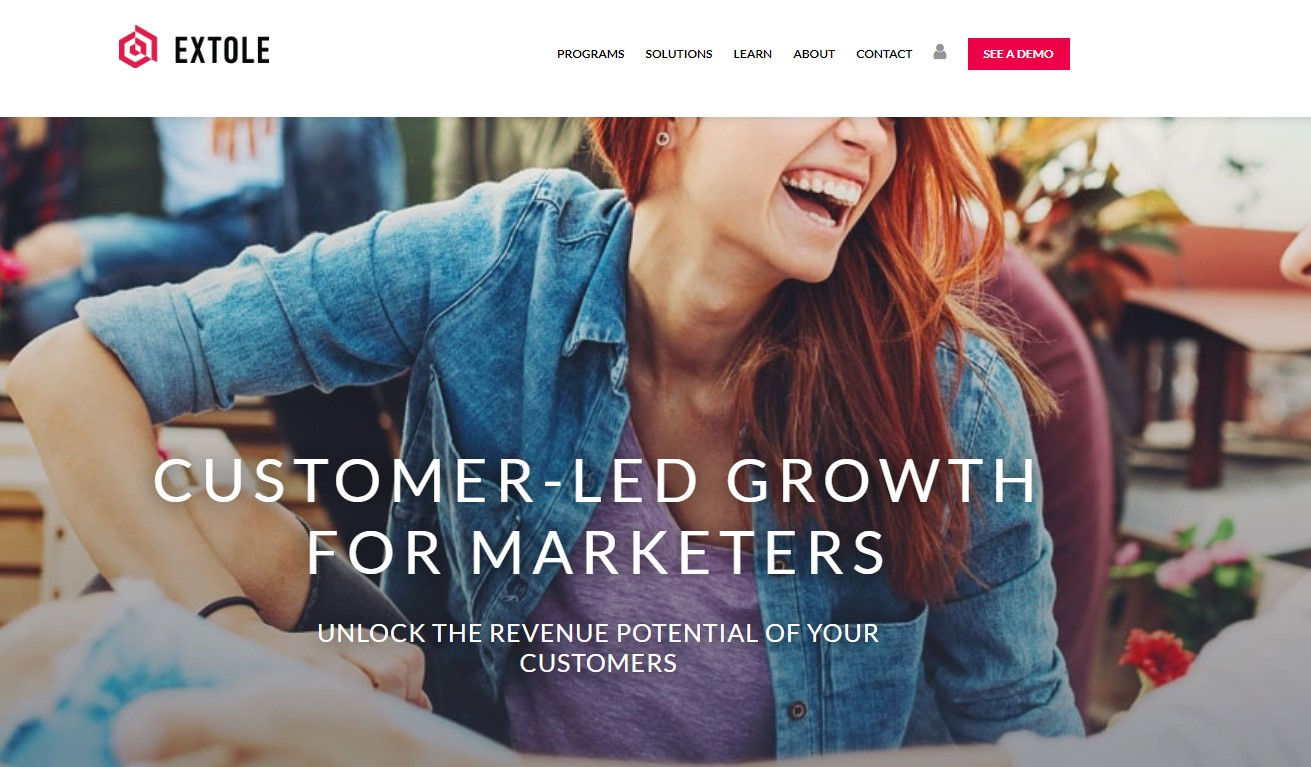 Extole is the perfect pick for all retail and financial companies looking for the best referral marketing tools. Their expert team will help you run referral programs and acquire new customers quickly.
Their turnkey SaaS platform will help you set up incredible channels for attracting potential customers, and the variety of features helps boost this referral strategy.
🔑 Features
A variety of features like refer-a-friend, nominate-a-friend, referral partner, influencer, and ambassador strategies.
Extole helps you target new customers with precision.
There is integration with Vistaprint, Petco, Shutterfly, and much more.
Pros
Intuitive and easy to use.
There are fraud prevention checks to stop people from abusing any incentive program you offer.
Easy reporting followed by good insight into your data.
Cons
There are no geo-filtering capabilities to adjust your offers.
There is a lack of control since their team handles a lot of stuff instead of you.

Extole doesn't offer pricing options. Instead, you will need to request a demo and test out their services.
💡 Is Extole Worth It?
If you need assistance with an effective referral program, then Extole might be your tool. However, integrating some of the tools can be frustrating and require patience.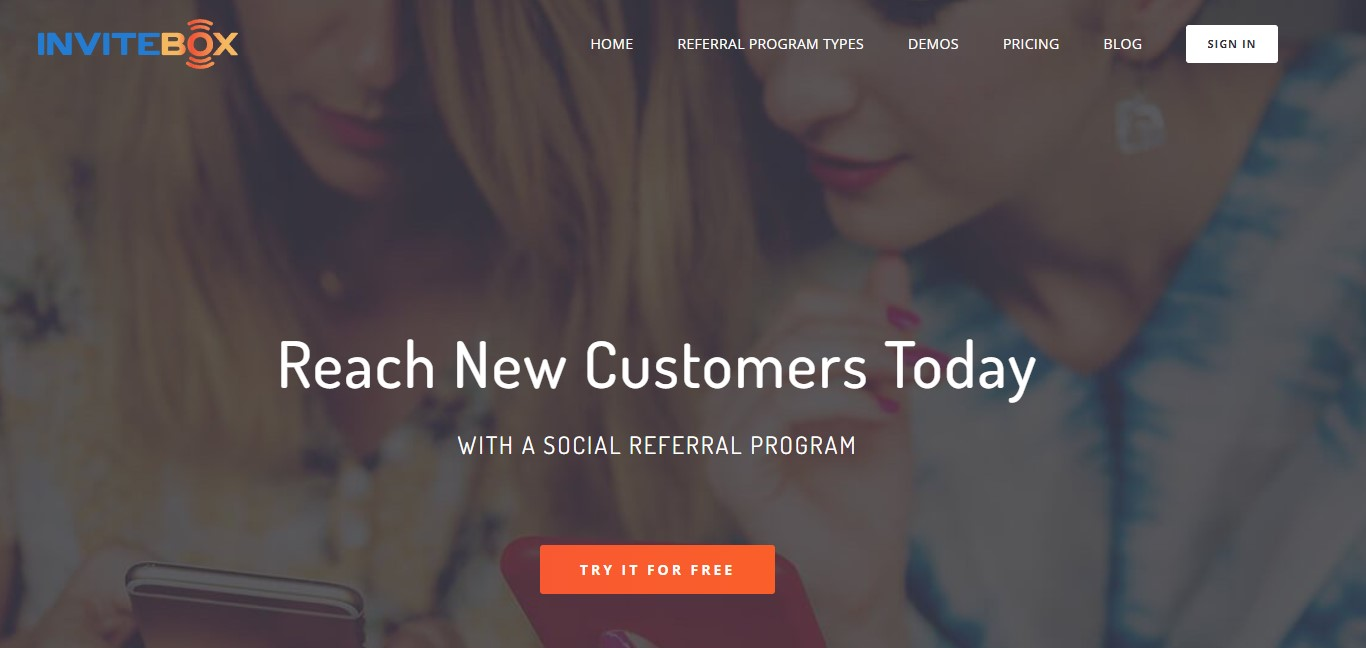 InviteBox is the referral software that will help you develop various referral marketing solutions. From sweepstakes to instant rewards, InviteBox has got you covered.
Working with this referral software is easy. All you need to do is create rules for your referral program and then copy the code into your website. Your website visitors can click on the widget and reap the rewards.
🔑 Features
Many rewards for your referral campaigns, like instant rewards, contests, goal-based rewards, and more.
InviteBox is easy to use and integrates into your website quickly.
Pros
The support system is fast and easy to work with.
There is a WordPress plugin for easier integration.
Relatively cheaper than the other best referral program software on the list.
Cons
The customization of the widget does not let you completely work it into your website design.
The referral marketing programs aren't anything new or unique.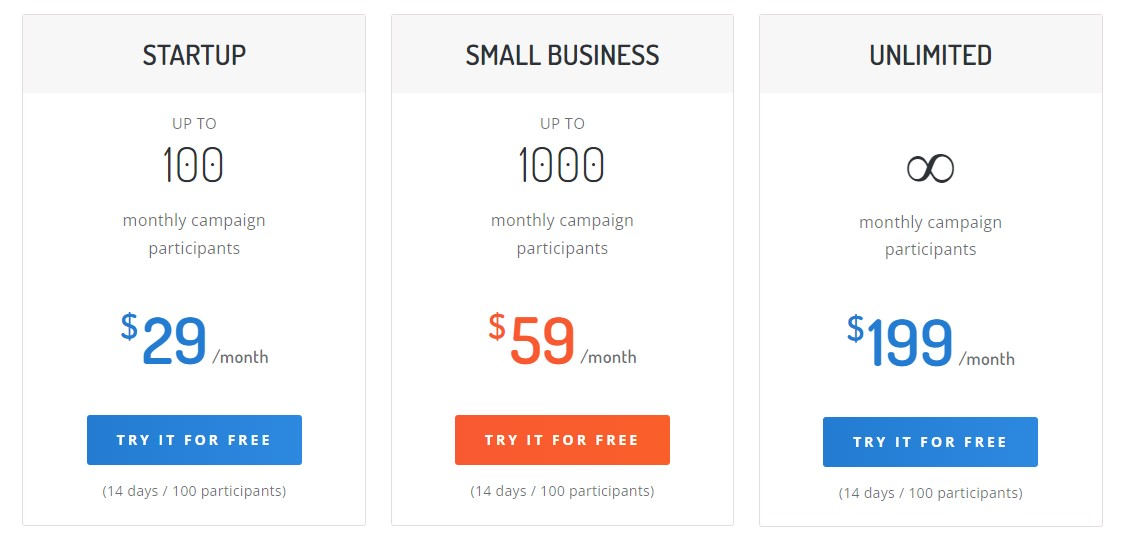 💡 Is InviteBox Worth It?
InviteBox is an excellent choice for those who want a cheaper referral marketing software, which is easy to use and integrate with your website. This might not make it the best referral software, but it is a good start.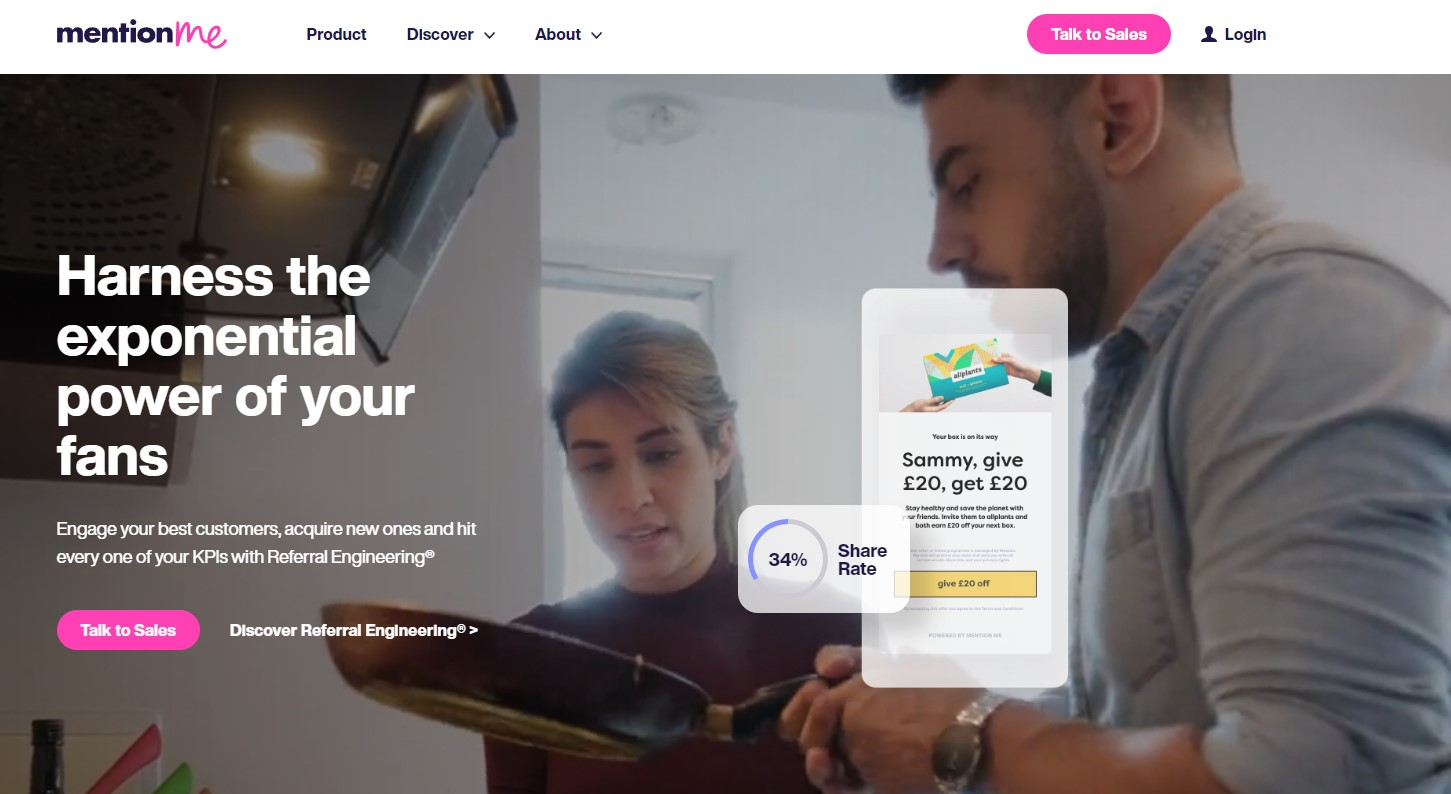 Mention Me is a referral software solution that more than 300 brands worldwide find very useful. What's unique about Mention Me is its "Name Sharing" functionality, which lets you capture real-world conversations for a more personalized touch.
The company has the modest boast that this feature will help boost your referral sales by 35% when used in combination with their social media marketing strategy.
🔑 Features
"Name sharing" feature for more natural-sounding conversations during customer acquisition.
A/B testing for a better insight into your referral links efficiency.
Their referral marketing platforms let new customers just write the name of their referrer for easy access.
Pros
The best referral software for the ease of onboarding new customers.
The dashboard is very informative when it comes to reporting the success of your affiliate program.
You will have control over the whole referral program.
Cons
There is an abundance of options that some can find overwhelming.
UX, however, seems to be a bit restrictive.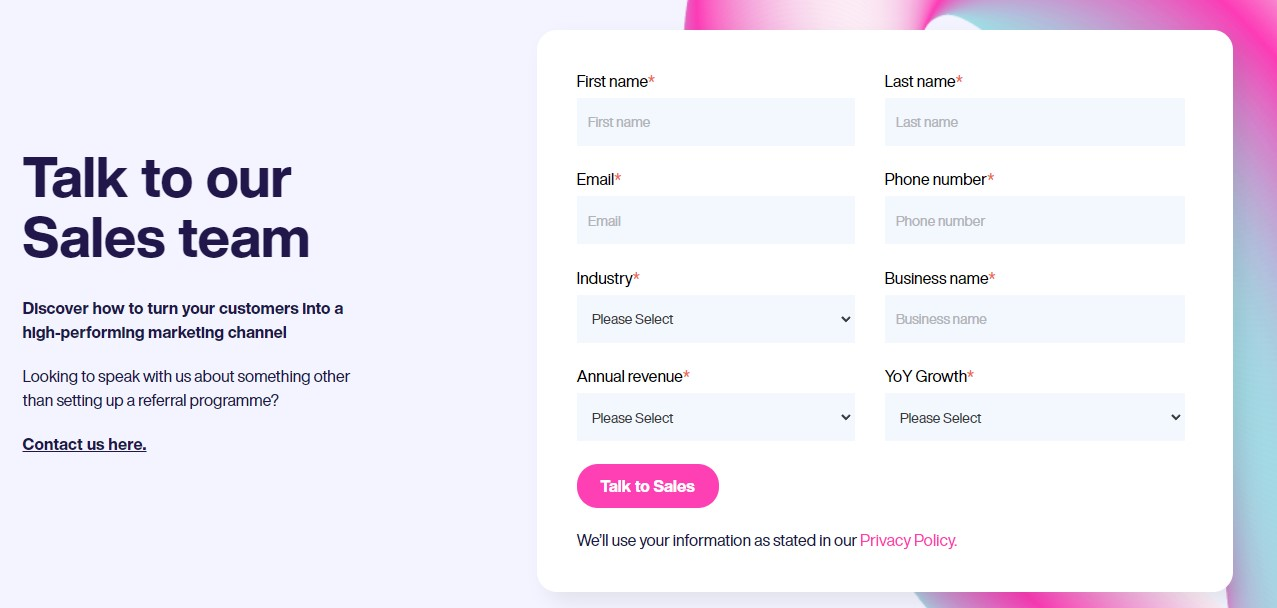 There isn't fixed pricing for their referral tools. You will need to contact the sales team and work through the price.
💡 Is Mention Me Worth It?
Mention Me is a great referral marketing platform when you need your referral program to match your brand. However, the plethora of options can sometimes be frightening to newcomers.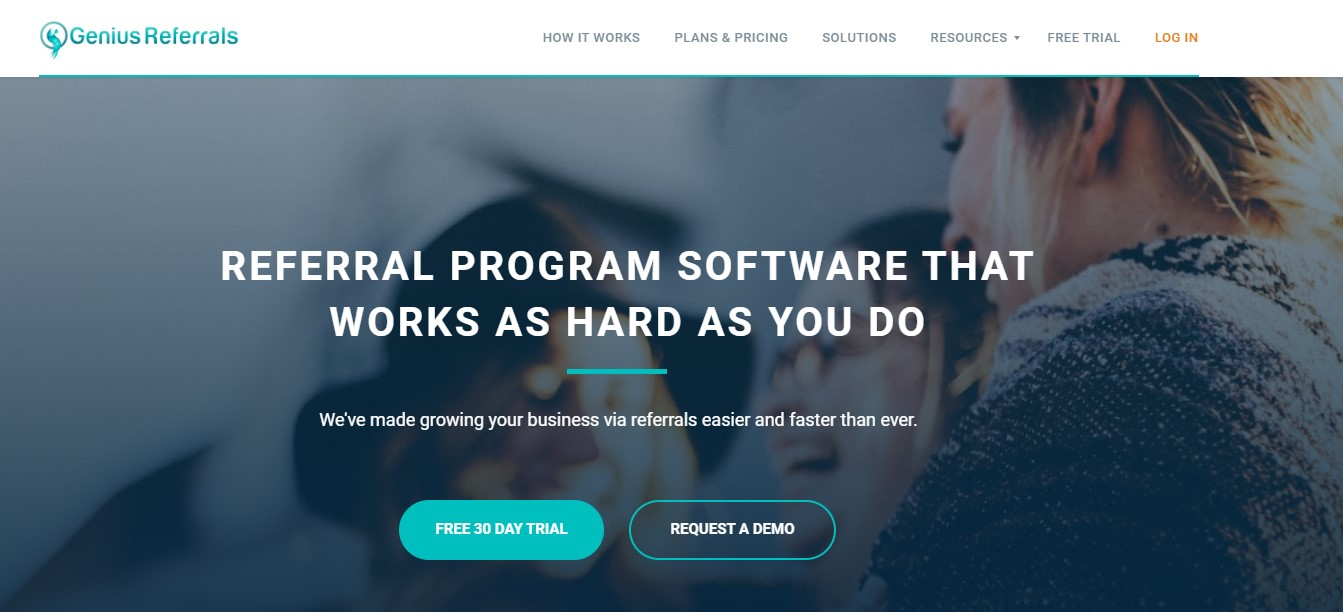 Genius Referrals is a referral program software that works will all businesses. So whether you have a few small, local businesses or big enterprise customers flock to, you will find what you need with this tool.
You can also use this referral software to create your referral program quickly. All it takes is less than ten minutes!
🔑 Features
Seamless integration with a lot of popular platforms.
A vast range of customer loyalty rewards to tailor to your brand and customer base.
They also provide great analysis tools for managing your referral program as you go.
Pros
Fantastic customer service and a free trial to test out the program.
Quick to build a great referral marketing program.
Easy and intuitive to use.
Cons
You will need to learn a little about coding to make Genius Referrals the best referral platform software - or just use customer support.
Manual fulfillment makes it tougher to manage as your business grows.

💡 Is Genius Referrals Worth It?
There is just a little holding Genius Referrals from being one of the best referral program software in the game, and it's the automation. However, the fact that you can adjust your payment to fit your needs is something to look into, and a free trial is always great.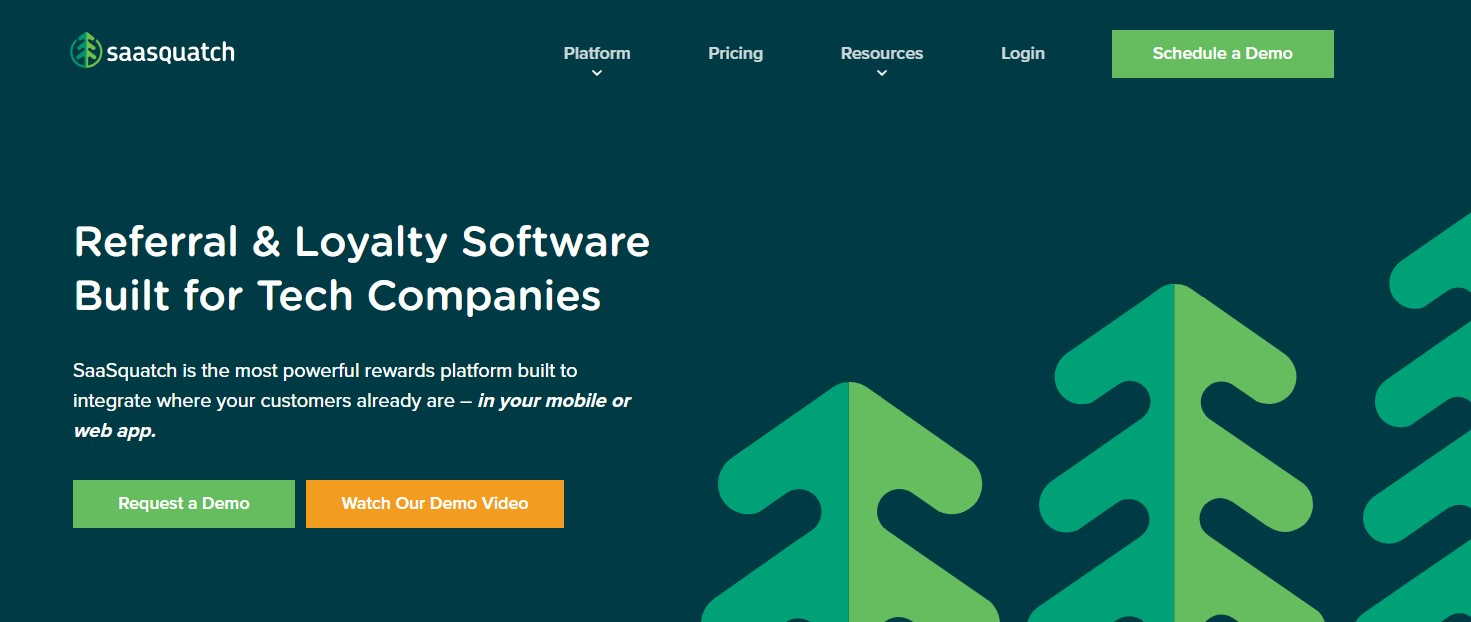 If you are running a business in the B2C niche in the on-demand space, then Referral SaaSquatch is for you. Their referral program will help you experience fast growth with little effort.
This referral program software was designed with an online business in mind. Things like box subscriptions, services, and marketplaces with huge traffic will be its best fit.
🔑 Features
Create multiple referral programs and campaigns.
Your referral program can have multiple tiers.
There is an excellent support system with the app as well.
Pros
The customer service is always ready to jump in and help.
One of the best referral tracking software in the game.
Fraud check tools are also handy.
Cons
The customization is minimal.
The platform language can often be confusing.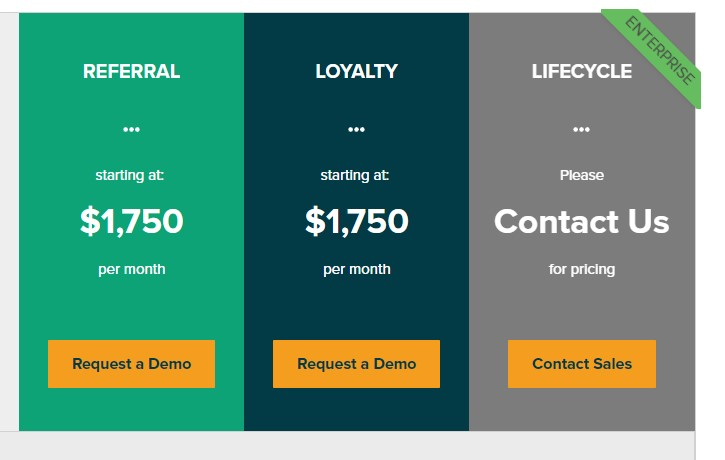 💡 Is Referral SaaSquatch Worth It?
Referral SaaSquatch is one of the best referral marketing software for B2C online businesses, but we wouldn't recommend it for just every business. The limited customization options are a significant disadvantage of the tool.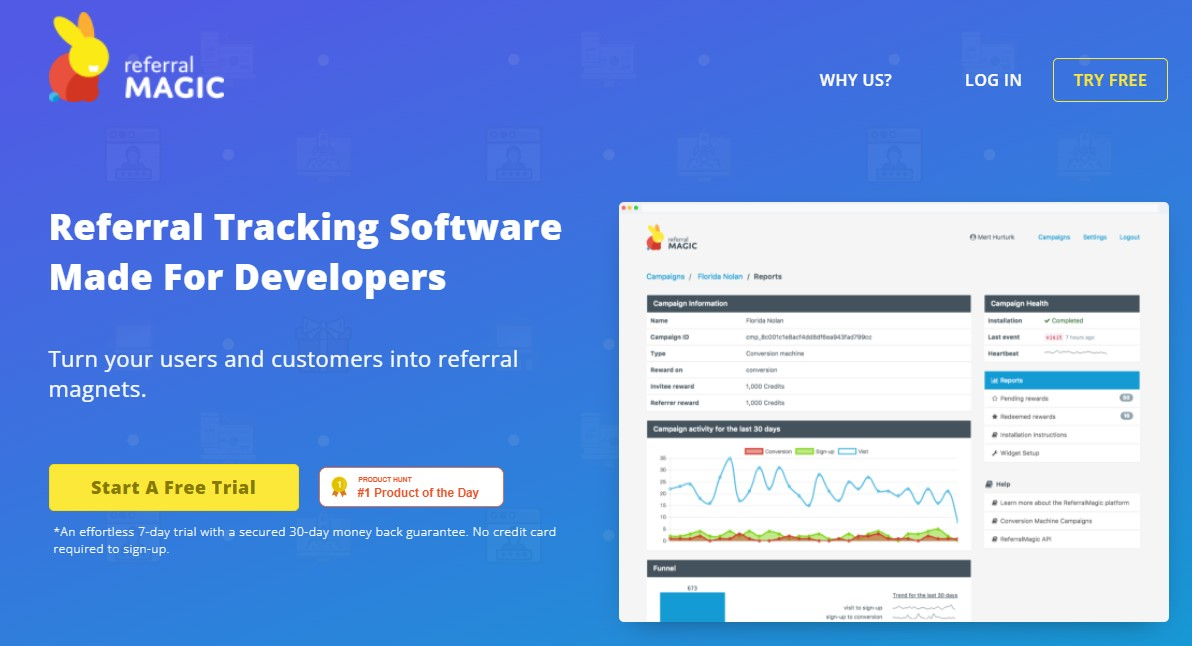 You should use ReferralMagic if you need simplicity and user-friendliness. While many referral program software offers confusing language and tools, ReferralMagic will give you a fantastic referral program with no headaches.
However, this tool is also based on the SaaS industry on the internet. Therefore, if you want referral software for a different kind of business, ReferralMagic will not be the way to go.
🔑 Features
Integrate their tracking software directly into your website.
Leverage your existing customers easily.
Cost-efficient and customer-centric, this referral software is a pleasure to use.
Pros
API has an amazing array of features.
The integration is very easy and effortless.
The customer support is super responsive and friendly.
Cons
ReferralMagic sacrifices some of its functionality and features to become a simple referral program software.
The free trial lasts only seven days, though there is a 30-day money-back guarantee.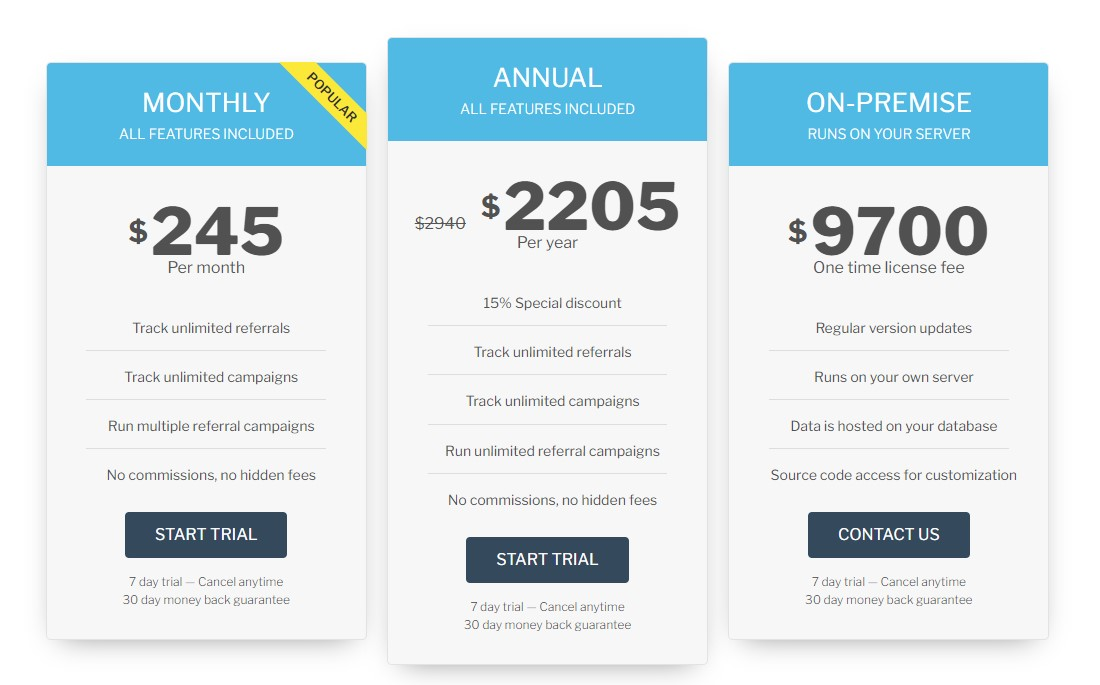 💡 Is ReferralMagic Worth It?
ReferralMagic is for those SaaS online businesses who do not want the headache of looking into various program software and then spending even more time fiddling with setting up a campaign. If you need quick and straightforward, ReferralMagic is the way to go.

Revetize is a referral program software designed to help small businesses tackle online referrals and promotions. It's practical and can help you boost your interaction and leads and manage your brand.
Another perk is that it also lies on the lower end of the budget spectrum. You also do not need to learn much about using it. There are customer support experts to help you every step of the way.
🔑 Features
It is an all-in-one referral program software to generate leads, communicate with customers, and manage your brand.
Leverage your current customers to acquire new ones with ease.
Revetize will help you generate reviews from your customers through promotions and messages.
Pros
Very easy to use while being very functional.
Perfect price for small businesses.
While the review requests are automated, you can still customize them well.
Cons
The templates they offer are limited.
There is no free trial option.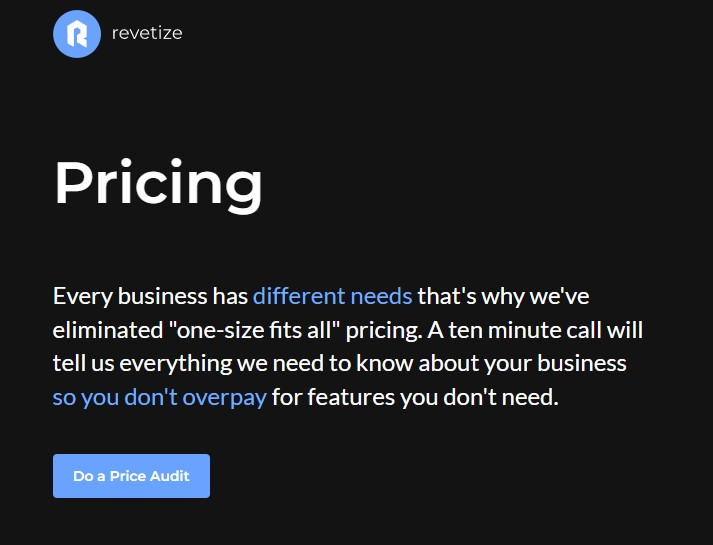 While the pricing is low, you will need to do an audit to get it. Contact their team with your business needs for the quote.
💡 Is Revetize Worth It?
Revetize is an excellent choice if what you need is the things they offer at a low price. However, if you are looking for more customization options, then another referral program software might better fit you.

Yotpo is a marketing platform that works best in the eCommerce niche. Even though it is limited to it, it is one of the best referral program software you can get.
There is a lot that you will get when using Yotpo. They offer customer reviews, SMS marketing, referrals, and much, much more. The bit name clients like Google and Shopify utilize Yotpo, so why wouldn't you?
🔑 Features
They can help manage your advertising, campaign, and community.
The content creation and management feature will help you boost engagement with your customers.
Their gamification model will be fun for new clients.
There is a free trial option.
Pros
Very helpful customer support.
Keeping relationships with your customers is very easy using their platform.
You can invite people to review your products and your company in one neat package.
Cons
It can be somewhat intimidating to work with due to the variety on offer.
There have been some reported glitches with photos in portrait mode.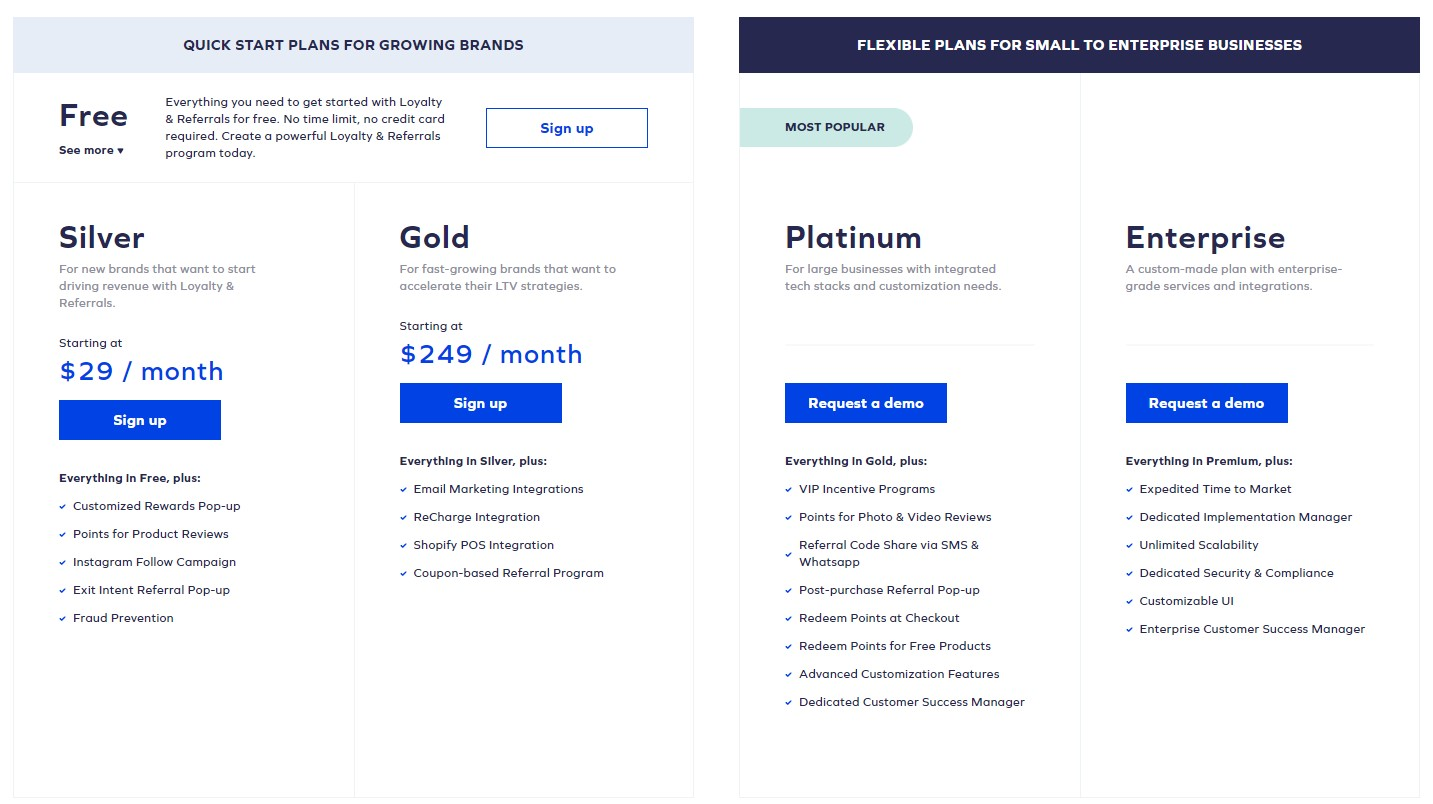 💡 Is Yotpo Worth It?
If you are working in the eCommerce niche, then Yotpo is worth having. It is a fantastic referral program software that can help you boost engagement and gain new clients with ease.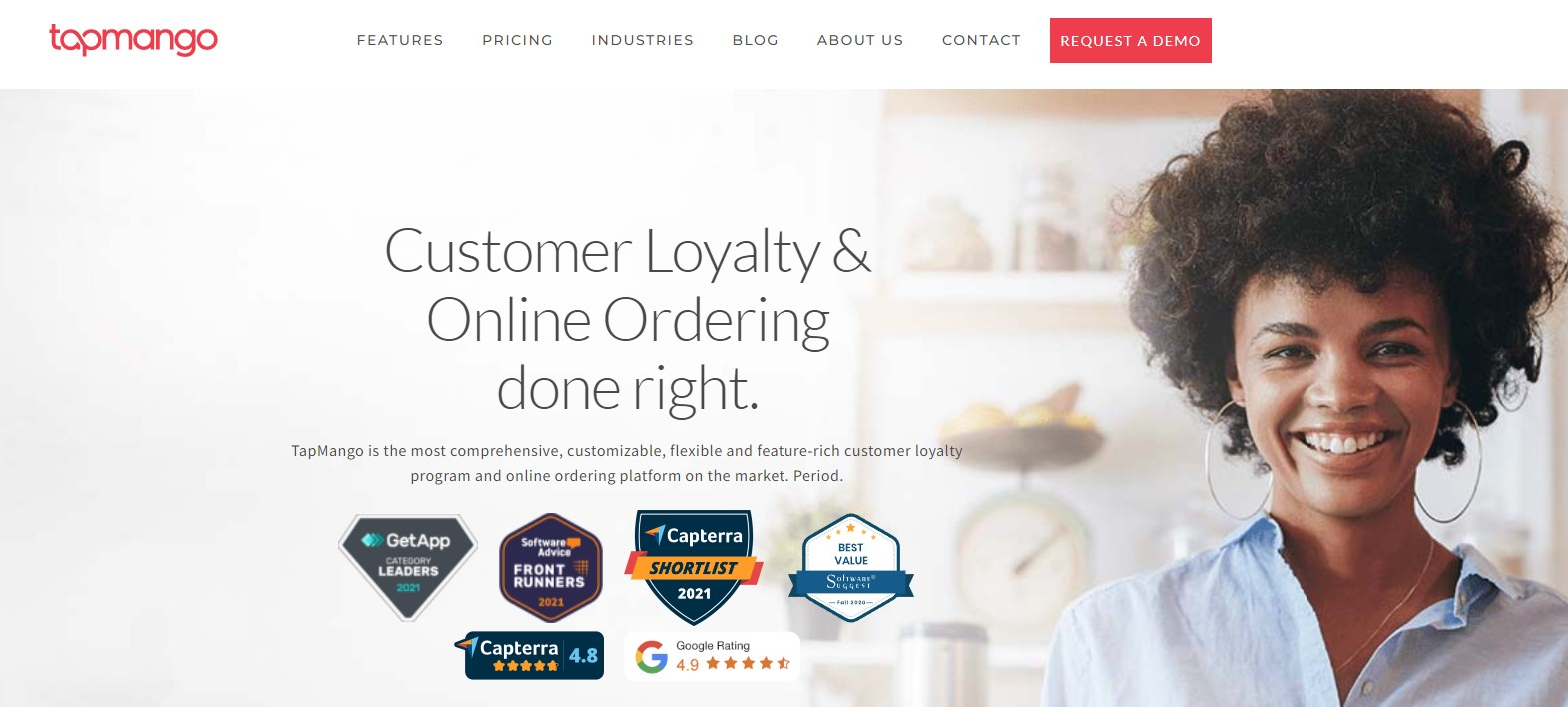 If you are not intimidated by an abundance of features, then TapMango is the right choice. This referral program software will help you boost your customer loyalty and online delivery in a blink of an eye.
The app has everything you need to create a fantastic loyalty program and boost your leads. It also has a fully-automated POS integration to help with this.
🔑 Features
Its marketing portal will help you manage your campaigns and your customers.
You get a personalized mobile app for your loyal clients.
They offer gift card key tags as well.
Pros
Their Tablet is very easy to use and helps your loyal customers too.
The loyalty program offers impressive features like online ordering and a custom app.
Cons
There is no opt-out option through text, which can annoy your clients.
Like all other well-equipped referral program software, it can be intimidating.

They do not offer pricing on their website. Instead, you will need to book a demo to get a quote.
💡 Is TapMango Worth It?
If you are looking for a referral marketing software full of features and tools, then TapMango is an excellent choice. However, you might want to look for other apps if you need something more straightforward.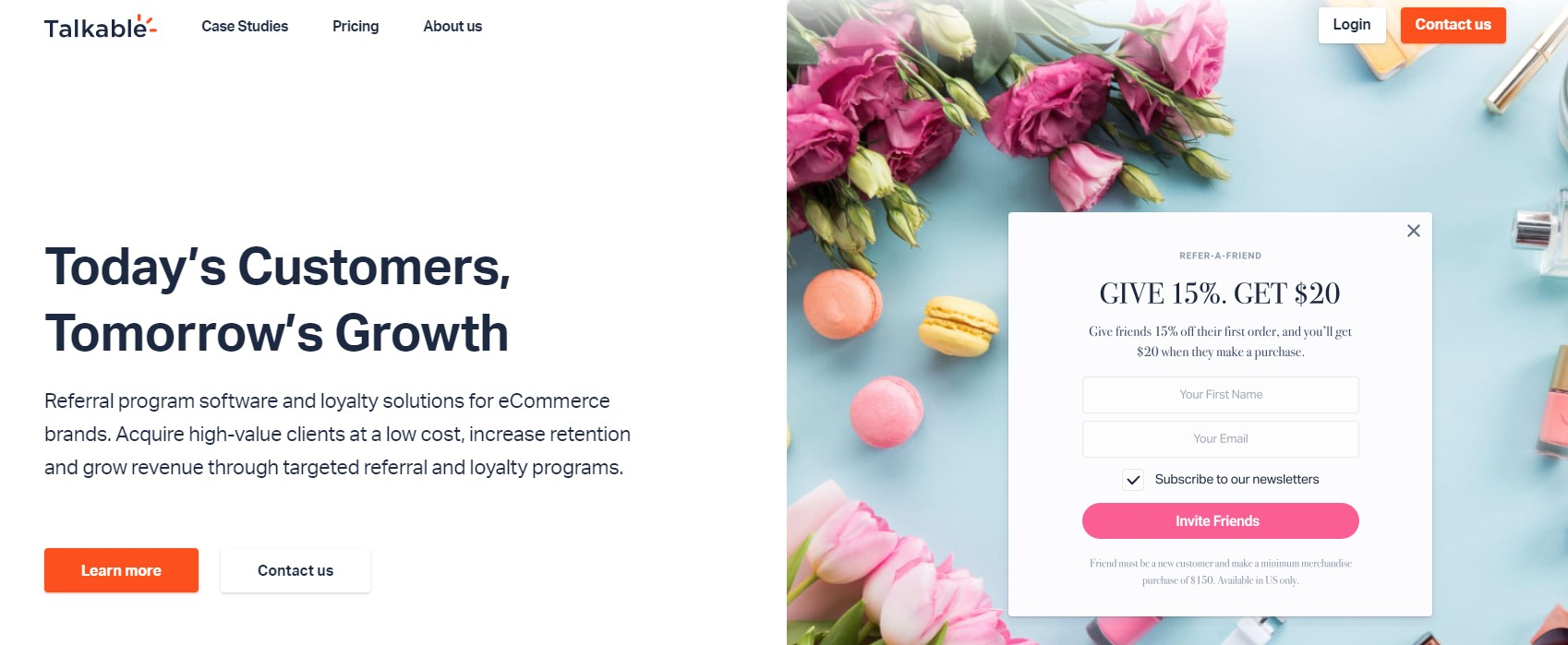 Are you worried about your budget when looking into a good referral program software? Then look no further than Talkable!
This tool will help you score some very high-value clients at an affordable cost. What's more, it will help you increase your retention rate and grow your business through referral programs.
🔑 Features
Exceptional segmentation capabilities will help you find your target audience.
There is a built-in A/B testing suite.
Fraud intelligence services will help you fight any potential referral program scams.
Pros
Talkable will monitor the quality of your leads so you can get only the best.
One of the most advanced software in the game.
The team is very supportive, and the tool is quite intuitive.
Cons
Sometimes setting up your campaign can get tricky.
The dashboard can seem intimidating due to how much information there is.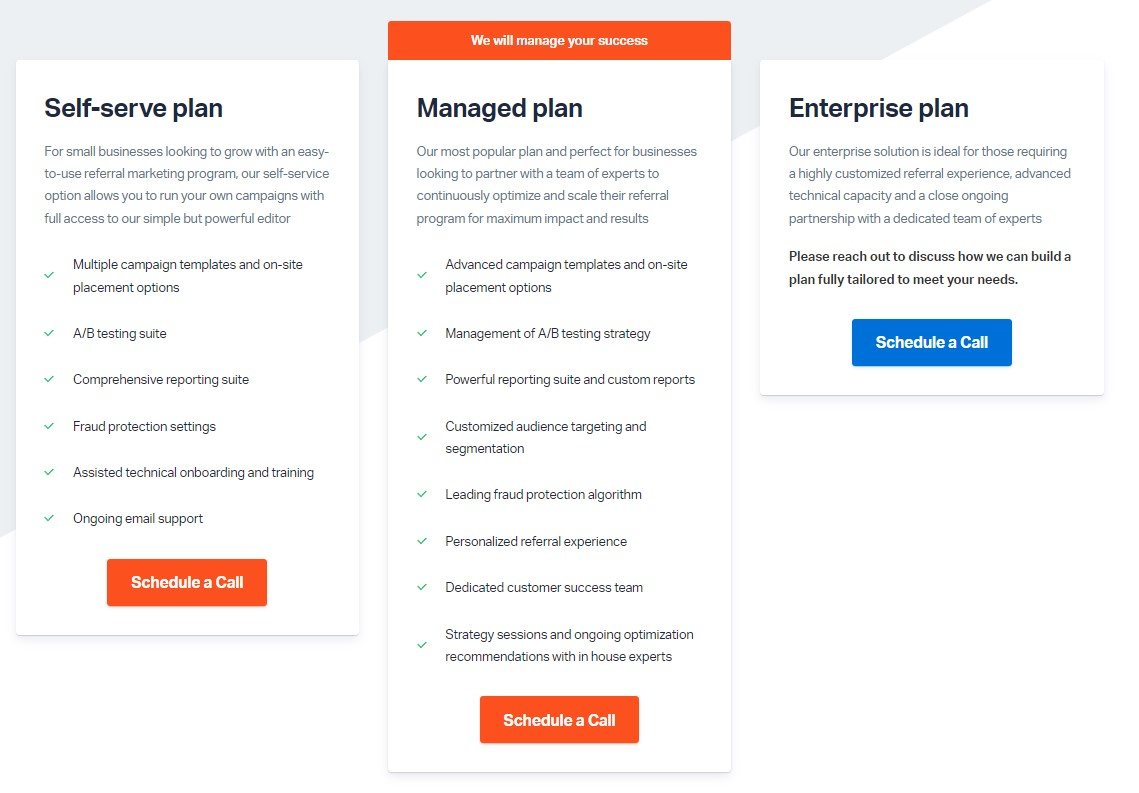 You will need to schedule a call to get your quote.
💡 Is Talkable Worth It?
If you are not scared to roll up your sleeves and dive deeply into referral program management, then Talkable is for you. At a lower cost, the benefits you reap using it will be significant.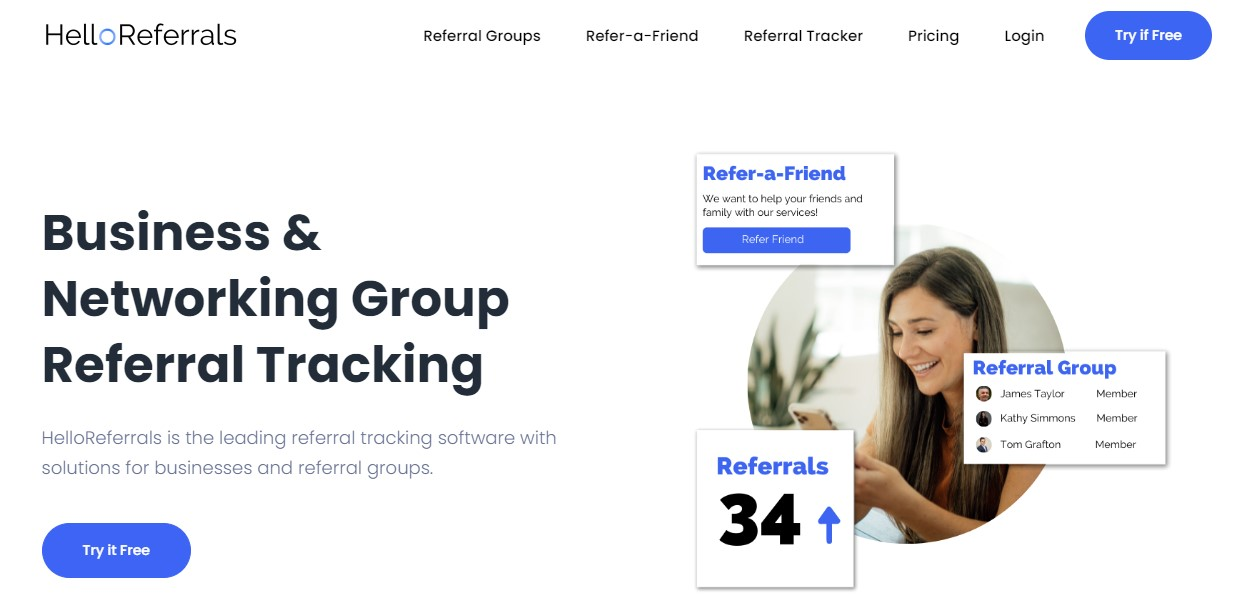 Hello Referrals is a referral tracking software that focuses on internet referral programs. It will help your business send, receive, and track both referrals and leads.
Apart from that, reporting tools will help you manage your referral program with ease. You can also organize your partners and boost engagement this way.
🔑 Features
Referral tracking will help track everything and create detailed reports for you to analyze.
Referral groups are there for ROI, meetings, 1-to-1s, and networking.
They also offer a refer-a-friend program that will help with customer acquisition.
Pros
Low cost for the benefits of boosting your engagement and clients.
Hello Referrals makes the process of sending and tracking referrals very easy.
There is a free trial for you to test.
Cons
There is no native app to download, only a mobile website app.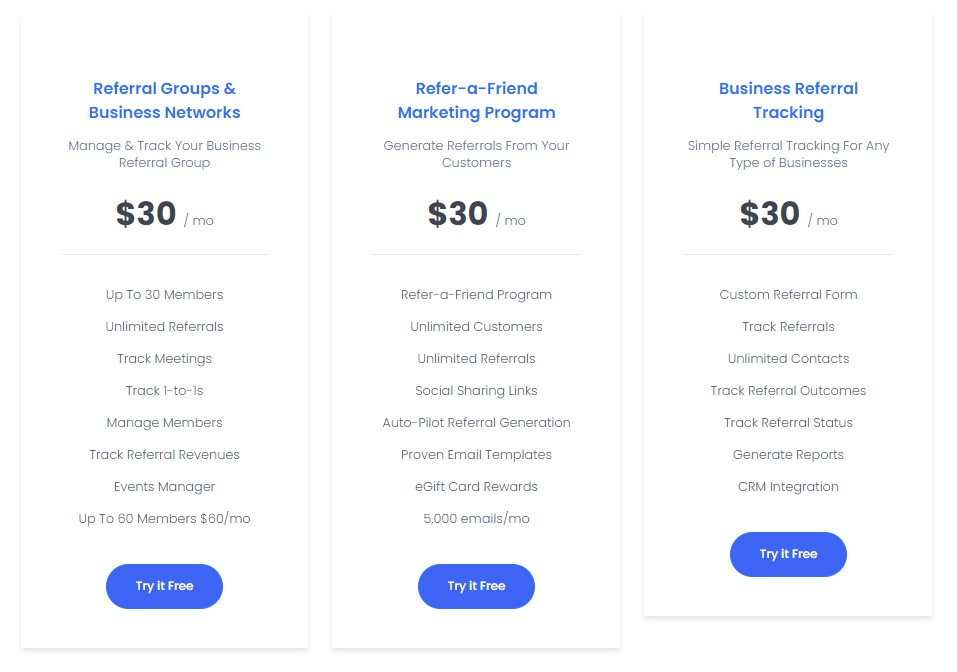 💡 Is Hello Referral Worth It?
Hello Referral is not the tool for creating that perfect referral program, but it is excellent at tracking the success and managing your leads.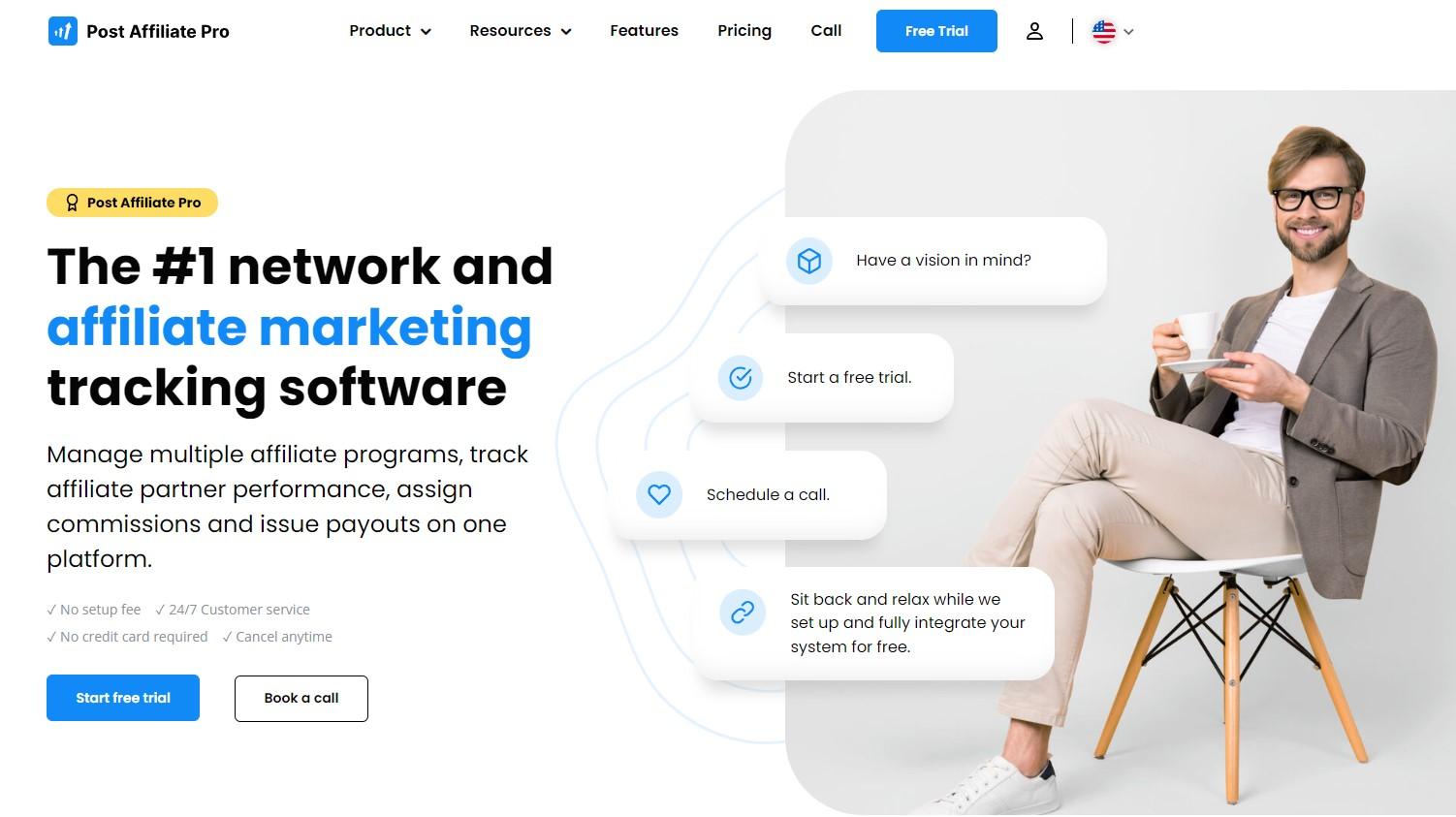 With Post Affiliate Pro, you will not need to worry about running your affiliate marketing. Instead, the tool will do this job for you!
There is a wide variety of features that comes along with it. You will be able to boost your visibility and reap many benefits from the referral audience.
🔑 Features
Create multiple campaigns at the same time and track them all.
Integrates very easily with other platforms for even more benefits.
Customer support will help you with any problems you might run into.
Pros
Very comprehensive and exhaustive tool.
Customer support is available 24/7.
Post Affiliate Pro offers quite a lot of its price, including a free trial.
Cons
There is a learning curve that you need to deal with.
You will need some tech knowledge to gain the most from the software.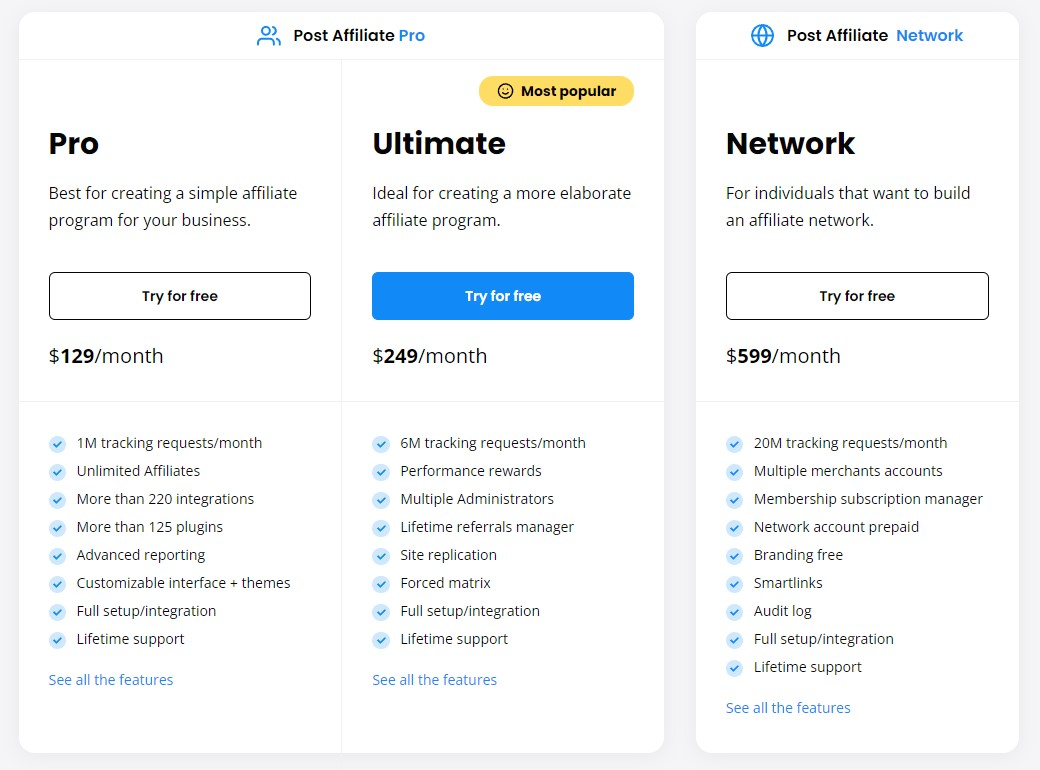 💡 Is Post Affiliate Pro Worth It?
Post Affiliate Pro might seem expensive at first, but it pays off quickly. The cost is lower than some of the tools that offer the same capabilities, so we recommend it.
FAQs
Why do I need a referral program?
Creating and managing a referral program can be very stressful, especially for smaller businesses. However, customer acquisition is something every healthy business should think about, and there is no better way to boost it than referral programs.
They are a somewhat carefree way to gain more clients while not engaging as much as you would in other marketing campaigns. Instead, you are letting your existing clients generate new leads, and yours is just to turn them into your customers.
How does a referral program work?
Programs to gather new customers have been changing with time and technology. In this day and age, there is a significant focus on technology and the internet regarding referrals.
Generally, a happy customer will get a referral code or a link, which they can then share with someone. If the new person becomes a customer, both (or just the referee) will reap the rewards.
This way, you get people talking about your business while offering simple rewards as thanks.
Conclusion
We have looked at some of the best referral program software tools available. Now, it's up to you to decide precisely what your company needs and pick the right app. So hurry up and get people talking about your business today!