With dozens of emails flooding our inboxes daily, it can be challenging to identify the sender with just an email address. Moreover, you cannot open every email regardless of how urgent and legitimate it appears due to the ever-present fear of online scamming.
According to Verizon's Data Breach Investigation Report (2022), 96% of phishing attacks are delivered through emails, making it imperative to be vigilant while opening email links.
Contrarily, you do not want to miss an important email from a high-potential client, a valuable lead, or a future business partner. If it is not a scam, it can be a marketing or sales opportunity waiting to be explored.
Hence, you need a reverse email lookup tool to help you evade this conundrum and find the sender behind an email.
This article explores the best reverse email lookup tools to expedite your sales and marketing efforts while protecting your online persona against malicious attacks.
What Is a Reverse Email Lookup Tool?
A reverse email lookup tool allows you to discover an individual's personal details using their email address.
The best reverse email lookup tools can extract the sender's public and private information, including their full name, phone numbers, location, social media accounts, employment history, photos, and more.
You can utilize the information to detect spam and protect yourself against phishing or ensure a candidate's credibility. The tool can also help you identify an inbound lead to reciprocate their interest and convert them or obtain an outbound lead for your cold outreach efforts.
Benefits Of Reverse Email Lookup Tool
Whether you use it for personal reasons or as part of an organization, a reverse email lookup is an indispensable tool, offering numerous benefits:
Efficient Email Marketing
Your email marketing strategy is only as effective as the quality of your leads. If you send emails to uninterested prospects or invalid email addresses, you are wasting your time, effort, and resources and damaging your brand's reputation.
With reverse email search, you can collect a lead's personal data by enriching your database for a more targeted marketing campaign. Email personalization translates into a higher open rate and better conversion.
Thorough Background Checks
When hiring a candidate, it is pertinent to perform rigorous background checks to ensure that you are adding qualified individuals to your team. You can not simply rely on the information in a CV.
Moreover, you cannot judge a potential recruit's integrity and honesty based on their qualification and professional experience. You need a better understanding of the candidate's character and ethics before you can make them a part of your company.
Reverse email lookup can unearth an applicant's digital footprint on social media and web activity, such as blogs, articles, and comments. It can also verify their professional history, allowing you to vet valuable contacts for your organization.
Risk Assessment And Verification
Another advantage of using an email lookup tool is the risk analysis of a new venture with a potential business contact. You can employ the service to verify the authenticity and reliability of your prospective partner before signing on the dotted line.
Some tools can even reveal the bankruptcy status of an individual, thereby protecting you from financial ruins.
Protection From Scam
Cybercriminals can pose as someone you may know to trick you into opening a malicious file that can compromise your personal data. However, asking the sender to prove their identity can come across as rude if the email was sent by a legitimate business associate or a relative.
A reverse email search service can uncover fraudulent activities such as hacking attempts or phishing attacks via emails by revealing the sender's identity. So the next time you receive an email that looks fishy, conduct an email search before clicking on any links or files.
What Are The Best Reverse Email Lookup Tools?
Below are the most efficient reverse email lookup tools to discover in-depth details about a sender using their email address. I have also included the key features, pros, and cons to help you make an informed decision about the service most suitable for you: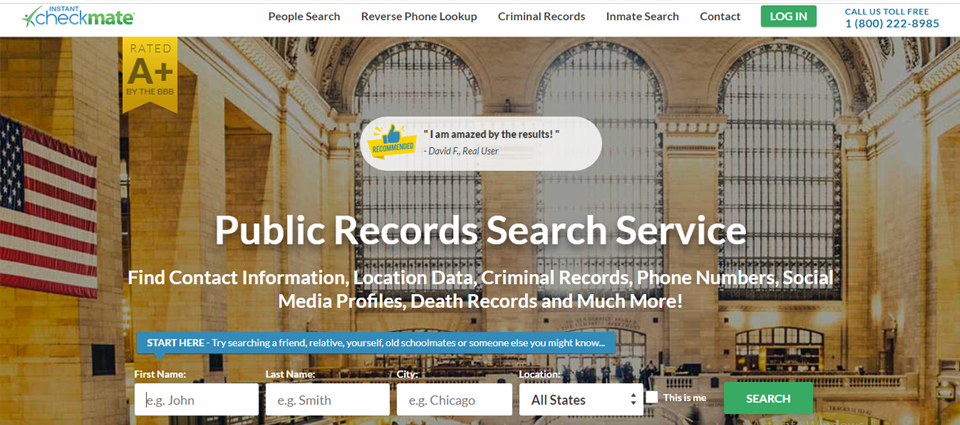 Instant Checkmate is a public record search service that reveals a person's publicly available information using their email. It provides access to names, alternate email addresses, photos, job history, social media accounts, and Gravatar profile.
You can use it to perform extensive background checks on your potential contacts since the service has access to multiple databases. Moreover, the tool is incredibly reliable as it yields accurate data every time.
The downside of the tool is that it takes time to scan through all the registers, so it can be pretty cumbersome if you have a list of leads. You also have to sign up and subscribe before you can start entering email addresses in the search engine to get a detailed report.
Finally, it also offers other lookup options, including phone number, name, and location.
🔑 Features
Extensive background check: The tool provides you access to an individual's public information.
Multiple lookup options: You can perform reverse phone lookup, criminal records search, and inmate search to thoroughly vet the person of interest.
Android app: The tool is also available as an app for Android devices.
Pros
Accurate data with verification capability
Comprehensive search tool for a wide range of lookup opportunities
Good value for money
Cons
Subscription-only service
Comparatively slow compared to other tools on the list
Multiple pop-ups before you see the final report
Instant Checkmate Pricing
It offers 1-month ($22.86/month), 3-month ($14.86/month), and 6-month ($9.86/month) subscription plans with unlimited searches. The service does not offer a free trial but a 5-day trial for $1.00.
💡 Is Instant Checkmate Worth It?
Instant Checkmate is an affordable tool that casts a wide net and scours the public records to get you a comprehensive report. While the service is slow with tons of pop-ups, it is competent enough that you can overlook the flaws.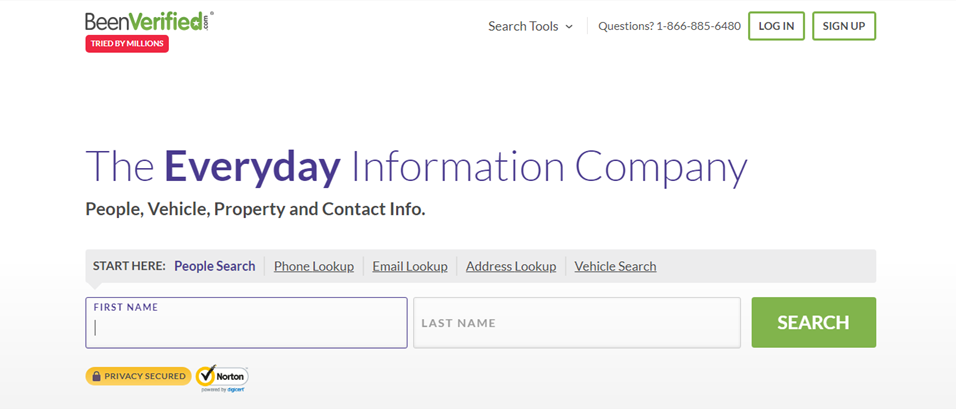 BeenVerified is a feature-rich reverse lookup tool with a user-friendly interface. It peruses billions of public records to present you with the necessary data.
Simply enter the person's email address in the search bar to unveil their other known email addresses, accounts on social media platforms, contact information, employment information, and education. The comprehensive data report may also contain court records, making it an ideal service for accurate background checks.
Apart from email address search, the service offers a phone lookup tool, address lookup tool, vehicle search, and unclaimed money.
🔑 Features
Multiple lookup tools: You can search about an individual using their full name, phone number, email addresses, or physical addresses.
Multi-device accessibility: You can easily use the tool on a web browser or download the app available for Android and iOS devices.
Saved history: The reverse lookup tool allows you to save previous searches and updates the portal with any new information about the person of interest.
Pros
Presents a comprehensive report after rigorous searching
100% secure and private
Easy to use
Compatible with all the devices
Cons
US-based only
No single-report options
Relatively slow to display results
It has a 1-month and 3-month subscription plans, which have the same features and benefits. However, the 3-month plan offers around 35% savings.

💡 Is BeenVerified Worth It?
BeenVerified delivers an organized report, including everything from basic information to detailed data. You can use the straightforward interface to perform background checks from any device.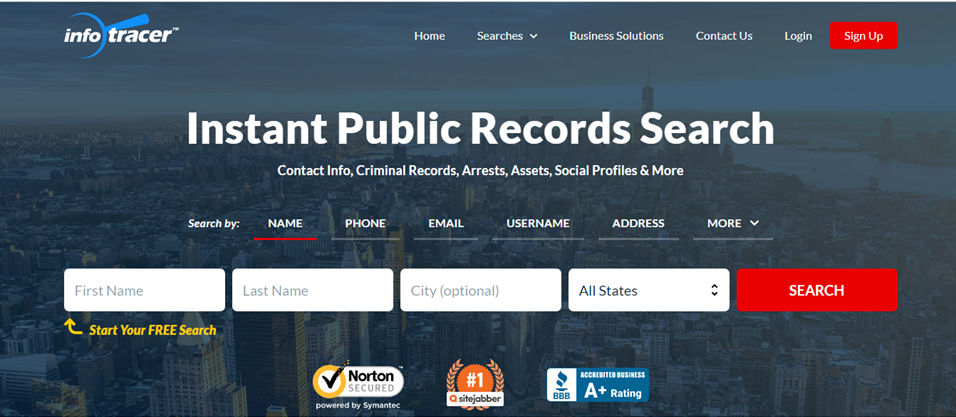 InfoTracer is a background check service with a reverse email search tool ideal for a professional background check. You can find the sender's email address using the sender's email address, name, contact information, address history, social media profiles, photos and videos, web accounts, education, and professional history.
The email search service also dives deep into the criminal records, court records, social checks, registered vehicle plates, and marital status to give you a complete picture. Consequently, you can ensure the credibility of your prospective contact.
Like most email lookup tools, InfoTracer also allows you to search for a person using their name, phone number, physical address, and email address.
It is quite similar to BeenVerified, as it is also US-centric and attracts users with a "free" search option. However, you have to pay to view the results.
🔑 Features
Thorough background check services: The lookup tool offers key details in abundant categories that cover almost every aspect of a person's background.
Multiple lookup opportunities: The service is a bundle of search options, including reverse phone lookup, people search, background check, court lookups, etc.
Windows app: The tool has a desktop app for Windows, which makes it a unique feature
Pros
Unlimited search access with the subscription plan
SSL protection to secure data transmission
Simple to use
Comparatively cheap
Cons
Court and criminal records lack reliability
Multiple complaints about continued billing despite subscription cancellation
The pricing includes a 5-day trial for $2.95 and a monthly subscription of $14.95.

💡 Is InfoTracer Worth It?
InfoTracer is among the most affordable email address search tool, ideal for B2B and B2C salespersons looking to discover more about potential leads. While it offers a well-structured report, the sensitive information may lack accuracy.
CocoFinder is a public record search service that provides reverse email lookup functionality completely free. The information revealed is incredibly accurate, albeit limited in scope.
You can get to know the sender's full name, phone numbers, social media profiles, current address, photos, education and employment history, etc.
If your search yields no data, the tool offers you to redirect to other background check services, such as BeenVerified, TrustFinder, Intelius, Instant Checkmate, and PeopleFinders.
You are not required to sign up or create an account to access the result, making the tool quite useful for discovering the sender's identity quickly and effectively. However, it is not best suited as a backup tool instead of the primary email lookup service.
Other lookup options include people search, white pages, background check, and phone and address lookup.
🔑 Features
Massive database: The tool is integrated with public records databases, aggregating detailed information about millions of people.
Multiple search options: You can use the service to find out people using their name, city, state, telephone numbers, and address.
Pros
User-friendly search engine interface
Prompt results
Accurate data
Cons
Limited data report
No apps
CocoFinder Pricing
CocoFinder offers a free email search for unlimited reports. However, you need to pay for advanced search, where the charges are directly proportional to the amount of information you require.
Unfortunately, the website does not mention a definite pricing plan.
💡 Is CocoFinder Worth It?
CocoFinder is a robust tool, preferable for lead generation to fill the sales pipeline. It offers all the basic details of the person of interest, which are accurate and reliable. The basic service is free, but you need to pay for additional data.
Social Catfish is an online investigation platform with a reverse email lookup tool. You can use the free reverse email lookup tool to find the person behind the email, including their full name, language, gender, location, and associates.
However, you need to pay for a full report. Regardless, it shares much of the basic information for free compared to its competitors.
The tool also reveals plenty of relationship data, making it quite popular as a dating investigation channel. Moreover, salespersons can leverage the tool to discover more about the potential leads to get the ball rolling.
Other Social Catfish lookup tools include name, phone number, address, and username. It also stands out for its ability to use an image to unearth the person's data, but some users say that this feature is not the most accurate.
🔑 Features
Free and paid plans: The free version presents ample information for a quick inquiry, while the paid subscription plan delivers the complete report.
Multiple lookup tools: In addition to email lookup, it also offers name, phone, image, address, and username lookups.
Pros
Comparable free version
Quick results
Easy navigation around the tool
SSL certified
Cons
Social Catfish has 5-day trial plans, which can be extended into monthly subscriptions. However, the trial plans are pricier than others on the list.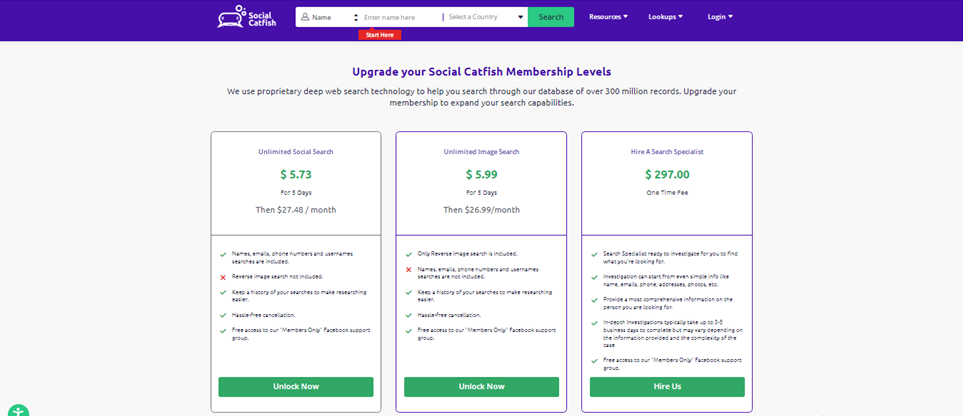 💡 Is Social Catfish Worth It?
Social Catfish is recommended for a quick free search for a romantic lead or a sales lead. You can also use the tool to explore more about your potential business partners. Opt for a trial plan and only subscribe if satisfied with the service.
Truthfinder is one of the most popular public record search engines, with a reverse email lookup feature. However, unlike regular search engines, the data unveiled by Truthfinder is more comprehensive.
The service has a massive database harboring information from multiple resources, including the deep web and state and federal records. Thus, a background report includes details, such as birth and death records, social media profiles, phone numbers, other email addresses, possible acquaintances, assets, education background, and job history.
Before viewing the report, you must enter your full name, email address, and zip code.
Similar to the majority of reverse email lookups, the online tool offers other lookup options as well. These include people search, reverse phone number lookup, public records search, and more.
The service is quite reliable and finding information about people is a breeze once you have an account set up. Finally, it claims to have data on approximately 85% of the US adult population, which is an impressive collection.
🔑 Features
Background check services: The tool covers public and private databases to identify the person behind the email address and the relevant details about their life.
Self-monitoring tools: You can check what comes up when people search for you and correct the factual inaccuracies or hide them from other users.
Multiple lookup opportunities include email lookup, phone search, full name, and city search.
Pros
Unlimited reports
Easy navigation
Comprehensive database
Cons
Results are slow
Limited support option
The tool has a 1-month subscription plan for less than $30 and a 2-month subscription plan for less than $26 per month.
The pricing is not very transparent and is only revealed once you have searched, waited for the results to accumulate, and want to open the report.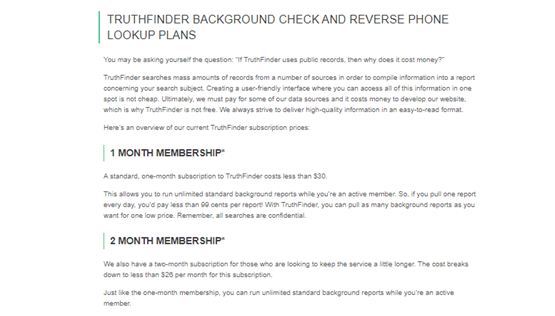 💡 Is Truthfinder Worth It?
Truthfinder has all the basic features of a good lookup tool, with an all-encompassing database. However, it is on the pricier end of the spectrum compared to other email lookup tools, so use it only if you perform regular background checks.

SpyTox is a simple reverse email lookup tool with the most basic features required to get the job done. The bare-bones functionalities are due to the fact that the service is completely free.
Regardless, it is ideal for people who want to know the sender's identity for personal reasons or as a one-off instance, without subscribing to the pricey monthly plans.
It also lets you look up people using their names or phone numbers.
The good thing about the service is that it is pretty fast and relatively competent. However, there are a few issues with the accuracy of the data, which is not always reliable.
Therefore, I recommend using SpyTox for occasional manual reviews and not for risk management or marketing purposes.
🔑 Features
Free checks: You can use the tool for conducting email address searches for free.
Three search options: In addition to email search, it also offers name search and phone number search.
Pros
Free
Fairly fast
Simple to use
Cons
Result accuracy is not guaranteed
The success rate is not 100%
SpyTox Pricing
SpyTox is free to use.
💡 Is SpyTox Worth It?
SpyTox's defining feature is the absence of any subscription charges. Other than that, it presents the result promptly, but it might not be very detailed or 100% accurate. Therefore, use it for ad-hoc searches and never for extensive risk management.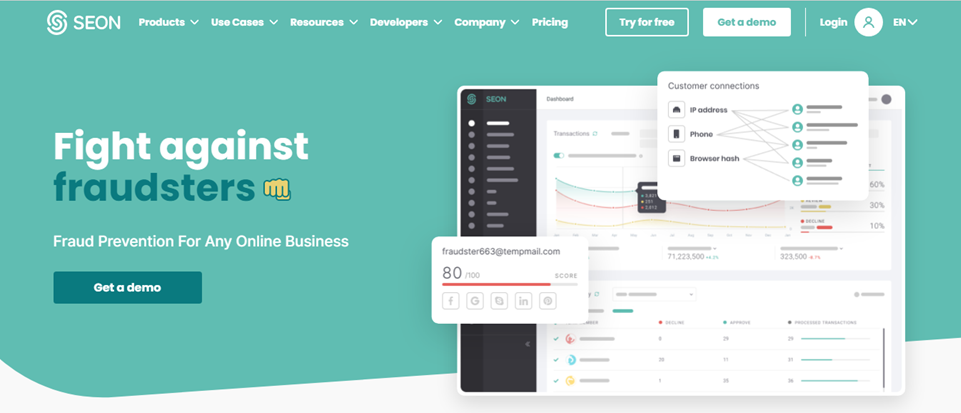 SEON is a sophisticated solution for fraud prevention, risk management, and overall business protection for online stores. One of the company's many services is the SEON Intelligence Tool, the browser extension for reverse email lookup.
It helps you determine the email address domain and conduct a reverse social media lookup to determine if the address has been used on over 35 social sites, including Facebook, Twitter, Airbnb, and more.
Thus, using the tool, you can determine the integrity of every user and make intelligent decisions about how to proceed with the communications or transactions.
The service claims to present results instantaneously and in real-time, whether you perform manual checks, use the tool via API, or install a Google Chrome extension.
Other search options include the phone analysis module and IP analysis module.
🔑 Features
API integrations and Chrome extension: You can perform a search via API or browser extension to skip the additional steps required to conduct a manual check.
Real-time results: The tool offers instant results with in-depth information about the person of interest.
Pros
Quick service
Checks more than 35 social sites
Nifty Chrome extension
Cons
Steeply priced
Difficult to navigate for a new user
SEON pricing starts from $299 per month for up to 4000 checks. It also offers a generous 14-day trial.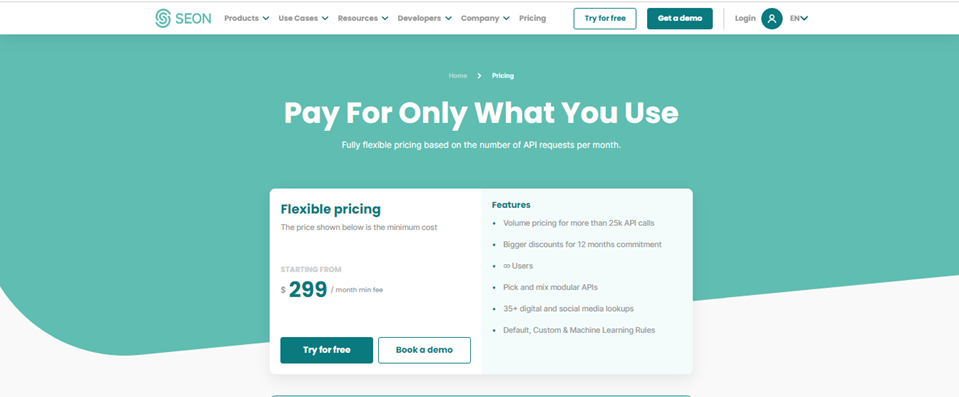 💡 Is SEON Worth It?
SEON is most suitable for corporate use, where you need quick results for thousands of background inquiries. Its host of features and a high monthly price makes it impractical for personal use.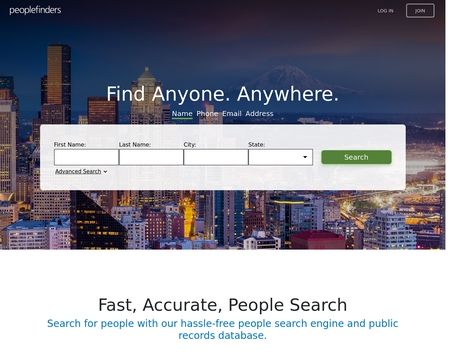 PeopleFinders is the last email lookup tool on the list, which allows you to conduct various online background checks using an individual's email address. It is another one of the services with a vast database with billions of records on more than 250 million US citizens.
The straightforward tool allows you to determine a person's full name, phone numbers, social media accounts, and physical address. You can further extract sensitive information, such as criminal history, bankruptcies, court records, and property records.
It also has a high accuracy score, so you can safely employ the tool to conduct an investigation about potential business partners or online sellers.
The service also offers people and public records and reverse phone and address searches. The best part is that retrieving the information only takes a few minutes.
The only downside is that you need to contact customer services to cancel your subscription, which can be cumbersome compared to an online opt-out.
🔑 Features
Extensive database: Since the tool has access to a plethora of information, you can easily find substantial data when you search.
Multiple lookup services: You can use the tool for people search, criminal records and background check search, phone number search, and address search.
Opt-out service: If you do not want your details on the PeopleFinders platform, you can remove your profile following simple steps.
Pros
Massive database
Accurate and reliable information
Easy to use website
Cons
Absence of work history and social media information
PeopleFinders offers a membership for$24.95 per month. If you want a more detailed report, you can subscribe to the premium membership for $29.95 per month.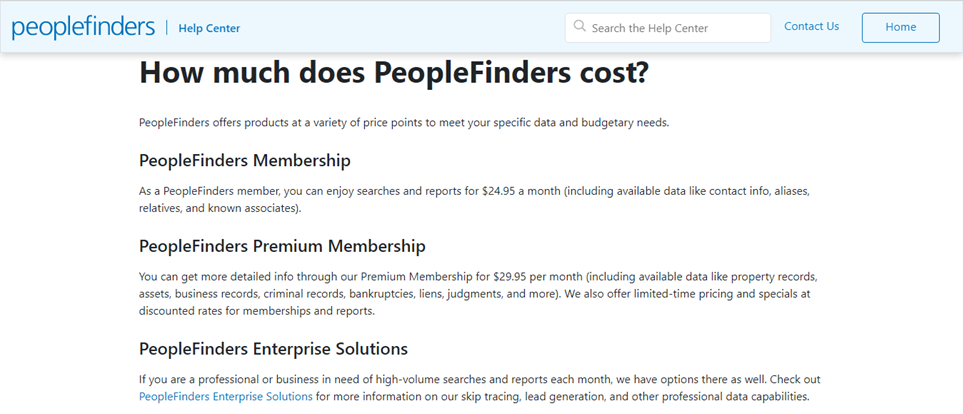 💡 Is PeopleFinders Worth It?
PeopleFinders is among the most accurate lookup tools, which is also user-friendly and nominally priced. However, the reports generated by the service are not as detailed as others on the list.
Frequently Asked Questions
Is Reverse Email Lookup Similar To Email Finder?
No, both these tools are opposite to each other. While the email lookup tool uses an individual's email address to find extensive information about them, the email finder searches for email ids using names and company names.
While reverse email lookup is helpful for salespersons, marketing teams, and even regular individuals, email finders are used mainly by email marketers to fill their sales pipeline with valuable leads.
Are Reverse Email Lookup Tools Legal?
Since most tools use public records and open source databases, they are legal to use. Other services need to be compliant with data protection regulations to be able to legal.
Services based in the EU must also comply with GDPR.
What Do Reverse Email Lookup Tools Get The Information From?
The tools have access to open-source databases or websites, such as Google and Facebook, which hosts tremendous amounts of information for data enrichment. All you have to do is type in the email address, hit enter, and wait for the service to scour its vast database to collect the information and present it to you as an organized report.
What Are The Limitations Of An Email Lookup Tool?
Firstly, the tools with a freemium model often offer a free search option but accessing the results requires a subscription or a payment. This is not very pleasant for the users who were expecting a free service.
Moreover, some tools are time-consuming and cumbersome, as you have to enter each email address individually and wait for a while to get the results. This is not a feasible solution for an eCommerce business with a large number of users.
Wrapping up
That's a wrap on the best reverse email lookup tools that work splendidly to reveal information about anyone behind an email address. The savvy lookup tools can protect you from online scammers, help you find potential leads, and verify the background of a potential hire or business associate.
The extensive list covers a range of options so you can find a tool armed with features that you find most attractive, whether it is the usability, pricing, or extensiveness of reports.
Which tool do you plan to use for your email address search needs? Let me know in the comments below!