Do you need to print shipping labels?
Are you looking for the perfect label printer to help you with this task?
Label printers are a helpful tool that is becoming more and more common in everyday life. Big companies will use them to speed up the manufacturing process. Meanwhile, people use them at home to sort out their belongings or help organize their offices.
This variety of usage is one of the reasons why the global print label market is growing. What's more, experts expect it to grow even more in the next few years. For example, Data Intelo predicts that the compound annual growth rate (CAGR) will be 6.6% from 2021 to 2030.
This is one of the many reasons you should jump on the shipping label printer wagon and get one while it's still hot. This article, we help you find the best shipping label printers for you.
What Is a Label Printer?
As their name suggests, Label printers are computer printers that you can use if you require any labels.
As mentioned, they have many uses. Corporations will use label printers to print labels with names, instructions, and even simple barcode labels for their products during the manufacturing stage.
Small businesses will use label printers to speed up their packing and shipping process. You can do this by using the printer to create generic labels containing the name of the product and similar data or address labels when shipping the products to your customers.
You can even use a label printer at home to print labels directly for your bottles, jars, or other household items you can find lying around.
These printers are helpful for home offices, too. You can print file folder labels and organize your space much faster. This is why every office should have one.
Benefits Of Using A Shipping Label Printer
There is a reason why so many businesses and people start printing labels rather than filling them up themselves.
As mentioned, label printers will help you speed up your manufacturing process. Instead of incorporating product data into the packaging, you can use the same packaging for different products and just print out id labels which will differentiate them.
This way, you will save a lot on the resources used for manufacturing your products and speed up the process.
The same applies to shipping your items. Instead of filling in each client address by hand, your label printer can start printing shipping labels while you occupy yourself with other tasks.
Another massive benefit to using a label printer comes in its versatility. You can print anything from warehouse labels to bulk mailing labels depending on your need.
Having a label printer will make your life much easier, and the benefits you will reap from it are many.
What Are the Best Shipping Label Printers?
Of course, finding the right label printer for you might not be an easy task. With so many label printers on offer, it can be tough to choose. The growing shipping label printer industry is not helping this case either.
Luckily, we have dived deeper into the subject and picked the best shipping label printers for you.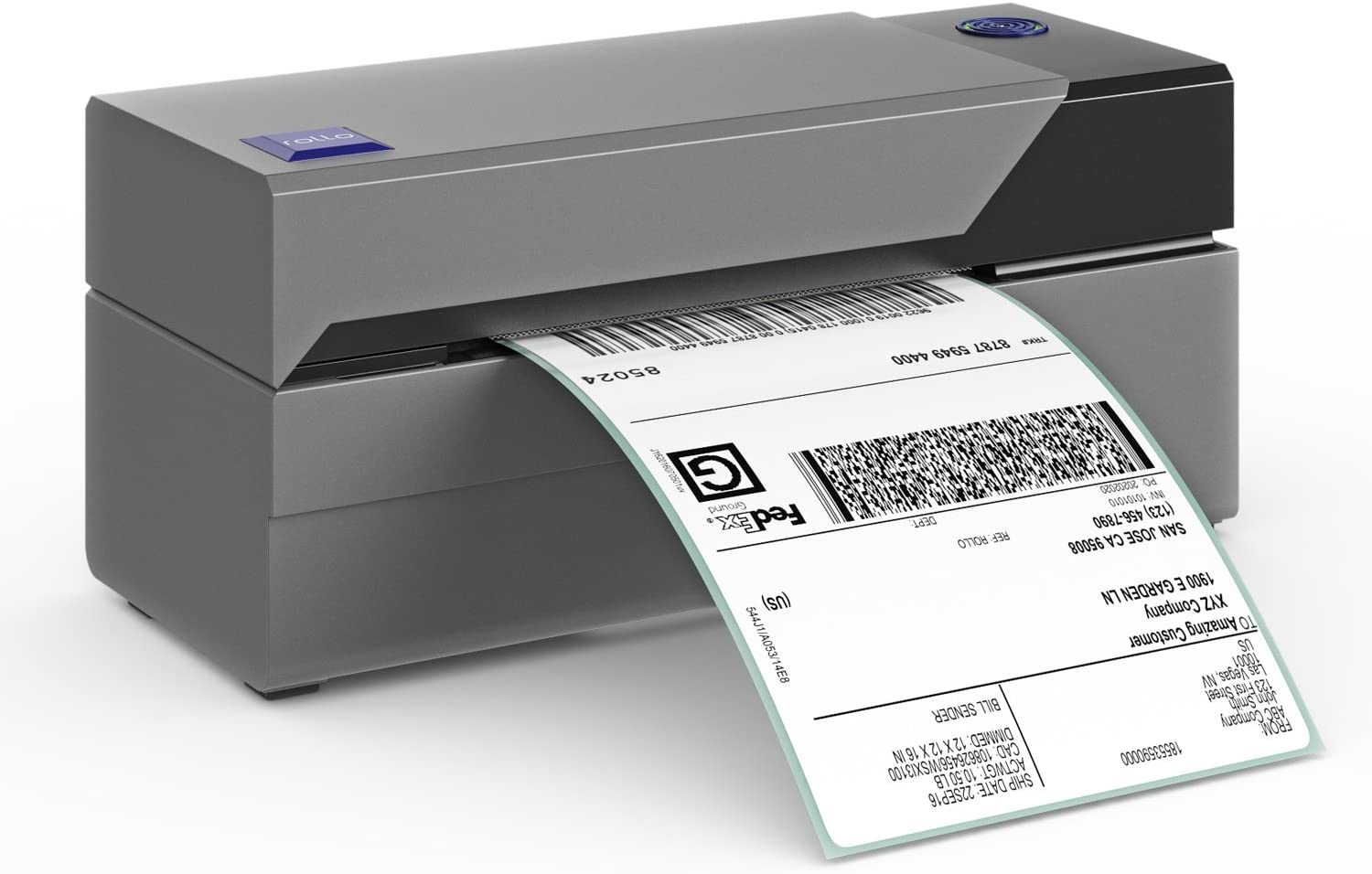 Everywhere you look, the Rollo label printer regularly makes the top of the lists. It is a monochrome thermal label printer that works fast and results.
This label printer works with any direct thermal label, which means that you will save a lot of money. You can even use free UPS labels with Rollo label printers for an optimal label printing experience.
What sets the Rollo Thermal label printer apart from other label printers is its compatibility with the most prominent courier companies and shipping platforms. This fact makes Rollo the best thermal label printer on the list.
Pros
Rollo is a thermal label printer which means it does not require ink cartridges.
It can print labels quickly, and the quality is very high.
There is an automatic label identification feature available.
Probably the best thermal label printer in the game.
Cons
It is monochrome, so there is no color on your labels.
It can be a bit pricey if you aren't doing high-volume labels.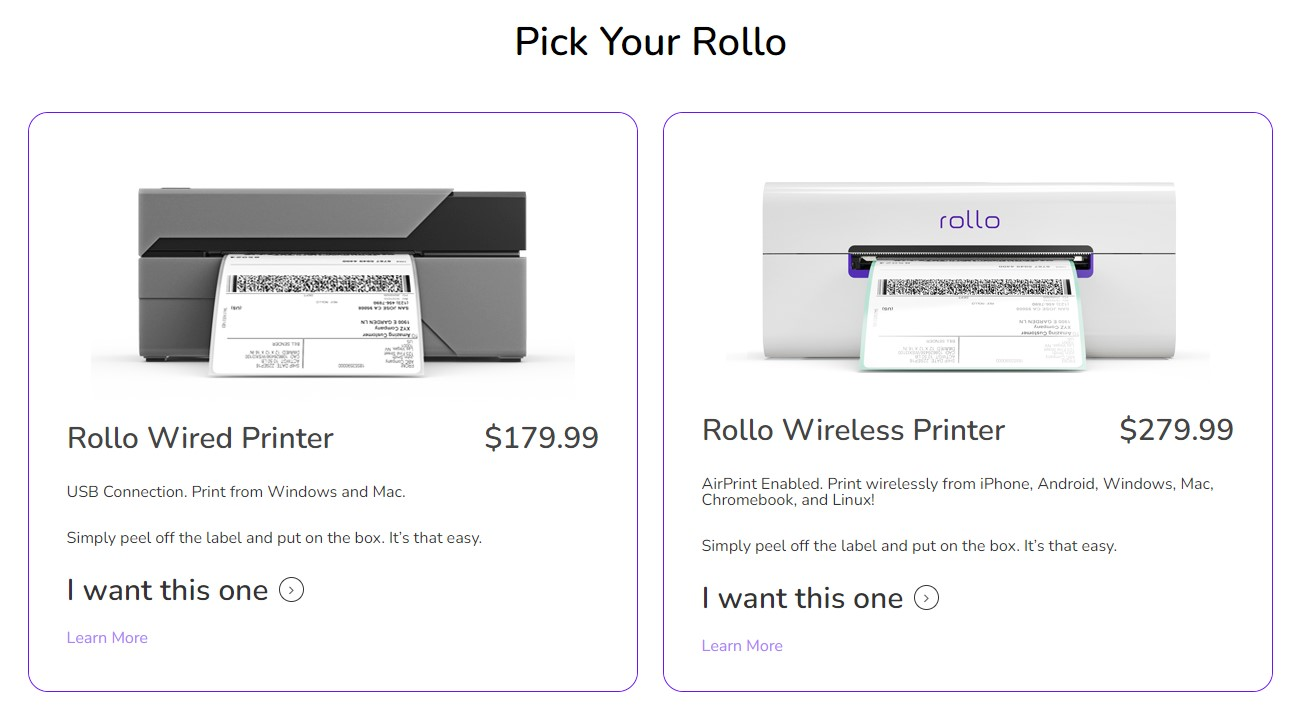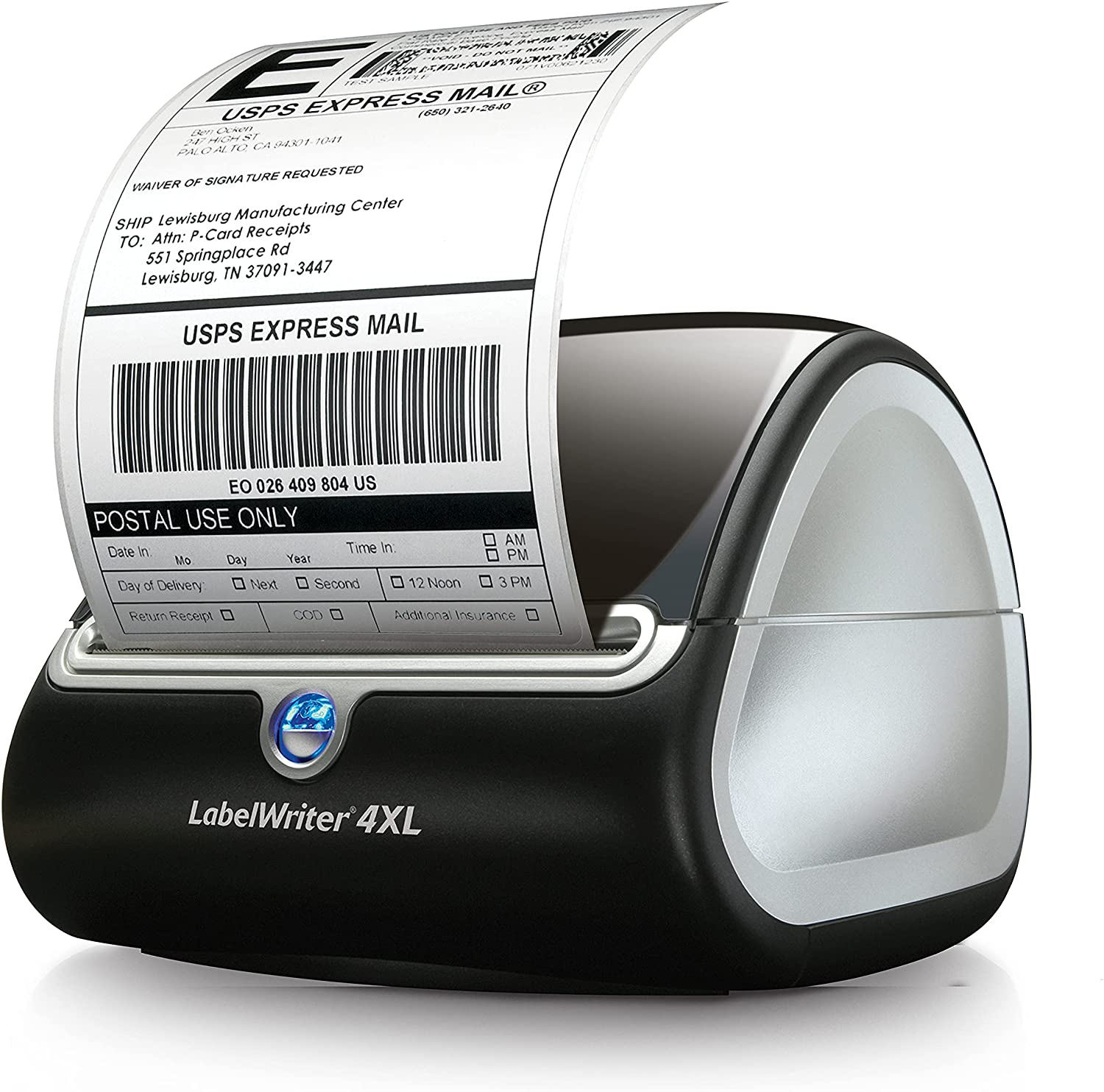 Sometimes, you run into a label printer that is not versatile, but it excels in it. Dymo shipping label printer is an excellent example of this.
If you are running a small business, you will want to use the Dymo label printer because it can print QR codes, barcodes, and similar labels at a staggering 129 labels per minute.
Dymo works with UPS, USPS, FedEx, and similar shipping labels like the Rollo label printer. This might be the best label printer if you are shipping your items in bulk.
Pros
High-speed label printer.
300-dpi resolution means very high print quality.
Dymo is a thermal label printer, so you will not bother with inks or toners.
Cons
At over $200, this is a relatively expensive thermal shipping label printer.
It isn't limited to on-brand labels, but you will see the best results.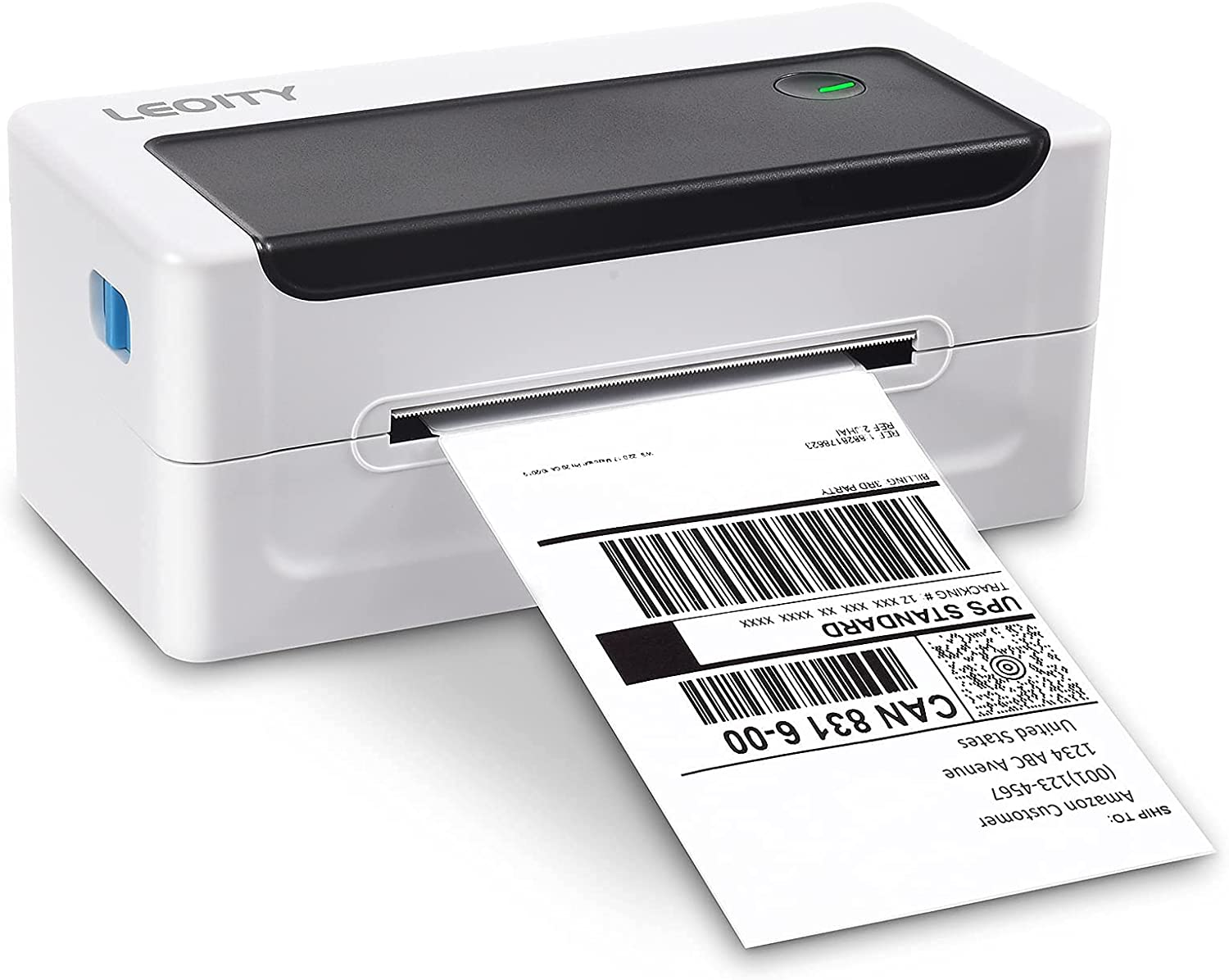 If you are looking for a shipping label printer on the budget, then the Leoity thermal label printer is your choice. It might not be the cream of the crop, but it will get the job done sufficiently.
Leoity is for those not planning on starting their business enterprise (at least not with this shipping label printer). Instead, it offers many of the same features as other printers at a lower price.
The downside is its software, which can sometimes scratch your head. It will need some configuring work, but the Leoity thermal label printer will get the job done if you can get through it.
Pros
Low cost for the features that you get with the printer.
Fast printing speeds of 150mm-per-second.
Works well with popular shipping labels.
Cons
The software can sometimes be a hassle to deal with.
It is bigger than regular label printers, so you might want to avoid it if your office space is the issue.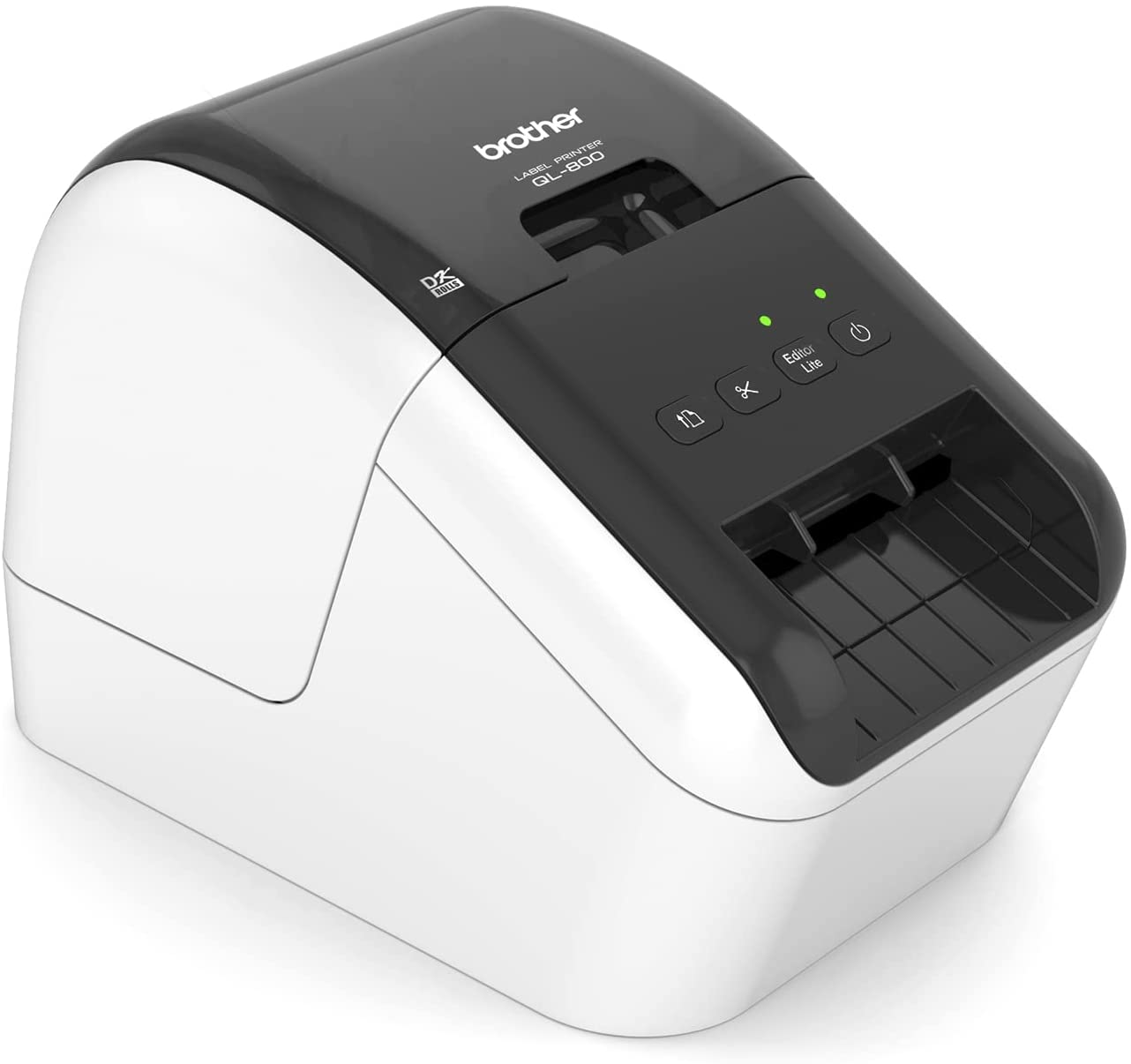 There are a couple of Brother shipping label printers on this list, and there is a reason for this. The company seems to make a lot of popular label printers, and they are very good at it.
Brother QL-800 model is high-speed and highly professional. This makes it perfect for your office space. It can print in two colors (black and red) and does not require any software to install. Instead, you can just plug it in print shipping labels immediately.
It can also print shipping labels from popular programs like Word, Excel, Outlook, etc. Due to this versatility, Brother QL-800 is one of the best shipping label printers.
Pros
You can use it for mobile printing by connecting it through its iPrint & Label app.
It is another thermal label printer that will save you money on ink.
Changing direct thermal labels is very easy with Brother QL-800.
Cons
Brother QL-800 is not a wireless shipping label printer. If you want to use mobile printing, you must purchase a USBtoGo cable.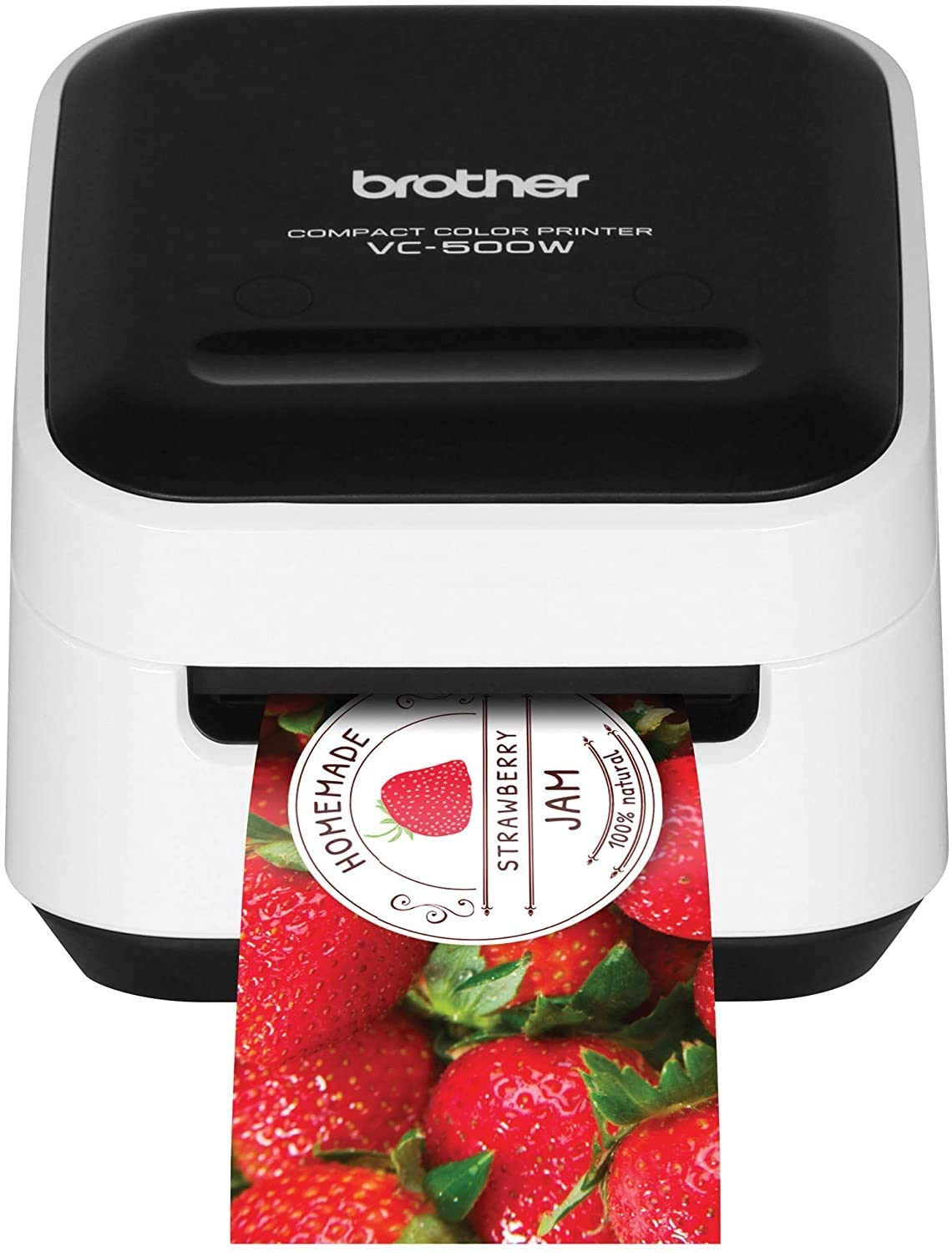 The second Brother label printer on this list is Brother VC-500W, with slightly different roles. Again, this is not a standard shipping label printer.
Instead, you can print logos, custom labels, tags, and similar items in full color. However, this label printer will not dabble with inks and toners.
Instead, it uses what is known as the ZINK zero ink technology. Here, the colors are embedded in the paper with an adhesive back. With Brother VC-500W, you will easily and quickly print labels in color.
Pros
Works with both PC and Mac systems and can connect to over ten thousand applications.
Brother VC-500W is a wireless thermal printer that you can connect through Wi-Fi.
You can print various label sizes to be great for both personal and professional needs and even decor items.
Cons
At $180, it is on the higher end of thermal printers regarding the price.
It seems to be slightly challenging to set up with the printing apps.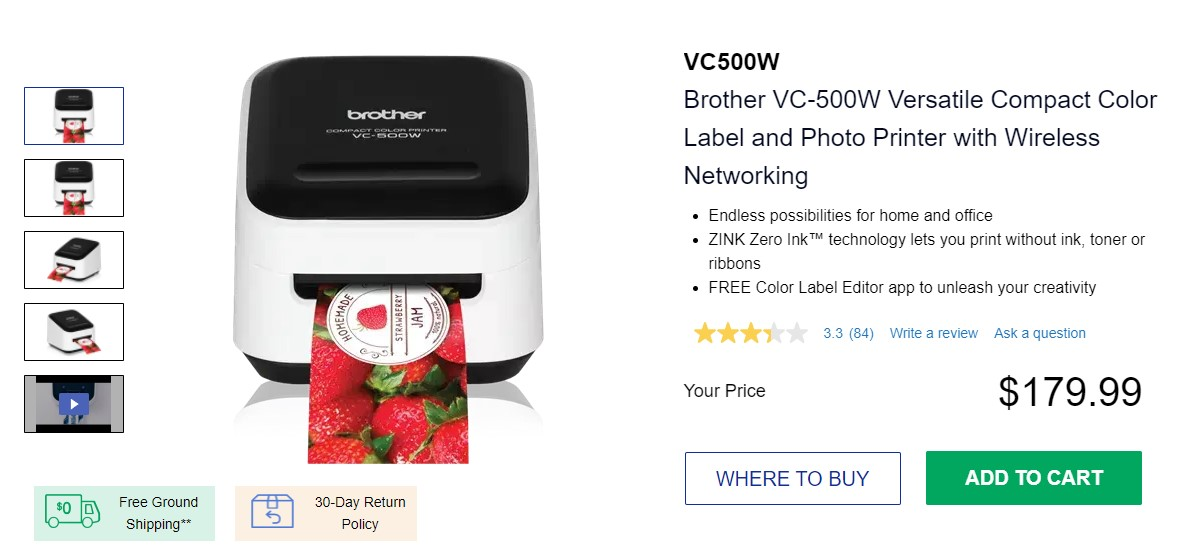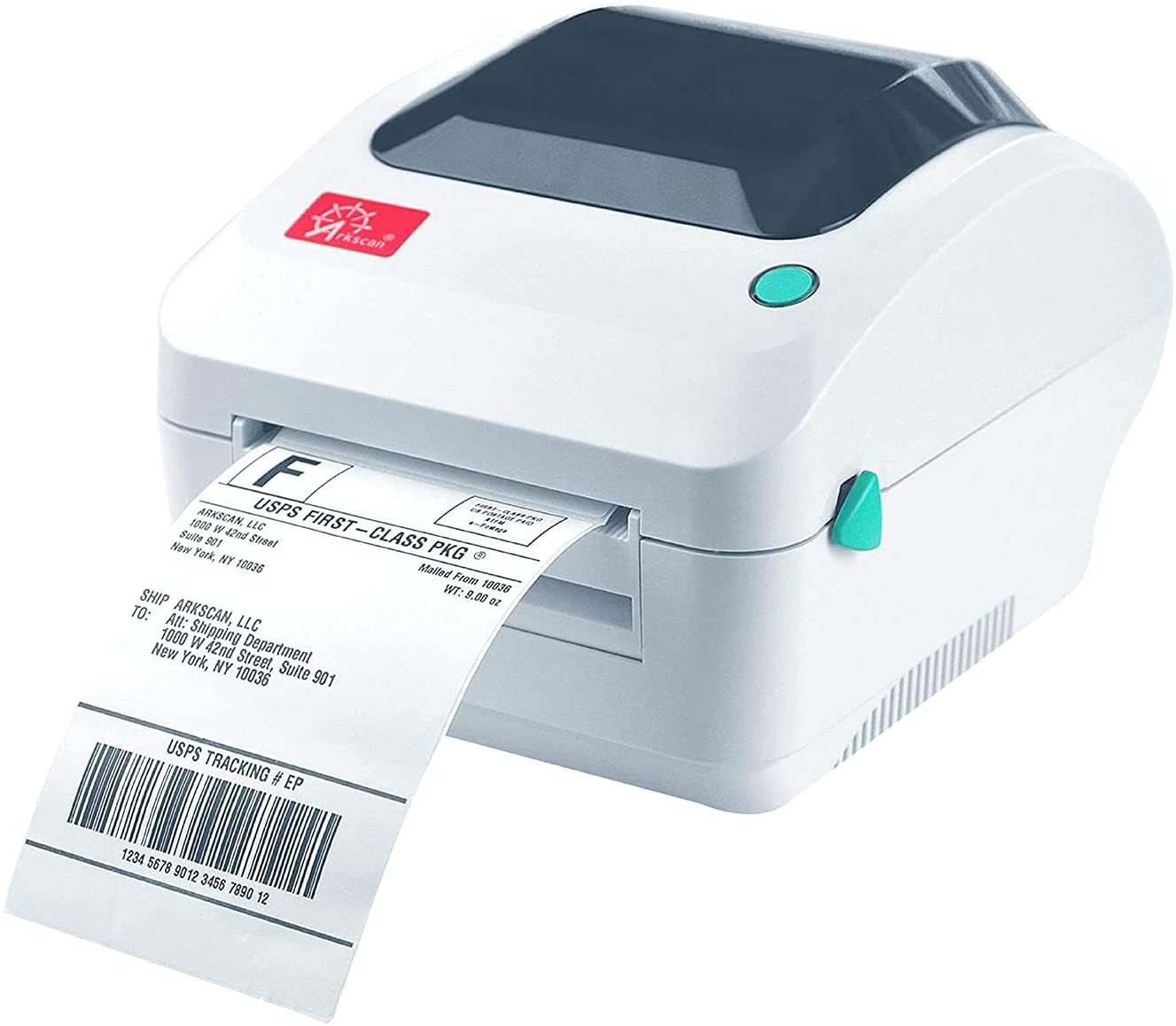 If you are tired of having difficulties connecting and setting up your direct thermal printer, this is your printer. Arkscan 2054A might be one of the most accessible label printers regarding connectivity.
You can connect it to your programs or shipping platforms via Ethernet, USB, and even wirelessly. This means you can also print labels from your phone or your tablet.
There are also various features, which means you can choose the label design you enjoy. It also supports roll paper, fanfold labels, and Arkscan and Zebra compatible labels.
Pros
Arkscan 2054A has an excellent tech support group you can connect with through your phone or online.
It supports powerful shipping platforms like eBay, PayPal, UPS, and FedEx shipping labels.
One of Arkscan 2054A is label-design printing, so you can vary your label types the way you want.
Cons
The printer is not compatible with Android and iOS.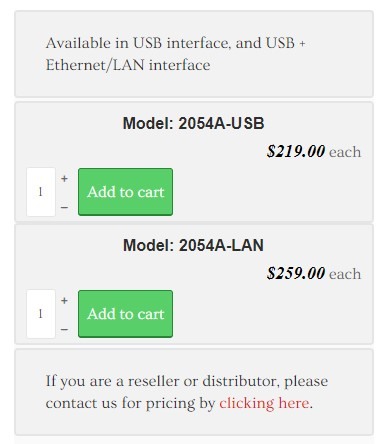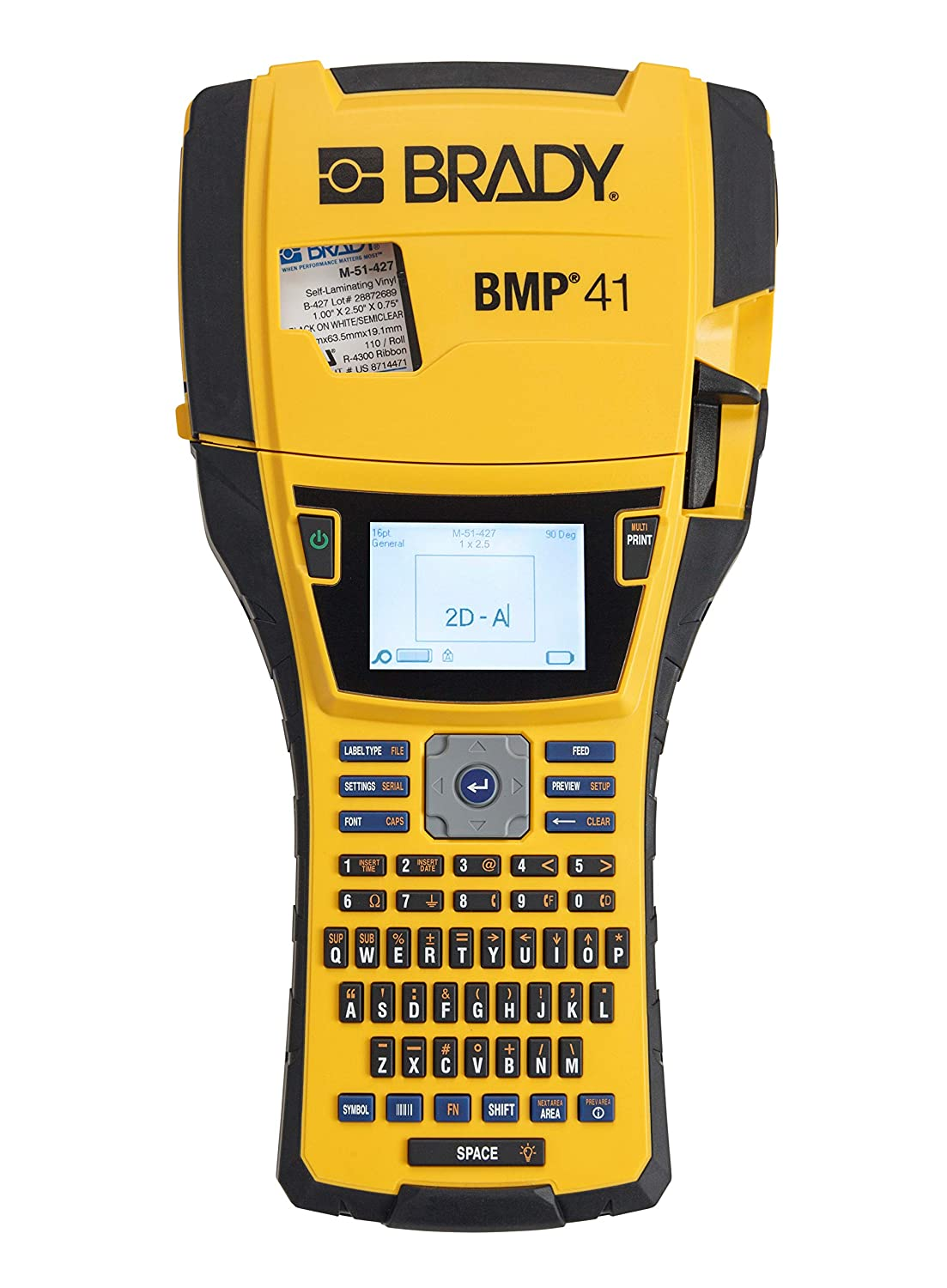 If you require a heavy-duty label maker, Brady BMP 41 is your printer. You can create multi-line labels for your wires, circuit boards, panels, etc.
The printer also has a backlit LCD graphics display, making label printing much more effortless. There is also a keyboard and a num pad for all your labeling needs.
Most importantly, you can integrate it with excel and graphics, and symbols. This is also a high-quality label maker, so you can be sure that everything you print will be nice and crisp.
Pros
Brady BMP 41 is a handheld label printer to use on the go.
The LCD screen means you can see everything very clearly.
The print quality is outstanding.
Cons
It is a bit expensive, with the list price being $300 on Amazon.

You can buy Brady BMP41 on their website.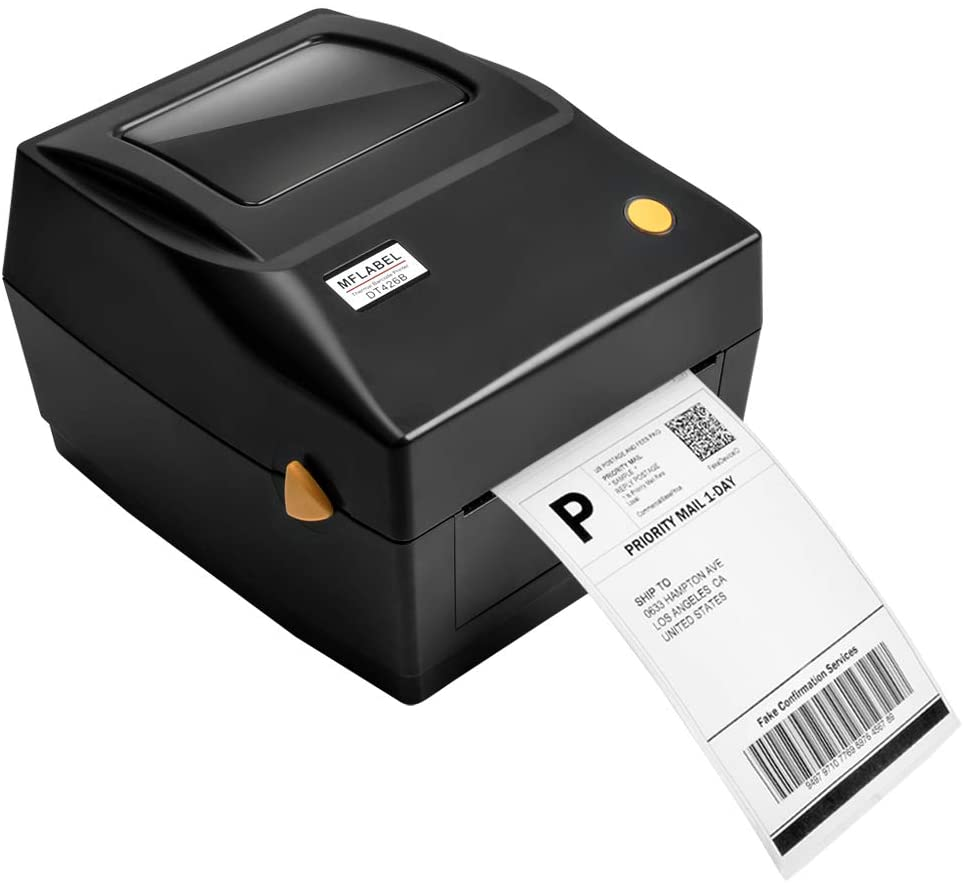 MFLABEL shipping label printer is a USB label maker with a fast print speed. It is an excellent pick if you plan on selling on platforms like eBay, Amazon, Etsy, and similar.
It supports the Windows platform and is an excellent pick for various label sizes. What's more, some features help you avoid paper jams, so you will not have the headache with some other thermal label printers.
You can use both roll label and fanfold labels, and the label size of up to 4x6 inches.
Pros
A good variety of label sizes.
No need for a TTR ribbon-like in thermal transfer printing.
MFLABEL prints labels of different types to print product labels, including barcodes.
Cons
There is currently no support for Mac OS.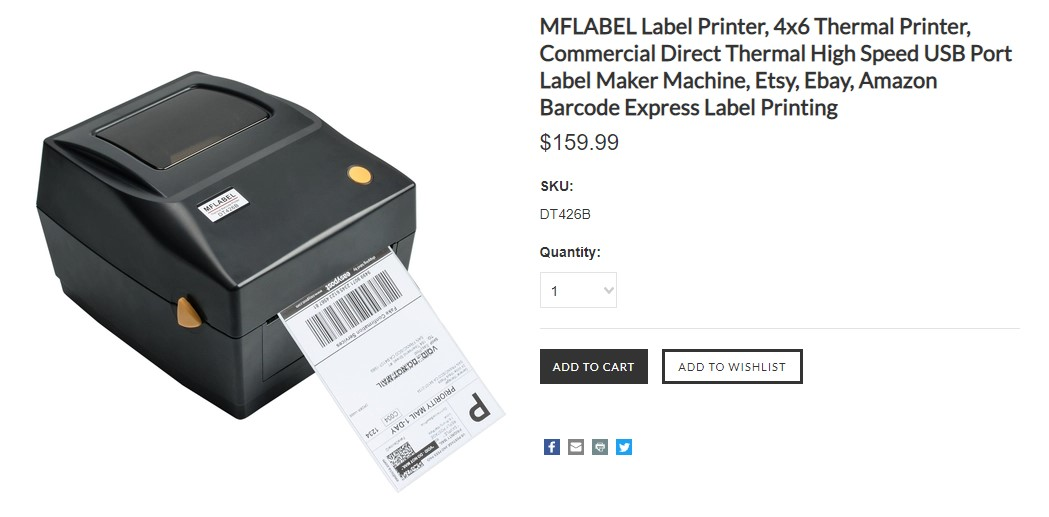 Find the printer on their website.
If you need a shipping label printer compatible with both Windows and Mac OS, then the MUNBYN shipping label printer is yours. With a print quality of 203 dpi, this thermal printer will give you everything you need.
If you look into creating labels, this shipping label printer will let you make the label type you need for your small business in any app.
Extra features like overheat protection and a one-click setup for much easier use.
Pros
The automatic label identification feature will detect the label size, catch it and feed it to the printer.
MUNBYN is the thermal label printer you want for warehouse labels, id labels, address labels, and any other type you desire.
The print speed of 150 mm/s is a standard for thermal printing, so printing shipping labels on MUNBYN will be fast and good.
Supports direct thermal printing and label size of up to 4.3".
Cons
One major drawback is that this thermal label printer doesn't support the ChromeOS system.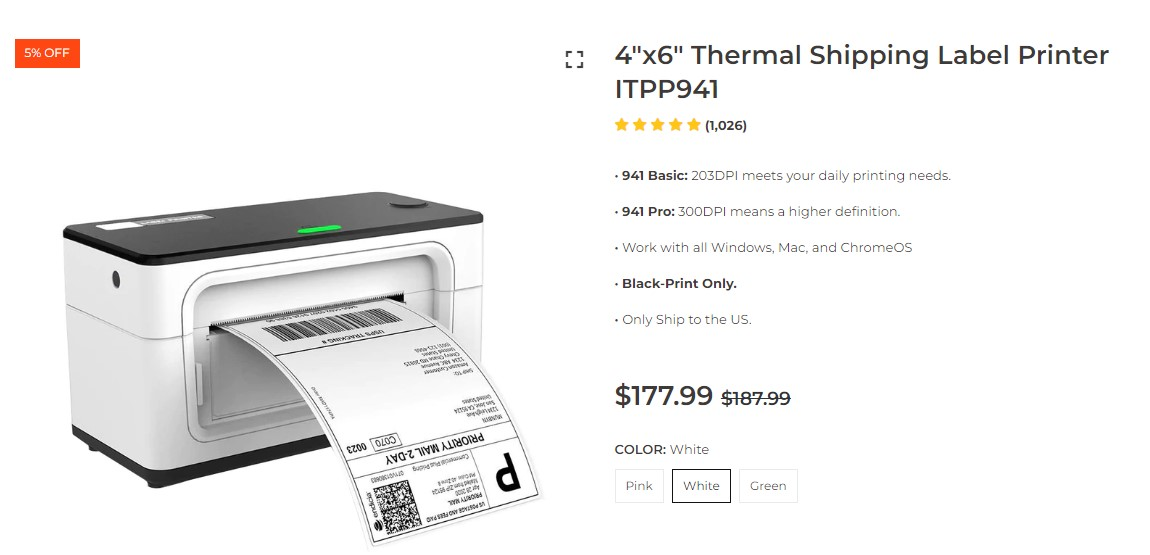 Get the printer on their website.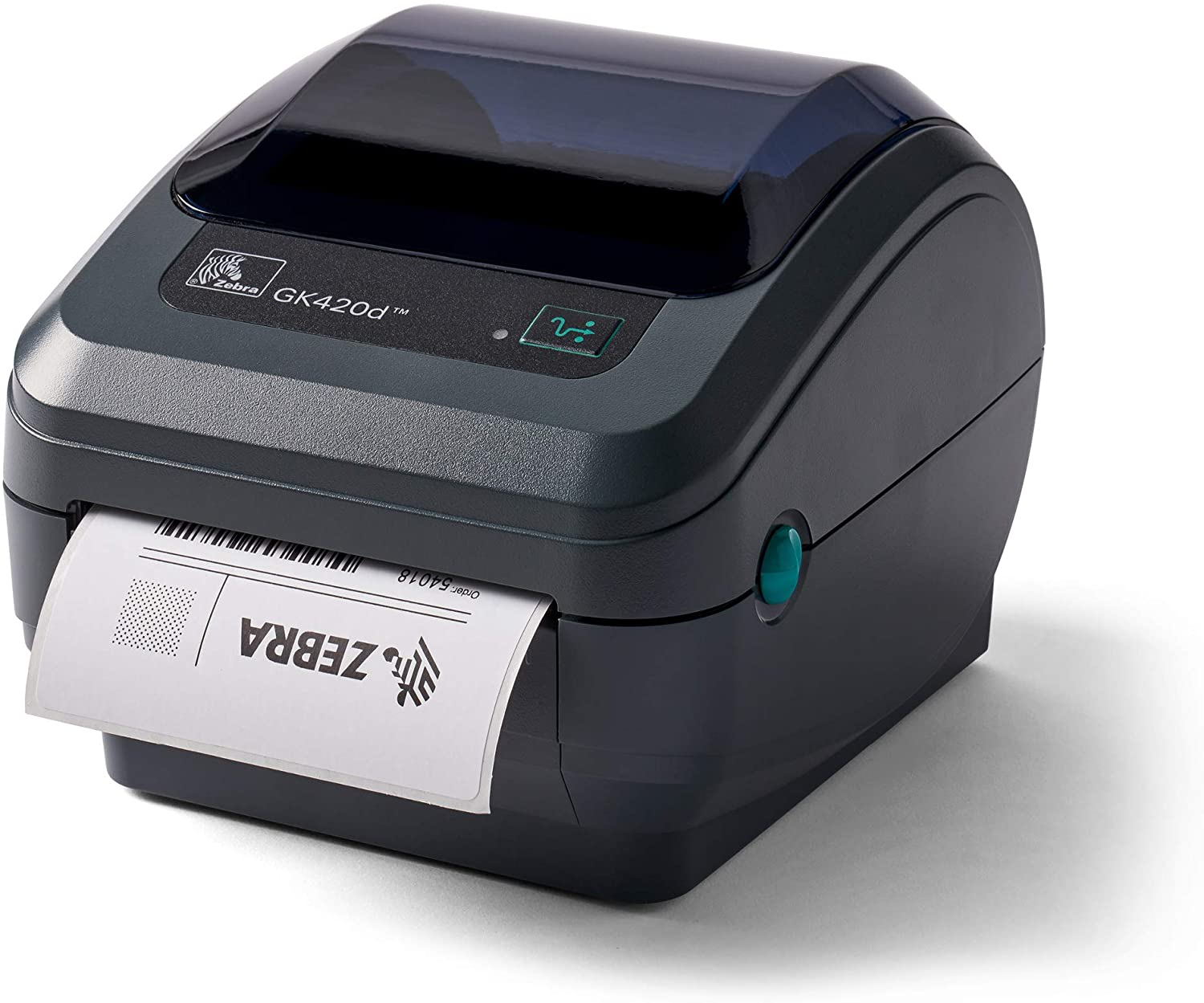 If you are looking for the best shipping label printer, Zebra GK420d might be your choice. Small businesses are printing labels of any size for mailing, address, barcode, and many more.
This thermal shipping label printer works at the print speed of 5 in/s, and the resolution of 203 dpi guarantees excellent print quality. The printing speed and print quality make Zebra GK420d one of the best thermal shipping label printers.
Since this is a direct thermal printer, you need thermal labels ready to go.
Pros
Direct thermal technology means you will need only a thermal natural label for printing.
Breakneck printing speed is suitable for any small business.
Probably the best shipping label printer in the game.
Cons
The USB connection might be annoying for some people.
It is pricey at over $300.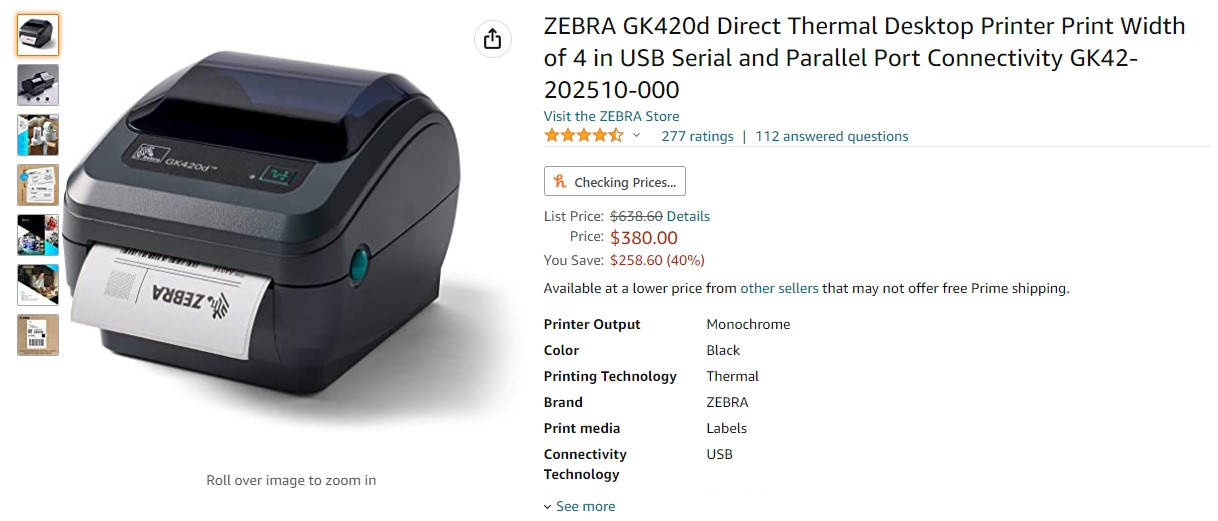 You can buy Zebra GK420d on Amazon.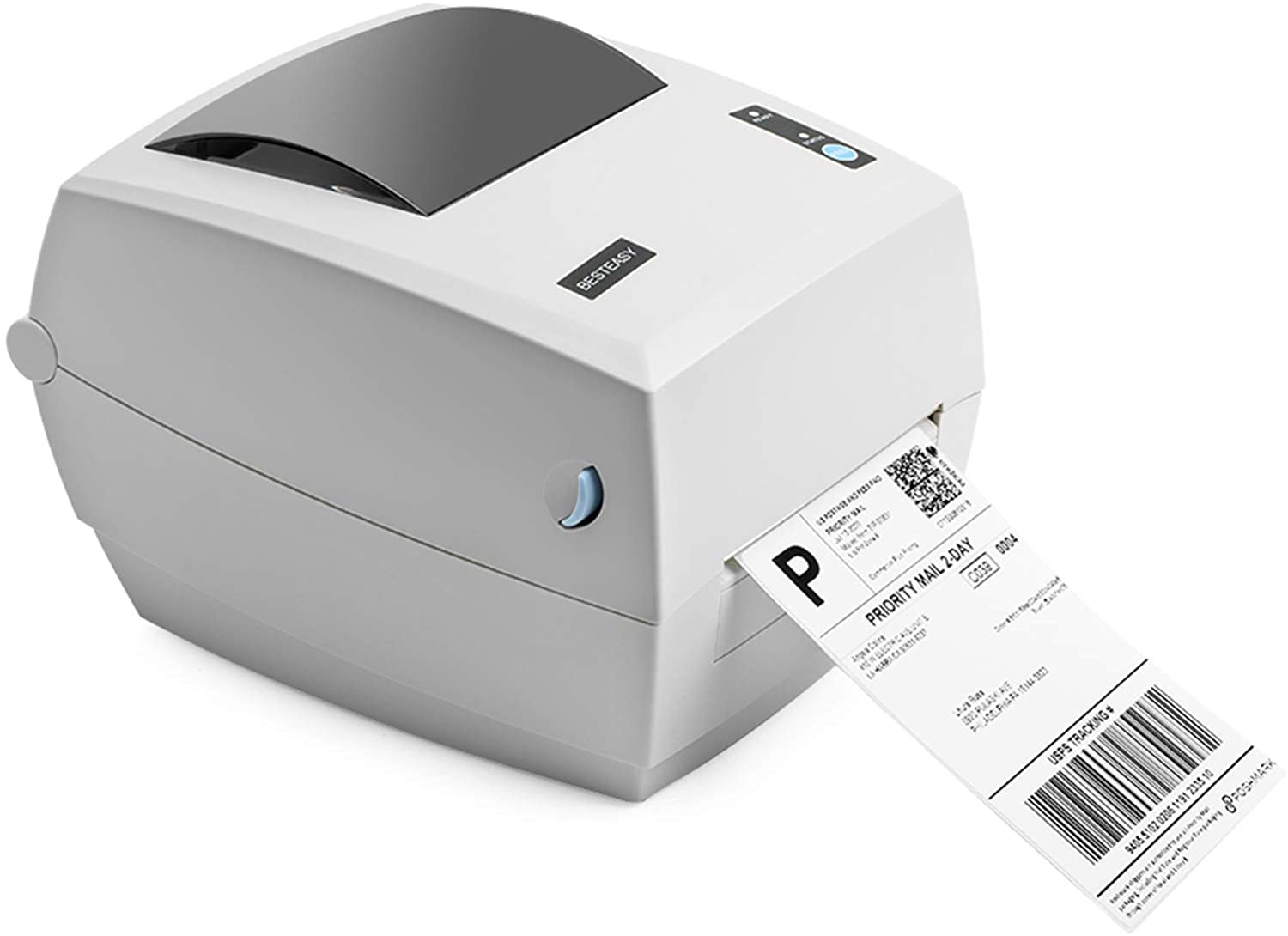 If printing speed is your main concern, then BESTEASY is your dreams' thermal shipping label printer.
It is fast and easy to use and prints thermal labels at breakneck speeds. This makes it the best label printer for your small business if you do not want to wait for the labels to print.
With BESTEASY, you can print labels that range from 1.57 to 4.1 inches. This means address labels, barcodes, and anything your business might need. This makes it the best shipping label printer for those with little to no time.
Pros
You can print many sizes of labels.
Probably the best shipping label printer when it comes to printing speed.
You can get it for just $83 on Amazon with discounted shipping prices.
Cons
The only connectivity is through USB ports.
BESTEASY isn't exactly one of the most portable thermal printers out there.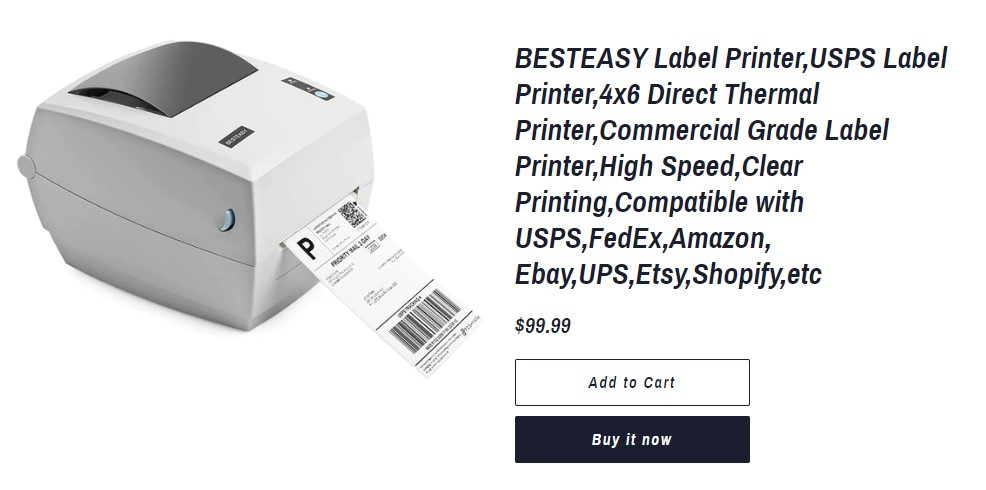 You can find their printer on the BESYEASY website page.
If you ask what the best thermal shipping label printer is when it comes to the ease of setup, then K Comer comes to mind.
Its one-click setup feature for Windows and Mac makes installation very easy. The thin-film direct thermal printing technology complements this to make K Comer a stable and reliable printing machine.
It is also compatible with platforms like Amazon, FedEx, eBay, and many others to sweeten the deal.
Pros
There is an intelligent paper return function to reduce thermal paper wasting.
It can automatically adjust the printing head based on the label's size.
K Comer supports most of the major shipping and e-commerce platforms.
Cons
There is no support for ChromeOS.
You can only connect it through USB, so there is no wireless connection.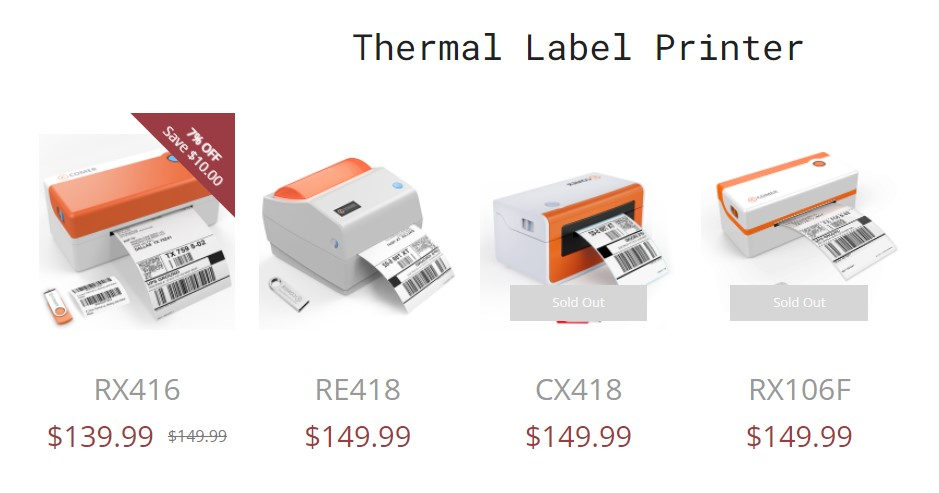 There are a few models to get on their website.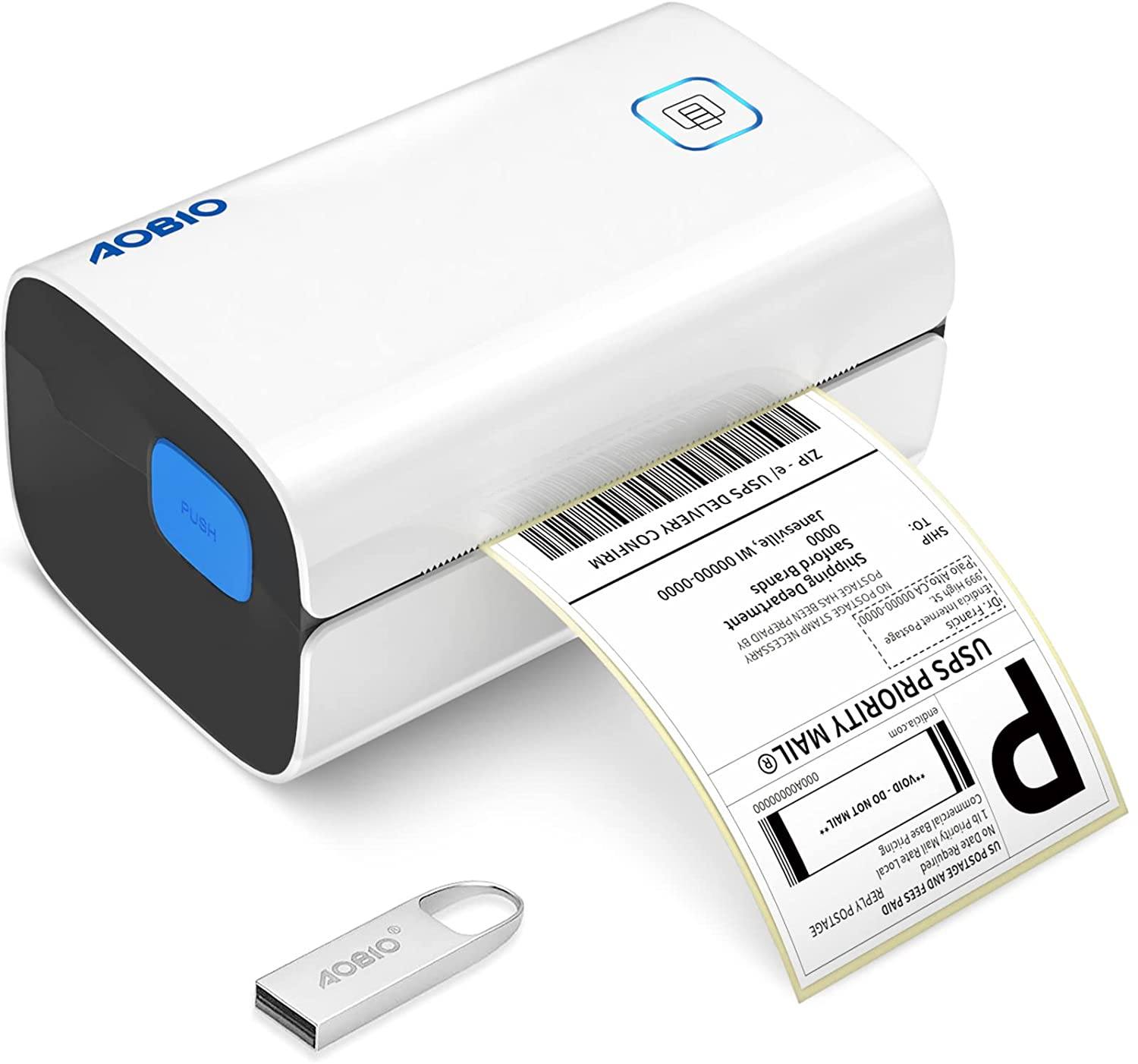 When you think about what you might want in a printer, label quality is usually the first thing that comes to mind. This is where AOIBO excels.
This direct thermal printer supports most of the thermal labels. You do not need ink and toners, and the quality of the product will be very high.
You can also use it for Amazon, FedEx, DHL, and Bigcommerce. So if you need 4x6 labels, warehouse labels, etc., then AOBIO is the printer you want.
Pros
The innovative recognition feature helps save and study label size to give excellent printing quality.
It supports both Windows and Mac platforms.
Can work for 12 hours without stopping.
Cons
You cannot use AOBIO with Chromebooks, tablets, smartphones, and other portable devices.
You will need an extra Type-C printer cable if you have a MacBook that only supports Type-C ports.
Get an AOBIO printer by visiting their website.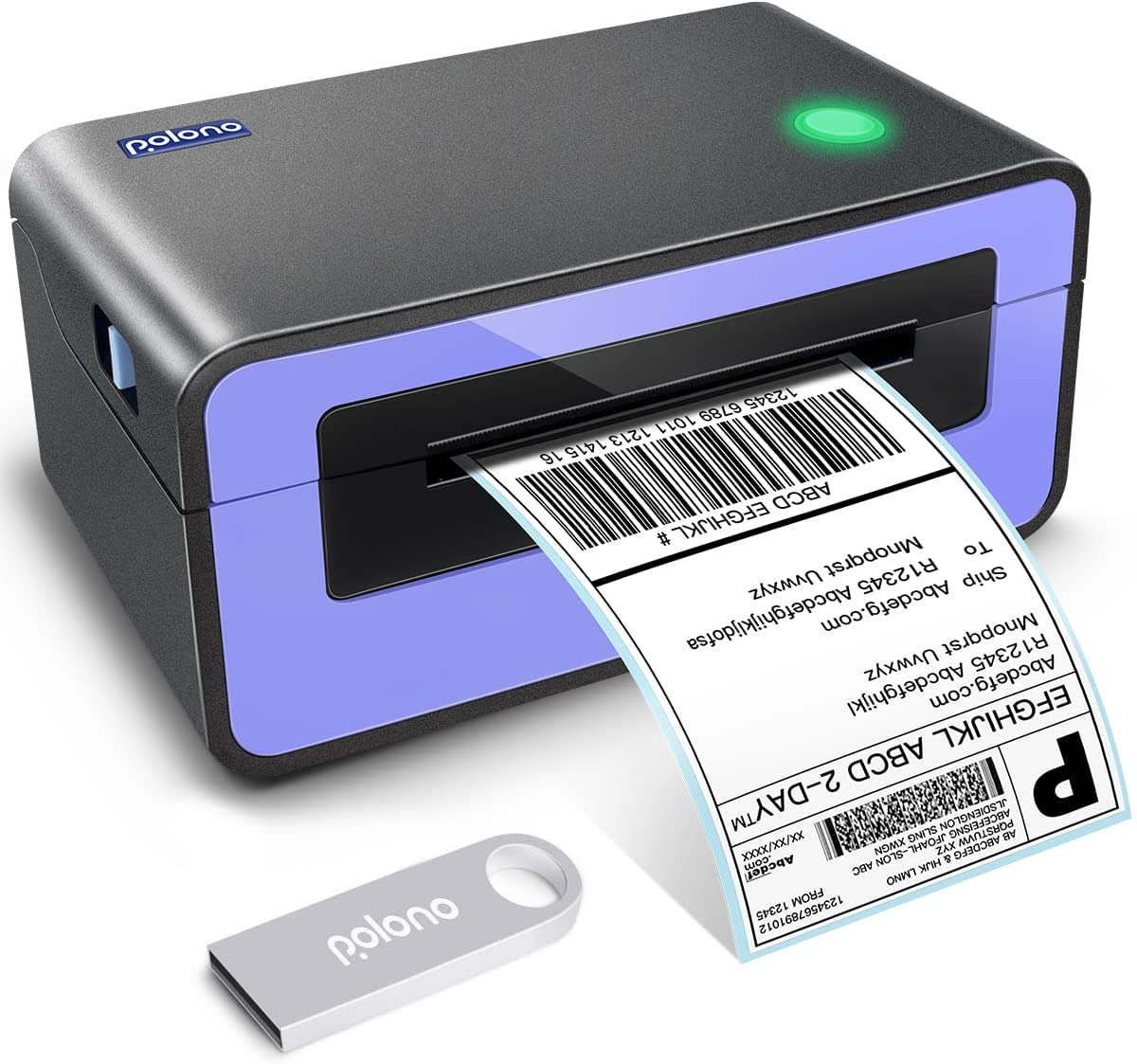 Sometimes, you do not want the hassle of setting up your printer. Instead, you want to plug it in and print your labels. If that's the case, then you want Polono USB Printer.
The printer also supports major shipping platforms like Amazon, eBay, Shopify, etc. Furthermore, as a direct thermal printer, you do not need to replace ink, ribbons, or toners.
Pros
The printer will auto-learn the paper size you want to use.
There is heat dissipation to prolong the printer's life.
The printing speed is 60 labels per minute.
Cons
There aren't many cons to mention, other than a middle-of-line printer.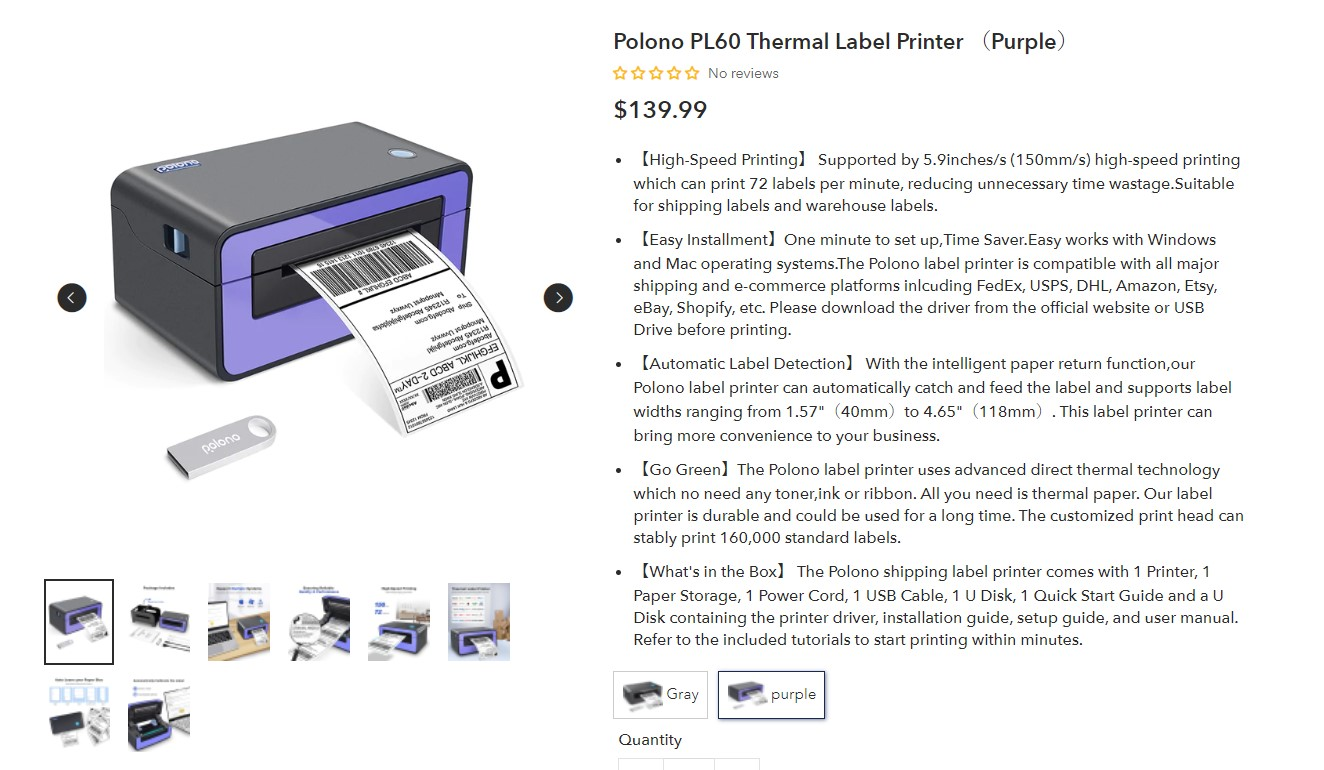 Visit Polono website to get your printer today.
FAQs
What Is a Thermal Printer?
While reading this article, you might have noticed that we mentioned the phrase "thermal printer" quite a lot. This might be confusing for people unfamiliar with this type of printer. How come they do not use ink or cartridges?
Thermal printers are a newer kind of printer. Instead of wasting ink to print shipping labels, they use special paper that reacts with heat. This way, the paper reveals the black material which makes up the print. This means that the printer doesn't use any ink or toners.
Do I Need Shipping Labels Printers for My Business?
Many people wonder whether they even need to use printers for shipping labels. In theory, you do not need a printer. You can fill in the label yourself.
However, as your business hopefully grows and develops, you will get more and more customers. This means that you will need to fill in more and more labels. This can be quite a tedious process, as you need to write down everyone's address and information.
With a good printer, you can connect it to an Excel (for example) file collecting all the customers' addresses and print out the labels for them automatically.
This lets you have a lot more time for other tasks and makes the whole process much faster and much more accurate. For example, you will not need to worry about misspelling someone's address if they are the ones who wrote it in the first place.
What Should I Consider when Picking a Label Printer?
If you want to buy a label printer, many things to think about. As you might have noticed, there are many items on offer. Most of these have different functions and features.
What you should look into is what matters to you the most. For example, are you a person who needs to pump out dozens of labels quickly? Then you will look for good printing speed.
If you prefer to customize the labels to match your brand more closely, find a printer that will help you.
This is why it's essential to sit down and figure out what features are the most important to you. Some of these include:
how compatible the printer is with other platforms and devices,
the speed at which your printer can get the job done,
the colors your printer uses (some are monochrome while some use color),
the label size and customization options.
Of course, there are many other features to consider, but this depends on your business or your personal needs. We recommend you think carefully about these before deciding to purchase your printer.
Conclusion
To conclude, label printing is becoming more and more popular each day. So, whether you are using your label printer to print out your shipping labels or organize your home and office, you might need a printer.
The industry is booming, and there are many models out there. It's essential to figure out what exactly you want your printer to do and then look for the one that will meet your needs.
This article listed only several excellent label printers you can find in the market. However, we encourage you to look even further and research some more. Your favorite printer might be waiting for you just around the corner.