Amazon FBA is one of the most lucrative business models you can enter. If you love the idea of arbitrage, meaning finding cheap wholesale products and selling them at a higher price, then you may want to become an Amazon seller.
Whether you're looking to get started to sell on Amazon or you're a seasoned vet, you'll want to look for the latest trends and identify Amazon's best-selling items. Finding winning and profitable products is the key to success in any eCommerce business.
Read on to see the best things to sell on Amazon.
1. Athleisure
With the sports niche, exercise and fitness is a large category that often sellers go after. While selling leggings are popular, perhaps athleisure clothing could be better. These are casual and comfortable clothing meant to be worn for everyday wear and exercise.
According to Google Trends, the interest in athleisure wear is continually growing year over year. These would make great private label products that you can create a brand around.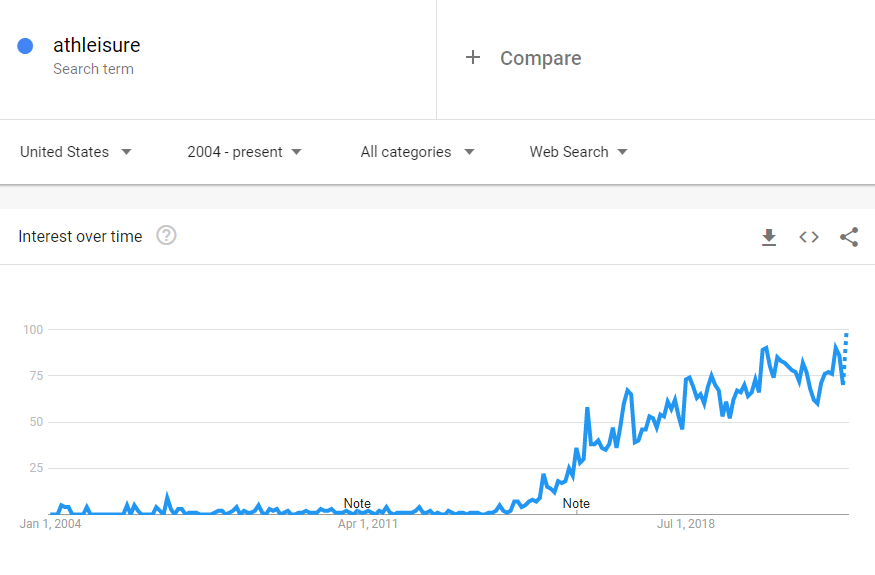 Alibaba offers a lot of variety in its selection, allowing you to differentiate yourself from competitors. For example, they offer many trendy clothing items like windbreakers, biker shorts, crop-tops, and more. Not to mention, they offer ways you can add a design to them too.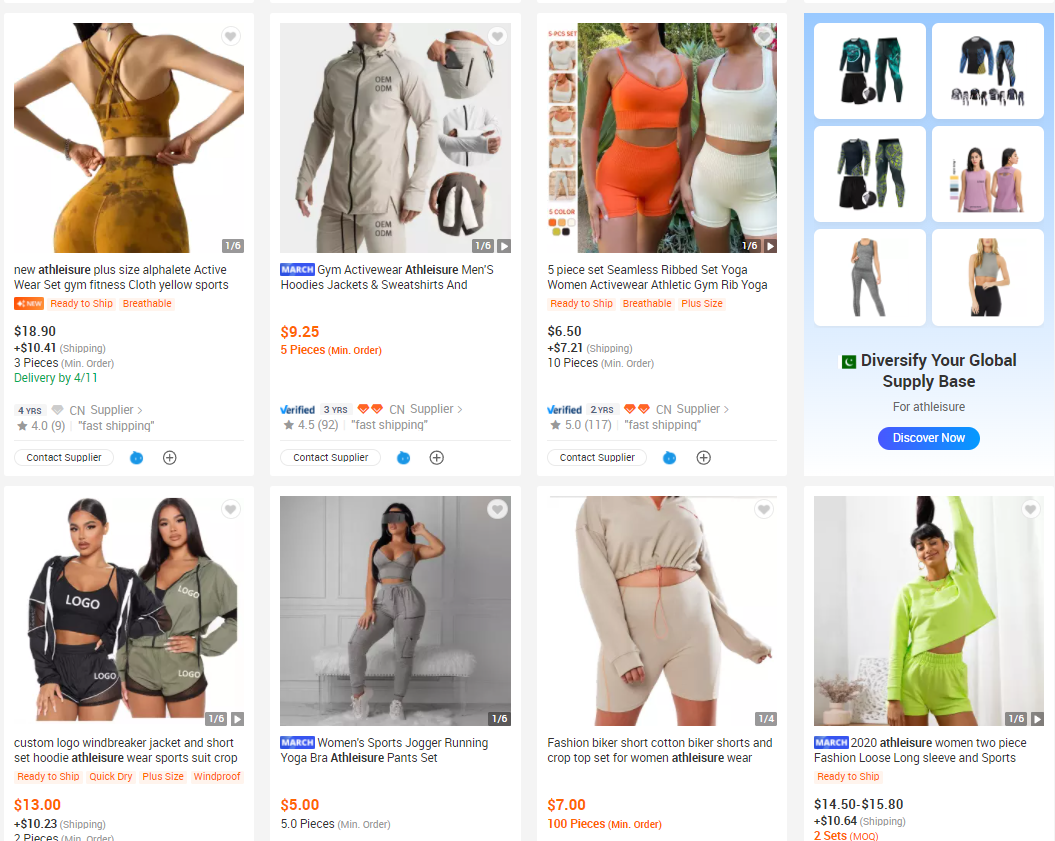 Using keyword research on Helium, we've found that Yoga-crop long-sleeve compression athleisure could be the product market niche to go after.
They are more defined within the athleisure space, meaning less competition. In this example, the seller has seen a 214% growth in product sales, selling 410 units, equalling $10,655 in revenue. And only 77 reviews are making it plausible for a new seller to compete with them.

Reasons to sell on Amazon:
Google Trends has been growing steadily every year
Working from home and casual fitness wear is stylish
Plenty of niche opportunities within this space
2. Posture Corrector
Posture correctors are straps that you were to correct your posture. They can be worn under clothing so that they won't stand out. It keeps your posture in place as you go throughout the day.
Google Trends shows the posture corrector has had a massive surge over the last few years. The chiropractic market is an $18 billion industry with consistent annualized growth of 2.2% per year. More people will continue to experience back pain, making posture correctors a product in strong demand for many years to come.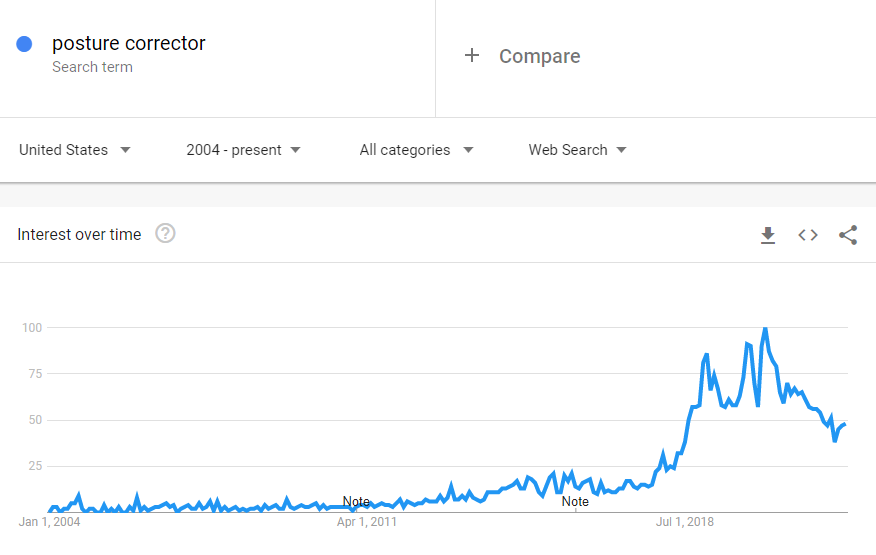 Not to mention posture correctors have a search volume of 37,239, meaning there's a strong demand for them.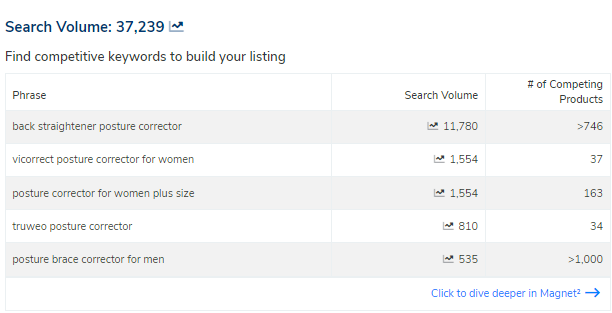 Standard posture correctors can be quite saturated, so we recommend a full-body posture corrector with lumbar and waist support.
On Alibaba, these products have wholesale prices between $2 to $5 and are sold at a retail price of $25 to $35. Since these products aren't sold in retail stores, people will only find them online. Consider branding the product to a specific audience such as women, obese individuals, scoliosis, etc.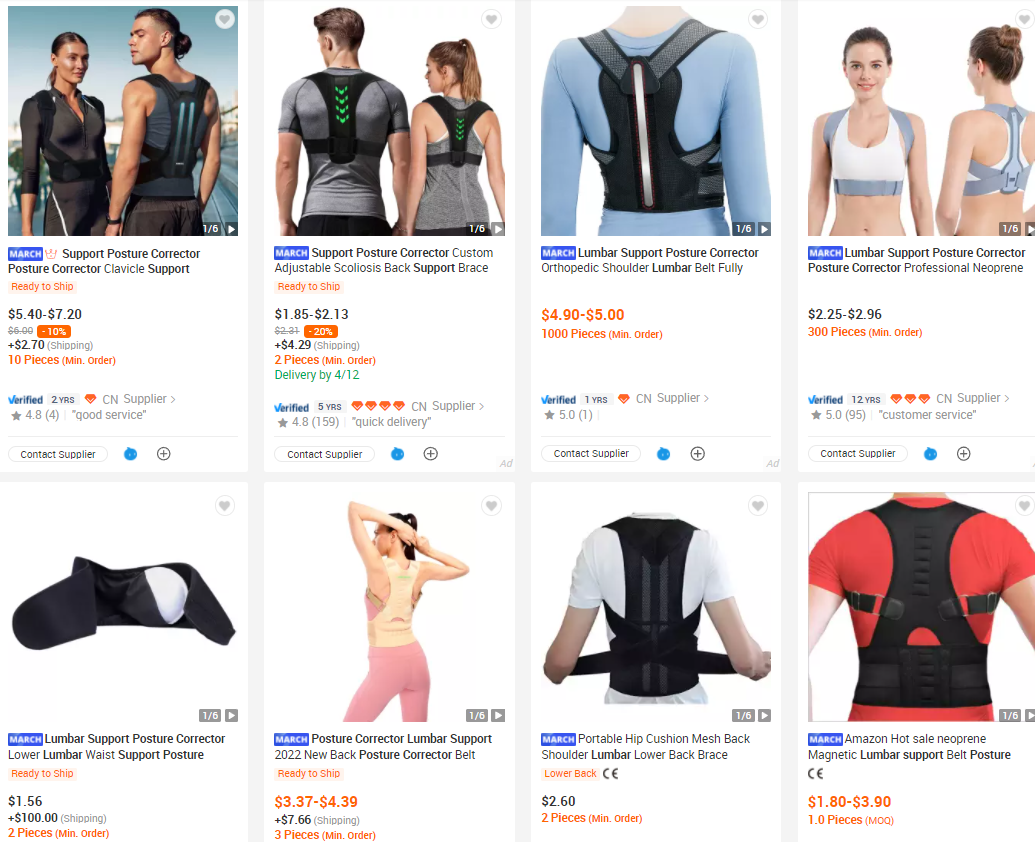 In this example, this seller has one of the top-selling items and has experienced a 64% growth in the last 90 days. However, since they only have 3.4 stars on their review, there's plenty of room for you to improve upon the product.

Posture correctors are an excellent example of profitable private label products. Many brands can create content around back pain for this product.
Reasons to sell on Amazon:
Strong demand
Different ways to differentiate yourself among the top-selling products
Growing trend and product solves a big problem
3. Instant Pot Cooking Accessories
Instant pot cooking has been a growing trend and a popular to sell online. This is an electric pressure cooker with an internally built cooking system. People love the instant pot cooker because it saves a lot of time in the kitchen while still making delicious food.
It's no wonder they are one of the top-selling items on Amazon. However, it is hard for small sellers to compete with established brands and sell large bulky electronic items. Instead, we recommend riding along with this trend by selling complimentary items to instant pot cooking.
On Google Trends, you can see instant pot cooking has exploded over the last few years.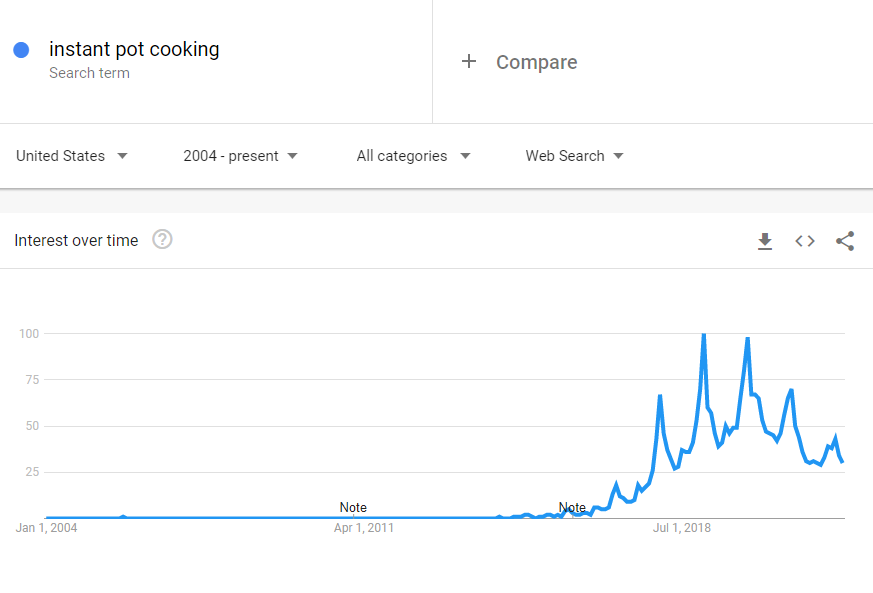 On Amazon, you'll see a wide variety of instant pot cooking or air fryer silicone liners. These liners are placed within the cooker to save you time cleaning the cooker.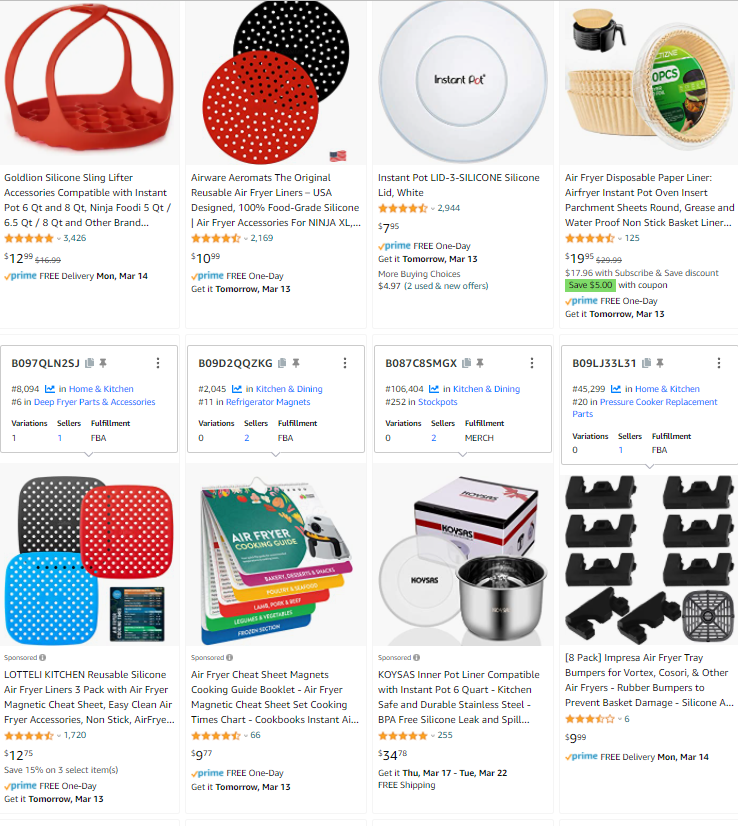 From the Amazon sales of this seller, you can see that they sold 1,689 units this month with a revenue of $20,251. If you are already selling items in the Kitchen niche, this product works as a bundle or cross-sell product. Its low cost and high demand make it a great impulse item.

Reasons to sell on Amazon:
Piggybacks off of an existing trend
Cheap product to source
Plenty of variety in the product
4. Spice Jars
Over the last three years, spice jars have seen a growing interest. Spice jars are a great way to organize your pantry. Practically every person who cooks and bakes regularly will need them, making them in high demand.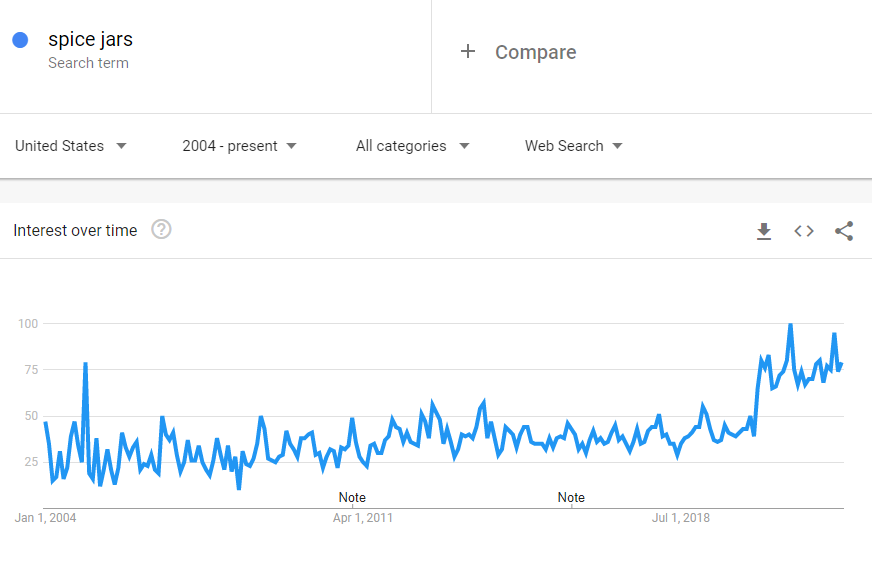 While it may seem like a "boring product" to sell on Amazon, they are ways to differentiate your product. For example, you can appeal to environmental enthusiasts by using a bamboo eco-friendly lid along with air-tight features.
Another way to determine your products is to use colored lids or shaker lids. Some jars used tinted amber glass, which is more stylish than the plain clear glass jars.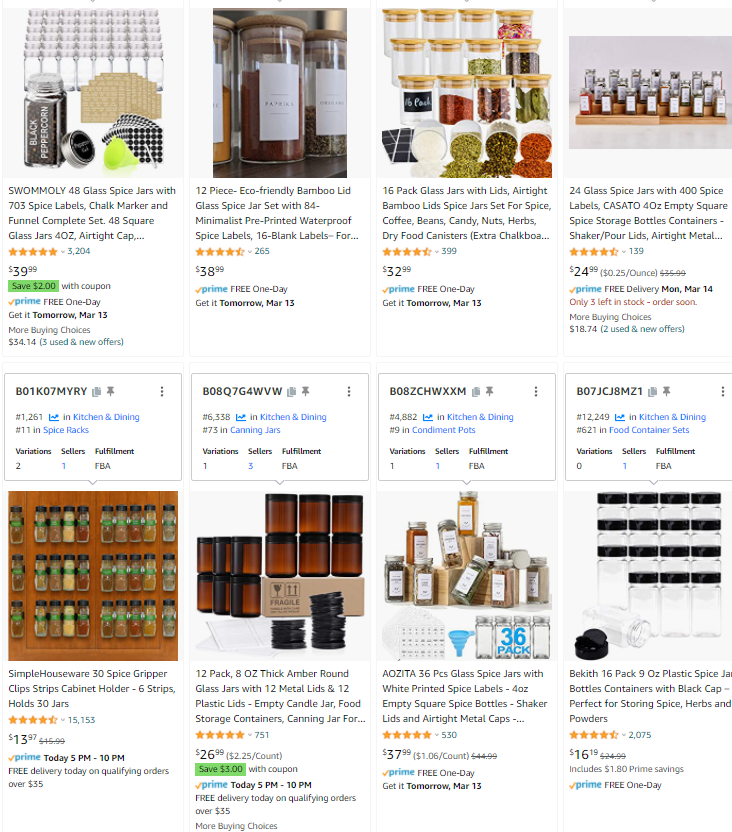 This particular seller has sold 964 spices this month and made $35,658 in revenue.
It's still possible to compete against these top sellers. Their best month was in January 2022, meaning it's still a trending item this year and beyond.
With minimal competition and high demand, spice jars are one of the products you should add to your watch list.

Reasons to sell on Amazon:
Trending products to sell on amazon
Ways to differentiate yourself from competitors
It's possible to compete with the top-selling products in this niche
5. Custom-Made Jewelry
The jewelry category is one of the top-selling categories. If you're looking to sell on Amazon, jewelry offers many types of products that sell well year-round.
The US jewelry market experiences a 0.8% growth rate annually, and online jewelry sales will reach $7.6 million in 2021. Also, the monthly search volume for custom necklaces is 15,382.

One of the most significant advantages of selling jewelry is having high-profit margins. They can be sourced for as low as a few dollars and sold for $15 to $25, making one of the best products to market.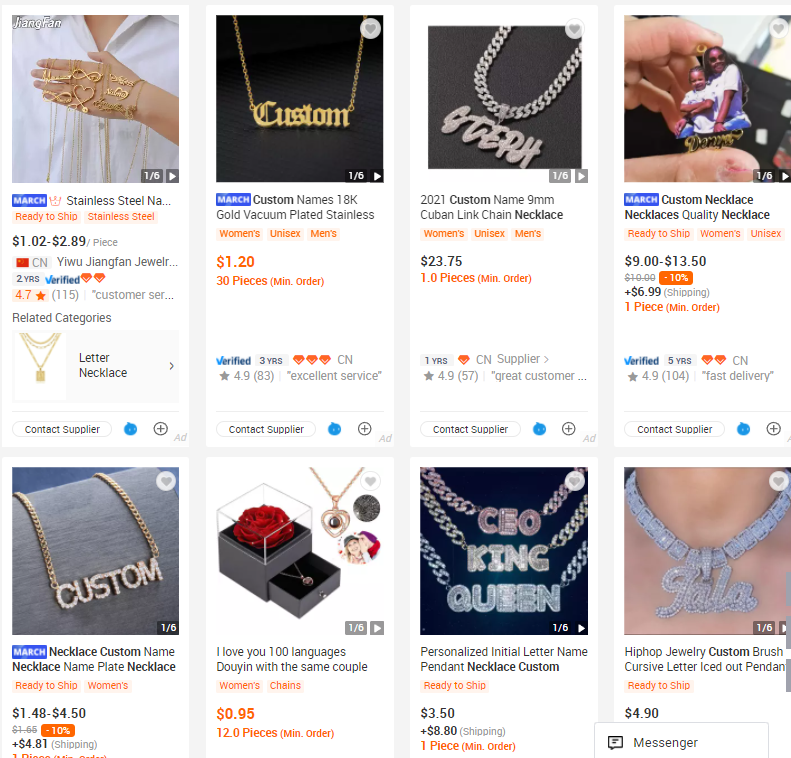 These custom necklaces are perfect for selling year-round, especially for holidays, anniversaries, and special occasions.
This custom pendant necklace, in particular, received a 22% increase in sales over the last 90 days. With only 57 reviews, it's pretty easy to compete with.

Reasons to sell on Amazon:
Able to create a brand around the product
High-profit margins
Relatively low competition
6. Dog Car Net Barrier
Pet owners love their pets and are willing to spend their disposable income on pet supplies, outfits, and toys.
Whether you're driving your dog to the vet or taking them on a road trip, getting your pet to sit still can be difficult. A dog net barrier solves a real problem by keeping your dog enclosed in the back seat without needing to lock them up in a crate.
These barriers are great products to sell because there is a strong demand and offer high-profit margins.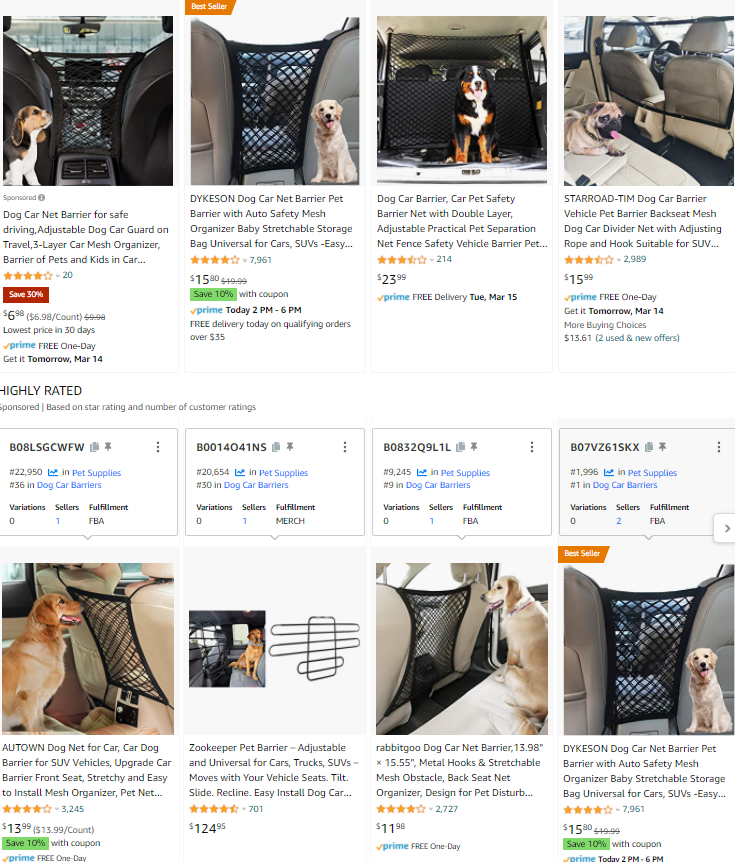 These barriers are great products to sell because there is a strong demand and offer high-profit margins.
This seller has sold 893 units of their pet divider, netting a total of $41,069. And they've also seen an increase in growth of 4,426% over the last 90 days. This is certainly a trending product that you should keep an eye out for.

7. Dog Grooming Hammock
The pet care and pet supplies market is currently valued at $261 billion in 2022, and with an estimated annual growth of 6.1% per year, it's expected to reach $350 billion by 2027. This large market means there's plenty of space for new sellers to compete and find niche products to sell on amazon.
Rather than going for the same old dog products that have been recycled in the e-commerce space, we like to find new and upcoming products that are "under-the-radar." That's because there's much more opportunity to succeed since there are fewer competitors trying to sell the exact product.
The dog grooming hammock is one of those products. It's an innovative product that keeps your pup in place so that you can easily groom them without the hassle of chasing them down. On Google Trends, these products have made a huge surge over the last few years.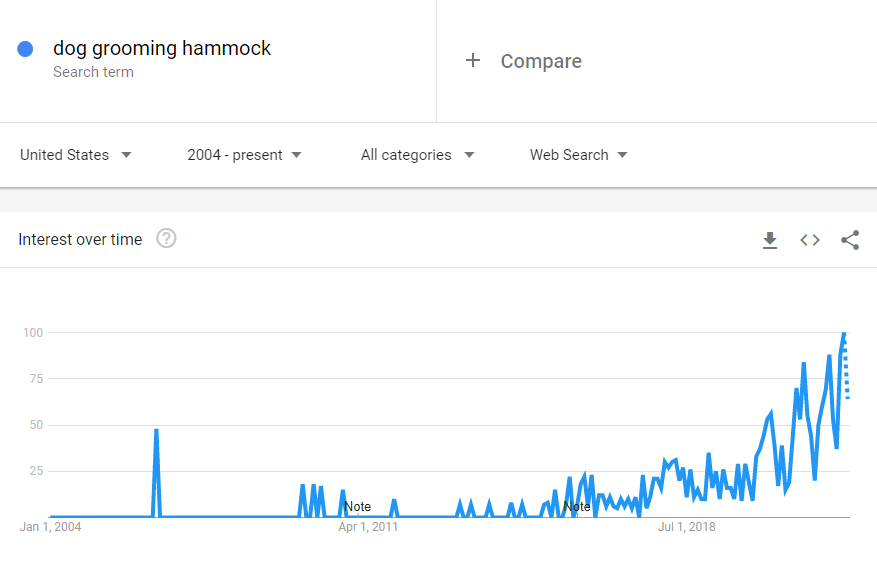 Like many the products, the dog grooming hammock offers a very high-profit margin.
On average, the product sells for $25 on Amazon, while it can be sourced for $2-$4 on Alibaba. These products can also be bundled up with other dog grooming products like pet nail trimmers and fur de-shedding tools.
Not to mention, there are a lot of ways to customize this product to stand out from competitors.
For example, you can offer different sizes and adjustable straps to appeal to dogs of all sizes. You can use a better material for enhanced comfort.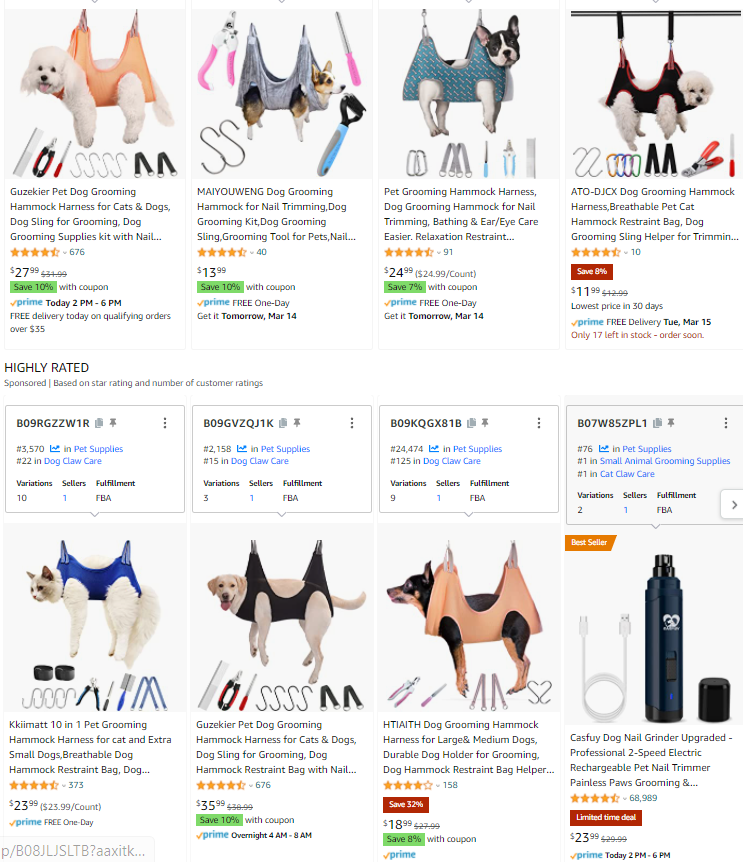 This particular ranks on the first page of the Amazon results. They charge $33.99 for their grooming hammock and received $1,252 in monthly orders and $42,555 in sales.

Over the last 90 days, they've experienced a growth of 756% increase with their best month being in February 2022. Furthermore, they only have 80 reviews!
This product checks all of the boxes for our product research criteria. It's a trending product that is still relatively undiscovered, and therefore new competitors can come in and profit from it.

Reasons to sell on Amazon:
A product with growing interest
Solves a big problem for pet owners
Competition is low
Very high-profit margin
8. Waist Trainer Wrap
The fitness industry will always be a booming industry. Waist trainers have been a growing trend, especially for women who desire an hourglass figure.
The search term "wrap waist trainer for women" on Amazon receives about 19,150 searches, making it a high-demand product.
Some of the top sellers they are making between 1,132 to 12,790 sales, netting between $11k to $356k sales monthly.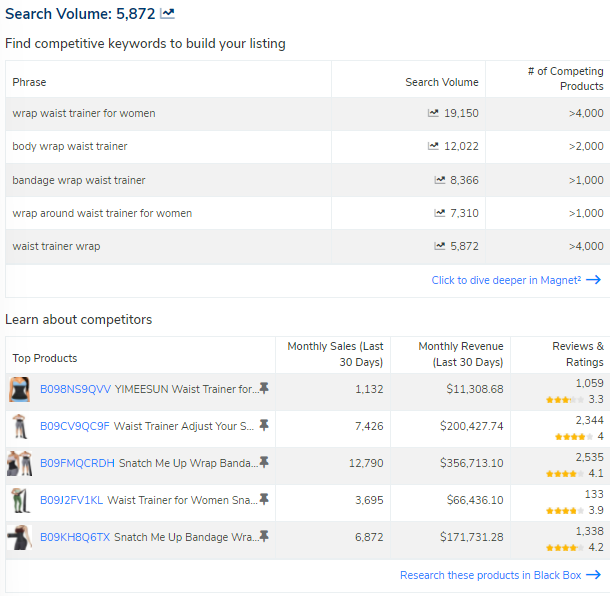 While it may seem a little competitive, smaller sellers are still thriving. It may require finding ways to differentiate yourself, such as charging a slightly lower price or offering unique designs and features.
This seller only has 249 reviews yet has sold 2,042 units monthly for $40,778 in sales. Over the last 90 days, they experienced 894% growth and had their best month in January of 2022.
The data is clear. Women want waist trainers to help them look better. The key is to find a unique angle to compete with other sellers.

Reasons to sell on Amazon:
Very high demand
Proven product
9. Squish Plush Toys
The brand "Squishmallows" have grown tremendously over the last few years. Squishmallows are a craze among kids, teens, and young adults. They are a large collection of soft and huggable squishy toys that people love to have around in their homes.
Thanks to the rise of TikTok, many consumers will create videos around the product and use the hashtag squishmallow or squishtok
On Google Trends, you can see the massive growth that Squishmallow had in 2021. We suspect the trend to continue, especially now that many retail stores sell them.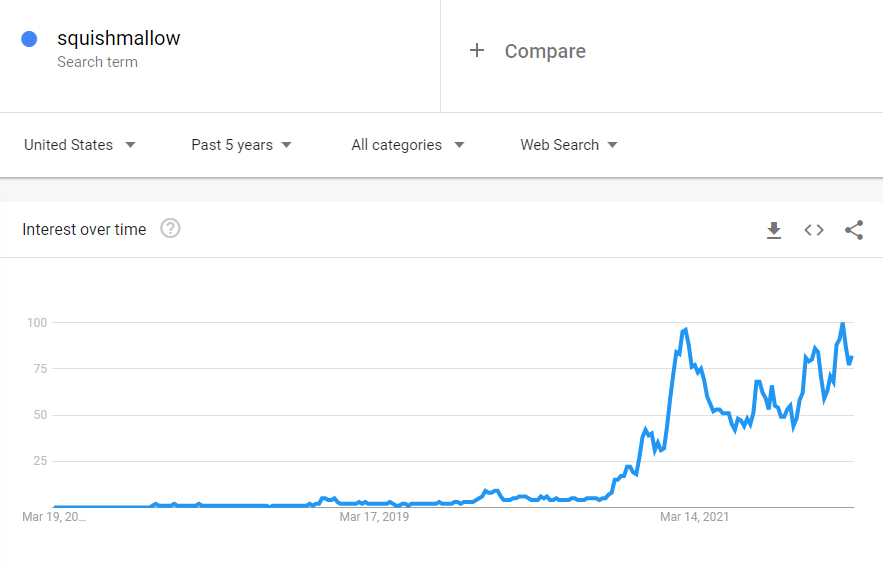 Despite these products going mainstream, that doesn't mean they are oversaturated. That's because there are so many different varieties available that new sellers can make a profit.
Think of the fidget spinners and beanie babies craze. As a seller, you can find what's trending in pop culture and try to source "squishy plush toys" that consumers would love.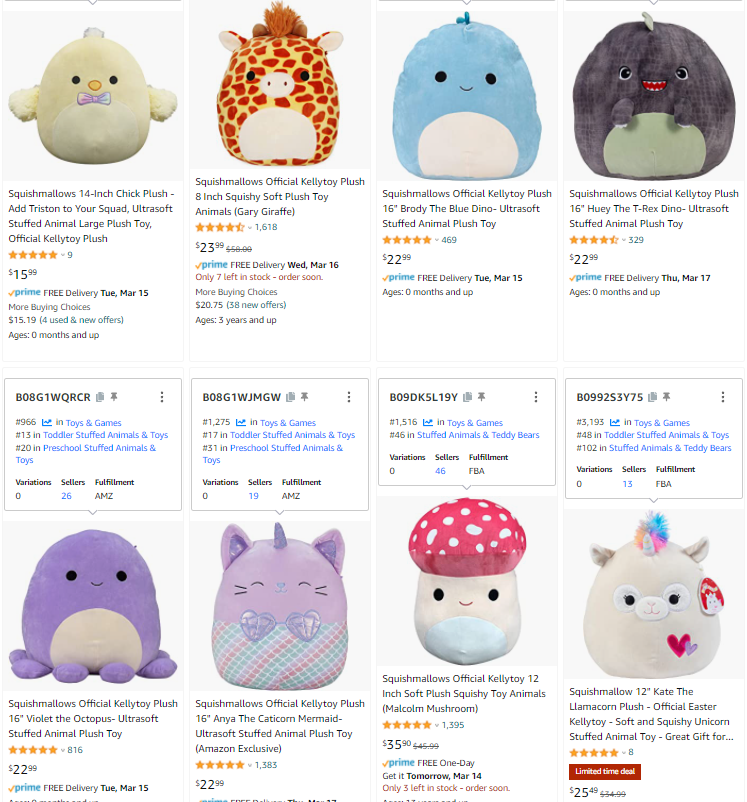 Alibaba has plenty of unique selections as well. Since it's such as popular product, manufacturers are continuously adding new Squishmallow-style toys for sellers like yourself. Notice that they only cost between $1-$2, yet they're sold between $15 to $35.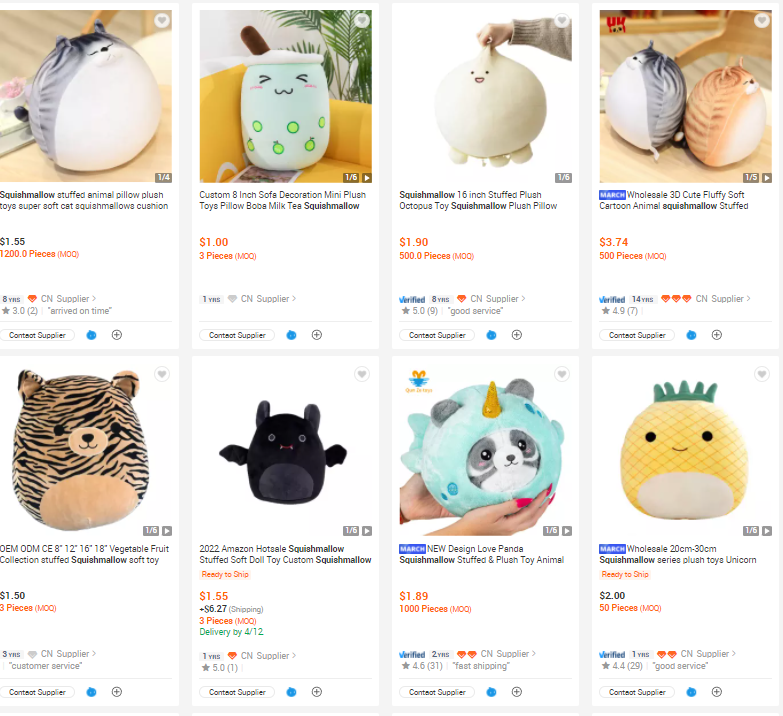 This particular seller sold 2,265 units in a month totaling up to $52,072 in sales with only 319 reviews. Since it doesn't have any sales trend data, it's likely that this is a newly listed product.
As a result, you can assume that it's possible for sellers to quickly rank on Amazon with Squishmallows. That's because consumers care more about how cute the squishmallow is and will purchase impulsively.
Conversely, with other products, consumers will take time to analyze the reviews and only go with trusted sellers.
Reasons to sell on Amazon:
Lots of variety means more opportunities for new sellers to enter the market
Squishmallows are very high in demand
High-profit margins
10. Stainless Steel Snack Containers
The meal prep industry has been booming over the last few years and is expected to reach $11.6 billion in 2022. Many new meal delivery businesses are appearing. People are turning to meal delivery services instead of cooking at home. People want fast, delicious, and healthy meals ready to eat. '
On Google Trends, meal delivery has had a growing interest for the last decade. It seems to be steadily growing every year, and we expect the trend to continue. Amazon Prime, Ubereats, and other fast-delivery services have only increased the demand for meal delivery services.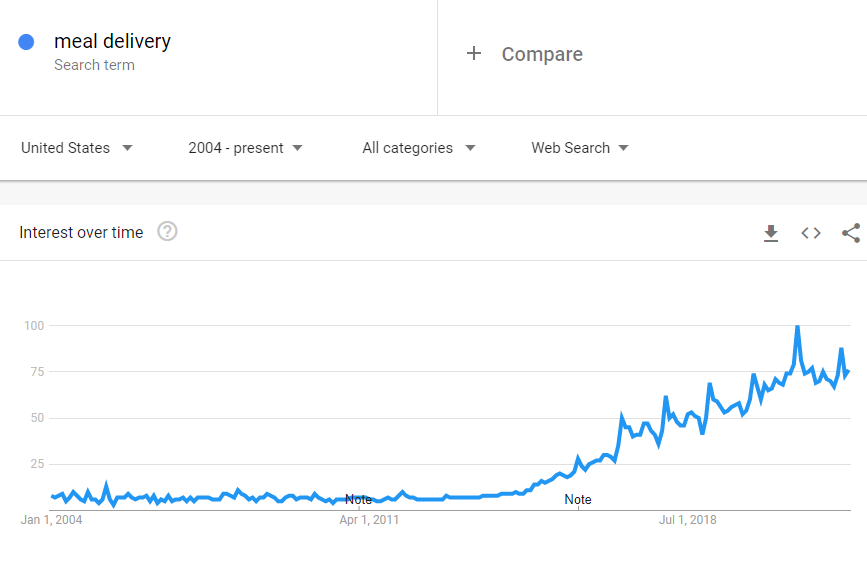 This rising industry means that meal prep containers will be on the rise. While the meal prep containers may already be saturated, we like the idea of selling stainless steel snack containers. They're perfect for both adults and children.
Many people like to take snacks with them to school, work, or travel. Stainless steel snack containers can keep your snacks fresh on the go.
While snack containers may have a lower demand, the competition is relatively low, meaning it's much easier to rank for.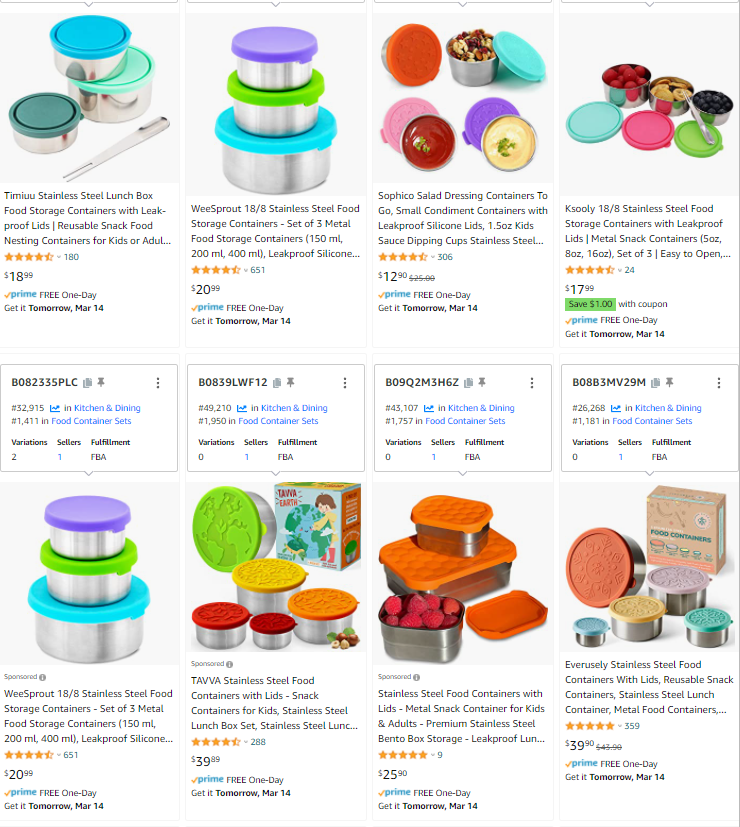 This seller sold these snack containers for $27.99 and made a total of $18,529. They branded these containers for kids and used words like "leak proof" and plastic-free" to help carve out a niche in this space.

Reasons to sell on Amazon:
Low competition
Trending industry
Things to Consider When Selling Products
It's not enough to simply come up with a profitable product idea. It often requires a lot of research, competitor analysis, and creativity.
When finding products, we recommend using the tool Jungle Scout since they can provide tons of product ideas and give you detailed information on how well those products and sellers are performing.
Not to mention, they offer a seven-day free trial for you to test out their software first. Here are things you should consider before you sell products on Amazon.
Create your own brand and private label products
One way to stand out from your competition and achieve sustainable growth is to create your own brand and private label your niche products. If you're a frequent online shopper, you've probably come across brands that provide a unique experience when receiving a product.
Perhaps, you've received products that are beautifully packaged and come with a special card.
Most successful sellers who achieve consistent sales with a product have created a brand centered around their product. They've become one of the top sellers in their product category and niche and deliver a unique experience to their customers.
For example, many handmade items or beauty products might provide more luxurious items, while budget-friendly products may set a more casual tone.
When coming up with your digital marketing strategy for your brand, we recommend tailoring your brand to a particular audience. For example, many sellers sell fitness equipment. But if you tailor your brand around fitness equipment for pregnant women or busy professionals, you're more likely to capture those audiences.
What's the competition for the product?
When performing product research, look for products with low competition but high demand.
This means that the products have a high search volume and receive consistent demand yet don't compete. The best way to find these products is to start with a niche market, meaning you're going into subcategories on Amazon.
For example, instead of selecting a broad category like "Kitchen & Dining," you can choose a subcategory like "Food Storage."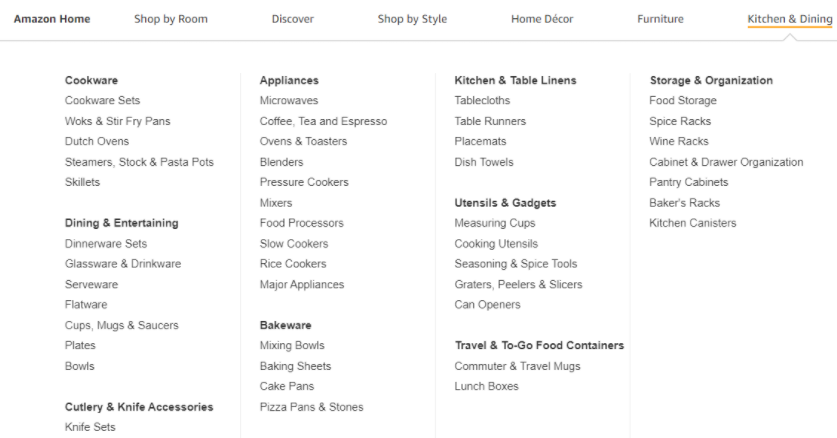 Having fewer sellers increases your odds of appearing on the first page on Amazon search results and ranking for keywords.
How to check for demand for a particular product:
When you conduct keyword research, look at the top 5 to 10 sellers of the product. Check that they sell at least 10 to 30 units per day from top sellers.
For example, using Jungle Scout lets you see many sellers' recent and historical sales. You'll be able to view the daily and monthly orders along with monthly sales volumes for each product, which gives you a good indicator of whether you should start selling the product or not.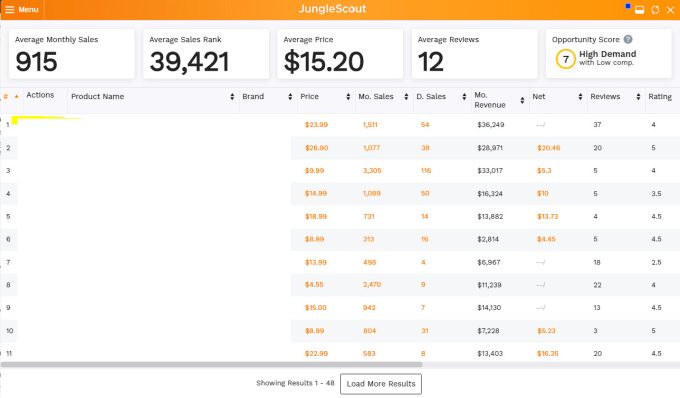 Is it easy to make and manufacture?
As you're looking for products to sell, you want to ask yourself whether it's easy to make and manufacture. If it's cheap to source, this means you'll have higher sales margins, and won't be complicated to scale.
Profitable products aren't always easy to come by. The ones that stick can often be sourced cheaply but have a high perceived value.
For example, selling items made from plastic or rubber can be a great option since they won't break, are easy to manufacture, and are pretty cheap. Conversely, materials like glass and electronics are riskier since they are more prone to damage.
Returns can hurt your seller rank, reducing your odds of becoming a successful Amazon seller. Make sure you're reading customer reviews of the product so that it is good and doesn't have a fatal flaw.
Can you customize or improve upon the product?
Most Amazon sellers go wrong because they copy trending products that are hot sellers but don't do anything to separate themselves from the competition. Simply slapping your brand name on the identical product won't help your amazon store gain market share in the space.
Here are some ideas to customize or improve your product:
Offer your product in a bundle with complementary products.
Perform a design change. For example, look through negative reviews of a product from your competitor. Then come up with design changes and ask your manufacturer if they can make them for you.
In this example, you'll see that the customer provides constructive feedback about a particular seat cushion product. And 30 people have found this review to be helpful.
Thus, it's a design feature worth fixing. Perhaps, you could provide a thicker or more dense seat cushion, then use keywords in your product title and description that describe the benefit for obese or heavier individuals.

By making these changes, you decrease the number of direct competitors to your product.
What is the selling price of the product?
If you're a new amazon seller, you'll want to sell products with an ideal price range between $15 to $50. Within this range, the selling fees will only be about $5 to $6. Typically, the lower the cost, the higher the selling fees.
When selling products for low prices, the selling and shipping fees could end up significantly cutting into your profit margin.
When trying to find products to sell, we wouldn't recommend selling products over $50, especially in the beginning since it's harder to convert visitors. Products that cost a lot are no longer impulse buys, and customers will have to think about them before buying.
What is the number of reviews that the product has?
Whether it's positive reviews or not, make sure the top sellers of the product don't have tens of thousands of reviews. Ideally, look for niche products with several hundred reviews, if possible.
Sellers that contain thousands of reviews make it extremely difficult for you to compete as a new seller looking to enter the market. Even better, if you can find a product with many sellers, but many of them don't have a lot of reviews.
This makes it easy to compete and increases the sellers' rank in the product category.
What are the shipping costs?
Before you start selling items, consider the size and the weight of the product. As a new seller, narrow down your product ideas to smaller and lighter items, making them easier to pack. As a result, this reduces the shipping costs from overseas.
Final Words - Take Action Today By Choosing A Product
Finding the right products to sell is arguably an essential factor in building a thriving eCommerce business. There's always a need for trends to appear, so make sure to stay on the lookout.
Now that you know the best products to sell and what criteria to look for in products, you can take these ideas into your Amazon store.