Webinars have become an ever-present and all-prevailing tool for learning. Nowadays, you can learn anything from college classes to cooking by searching for an online video.
The COVID-19 pandemic has changed how we live in many ways. For example, since many schools and offices were forced to work remotely, we have grown accustomed to using video conferencing tools to get the job done.
And even with many countries finally opening up, video conferencing and learning have remained a staple in everyday life. So it is no wonder that automated on-demand webinars have increased by 1,104% in the previous years.
However, being in a position where you are the one who needs to pick the webinar platform for teaching or communicating can be very intimidating. With so many webinar tools floating around the internet, making the right choice is imperative.
Fortunately, we have gone through the best webinar software in the game for you. Keep reading to find out what we have discovered!

What Is Webinar Software?
Webinar software is a tool you can use to host meetings, presentations, seminars, and different one-to-many events, all from the comfort of your home.
You can use it to teach your students, hold training sessions for your team members or employees, or test and market products.
Furthermore, a good webinar tool will also come equipped with the capabilities to hold smaller meetings and conferences. This way, you can host business meetings and planning sessions or work remotely with your team.
All you need to do is pick the best webinar software and then either download it to your computer or stream directly from the browser source (depending on the webinar tool of your choice).
The best webinar software will come equipped with tools to manage your conferences. Things like registration pages and automated emails are a staple of the business. You should also be able to track attendees and crunch different data about your webinar.
With all of this, you will be able to cover all your basis. You will find preparing your webinar or conference easy, everything will go without a hitch in the live event, and you can learn and grow from what you've done before when preparing your next steps.
Benefits Of Webinar Software Platforms
The benefits of using webinar platforms are many. We have only scratched the surface with what they can offer in the previous paragraph. There are many other webinar features that you will get from your web conferencing software.
Boost Your Audience Engagement
Audience engagement is one of the biggest concerns of every live webinar. Are you keeping your audience satisfied and interested in the topic? You cannot know when there is a screen between you and the people you are talking to.
However, with webinar tools, you can easily keep people engaged and even increase the number of attendees.
In the age of offline seminars, the space for everyone was one of the top problems. However, when it comes to online meetings, there is space for everyone to join. A good webinar platform will let you invite any number of people by sharing one link.
You can also host webinars more frequently and keep your audience engaged with fun content you wouldn't have offline. You can switch from video conferencing to training videos to a YouTube video with a push of a button.
The Audience Can Teach You
Another benefit of holding online events is getting the numbers live and working with them afterward. There is a lot of data you can get from your audience.
For starters, you can track the number of attendees and see how well your live webinars are doing. Then, you can use this when creating webinars to change things and see how they will affect the number of attendees.
Secondly, you can record webinars and learn from them too. For example, you can see how the audience reacted to certain things and decide whether to reuse them or scrap them.
Finally, you can ask your audience questions and get an immediate response. This will boost your audience engagement and allow you to gain essential data from a group of people.
This way, you can gain different statistics that you can use to further develop your webinars.
Save Resources, Time And Money With Webinar Platforms
Another huge benefit of virtual conferences is that it saves everyone a lot of time and money. During offline seminars, there are many things that you need to consider.
For example, you will have to worry about where the event will occur. You will need to find suitable catering for your guests, too.
Then there are travel costs to worry about for each participant and even accommodations if your seminar takes place over a few days.
Online events come with no venue and travel costs, and everyone gets their catering too! (They just need to prepare it alone, in their home.)
This way, you save a lot of resources and money. You can use these to focus on getting the right tools for the job or to prepare the materials you can use during your presentations.
Furthermore, since you do not have to worry about all these problems, you will also save time. You can use this time to plan for your live webinars, work on your marketing strategy, or just relax and prepare for the event to start.
Creating Webinars Gets Easier Online
Webinar software also offers a lot of shortcuts when creating a webinar.
As you are about to see, some of the tools on the list will let you set up your presentation in five easy steps.
Many tools will come with pre-packaged items or useful templates that you just shape around your brand and topic.
Moreover, many tools will let you record your webinars so that your audience can keep watching them even when you are not online anymore.
But recorded webinars aren't only helpful in engaging with your audience better next time around. Instead, there is a lot that you can repurpose when making a new live webinar.
For example, you can create automated on-demand webinars using your previous work. These automated webinars are simple to use. You just go through the earlier stuff and create interactive pop-ups (like polls, links, questions, etc.) for the viewers to engage.
Use Your Webinar Platform To Generate Leads
Finally, you can turn to host webinars into a great lead generator if you are smart about it. When running a business, you will want it to grow. So using your webinar platforms to talk about things you know will draw in people interested in learning.
By having this hook, you can then let them email your webinar registration page. They can leave their email address and name to get this information there. And the data they leave you is a lead you can use with your email marketing platform.
What Are The Best Webinar Software?
In this article, we look at some of the best webinar software you can use for your live webinars. We'll examine each webinar tool's key features, pros, and cons.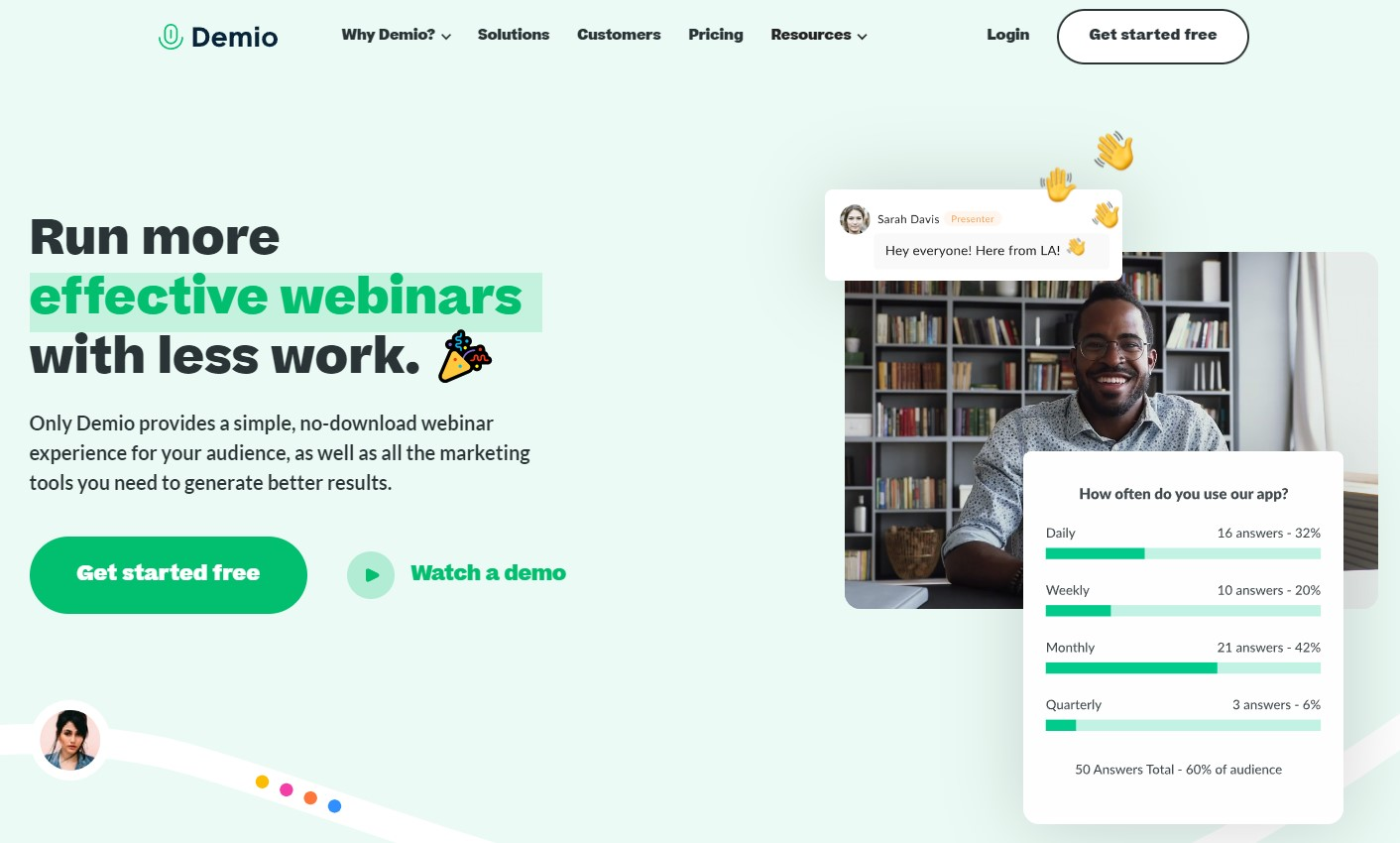 If you are just starting in the webinar world and looking for an easy-to-use webinar tool, then Demio is for you. With the simple and intuitive design, you will have the tools you need to host successful online events.
🔑 Features
An event type for every campaign: Demio offers a host of different online events, from live webinars to multiple webinars in a series or automated webinars.
No downloads: This webinar software offers support across a variety of browsers and devices. Your attendees will not need to download anything, letting you host webinars twenty-five times faster.
Give your audience the experience they want: You will not need other webinar tools with Demio on your side. HD video quality, presentation materials, and an intuitive board await within one webinar software.
Pros
Automated webinars are easy with this tool.
You can even make the waiting room fun with added materials.
Marketing features are easy to add as well.
Event reminders over email are automated.
A lot of insight with the analytics tool.
Cons
You need to pay extra if you want more than fifty live webinar participants.
The number of attendees is tough to track.
It doesn't integrate well with other webinar software if you need that.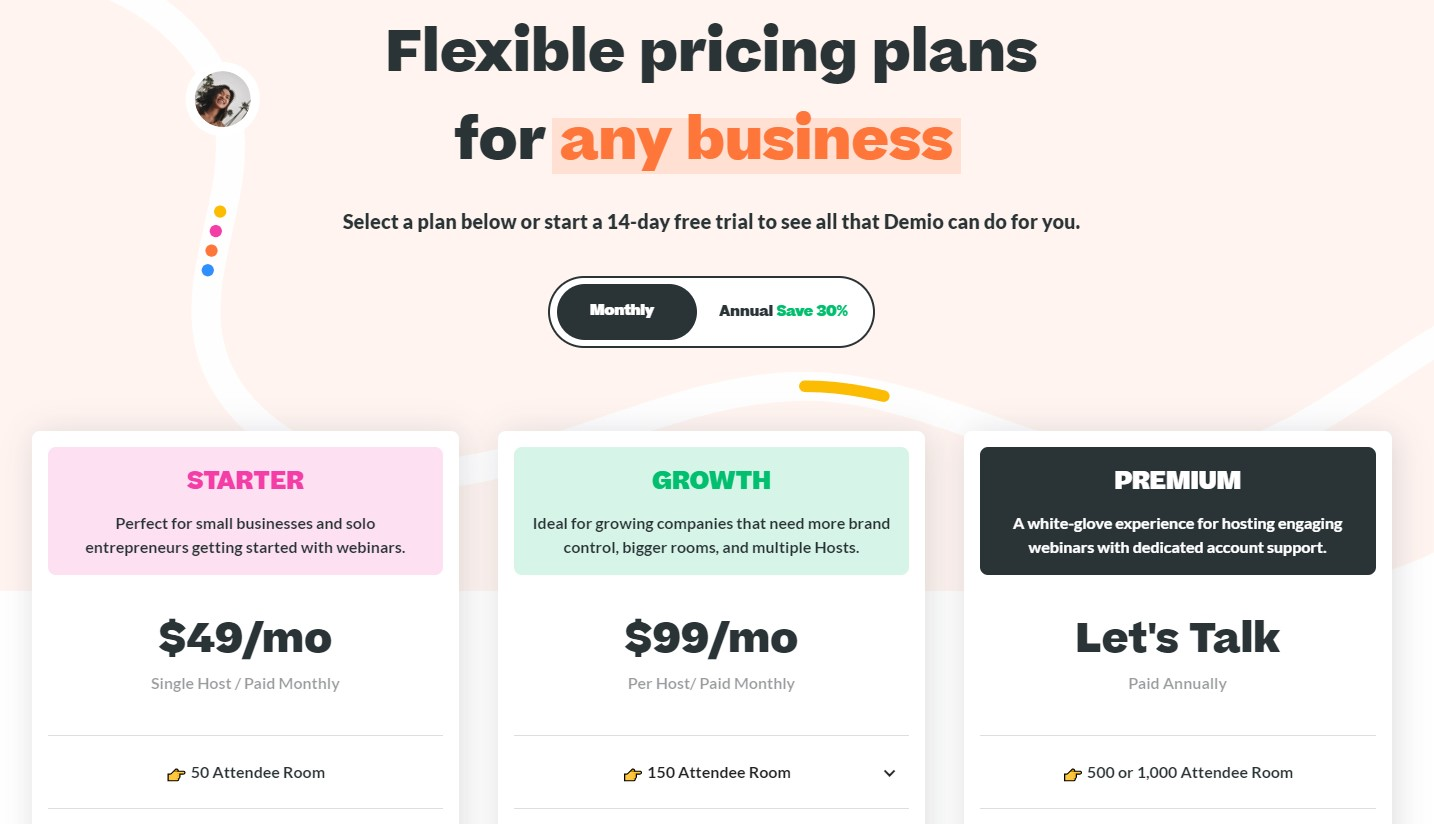 💡 Is Demio Worth It?
Demio is one of the best webinar software if you are looking for no-download live webinars and marketing tools as a bonus.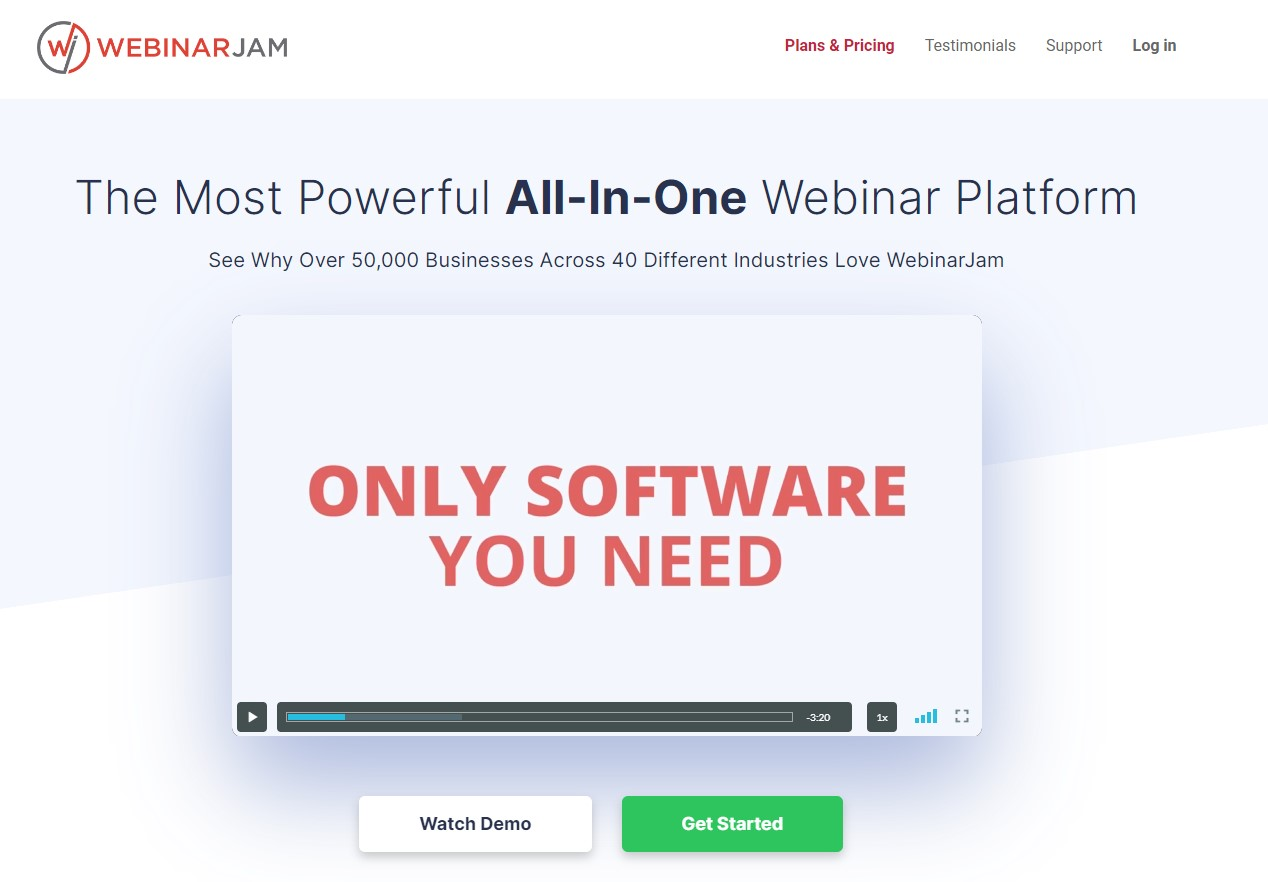 If you are looking for a webinar marketing tool, then WebinarJam is the way to go. With it, you will be able to run call-to-action ads within your live webinar, and this can give a significant boost to your bottom line.
🔑 Features
Talk To Thousands: WebinarJam lets you host up to five thousand webinar participants within one presentation.
Multiple Presenters: You can have up to six presenters in one live webinar.
Chat and run Q&As in real-time: Boost your audience engagement with live interactions through live chat, question and answer sessions, commenting options, and much more.
Join the live room while on the go: You can join your live webinar from anywhere, even on your phone. But, of course, the same applies to the audience too!
Pros
Recorded webinars come automatically.
There is a built-in autoresponder function.
The dashboard and interface are intuitive and easy to use.
The Live Chat feature lets you have accessible one-on-one communication with a participant.
It takes one minute to set everything up and run your live webinar.
Cons
Automated webinars and on-demand webinars require you to get EverWebinar.
Sometimes there is a delay between the video and audio.
Third-party AV tools cannot be integrated with this webinar software.
You cannot divide attendees into smaller groups if you need to.
Customer support is sometimes unresponsive.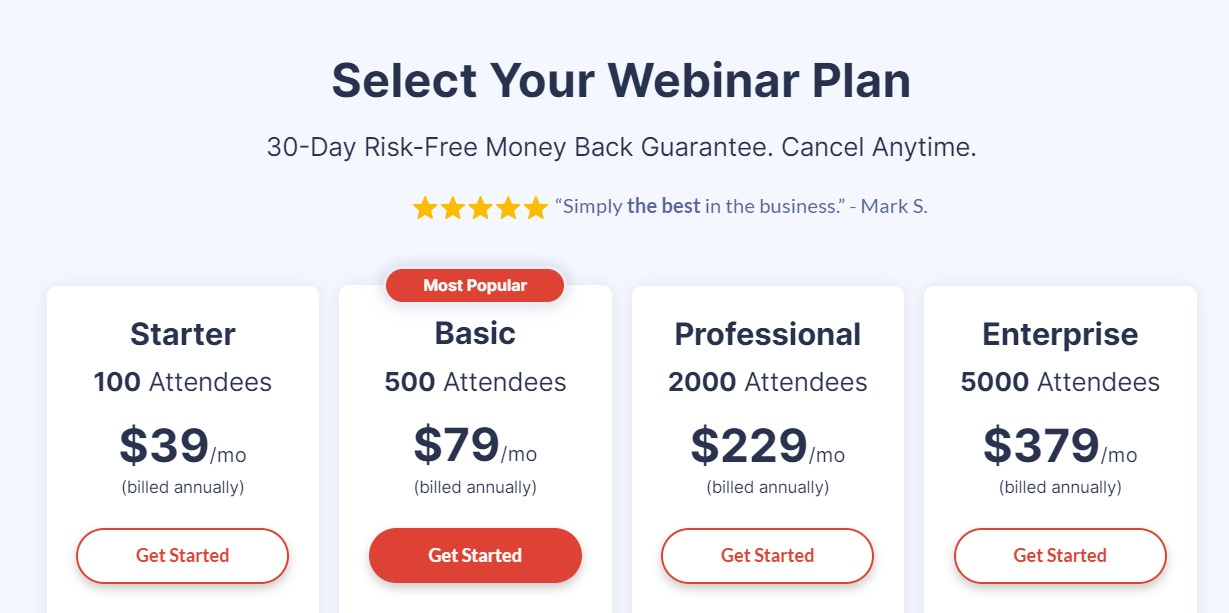 💡 Is WebinarJam Worth It?
WebinarJam is a webinar software designed for people with little to no technical knowledge who still need webinar marketing tools to boost their sales.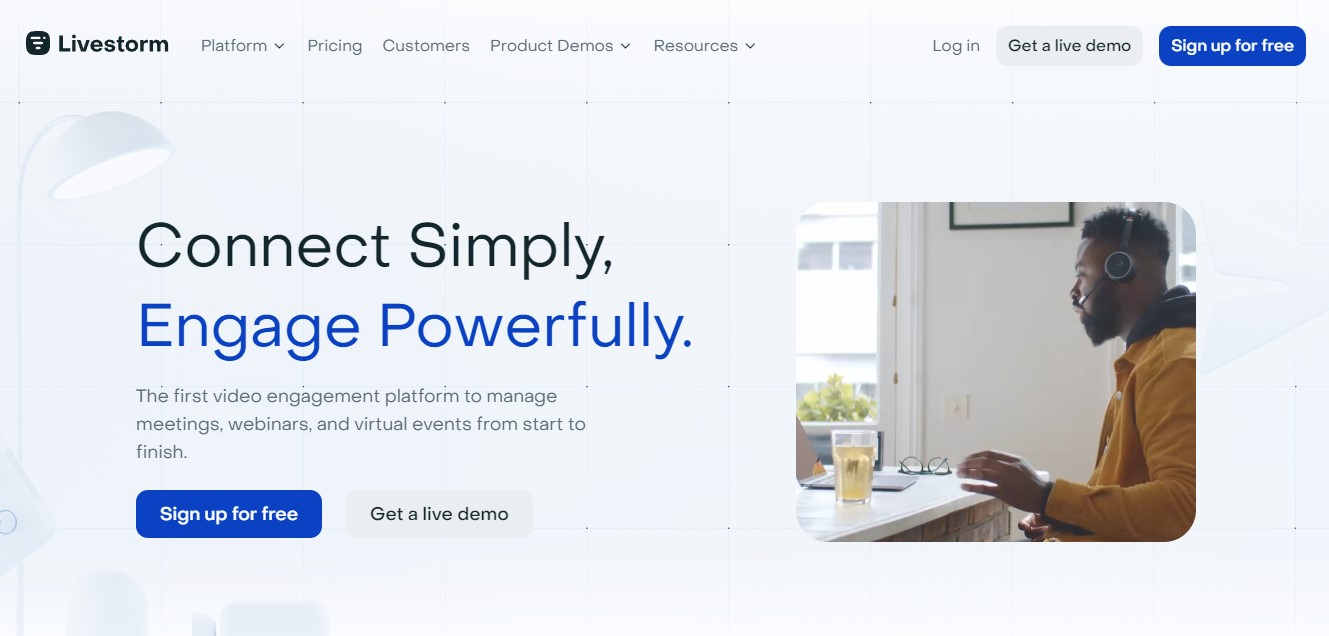 Sometimes, a free trial with your webinar software is just not enough. Instead, you want a small webinar tool with a free plan. This is precisely what you will get with Livestorm.
🔑 Features
On-demand events: Your participants can watch your webinars anytime through the on-demand webinars service.
Recurring events: Using this webinar software, you can create events that span multiple sessions. Meanwhile, your participants can join with one link.
Unlimited replays: The tool has automation features for recorded webinars at no extra cost. You also get unlimited cloud storage to keep these webinars safe.
2 to 3,000 attendees: Even though the free plan supports up to 30 attendees, paid plans are more extensive and can support up to three thousand attendees in the audience.
Pros
Excellent video and audio quality during the live webinars.
Livestorm is very intuitive and has an excellent user interface.
Constantly updated with new webinar tools.
You can boost interaction with the audience through polls and surveys.
Freemium Plan when you just want to play with all the possibilities.
Cons
The virtual background detection tool needs a lot of work.
You will need to add your logo and cover image for each seminar.
Your internet connection will influence the video and audio performance.
Better marketing tools should give the same offers in live events and replays.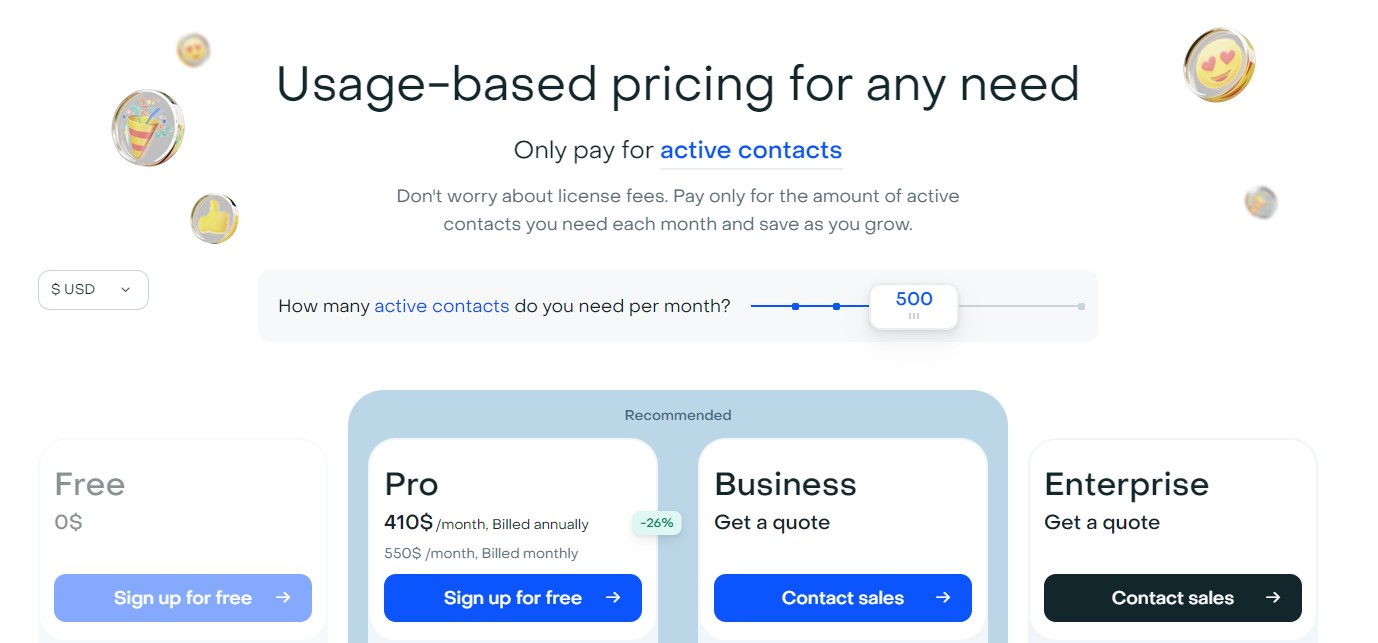 💡 Is Livestorm Worth It?
Livestorm is the perfect tool for those looking into hosting webinars quickly and for free. While the free plan's webinar length and the number of attendees are limited, it is still enough to get your feet wet.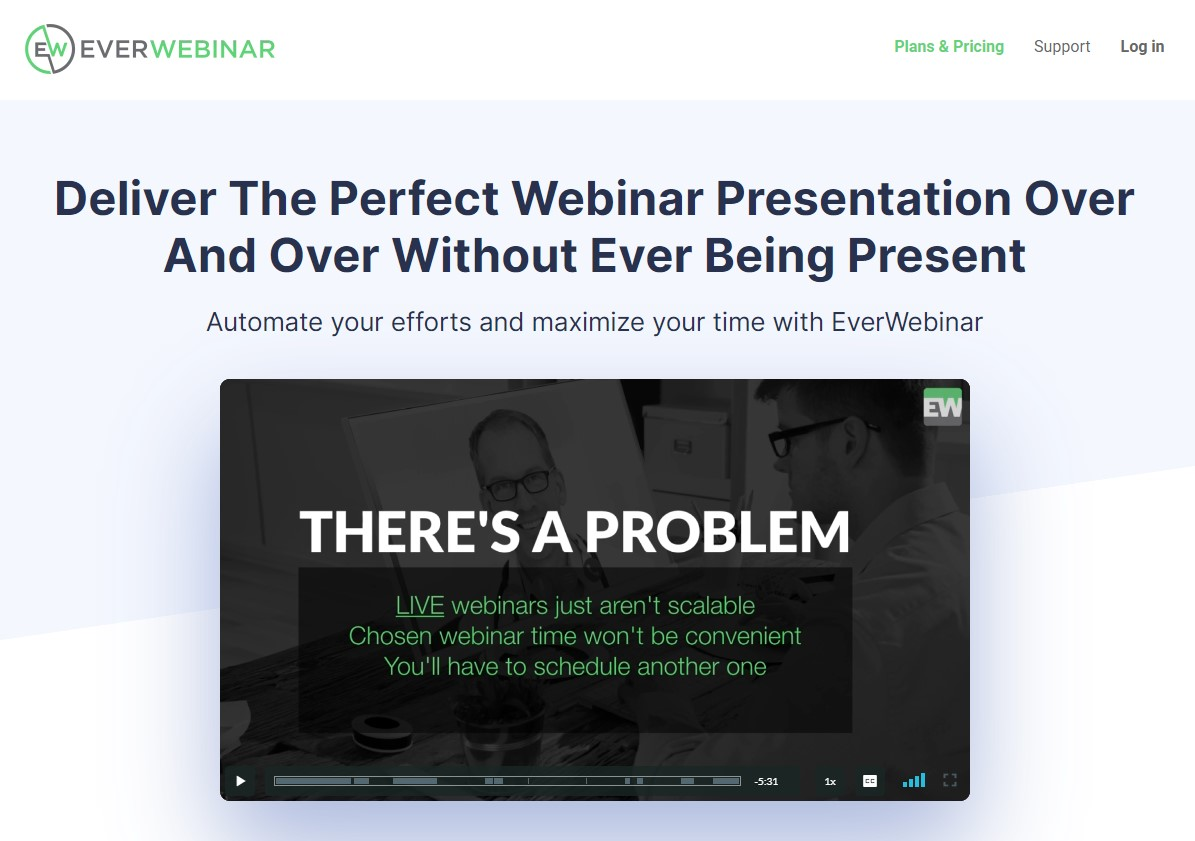 EverWebinar is an interesting addition to this list. Generally, you can find it as a webinar tool integrated into WebinarJam; however, you need to pay extra.
If you are a small or medium business, it's worth investing in it separately from WebinarJam because it can be an essential asset in your marketing strategy.
🔑 Features
Flexible Scheduling: EverWebinar offers a unique scheduling system that will let you select a specific date for your virtual events or schedule repeating days to suit your audience.
On-Demand Webinars: If you do not like scheduling, then the on-demand webinars will allow your audience to find the session they want in just a few minutes. There is no waiting, no scheduling, and no delay!
From Live to Evergreen in One Single Click: WebinarJam users can also import live events they held before. The automation features will convert them into an evergreen event with one button.
Pros
You can seamlessly switch between EverWebinar and WebinarJam.
Have real-time insight into your performance sats.
Participants can join just-in-time events right after registration.
No need to worry about time zones due to the automated services.
Cloud-based servers offer unlimited webinar hosting.
Cons
Mobile streaming is not handled in the best way.
No free plans, though there is a 14-day free trial.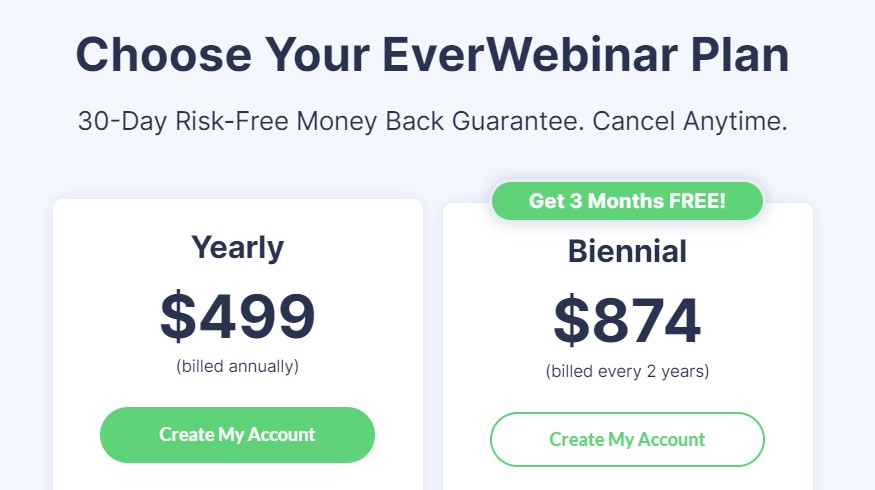 💡 Is EverWebinar Worth It?
If you are a small or medium-sized business looking to generate more leads, then EverWebinar is the tool.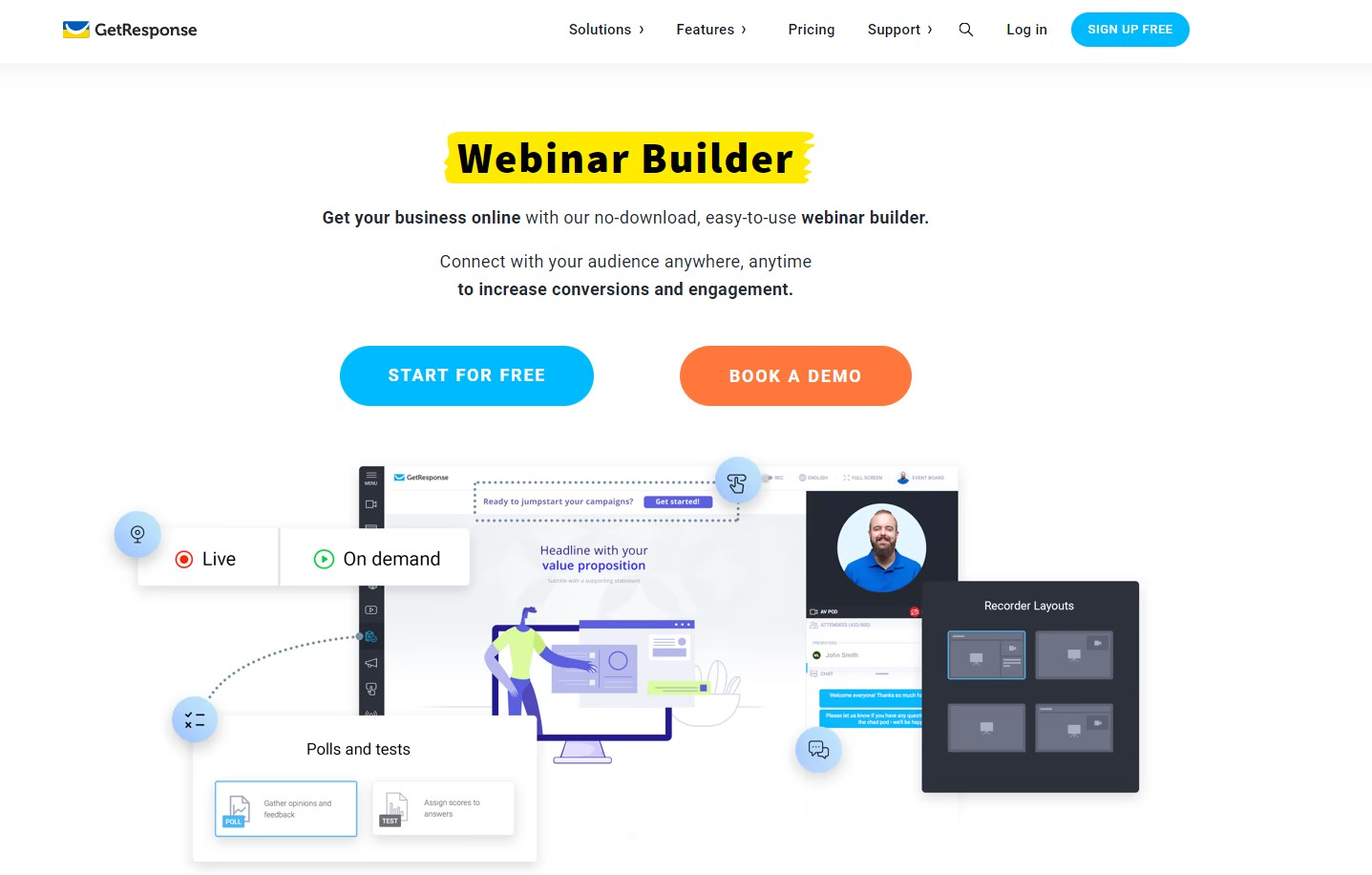 GetResponse differs from other webinar software on this list because it is not a webinar platform in the traditional sense of the word. Instead, it primarily serves as an email marketing platform that offers webinar platform solutions.
🔑 Features
Email marketing tools: You will get professional templates, design tools, and fantastic deliverability that will fit your marketing strategy like a glove.
Website builder: Boost your sales and leads through GetResponse's AI-driven, code-free website builder.
Marketing automation: Automate the marketing tools so that they can grow along with your business.
Webinars: GetResponse's Webinar software will help you easily build the perfect virtual events.
Pros
Customize the URL of your webinar to match your brand.
Record your webinars with only one click.
Boost engagement through text chat features.
Autoresponders can be set up quickly.
Audience statistics help you track conversions.
Cons
Pricing plans are a bit confusing.
There is no phone support to help guide you through solutions.
The free trial version only offers a limited number of attendees you can message.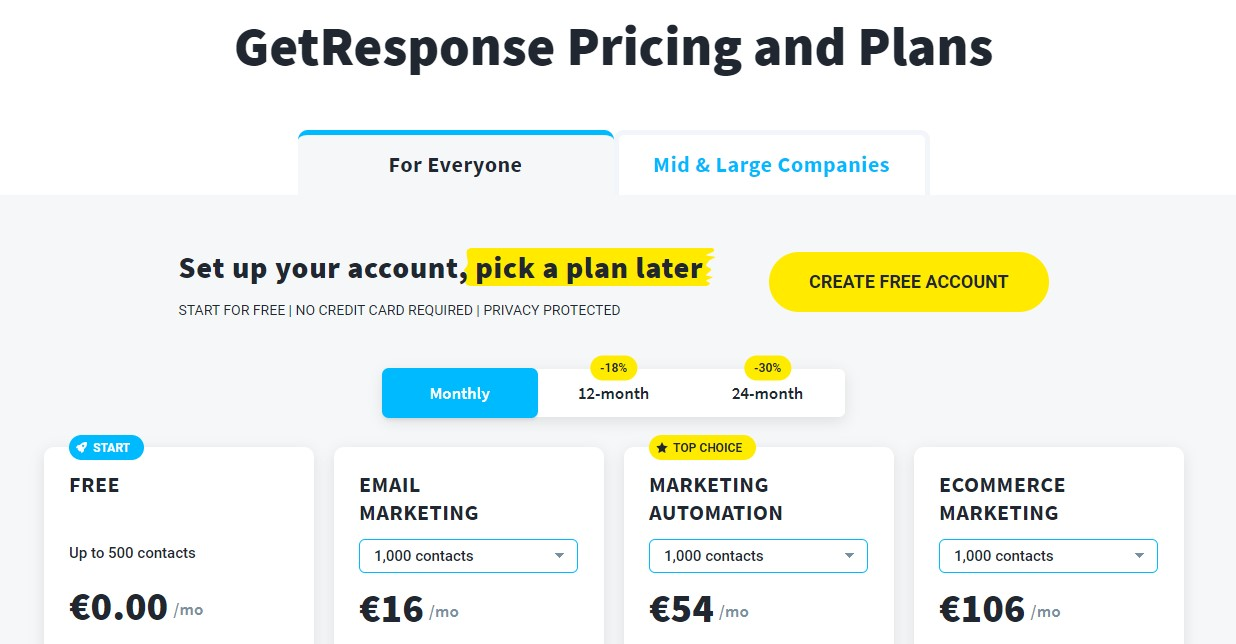 💡 Is GetResponse Worth It?
GetResponse is the best webinar software for those who want to integrate their webinars with their email marketing tools.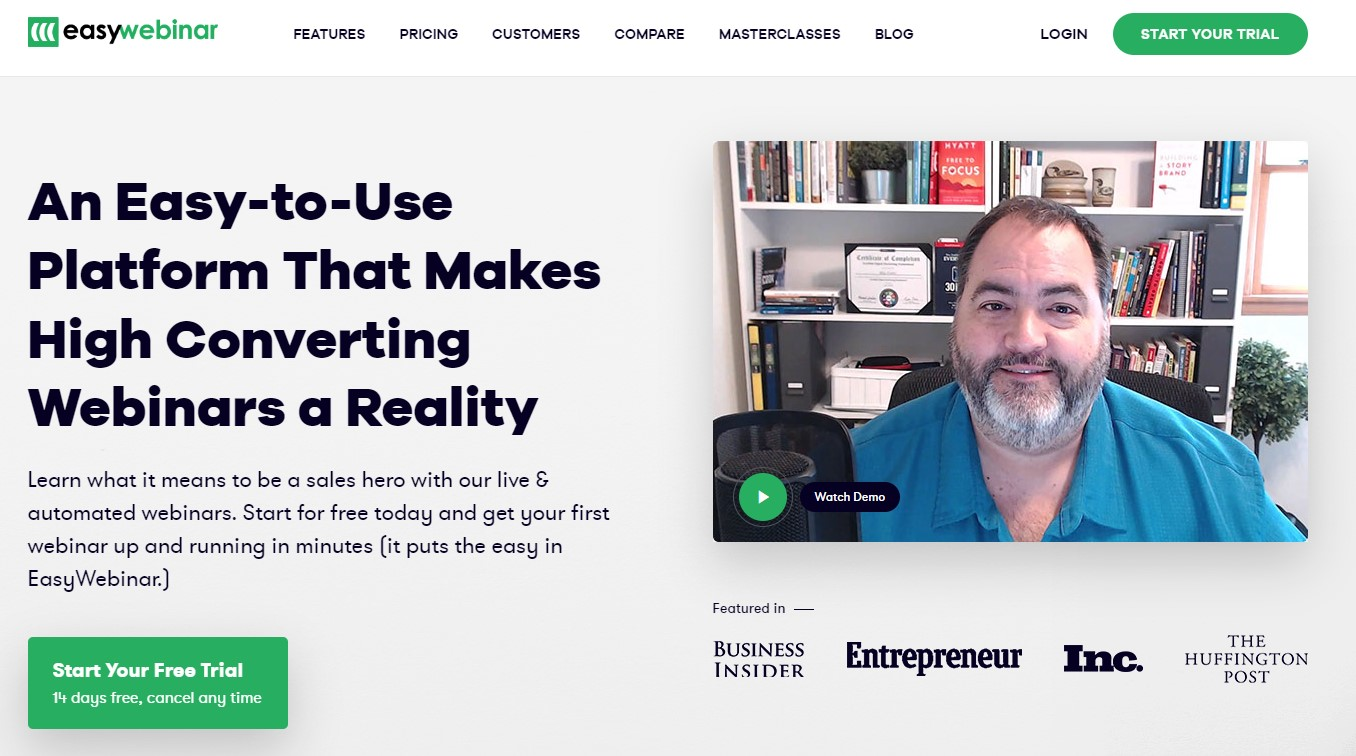 If sifting through numerous tools all the best webinar software seems to offer sounds scary, then you should try EasyWebinar. This webinar software is beginner-friendly and easy to use, making it one of the best webinar platforms for beginners.
🔑 Features
Amazing Audio with TrueVoice Technology: The tool uses TrueVoice technology, which gives you noise reduction along with high bandwidth streaming. This means no delay or static, even when you have two or more simultaneous speakers.
Repurpose Your Live Webinars: You can turn your live events into automated webinars, serving as a great funnel. This way, EasyWebinar helps you generate more leads and start making a profit through simple webinar software.
Make Any Event Attendee A Presenter: With a simple click, you can let attendees share their video and audio. Conversely, you can also boot people if there is a need for that.
Pros
HD screen sharing capabilities for a pleasant viewing experience.
You can have up to one hundred attendees with the basic plan.
EasyWebinar integrates well with WordPress, MailChimp, GetResponse, and many others.
Chat features make an interactive audience.
There is a mobile app to watch from anywhere.
Analytics are built into the webinar software.
Cons
Mobile users do need to download the app to participate.
It is a bit more expensive than other webinar software platforms on the list.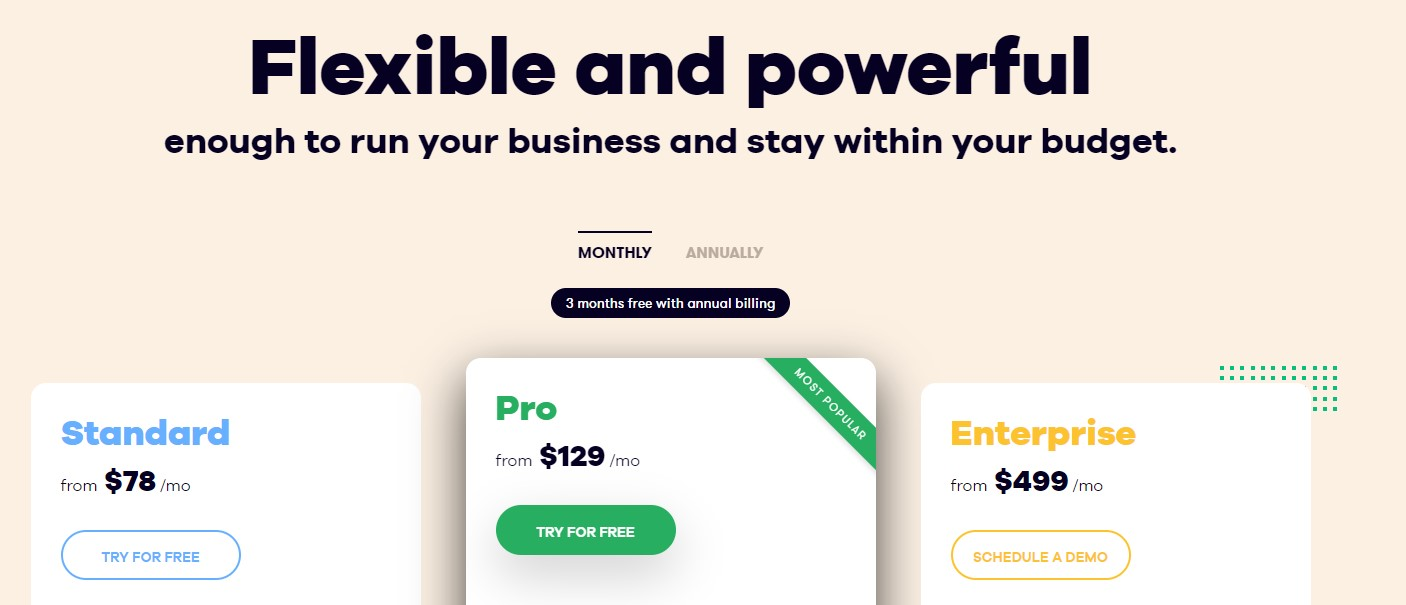 💡 Is EasyWebinar Worth It?
EasyWebinar is the right webinar software for beginners, but it can also let you create fantastic hybrid webinars.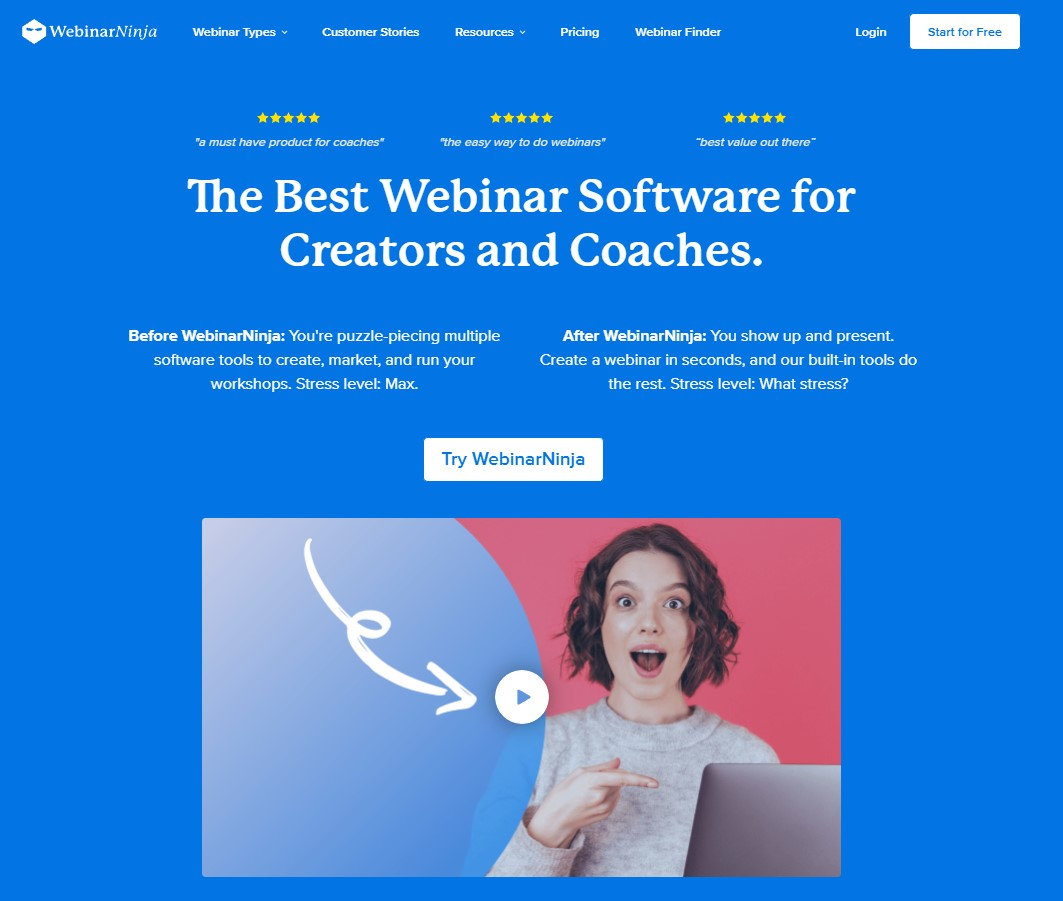 WebinarNinja claims to be one of the best webinar software platforms of 2022 - and not without reason. It is a very powerful webinar tool that lets you create live events in under one minute.
🔑 Features
Unlimited Registrants & Replay Attendees: Whichever plan you pick, you can have unlimited registrants, and everyone can watch the webinar replay when they want.
Registration & Thank You Pages: Upon webinar registration, your registrants will get a custom "Thank You" page that you can quickly design and create.
Facebook Ad Tracking: WebinarNinja also offers a Facebook Pixel feature that will track the efficiency of your Facebook ads and how many leads they generate.
Offers: It is effortless to create attractive sales offers with WebinarNinja. Depending on your needs, you can even set their reveal to be automatic or manual.
Pros
Live chat is very fast.
Screen sharing capabilities are instant.
You can set up polls and surveys to run at any point during, before, and after your live events.
Designing a custom landing page will help you generate leads and boost your conversion rate.
Zapier helps WebinarNinja integrate with over one thousand apps.
Cons
It can be a bit tough to deal with the back-end of the application.
Some people experience audio glitches.
The upload times of bigger files could be better.
The customer support is slow to respond.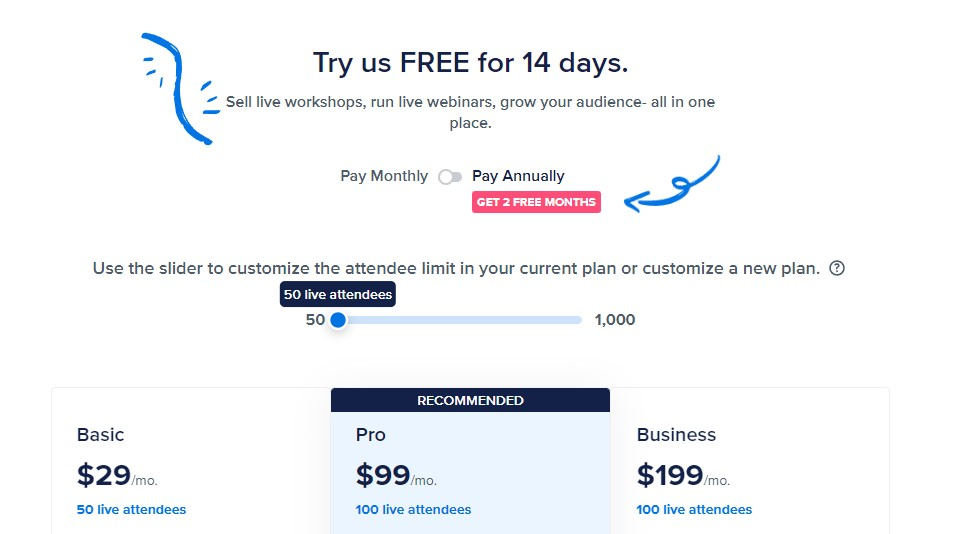 💡 Is WebinarNinja Worth It?
WebinarNinja is the tool for those who want to add a personal touch during webinar registration, with a custom page and intuitive webinar builder tools.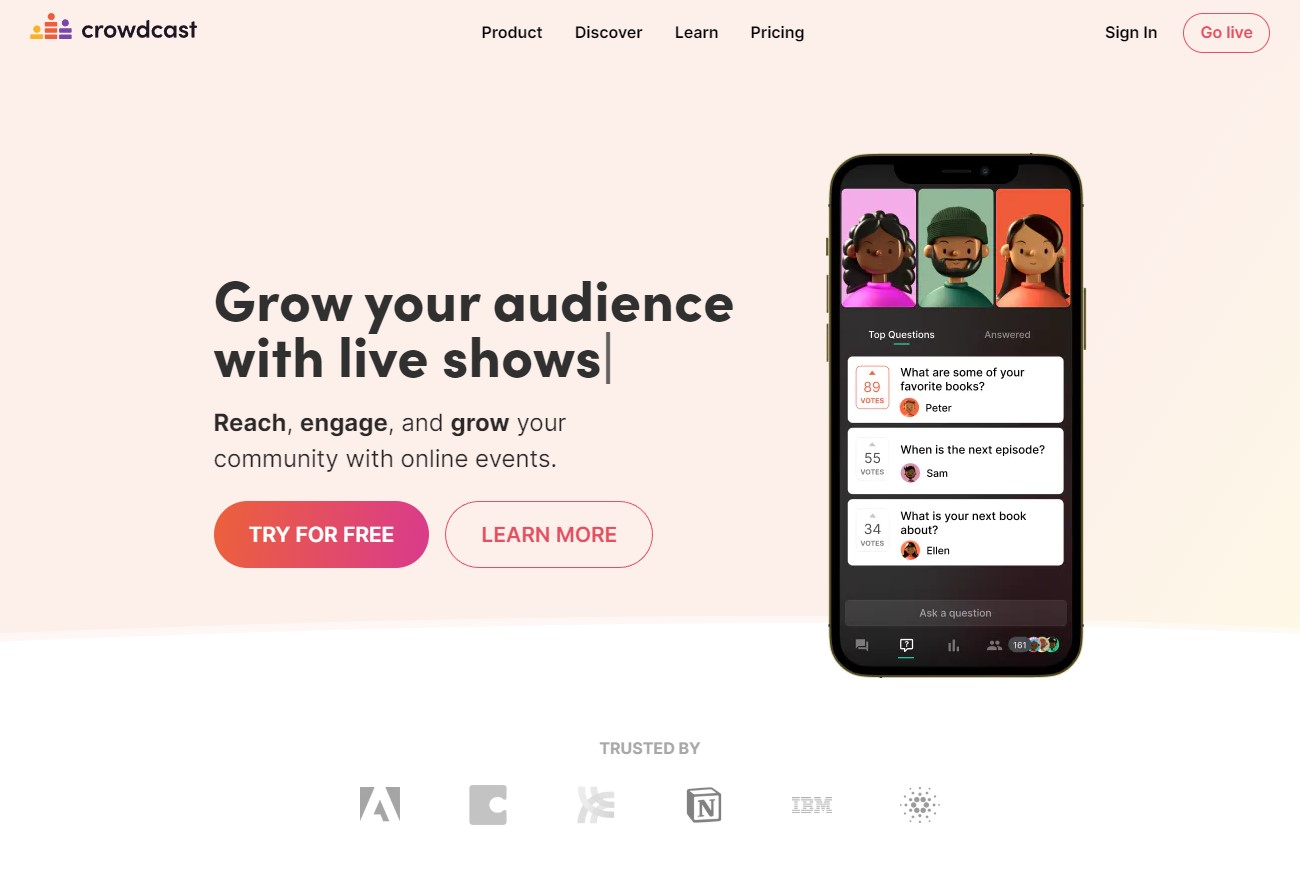 Crowdcast is a webinar platform for those who want to mix their webinar software with social media. You can hold other virtual events besides webinars like Q&As, courses, and concerts.
🔑 Features
Grow Your Live Channel: You can use Crowdcast to grow your audience through a variety of virtual events.
Get Started In Seconds: Making your content is quick and easy. All you need is a single URL, and you are ready to go.
Unparalleled Engagement: Crowdcast lets you add Q&A, chat, polls, and surveys to your webinars for better conversation. You can even broadcast to platforms like Facebook Live, Periscope, or YouTube Live.
The Tools You Need To Grow Your Business: Analytics will let you track your performance, and Zapier integration with over five hundred tools will help you connect to more people.
Pros
Intuitive and easy to get around.
There are separate tabs for the chat and the questions.
You can use it with other streaming software platforms of 2022, like OBS, Wirecast, and others.
The preview page will let you see how everything looks before going live.
There are email and push notifications, so no one misses your live events.
Cons
The audience landing page could use some more customization options.
The starter plans only give you two hour sessions.
Make sure to check what features you will get with which plan cause there are some odd ones locked out even at the higher costs.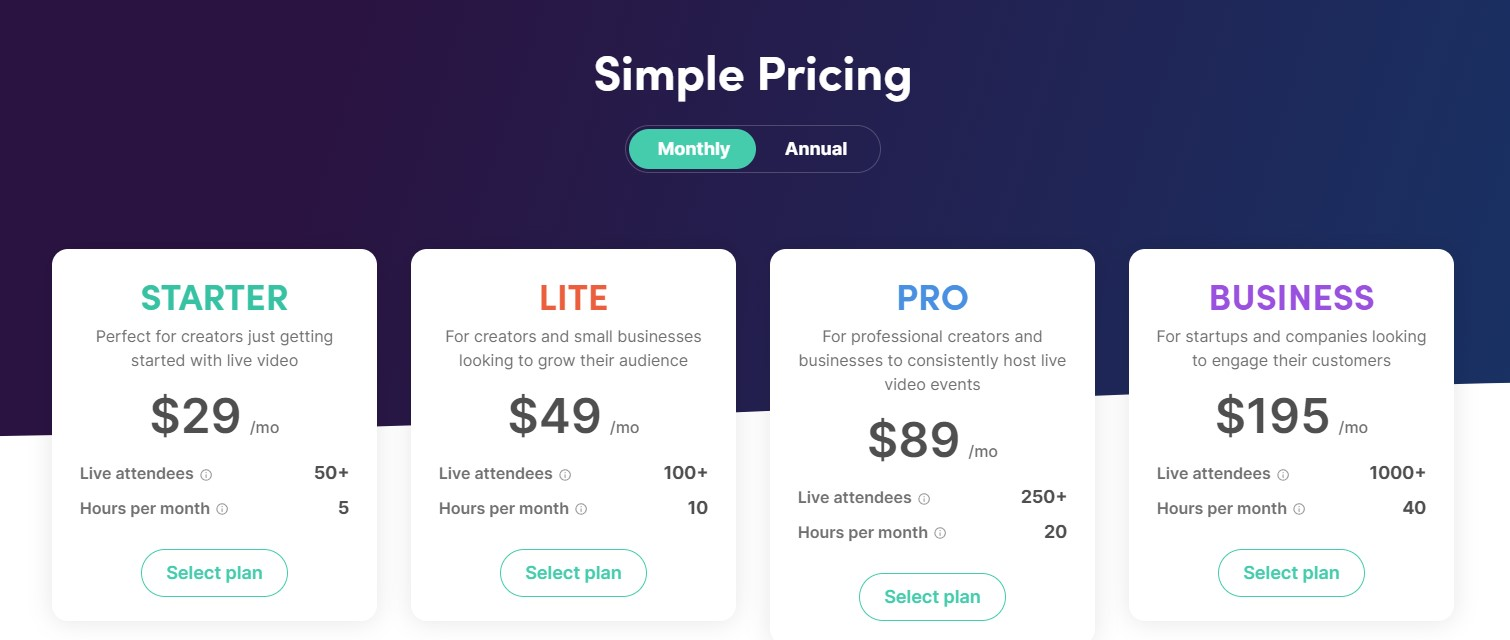 💡 Is Crowdcast Worth It?
Crowdcast is the perfect tool for those who want to join their webinar software, live streaming software, and social media tools into one easy package.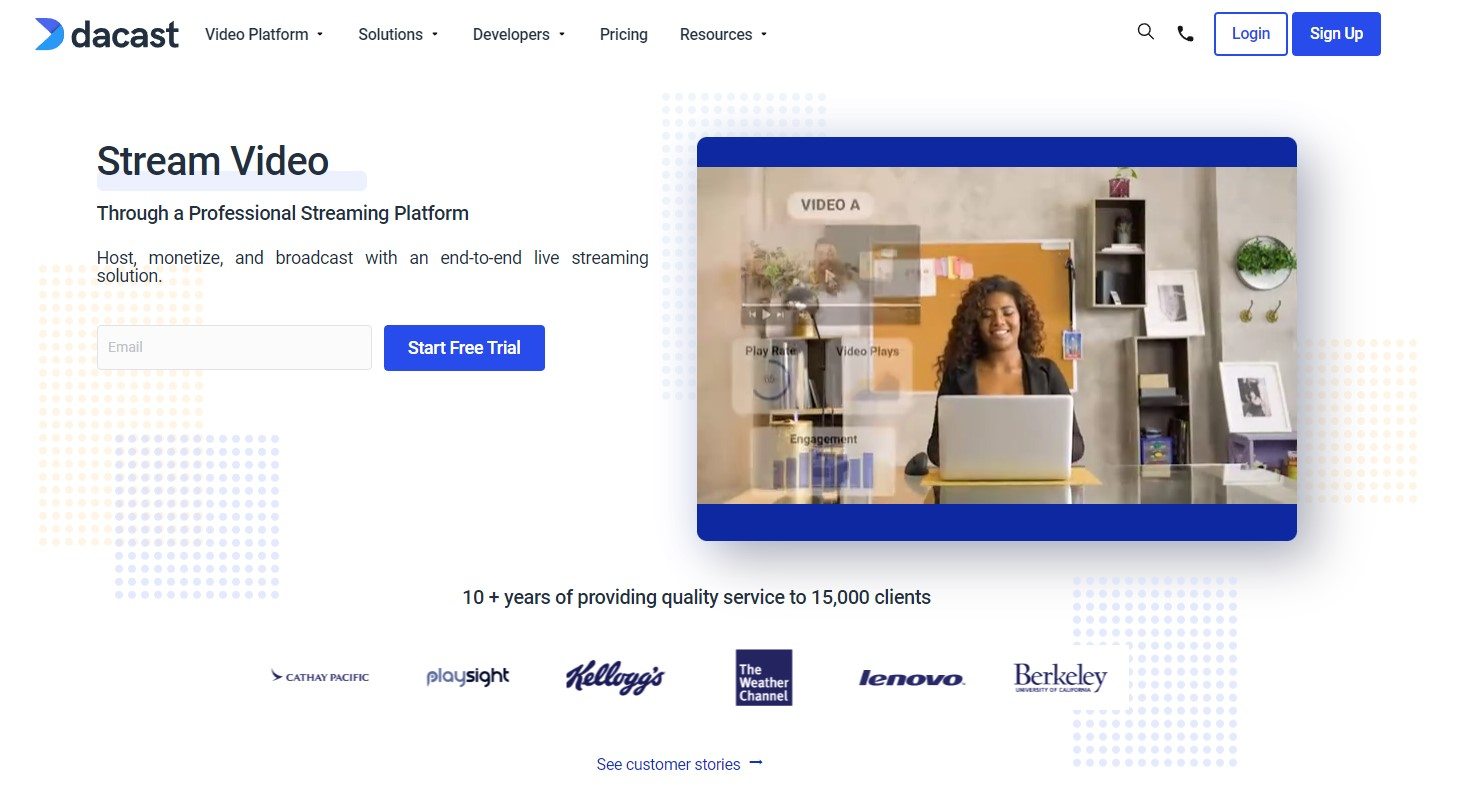 DaCast is a webinar software designed to help you host virtual conferences in no time. Its features also help with webinar marketing, management, and analysis for better efficiency.
🔑 Features
Video Monetization: You can monetize your videos through DaCast to boost your revenue.
VOD | OTT Platform: Their API lets you easily integrate live videos and VODS.
HTML5 Video Player: Thanks to DaCast's HTML5 Player, you can reach audiences watching you on any device.
Pros
There is no limit to the number of attendees you can host.
Analytics are given in real-time and are very robust.
Video conferencing is very easy to set up and use.
Customer support is helpful and fast to respond.
Cons
The charging structure has a significant flaw: it shuts off the stream if you go over the bandwidth.
Alternatively, it can charge you $0.15/GB if you go over the bandwidth, which can be unpleasant.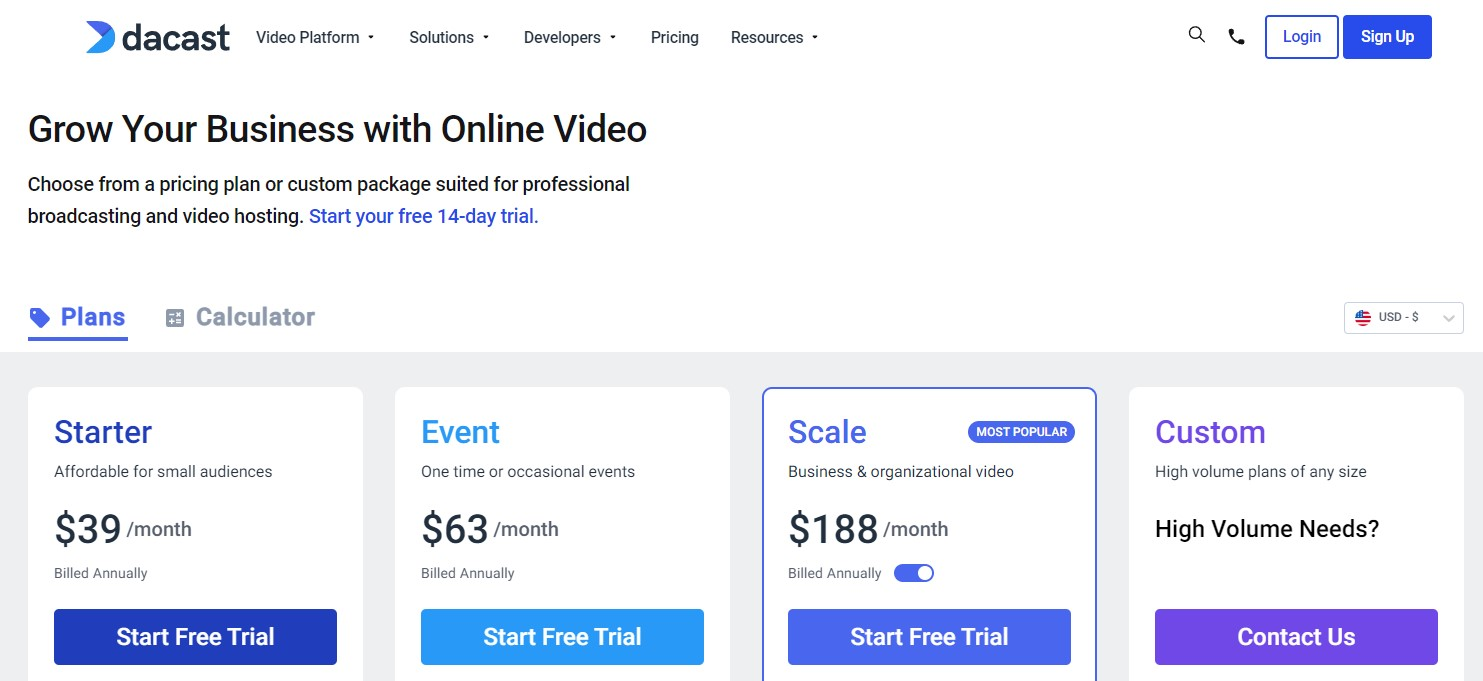 💡 Is DaCast Worth It?
DaCast is the best webinar software for mid-tier seminars. It also gives you a lot more customization for your seminars if you have some development skills and tools.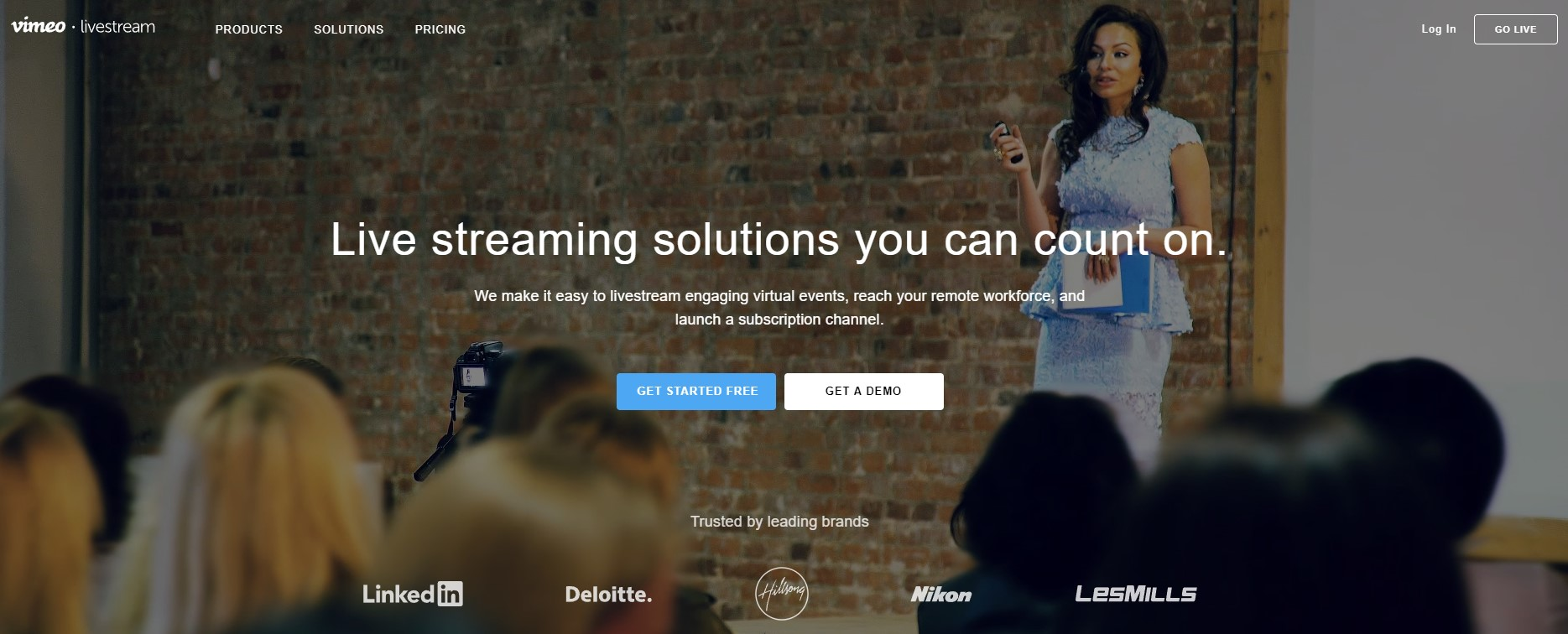 Livestream is a tool whose main focus is big businesses and educational institutions, which already have a bigger audience. Due to this, they allow for no maximum attendees number, unlimited storage, and automatic recording of webinars.
🔑 Features
Reach Millions Live: This webinar software allows you to stream your live conference on your website, on social media like Facebook Live and YouTube Live, and anywhere else your audience hides.
Build the Return-On-Investment of Your Event: You can monetize your webinars or training videos through pay-per-view and subscription services. You can also generate leads for any upcoming webinar through event registration forms.
Engagement Tools For Your Videos: Engagement tools will help boost your webinar performance. You can add chapter markers to make longer videos easier or direct your audiences to more content.
Pros
Livestream offers unlimited storage and attendees.
The customer support is excellent.
You can create private events and share links privately too.
Aemailics is very informative and robust.
Embed your webinar into your website, or share it through Facebook Live and YouTube streaming.
Cons
There are no polls and surveys to engage your audience during the event.
Pricing models could be a bit more transparent. You need to contact them to learn about the price of their services.
No free trial available
Some users reported connectivity lags.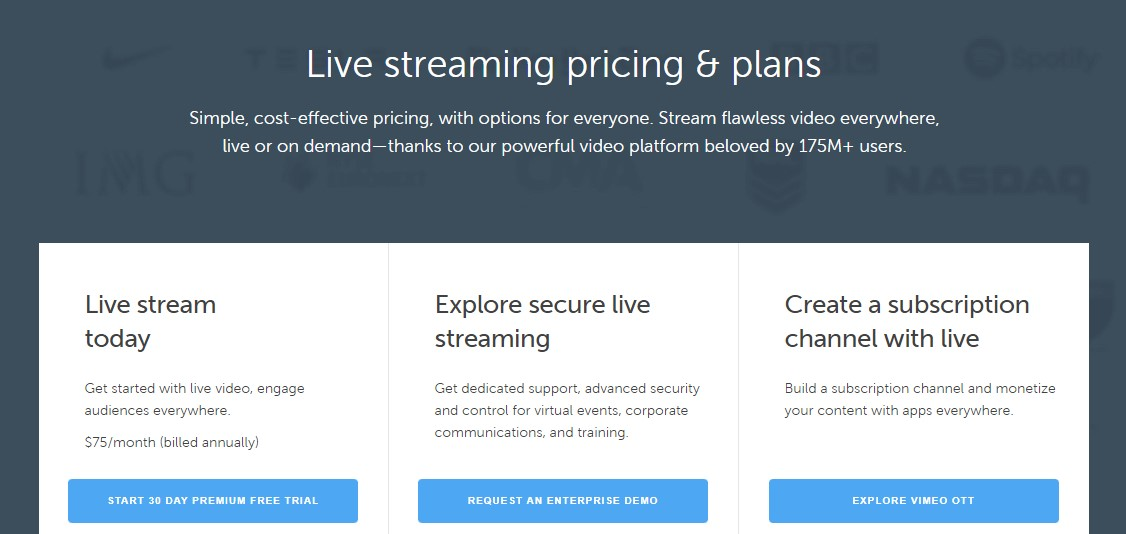 💡 Is Livestream Worth It?
Livestream is a great webinar software if you already have built your audience. Therefore, it is a good webinar solution for more prominent companies and educational institutions that use it regularly.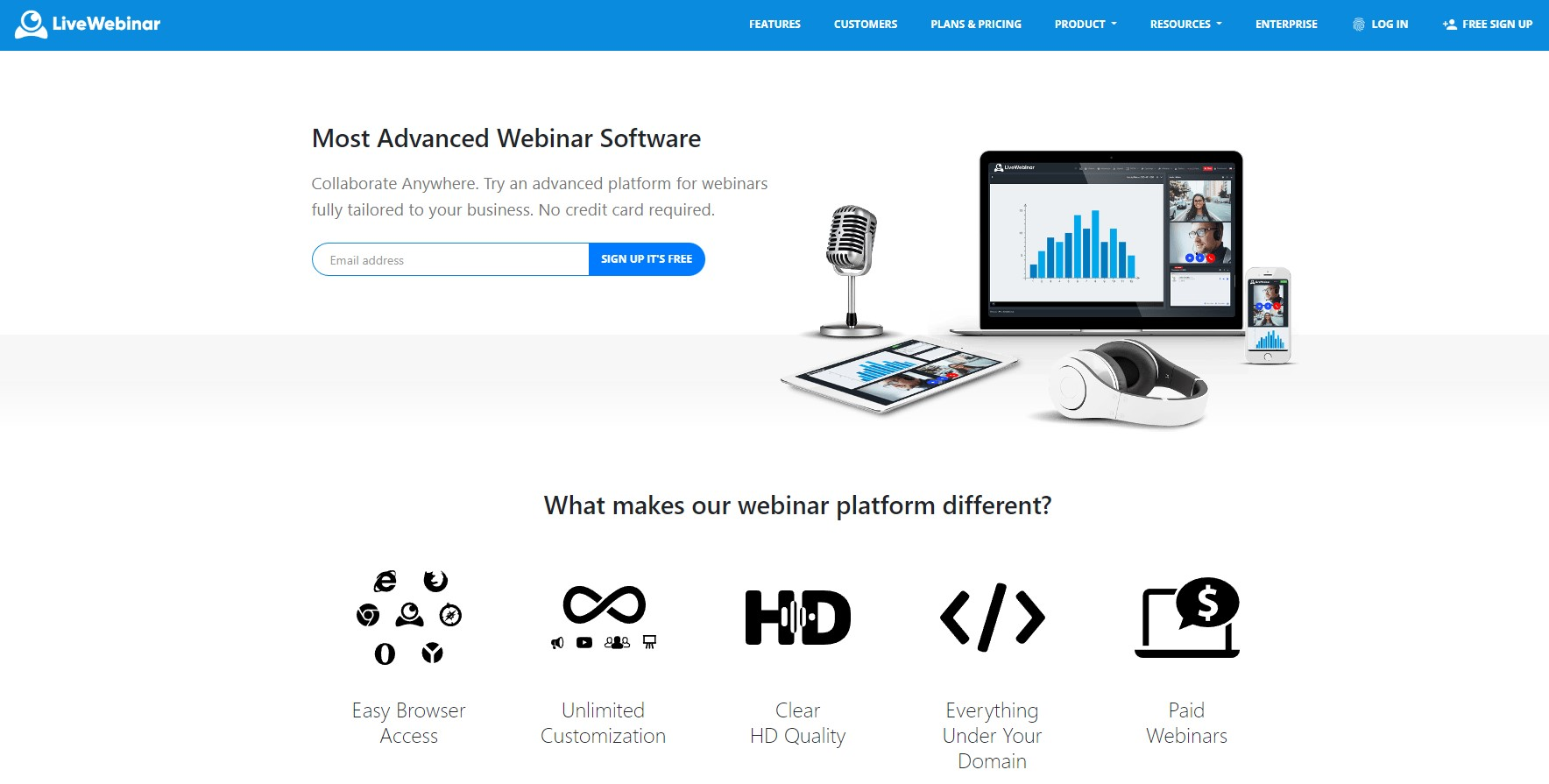 LiveWebinar is a webinar software that will let you stream your webinars online - no downloads required. What's more, you can even embed the webinars into your website to target your audience directly.
🔑 Features
Screen Sharing: LiveWebinar allows you to share your screen with other participants of the conference with ease. You also get your personal cloud to store and share all of your files with them.
Whiteboard: The whiteboard tool will let you engage with your audience by drawing over documents and videos and letting them do the same.
Collaborate Anywhere: You can invite people to your virtual conferences via email, SMS, or phone. Guest speakers are also easy to manage with the role manager.
Pros
The Whiteboard tool is inventive and easy to use.
You can create smaller breakout rooms so participants can join small groups.
Banner ads can be embedded into your online video conference meeting.
Add tests, polls, and surveys during the meetings or webinars.
Real-time chat translation available
Cons
The user interface is not as friendly.
If this is your first time using video conferencing software, there is a steep learning curve to tackle.
Upgrading services sometimes can cause difficulties.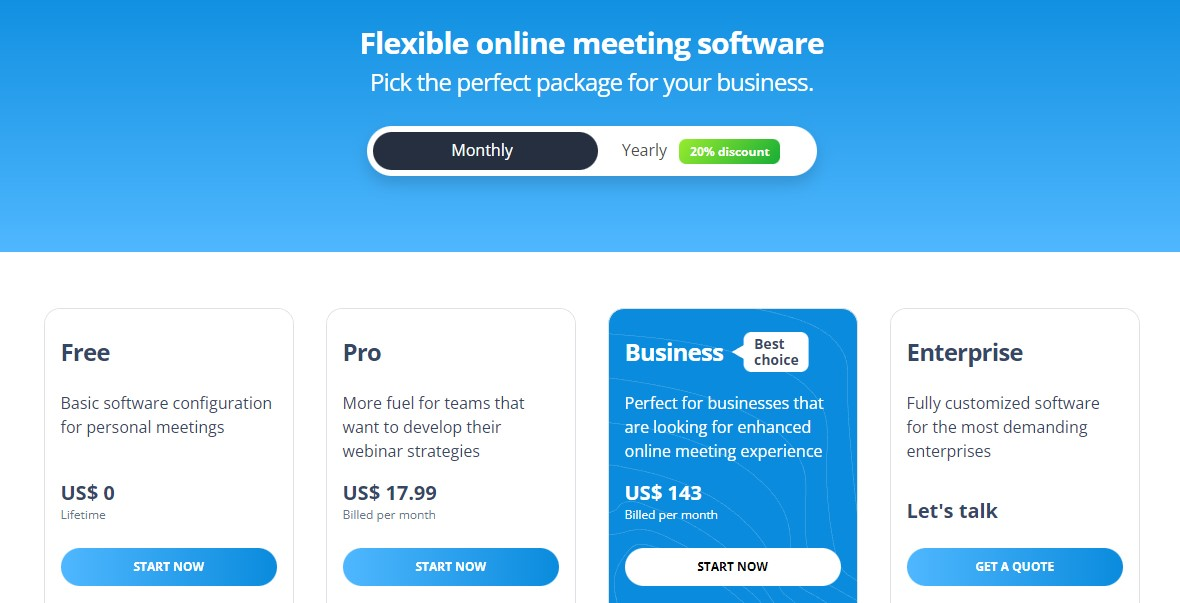 💡 Is LiveWebinar Worth It?
When it comes to live streaming, LiveWebinar is one of the best webinar software tools in the game. A good attendees number and cloud-based services should satiate any need.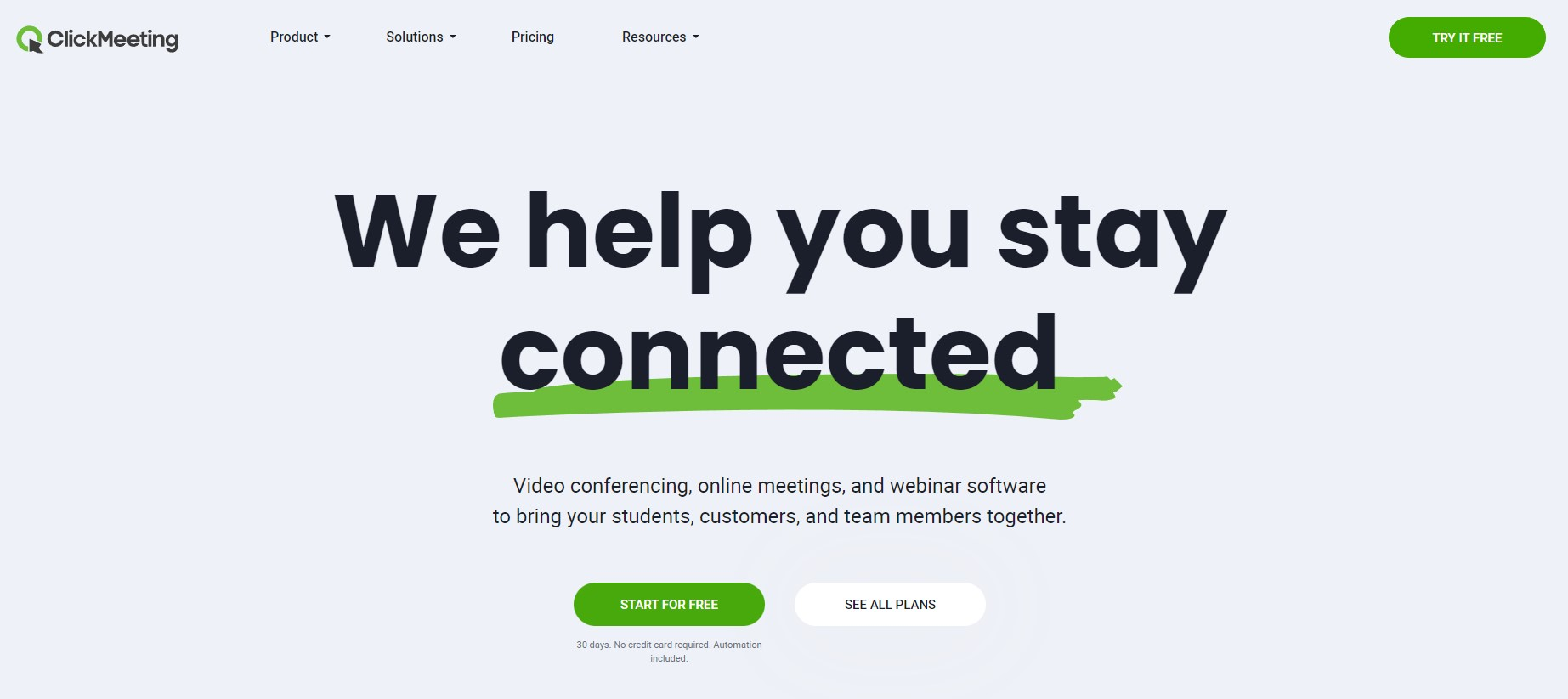 If you are looking for a fantastic educational tool, then ClickMeeting is the webinar software for you. You can easily reach your students (or business clients) with an excellent user-friendly interface and automatization features.
🔑 Features
Whiteboard Presentations: With the whiteboard, you can engage your audience and interact with your material.
Simultaneous Chat Translation: This feature will allow you to translate chat conversations as they are happening and help you reach bigger audiences.
Monetize Your Webinars: You can integrate this webinar software with PayPal to sell access to your content and start earning profit from sharing your expertise.
Screen Sharing: Share a part of your screen (or the entire thing) to let the audience view or access it. This way, you can present new products, tools, etc.
Pros
Surveys and polls will help you gain feedback and keep the audience engaged.
Social media integration will boost your audience numbers.
You can record your video and audio to make it available later or for download.
This webinar software allows multiple presenters to present an HD video.
Cons
A large number of guests can slow down the system.
There are no breakout sessions or smaller groups.
You cannot schedule recurring or repeating meetings.

💡 Is ClickMeeting Worth It?
ClickMeeting is the perfect webinar software for training, product sales, and marketing. This is an excellent choice if you are working in education or business.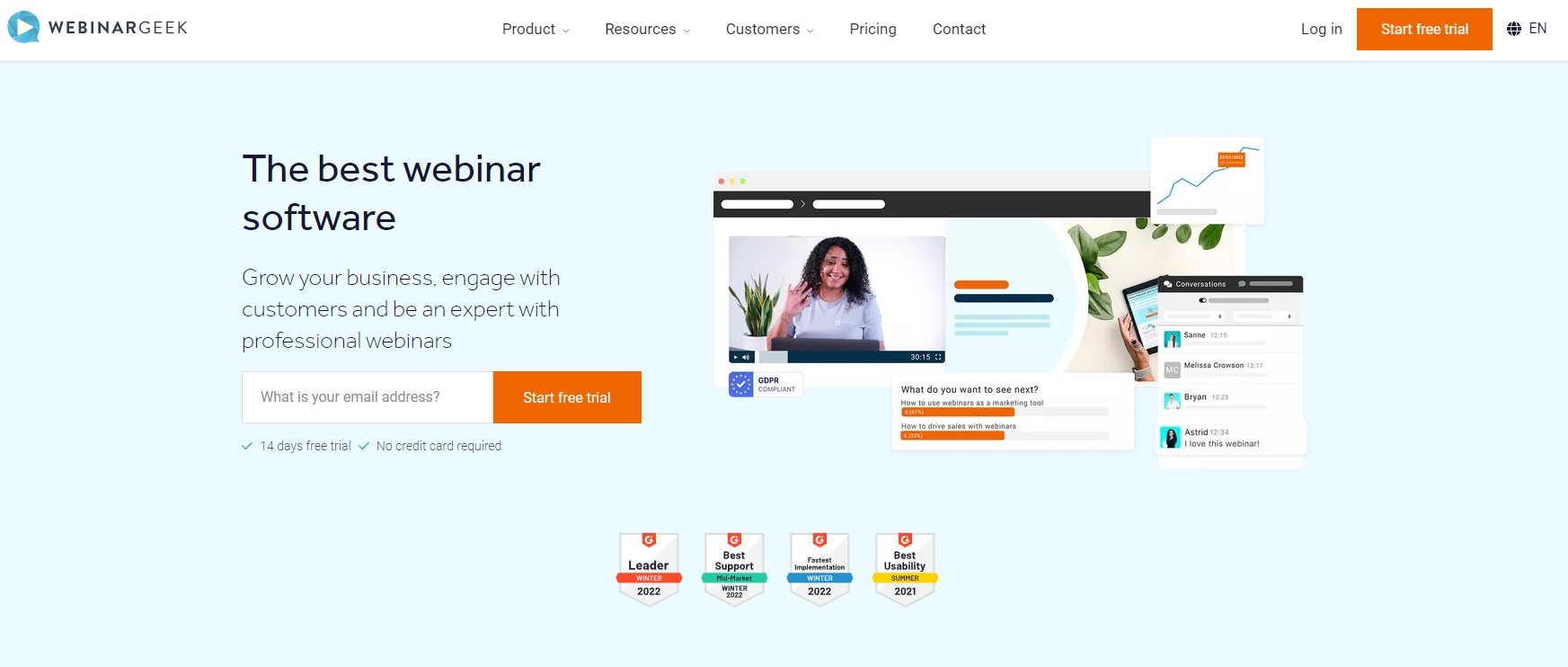 WebinarGeek is one of the game's best and most reliable marketing tools. Very user-friendly and straightforward, it boasts the claim of being the simplest webinar software.
🔑 Features
Integrate Instantly With Your Marketing Tools: You can connect WebinarGeek with over three thousand other tools to boost your webinar features even further.
Interactive Experience: To boost the audience experience, you can use polls, quizzes, calls to action, and information boxes.
Registration Process: Create a landing page with a countdown, registration, and confirmation page to excite people for the upcoming webinar.
Know Your Audience: Receive data in a clear overview, displayed in a way that will help you gain significant insight and improve your webinars.
Pros
One of the best webinar tools when it comes to marketing help.
Easy to set up and get the ball rolling.
Speaker notes can help your guest speakers (and you).
The premium plan gives additional marketing perks, like a branding feature for the perfect landing page.
CTAs and a sales page will help you push your sales even further.
Cons
There is an attentiveness tracking or metric missing in the integration.
You cannot customize the emails you will send, which should be one of the key features of a marketing tool.
Setting up is easy, but it takes some time.
Support doesn't chat on weekends.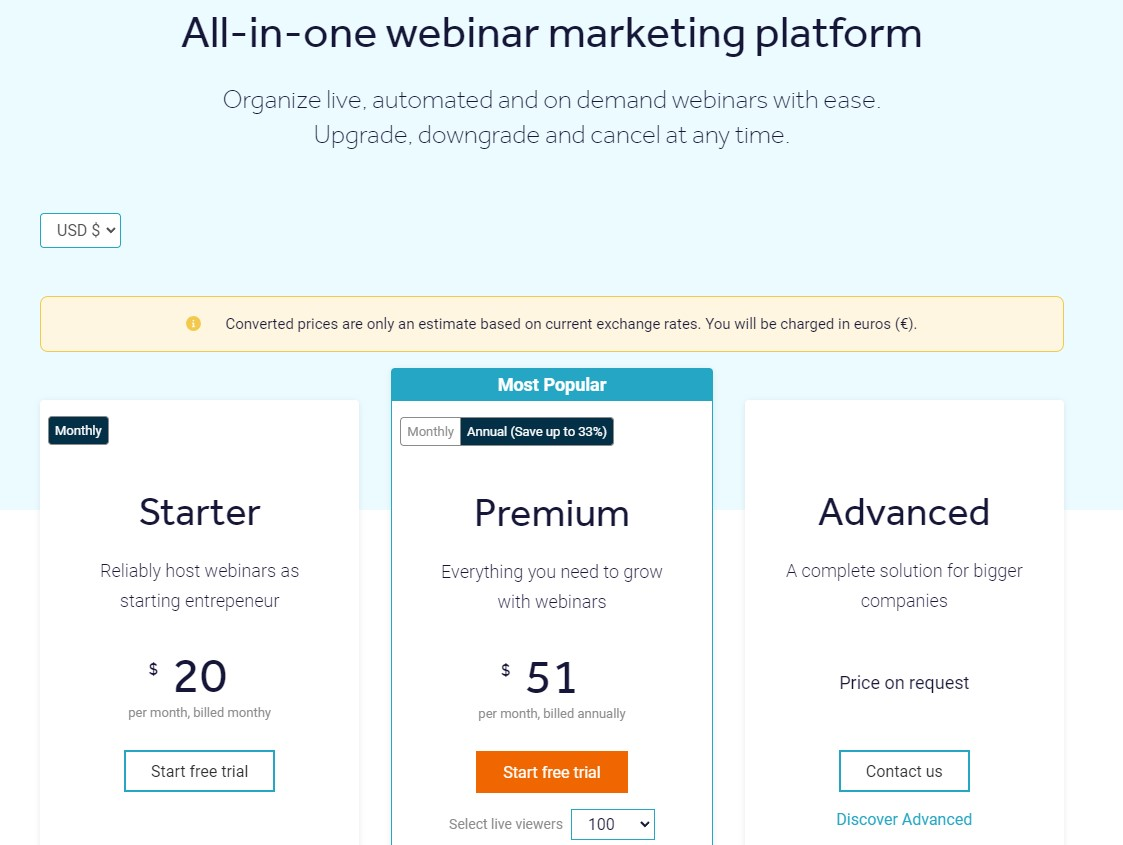 💡 Is WebinarGeek Worth It?
Not all webinar software is fully GDPR compliant - WebinarGeek might be the only one! This makes it perfect for European companies or people working with EU customers.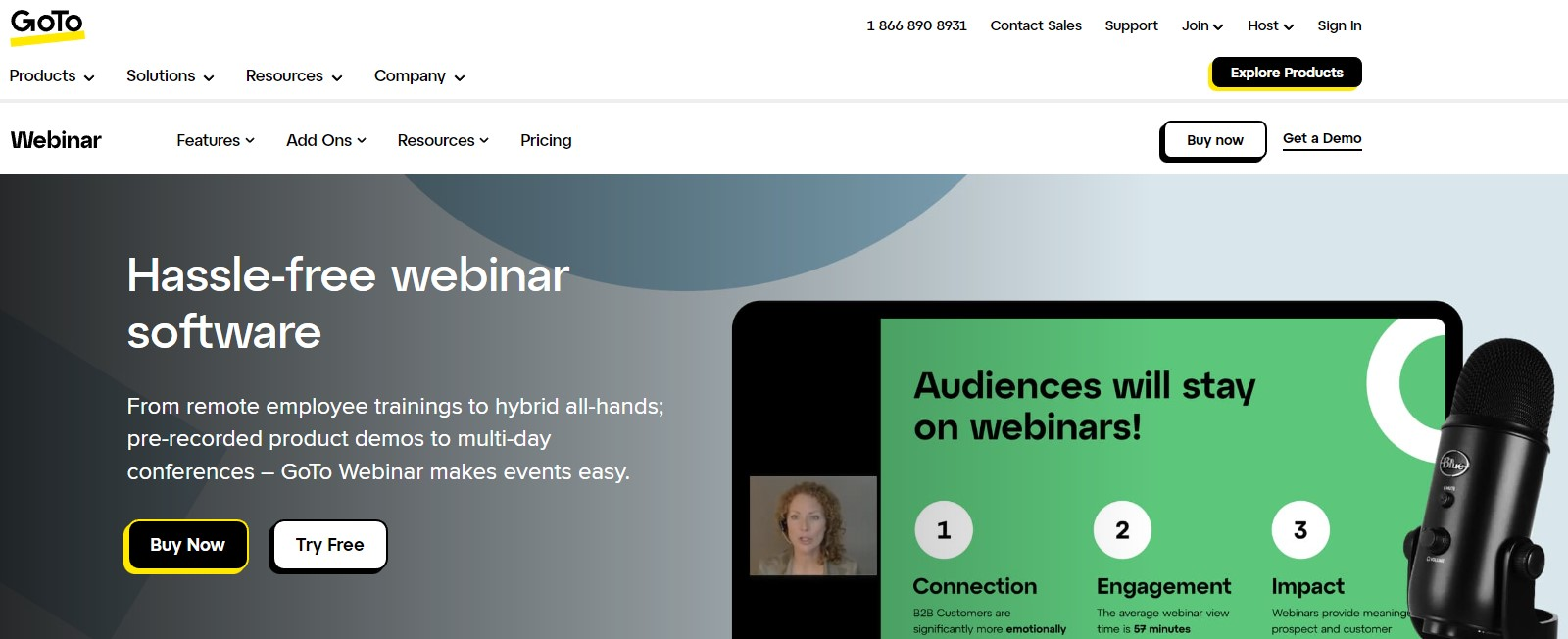 GoToWebinar is the perfect webinar software for those who need a set of robust features. It offers the same things your average webinar software provider will, but along with those, you can increase your visibility through their hosting services.
🔑 Features
Webcast Mode: With this feature, you can have up to three thousand attendees in your webinar without anyone needing to download a thing.
Flexible Scheduling: You can schedule any type of event, whether a one-time webinar room or a series of online meetings.
Multi-presenter Webinars: This feature lets you host multiple presenters in one webinar room. Up to six people can share their webcam during your events.
Attendee Reports: After your webinar, go through extensive reports to learn how to engage your audience further.
Pros
Automated on-demand webinars are easy with GoToWebinar.
The webinar hosting platform also allows for hosting webcasts.
You can integrate GoToWebinar with GoToMeeting.
Analytics and exports are exhaustive and informative.
The app integrated well with Zapier, Salesforce, Unbounce, and many others.
Cons
GoToWebinar costs more than other webinar software providers.
The basic plan is limited to one hundred participants.
Requires specific software downloads to use.
Customer support is not the most reliable.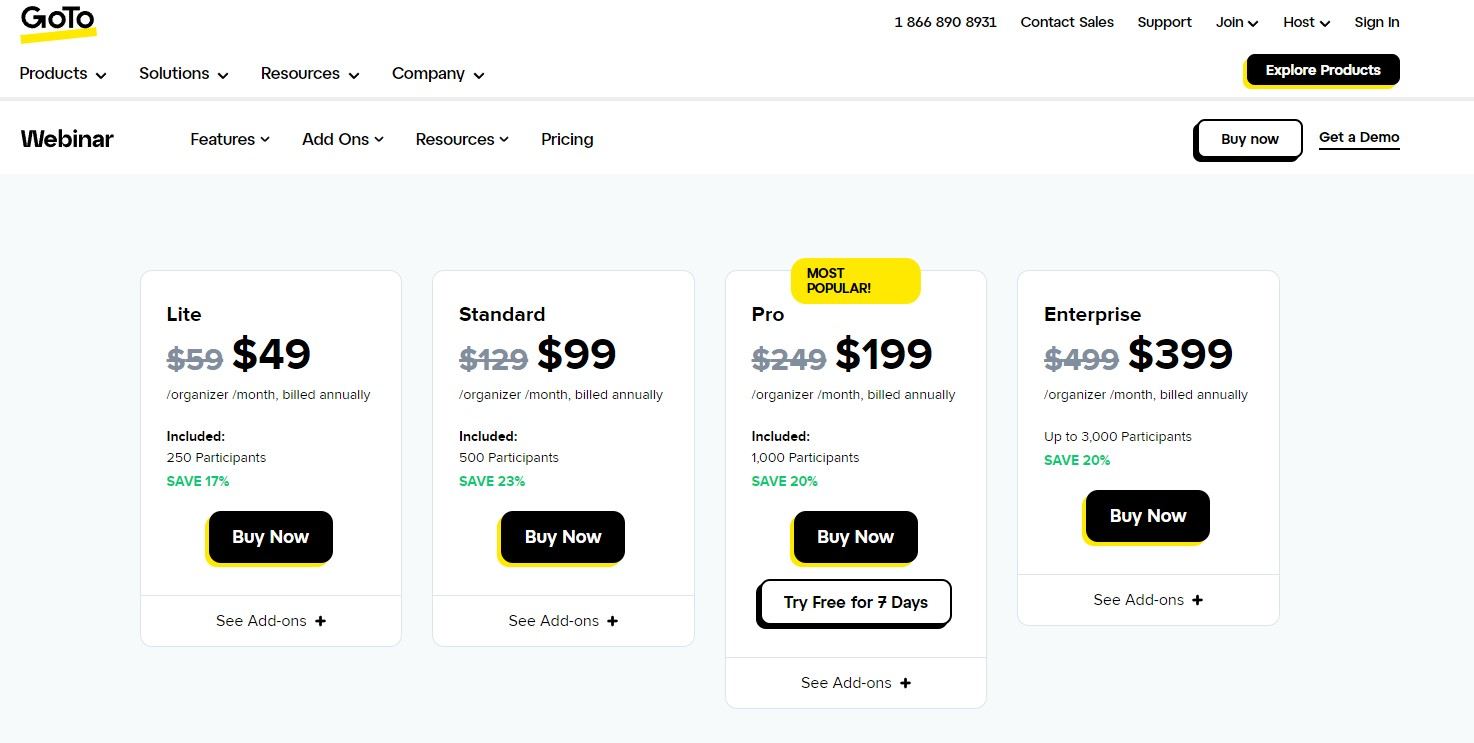 💡 Is GoToWebinar Worth It?
GoToWebinar is an excellent tool to focus on growing your audience and your business. It lets you pick a seminar date while it handles all the rest, so you can focus on what matters to you.
ON24 is a sales and marketing platform for digital engagement. Its main goal is to help you gain insight to boost your revenue growth. Of course, it is also a great webinar software.
🔑 Features
Run Better Webinars: ON24 Webcast Elite will engage your audience and assess their interest while the ongoing webinar.
Build Virtual Conferences: You can use ON24 as a video conferencing tool, helping you make the perfect conference for your partners and audience.
Create Content Hubs: You can gather your multimedia content in content hubs, further engaging your audience when you are not presenting.
Pros
Customize your platform and your emails to match your brand perfectly.
ON24 allows on-demand webcasts.
Issue CPD certificates and gain control over how you issue them (time, longevity at the seminar, etc.).
Presenters and producers will find it easy to use the webinar platform "studio."
Cons
One person cannot register multiple people for the webinar without messing with the cookie setting in the browser.
Some people have requested the ability to unmute audience members when needed.
Phone access to some tools and webinar technology is more limited than what you get on your computer.
They are not transparent with their pricing plans. Instead, you need to schedule a consultation.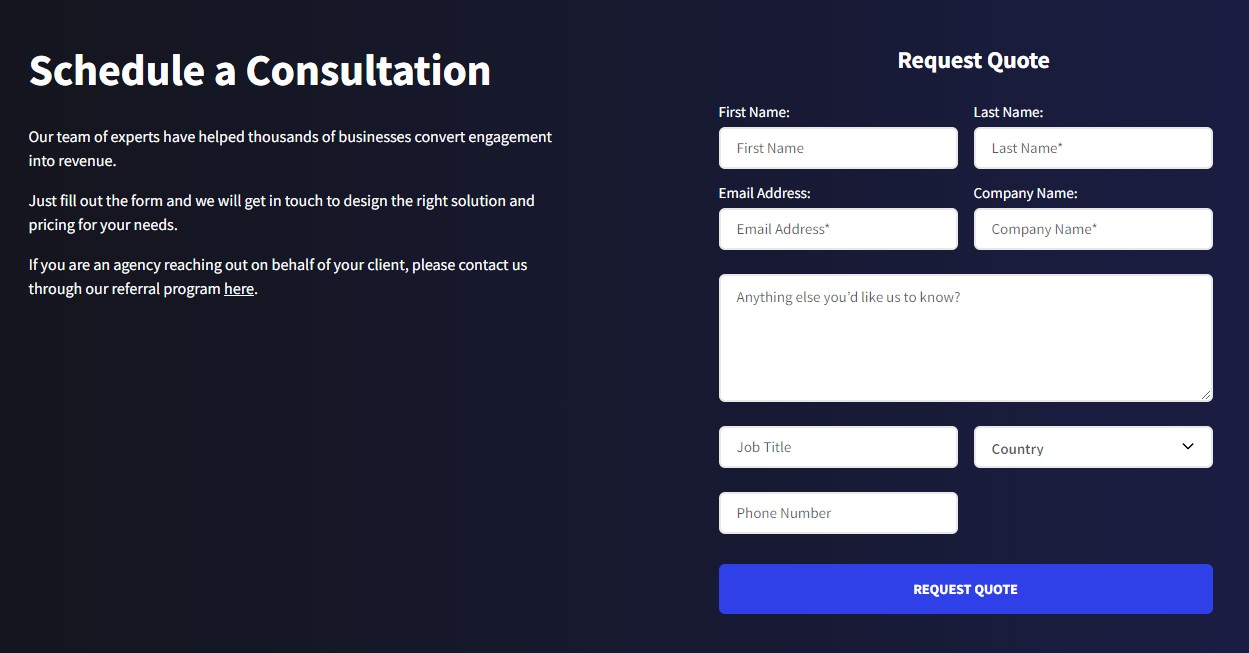 💡 Is ON24 Worth It?
ON24 is a webinar software platform you will want to use for issuing CPD certificates. It will also be a great attachment to your marketing strategy and help you grow your business.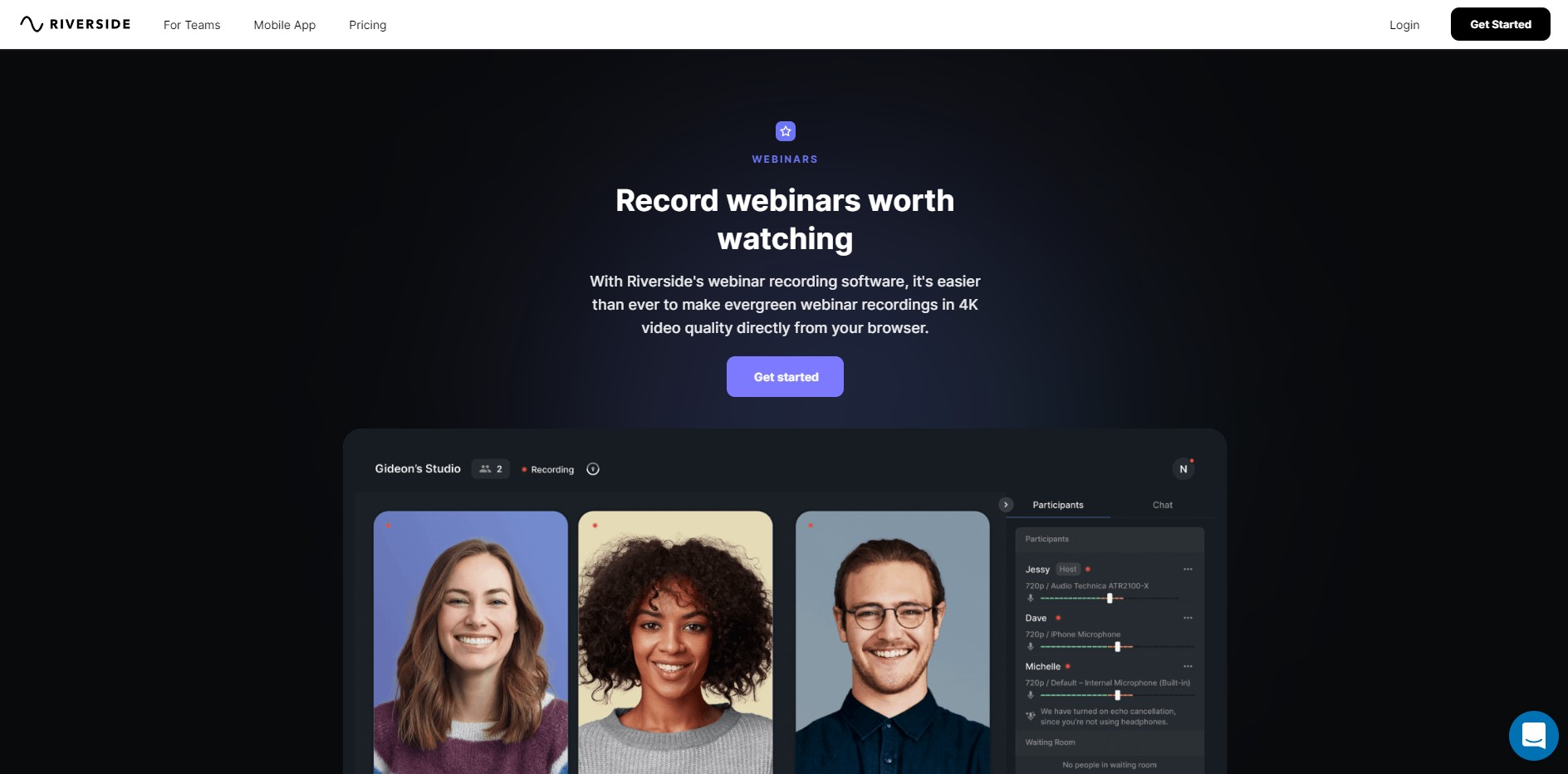 If you want high-quality video, Riverside is the right webinar software for you. You can run and capture 4K video quality directly from your browser. It is perfect for people looking for studio-quality webinars and remote interviews.
🔑 Features
Automatic Transcriptions: You can find all your memorable moments instantly and create more content using this feature.
Magic Editor: Automate the editing process by creating full HD split-screen videos from separate tracks, removing any distractions and noise you don't want, and all that with just a few clicks.
AI Speaker View: You can highlight active speakers automatically with this feature. Create a seamless transition to their video for a more straightforward editing process after the webinar.
Pros
Record your webinar in 4K resolution.
Record participants on individual tracks to save time with editing later.
The call-in feature will help engage your audience more.
There is a lot of documentation on the webinar features Riverside offers.
The live chat feature on the website offers to solve problems in a matter of hours.
Cons
The phone app works only on iOS.
Since they offer hourly pricing models, the costs can rack up quickly.
There are reports of issues with guest URLs.
Riverside Pricing Plans

💡 Is Riverside Worth It?
Riverside is the webinar software for you if you are looking into hosting webinars on multiple platforms or capturing HD videos of your webinars.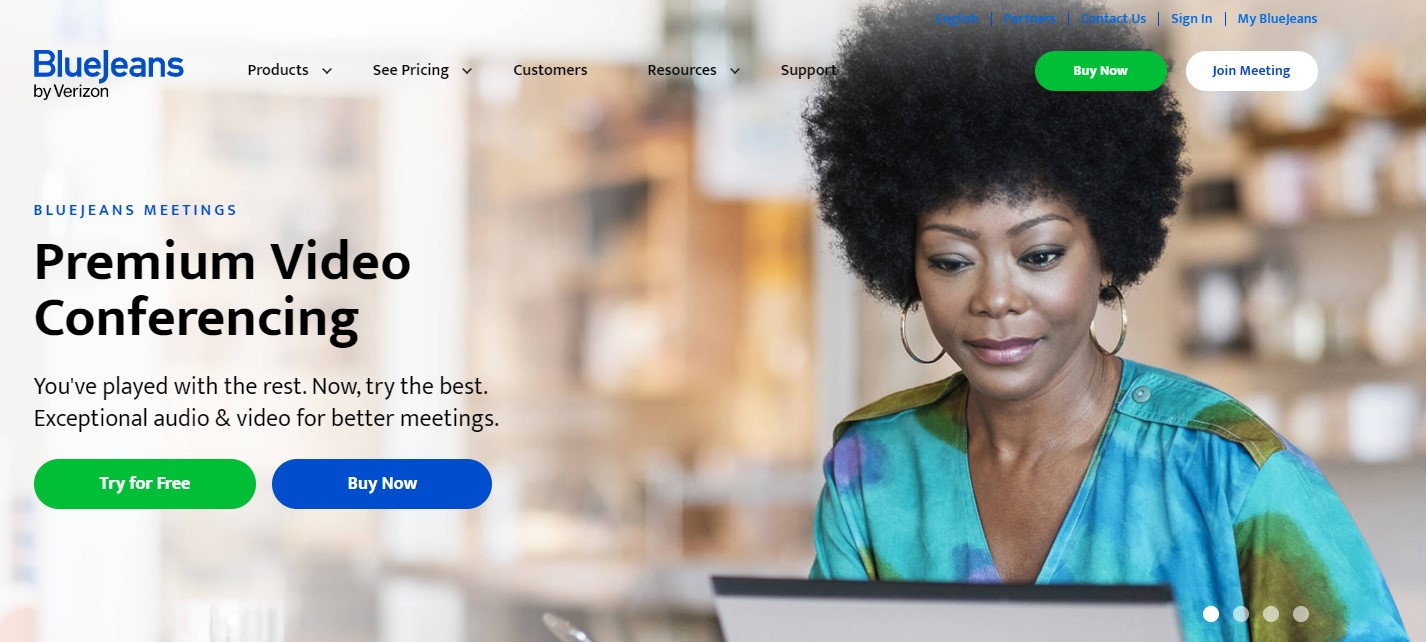 If you are looking to host big online events and town halls, BlueJeans is one of the best webinar software platforms. With four separate products to offer, BlueJeans Events will have the key features you need.
🔑 Features
BlueJeans Events: Interact with your audience and engage them in virtual events of any shape and size.
BlueJeans Meetings: Virtual meetings will be more productive with this fantastic feature.
BlueJeans Rooms: Transform your workplace with smart workplace solutions on offer in this feature.
BlueJeans Getaway: This feature offers Cloud Video Interop which will connect your room to MicrosofEmailms.
Pros
Live stream to social media platforms like Facebook and YouTube.
There is no need to download any app - everything is in the browser.
You can have up to fifty thousand attendees and 150 presenters at your events.
Analytics reports after the event will give you a lot of insight into where to go next.
Moderator controls will let you manage your event with ease.
There is a 14-day free trial to test out the product.
Cons
It costs more than a lot of other best webinar platforms.
The pricing plans are somewhat confusing.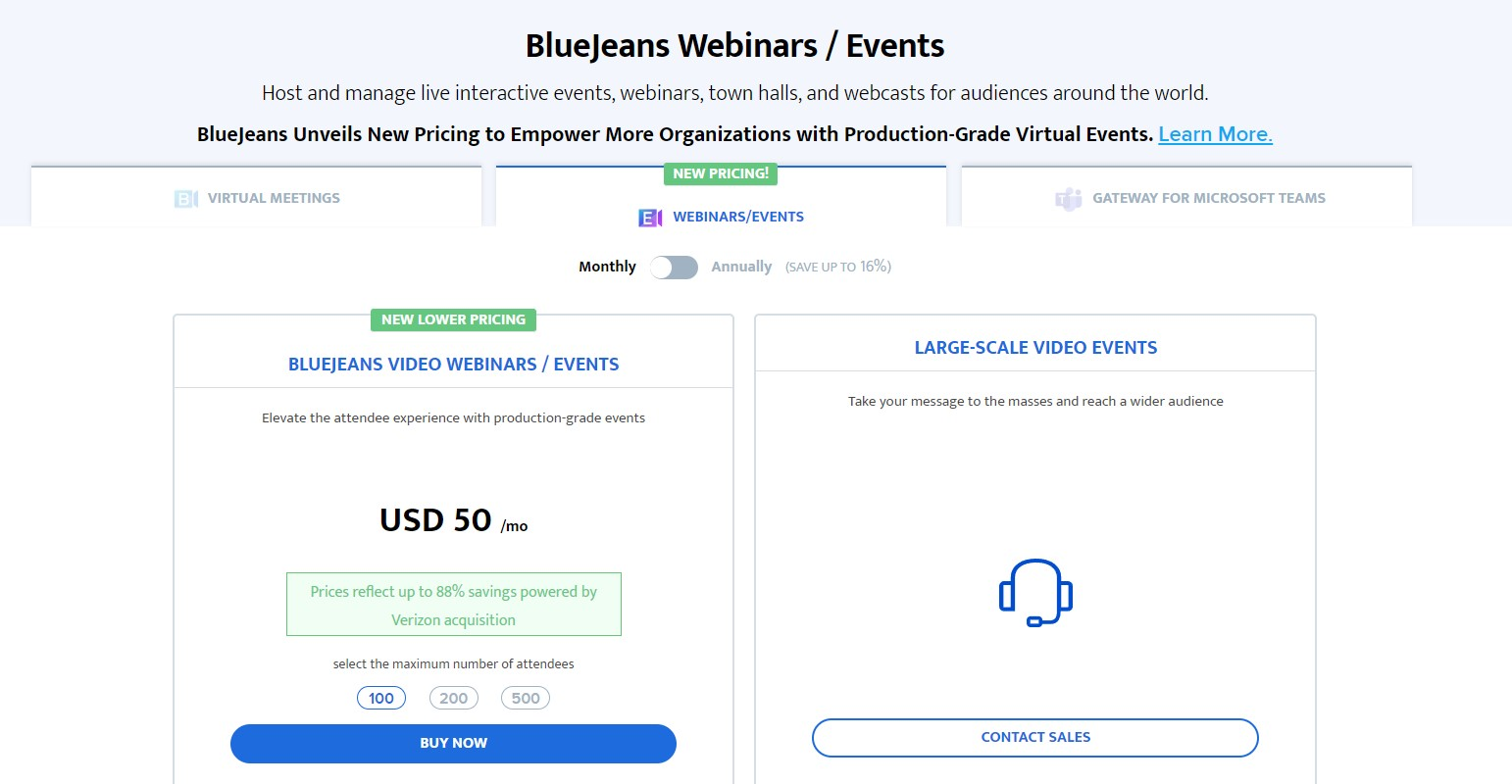 💡 Is BlueJeans Worth It?
While BlueJeans offers a variety of products, it is a perfect webinar software if you plan on hosting huge events with lots of audiences and participants.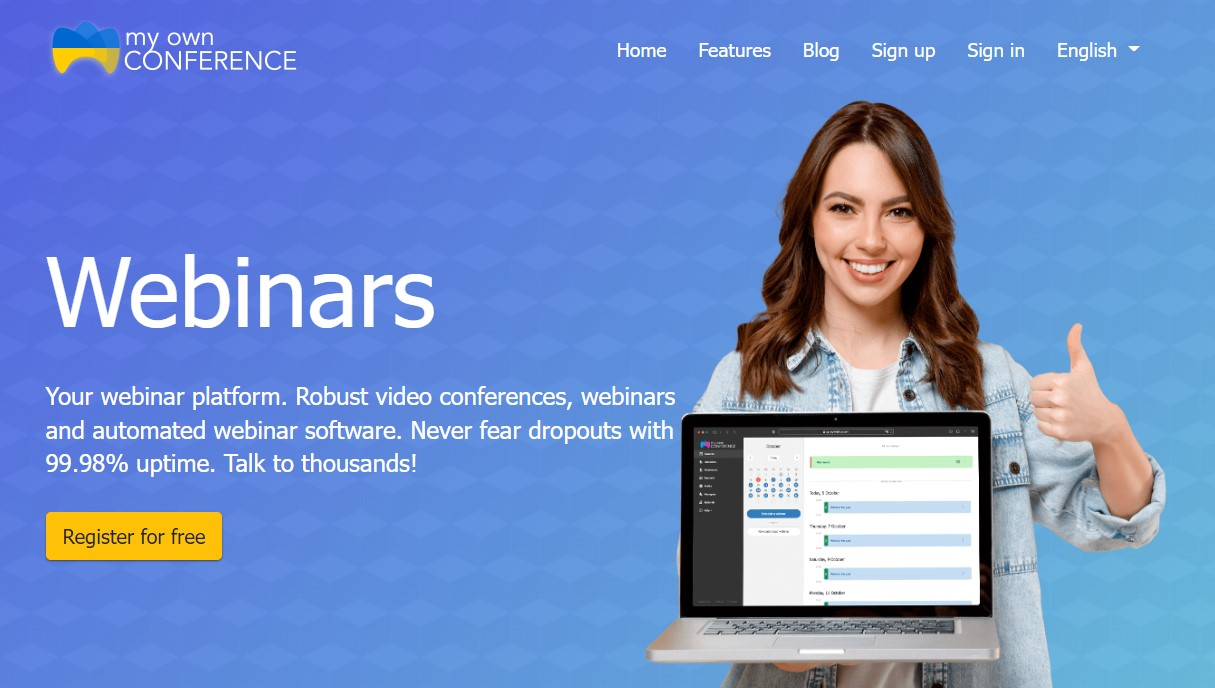 If you are in the business of hosting multiple webinars, then MyOwnConference will be your best friend. With their dashboard, you can see multiple webinars and engage your audience before, during, and after each one.
🔑 Features
Access Anywhere: You do not need to download or install anything. Instead, join from any place and any device with a simple press of a button.
Easy Start And Webinar Scheduling: Everything is simplified and takes less time, from organizing online meetings to using your landing page and forms which meet your needs.
Automated Email Sequences: You can quickly set up email invites and reminders so no one ever misses your webinar again.
Pros
HD video recording abilities.
Instant messaging should be one of the key features on all the best webinar software platforms.
No download is needed for anyone.
Unlimited webinars on both plans.
Free plan for up to twenty attendees.
Cons
The UI is not the most user-friendly place.
Clunky design for the live room layout.
Your internet connection will affect the performance of the webinar.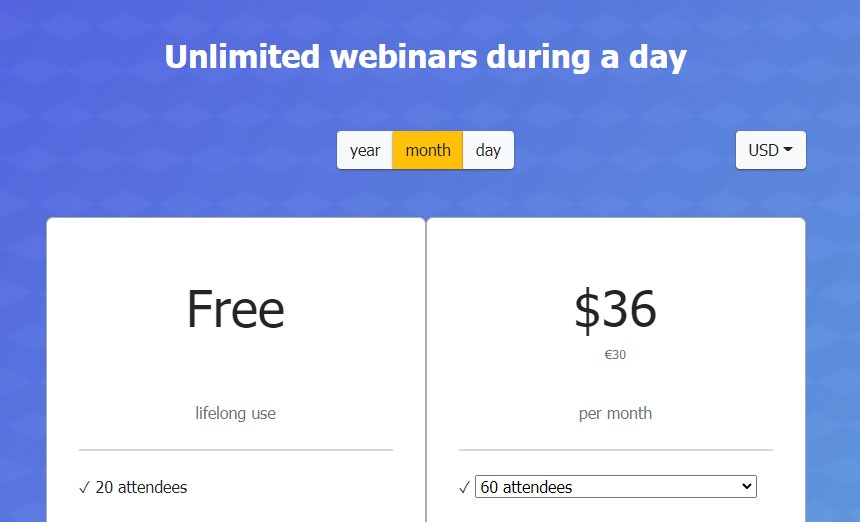 💡 Is MyOwnConference Worth It?
MyOwnConference is the perfect webinar software if you need to schedule unlimited webinars - or at least a couple of them simultaneously. The free lifelong plan is perfect for those looking to start hosting.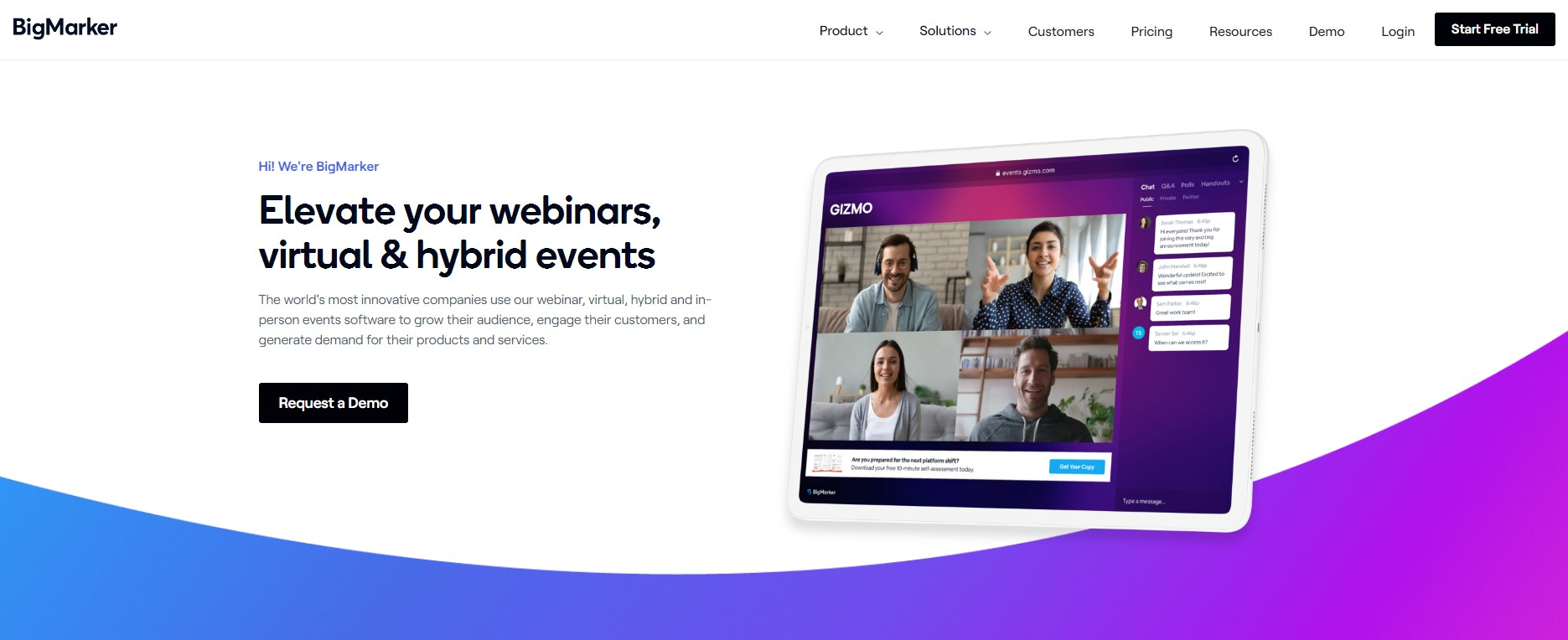 BigMarker is the webinar software everyone picks for hosting summits and online conferences. It will let you host up to ten thousand people and doesn't limit presenter numbers either.
🔑 Features
Landing Pages: This feature will help you create the perfect landing page - from choosing the right template to tracking its success in generating leads.
Promotion: The tool has key features to monetize your webinars, promote your content, and grow your audience while tracking the numbers.
Live Webinars: BigMarker gives you HD screen sharing, recording features, and the ability to customize your room.
Integration: You can integrate with CRMs, payment services, and marketing automation software for the best experience.
Pros
BigMarker offers unique streaming key features.
There is integration with Zapier, Salesforce, Hubspot, and many more.
You can set up multiple cameras feeds on social media platforms.
HD video and screen sharing capabilities.
Create white-labeled seminar rooms.
Cons
A slow connection can throw a wrench in your webinar.
Due to so many key features, it can be challenging to pick the ones you need.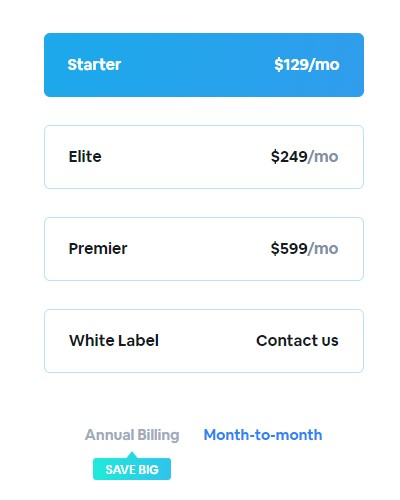 💡 Is BigMarker Worth It?
BigMarker is the webinar software for those looking to boost their audience interaction and create the perfect summits and online conferences.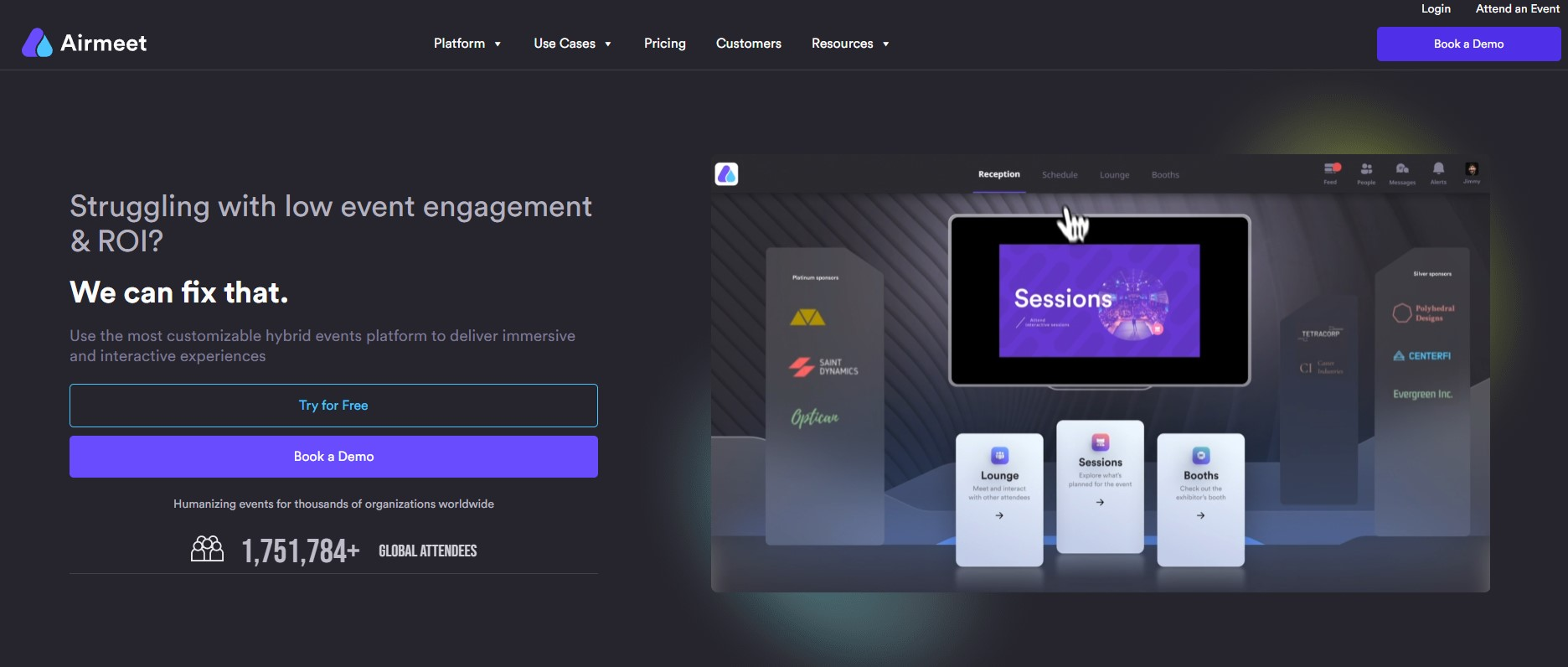 Airmeet will make all the hassle of planning an event and managing it a thing of yesterday. This webinar solution lets you host events, from trade shows to simple panels.
🔑 Features
Event Branding: Personalize your event according to your brand, from the layouts to the reception areas.
Dedicated Sponsor Area: This key feature will let you shine the light on the people who helped you organize your event.
Chat, Polls, and Q&A: Ensure your audience is always engaged with some of the best tools.
Expandable Tables And Lounges: Create breakout sessions, round tables, or huddles with a simple click.
Pros
The request for a mic must become one of the key features for all tools that accommodate a larger audience.
You can personalize the events you host with ease.
Vendor booths and online tablets will let you network with ease.
The backstage area lets the speakers talk with the host before their talk.
The staff is always there to help and very supportive.
Cons
An event timer countdown should be added for boosted engagement.
The registration and landing pages can use some work and customization options.
Registration is obligatory for every event, and this can take some time.
There is a limit to the number of registrations, which is an odd choice for webinar software.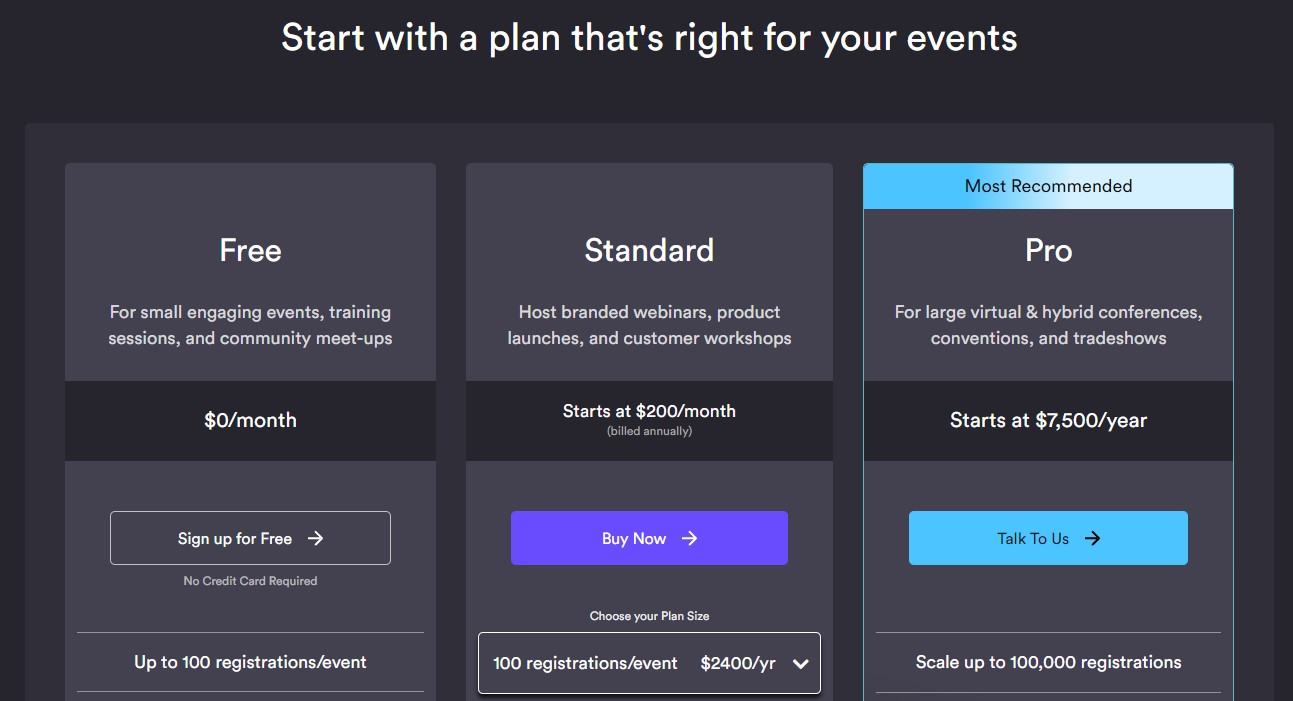 💡 Is Airmeet Worth It?
You will get the most out of Airmeet if you are an institution of higher education or a non-profit organization. It is the perfect tool for more significant events that suit these organizations.

Webex can help you create online events that you can scale and make engaging easily. Both internal and external attendees can participate in your webinar, no matter where they are or which device they use.
🔑 Features
Webex Webinars: Webex offers a free playbook to help you set up a successful webinar and run it on their webinar software platform.
Reach Global Audiences At Scale: You can connect to people from across the globe and on any device and grow your audience at a greater scale.
Bring Your Brand Identity: The registration experience can be tailored to your needs and brand, thanks to the branding options and themes.
Direct The Show: You have control over the stage and the content you will show at all times - before, during, and after the event.
Pros
Webex is based on cloud technology so that nothing can get lost.
You can have up to forty thousand people in the audience.
Engage your audience through Q&A sessions, polls, and surveys.
Mobile app helps join in from anywhere.
There is a good deal of integration (e.g., Salesforce).
Cons
People find it works best for in-house events.
Consumer events might not be the main target of the app.
Some people have seen the menu and user interface complicated to work with.
The pricing plans are not transparent. Instead, you need to get in touch with the Webex team.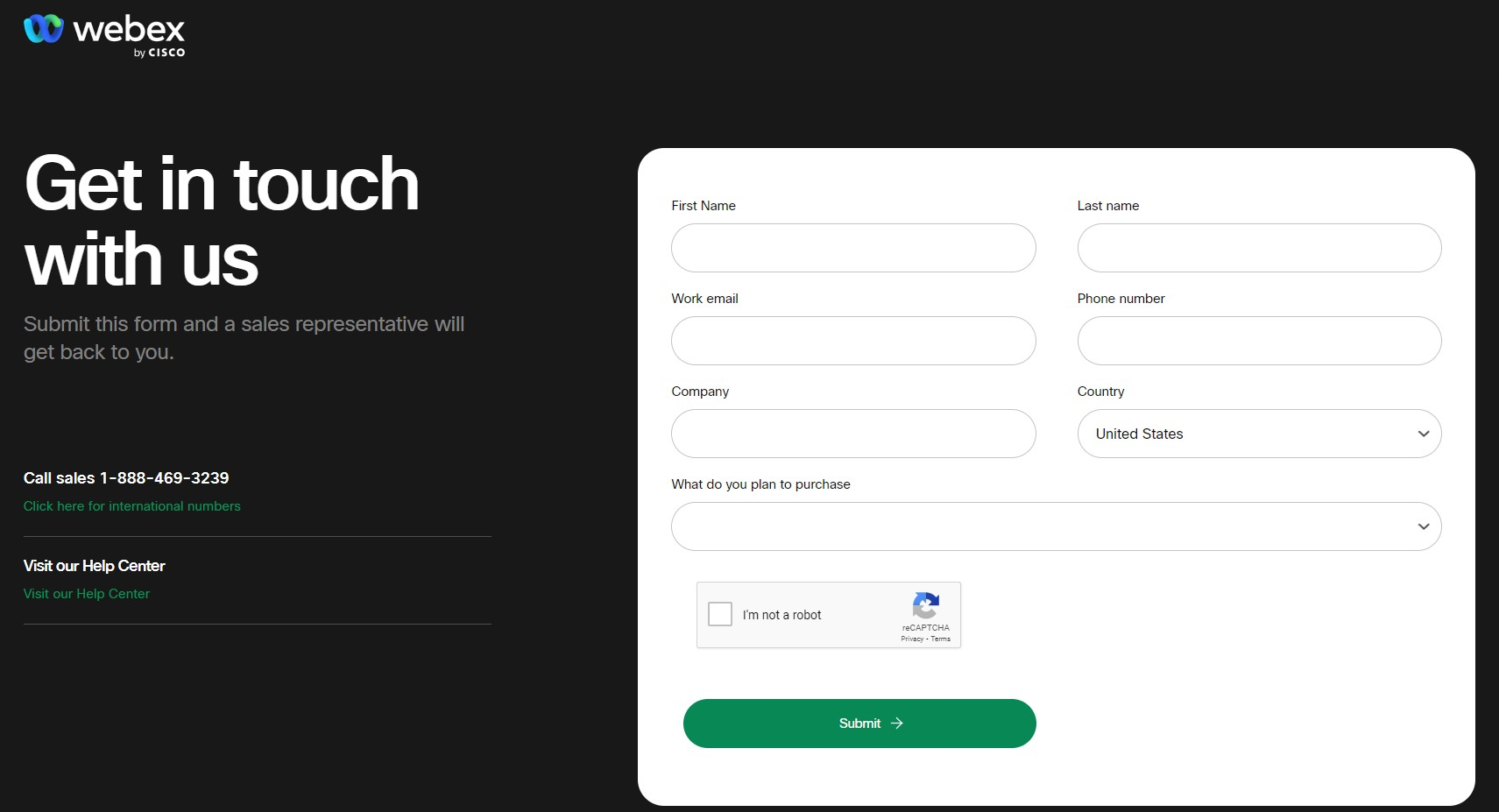 💡 Is Webex Worth It?
Webex can cater to a large audience, but it seems to be the best suited for in-house events. However, the good thing is you can contact the team to request a 90-day free trial to test it out.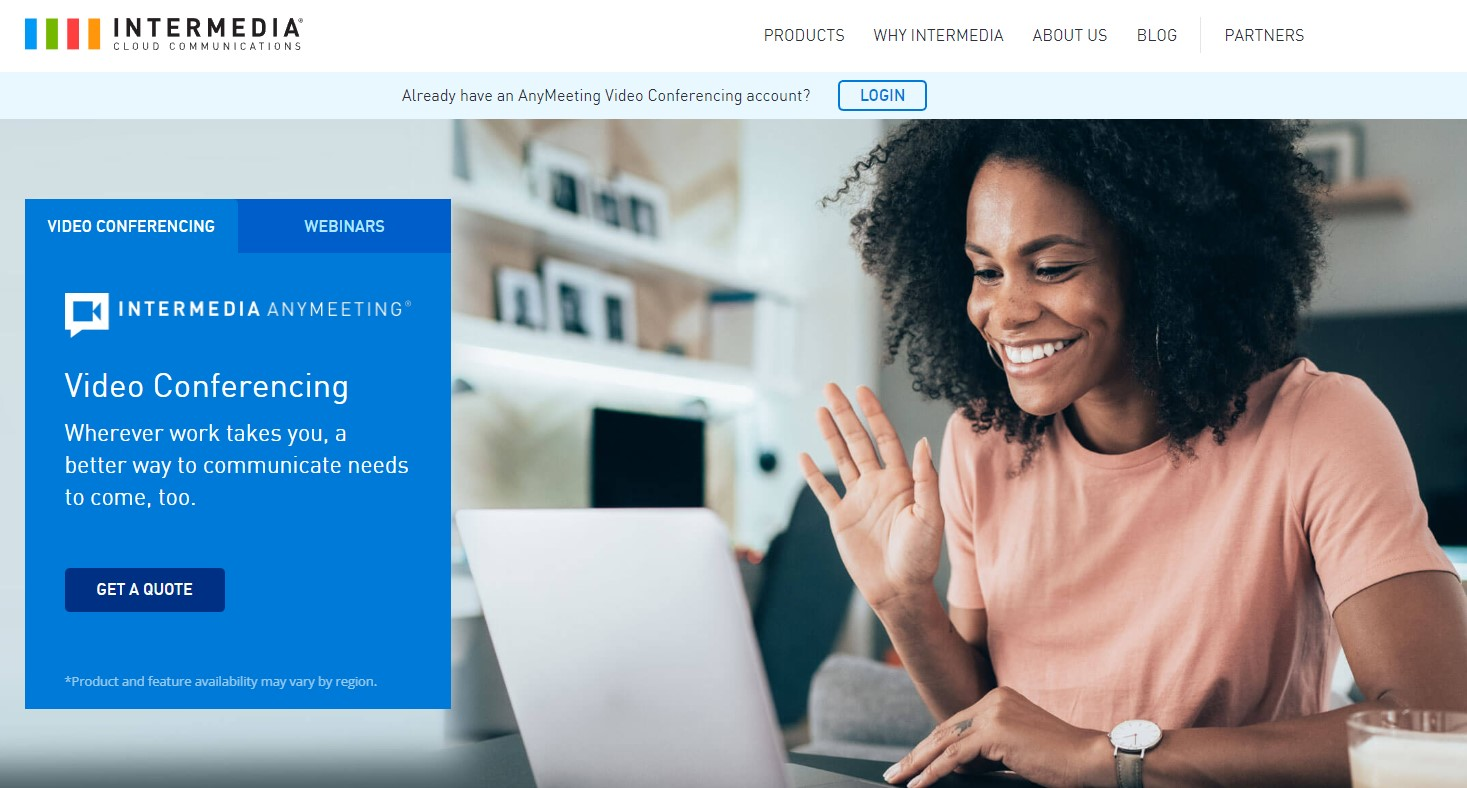 AnyMeeting has a user-friendly interface and is a great choice for smaller businesses, startups, and educational institutions. It offers a free trial for all of its plans, so you can play around with the tool to get the right feel for it.
🔑 Features
Webcam: The program supports 720 HD video conferencing with up to thirty webcams (if you use the Lite plan, you're restricted to ten).
Screen Annotation: While you are screen sharing, participants can call out important points in real-time.
Meeting Transcripts & Insights: Automatically transcribe meetings you host, and get the transcripts in your inbox with action items.
Custom Branding: AnyMeeting lets you customize the meetings with backgrounds and logos from your company.
Pros
You can host an audience of one thousand and up to six live speakers.
Engage the audience through key features like Q&A, live chat, surveys, and polls.
The interface is intuitive and easy to get around.
Analytics come full of detail and are perfect for reporting.
Email invites and follow-ups can be customized to fit your company and brand.
There is a 30-day free trial to test out the key features yourself.
Cons
This is exclusively a computer app - there is no mobile access.
It is relatively costly when compared to other tools.

💡 Is AnyMeeting Worth It?
AnyMeeting is a great tool for startups and smaller organizations or institutions of education. If you have an audience of under one thousand people, then consider it.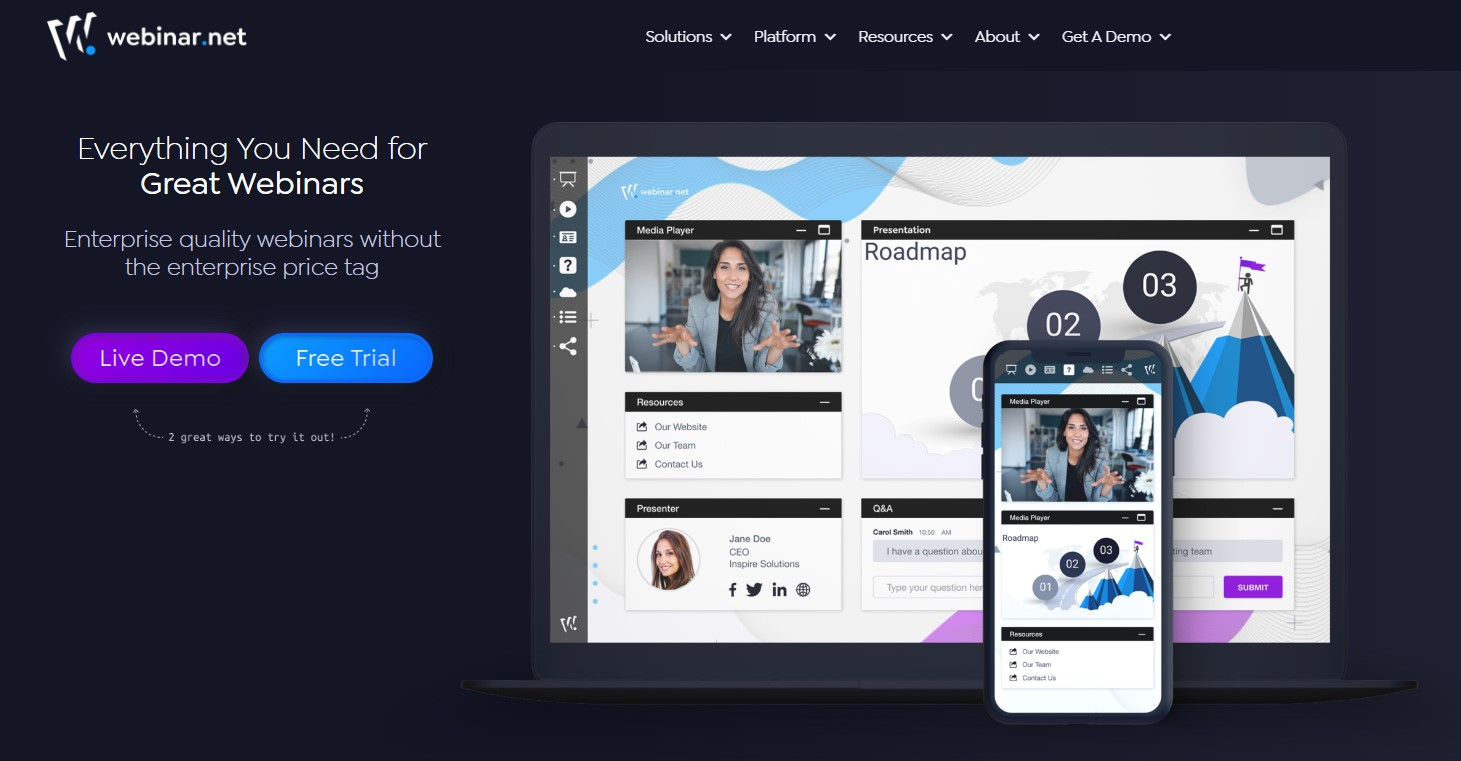 Webinar.net helps you create webinars and presentations that large companies will envy. You can do this by following simple five steps and all of that in under a minute. After that, gain important info by reviewing the webinar analytics given by the very same tool.
🔑 Features
Easy To Use: You can start your webinar in just sixty seconds with Webinar.net's amazing 5-step wizard.
Simplified Pricing: The pricing is very customizable according to your needs to control the budget.
Unlimited Attendees: There are no limits or caps on how many people can join your webinar. Webinar.net wants everyone in!
No Plug-ins: The audience does not need to download anything. All they need to do is to be there and enjoy the presentationEmailsos
Cloud-based tool, so hosting is in the cloud.
Youemailsble to reach out to massive audiences since there are no caps.
Webinars are easy to record.
Personalize the webinars to fit your brand.
It is integrated well with other tools.
Cons
It takes some time to load.
There are extra charges when getting licenses.
The server can sometimes malfunction, which affects the webinar.
You cannot blur the speaker's background.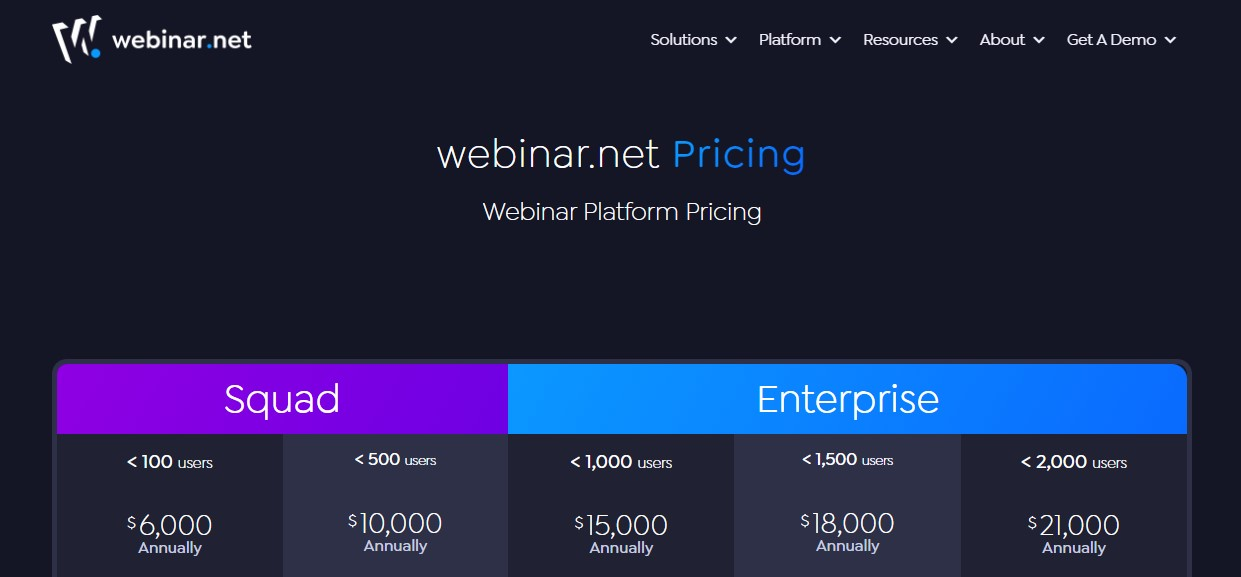 💡 Is Webinar.net Worth It?
Webinar.net is modern and sleek, and the cloud services are often seen as important key features, albite the difficulties they sometimes encounter can devalue the tool.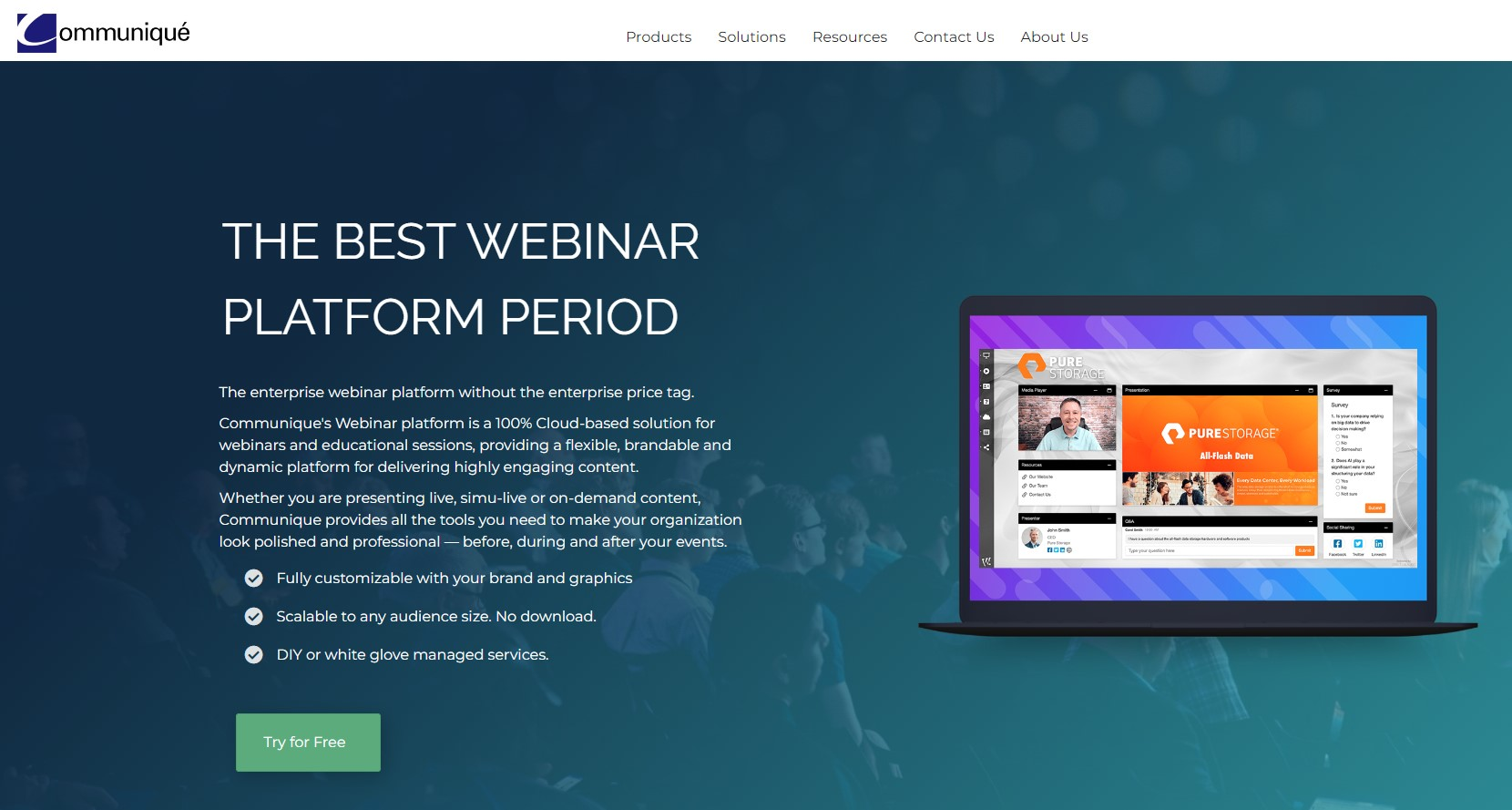 Communique is an enterprise-level webinar software that comes at a significantly lower cost than you'd expect. The UI is very flexible, and you can customize your seminar to match your brand easily.
🔑 Features
Audience Engagement: Keep everyone watching with tools like Q&A, polls, surveys, captions, and language translations. People can also download resources and keep learning through automated webinars.
Real-Time Data & Analytics: This feature lets you track up to fifteen engagement markers, like views, poll responses, CTA's, and much more. You can even extend the functionality to many webinars.
Registration Pages & Emails: You can customize your registration pages and add emails for confirmation and reminders. Then, you can save up templates, so you don't need to work as hard next time.
Pros
The project management team is experienced and very responsive.
The solutions this tool offers are tailored to a person's needs.
The tech behind the software is high-quality.
Cons
There is no room for personal agendas which can help plan the next steps.
Some people have asked for an even friendlier UI.
There are no transparent pricing plans.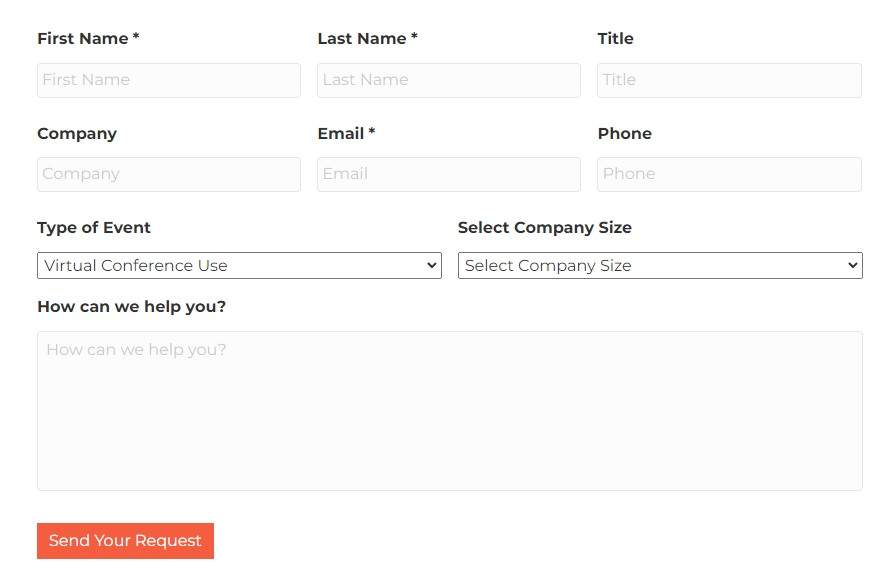 💡 Is Communique Worth It?
Communique is a great webinar software for people who want their webinars to match their company brand or their social media presence. The control you gain over the process is significant.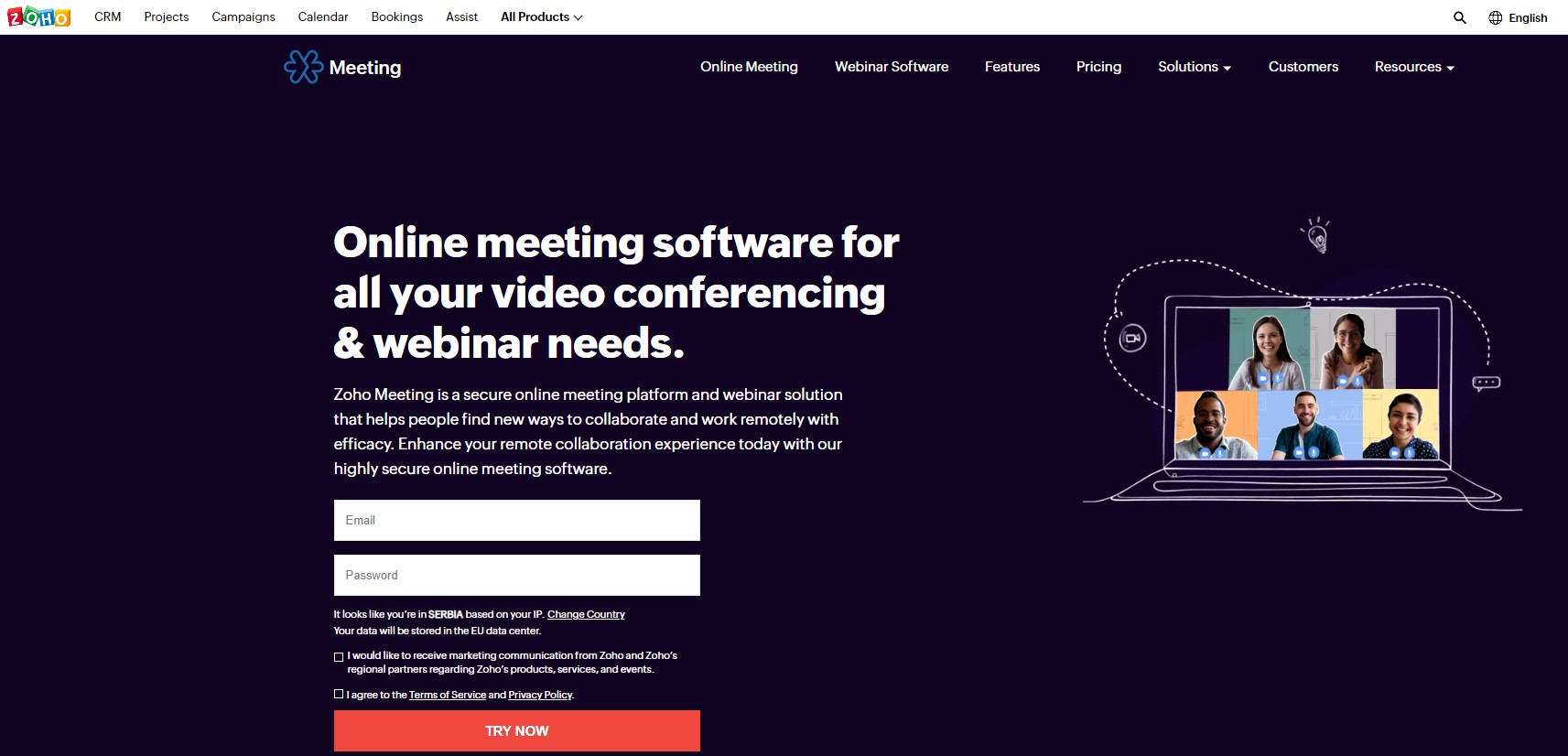 Zoho Meeting is the tool you want if you want a platform whose key features cover a wide range of webinars and video conferencing formats. Marketing, working with your team, group conferences - you can do it all with Zoho Meeting.
🔑 Features
Mobile Apps: Many tools don't have this in their key features, but Zoho Meeting lets you start your conference call from anywhere just using your phone.
Secure Sessions: If you need to protect the things you discuss during the meetings, then use the Lock meetings and password protection feature. Zoho uses encryption protocols to make sure no one will get access to your secrets.
No Downloads: There is no app to clog up your memory. You can do everything right from your browser with just a few clicks.
Sync Meetings To Your Calendar: Zoho Meeting automatically lets you add events to your calendar. This way, you will receive mail invitations in your inbox with Google Calendar integration.
Pros
Access everything through the browser.
Easy to set up and very user-friendly UI.
Thanks to the integrations, you can schedule future webinars with ease.
There are screen share, moderation, and chat features for further engagement.
You can embed the registration forms on your website for users to gain easier access.
Cons
Video recording is missing from the key features.
Works best for small groups.
The internet speed influences the quality of the meeting.
Reporting and analytics aren't that in-depth.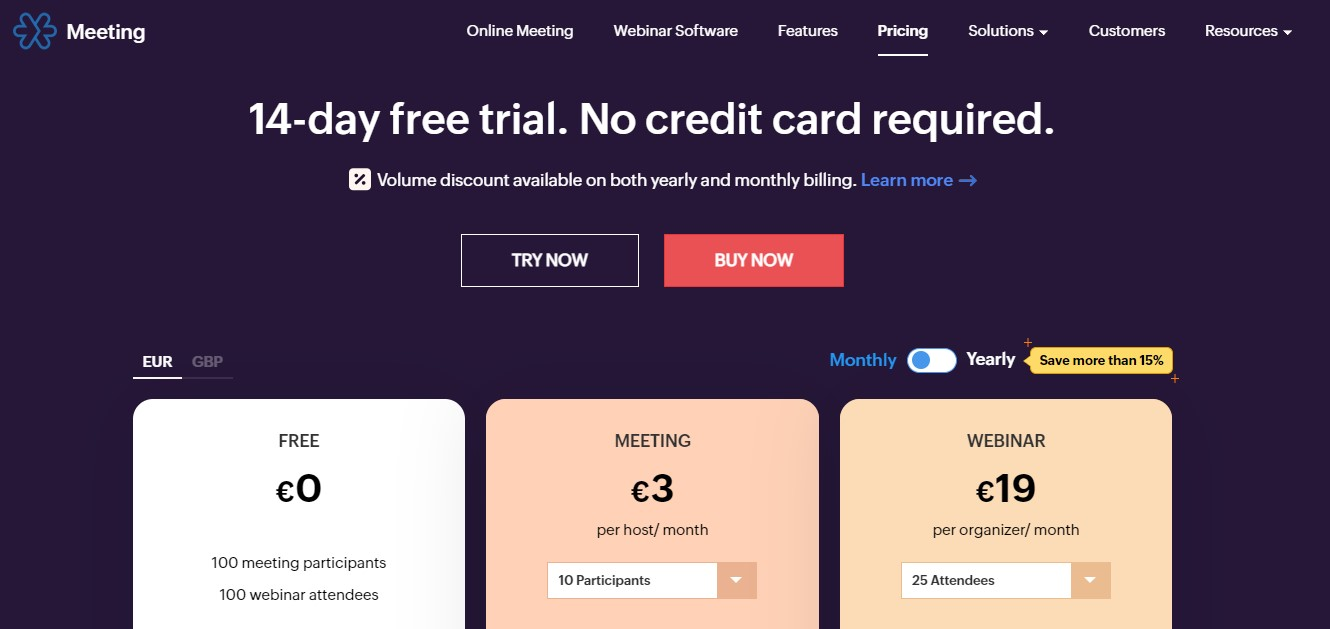 💡 Is Zoho Meeting Worth It?
Zoho Meeting is a great pick for those who want to ensure their webinars are secure and safe from intruders. It worked well for smaller groups like work meetings and closed webinars.

Adobe Connect is the perfect tool for running a large marketing agency or organization. You can host videos and meetings but also use it to share documents. Furthermore, everything is very customizable for your needs.
🔑 Features
Personalization & Engagement: You can use Adobe Connect to replace boring presentations using storyboards and interactive content. There are also breakout sessions available for further discussion and product testing.
Real-time Information: The virtual environments Adobe Connect offers are secure and scalable and offer real-time information exchange. You can share files, use dashboard views and the Chat Pods for various purposes.
Frictionless Access: External partners or prospects can join your discussions using any browser or device. There is no need for add-ins or downloads.
Pros
There are a lot of customization options for your virtual environments.
The customization extends to registration pages.
Engage your audience through videos, blogs, polls, and surveys.
CRM integration like Eloqua and Salesforce are available.
There is a lot of insight to be gained from the analytics.
Cons
Some people complained of experiencing video and audio issues when using the software on mobile devices.
Probably one of the more expensive webinar software providers.

💡 Is Adobe Connect Worth It?
One thing that makes Adobe Connect very useful is the ability to share documents along with video and audio, which makes it very desirable for marketing agencies and larger companies.

Zoom has probably reached the peak of its popularity in the COVID-19 era, where every office and school seemed to have switched to the platform. This is because it's intuitive, cloud-based, and has an easy-to-use interface.
🔑 Features
Immersive View: Place all participants in a single virtual background so you can get the feeling of meeting people in the same room once again.
Blurred Background: If you want to hide the mess your room has become, you can simply do it with a virtual or blurred background.
Enhanced Data Privacy: Get insight into who can see and save the content you share in the Zoom meeting. This way, you can protect your privacy and your business secrets.
Zoom Phone Power Pack: This add-on will give you a sleek desktop experience to help you manage calls with your team, along with giving you real-time analytics, reports, and so many other things.
Pros
HD video and screen sharing capabilities.
You can get the backup of your meetings in the cloud.
You can have up to one hundred participants with a free forty-minute limit.
The host controls virtual whiteboards for interacting with the audience.
Free sign-up and no hidden fees.
Cons
Consistent call quality is something to be desired.
The interface could use a rework since it can be a bit confusing.
The audio quality has gotten a lot of slack.
There are no deep marketing or automaton features like other tools on this list.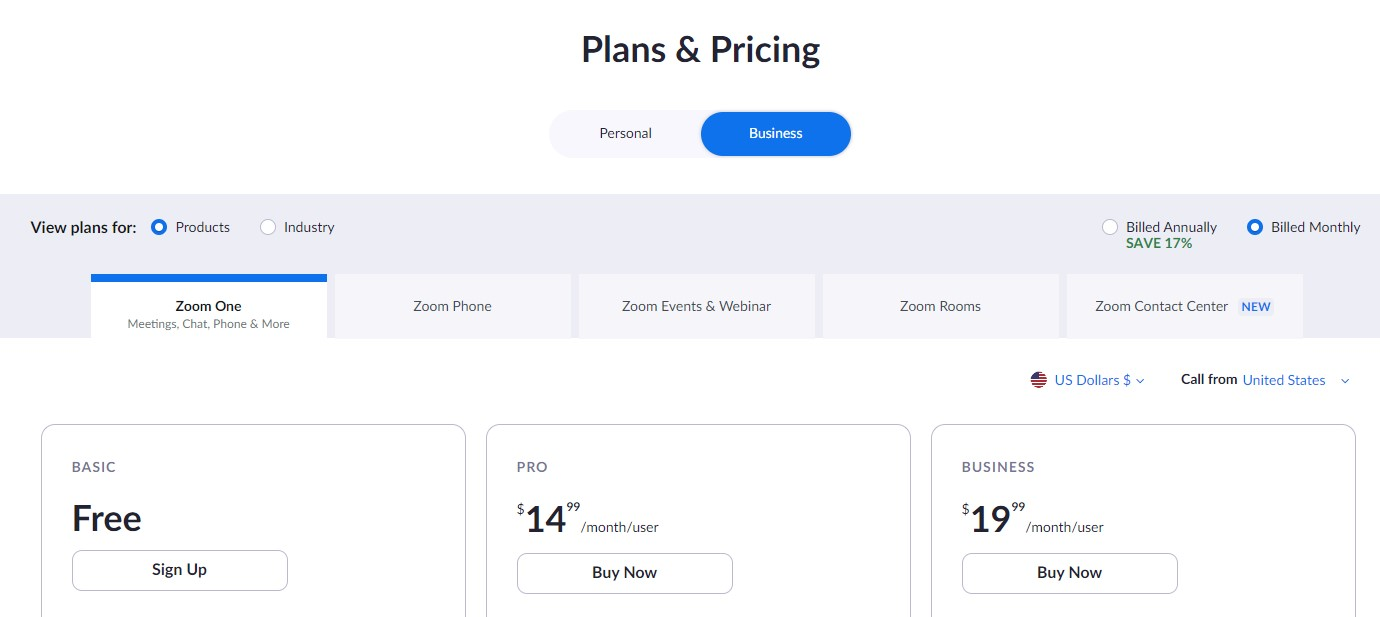 💡 Is Zoom Worth It?
There is a reason why Zoom became the most popular tool on the market. It is quick to set up, and you do not need to pay anything. However, it is not the best tool for marketing or for bigger companies.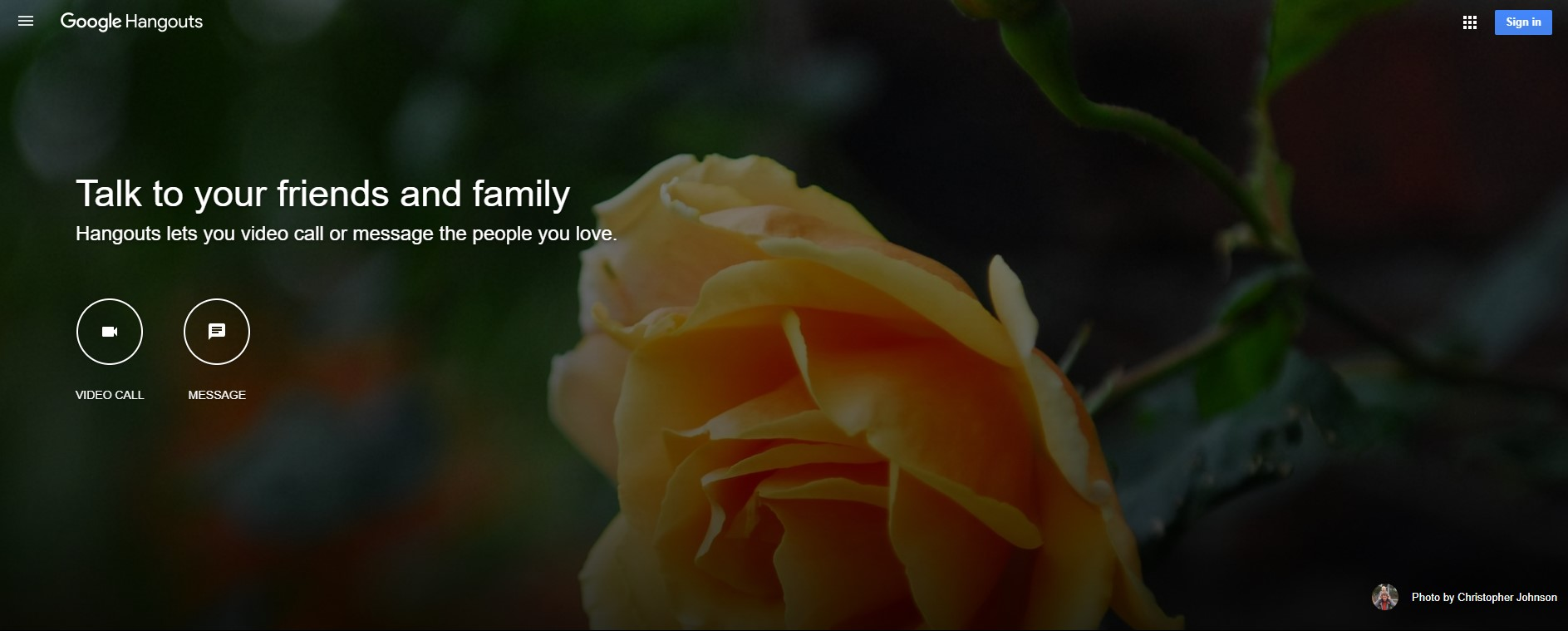 Google Hangouts is the last but not the least on our list because it is popular, completely free and easily integrates with Gmail and Chrome. You can have thirty people in the audience or stream on YouTube if you want more people to watch.
🔑 Features
Instant Messaging: Apart from holding conferences and webinars, you can message people with a text, video, gif, or more.
Group Chats: You can have up to 250 participants in a group chat.
Video Calls: The video quality is HD, and you can have 25 participants.
Compatibility: Google Hangouts is compatible with many platforms, including iOS and Android.
Integration: The tool integrates well with other Google applications.
Pros
Cross-platform synchronization is always a great benefit.
Very easy to set up.
The security features are great.
Free to use with a Google account.
Cons
You need a Google account to use the tool.
The meeting limit is one hour.
There are issues when it comes to compatibility with Google Meets.
Google Hangouts is free of charge. All you need to do is to download it.
💡 Is Google Hangouts Worth It?
Google Hangouts is great if you need a free tool to work with a small team. However, expanding your audience further will mean moving to another tool.
FAQs
Is Zoom Good For Webinars?
As we have mentioned, Zoom has become a popular tool for online meetings and video conferences during the pandemic.
The reasons are simple: the platform offers a free version and is easy to set up and run.
However, things get a little more complicated regarding online events and webinars. Generally speaking, you will need a bigger audience and a longer runtime in this case.
And this is where the problem can happen. Unless you upgrade your Zoom plan, you will not be able to have more than one hundred people and a session longer than forty minutes. This is the main drawback of the platform.
What's more, Zoom doesn't have the marketing capabilities other platforms have. So while you might be able to engage with your audience through a whiteboard, other tools will give you a plethora of options that you might prefer.
Therefore, for a more extensive, more extended webinar, we would recommend one of the more "professional" tools, which will, in turn, cost you a bit more than Zoom would.
How Do I Choose A Webinar Software?
If reading this article made you dizzy, don't worry! You are not alone!
When met with so many options, many people do not know how to react and which webinar software to pick. Luckily, there are a couple of things you can take into consideration.
First, think about the purpose of your tool. Are you planning team meetings or a big audience event? You need to know this to know precisely what you are looking for.
Once you know that, plan your budget. How much can you spend on the tool you want? Generally speaking, more features will cost more, so be aware of what you need and how much you are willing to spend on it.
Next, choose the features that you need to have. Things that you just can't live without in your tool. This can help you weed out some candidates.
Finally, start picking tools you like, and then discard them one by one. This way, you will narrow down your choice to the best tool for you.
Some features to look into can include:
Call quality.
Easy access.
Free trial.
Collaboration and integration.
Session recording.
Analytics.
Customization.
What Is The Easiest Webinar Platform?
When picking the right platform, one of the most significant factors can be ease of access to the tool.
While a plethora of features is always welcome, sometimes these can be overwhelming for beginners. For example, how do you even use many tools when you do not know how to get around the dashboard?
This is why beginners often look into some of the most accessible software on the market. When it comes to webinar platforms, this is WebinarJam.
WebinarJam is so great that you need no technical knowledge about webinars to run it. Also, you can stream directly to YouTube, which can get you a much bigger audience.
On top of that, the meetings it offers are secure and protected by passwords, and it provides a 14-day free trial to test out all of its capabilities.
Some other choices include Crowdcast, DaCast, and GoToWebinar.
How Do I Make A Free Webinar Presentation?
A lot of people have a great idea for a webinar, but the budget restrains them from seeing it to success. This can be bypassed by looking into free webinar software.
We have already discussed some tools that offer a free trial or some free alternatives. Sadly, these often do not let you host seminars for huge crowds.
There are, however, some platforms that make this happen. For example, Facebook Live and YouTube Live will let you live stream and have your webinars there.
These two benefits are unlimited participants, but the marketing is very simple. To get a big crowd, you might need to have a following already or work on building it some other way.
The main downside is that these platforms weren't designed initially for webinars. Therefore, you cannot expect to engage the audience through some of the features other tools will have; it will all be up to you.
How Can I Create A Webinar?
Finally, you might have gone through the article without wanting to create a webinar, but now we have made you itch to host one yourself. So how do you go about doing it?
Well, you start by choosing a topic, of course. You can talk about anything, but it's wise to do some market research for relevant issues to get the audience to listen.
Then, figure out the format you will use and the tool. For example, do you want to hold a presentation, a product review, or an interview? Make it unique, and pick the tool that will match you well.
Along with this, you will be working on the registration page. Again, this is a great lead generator because people will give you their email addresses, so make sure it is good.
After that, it's time to prepare. Get your space and your equipment ready. You do not want your webinar to suffer because of how it looks or sounds. Make sure you do a lot of testing and preparation along with your research.
Next, produce your content. Depending on the shape of your webinar, you might have a live segment and a thing already prepared. Make sure this prepared stuff is good and memorable so that people will talk about it afterward.
Before the seminar starts, you will want to get the ball rolling by sending invitations and promoting your webinar. Try to go outside your email list so you can attract even more people.
Finally, make sure you do a test run. This is an imperative, and many people skip it to their detriment.
You will iron out any minor kinks that can happen by running a test run. You will also have a firm grasp of what needs to happen during the webinar and be more confident.
Then, it's time to go live. Just remember that the work isn't done afterward. It would help to analyze what went wrong and what went right and how you can improve.
This is why so many tools have analytics features along with streaming ones. You can notice trends, engagement, and many other things that can help you boost your webinar to new levels the second time around.
That's A Wrap!
And that's our pick of the best webinar software platforms in the game. Some focus exclusively on webinars, while the others will give you a variety of things to do - from conferences to small team meetings.
We searched far and wide and looked at a wide variety of tools you can use. Some suit bigger companies, while others are great for startups and small team meetings.
We also look at factors that make an excellent webinar software, like the audience limits, marketing features, customization options, and everything else that makes a tool shine.
Hopefully, you can use this information in your search for the best webinar platform that will suit your needs! Make sure to plan accordingly before you choose, though! There are many options, so you will need to do some planning.
Let us know which tool you landed on and how your webinar or live event went! We're excited to read your comments!