Dropshipping is a business model that has everyone around the globe intrigued. According to the latest dropshipping statistics, more than 35% of Amazon sales were from dropshippers. It is a fantastic concept that mitigates the risk of starting a traditional business and requires a low startup budget.
When I embarked on my Amazon dropshipping journey, I had some unrealistic expectations. Everyone described dropshipping as an easy way to earn money online. While that is true to some extent, you have to put in the work to see the results.
But one year down the road, I do not regret my decision. I managed to turn a simple idea into a lucrative business model, which has become the means of a steady income. Of course, the number of products sold fluctuates from week to week, but the sales are good enough to turn a decent profit.
This article will guide you through the ins and outs of dropshipping on Amazon, its pros and cons, and the numerous tools that can expedite your efforts.
Let's start with the breakdown of how to dropship on Amazon.
What is Amazon dropshipping?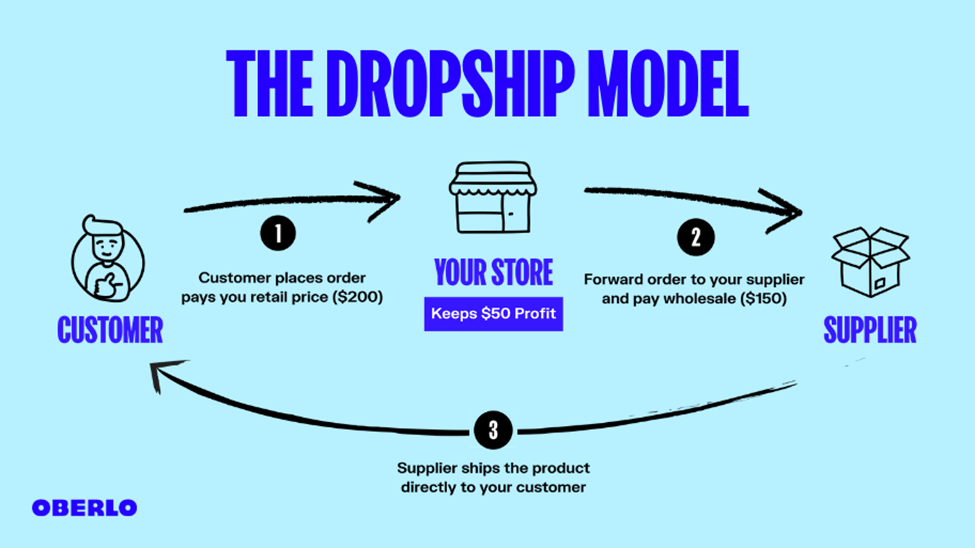 As you may know, dropshipping is an ecommerce business model where the seller does not maintain a physical inventory of the product. Instead, they forward the customer's order to the third-party supplier, who packs and ships the product directly to the buyer.
As the seller or dropshipper, you earn a profit when you pay for the product's wholesale price but collect the marked-up retail price from the buyer. Moreover, you do not have to make a substantial upfront investment since you are not buying any stock.
Why should you choose Amazon for dropshipping?
For starters, it is one of the most popular ecommerce platforms, with millions of active users. It has an astounding 200 million Amazon Prime subscribers worldwide, which makes up approximately 65% of Amazon's active customers. They are also responsible for generating billions of dollars in revenue per annum.
This makes Amazon the largest online marketplace. The incredible number of active users is an ode to the immense customer loyalty earned by Amazon due to years of impeccable service. Hence, Amazon is ripe for you to tap into its millions of customers and earn some trust for your brand.
In addition, Statista reports that Amazon's website had more than 2.7 billion visits in June 2021 alone, making it the most visited ecommerce store in the United States. Most people who are looking to buy a specific product bypass Google and search directly on Amazon.
But wait! What is third-party suppliers' contribution to the number of units sold on Amazon?
Another Statista survey shows that almost 56% of Amazon sales in the fourth quarter of 2021 were by third-party sellers. This shows that independent sellers have carved a niche and thrive on this online platform.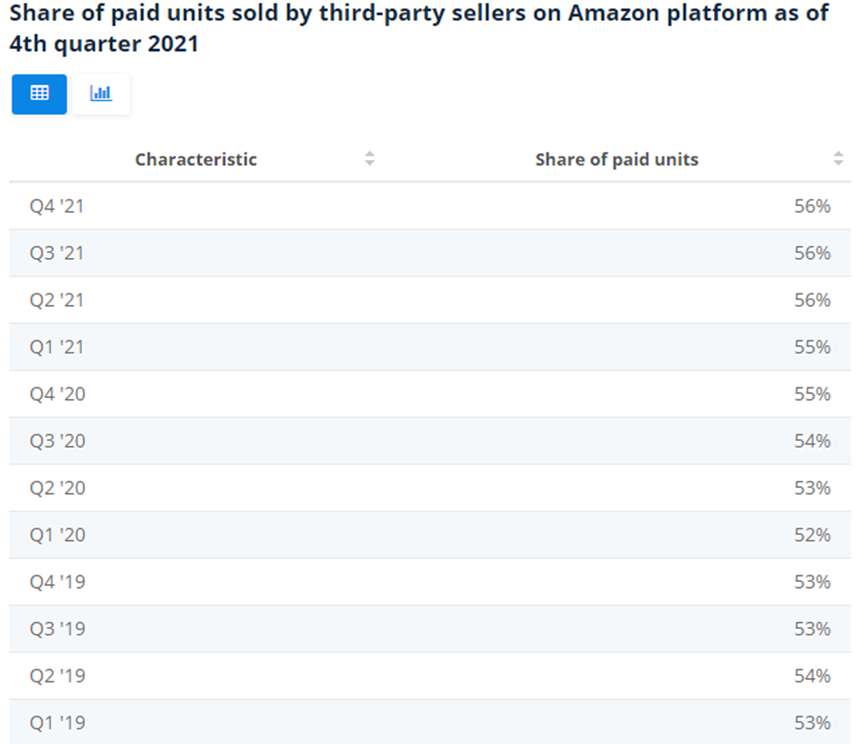 Hence, if you want to start a profitable dropshipping business, you will benefit from leveraging the unparalleled potential of Amazon. Keep reading to find out how to dropship on Amazon.
How to start dropshipping on Amazon?
Now that it is established that Amazon is the ultimate platform for dropshipping, how do you begin your Amazon dropshipping business?
I will be honest with you, starting your dropshipping business can be tedious and time-consuming, but it is not exactly difficult. You just have to employ your savvy entrepreneurial skills and invest time in the upkeep.
Below I have outlined a basic 4-step plan for starting a reputable dropshipping business on Amazon.
1. Set up your Amazon seller account
To start dropshipping on Amazon, you will need to create an Amazon seller account, which is relatively easy. Just make sure to have your billing information, proof of identity (national ID card, driver's license, or passport), and tax information.
However, before establishing your Seller account, you have to decide between the two Selling Plan options; Individual and Professional.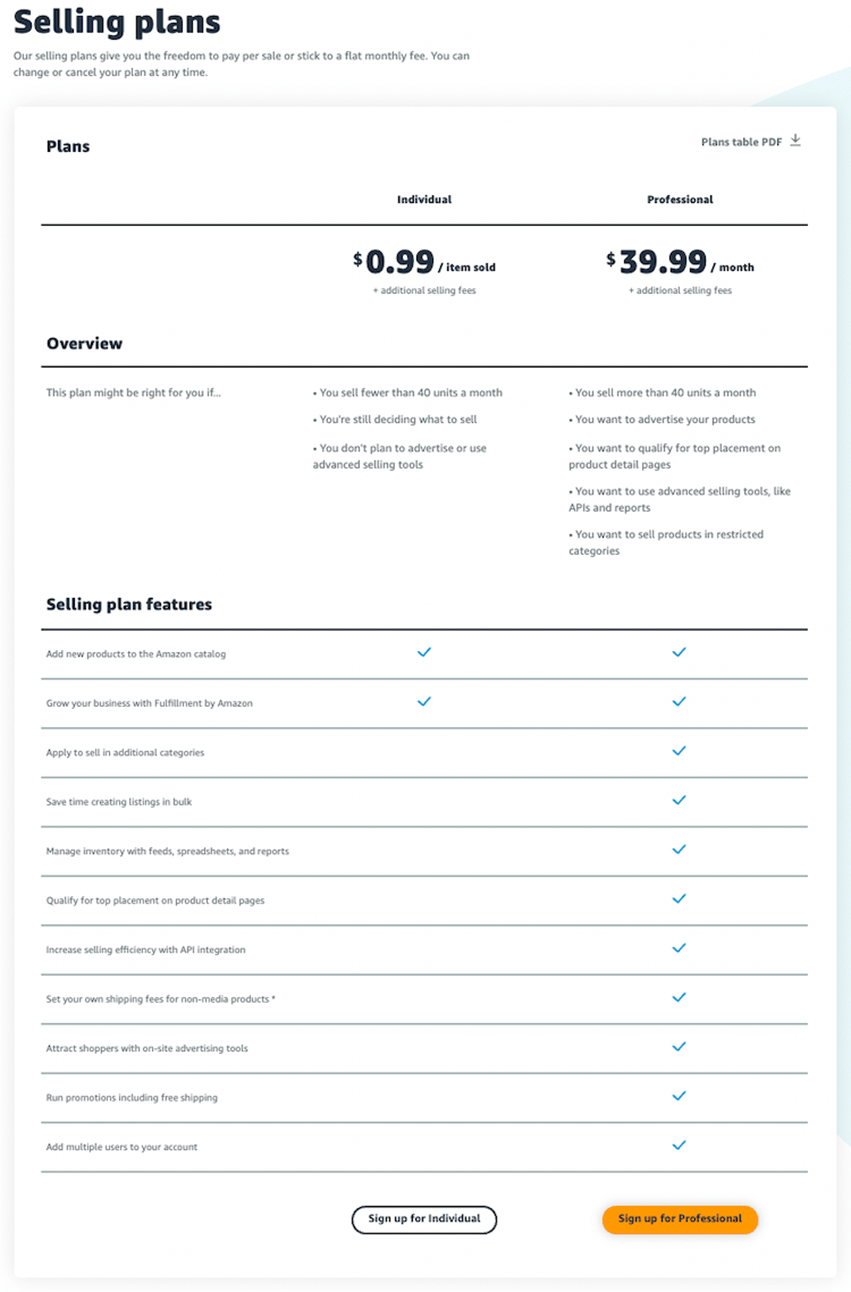 The Individual Selling Plan has only the most basic features. Therefore, it is ideal for people who are not ready to commit to the dropshipping business model and want to test the waters by starting small. You can create the selling plan free of cost, but there is a catch.
For every item you sell, you have to pay a commission of $0.99 and other selling fees. Therefore, if you plan to sell more than 40 products every month, consider the Professional Selling Plan.
It has a monthly subscription fee of $39.99. This will be cheaper than paying a $0.99 fee for every sales transaction if you sell more than 40 units.
Moreover, sellers with a Professional Selling Plan can sell in 30 Amazon categories and create sponsored listings. With Amazon's pay-per-click (PPC), your product can skyrocket to the top of the search results, resulting in more sales and higher profits.
Contrarily, individual sellers have access to only 20 categories and cannot create ads for their products on Amazon.
Most importantly, individual sellers are not eligible to win the coveted "Buy Box," allowing buyers to add a product to the shopping cart with a single click.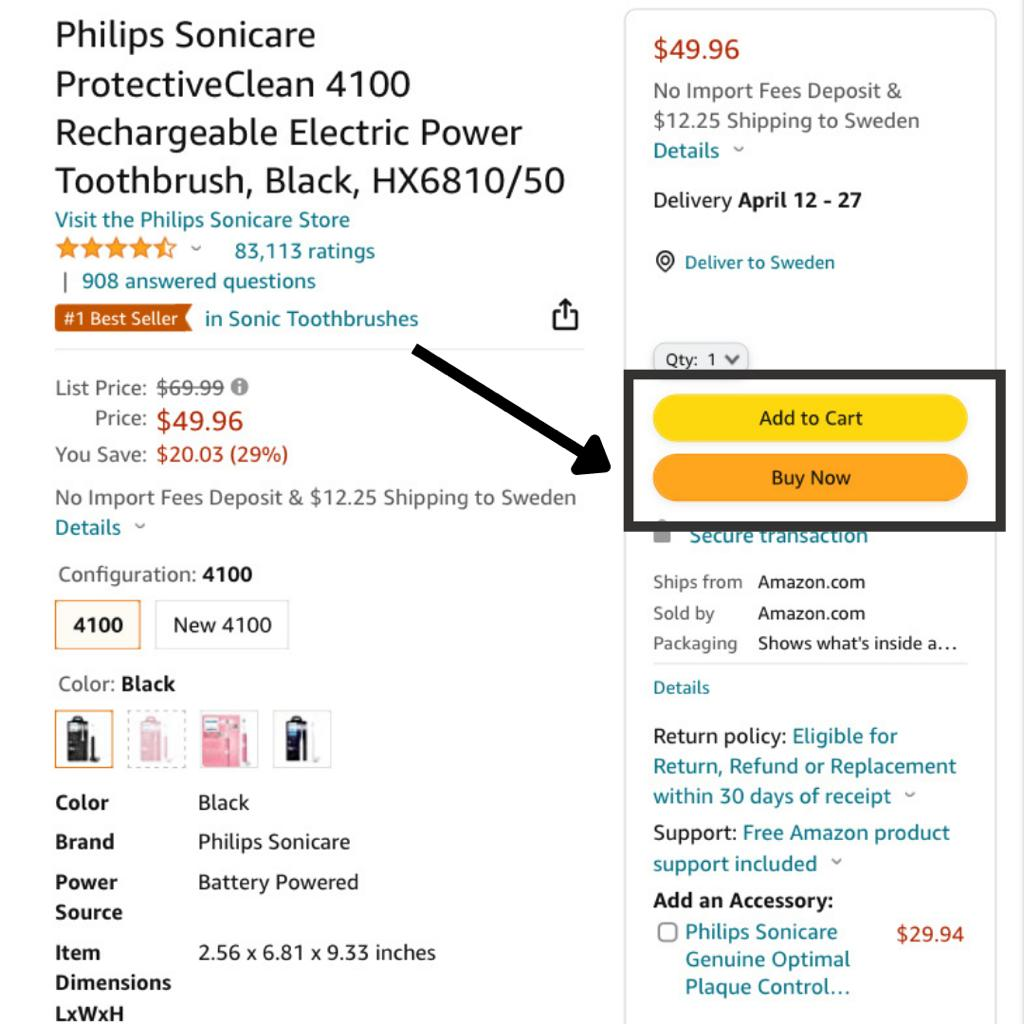 According to Statista, 82% of Amazon purchases happen through the Buy Box. Therefore, you need to consider all your options before deciding on the type of plan that would work for you.
Once you have decided on the selling plan, go to Amazon Seller Central and click on the sign-up button.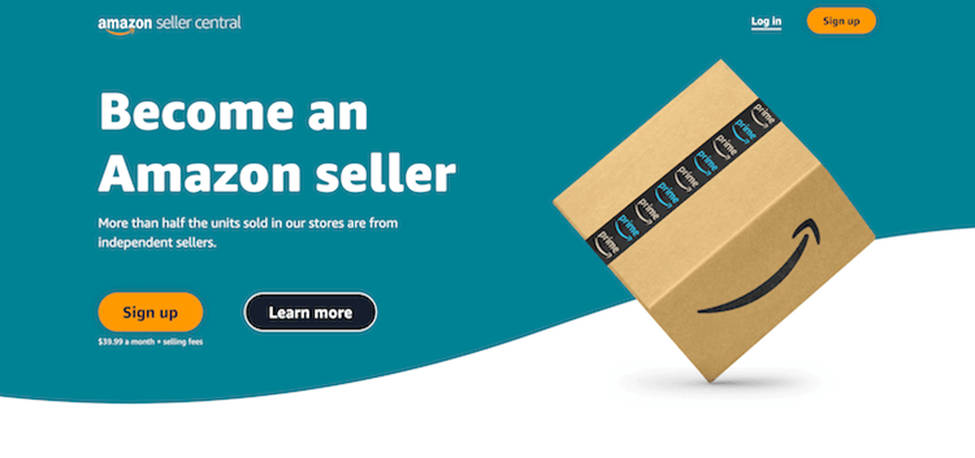 You will be asked to enter an email address or phone number and a password before moving on to the long-form. Here you will fill in your:
· Business location
· Business type
· Personal information
· Billing information
· Store and product information
Next, Amazon will verify the information, and then you can log into your account using the "log-in" option at the Seller Central.
2. Decide on the product you want to sell
After creating an Amazon seller account, the next step is to find a product. Amazon is an incredible platform for your dropshipping business, but it is also one of the most saturated marketplaces with ruthless competition.
Therefore, the product you want to sell on your online store should be something that has a high demand and low competition.
After all, the success of your amazon dropshipping business depends primarily on the product you sell. Hence, it should be something with a unique selling point that attracts the customers.
Here are some of the factors to consider that can help you get started:
· Look for a product category with sizable profit margins
· Go for appealing goods that are highly marketable on social media
· Find a niche product that is in demand throughout the year
· Start with simple, low maintenance categories
· Use tools to research the profitable products
One of these tools is the Opportunity Finder by Jungle Scout, which allows you to set a few criteria to find the perfect product. These include:
· Average monthly unit sold
· Average monthly price
· Niche score
· Competition score
Ideally, you should target products that have at least 100 sales per month and are not too steeply-priced, especially since you are just beginning your online business. I would suggest going for products priced between $20 to $40 to rake in the maximum number of sales.
Moreover, set your competition to "low" or "very low" and a niche score of 7 and above. Anything lower will have a low demand, which you want to avoid.
3. Find your suppliers
Once you have decided on a profitable product, the next step is to find a reliable supplier that produces high-quality goods at a reasonable price. Moreover, they should be able to fulfill the orders and deliver the products on time. Finally, they should be wholesale suppliers and willing to dropship.
If your suppliers do not tick all the boxes, your brand will suffer from a bad reputation, and you will have to deal with multiple demands of customer returns. Here are some proven ways to connect with a dropship supplier:
Google
You can find wholesale suppliers using Google. However, it is your job to perform due diligence and vet out the authentic ones.
To begin your search, type in the specific product you want to sell and targeted keywords like wholesale, distributor, dropshipping, etc.
For example, you can search for home décor dropshipping wholesale distributors. Check out the Google SERP screen grab below. Only a handful of websites belong to potential dropshippers. Others are either sourcing agents that will connect you to a retailer or lists of home décor dropship suppliers.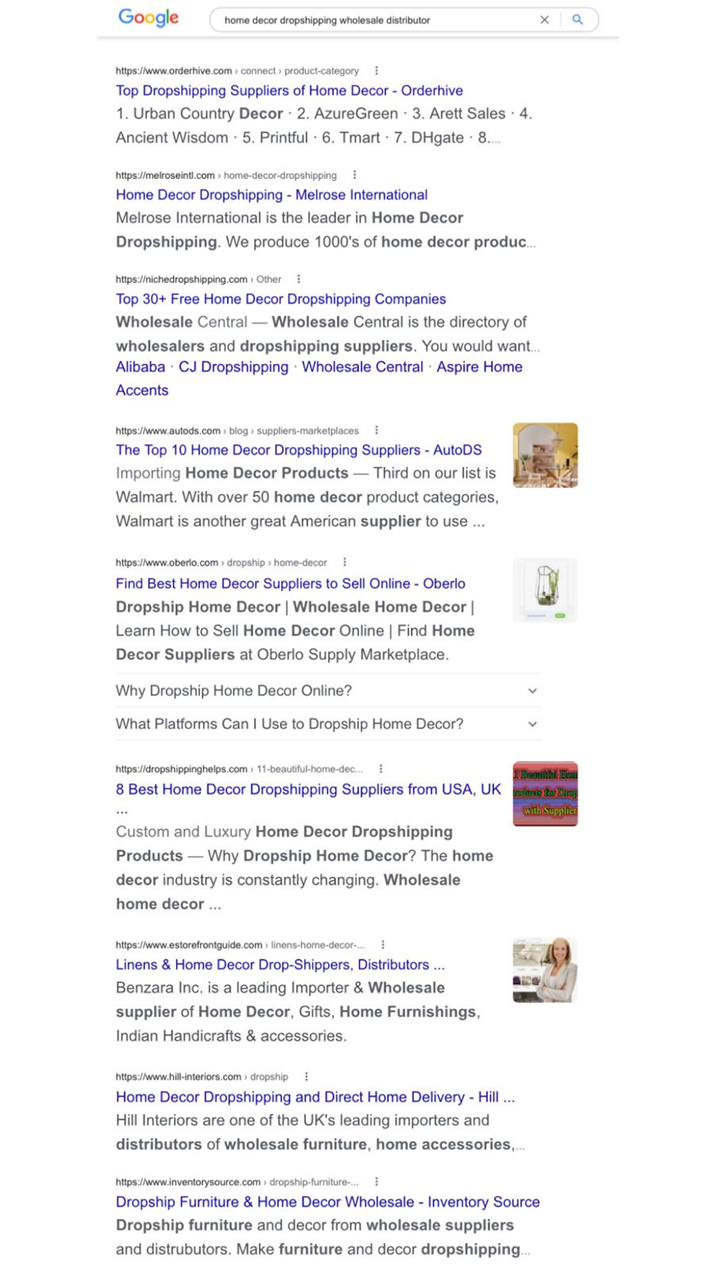 After you have narrowed down a list of a few dropshipping suppliers, open their site to check for their legitimacy. Ask yourself the following questions:
· Do they have a "Register to Shop" button or mention that they are wholesale/dropshipping suppliers?
· Do they have a contact button/number?
· Are they on Google Maps?
· How are their reviews on Google and Yelp?
· Do their products sell well on Amazon?
· Do they have an FAQ section that answers questions about dropshipping?
· What are their shipping, return, and minimum order policies?
· Do the product description and images look professional or amateurish?
Targeting all these questions one at a time will help you determine the seller's trustworthiness. The final step is to give them a call or email them to open a line of communication. This is your chance to ask them about their inventory management, payment terms, and order fulfillment process.
Once you are satisfied, create a seller agreement that authorizes the products for dropshipping on Amazon.
AliExpress
AliExpress is a B2B website that connects an ecommerce business to the dropshipping supplier. To start purchasing products from AliExpress, you need to create an account.
Then, you can search the website by typing in your product category or name and sift through the results until you find a seller you can trust. There are numerous ways to determine the reliability of a seller.
First, ensure that the seller has an overall rating of 95% while alluding to continued customer satisfaction.
Next, make sure that the supplier has an experience of at least a year to minimize the risk of rookie mistakes that can affect your brand image. Thirdly, look for sellers with ratings 4.6 and above. These ratings are awarded on multiple parameters such as items as described, communication, and shipping speed.
Check the shipping cost, Buyer Protection, and estimated delivery time. Some AliExpress sellers offer free shipping to the U.S., so ideally, you should choose a product with free shipping.
The product below has a 75-Day Buyer Protection, which is quite generous. It means that the online retailer is responsible for reimbursing the money in case of 'item not received' or 'item not as described. However, the delivery time is almost a month.
Lastly, before you start dropshipping on Amazon, you need to contact the third-party supplier to ensure that they will not deliver the product with their company name. As I mentioned above, this is prohibited by Amazon.
4. Create an Amazon product listing
If the product doesn't have an existing listing, then you have to create a new product listing.
You have your product and your seller. Now you need to create a listing on Amazon to finally start selling your product and reap the rewards of all the efforts thus far.
To create a product listing, here are the steps you need to follow:
1. Log in to your Seller Central account
2. Select "Inventory" from the drop-down menu
3. Click on "Add Product"
4. In the next window that comes up, select "Create a new product listing"
5. Choose your product category
6. Fill out the information for the product listing
When filling out the product description, write a tight copy that is customer-centric. You want to highlight how your product is beneficial to the buyer and what potential problems it can solve.
Before publishing your listing, you also have to decide on a price. If you have a Professional Seller Account, you have to pay a referral fee of 8% to 15%, depending on your product category. Individual sellers pay an additional $0.99 as well.
Therefore, choose a price that is not too exorbitant yet makes your venture of Amazon dropshipping profitable.
What benefits can you expect from Amazon dropshipping business?
Dropshipping products have their fair share of perks, making it among the most profitable business models. Dropshipping on Amazon, in particular, has unrivaled benefits that have encouraged many individuals to join the bandwagon.
Following are the advantages of Amazon dropshipping:
Low startup investment
Unless you dropship, you need a substantial startup cost to initiate a business, unless you dropship!
With dropshipping, you do not need to own a physical inventory or a warehouse to store your goods. Instead, you just have to set up an Amazon seller account, list an item and make it look authentic, and wait for the customer to place an order.
Then, you use a percentage of the money to employ a third-party supplier to produce, pack, and ship the item. Consequently, you do not invest anything remarkable to start dropshipping on Amazon apart from paying for the seller account and a few additional software tools (discussed below).
Easy to setup
The most converting element of Amazon dropshipping is that you do not have to wait for the product designing, manufacturing, or shipping to the fulfillment centers to start your online store. Once you find the products you want to sell, you just have to list them on your ecommerce store on Amazon.
Moreover, compared to setting up a Shopify store, you do not need to know web design or understand its technicalities to set up your Amazon store. Amazon has all these aspects covered, leaving you more time to focus on product sourcing and customer service for a thriving online business.
Large audience
As I mentioned above, Amazon has millions of active users which are fiercely loyal to the company and trust the brand. A survey of more than 2000 U.S. customers revealed that 89% of the buyers are more likely to buy from Amazon than any other ecommerce store.
Therefore, you can harness the potential of Amazon's customer loyalty and reach buyers that you could not have gained access to with your online store.
In addition, Forbes report that 85% of the Prime shoppers and 56% of the non-Prime shoppers visit the website at least once a week, while one-third of Amazon users are ready to buy when they visit the site.
Hence, if your product has a high demand and is attractive, it has the highest chance of selling on Amazon.
Easier to market products
Continuing with the benefits of Amazon's large customer base, as long as you are employing a few basic marketing tactics, you should be able to increase the visibility of your product and move it reasonably easily.
Therefore, focus on optimizing your product listing (more on this later) and employ clever pay-per-click (PPC) advertising to amplify your product sales.
Lack of overhead costs
Businesses often go under because they cannot generate enough profit to sustain the overhead costs. Amazon dropshipping has little to no overhead cost since you do not have to manufacture, store, or ship any inventory. Therefore, you should be ok as long as you can afford the selling plan's monthly subscription.
Negligible risk
Keeping an inventory is quite risky as the swiftly changing trends can make your sales drop, leading to a loss. Since you are not investing anything astronomical in your ecommerce store, you do not have to worry about these risk factors associated with a conventional business plan.
Moreover, you can easily sell products without incurring huge running costs. Thus, this entire business model is considered a low-risk.
Freedom to target multiple categories
Amazon has more than 30 categories that you can target. Therefore, you can sell in more than one niche by outsourcing products from multiple suppliers. Doing so would also increase the probability of generating a profit exponentially.
In addition, as long as you do not have to store the products yourself, you can opt for high-maintenance products that cost more to stock. Of course, these products also have a higher shipping cost that needs to be considered.
The bottom line is that you just need to make sure that the suppliers are trustworthy and the products are of good quality, and you can generate significant customer orders.
What are the challenges you can face with Amazon dropshipping?
As great as dropshipping on Amazon sounds, it has its share of challenges that need to be acknowledged before directing all your efforts into product sourcing. Knowing about the difficulties of dropshipping can help you make informed decisions during the product research phase.
Following are the disadvantages of Amazon dropshipping:
Low-profit margin
Since you do not invest a lot of money when you start dropshipping, it does not offer a significant return. When you sell products, most of the product's cost goes to the dropship supplier, and then you have to pay the Amazon selling fees.
Moreover, your profit margins can fluctuate with the wholesale price and shipping cost changes.
Intense competition
Due to the ease, low startup cost, and lack of entry barriers for Amazon dropshopping, there is fierce competition. Moreover, multiple Amazon sellers are selling identical products.
Other sellers could be selling the same product since you usually cannot strike an exclusive deal with the supplier. Consequently, popular niches are more prone to ruthless competition than other categories.
Therefore, for your product to break through from the cluster, it must be truly distinctive. However, the problem is that you have no control over the specifications or customization of your product. You can only sell what is being mass-produced.
The only factor under your control is the price point, but you risk losing your already thin profit margins if you list your item as too cheap.
Absence of quality control
Reverting to your lack of control over the products, you cannot be sure about the product quality you are selling, as the item is shipped from the supplier directly to the buyer.
To mitigate the risk of selling poor-quality items, you can request a sample before listing the product. However, there is no guarantee that every product will match the sample quality, or it will not be damaged during shipping, especially if you are dropshipping goods from AliExpress.
Lack of control over the supply chain
As a dropshipper, you do not have a lot of authority or control over the entire system, including supply chain management. When it comes to inventory levels, you cannot do much if the suppliers run out of stock. You have to bear the consequences since Amazon can suspend your account if you are out of stock for long.
Moreover, shipping and product returns can also take time, especially if your suppliers are overseas. This can agitate the customers, and you have to be the one to answer their queries and resolve their issues without having any control over the situation.
The communication delays, as you go back and forth between the buyer and the supplier, can lead to a lot of frustration. If this happens during the early days and your customers leave negative reviews, it can affect the sustainability of your Amazon store.
How to succeed at dropshipping on Amazon
So far, I have talked about how to establish your Amazon dropshipping business, but your job is not done yet. Now comes the part where you learn a few strategies to stay ahead of your competition, drive your online store towards success, and earn some profit along the way:
Optimize your online store
According to a study, 55% of buyers conduct product research on Amazon, while only 28% of people use search engines, like Google, for the same purpose. To target these millions of users, you need to rank high on Amazon's search results and increase your product visibility.
Thus, before you list your products online on your Amazon store, you need to focus on product listing optimization. Determine the most researched keywords and their search volume. Incorporate highly searched relevant keywords in your product title, product description, and the "About this item" bullet points.
Coherently write your title while utilizing multiple target keywords. However, avoid keyword stuffing that can make your title incomprehensible and penalize you. Your title should include elements such as:
· Brand
· Key feature
· Product type
· Color
· Size
· Packaging/Quantity
The brand name should be the first word in the title. According to research, 93% of the top-selling product titles began with the brand name. Hence, even if you decide to dropship on Amazon from China, create a brand (more on this later) and use it in your title.
Keep your product description concise, straightforward, and engaging, yet include additional keywords. Most importantly, your "About this item" list should discuss the product's features and describe how your product will benefit the buyer. Use this section to add more keywords apart from the ones already used.
Make sure to include high-quality images. You can ask for a sample from the supplier and hire a product photographer to capture a few high-definition photos of the product in use.
Optimizing your product listing will allow you to benefit from organic traffic and facilitate your Amazon ads.
Promote product listing
Products with higher sales, particularly those with a better sales velocity than their competitors, dominate the search ranking.
Unfortunately, when you first list your product, you may not even appear in the first few pages of the search results. To top it off, only 30% of the buyers make it to the second search results page. So, how do you start selling products?
You can drive sales by promoting your product to direct internal and external traffic to your Amazon listing.
You can opt for Amazon's sponsorship program called Amazon Pay-Per-Click (PPC) for internal traffic. With this program, you create ads that help you appear high on the search results for keywords set by you. Every time a user clicks on your ad, you pay Amazon a fixed fee.
If you have done your homework for the relevant keywords and used them correctly in your content, you can benefit from this method to boost sales.
For external traffic, you can use digital marketing tactics such as posting on social media platforms, using Facebook ads, practicing email marketing, writing blogs, etc. While these methods can be more cost-effective, they can also be challenging and time-consuming.
You also need to have a social media presence or brand recognition for users to click on your CTA button that directs them to your Amazon listing. If you manage to ace this strategy, your product will have a competitive advantage.
Prioritize customer service
You can choose the right niche, source the best product for dropshipping, and create a stellar product listing. However, if you provide poor customer service, your dropshipping business will fail.
Amazon emphasizes keeping the buyers happy by providing them with quality products within the promised timeframe. Moreover, it wants the seller to be accessible to the buyers and keep them in the loop about the order status.
Therefore, you should focus on providing exemplary customer service and be available to answer all the queries posed by a buyer. It also helps to keep an open line of communication with the suppliers so you can reach out to them as soon as a buyer expresses some concern.
While you do not have much control over the entire supply chain, you can dedicate your time and efforts to making sure your customers are happy. Doing so could help you get great product reviews, which brings me to my next point.
Ask for reviews
Positive reviews are another element that can help you scale the search rankings quickly and increase your sales.
Amazon understands that buyers rely heavily on reviews to make informed buying decisions. 79% of customers read reviews before purchasing a product. Therefore, the platform uses these reviews to distinguish quality products and authentic sellers from the rest.
While Amazon has a strict review policy, it does allow you to request a review. Hence, every time you sell a unit, prompt the customer to leave feedback. You can send follow-up emails or use social media to reach out to the buyers.
Build a brand
As I have said before, you have no control over the product development, quality, or shipping with Amazon dropshipping. Thus, if you want a long-term, profitable business, you should focus on your brand.
Branding refers to a customer's positive perception of your products. It includes everything from your logo, brand colors, customers' experience with your business and products, and your online presence.
Creating a brand will give you an advantage over your competitors, make your products more desirable and unique, and instill trustworthiness amongst your customers. You can even sell your products at a higher price on Amazon, even if they are identical to your competitors because people want to buy from a reputable brand.
When building your brand, you should ideally stick to a specific niche for a consistent image. Consider creating a website and social media accounts for your products to create content that provides value. Having other platforms, apart from the Amazon sales channel, allows you to reach more people.
Finally, once the buyers recognize your brand, they will be more likely to buy from your Amazon store and spend money on subsequent releases of other product lines.
Which tools can help you with Amazon dropshipping?
When it comes to building a sustainable and successful business, the right software can help you make the entire dropshipping process more seamless. Even if you just focus on automating the key areas, such as creating, tracking, processing orders, and inventory management, these tools can make your Amazon dropshipping more manageable and handsfree.
Following are the most popular software to expedite your dropshipping efforts:
Helium 10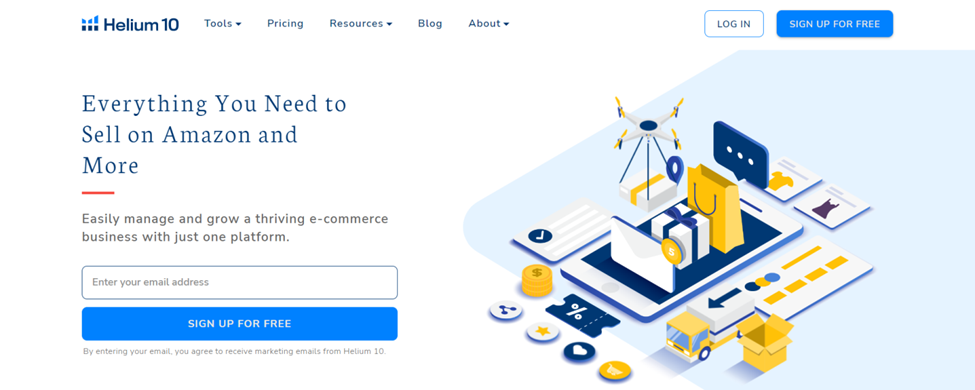 Helium 10 is one of the most sophisticated software solutions for Amazon dropshipping. It is an all-in-one Amazon software with an at-a-glance analytic display. It features tools for product research, keyword research, listing optimization, seasonal trends, and more.
With Helium 10, you can watch the latest Amazon trends and capitalize on them. You can track your product's success on the product rankings, get actionable tips for improving the rankings, and estimate your profit.
The listing optimization tools, such as the multiple keyword research option, help you find the most relevant keywords to generate stellar content for your product listing and optimize your Amazon store.
While the software is steeply-priced compared to its counterparts, it hosts an extensive range of tools. It also offers various pricing plans with discounted prices and is up to 3 months free for annual plans:
· Starter (Basic tools and training): $39/month, $339/year
· Platinum (Most popular plan for a single user): $99/month, $999/year
· Diamond (Multi-user plan for expert sellers): $249/month, $2499/year
· Elite (Advanced, tailored plan with live expert training): $399/month
Sellery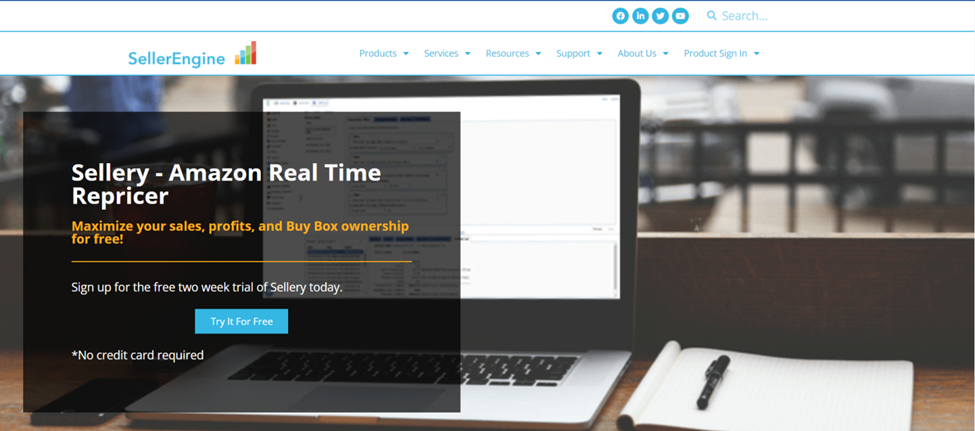 Sellery is a comprehensive tool designed to help you automate your pricing and remain competitive in a saturated niche. It guarantees that you will never sell products at a loss and live up to its promise.
The powerful software offers a real-time repricing solution so you can react immediately as soon your competitors change their listed price, including shipping. In addition, you can apply automated pricing rules to increase your prices and, ultimately, your profits whenever possible.
The algorithm also helps your products compete for the Buy Box and boost the probability of winning the Buy Box. You can also reach out to their experts for guidance and advice.
The software offers a two-week trial, so you can experiment with it before opting for their plan. They charge 1% of your gross monthly sales, with a minimum charge of $50/month and a maximum charge of $2000/month. There are no other hidden fees, contracts, or commitments.
Jungle Scout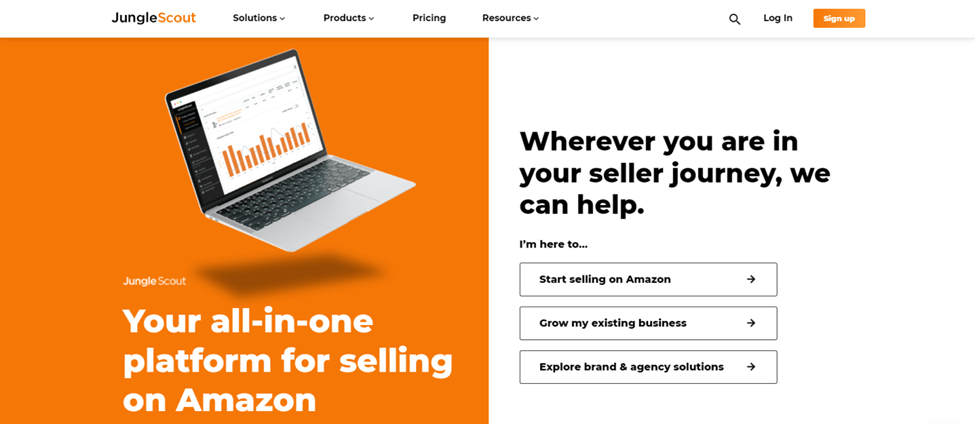 Jungle Scout is similar to Helium 10, as it is also an all-in-one solution for Amazon sellers. While it is not exclusively for dropshippers, you can find various tools to automate and accelerate your Amazon dropshipping efforts.
With Jungle Scout, you can analyze the product niche trends and use the Product Database by applying custom filters to help you find the most lucrative products. You can use the sales analytics solution to gain actionable insight to improve your online store.
The keyword research feature helps you find the most searched keywords on the Amazon search engine to drive more traffic to your product listing and improve your PPC campaigns.
It also has innovative supplementary tools like the new Supplier Database Tool, which allows you to discover qualified international suppliers and their primary customers and products.
Jungle Scout offers monthly and yearly plans with a seven-day money-back guarantee:
· Basic (Access to Jungle Scout browser extension): $49/month, $349/year
· Suite (Most popular plan for product research and expert management): $69/month, $589/year
· Professional (Ideal for experience sellers, with 6 users included): $129/month, $999/year
Feedback Express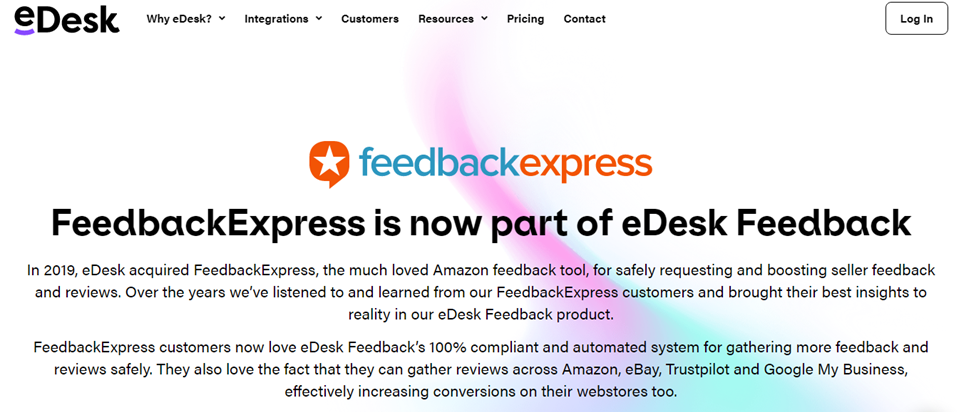 Feedback Express is an incredibly functional tool that helps automate conversations with buyers and get reviews on your Amazon store. The fully automated process generates a rating request every time a customer shops from your online store and prompts them to leave feedback.
Amazon identifies customer reviews as an "integral part of the customer shopping experience." However, it does not allow sellers to review their products or provide discounts in return for a review.
Thus, the software ensures that the reviews are requested in compliance with Amazon's review policy to prevent the risk of withdrawal of selling privileges and Amazon account suspension.
In addition, it can also help you remove negative feedback and blacklist buyers notorious for leaving negative reviews so you can maintain a high store rating. Positive product reviews can also increase your chances of winning the Buy Box.
Since Feedback Express is now part of eDesk, which is a complete customer support solution, it has become pricier. The pricing plan includes monthly and yearly subscriptions, with a 2-month free trial and reduced prices with a yearly subscription:
· Essential: $55/month, $45/year
· Team: $85/month, $65/year
· Professional: $115/month, $85/year
· Enterprise: $179/month, $149/year
Frequently Asked Questions
Is dropshipping allowed on Amazon?
Before I explain how to dropship on Amazon, let me emphasize the rules of Amazon dropshipping.
Yes, dropshipping on Amazon is allowed and legal as long as you comply with the updated Amazon dropshipping policy. These strict guidelines ensure that your dropshipping business remains viable, and a breach of the policy can result in your Amazon account suspension.
So, if you want to maintain a sustainable Amazon dropshipping business, you must:
· Be the seller on record. This entails identifying you as the seller on all the invoices, external packaging, packing slips, and any other information provided to the customer or included on the product. The supplier should not be mentioned or identified in any capacity
· Remove any invoices, external packaging, packing slips, or other information mentioning or identifying the third party drop shipper before the order is shipped
· Be responsible for accepting and processing customer returns
· Comply with all the terms of the seller agreement, as well as other Amazon policies applicable in your case
In addition to the policy, there are a few examples of dropshipping that are strictly prohibited:
· Purchasing a product from an online retailer and making that retailer ship directly to the customer, if the shipment does not identify you as the seller of record
· Shipping orders with invoices, external packaging, packing slips, or other information mentioning or identifying a seller other than you
As long as the customers do not know that the product is dropshipped, Amazon will not penalize you.
How does dropshipping compare with retail arbitrage and private labeling?
In addition to dropshipping, other ecommerce business models are popular on Amazon. These include retail arbitrage and private labeling. The common element of all these business models is that you do not design or manufacture your product. Instead, you source it from third-party suppliers.
However, the similarities end here.
Retail arbitrage is buying products in bulk at a low price from retailers and selling them for a profit on your online store. Unlike when you dropship on Amazon, you own an inventory and pay for warehouse charges, which rack up the startup investment and the upkeep costs.
Retail arbitrage makes it simpler to start your business and earn a profit, but it may not be sustainable in the long term. It depends on how long you can keep purchasing products at a low cost to resell. In this plan, you source products from big clearance sales and heavily discounted end-of-season promotions.
Private labeling is a simple concept where you buy your product from a manufacturer and label and market them as your product under your brand. Amazon Basics is a good example of a successful private labeling model, as the ecommerce giant sources products from other manufacturers and sells them under the Amazon Basics brand.
It takes time to set up a private labeling business and requires the highest startup cost among the three business models. However, it is also a less competitive market than Amazon dropshipping, so you do not have to worry about other sellers stealing your customers.
Finally, private labeling is a long-term business plan where you develop your brand and incorporate more product lines over time. Eventually, you generate sufficient brand awareness to create a sustainable business, but it can take time before you see results.
Is Amazon FBA the same as dropshipping?
No, FBA (Fulfillment by Amazon) and dropshipping are mutually exclusive. However, it can get confusing as numerous sellers dropship through Amazon FBA.
So, what is FBA?
Amazon's FBA is an amazing ecommerce business solution for sellers who cater to a large audience, as the program offers warehousing and shipping services for your products. With FBA, Amazon is responsible for retrieving, packing, and shipping your products when a customer purchases a product. Amazon also takes care of processing customer returns and managing customer service.
Some drop shippers direct the dropship suppliers to ship the products into FBA under their name. However, it can lead to a lot of issues such as:
· Unclear delivery dates and item quantities
· Unclear quality of the inventory under "your" name
· Risk of account suspension and not being able to withdraw your profit
Are you ready to start your Amazon dropshipping journey?
Dropshipping on Amazon is undeniably a lucrative business model, which requires low initial investment and is relatively easy to set up. However, you need to exhibit due diligence, perseverance, and unwavering commitment to the customers to succeed.
To summarize, as long as you can source quality products, find authentic suppliers, provide exceptional customer service, and keep gathering good reviews, nothing stops you from excelling at Amazon dropshipping.