Selling on Facebook Marketplace has been a great alternative to garage sales. Facebook Marketplace is a free option for casual sellers that connects you with interested buyers in your area. However, passionate e-commerce sellers can also hop on Facebook Marketplace as an additional channel to sell their items.
Facebook is continuing to grow. With billions of users and 18.3% of US adults purchasing from Facebook, it's work learning how to sell on Facebook Marketplace. We'll cover what Facebook Marketplace is, its benefits, and how to get started.
What is Facebook Marketplace?
Similar to eBay and Amazon, Facebook offers an online marketplace that lets you discover, buy and sell items to people worldwide. The platform is strikingly similar to eBay, with an added social component.

Potential buyers can chat with the seller over Facebook messenger and have access to their Facebook profile. Facebook lets users filter their results by category, price, and location. By listing on the marketplace, you can reach consumers where they are.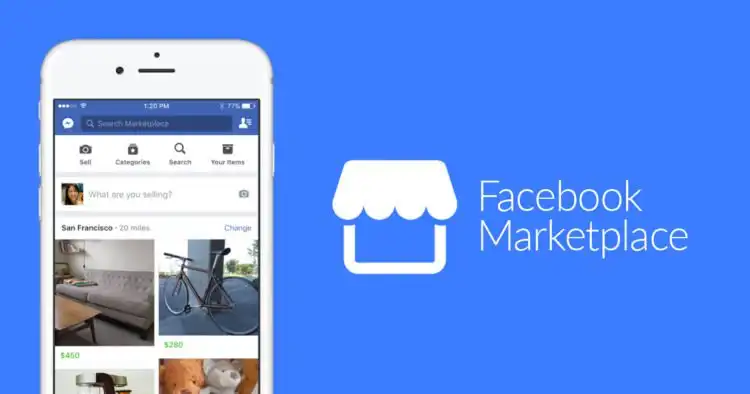 Source: The Frugal Fellow
How Facebook Marketplace works
Facebook designed the marketplace to meet the demands of buyers and sellers. Anyone can post items for sale on the marketplace by creating a listing. All product profiles are public, meaning your listing is visible to all Facebook users and on search engines. Click on the " Marketplace " icon from the Facebook app or through your web browser, and click on the "Marketplace" icon.
Shoppers scroll to find their "Suggested Items" or "Today's Picks." Or they can filter by "Categories" to see the type of products they're looking for. This brings up the neatly organized grip of photos with the location and price below the image.
Facebook makes it incredibly easy to sell on the Facebook marketplace. Pull up the Facebook App, and tap "Sell." From there, you'll be prompted to generate a new listing. Interested buyers communicate on the product profile by clicking "Make Offer" or "Message Seller." As a seller, you'll see their message under the selling screen, or you can continue the conversion on Facebook Messenger, but it's not required.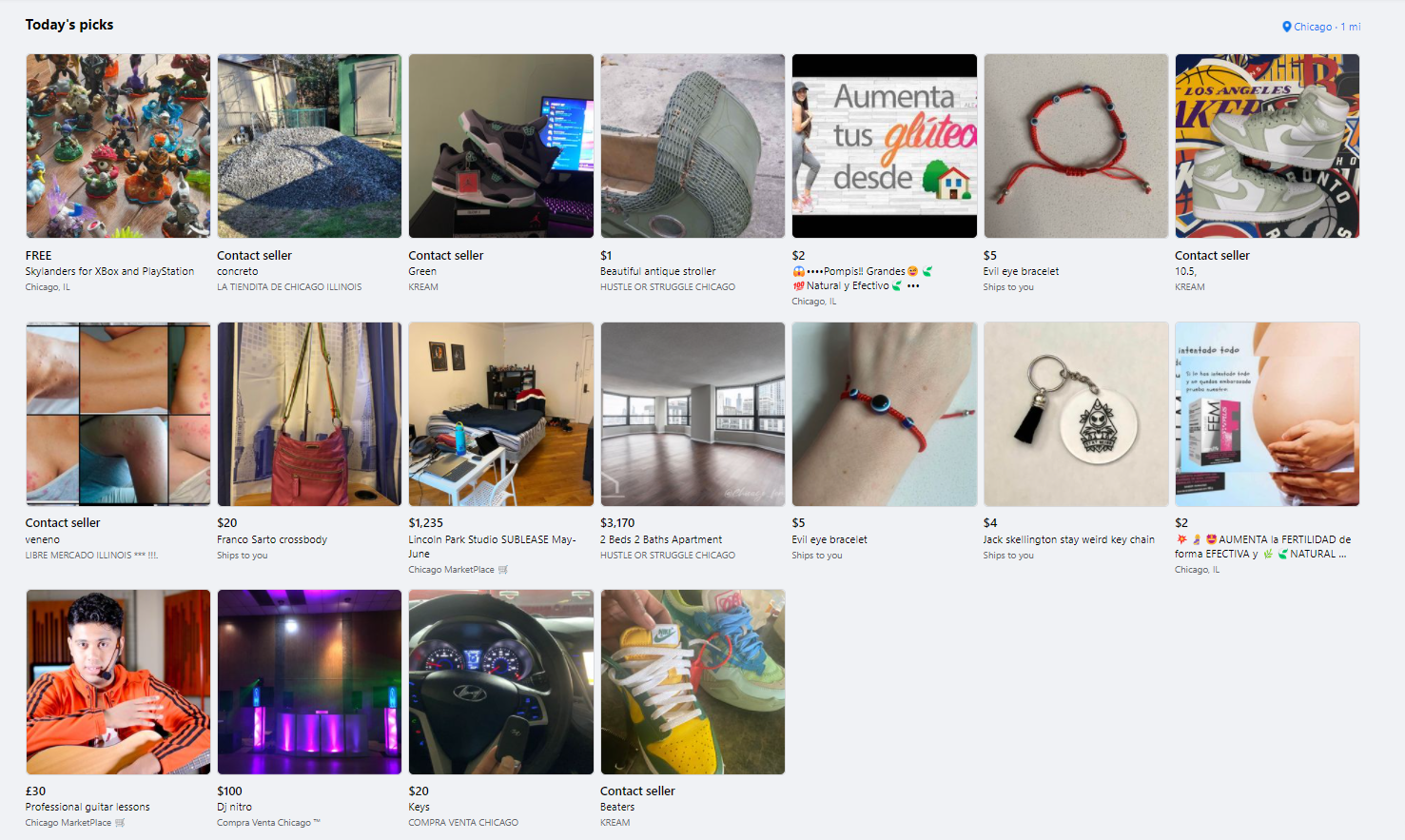 How to sell on Facebook Marketplace: a step-by-step guide
Unlike other e-commerce business models like eBay, Amazon, and Shopify, which require a complicated store setup and marketing, Facebook Marketplace makes it easy to get started. All it takes is listing your item on the platform. We'll cover the ins and outs of the platform, such as:
Create listings
Find and source products,
Optimize listings for more sales
Boost listings
Step 1: How to list your items on Facebook Marketplace
If you have a Facebook account, getting started with Facebook Marketplace is simple. On the web browser of your PC or Mac, just click on the "Marketplace" tab on the left panel.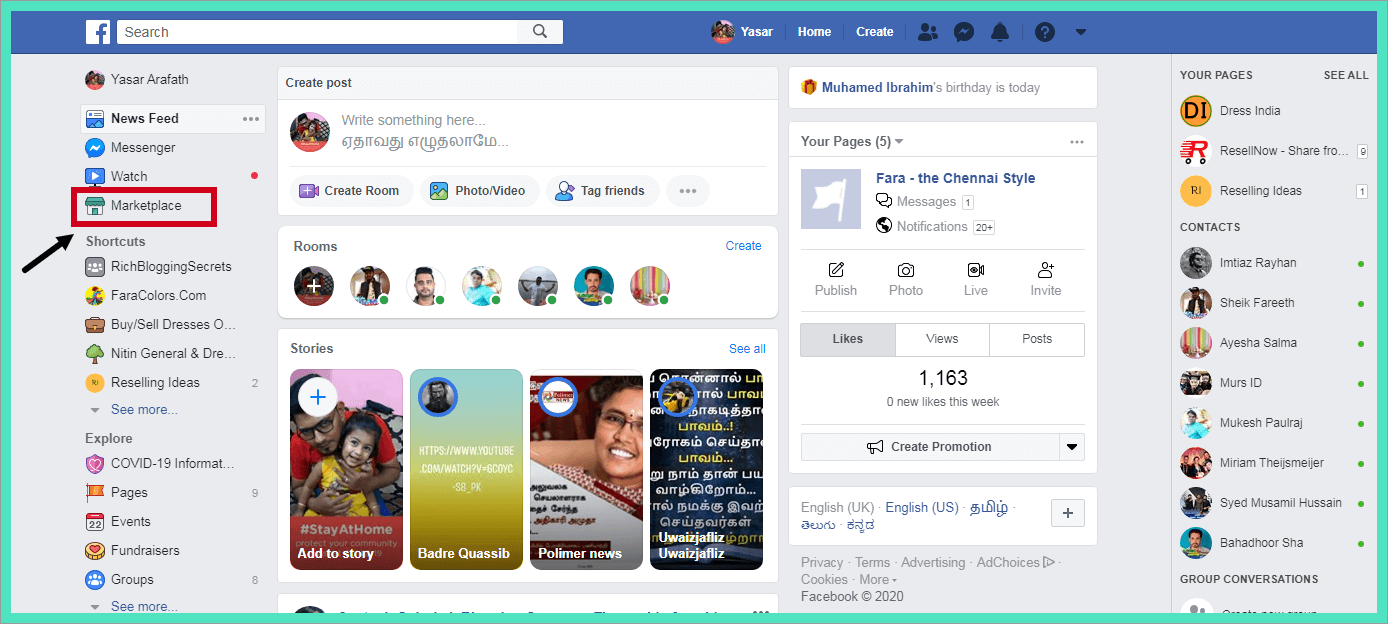 Source: The Rich Secrets
Or, if you're accessing Facebook Marketplace on your mobile device, you'll need to tap the marketplace icon at the bottom of the app.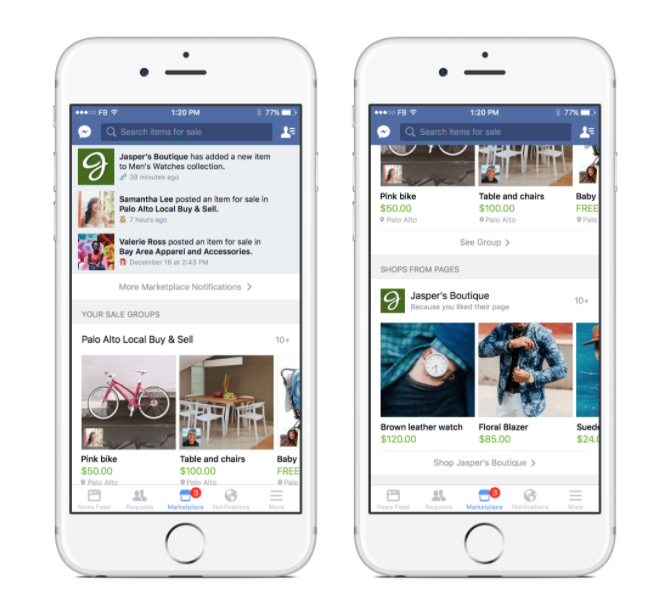 Source: Player. One
Once you're ready to sell, you'll click on the "create a listing" button on the browser or the "sell" button on mobile.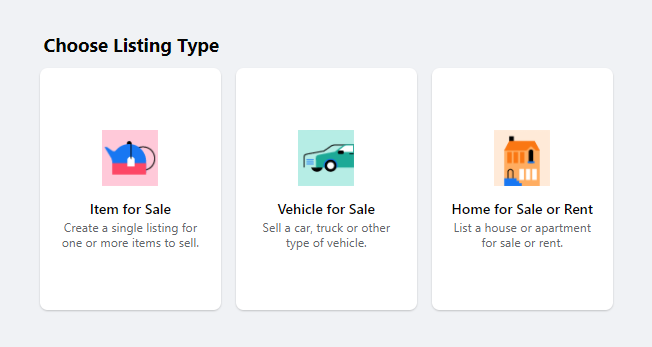 Next, select the category of the item you wish to sell.
Ideally, you'll already have pictures of the items. Facebook lets you select up to ten photos from your camera roll or desktop. Click "add photos" to upload them onto your product listing.
Add a description of your item. Facebook will require a title, price, category, and the item's state if you're creating multiple listings and selecting popular forms to where you can ship to. Then on the listing itself, you can write "ship anywhere in the US" so buyers know that you will be shipped directly to them.
In the description box, be as specific and descriptive as possible. The more useful information you can provide in your listing, the better. This helps to prevent potential returns, refunds, or unhappy customers.
Add other information such as the availability status and tags to allow consumers in your area to discover your listing.
Select your desired shipping option. You can offer to cover the shipping price, or it'll be an extra cost for the customer.
Set the visibility of your product listing. You can post on the marketplace without your Facebook friends seeing your listing, or it can appear in public for everyone to see.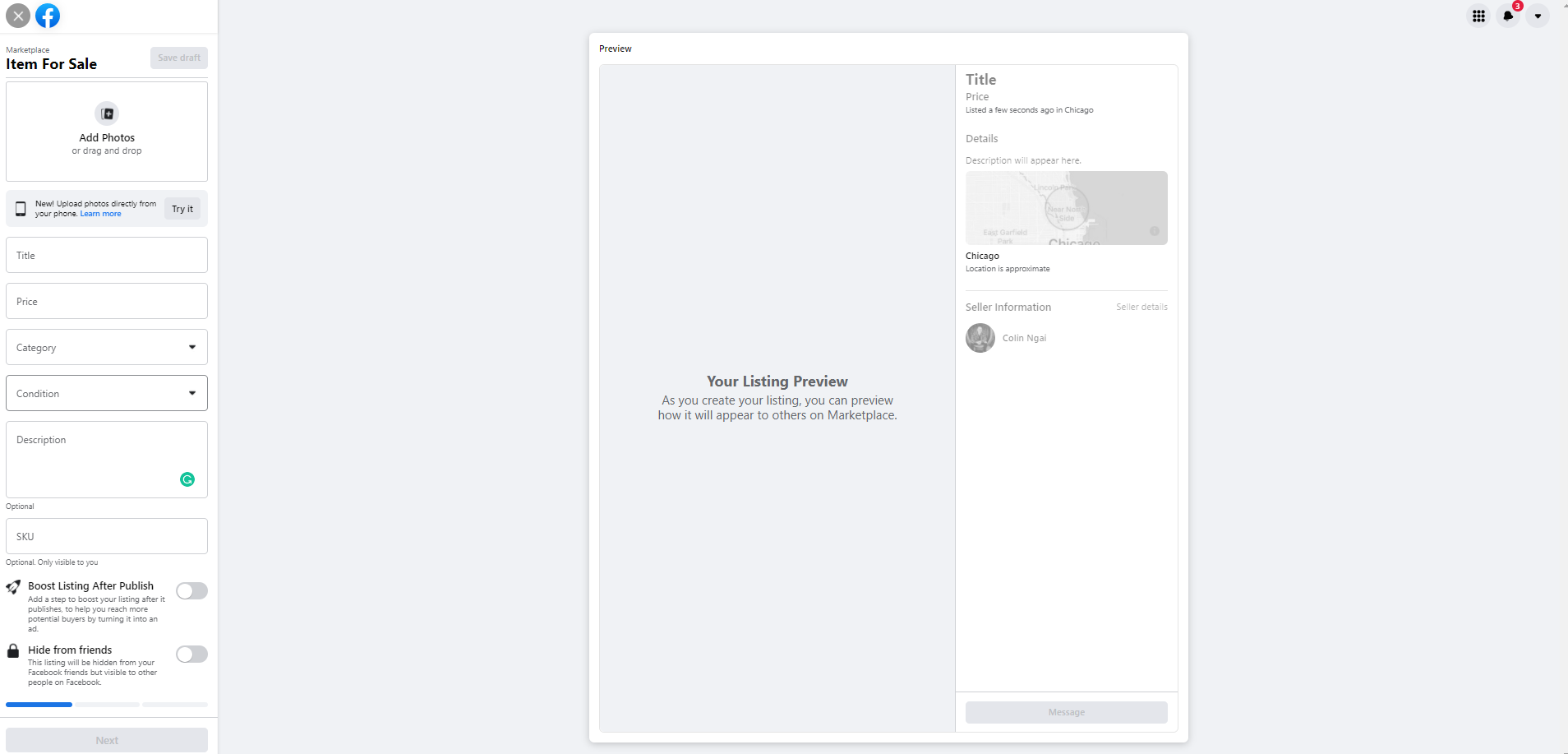 Also, set which Facebook groups or local selling groups you'd like your product listing to be visible in. For example, Facebook lets you post your item to specific buy and sell groups you belong to.

Finally, hit publish, and your listing will be up! Once published, just wait for messages to roll in. Be on the lookout for messages from interested buyers who will message you on the Facebook messenger app. Make sure that you handle all orders on time. We recommend having the items processed on the same day and shipped by the next day if possible.
Step 2: How to find and source products to sell on Facebook Marketplace
While instant sales are no such thing, you can help speed up the process and get items to sell quickly by finding in-demand items. It doesn't hurt to begin selling things around your house to get used to the platform. Perhaps, the designer clothing you don't need could be sold on Facebook Marketplace.
If you want to learn how to sell on Facebook Marketplace and turn this into a real business or side hustle, you'll need to have reliable product research and product sourcing method. Fortunately, we're here to help in both departments.
Product Research
There are dozens, if not hundreds, of different product research methods. Finding the correct products is arguably just as important as having the right marketing strategy for your listing. Product research aims to find profitable and in-demand products that you can sell simply. Here are a few research methods you can implement to ensure you see success.
1. Amazon Marketplace
Amazon is an excellent place to find product ideas. We recommend starting by checking out the "movers & shakers" category. Consider checking out the "bestsellers" and "most wished for" items.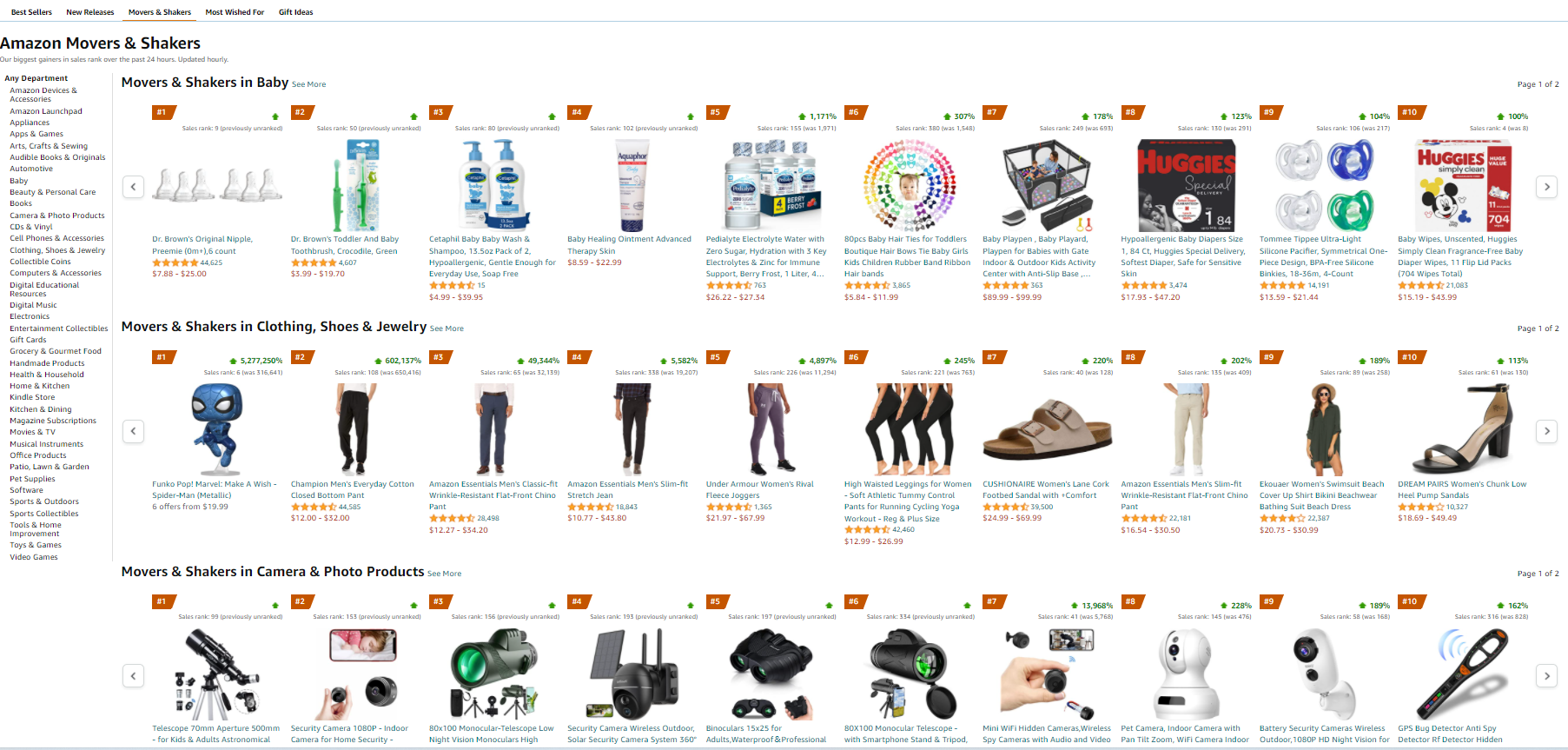 2. Aliexpress
Aliexpress can be a gold mine for finding products to sell. They let you sort by the number of reviews and number of orders.
While not all products will translate well on Facebook Marketplace, you can still find a lot.
For example, when you sort by orders on Aliexpress for "pet bed," they'll provide plenty of popular options. Consider ordering these pet beds in advance and keep them in your home rather than dropshipping them from Aliexpress. Typically, it takes weeks for Aliexpress products to arrive. So shipping them to your home in advance ensures you can deliver the product locally or send it with a fast carrier.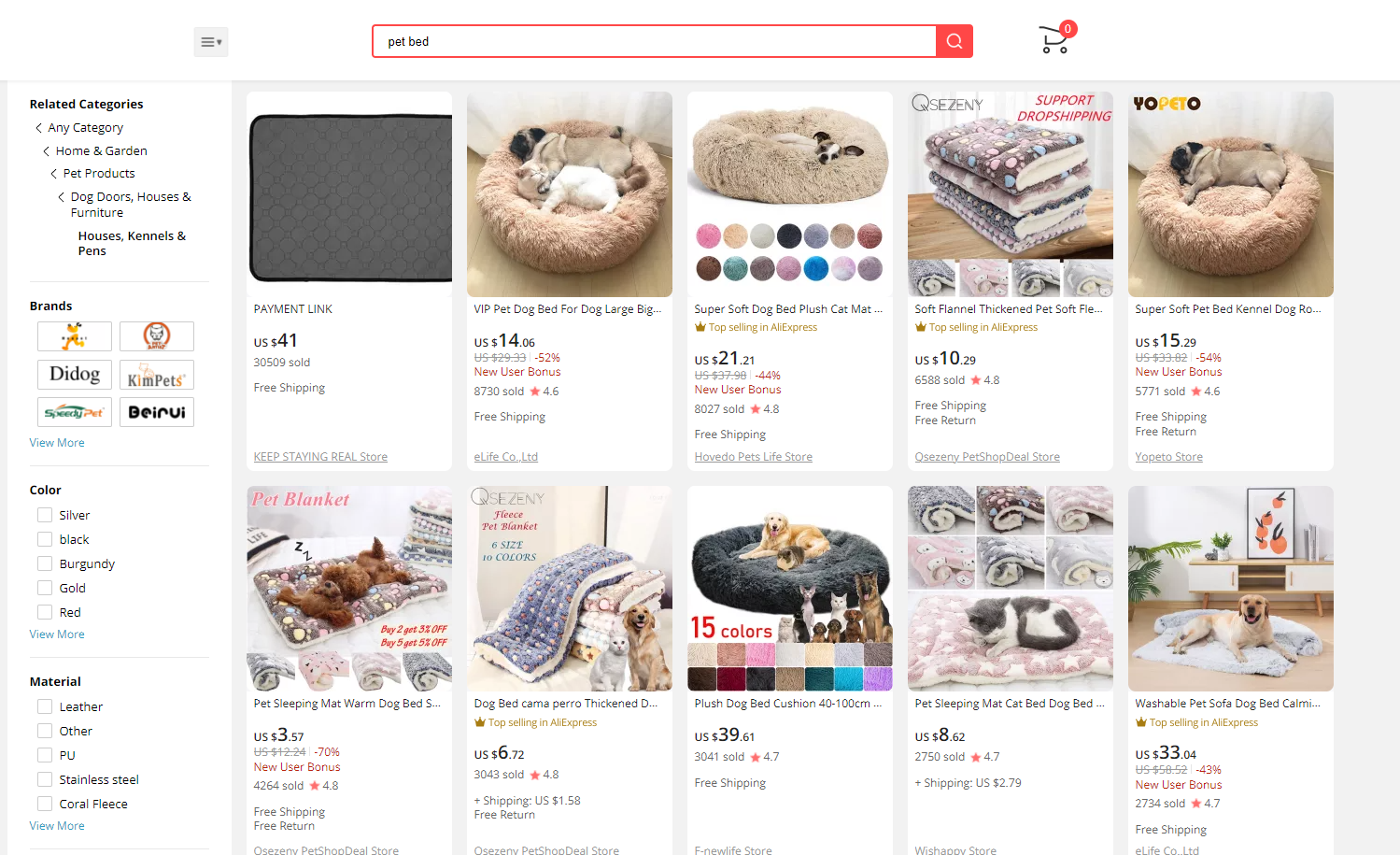 Source: AliExpress
On Facebook Marketplace, you'll notice that pet beds can be sold for $35. Therefore purchasing them on Aliexpress for a fraction of the cost in advance could be worth it.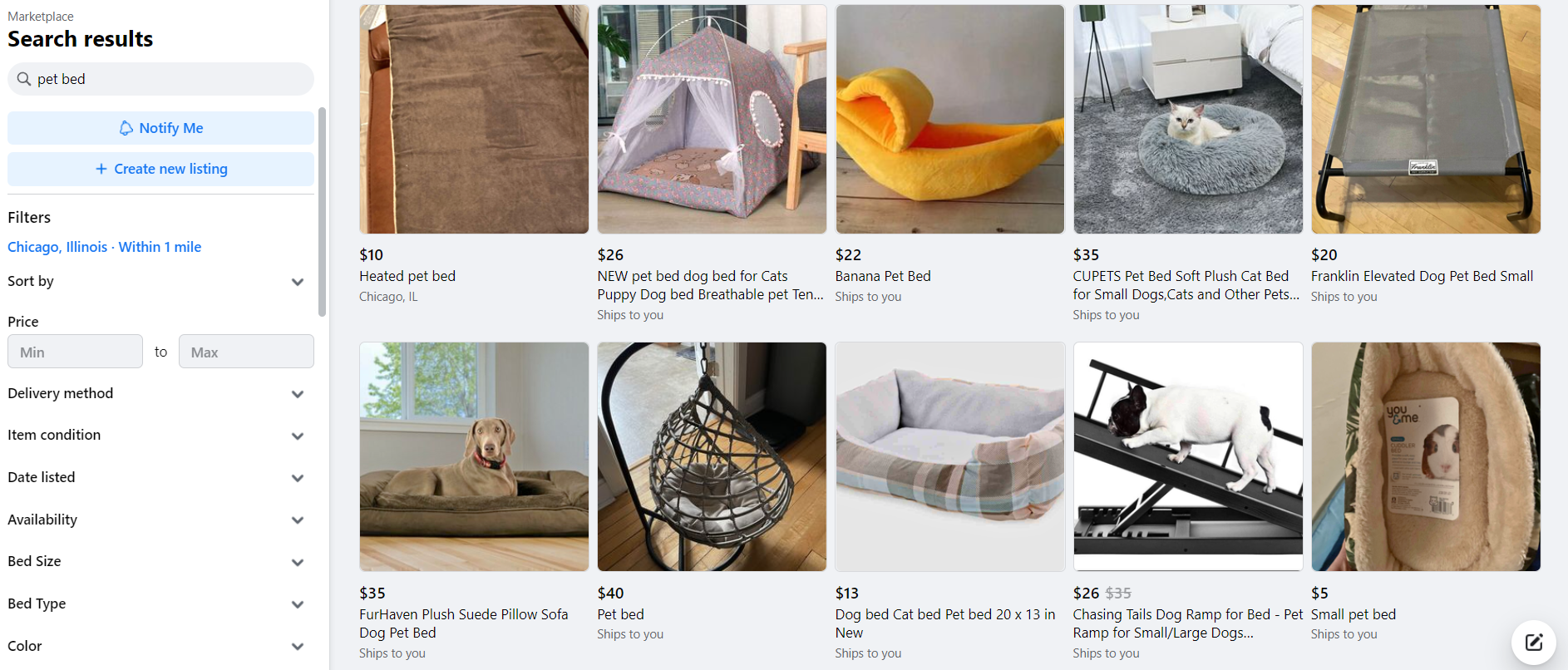 3. Think about the essentials
Think about essential items and find unique product features to help you stand out. Most users go on Facebook Marketplace or even look on Facebook groups to buy essential items or collectibles. We recommend doing your research on the best essential items. For example, Mainstay is a brand specifically in Walmart that sells essential home items. This includes bedsheets, frames, tables, kitchenware, and more. Someone who is moving or wants to improve their home is looking for these items.
Come up with essential everyday items and look for products that add distinct features to them. For example, these Mainstay products sold on Amazon are unique. The futon is black and made of suede fabric and memory foam. Conversely, the barstool chairs come in a set of three with a padded cushion.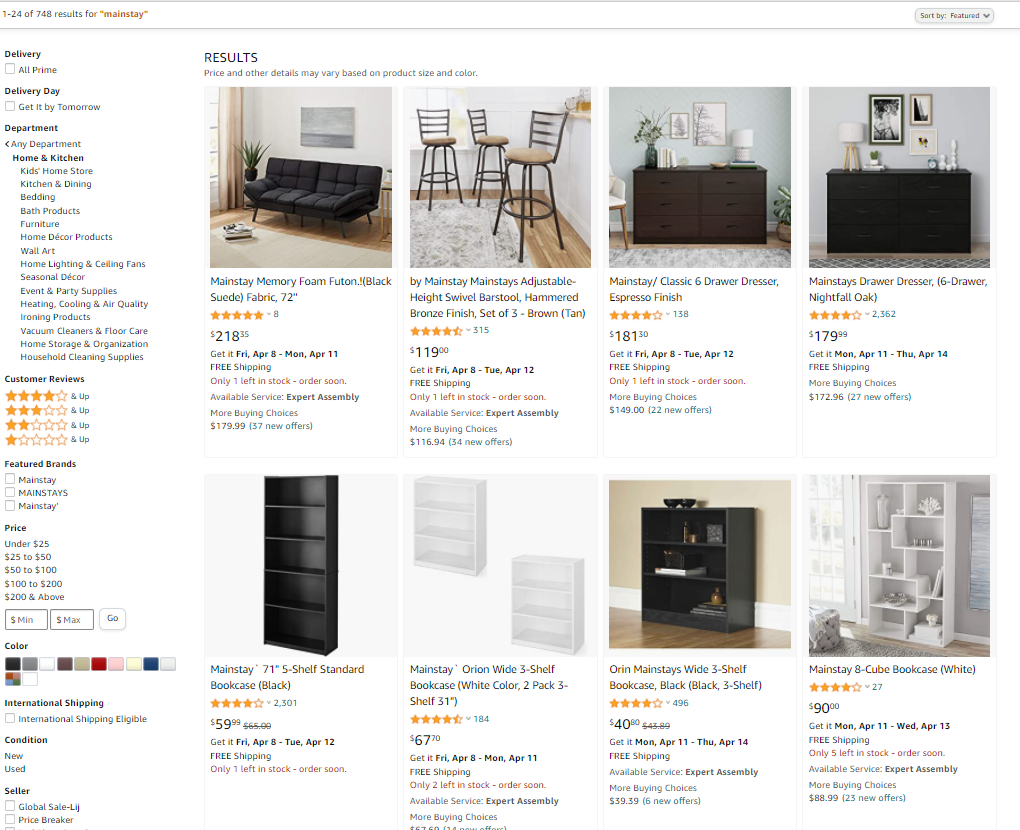 Source: Amazon
You might be surprised that the most searched words on Facebook Marketplace are "couch," "dresser," "coffee table," "desk," and "cars for sale."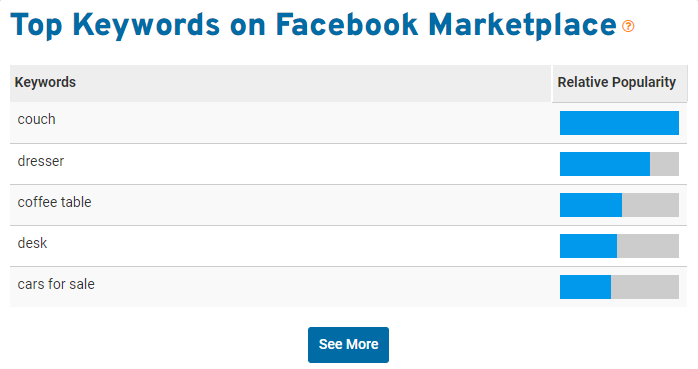 Source: eRank
4. Look into collectibles
Collectibles are items that fanatics typically will spend impulsively and irrationally. Look for different things that consumers are fanatics about. Whether it's sports cars, comic books, autographs, funkopops, arcade items, or vinyl records, there are so many options for collectibles you can find online.
We recommend browsing through the collectibles section on eBay and going through categories to see what you can find. Then verify on Facebook Marketplace to see whether other people are selling a similar product. If people are selling them on eBay, there's a good chance people would search for them on Facebook Marketplace as well.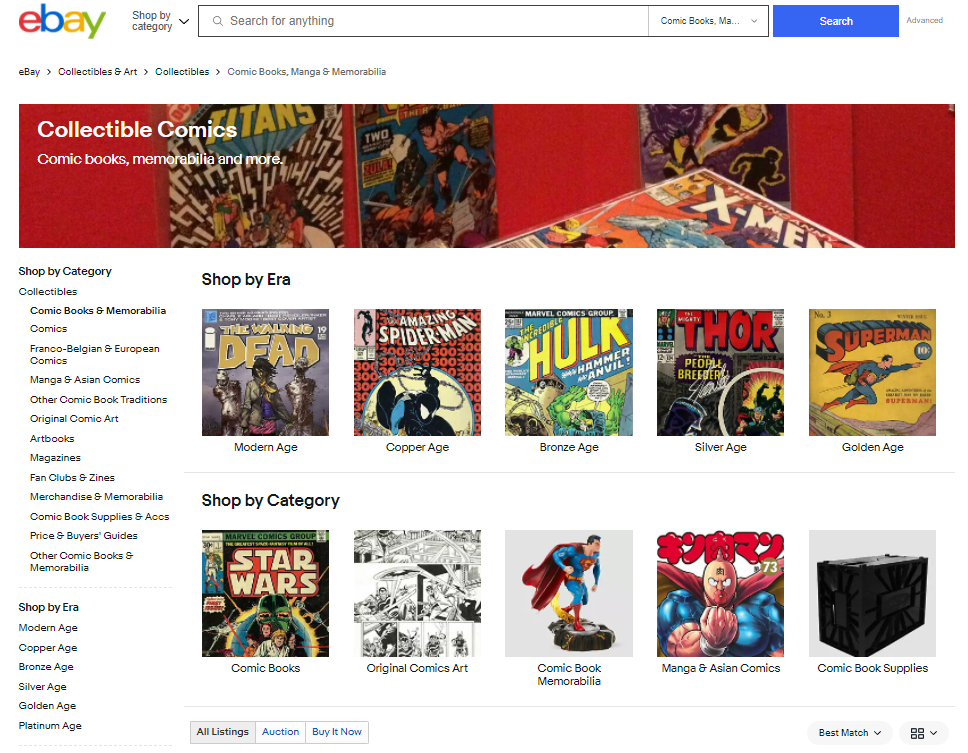 Source: eBay
5. Consider hobby items
Hobbyists are just like collectors. They like to use the best equipment or products for their hobby. For example, anglers want to best fishing lures and rods to catch more fish. Or barbecue grillers want the best grill to whip up delicious meats.
Fishing lures can be sold for between $30 to $50. In contrast, they can be purchased for a fraction of the cost on other platforms. Pick a hobby that you understand and research items they like to geek out on.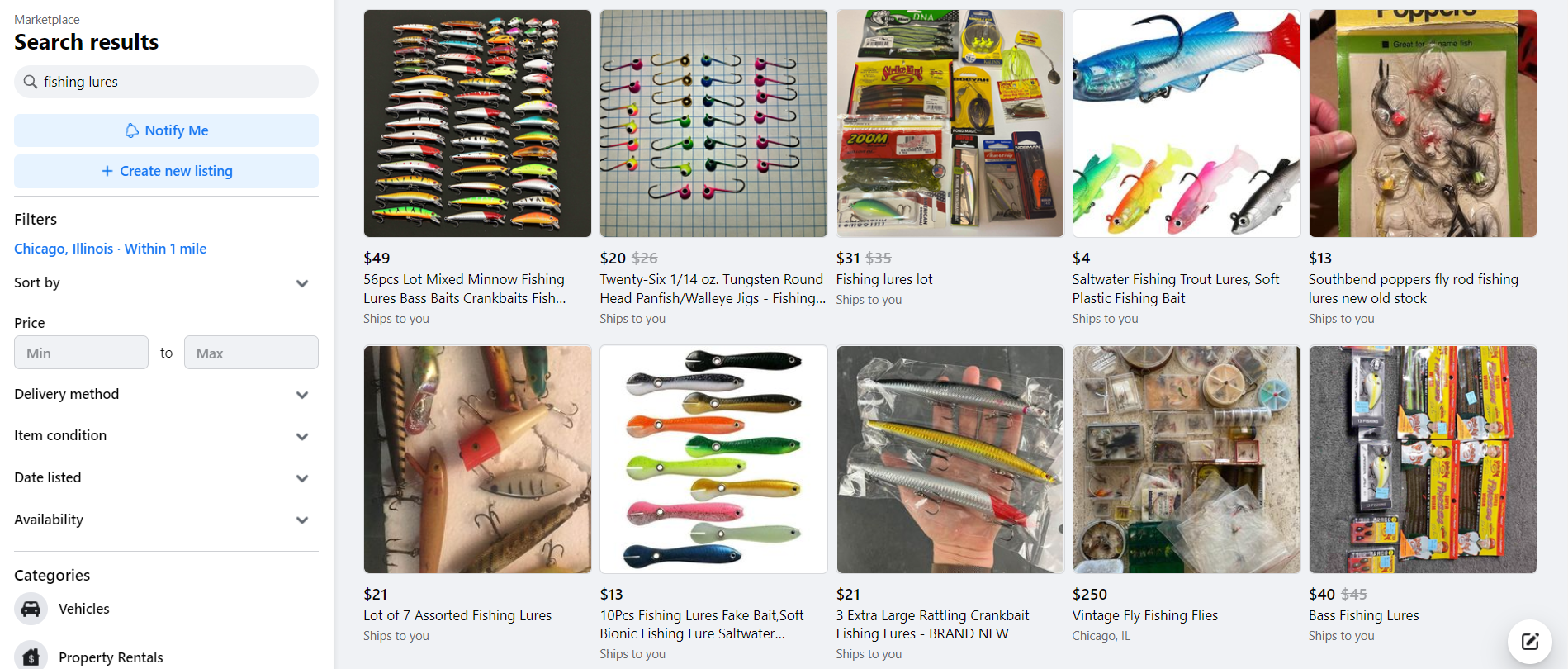 Product Sourcing
Now that Facebook has allowed sellers to ship their items directly to the customer and Facebook can collect payment information from customers, the dropshipping model can be used on Facebook Marketplace. If you're familiar with Shopify dropshipping, many dropshippers will source their items from Chinese suppliers such as Aliexpress. Unfortunately, it won't be effective using Facebook Marketplace.
That's because most sellers can deliver fast shipping to customers on this platform. This means you won't be able to source products from overseas because it'll take weeks, and the cost of shipping would be too high. Not to mention, customs and import taxes would play a role. Instead, you should only source products from domestic suppliers.
We've compiled a list of best places to source your products.
Source products locally and sell online
If you're familiar with Gary Vee's garage sale hacks, you know that flipping items from garage sales can be a viable method for profit on Facebook Marketplace.
Here are some ideas on where you can source products from:
1. Go to garage sales or flea markets in your local area.
Local garage sales and flea markets are always happening every weekend. If you've got a car or can borrow one, you can easily visit multiple garage sales on the same day. Many people do garage sale shopping hauls and load up their trucks with hidden gems later resold on reselling platforms like Facebook Marketplace.
Garage Sale Finder is a site that gives you all the local garage sales around. Google search "garage sales near me" or "flea markets near me" to find out where they are and when. You never know what you can find! It is a game of luck, so you'll have to be patient and go to as many different ones as possible. Consider contacting the owner ahead of time to see what's being sold and see if you can reserve the item in advance.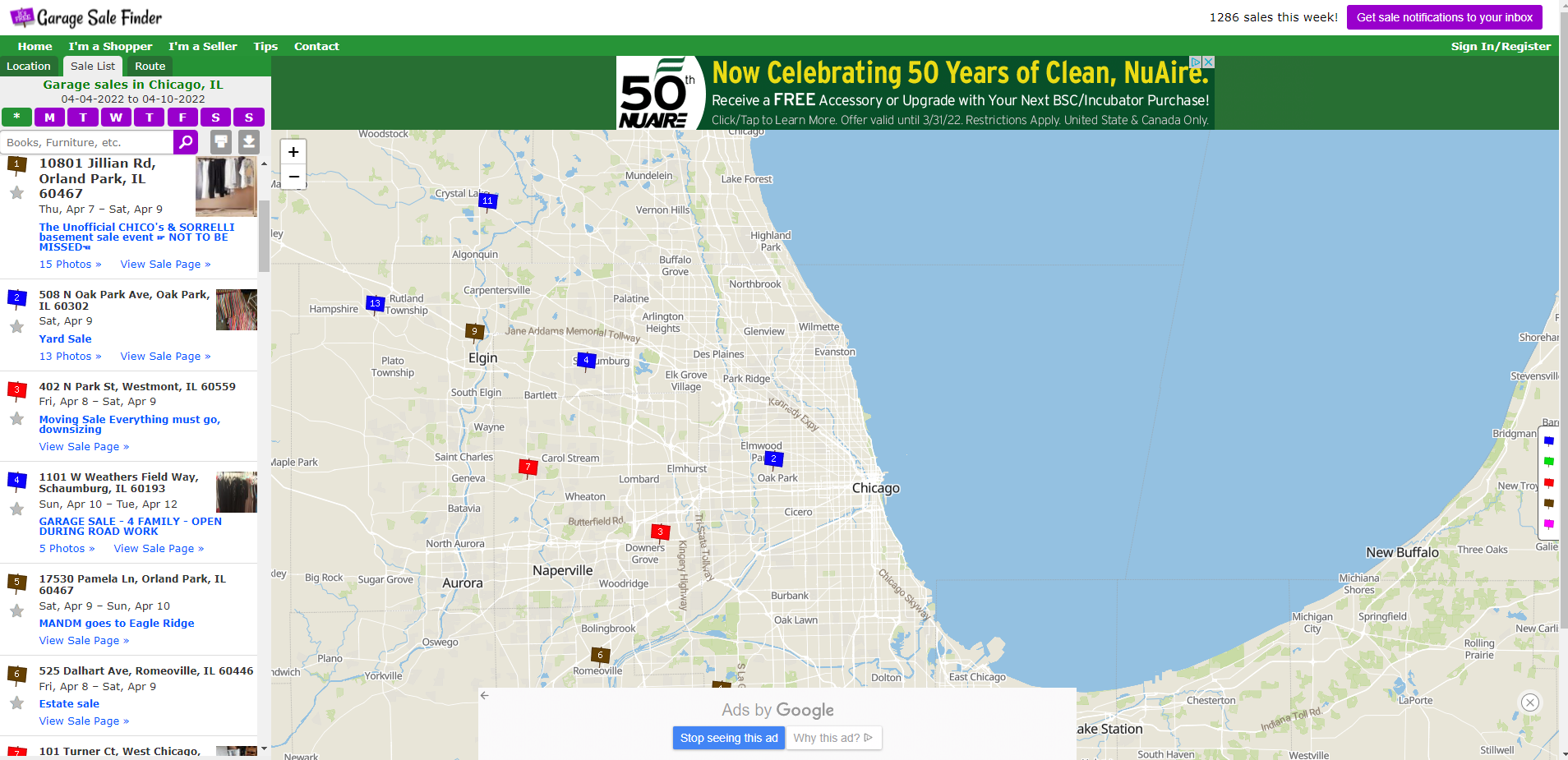 Source: Garage Sale Finder
2. Pick up free stuff.
Believe it or not, you can find free stuff that people are willing to give away. On Facebook Marketplace, there's a "free stuff" category. Or you can search on other platforms such as Craigslist.
Often people are moving or want to do some cleaning and would instead get rid of things than sell them. As you can see on Craigslist, people are giving away some available items such as a foosball table, treadmill, and even TVs.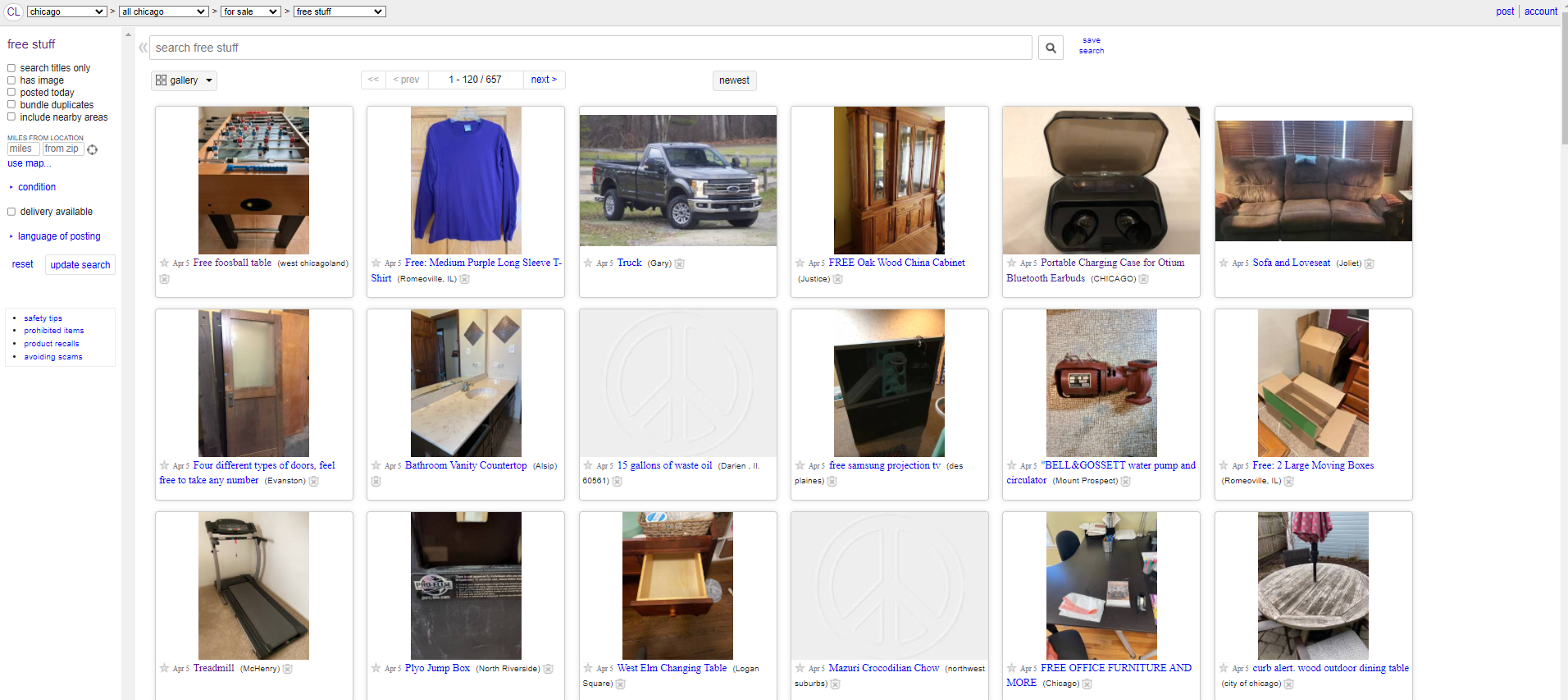 Source: Craigslist
3. Go to local thrift shops.
Every city likely has a handful of thrift shops to go to. A good place to start is your local Goodwill store which sells many items that could be on Facebook Marketplace. Thrift stores often sell kinds of categories. Often, you'll find clothing, home goods, games, music, books, DVDs, and much more. So whether you're looking for certain categories or just want to find great deals, thrift shops are always a great place to search.
For example, the Xbox one console is sold on the Goodwill site for $181. They also include a few collectible items as well.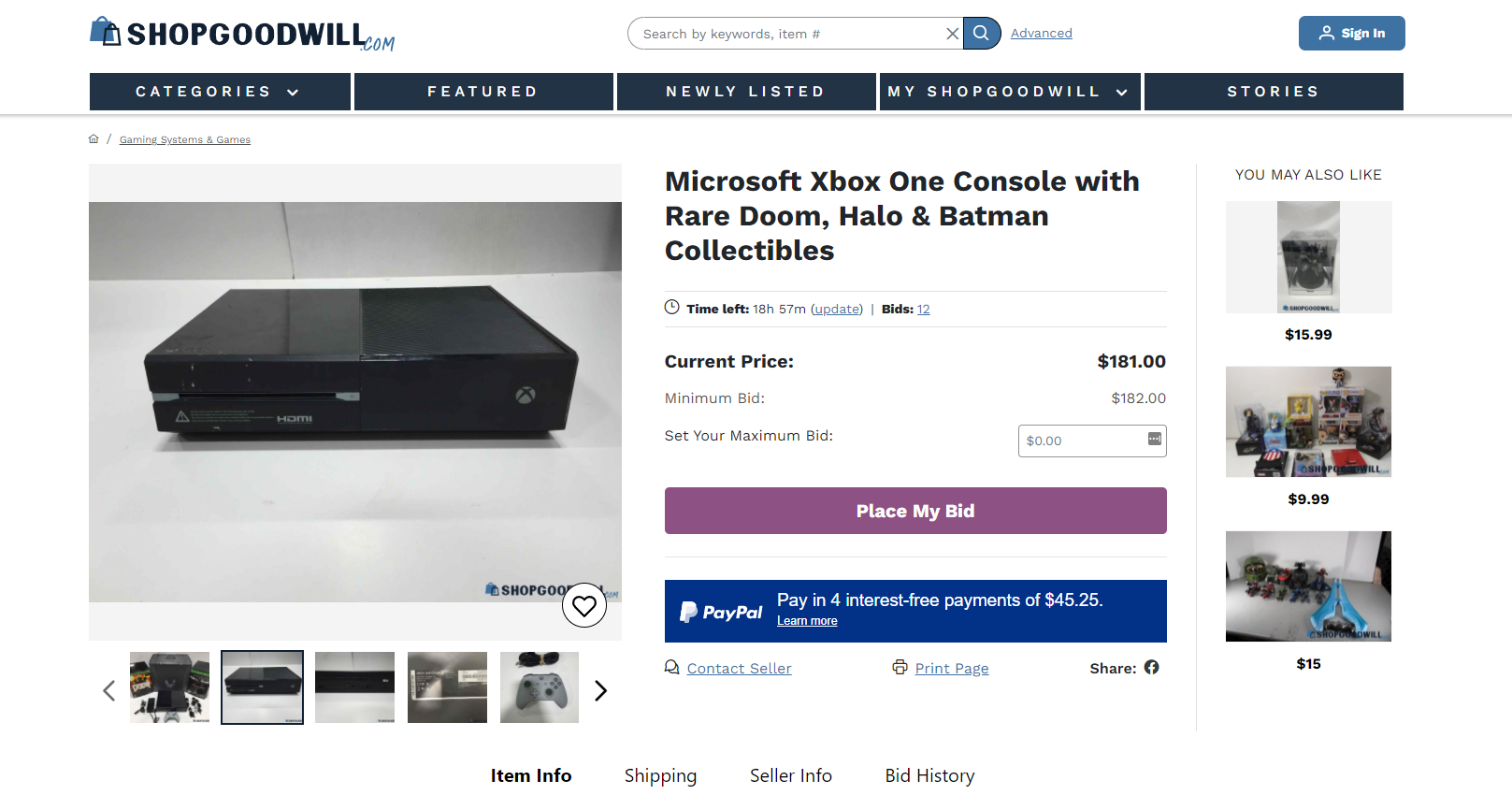 Source: Goodwill
However, on Facebook Marketplace, it's sold for $249 to $350. You also get collectible items, which allow you to bump up the price further.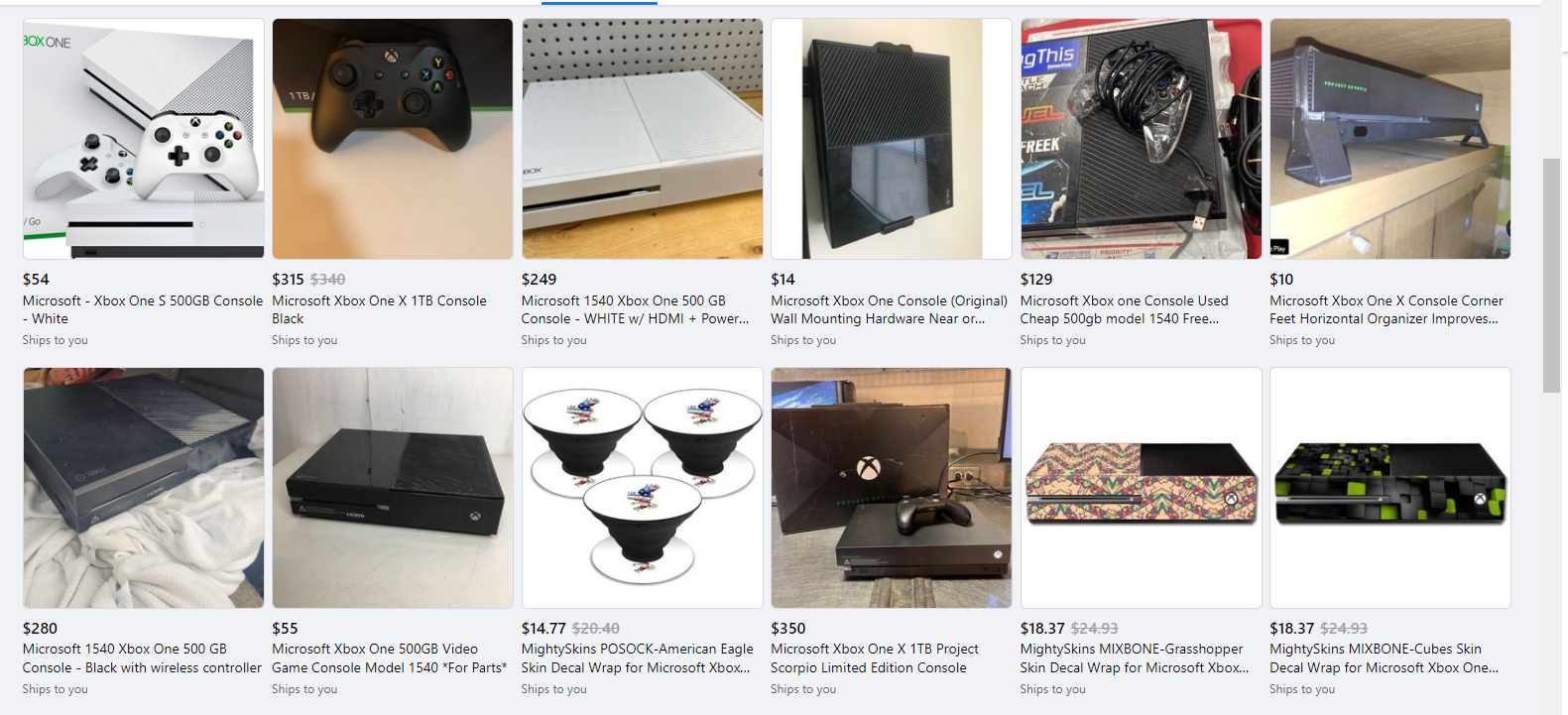 4. Shop clearance items.
Many retail stores offer a clearance section year-round. This happens because stores have a lot of unsold inventory that they need to get rid of. Fortunately, this means an opportunity for you to make a profit.
For example, these Funko Pops are collectibles that consumers love. However, this clearance shows that they're being sold for only $2! Funko Pops vary heavily in price, but typically, they go for at least $7 or $8. Many go for $15 to $50. While some rare collectibles even go as high as thousands of dollars.
In particular, this Funko Pop is being sold for $2, which is an absolute steal.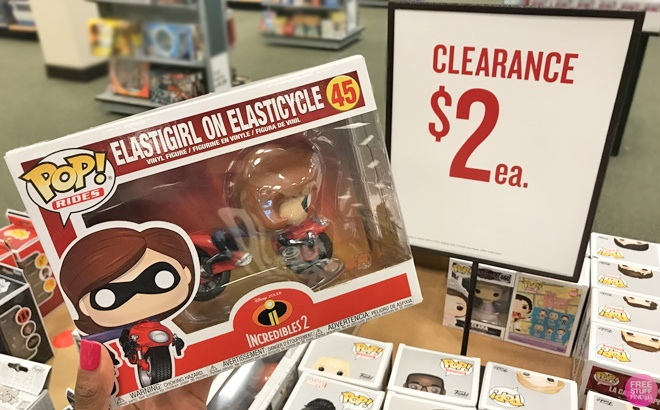 Source: Free Stuff Finder
On eBay, many of the sellers are selling this same item for $16 to $23. Some are selling it for $33!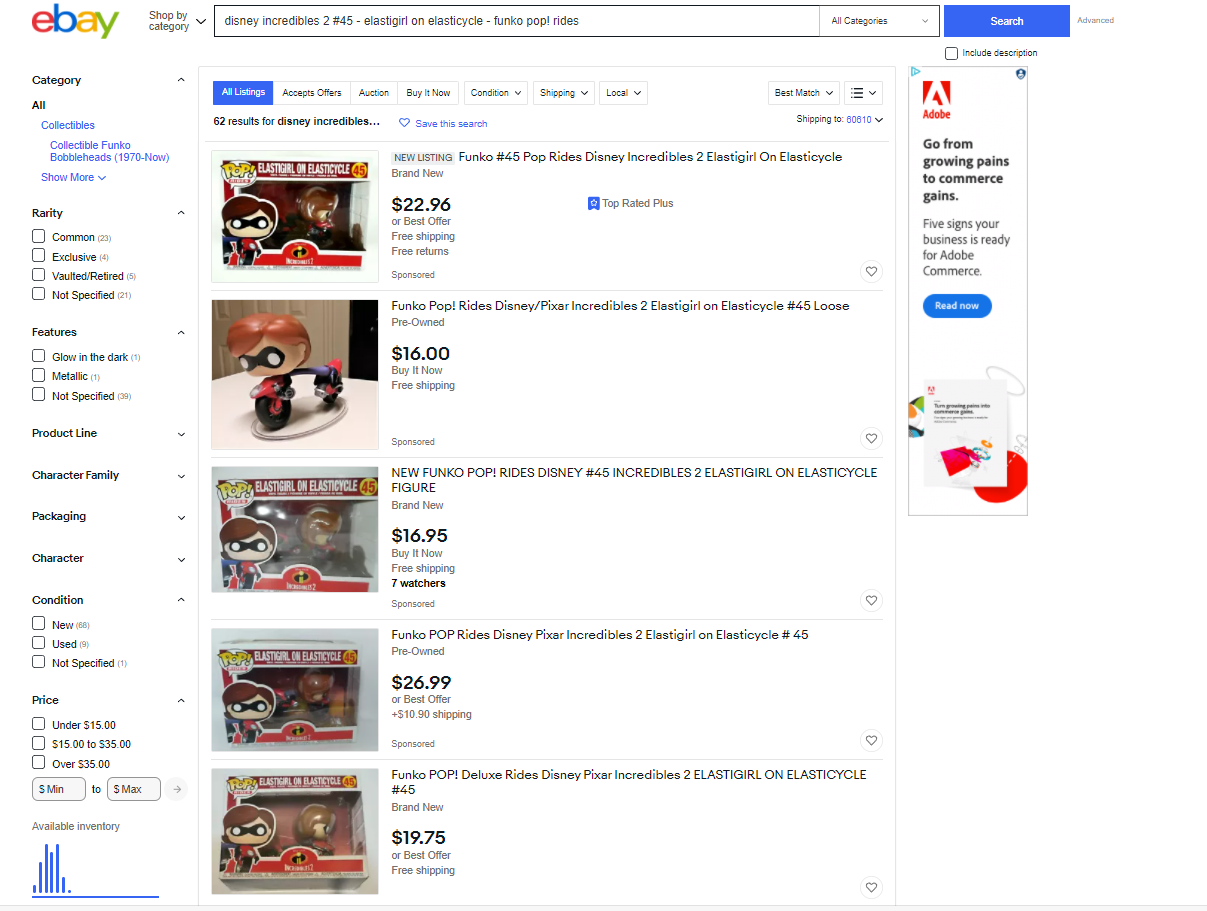 That's potentially eight to ten times your return on investment! This is the primary advantage of sourcing locally. You get to find hidden gems that other sellers can't. Most sellers will only look to source online, meaning they'll all be subjected to similar price points. You can find crazy deals with local sourcing due to clearance items, thrifting, garage sales, and flea markets.
Keep in mind that sourcing locally is primarily designed to be a side hustle. It still requires a lot of manual labor to drive around to source products. Not to mention, you're limited in how many items you can purchase at a time. Therefore, it'll be challenging to scale your e-commerce business when sourcing products locally.
Source products from other e-commerce sites and sell on Facebook Marketplace
If you're to learn how to sell on Facebook Marketplace long-term with little effort and no upfront cost, the best way is to dropship the items by sourcing from other resell or e-commerce platforms. Also, you may be wondering whether consumers will compare prices online, don't worry.
Most potential buyers won't be searching on multiple platforms to find the lowest price. They often will only search within Facebook Marketplace. You'll also get an advantage over other sellers, especially if you're selling new items instead of used items.
Again, we're going to only look at platforms with fast-shipping times. Consumers on Facebook Marketplace are accustomed to in-person delivery, so anything beyond a few days wouldn't be desirable for them.
Here are platforms you should consider using to dropship your products:
eBay
Walmart
Amazon
Target
Bed Bath and Beyond
These platforms work similarly. We recommend starting with product categories that you are most familiar with. Knowing relevant details about the demand for specific products will help you know which products people love to buy.
For example, Jordans are a popular collectible fashion, and sports fanatics will pay top dollar. On eBay, you can filter your search options by "sold items," meaning they'll display all the recently sold items.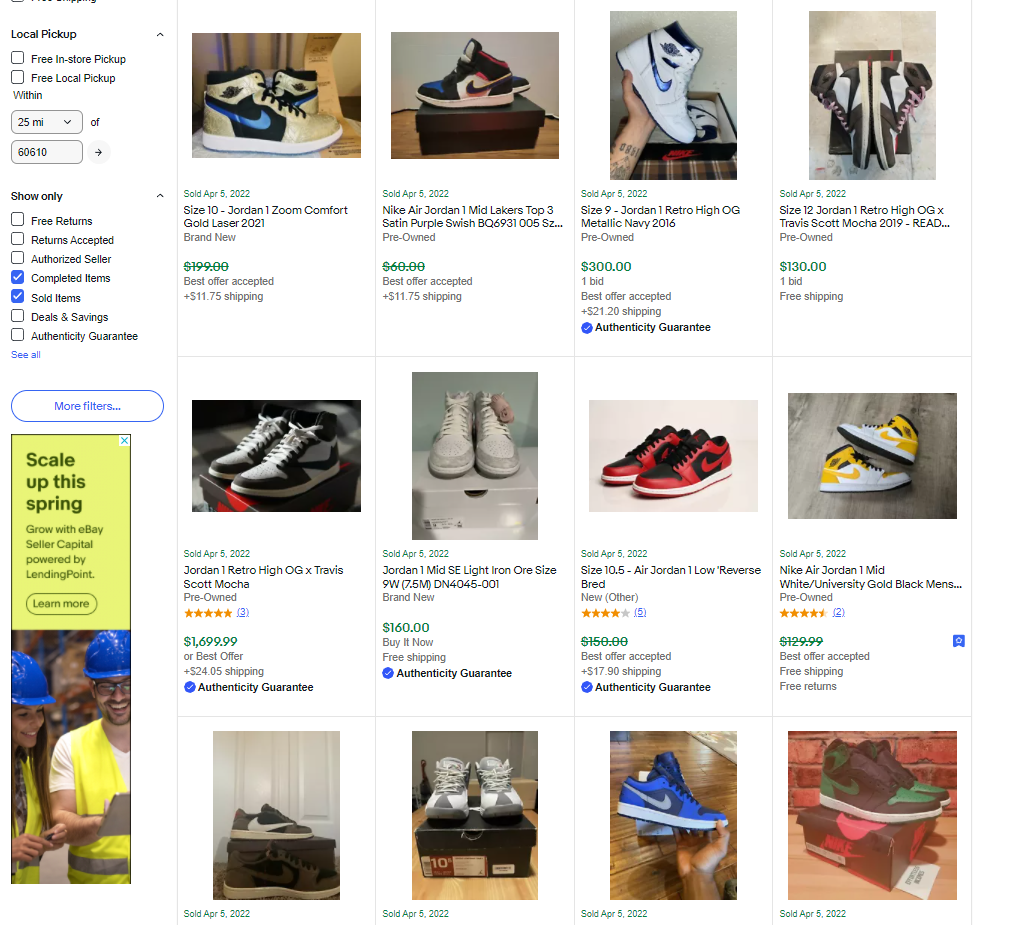 Source: eBay
Additionally, you can find the item's specific purchase history on the product listing page. In this example, the Jordan 1 Retros have been selling recently every few days.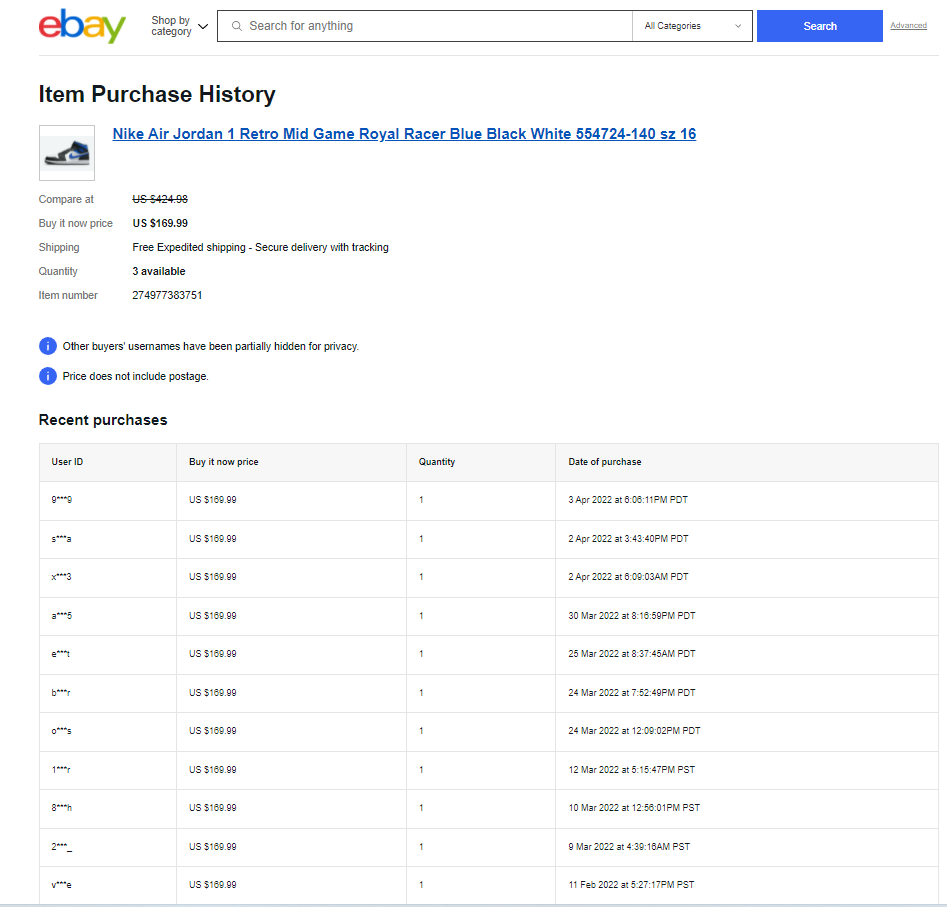 Source - eBay
Once you know that it sells, you can find other items from buying by looking at the seller's profile. Then filtering my "sold listings." eBay will show you items they've sold in their store. You can select the most popular items, find a place to source them from, and list it on the Facebook marketplace!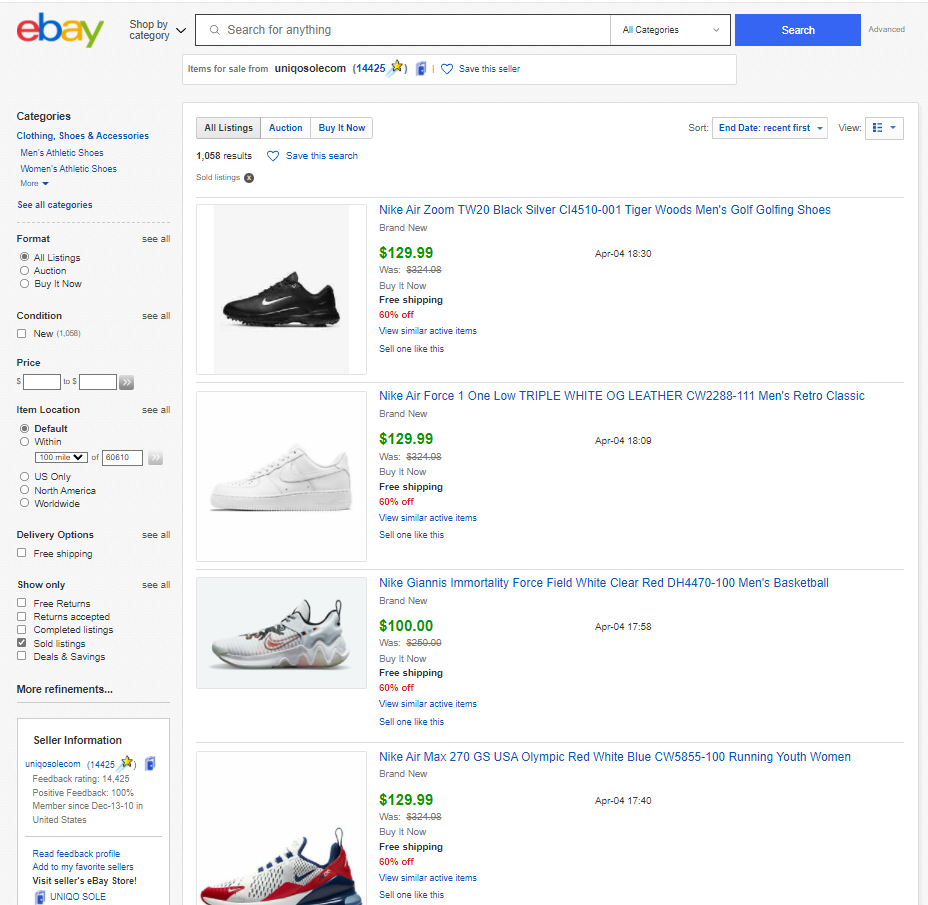 Source - eBay
Product description copywriting best practices
The goal of the description is to provide all the information the interested buyer needs to make the decision. While there are no set rules to create the perfect listing description on Facebook, you can make it more presentable and searchable. Here are some practical tips to consider:
1. Use relevant and highly searched keywords. Use SEO tools and other marketplace listings to find those keywords.
2. Use a friendly tone.
3. Sell consumers on the benefit of the product. For example, "enjoy hands-free driving with our phone holders for cars." What would their life look like with this new product in their hands?
4. Incorporate persuasion tactics. This includes scarcity, money-back guarantees, secure payments, etc.
5. Include the features followed by the benefit. For example, "D-rings for secure leash or Kayak seat, and elastic rope."
6. Make sure you list all the included items and specifications.
7. Use power words. For example, words like limited, rare, deal, first, uncover, exclusive, proven, and secure help to evoke emotion and stimulate their impulsive desires to purchase.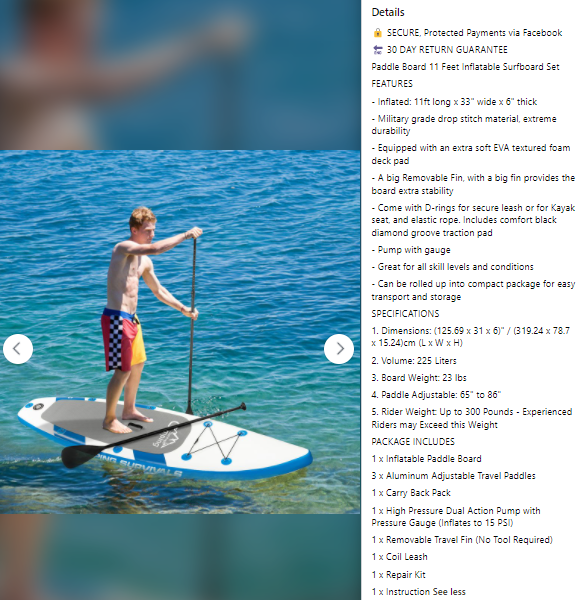 Source: Facebook Marketplace
Step 3: Advanced selling tips for Facebook Marketplace
Optimize your listing title
Your product listing title can determine whether items sell or not. While there are many components to a great listing, such as high-quality pictures, listing thumbnail, and description, you can maximize the traffic to your product listing by ensuring your title is jammed packed with keywords.
For example, you can use tools l"like Title Builder to find keywords related to a certain phrase that people are searching for. We're selling a bed frame that we're sourcing from Walmart.
Go to Title Builder
Search "bed frame" in the search bar
Scroll through different phrases that they suggest.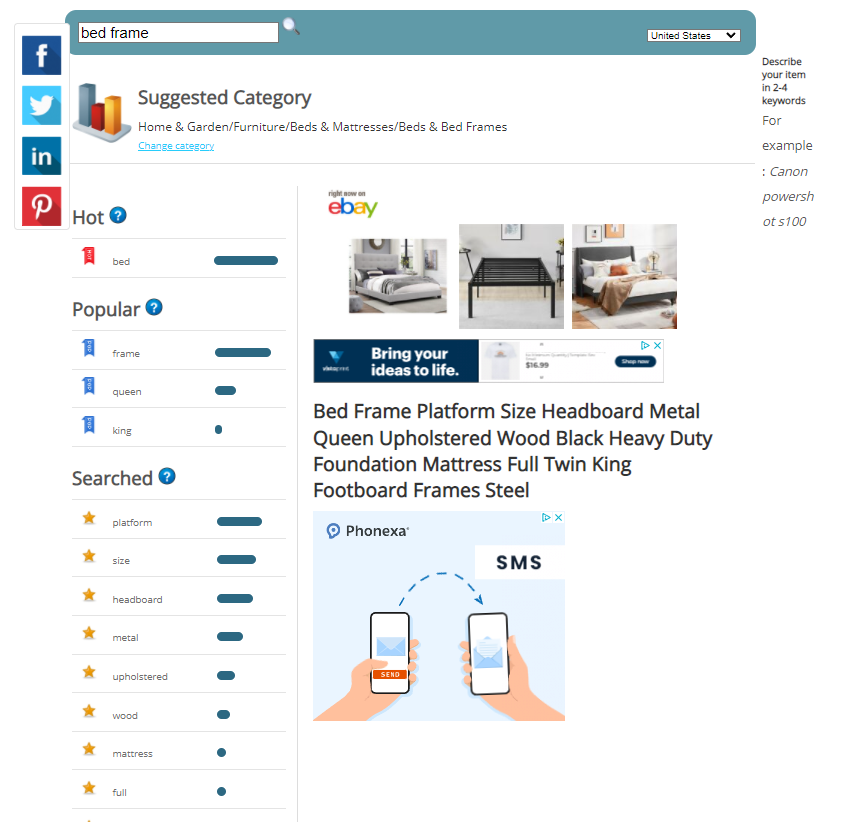 Source: Title Builder
Also, consider gaining inspiration from eBay and Facebook Marketplace to see what other sellers use as their keywords.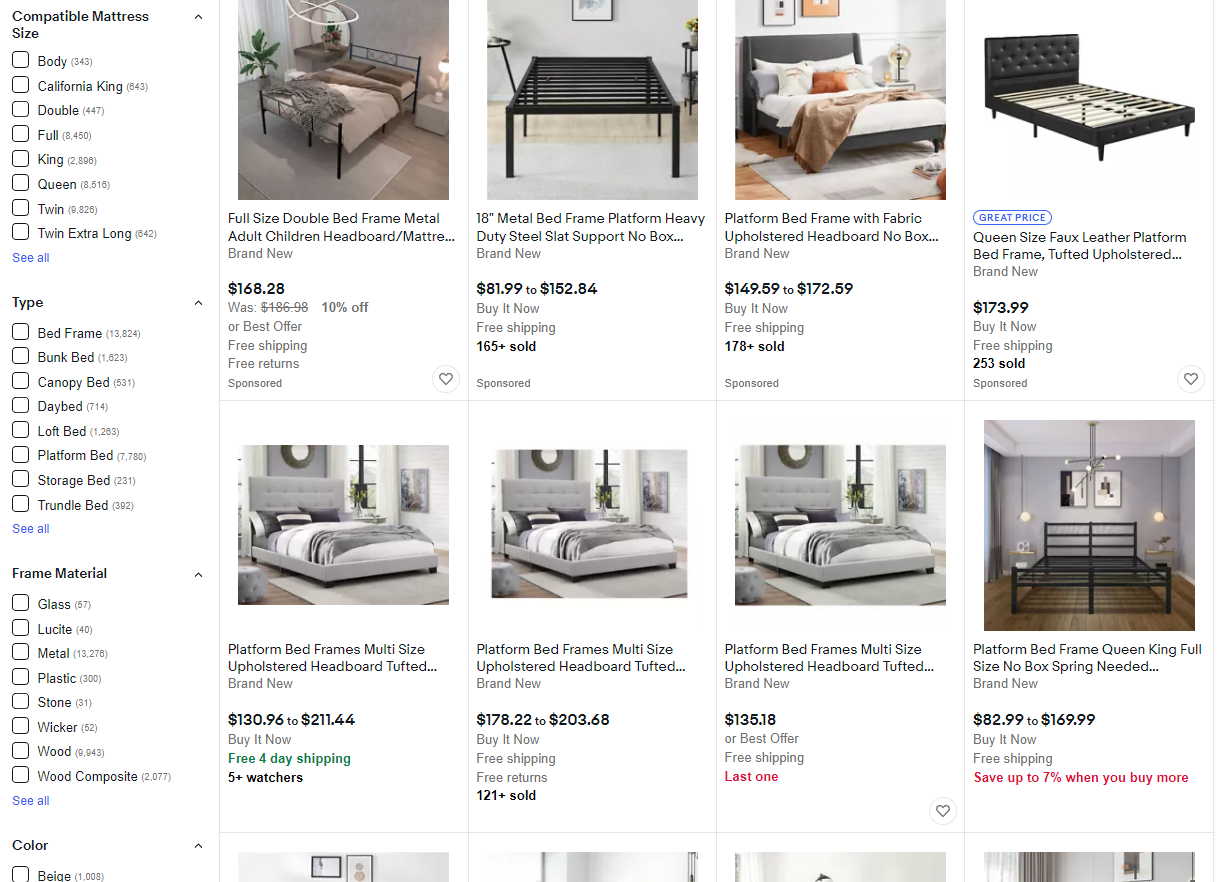 Source: eBay
Just from this simple research, we've found that you should consider using keywords such as:
Platform
Metal
Size
Upholstered
Headboard
Folding
Heavy Duty
Adjustable
Use High-Quality Pictures
For dropshippers, you can often take the same photos from the other marketplaces you've sourced them from. However, whether you're dropshipping, it's important to follow these best practices when uploading pictures when applicable.
1. Use clear, bold, and bright images.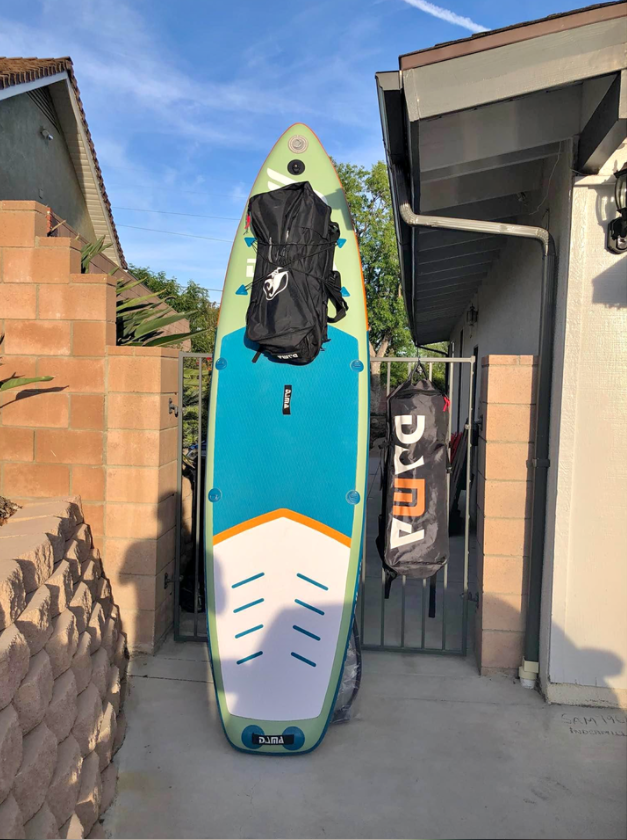 Source: Facebook Marketplace
2. Create unique lifestyle images.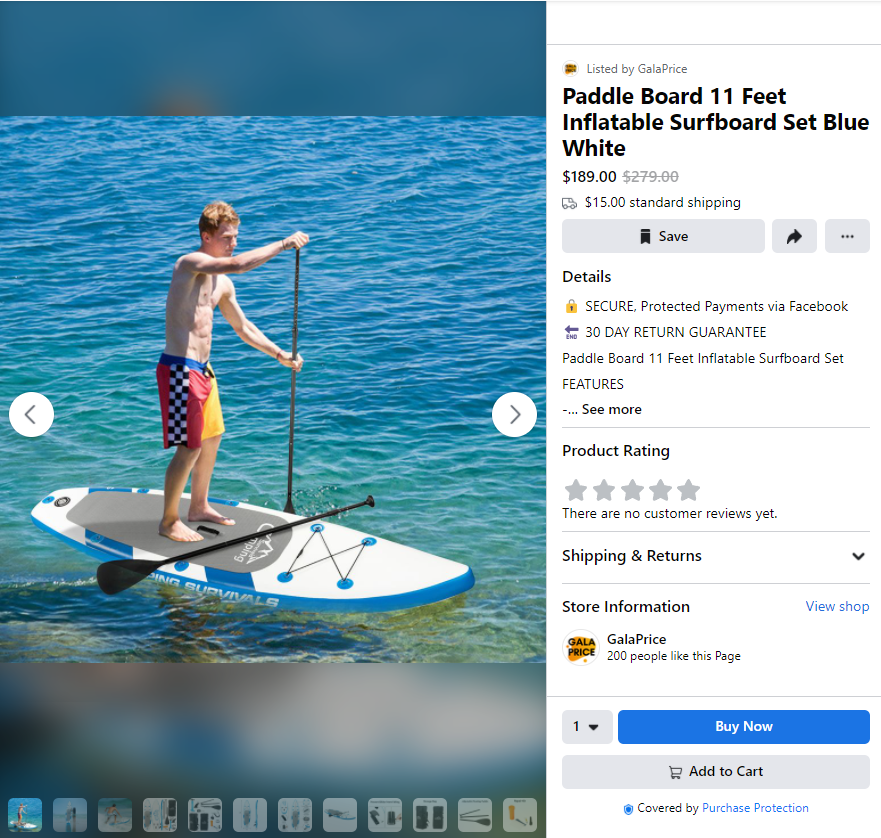 Source: Facebook Marketplace
3. Show everything that's included.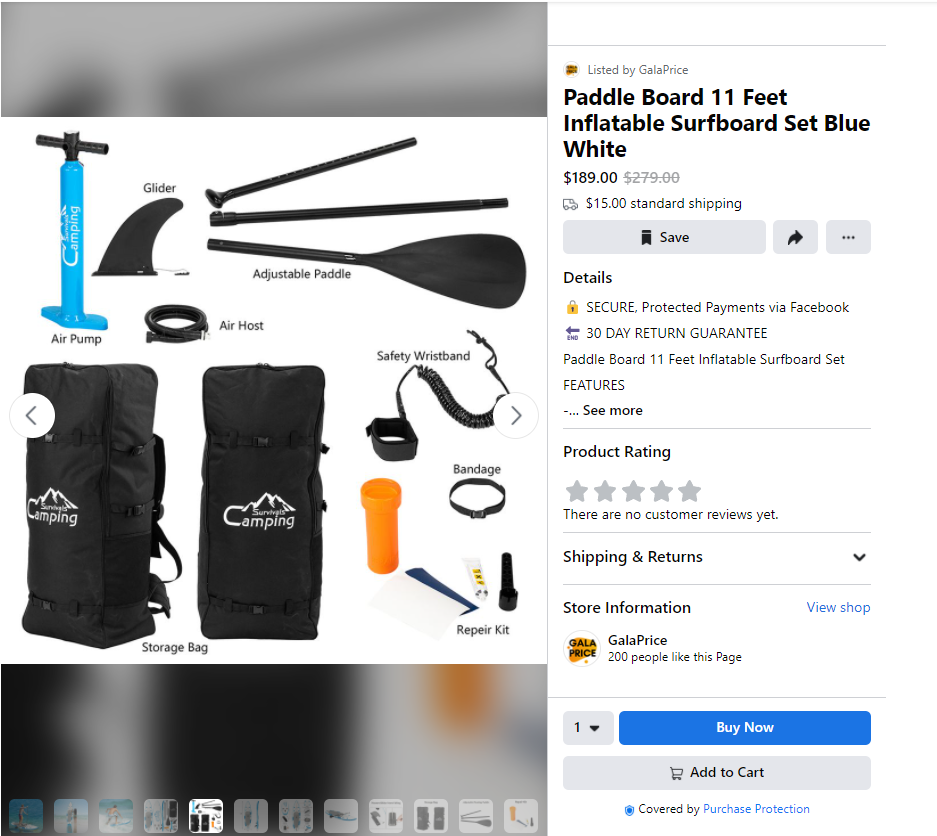 Source: Facebook Marketplace
4. Use instructional photos.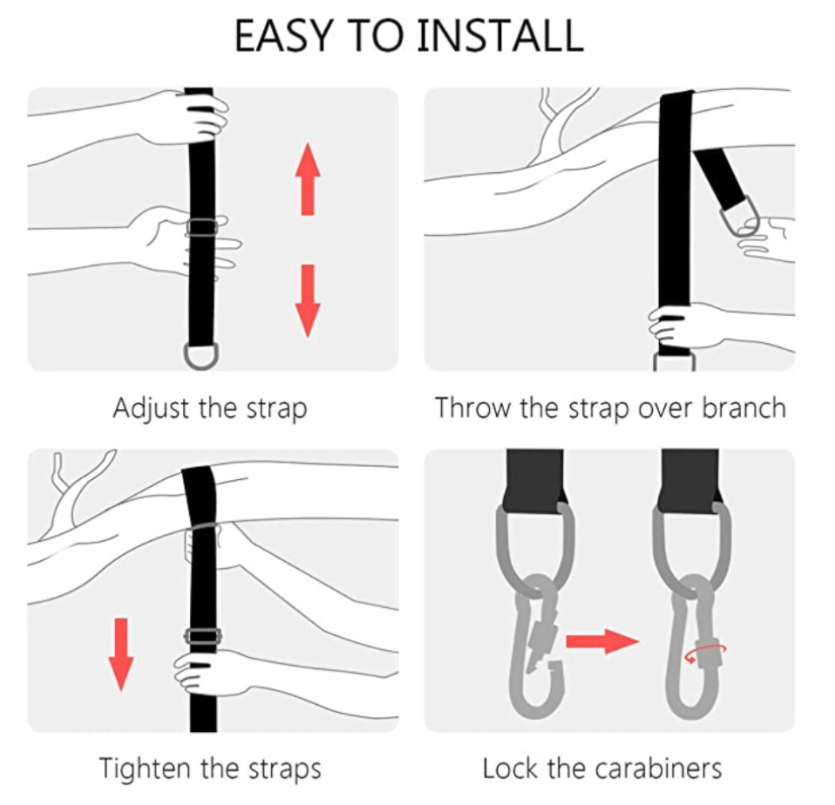 Source: JungleScout
5. Use text in the image to describe the product.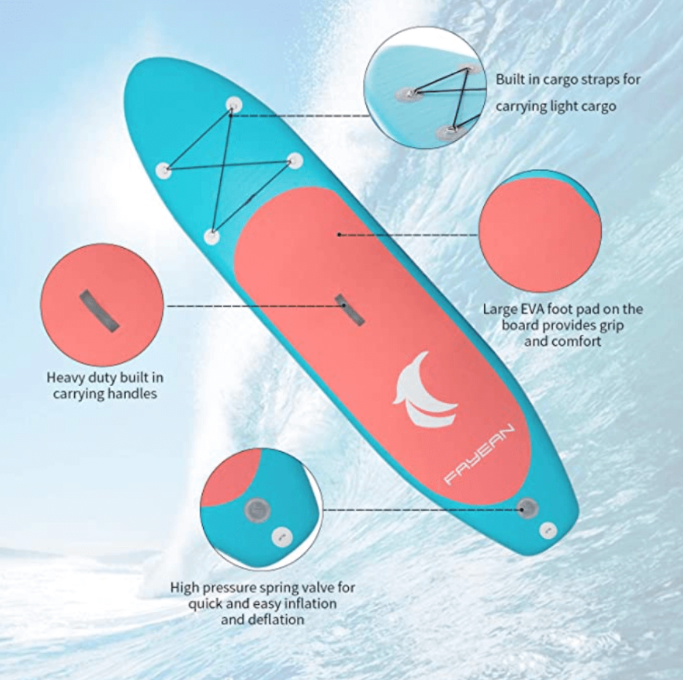 Source: JungleScout
List products on local selling groups
Not all buyers will use Facebook Marketplace. Some prefer to buy from local selling groups. Many of these groups like to negotiate the price and pick it up in person. If you can offer fast delivery and are willing to negotiate on price, local selling groups are an ideal place to list your items. Not to mention, you'll only receive more eyeballs on your listing, so why not?
Just search for "local selling groups near me," and find dozens of groups. Many groups will have tens or even hundreds of thousands of members!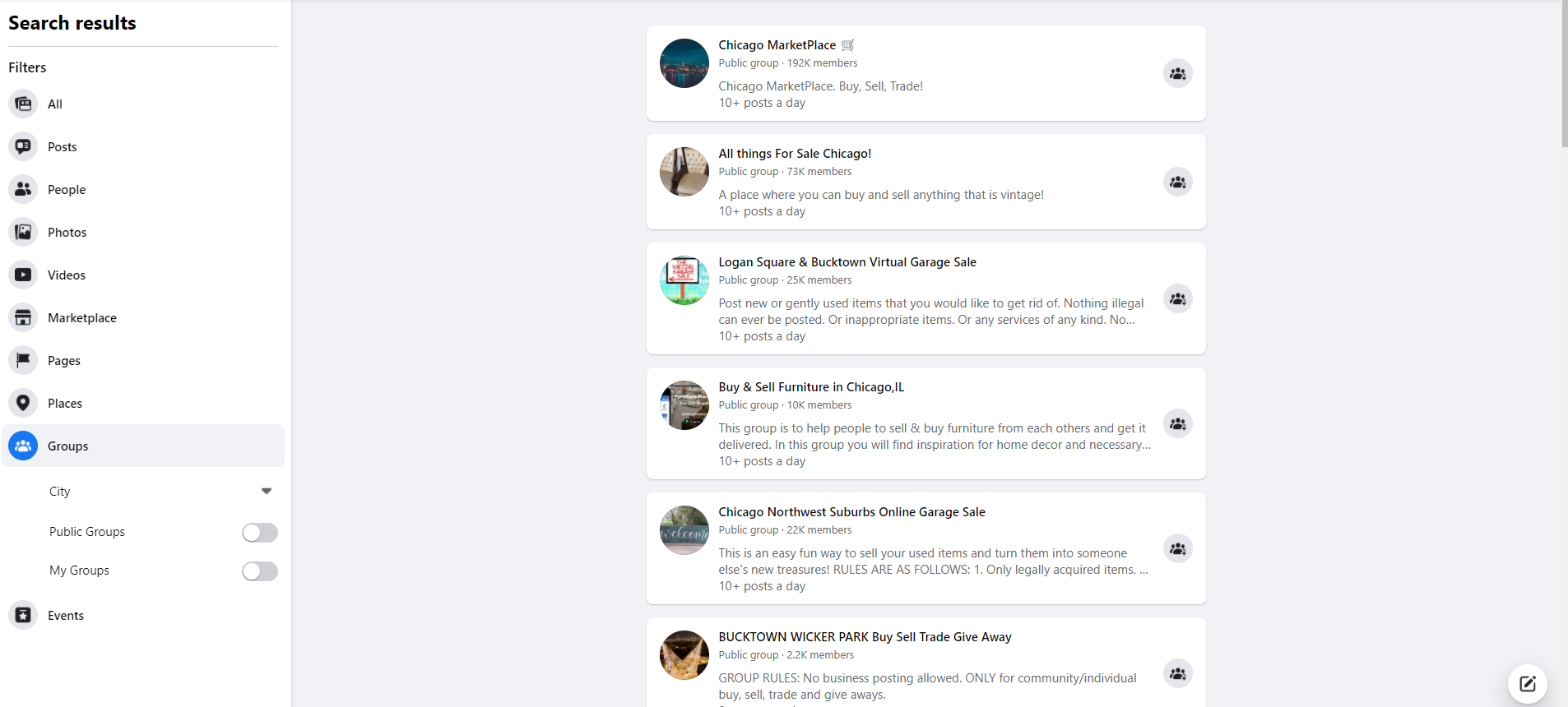 Renew your listing
Facebook Marketplace lets sellers renew their listing up to five times. If your item was listed for seven days and there isn't any traction, we recommend relisting. So what exactly does it mean? Relisting puts your product onto the top of the pile and gives your listing some new eyeballs.
Every day, Facebook typically will further push your listing down in the pile unless it's getting a lot of views and clicks. Facebook even lets you renew all of your listings by clicking on the "Renew All" button.
When relisting, you may want to tweak the listing, such as the title, description, photos, audience, etc. Facebook will even begin suggesting that you renew your product listing once it's been alive for a week.
However, you may not need to relist it within seven days. Many high ticket items such as couches, frames, cars, and others can't be made on impulse. Therefore, it can take buyers some time to make the purchase. A good indicator that you don't need to relist the item is if you are receiving messages and negotiation offers from prospective buyers.
This shows you that the listing is still getting great traction, and you'll just want to be patient. Relisting when there are interested buyers can cause them to lose your listing, and therefore they could choose another seller instead.
Step 4: Boost your listing
Learning how to sell on Facebook Marketplace also means considering using paid strategies. Facebook Marketplace can be a competitive landscape depending on what you're selling. With 2.91 billion active Facebook users and more sellers coming onto the platform daily, boosting the listing can help you stand out from others.
So why should you boost listings?
Find your audience: You can select the exact radius you'd like to list your product. If you're bound by traveling constraints, you can limit the radius. For dropshippers who want to maximize their reach, you can expand your radius.
Expand your reach: While Facebook can choose automatic placement listing, boosted listings can be placed beyond the Facebook Marketplace feed. Users can choose to place their listing on the Facebook Feed, Facebook Search, Marketplace details pages, and Marketplace search.
Easy to set up: No additional creative needed. Simply set your parameters and boost your post in seconds.
Here's how to boost your listings and the different parameters you'll want to consider.
Duration: Select how long you'd like your boosted listing to last.
Budget: As a seller, you have an option to set your daily budget. You can either go with their recommended amount based on the duration of the boost or a custom amount. There is a minimum daily budget of $1 for boosted listings.
Audience: Local listings have a default audience network of being at least 18 years old and within a 40-mile radius of the listing location. Fortunately, you can customize these settings to fit your needs with the boosted listing. Also, sellers can customize the audience based on geographical information such as cities, states, countries, or even postal codes for boosted listings that offer shipping as a delivery option.
Once all the parameters are set, just verify the payment method and hit "promote now." If you need to tweak the listing, click on the "edit boost" button in your promoted listing. You can adjust or delete the ad anytime.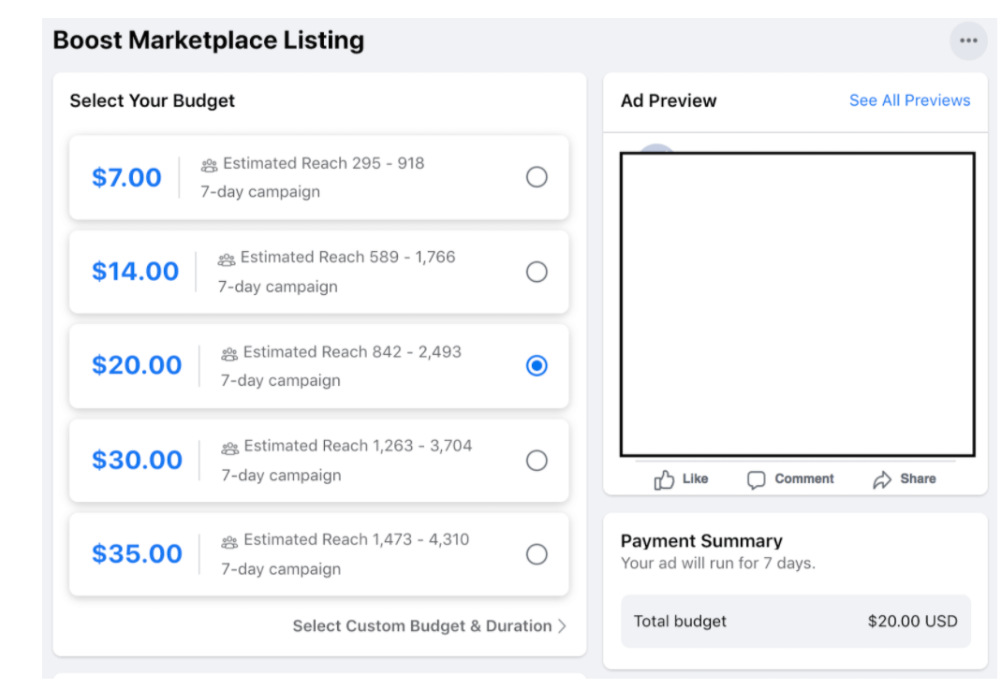 Source: Jungle Scout
Boosted Listing Performance Factors
Boosting on Facebook Marketplace gives sellers visibility to metrics that affect their ad performance. Users can access their performance dashboard to see exactly how their boosted listing performs.
Start by clicking on "View Insights" and then going to the "Audience" section to view information such as the number of people who viewed your ad and where these people are located. The "Performance" section provides information such as the number of started messaging conversions and the initiated checkouts (for boosted listings that offer shipping.) Sellers can also go to their "Ads Reporting" or your ads manager tool for additional metrics.
Here's a rundown of the metrics you can use to help you tweak your ad and see whether it's worth the boost or not.
Impressions: The number of times your boosted ad flashed on the screen, such as the search results, marketplace, or Facebook feed.
Reach: The total number of people who saw your ad (keep in mind this includes people who have seen your ad multiple times)
Frequency: The average number of views from the same person
Link clicks: The number of clicks on links that lead to pages within or outside of the Facebook app
Messaging conversations started: How many inquiries from interested buyers through the Facebook messenger app.
Cost per messaging conversation started: Your budget for the ad campaign is divided by the number of messaging conversations. This gives you the cost that you're paying to receive a message about your listing.
Initial checkout: How many people have made it to the checkout process of your listing. (only applies to listings that offer shipping)
Cost per initiate checkout: The cost to receive each checkout from buyers
The cost per initiate checkout is the closest thing in the performance dashboard to the overall ROI. This is the best indicator of whether it's worth running your ad. While reach and frequency are excellent indicators, it doesn't tell you whether the ad is profitable or not.
Pro tip: We recommend running ads for high-ticket items. This could be bed frames, brand clothing, equipment, rental property, cars, etc. It would be difficult to spend $5 or $10 a day when your profit margin is only on an item is only $10.
Consider your profit margin after the selling fees and shipping costs before running ads. Also, you may want to start testing boost listings on the profitable items first. This lets you scale your hot-selling products to expand your sales.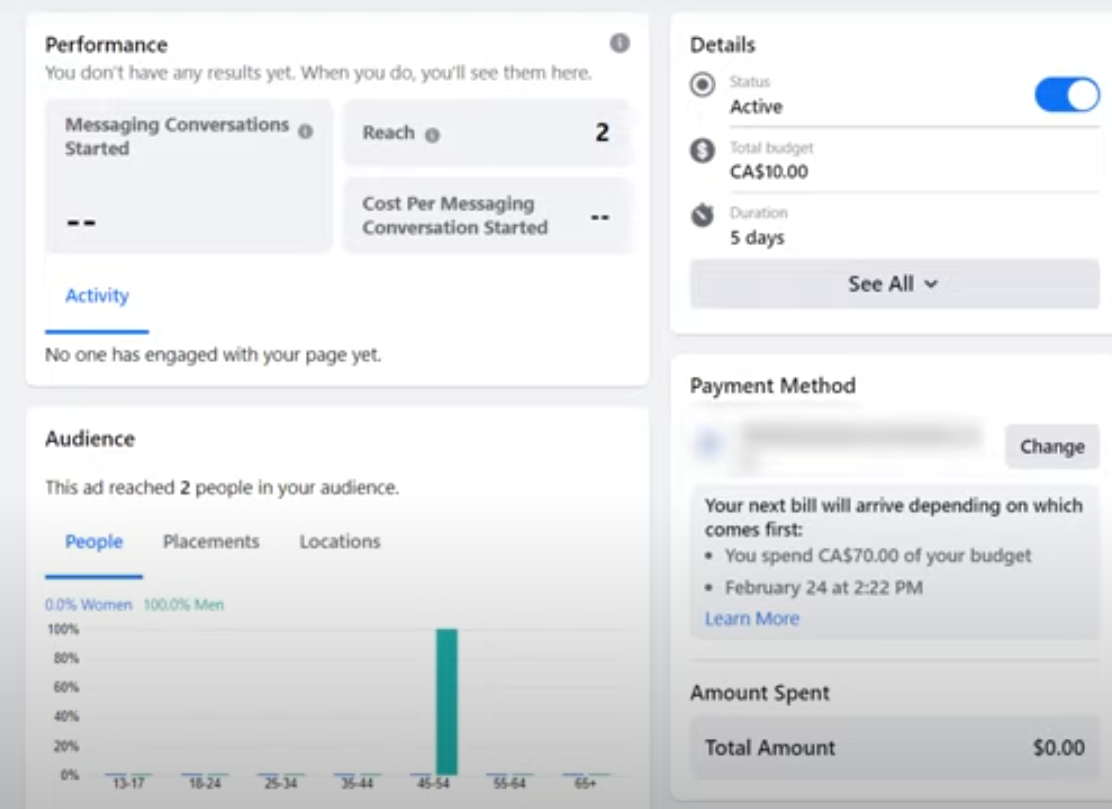 Source: Essentino Media
FAQ
Facebook Marketplace rules
It's important to understand the rules of Facebook Marketplace to avoid getting banned from the platform. Facebook outlines prohibited items that are not allowed to sell on the marketplace. These items include:
digital media such as ebooks
alcohol
adult products or services
healthcare items such as first-aid kits, thermometers, etc
weapons, explosives, or ammunition
recreational, prescription, or illegal drugs
tobacco products or tobacco paraphernalia
unsafe supplements
animals
event tickets
gift cards
Only physical items can be sold on Facebook Marketplace. Additionally, services like Housekeeping are only available in coordination with Facebook partners. Other rules include:
The description of the item being sold must match the image.
Before and after photos are not allowed. Items for sale on Facebook Marketplace can't display a before and after picture to promote the sale. For instance, a picture showing weight loss or muscle gain would be prohibited.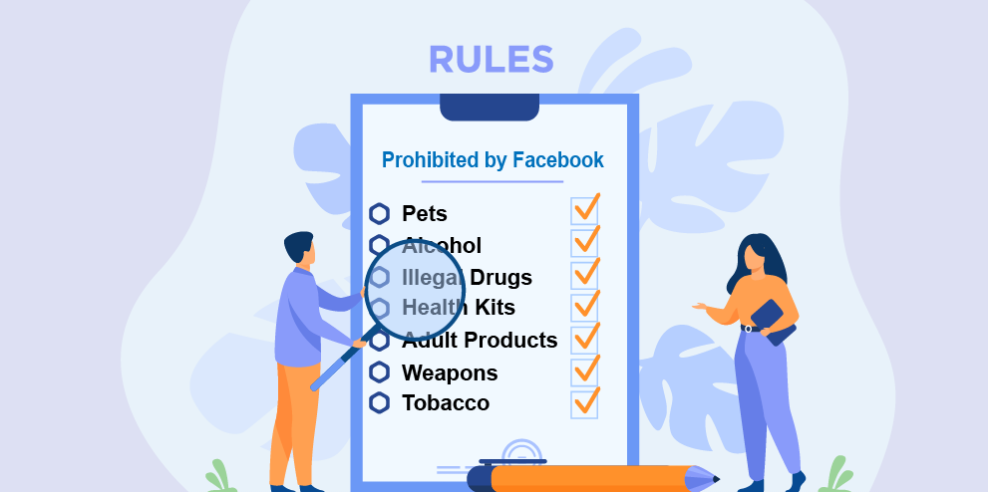 Source: Trade Excel Graphics
How shipping works as a Facebook Marketplace seller
Most people use Facebook Marketplace to sell their unwanted stuff to other people in their community. While there's nothing wrong with selling locally or selling unwanted items lying around in your home, it's not exactly a sustainable business model that will turn Facebook Marketplace into a viable business for you.
That's where shipping comes into play. Facebook Marketplace lets sellers select the delivery method. Shipping is available once you create your seller account. This means you don't have just to sell locally. While local pickup is a popular option, it comes with safety risks, and it's not worth the extra time and cost of travel.
With shipping, you can sell to people anywhere around the world, which means you can treat this platform as a real business, just like you would with Amazon, eBay, or Shopify.

Source: Web Apps
To activate shipping, you'll need to add your bank information or PayPal. If you're trying to sell more than $599 per year on Facebook, you'll also have to provide your Employer Identification Number (EIN) or Social Security Number.
Once the seller account is set up, you can create a listing and select the "Shipping" tab. Facebook will suggest a shipping price based on the item's weight, but you can offer free shipping or customize your shipping price.
After you sell an item, you'll have three business days to ship it using any carrier. However, the carrier must provide tracking services. We recommend offering nationwide shipping to help maximize the number of potential buyers you can reach.
You must add the tracking information to your listing and mark the item as shipping to receive payment. Facebook charges a selling fee of 5% along with a $0.40 minimum per order for shipped purchases.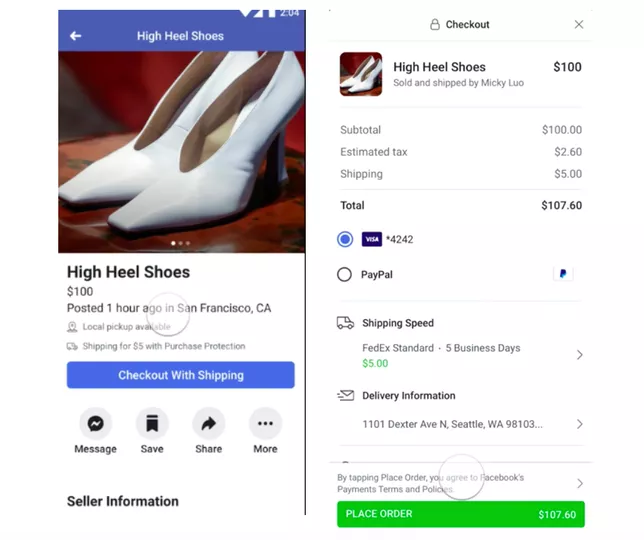 Source: CNET
What to sell on Facebook Marketplace
Sellers have the opportunity to sell products and services from a wide range of categories. It lets you easily categorize your items so that buyers easily find the marketplace listings they are looking for. The primary categories on Facebook Marketplace are:
vehicles
property rentals
apparel
classified (garage sale items and miscellaneous)
electronics
entertainment (books, movies, music)
family (baby and kids items or health and beauty)
garden and outdoor
hobbies (antiques and collectibles, arts and crafts, auto parts, bicycles)
home goods
home improvement supplies
musical instruments
office suppliers
pet supplies
sporting goods
toys and games
It's important to note that within these categories, there are sub-categories beneath them: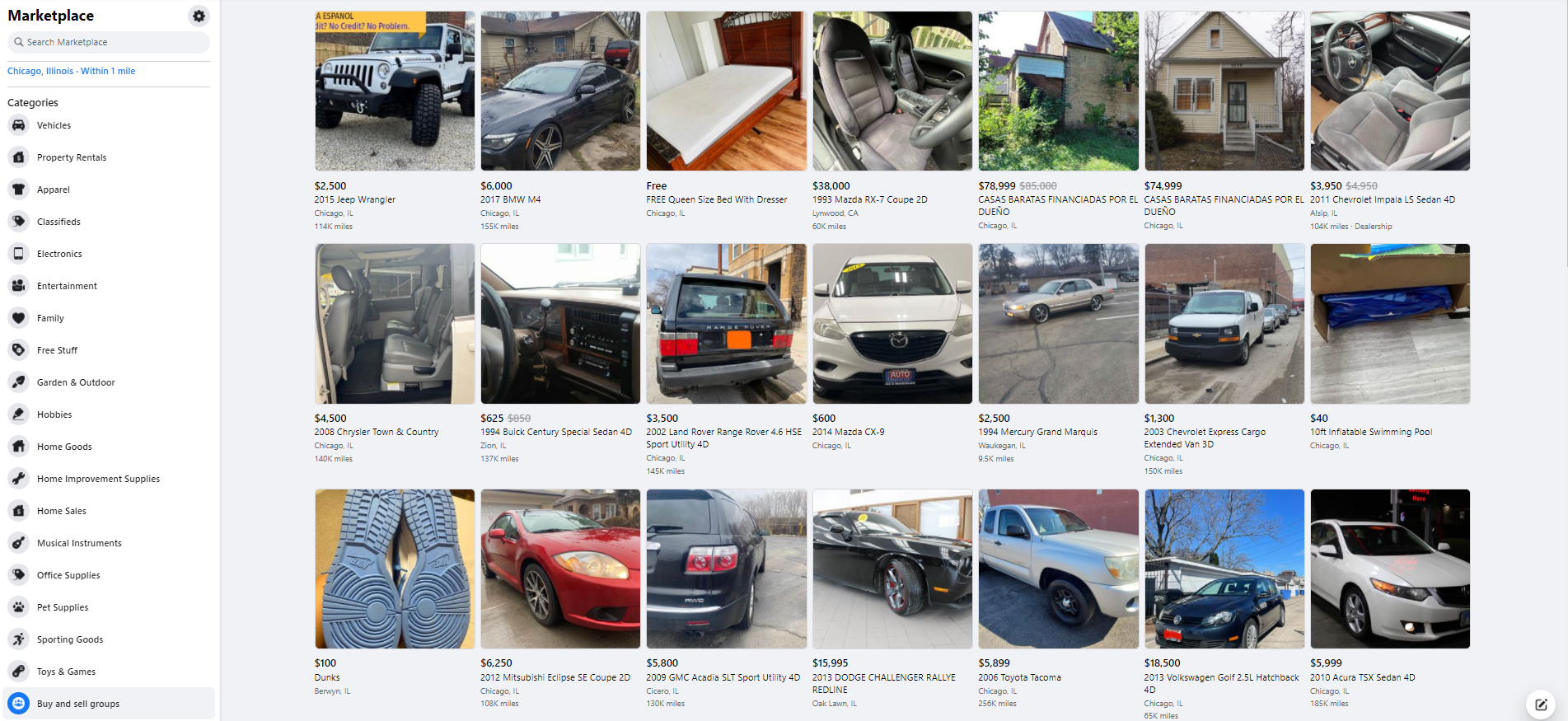 How much does it cost to sell on Facebook Marketplace?
The good news is that selling on Facebook Marketplace is free, meaning there are no listing fees. When you sell items on Facebook, they will deduct a fee from the payout once it's sold. However, this is the only fee that you'll be charged. There are two types of fees that you may incur:
Selling Fee
Facebook charges a selling fee every time you make a sale.
If you make a sale of $8 or less, a $.40 fee will be charged.
If you make a sale of $8 or more, 5% of the shipping amount will be the fee.
It's important to note that Facebook has waived off the selling fees for all orders until June 30th, 2022, to support small and medium businesses during the covid19 pandemic.
If you're an avid seller online, you might be wondering how Facebook Marketplace seller fees stack up to other e-commerce platforms like Amazon and eBay.
Amazon fees range between 8 to 20%, with most categories around 15%.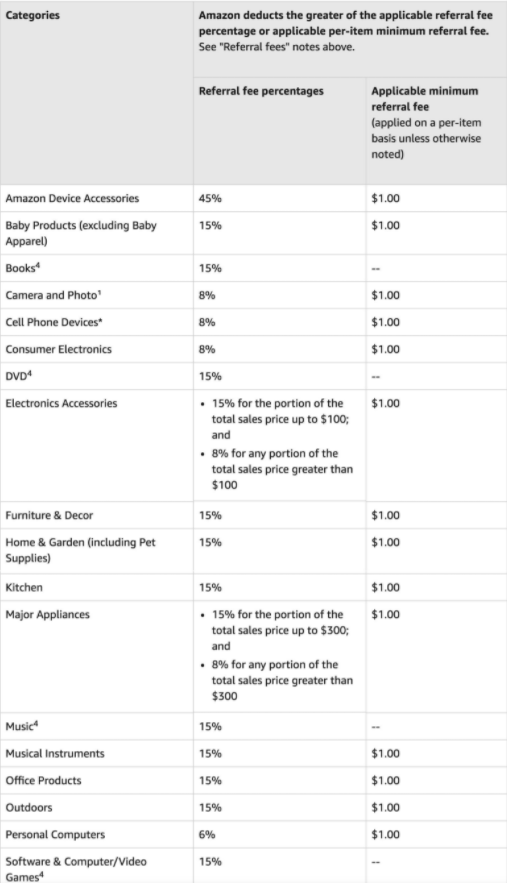 Source: SellerZen
eBay fees are 10% for most categories and an additional 2.9% PayPal fee.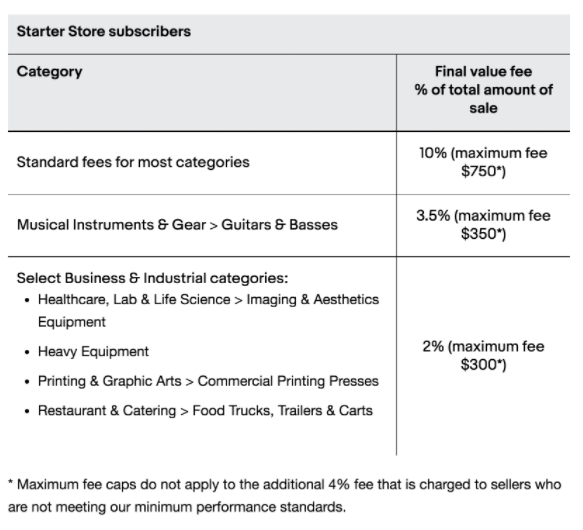 Source: SellerZen
Also, Etsy has a 5% selling fee with an additional 3% for sellers that use their payment system.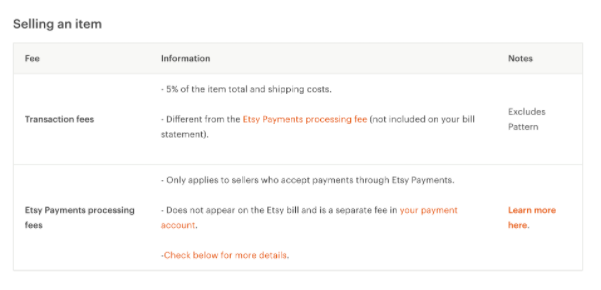 Source: SellerZen
The low fees are one of the primary advantages of selling on Facebook Marketplace.
It's incredibly important to calculate these fees before listing your products. If you're dropshipping your product, calculating the selling and shipping fees can help you determine your product margin to see whether it's worth selling or not.
Chargeback Fee
When running a Facebook business, you may experience chargebacks. While it's best to prevent them, sometimes customers may complain about a product and want their money back. The scenarios for filing a chargeback include:
The customer didn't receive their item.
The payment wasn't authorized.
The item was significantly not as described.
The customer was charged multiple times for the same product.
The customer was charged for the incorrect amount.
The seller didn't follow their stated return policy.
Facebook will hold the total transaction amount until the chargeback has been completely resolved in case of a chargeback.
Benefits of selling on Facebook Marketplace
Whether you're an everyday consumer looking for a side hustle or already running a legit business, Facebook Marketplace offers plenty of benefits to help you.
Reach interested buyers
Facebook Marketplace connects buyers and sellers so that both parties get what they're looking for. As a seller, you're reaching consumers who are already searching for what you have to offer. There are approximately 800 million users on Facebook Marketplace. Optimize your title and description with keywords to reach more people.
No listing fees and low selling fees
Most e-commerce platforms charge 10-15% selling fees once the product is sold. If you're dropshipping items, this can significantly hurt your profit margins. Sellers can lower their prices, making it more favorable to the buyer since they don't have to worry about high selling fees or listing fees. Not to mention, sellers don't even have to run ads to reach buyers.
Consumers don't have to leave Facebook
If you're an e-commerce brand, auto dealership, or rental property business owner, it's better to complete the transaction on Facebook. Anytime a visitor has to click on a link to an external page, the conversion rate goes down. This means you don't have to worry about good website design, the user experience, or copywriting tactics. Instead, the buyer will stay on Facebook, and you won't even need a website.
Mobile-friendly listings
98% of Facebook users will use their mobile device for Facebook. Many sellers still don't know how to optimize their stores for mobile devices. With Facebook Marketplace, you don't have to worry about that since it's already adapted to mobile devices.
Personal connection with the buyer
Unlike an e-commerce store, Facebook Marketplace lets buyers easily chat with the seller. They can comfortably ask questions to gain reassurance before purchasing the product. While e-commerce stores can offer live chats, stores don't allow consumers to connect via a built-in messaging app. Furthermore, buyers can even negotiate the price. Most e-commerce stores will see abandoned carts and drop-offs during the buying process because the price is too high or they can't get their question answered.
Facebook makes it easy to purchase, which greatly reduces abandoned carts. That's because Facebook is trustworthy and makes it easy to checkout.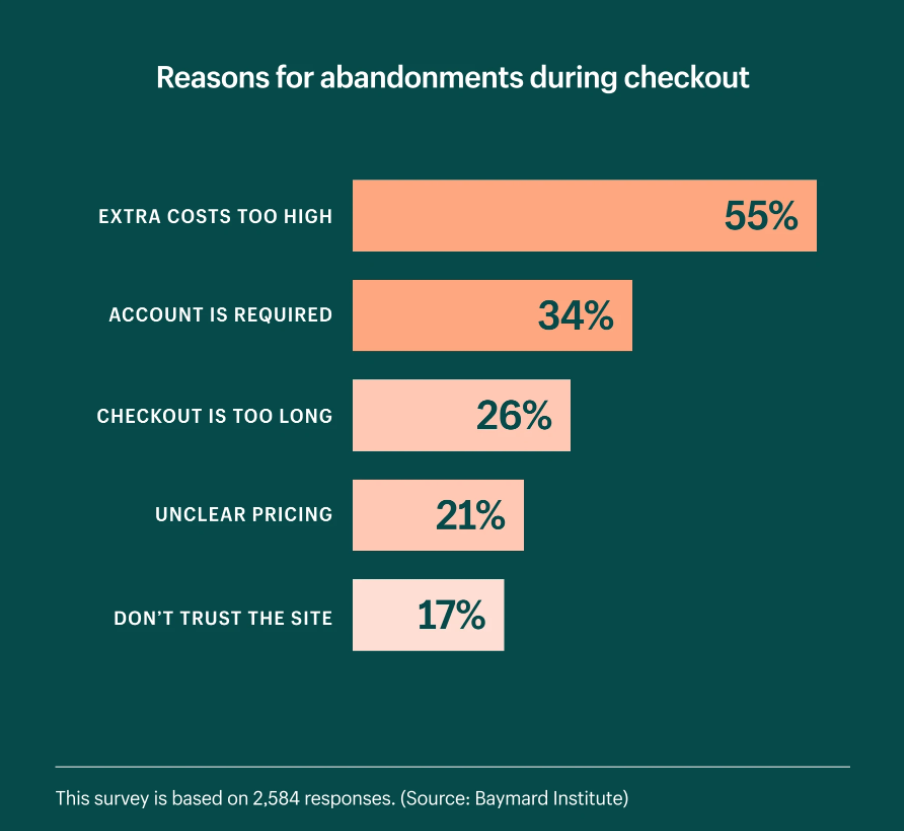 Source: Shopify
Who should sell on Facebook Marketplace
Facebook Marketplace place has become a versatile platform for many people. While anyone can sell, we want to specify the groups of people that can benefit most from selling on the marketplace.
1. People who want to get rid of their junk: Everyone will need to get rid of their junk at some point in time. Why not make some money off of it? Whether you're moving or looking to do some spring cleaning, Facebook Marketplace is a great option.
2. Flippers: Do you like to flip things? Facebook Marketplace serves as a resell app, just like many others. You can flip things from flea markets or thrift shops by selling them on this platform. If you know a lot about collectible items or brand-name clothing, you can hunt for them and buy them for under-market value. Then flip it on Facebook.
3. Dropshippers: A few years ago, Facebook Marketplace integrated a payment system allowing sellers to ship items directly to buyers. Previously, sellers would have to meet privately or discuss the details privately. Then both parties would have to come to terms with a payment method such as Venmo or Cashapp. Since Facebook has added a trusted payment source, it eliminates a lot of potential scams.
For example, if you're already running a Shopify, eBay, or Amazon store, why not expand your reach by using Facebook Marketplace. This allows dropshippers to sell their items. It's free to list, and you can potentially convert untapped customers that wouldn't have found you on other platforms.
4. Real estate agents: Agents who have a catalog of apartments they're looking to rent out can list their properties on Facebook Marketplace. Facebook Marketplace lets you customize your search by bedrooms, bathrooms, rental type, etc. There's even a "notify me" button so that interested buyers can be pinged about certain listings. While it may not have the popularity of Zillow, many consumers are beginning to see Facebook as an all-in-one platform where they can find just about anything.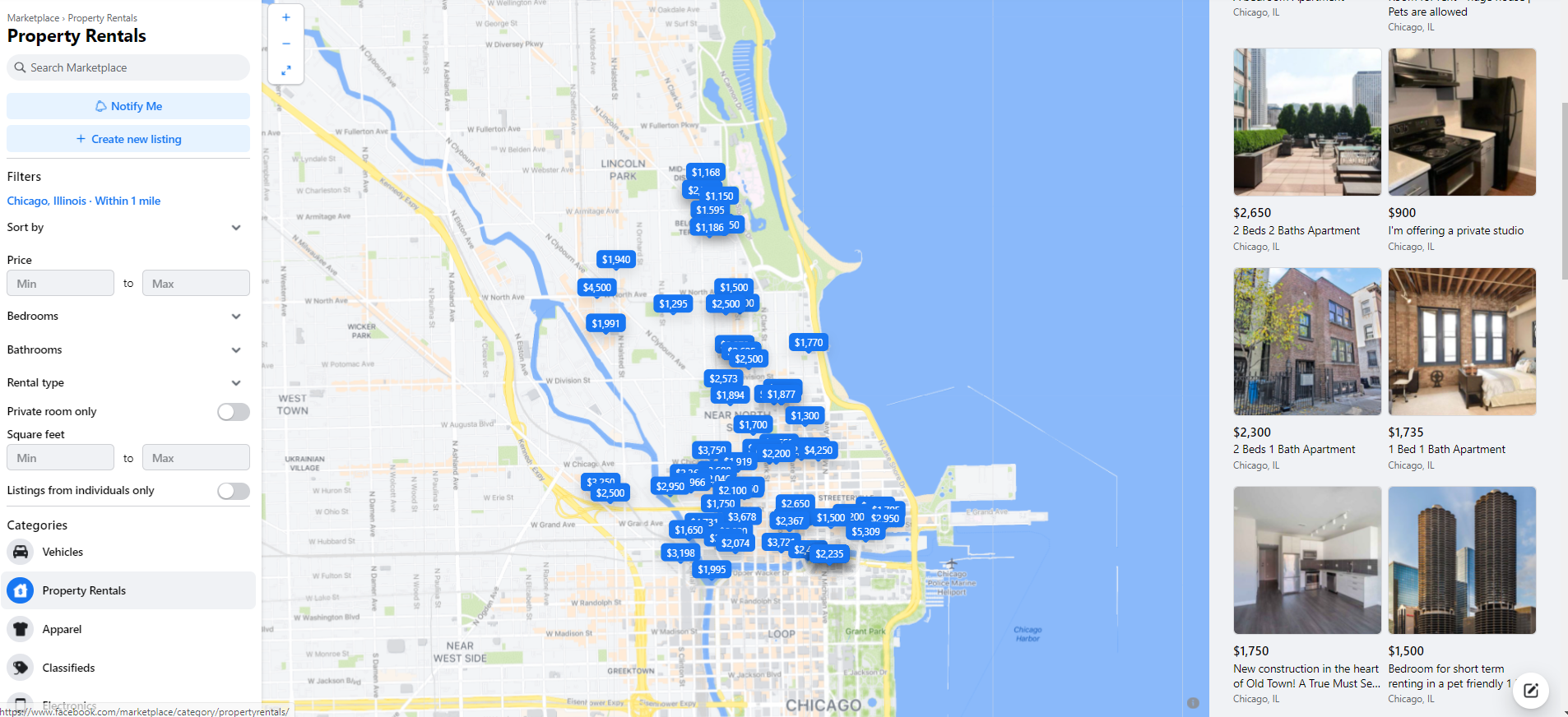 5. Car sellers: Do you have a used car you want to get rid of? Often, people will get low-balled at dealerships that won't give them a fair value for their trade. Facebook Marketplace is a great alternative to finding interested buyers. Experienced car enthusiasts can even flip cars by buying cars on the cheap, fixing them up, and then selling them on the marketplace.
Users can filter through options such as vehicle history, exterior and interior color, transmission type, fuel economy, seats, and safety rating. Facebook Marketplace also has categories for campervans, RVs, and trailers.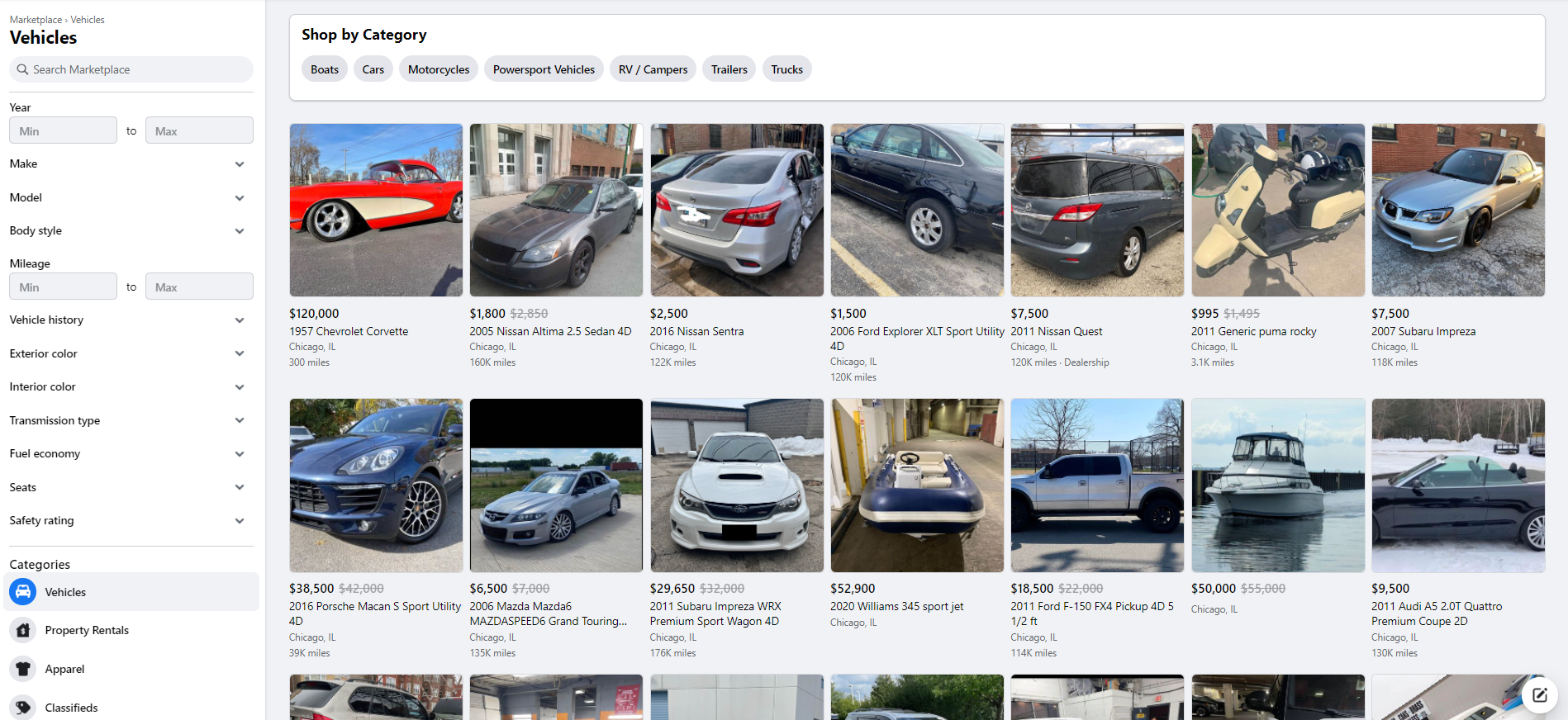 Start selling on Facebook Marketplace
The beauty of Facebook Marketplace is that it's easy to use, convenient for buyers, and free to start selling. This platform will connect you with interested buyers already looking for what you have. Make sure to follow the tips and strategies laid out in this guide.
It'll help you get started faster and improve your odds of success. Now it's your turn; take the first step to sell on Facebook Marketplace today!