Are you searching for an unbiased Jungle Scout review? You're here!
Investing in different tools at a time begins to get complex as the number of solutions increases. You have to find a way to integrate all your tools or keep track of everything happening.
But there are other options. You can opt for a one-stop tool that satisfies all your needs.
Jungle Scout provides this option for Amazon Sellers searching for a reliable one-stop solution for their business.
This article will give you an honest JungleScout review covering everything you need to know about its pricing, features, tools, and usability.
Let's get started.
🎯 Jungle Scout Quick Verdict - Is It Worth It?
Before Jungle Scout, Amazon sellers had to depend on manual research to discover products, analyze their competition, and draft a spreadsheet library with limited access to data.
Jungle Scout tools provide Amazon FBA sellers with tons of factual data beyond simply relying on gut instincts. For example, product research is a huge factor concerning success on Amazon because of the ever-growing competition. And with tools like opportunity score and finder, a product database, and the product tracker, the process becomes a lot more effective.
So yes, Jungle Scout cost is worth the price and is needed if you want to use a data-centric approach that 7-figures Amazon FBA seller.
What is Jungle Scout?
Jungle Scout provides Amazon Sellers with a full suite of tools that helps them with everything from discovering items via product research, sourcing suppliers, launching and optimizing product listings, inventory, managing business analytics, a Jungle Scout Academy, and much more.
Jungle Scout Overview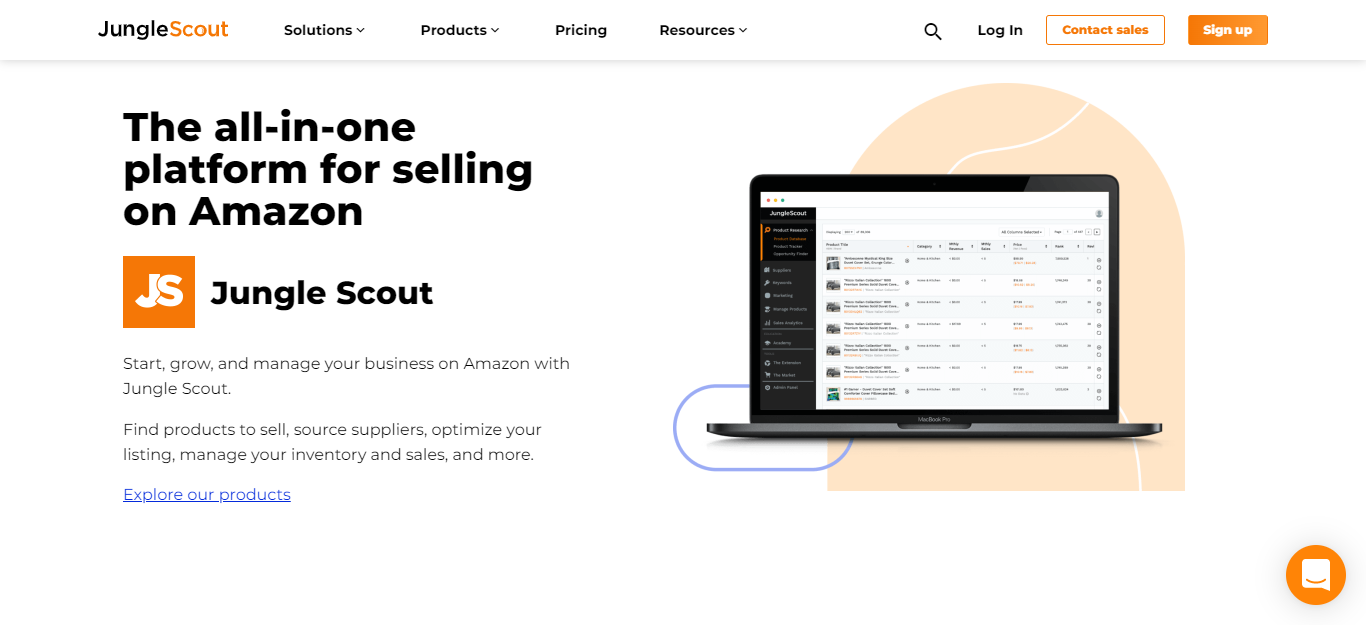 Jungle Scout was launched in 2015 by Greg Mercer as a solution to guide vendors on Amazon through the ever-evolving landscape of the eCommerce platform by helping them make informed product decisions.
It offers users top-notch resources for a data-driven product research solution. The idea of all the tools is to minimize the risk of Amazon FBA business failure and maximize your profit.
Jungle Scout has a web app that provides in-depth product insights concerning what happens behind the scenes and inside Amazon categories.
Then there is the Browser Extension that gives you quick and brief insights into multiple products and categories available on the Amazon website as you browse the platform.
The web app is more effective as it offers more insight and Jungle Scout features than the browser extension. And also provides more comprehensive analytics than the extension does, such as total category sales and pricing, alongside potential opportunities in the market.
Jungle Scout Features
This section will go through every feature of the solution and show you how to use them to get the most out of the tool.
Below are other features from Jungle Scout that make it unique. Most of these features use a scoring system to indicate the quality of a specific term in your original search. For newbies in the early phases of learning about your niche or product, this system is quite useful as it allows you to catch up on some synonyms, jargon, or slang terms related to your product.
The Jungle Scout Web App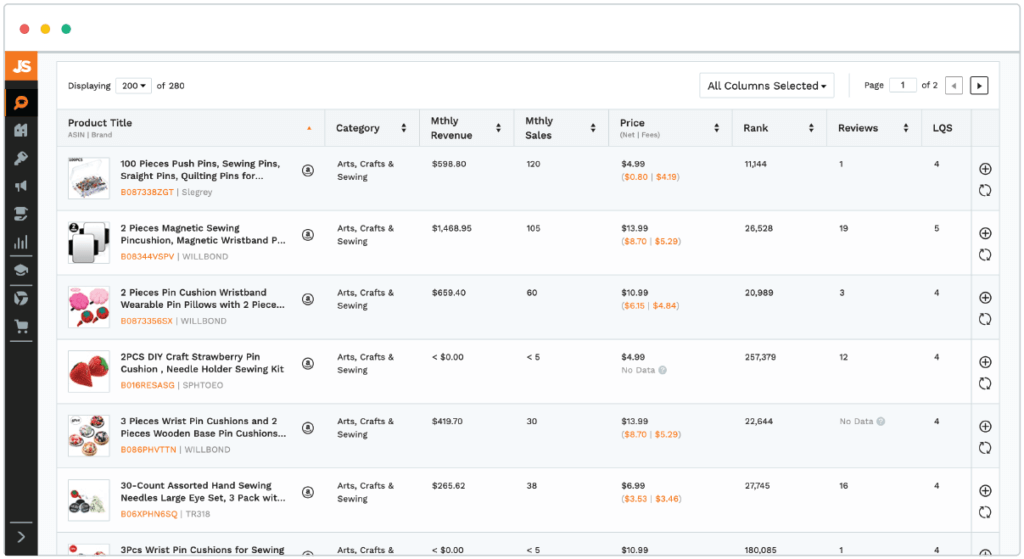 The web app is an Amazon research tool built to help you make effective and smarter product decisions and stand out from your competitors. You can seamlessly discover profitable products and niches from Amazon's entire catalog using the web app.
The online tool helps boost business success by restricting the usual causes of failure as an Amazon seller. The web app enables you to filter Amazon's whole database by sales price category and more. You can also track every one of your competitors' activities over the years.
Product Tracker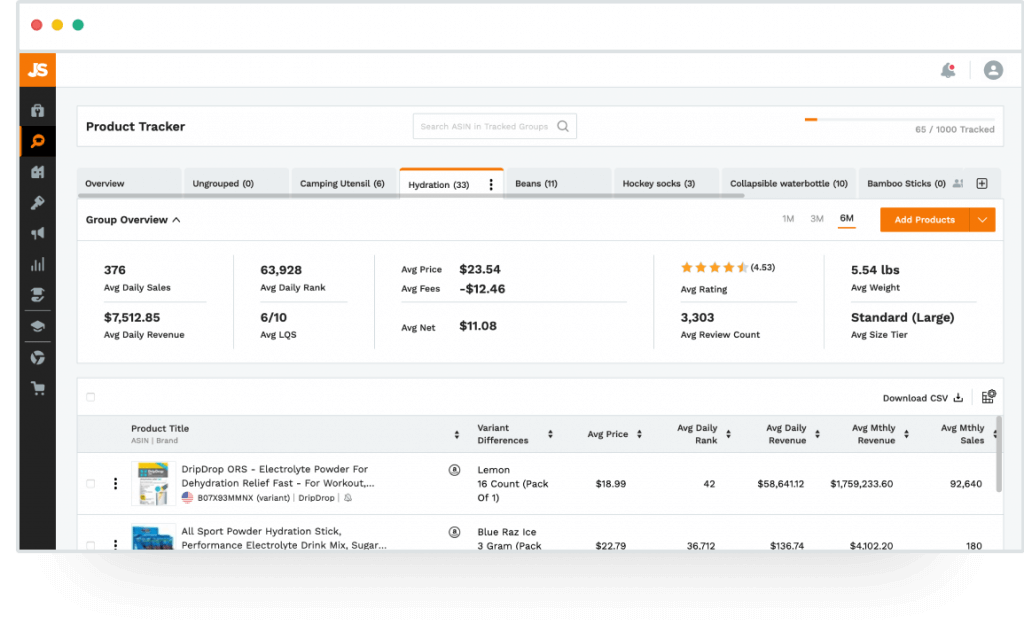 This feature allows you to easily track the performance of every product by monitoring potential products over time and analyzing daily stocks, top products, ranks, sales, and prices.
It also allows tracking revenue, sales, best-selling products, and rankings every day. The data gathered from tracking products enable you to make informed decisions as an Amazon seller.
You can even choose what the tool shows you. For instance, if you want to track seasonal products or unexpected opportunities, the product tracker will reveal the information.
The feature also analyzes sales speed and the average price to enhance your bid.
Product Database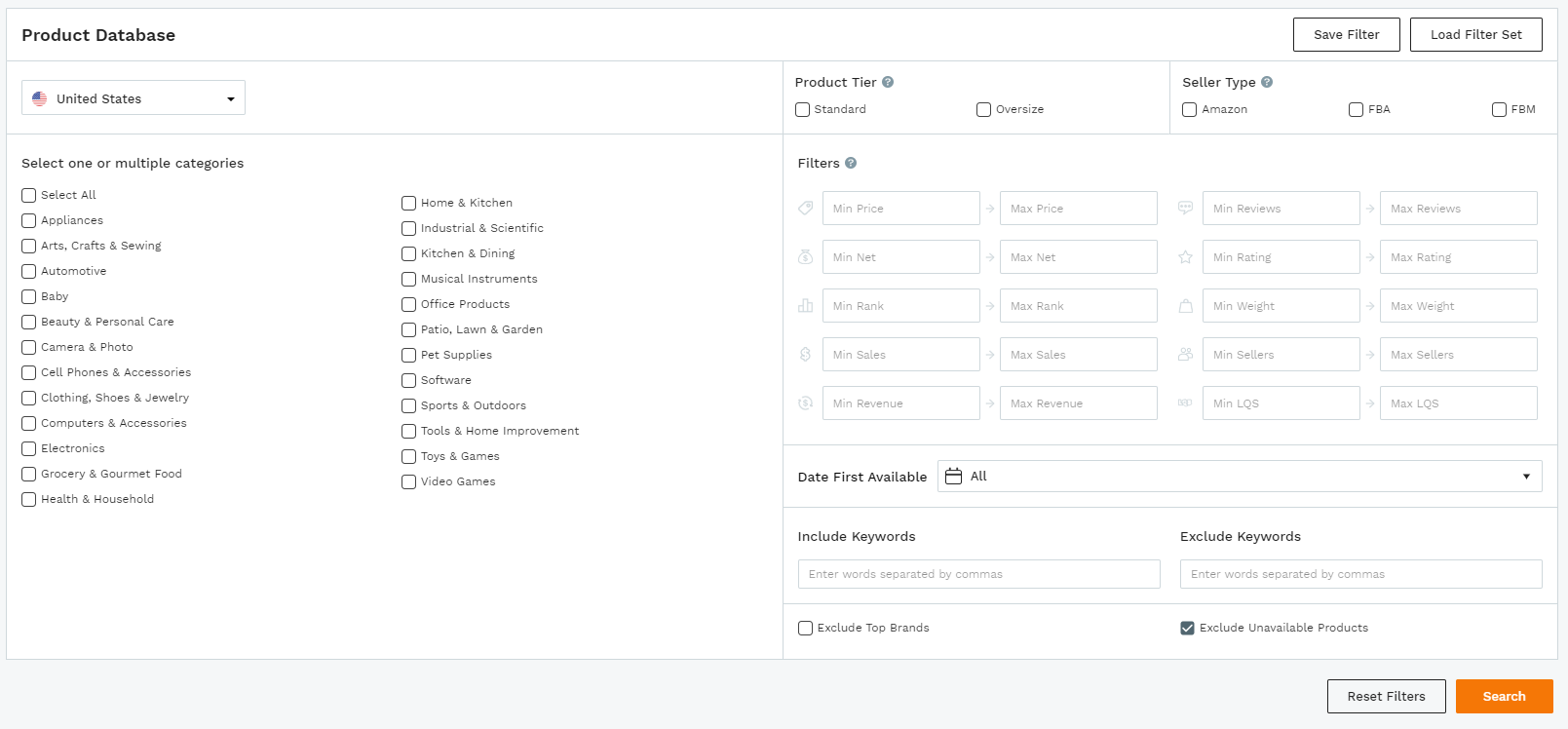 Jungle Scout has a huge database containing more than 470 million products from Amazon.
You can filter your search to get product ideas to satisfy your search criteria and discover products to sell on Amazon.
The pre-installed filters help newbies selling on Amazon by providing a starting point that allows users to generate product ideas in seconds and begin discovering items with great potential.
You can filter your search by estimated sales, categories, revenue, etc. This helps to discover profitable products.
Average Units Sold
This jungle Scout function helps discover the number of units of a specific product that has been sold in the last 30 days.
Competition

Jungle Scout provides a score range from 1 to 10, with 1 being the least competitive to show you the competition in your niche. The score is based on Amazon's top 10 and the number of reviews for such products.
To give a clearer understanding, if any of the products ranking on the first page have only a couple of reviews, then theoretically, you have a huge opportunity to get your product ranking fast.
On the other hand, if the top 10 products on the first page have hundreds to thousands of reviews, it is heavily competitive. So while the sales volume of a particular group of products looks great (meaning it is an in-demand product), if you have a ton of competition to overcome, it's a no-no.
Average Price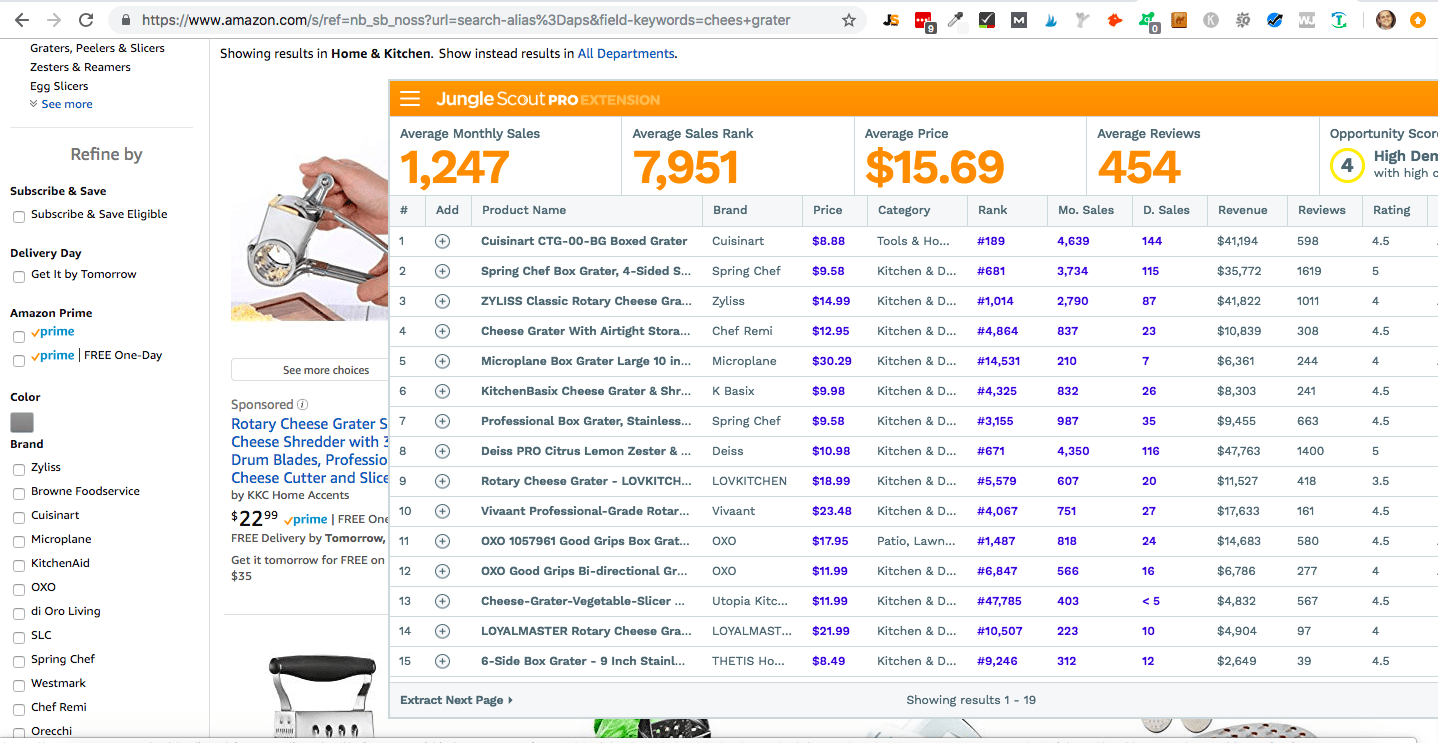 Like its name, this feature shows you an average price for the current top 10 listings when you research keywords on Amazon.
This is an extremely helpful feature. Especially if you plan on selling an item way above the price of the top 10 listings, this will indicate that the market may not be willing to pay the additional expense attached to your product.
Ease of Ranking and Keyword Difficulty

This feature uses a score range of easy to hard to indicate the difficulty of ranking a particular keyword. The longer and more detailed keywords are easy, while the short terms are nearly impossible.
Supplier Database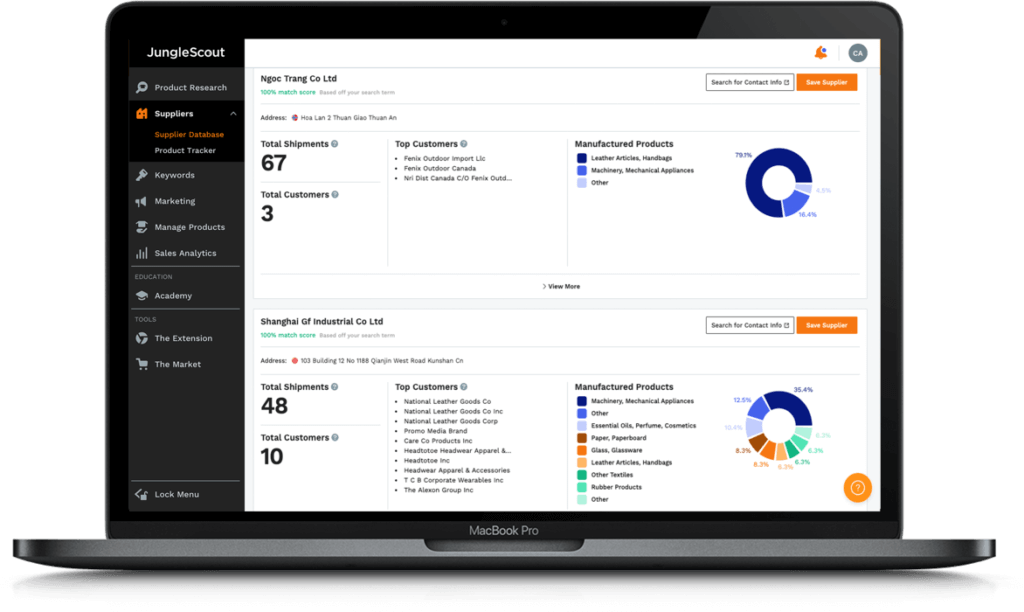 This is a recent feature added to Jungle Scout. The function enables users to discover leading global suppliers used by top brands. It allows you to search and analyze suppliers' databases so you can source your items.
This can be done by searching for a specific product or by a particular company or supplier name.
Opportunity Score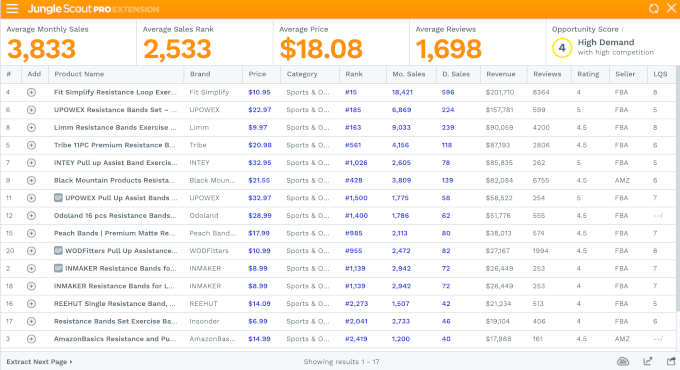 The Opportunity Score ranges from 1 to 10, with 1 indicating that you need to find a new idea and 10 meaning that it is a great opportunity.
This works by looking for high-demand products that are currently listed high but have low reviews and poor quality.
This becomes a great opportunity for Amazon sellers to get in on the category and do a better job.
If the Opportunity Score is low, it means the exact opposite. It indicates that the product has low demand and that your competitors are doing an excellent job satisfying customers.
Recommended Giveaway
Every Amazon seller knows a fair deal about how tough it can be to launch a new product successfully. You need to achieve a minimum level of sales, as well as get quality reviews. This is the reason one of the leading ways to launch a product on the eCommerce platform is via a giveaway.
You can either sell your product at a very high discounted price or offer coupons. This is done to pump your Listing up on Amazon's ranking.
Now here's how Jungle Scout helps with this. The tool provides a recommended giveaway number. This is the approximate unit that you should give away every day for about 2 weeks to climb to a top vendor rank on Amazon for a specific search term.
Keyword Scout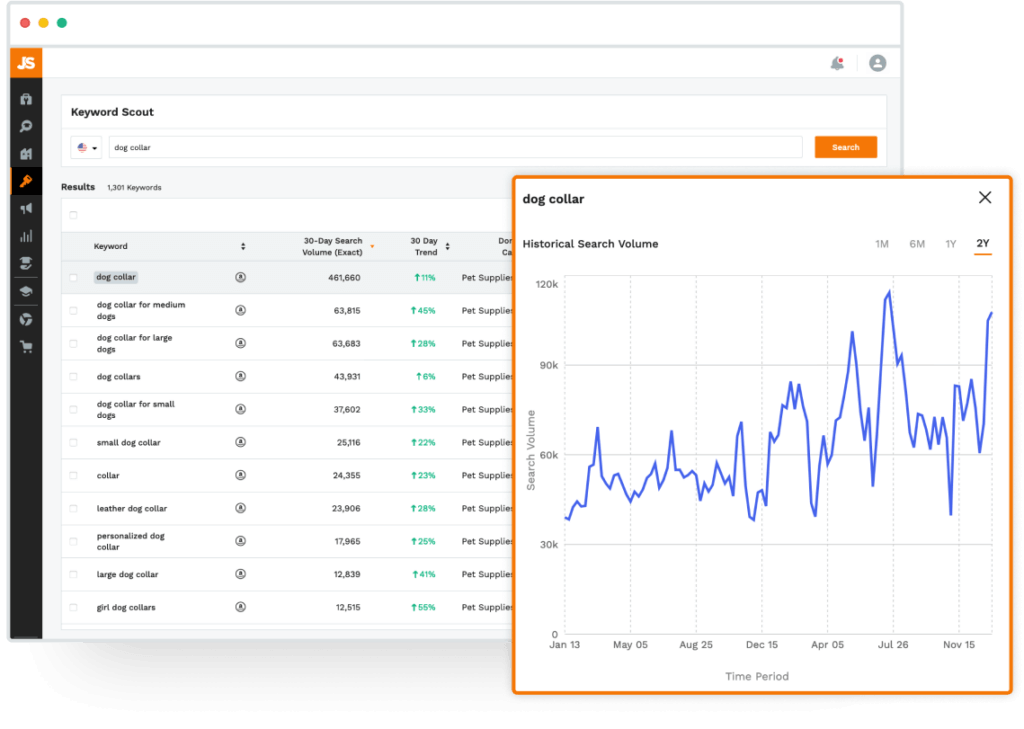 This is one of the most extensive and precise Amazon keyword idea generation tools. This feature enables you to discover high-quality keywords, the right pay-per-click bids, and keyword search volume.
It is quite similar to a previous one called The Jungle Scout Niche Hunter.
The function gathers millions of data points to review what Amazon customers are searching on Amazon. Not only would you find a large number of keywords and exact keyword searches, but you can also browse ASIN to discover which keywords classify a specific product, see PPC costs, and find competing products. This makes it a powerful product research tool.
Listing Quality Score (LQS)
The Listing Quality Score calculates and provides how well the present top 10 products are optimized. The feature works by taking into consideration crucial ranking factors for Amazon listings, such as:
The keyword used in the title
Number of images
The description relevance
Use of approved formatting
Length of the description
You can know everything required for a well-optimized product page on the eCommerce platform. As well as spy on your competitor's product listing quality.
A score of 3 or lower is of low quality, while a score of 7 or more means a high-quality listing.
If the listing quality is high, that doesn't mean that you cannot compete; you just have to find a way to stand out.
Opportunity Finder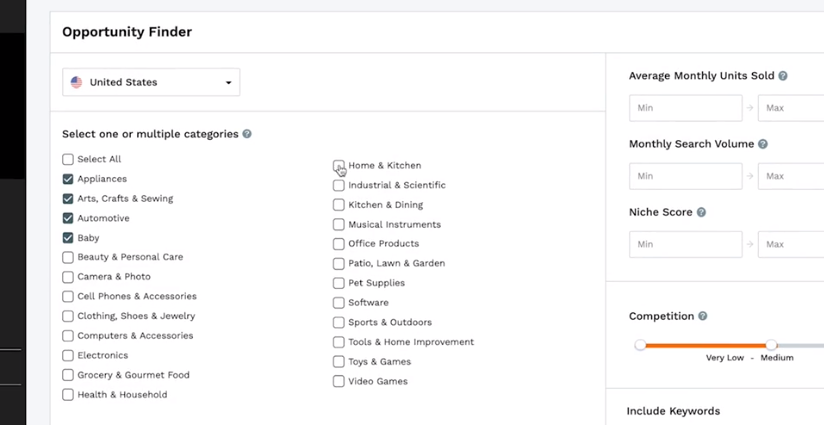 Jungle Scout provides a powerful Opportunity Finder that enables you to discover profitable niches and growing trends for a particular product.
Irrespective of if you're searching for a new product to sell on Amazon or looking for unique products, this feature helps out. It is a replacement for the jungle scout niche hunter function. And you can seamlessly find multiple niches to begin selling quickly.
The Opportunity Finder feature works by scouting Amazon trend keywords with high demand but low competition to discover profitable product markets.
Using this feature, you don't have to carry out extended manual research as you can use in-depth data to guide your search for recent product trends.
This function works by assessing product opportunities using a range of 1 to 10 based on product competition, demand, etc. An opportunity finder score of 10 tells you that this is a great opportunity. If it's low, it tells you there's a ton of competition on that niche or product.
Keywords
There's an amazing function in the web app called keywords. This is a tab that allows you to input a seed keyword.
The fields present in the function are self-explanatory. For example, the "exact match search volume" field is the number of times users have searched for that term in the last 30 days.
There's a broad match search volume that displays tiny variations like plural forms and misspellings. The feature also has 3 columns to show you the pay-per-click (PPC) of running Amazon-sponsored ads for the products.
Jungle Scout Chrome Extension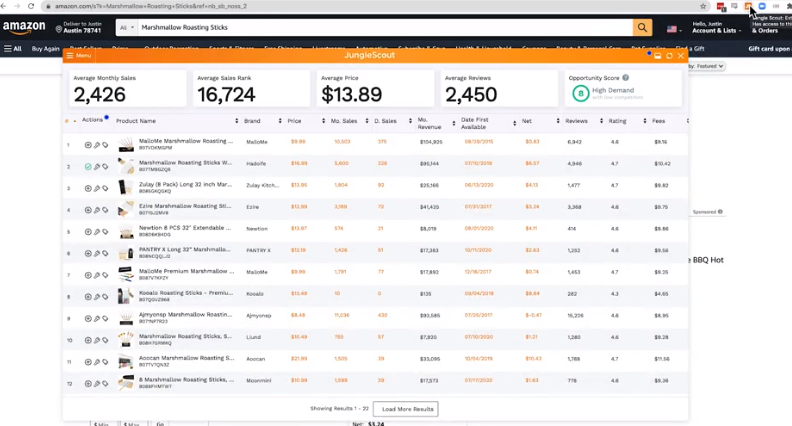 The browser extension from Jungle Scout is a browser add-on that helps you discover keywords and estimate product profitability.
The goal of the extension is to be a bridge between product inspiration and action as you browse Amazon.
It provides real-time data on competition, profit forecasts, and sales based on the search results or the product page you are browsing.
The extension comes with all pricing plans and is built to be used when browsing for Amazon items. The Jungle Scout chrome extension offers a 100% money-back guarantee.
So if you aren't satisfied with the add-on, you can be certain you will get your money back.
The Jungle Scout extension has some unique features:
Stat Checker
Product Specific
Stat Checker
This extension makes finding statistics easy. And allows you to seamlessly validate your insights with historical data.
Product Specific
This is a really powerful feature of Jungle Scout's extension. It allows you to get deep insights into a particular product.
You can view the product's best seller rank, estimated monthly sales, FBA fees, typical price, etc.
Jungle Scout Inventory Monitor
Jungle Scout's vendor features offer sellers many benefits that help boost business growth.
Inventory Manager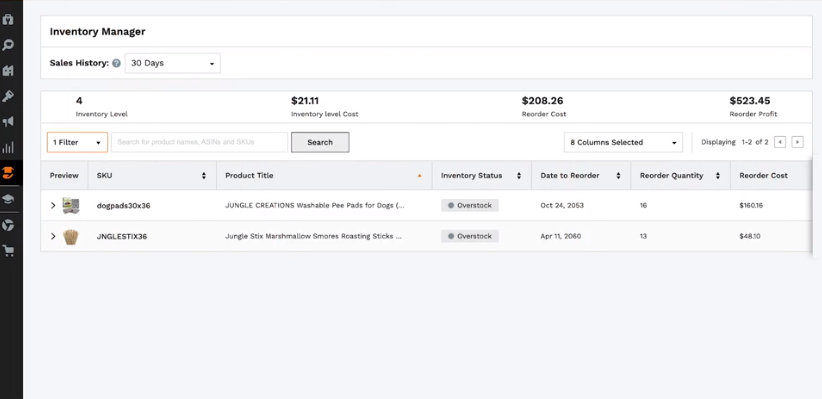 This feature enables you to view real-time data of your Amazon FBA business inventory to easily determine how much inventory is available and when to update it. The function covers every product listed, sorted, to be sold, or sold. It also calculates quantity, date, profit, and estimated costs.
The feature also keeps an eye on inbound inventory to provide real-time insights on products on the way to an Amazon fulfillment center.
Sales Analytics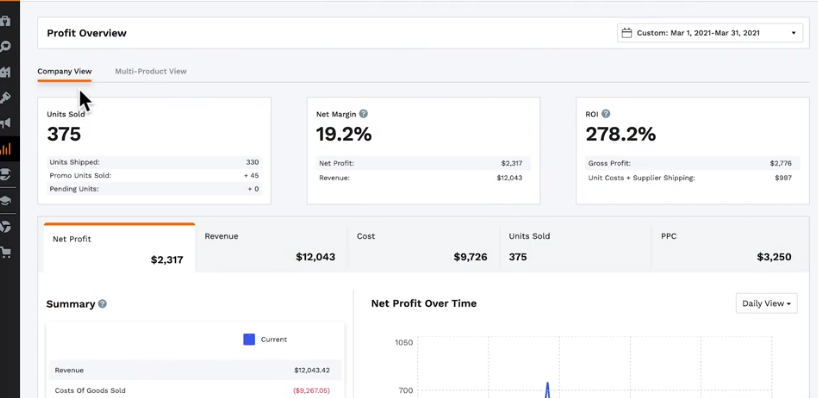 This feature tracks and organizes all your sales data on Amazon in real-time. It also allows you to seamlessly create a professional-looking profit and loss statement to view your brand's current financial status.
The sales analytics feature also reveals vital metrics such as prices of sold goods, operating expenses, revenue, and hidden costs. And you can view all these by simply taking particular periods. It can also help you manage taxes, spot growing trends, and more.
The options available with this feature are impressive. You can get the complete picture of your Amazon business financial state. For example, the feature lets you view daily and historical data to support trends over time and check your average monthly sales, current sales rank, average price, and much more.
Product Alerts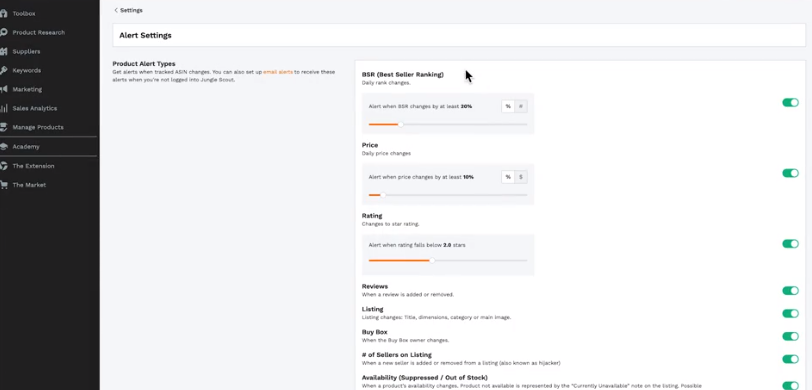 Using the Product Alert features, sellers can watch particular products for a change in price, new reviews, and much more. The function keeps you in the know about vital product changes, allowing you to take the necessary steps fast. Whether you're searching for a new product to sell or ensuring your listings stay optimized over the competition.
It also allows you to track changes to the product itself, such as product images, titles, and categories. There's even the option of setting a custom product alert threshold for price changes, product ratings, and the Best Seller Rank.
Launch
This feature lets you launch and promote your product on Amazon. With it, you can create custom and personalized emails to promote your offers.
Jungle Scout Pricing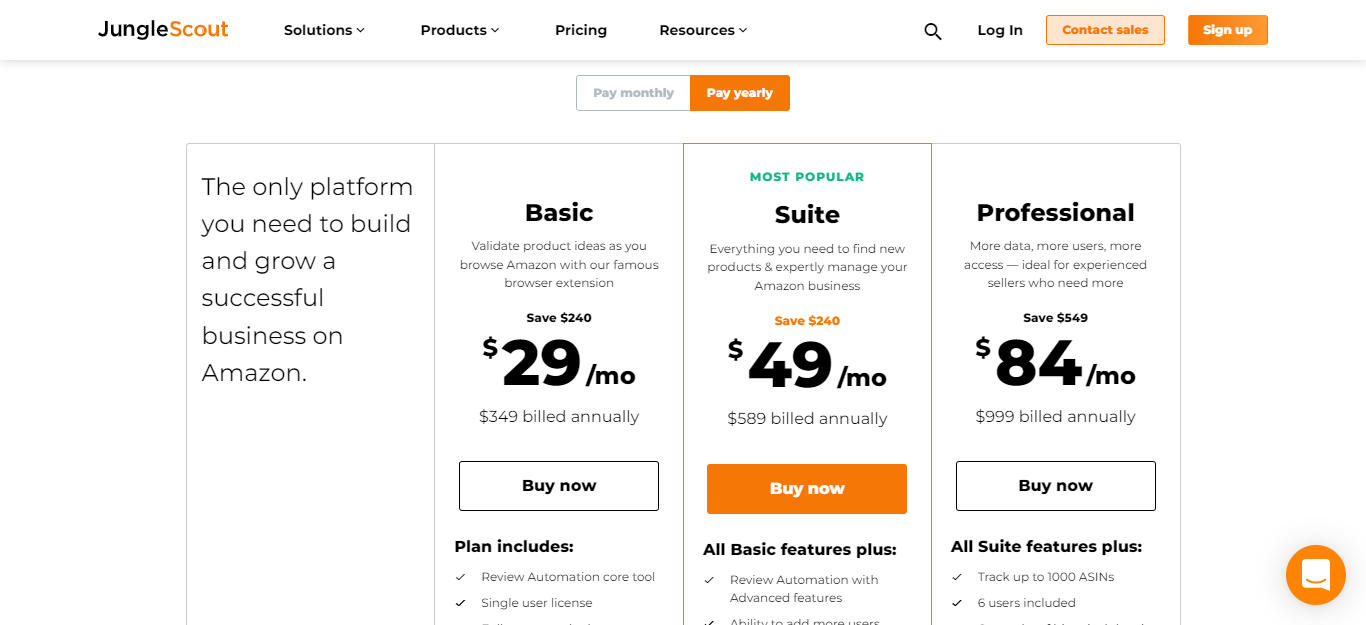 Jungle Scout has 3 plans. And all their plans come with a 7-day 100% money-back guarantee. So if you decide that the product is not a perfect fit for your business, you can request a refund within 7-days. Jungle Scout does not offer a free trial, so the only way to test out the tool risk-free is by taking advantage of the money-back guarantee offer.
Basic Plan
The Basic plan costs $29 per month but is billed annually at $349. The plan includes:
1 user license.
A review automation core tool.
Complete access to the Jungle Scout browser extension (Firefox and Chrome).
The major attraction of this plan is that it allows you to validate product ideas as you surf Amazon using the famous browser extension.
Suite Plan
The Suite Plan is the most popular option. It offers everything you'll need to discover new products and manage your Amazon business as an expert. It includes all the basic features plus the option to add new users, advanced seller features, enhanced review automation, and access to in-depth historical product and keyword data. The plan costs $49 per month and is billed annually at $589.
Professional Plan
The Professional Plan offers more users, more access, and more data. It is primarily for expert-level sellers that require more than the average vendor. The plan offers every Suite feature plus 6 users, the ability to track up to 1000 Asians, 2 years of historical keyword data, 6 months of Product Tracker historical data, and priority onboarding. The plan starts at $84 per month and is billed yearly at $999.
Jungle Packages
Jungle Scout has various packages beyond the regular pricing plans.
Startup Suite
The Startup Suite is a package option for businesses that intend to begin selling on Amazon as soon as possible and want to learn during the process. It includes a couple of educational features such as a get started checklist, Academy Seller training courses, live weekly question and answer sessions, training sessions, 24/7 customer support, and priority onboarding. The package costs $189 as a 3-month suite plan.
The seller features in the package include:
1 user seat and extra seats for $49 per month for each seat.
Product Research features
Historical Product Tracker data of 90 days
1 year of historical Keyword Search data
Browser Extension (Chrome + Firefox)
1000 monthly searches with Sales
Estimator
Track 150 products
AccuSales Estimates
Keyword Scout
10 Marketplaces
Opportunity Finder
Track 3,500 keywords in Rank Tracker
Alerts
Supplier Tracker
Sales Analytics
Test 200 listings per month in Listing
Inventory Manager
Grader
Request Reviews
Listing Builder
Enterprise Package
The Enterprise Package is for businesses that want to know all they can about selling their product on the eCommerce platform before launching their product. The package costs $349 as a 6-month suite plan.
It offers the same educational features as the Startup Suite package, such as Academy Seller Training Course, Get Started Checklist, etc.
It also features the same Seller Functions as the Startup Suite above. The difference between the 2 plans is the length of time they run.
Freedom Builder Bootcamp
This package is great for users who intend to become masters of the FBA process and build a business strong enough to give them financial freedom.
The package costs $999 for a 12-month Professional plan.
It includes in-depth educational features such as live coaching in Freedom Builder Bootcamp course sessions, additional content, resources & support, fluid course content that updates as selling on Amazon changes, and a 1-year subscription to Jungle Scout Professional Plan.
Some other features include:
Product Research features
Include additional seats for $49 per month per seat
6 months of historical Product Tracking data
Academy training
14-day money-back guarantee
Test 500 listings per month in Listing Grader
Priority onboarding
2 years of historical Keyword Search data
Customer support
AccuSales Estimates
Supplier Database
Opportunity Score
Browser Extension (Chrome & Firefox)
1500 monthly searches with Sales Estimator
Product Database
Promotions
Track 1000 products
Opportunity Finder
Keyword Scout
Supplier Tracker
10 Marketplaces
Request Reviews
Track 3,500 keywords in Rank Tracker
Alerts
Sales Analytics
Inventory Manager
Listing Builder
Jungle Scout Pros and Cons
Every solution, no matter how good, has its pros and cons. Let's have a look at those for Jungle Scout.
Pros
Jungle Scout allows you to seamlessly track product performance for trend analysis.
The tool offers Amazon product sales and revenue data
Jungle Scout does not just offer vendor features but educational ones that can help users gain mastery of the FBA process.
You can find competitive and market intelligence data quickly
Discovering high-value product ideas is quick and easy
It allows you to discover the most in-demand keywords with low-competition
They offer a money-back guarantee feature.
Users have access to a huge supplier Database for sourcing products
Their customer support team is available 24/7 and is quick to answer
You can track an item's organic search rank
Jungle Scout offers future product demand predictions that can save you time and money.
Cons
The tool is quite expensive, especially when you opt for the package options.
There's no free trial
Jungle Scout does not offer a mobile application. This makes it a bit archaic and means you cannot use the solution on the go.
The inventory management feature is hard to understand with a steep learning curve when you have thousands of items to oversee.
Final Verdict - Is Jungle Scout The Best Amazon Keyword Research Tool For Me?
Jungle Scout is a great tool that combines everything you need to become a successful vendor on Amazon. It even has in-depth educational features that help guide you along the way.
For example, the weekly question and answers sessions, fluid courses that change as Amazon updates seller requirements, etc.
That said, the tool is very expensive. So if you're on a budget, this may not be the best option for you as it is quite demanding financially.
However, a 7-day money-back guarantee allows you to request a refund if you don't find the tool useful.
Frequently Asked Questions
Let's look at some Jungle Scout faq.
Does Jungle Scout Offer a Free Trial?
No, Jungle Scout does not offer a free trial, but they have a 7-day money-back guarantee. All you have to do is email them at support@junglescout.com to request a refund. So for users who love to test products risk-free, this is a great option.
What is the Difference Between Jungle Scout Web and the Browser Extension?
The primary difference between the Jungle Scout web tool and the browser extension is how you access the solutions. And the functionality each tool provides.
The web version is, just as its name implies a web-based application that allows you to discover features for keyword data, product research, supplier sourcing, and listings.
On the other hand, the browser extension is for Firefox and Chrome and collects data from Amazon SRPs ( Search Result Pages) into a single dashboard.
Irrespective of the plan or package (whether Basic, Professional, or Suite) you opt for, these tools are added to your Jungle Scout account.
How Many Users can I have in my Jungle Scout Account?
Jungle Scout is perfect for teams. The solution allows you to add new users to your account. And each of these users can have a unique login for extra security.
The Basic plan is restricted to a single user. Jungle Scout's Suite plan includes a single user but has the option to include as many users as desired for $49 per month and per seat (that is, for each user).
The Professional Plan makes room for 6 users; however, you can include more users at $49 per month and per seat, just like with the Suite plan.
What is the Difference Between Niche Hunter and Opportunity Finder?
The Opportunity Finder is a feature released in 2019 to provide Amazon sellers with the best tool for discovering profitable subcategories they can sell in.
It contains a ton of the Niche Hunter's functionality but with more features.
The feature is only available for Mexico, European nations, Canada, and Mexico users.
On the other hand, Niche Hunter was added to Jungle Scout in 2016. It is only available for users who signed up for the solution before October 2019. But this is just for a short period before it is taken out completely.
What Access do Authorized Users Have on Jungle Scout?
As the head user or primary user, you will have total control of your Jungle Scout account. This means you can customize user access to your subscription features and data for extra users vis the tool's Team Management Settings.
Also, added users will not have permission to access billing information, be permitted to make changes on your account, or have access to your credit card numbers.
Every new user joins by invitation from you. And you have the right to revoke user access whenever you choose to via your account settings.
What Payment Options does Jungle Scout Accept?
This solution accepts MasterCard, American Express, and Visa cards. They also can send you a PayPal invoice if you do not have a valid credit card. All you need to do is send an email to their support email.
Which Marketplaces does Jungle Scout Support?
Currently, Jungle Scout is compatible with marketplaces in Canada, the United States, the United Kingdom, France, Italy, Germany, Spain, and Mexico.
That said, certain features are limited to the United States market.
The tool also has partial compatibility with Marketplaces in Turkey, Saudi Arabia, Netherlands, United Arab Emirates, Brazil, Australia, Japan, and Singapore.
Is the Data on Jungle Scout Accurate?
Jungle Scout is relatively accurate. The data sometimes isn't exact, and you have to possess adequate knowledge of how Amazon works to use it properly. But it is very reliable.
You don't want to take Jungle Scout as the gospel truth, though. It should serve as a guide to making the right decision. In comparison to the other alternatives, though, Jungle Scout offers the most accurate insights, as the graph below shows: