I know you think you're superman. I mean, look how far you've come.
Your business is doing great, and customers are steadily flowing in.
But you also know this can't go on for much longer.
It would help if you found economical ways to grow and boost productivity.
And I've got the perfect solution.
It's time to outsource tasks to virtual employees! While many small business owners have considered this option, they don't know where to find affordable and reliable freelancers with the right experience or qualifications.
Today, I'll review OnlineJobs.ph in detail and discuss the features that make it a great go-to site to hire virtual assistants.
Haven't you heard of it?
No problem. You're not alone. So without spending any more time in the intro, let's get started.
🎯 Quick Verdict – Is OnlineJobs.ph Legit?
Yes!
It's a great platform to find and hire affordable remote talent from the Philippines, whether you need content creators, graphic designers, developers, social media experts, marketing specialists, virtual assistants, or anyone else to run your business.
It has:
easy-to-use interface
well-documented candidates
simplified hiring and recruitment system
filtering system that makes it easier to find the right person
huge resume database of quality part-time and full-time Filipino workers (over 250,000 resumes!)
But what makes OnlineJobs different from other freelance sites is that it's not only for companies who want to hire a VA. Any Filipino looking for a job can use this service too.
Need more information about OnlineJobs.ph can help you?
Keep reading this in-depth OnlineJobs ph review to learn how to use this website.
What Is OnlineJobs.ph?
At first glance, OnlineJobs.ph appears to be a site that helps companies find remote workers. And you're not altogether wrong. It can help you find suitable candidates with the right skills to help your business grow.
But more accurately, OnlineJobs.ph is a trustworthy job board that connects those searching for qualified individuals with people in the Philippines who need jobs. So that means that if you're a Filipino freelancer looking for part-time or full-time online work, you've come to the right place.
What Makes OnlineJobs Special
There are several features I like about the site. Let's review some in detail.
Comprehensive Filtering System
Finding the proper freelancer/organization can get challenging whenever online work is involved.
Using the platform's advanced filtering feature is a huge help.
OnlineJobs.ph allows users to customize search results based on an applicant's:
Skills
The proficiency level of the required skill is based on five stars rating (Note: Since applicant skills are self-reported, a person can only rate themselves with 5-stars three times and 4-stars six times. To refine your search by selecting 5-stars in skills that are the most important.)
Availability (full-time or part-time employment)
Last active time
Monthly salary
Keyword
ID Proof Score ( rate for the trust factor of a potential candidate)
ID Proof
The ID score is calculated on a scale of 0-100 and is a great way to verify that an applicant isn't fake. So the higher the score, the better. Workers with a score above 50 are a good bet.
So that you understand, this score isn't a measure of a candidate's skill and experience. It's merely a way to facilitate the VA hiring process.
Zero Commission
Sites like Upwork and Fiverr take a percentage of your earnings. So that means you get to keep all your money! Since there is no middleman, there is no markup in prices. But OnlineJobs.ph doesn't do that.
However, there is a fee to use the site of $69-$99. OnlineJobs.ph is entitled to their monthly fee since they facilitate the recruiting process by providing a safe platform for companies and remote workers to meet.
Email Templates
This feature allows you to create and save email templates. Now you can communicate and interact with multiple clients effortlessly.
Recruiting Service
Here's what I like best - OnlineJobs can help recruit the ideal VA for you if you have a lot on your hands.
Outsource recruitment to them for $500.
This may seem like a lot, but remember, they deal with all the recruitment responsibilities, including checking references, talking to previous employers, completing a background check of applicants, and much more.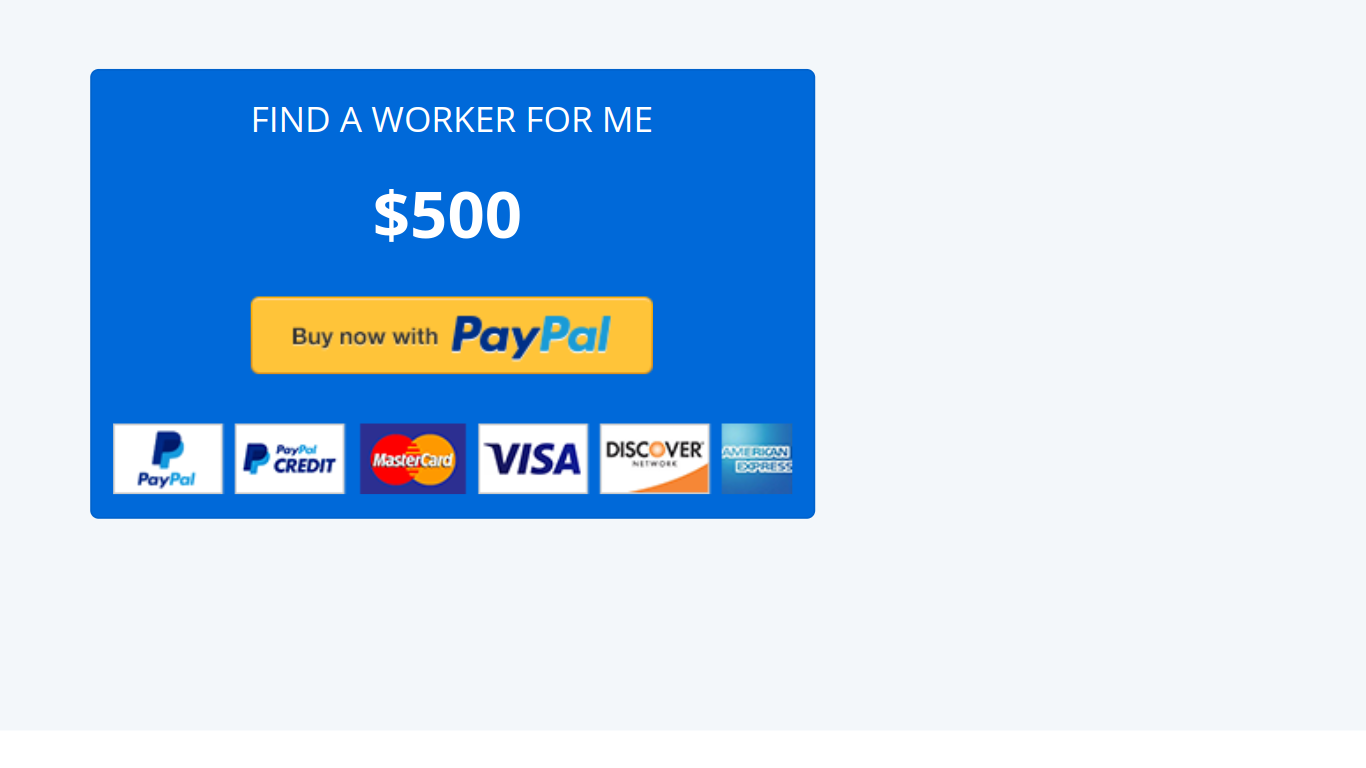 And in case you feel a virtual assistant isn't the perfect fit for your company, they'll find a replacement - at no additional cost.
Who Should Use OnlineJobs.ph?
John Jonas founded this online job marketplace to facilitate prospective employers worldwide to find Filipinos and develop long-term work arrangements.
So both business owners and freelancers can use OnlineJobs.
Business Owners
Companies often outsource tasks to remote employees to run their business smoothly, save time and money, and scale the company.
Through OnlineJobs.ph, business owners can find and hire a virtual assistant from the Philippines and stay within budget. That means you can employ the best candidate for the job at a fraction of the cost of a full-time local worker.
Sounds too good to be true?
That's what I thought at first. But after using this site, I highly recommend it to any company looking for quality VAs.
So what kind of virtual assistants can I find?

Yes, it's a pretty long list! You're sure to find countless specialized workers.
Job Seekers
If you're a Filipino, this site is for you. You can explore remote opportunities and earn a living from the comfort of your home. This job board marketplace can get you found and hired.
Wait, there's more. Even if you're a Filipino who is not residing in the Philippines, you can still apply. However, you must agree to get paid in Philippine peso as the salaries on the site are in Philippine wages.
But since OnlineJobs.ph is the most prominent Philippine job posting board, you know that legit companies will be searching on this site.
One question... why did John Jonas, the founder of OnlineJobs.ph, create a job board only for Filipinos?
Well, that's because the Philippines has a massive pool of talented, educated workers that are proficient in English, loyal, honest, dedicated, and hard-working. Companies are looking for you for remote work.
I'm guessing that if you've read my OnlineJobs.ph review this far, you're most likely interested in using the website. Let's take a closer look at how OnlineJobs can help different people.
Our In-Depth User's Guide
How It Works for Employers
Hiring a virtual worker from the Philippines couldn't be easier on this platform.
Follow these steps:
#1: Register
Create your free employer account to use the platform's service.
Creating an account gives you an accurate picture of whether the skills you need are available in the Philippines.
#2. Post a Job or Search Resumes
You can find a VA by two methods:
Search VA resumes depending upon the skills you need. Notice how the filter option makes it easier for users to sift through the 1,000,000+ Filipino resumes.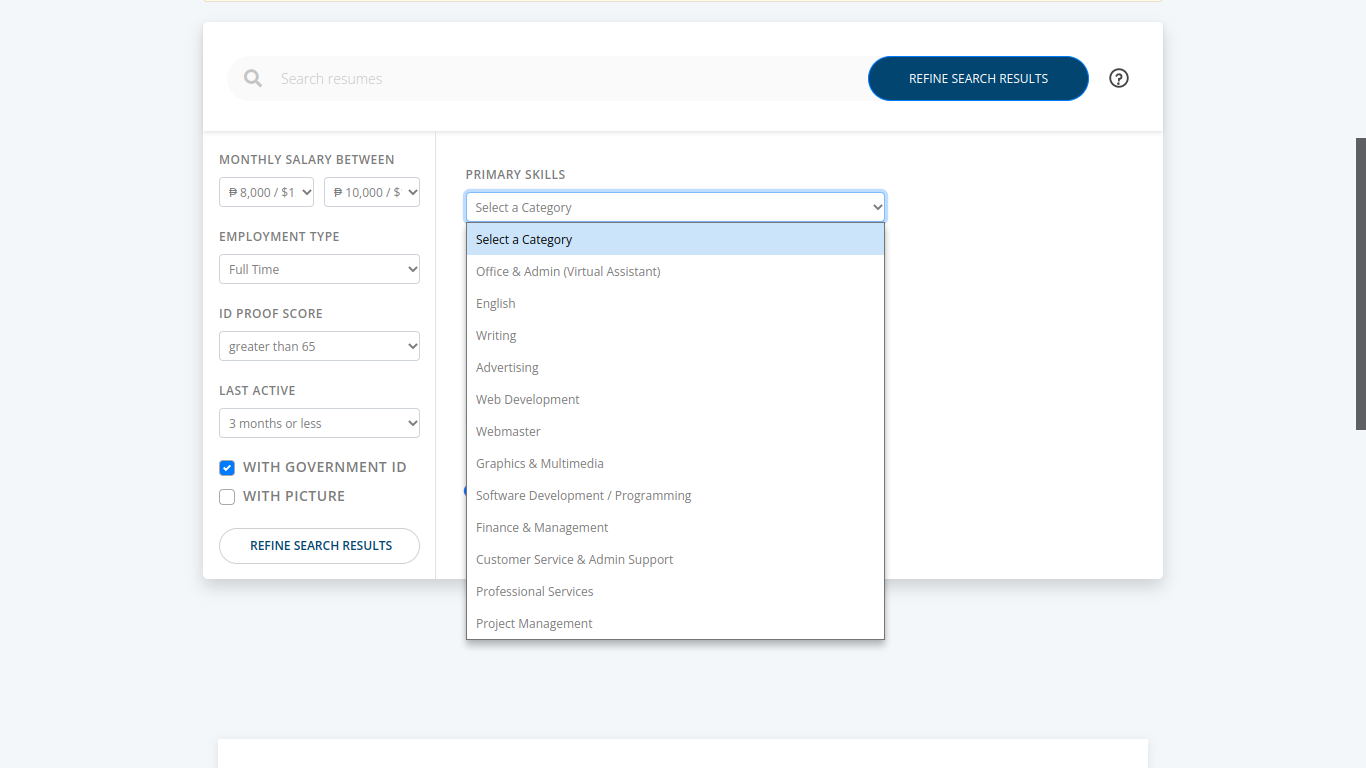 Make a job post so that qualified candidates can apply to your company.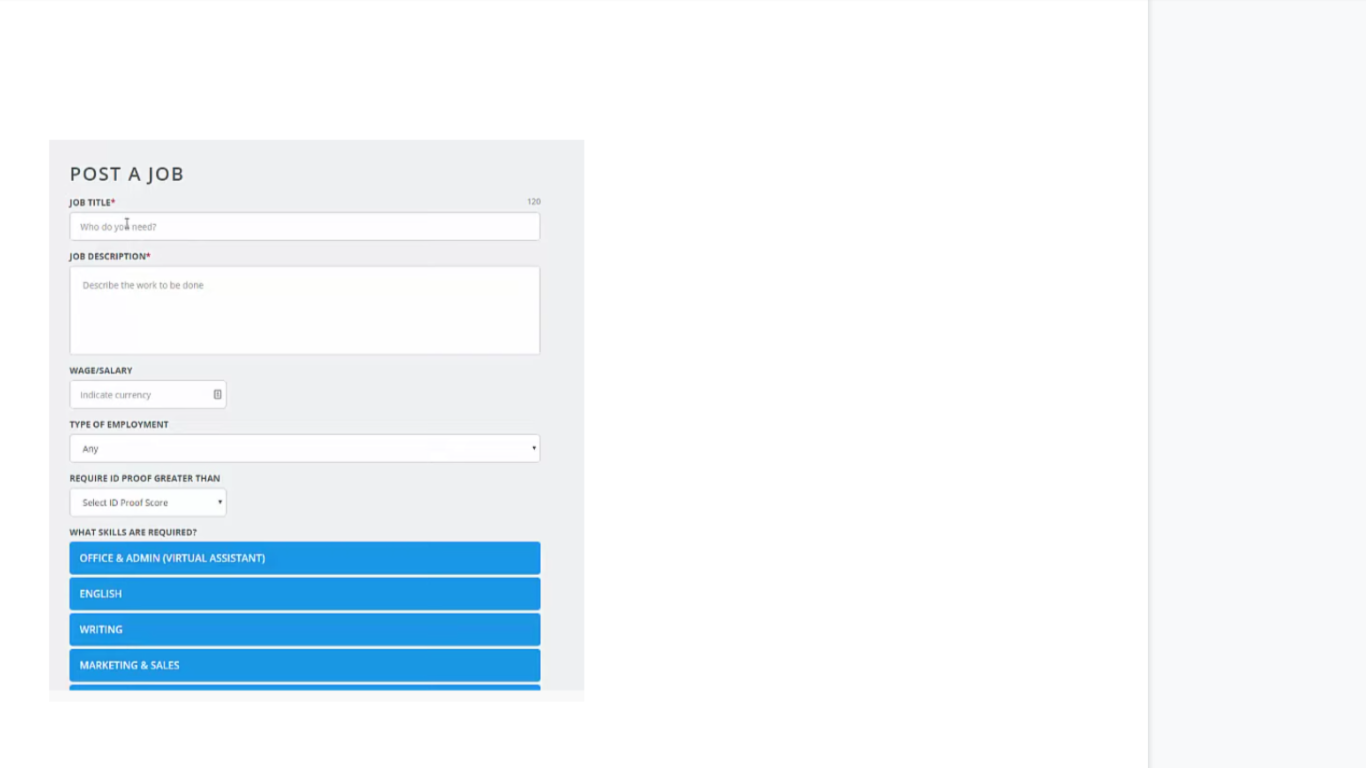 #3. Contact and Hire a Virtual Assistant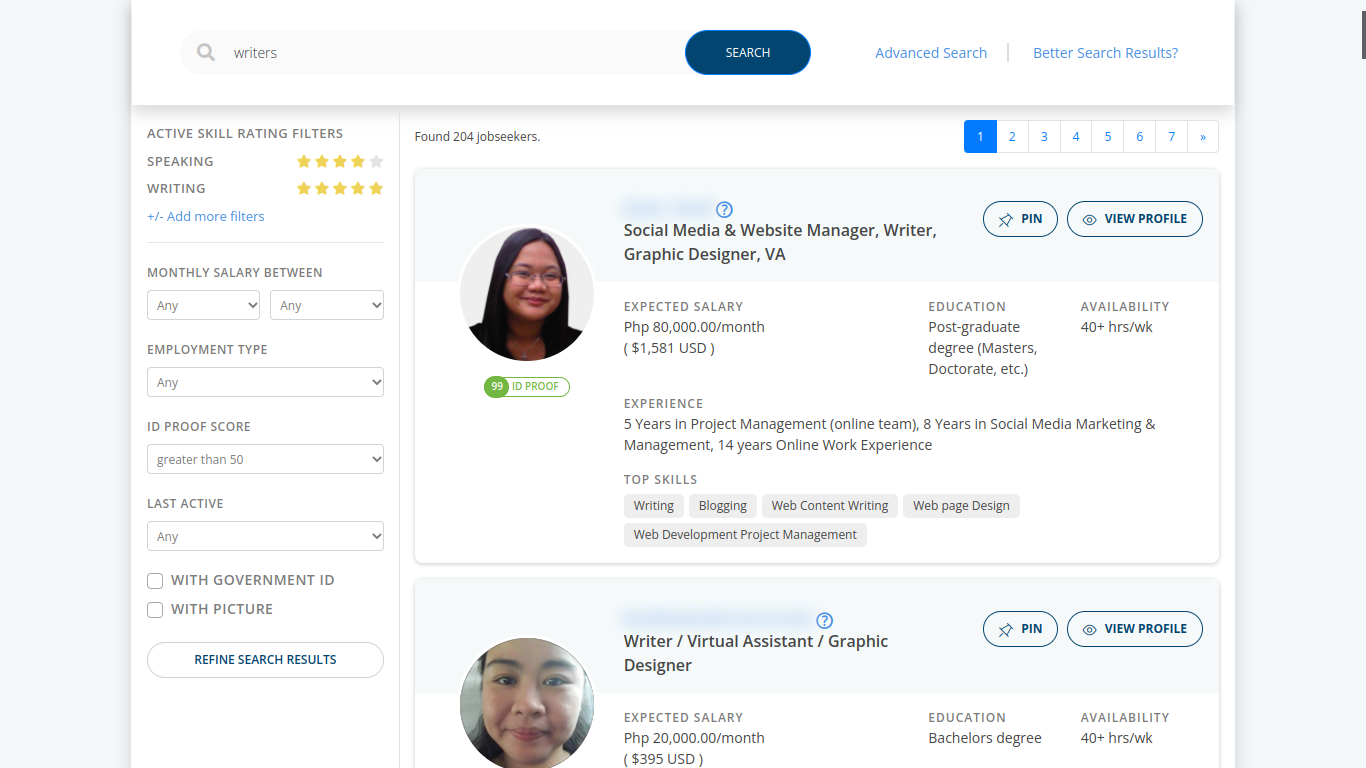 You'll find several relevant candidates no matter which method you use. Here's what I found when I looked for writers.
I'll be honest. You really can't do much with the free account. Even though you can browse through resumes and view profiles of qualified clients for the job, you cannot contact them without upgrading to the paid version of OnlineJobs.
So before you can hire someone, you need to upgrade by filling out the following form: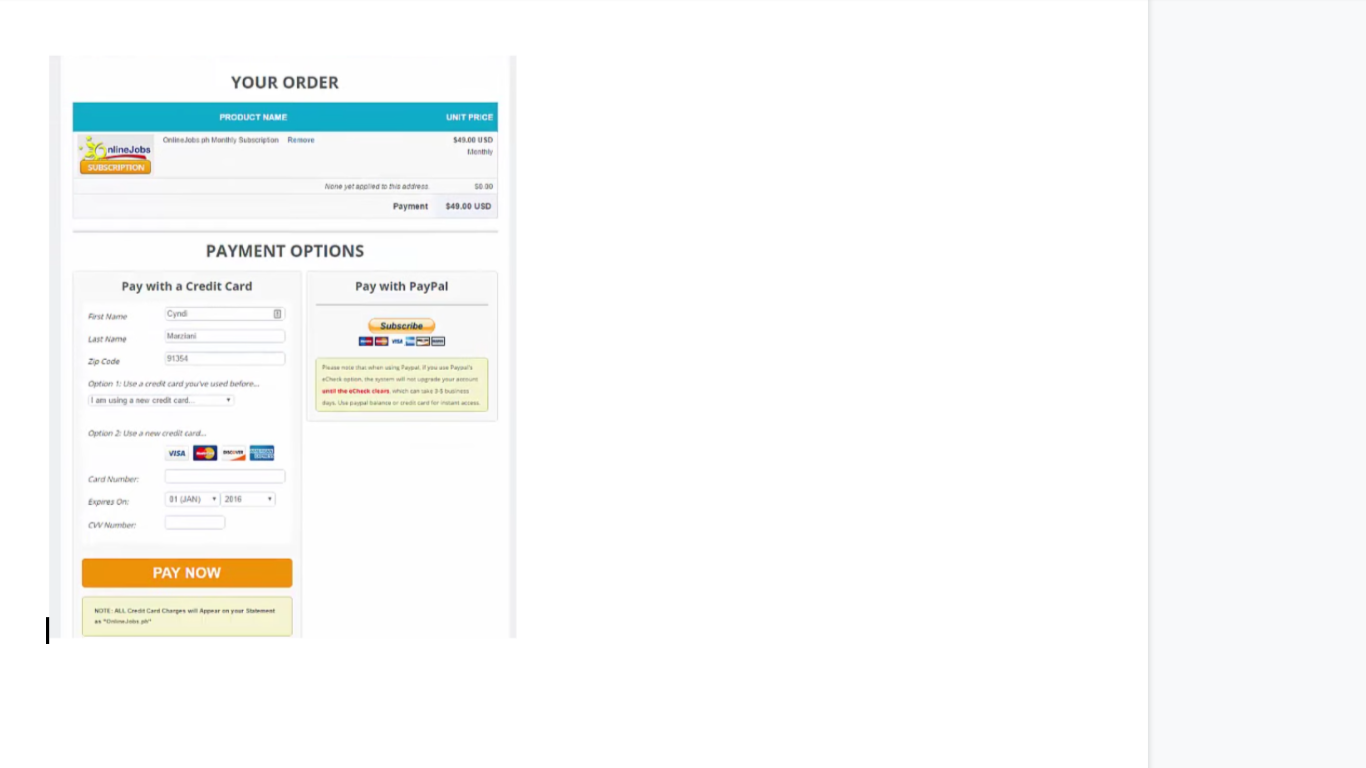 Once you upgrade, the 'Contact' and 'Hire' options appear to allow you to communicate with potential candidates.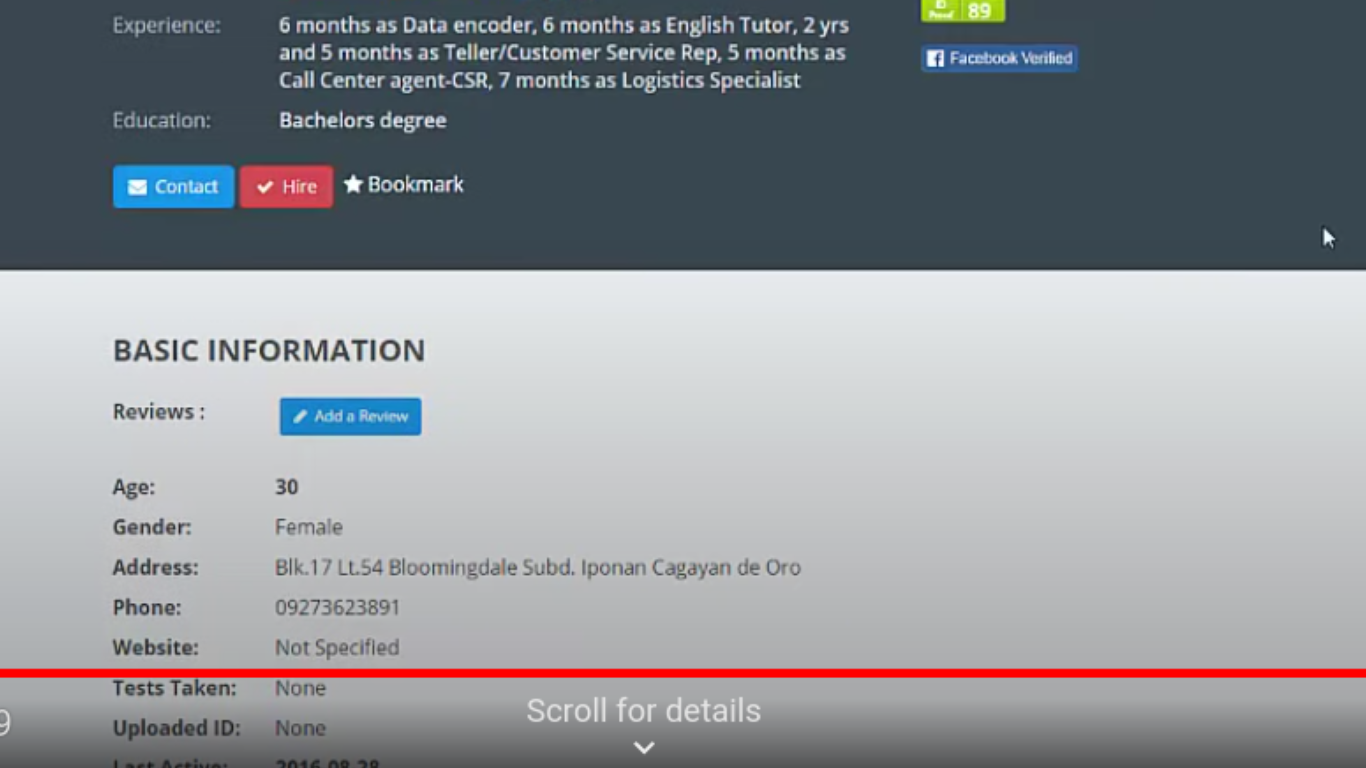 #4. Hire, Train, and Manage
Found the perfect virtual assistant?
Now you can interact with your virtual assistant, conduct an interview, and hire them. Create a contract and email details such as working hours, how often you'll pay them, expected monthly salary, time-off policy, etc.
But the best thing is that you can even train your VA to ensure they complete tasks precisely the way you want them to.
On top of that, OnlineJobs helps you manage your employees through Timeproof software. You don't need to use it if you don't want to. It's just there for anyone who wants to track the hours their VAs are putting in.
#5. Pay
Once VAs complete their tasks, you need to pay them. You can use any payment method that's suitable for both you and your hired VA, or you can use the free payment system available on OnlineJobs.ph called EasyPay.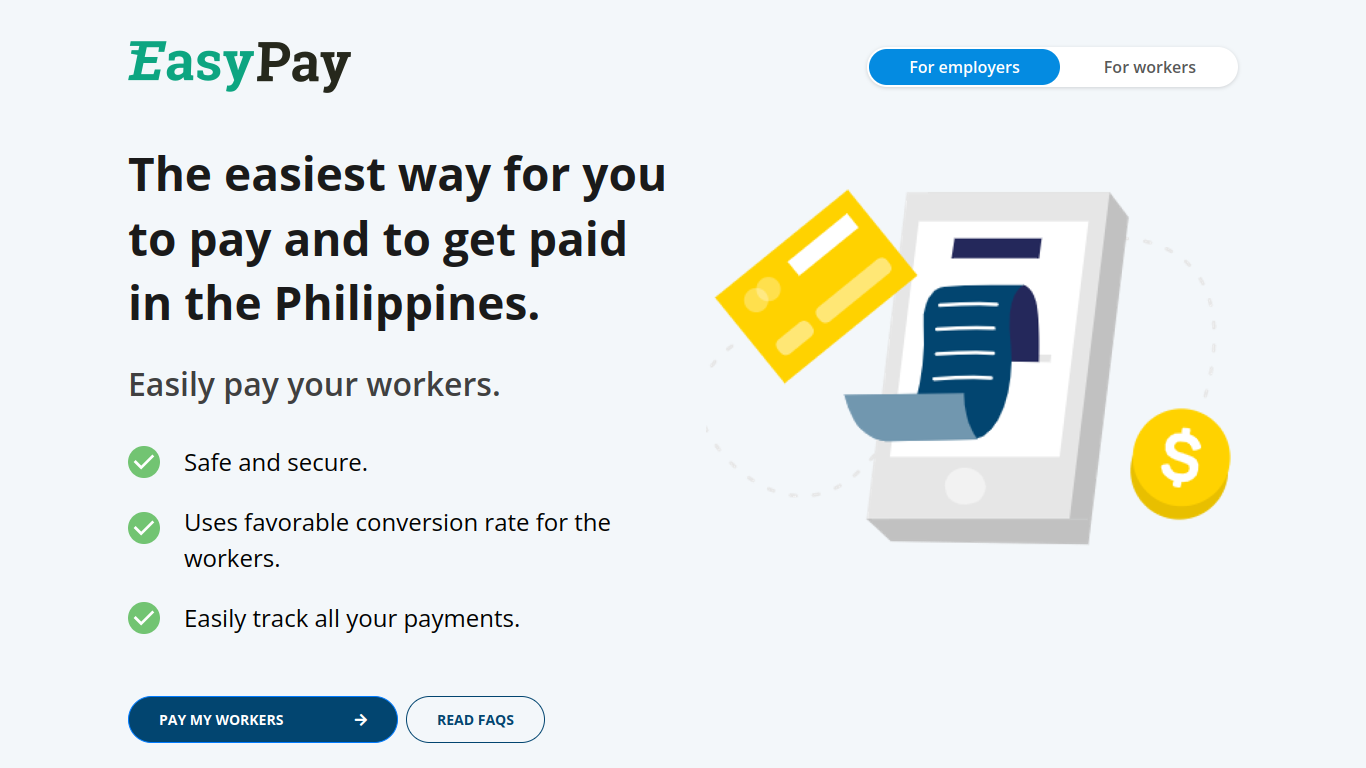 As you can see, from an employer's point of view, using OnlineJobs.ph is straightforward. Now let's look at it from a job seeker's angle.
How It Works for Job Seekers
#1. Register
You have to create an account before you can use the platform. Even with the free plan, you can access the enormous employee directory on OnlineJobs. However, as mentioned above, you can't contact the employer until you upgrade to the paid version.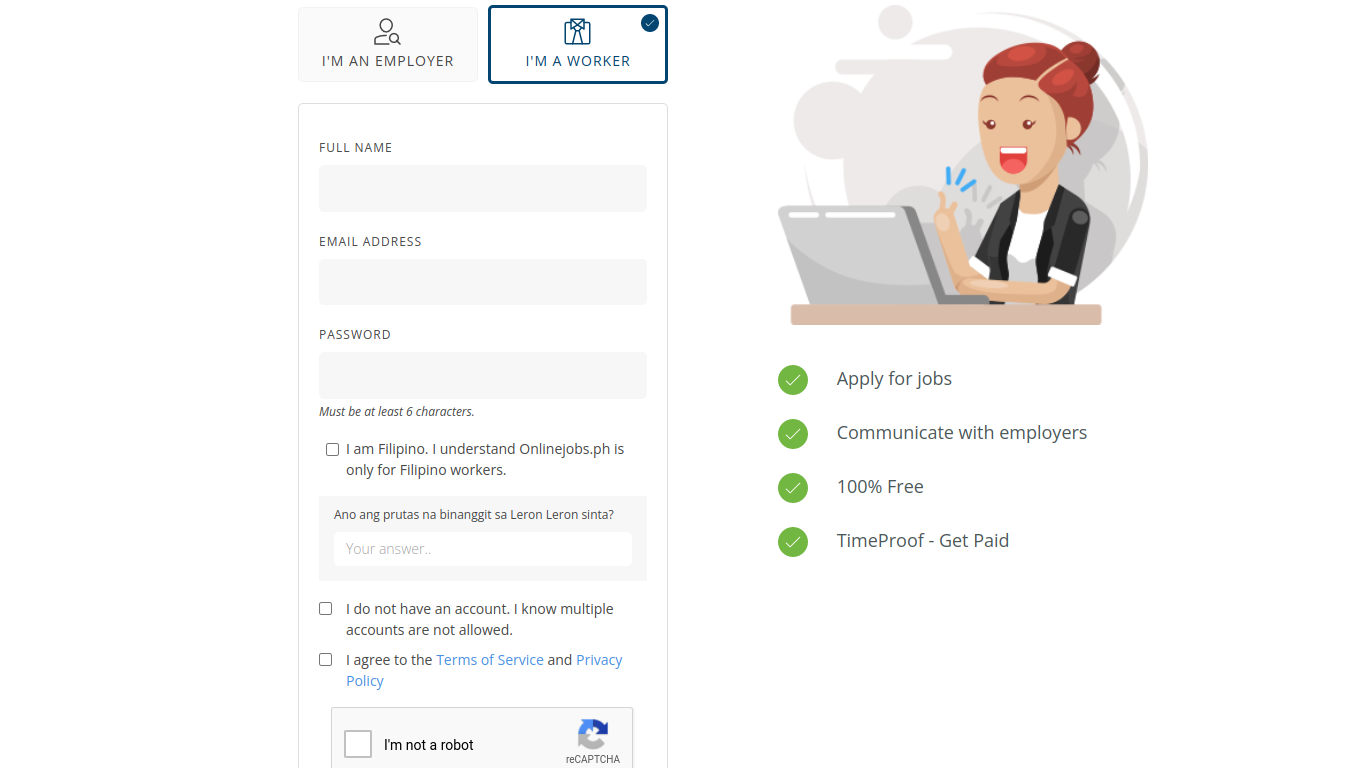 #2. Create a profile
Keep your information up to date. Add skills, experience, and certificates you may have. You can even upload a video
#3. Find work
There are a couple of ways you can do this.
Post your resume and wait for companies looking for virtual assistants that match your experiences to reach out to you.
Scour the job board for relevant listings and apply for the job.
Use the Employer Search to find a specific company you have in mind.
#3. Start working
Schedule an interview to start the screening process and start working.
OnlineJobs.ph Pricing
Let's take a closer look at how much you could end up paying to use OnlineJobs.
Free Plan
View and bookmark VA resumes/job applications
Use Timeproof and Easypay
Up to 3 job posts
2-day approval period
Pro Plan
With the Pro plan, you can now:
Communicate and hire workers
Receive post approvals immediately
Read worker reviews
Contact up to 75 workers per month
Costs $69 per month or $299 per year (64% savings)
Premium Plan
When you upgrade to this plan, you can now:
Contact 500 workers per month
Get unlimited background data checks, including complete employment history and previous employer's reviews.
Access worker mentoring service where VAs are employed, trained, and managed by OnlineJobs.ph help your virtual assistant get onboard
Access Video Guide to Outsourcing for free, which costs $99
Costs $99 per month or $349 per year (71% savings)
Pros and Cons of OnlineJobs.ph
Pros
Massive database of quality part-time and full-time Filipino virtual assistants/jobs
Easily find employees at affordable rates (as low as $300 per month)
Easy to communicate with candidates on the site
Straightforward hiring process
Can cancel monthly subscription charges once you find the suitable VA
Adequate resources to help with hiring and training virtual assistants
Easy-to-use, intuitive site UX whether posting a job or applying for one
Recruitment services available (at extra cost)
Cons
Designed to help only Filipino workers
A monthly subscription to use the job board is a bit expensive
Can't communicate with applicants using the free plan
Coordinating time zones can get challenging at times
Even though ID proof facilitates VA hiring process, you still have to do background checks and screening by yourself
OnlineJobs.ph Alternatives
No problem if you feel that OnlineJobs is not your cup of tea.
While OnlineJobs is a quality job board for finding reliable workers, there are other options too, such as:
Upwork
Freelancer
FreeUp
Fiverr
VirtualStaff.ph
Final Verdict: Is OnlineJobs.ph the Best Virtual Assistant Platform?
Want a one-word answer?
Yes!
Why?
Let me give you a couple of reasons:
100% money-back guarantee. If you're not satisfied, you get your money back
No contracts, so no commitments
No hidden or extra fees
No salary markups
Easily cancel your subscription at any time
But don't my word for it. Companies worldwide are hiring full-time and part-time virtual assistants using OnlineJobs.ph. It's time you did too. Find the best match for your business.
Hire a VA today!