In recent years, online marketplaces have become more and more popular with the general public. eBay sellers can flourish by stocking up on high-demand best-selling products and earning a profit by selling them, servicing 183 million buyers globally.
If you would love to become a part of this, you should do one of the first things market research. You can only hope to earn a buck by selling the right types of product categories. Therefore, finding the best items to sell on eBay and following the latest trends is necessary.
Read on to see the top-selling items on eBay.
1. Cellphones & Accessories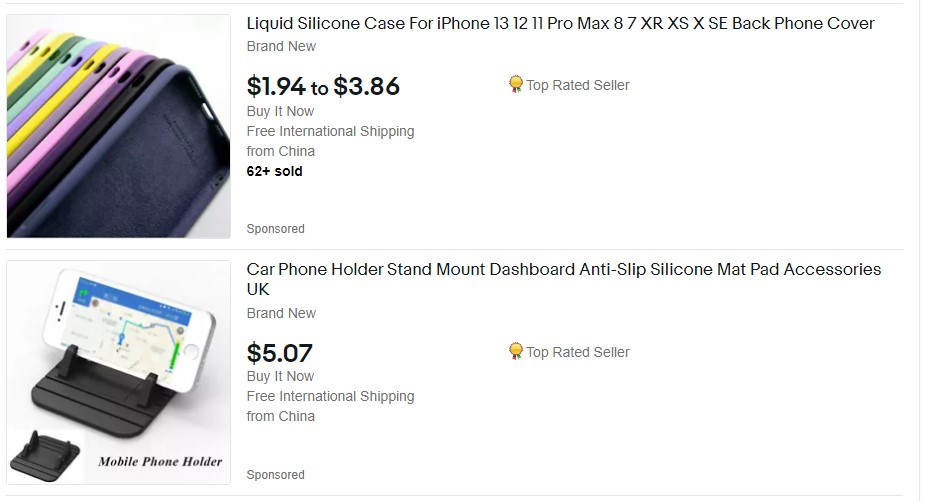 Wherever you look online, advertisements for cell phone accessories are bound to pop out at you at any moment.
There is a clear reason for this - everybody owns a mobile phone, and therefore, everyone wants to make the best out of cell phone accessories on offer. And with such a huge range of popular cell phones and their accessories, it is no wonder there's been a steady incline in the interest for both over the years.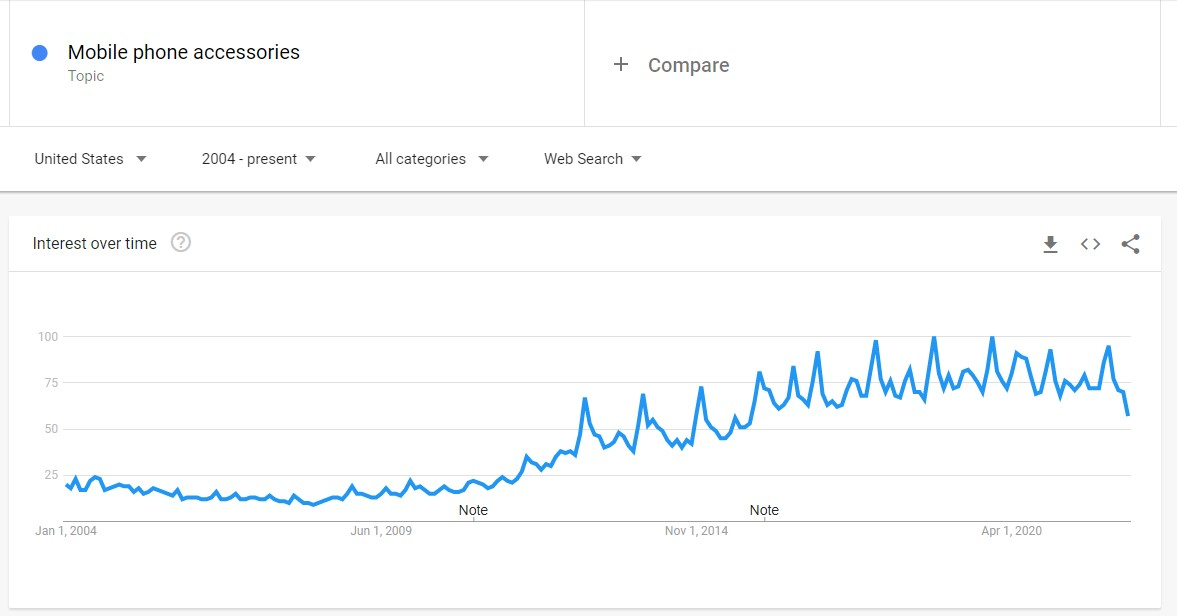 This seems like quite a "secure" investment when it comes to the top-selling items on eBay. NMSC research shows that the cell phone accessories market is projected to grow to $328.70 billion by 2030.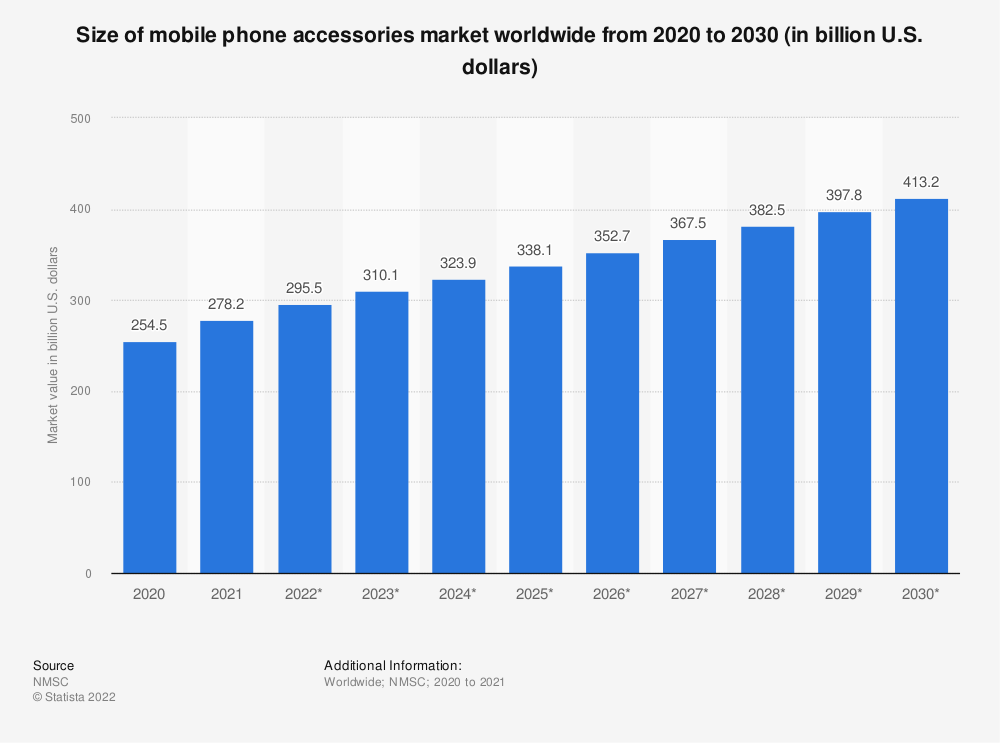 All of this shows that you should start looking into the most popular cell phones and their accessories too. People will want more and more, whether it is in-car iPhone holders or cute and personalized phone cases. And with all the accessories categories out there, the possibilities are endless.
As you can see, selling these items generally will not net you a huge profit per sale since the average sales price is often under $10. However, due to cell phone accessories being one of the most popular electronics categories, eBay sellers often earn quite a lot by selling items from it.
💡 Reasons to sell on eBay
Cell phone accessories are some of the top-selling items on eBay
Google Trends shows that the online sales of these items are only growing in recent years
There is a lot of flexibility for different products in the category
2. Video Games Merchandise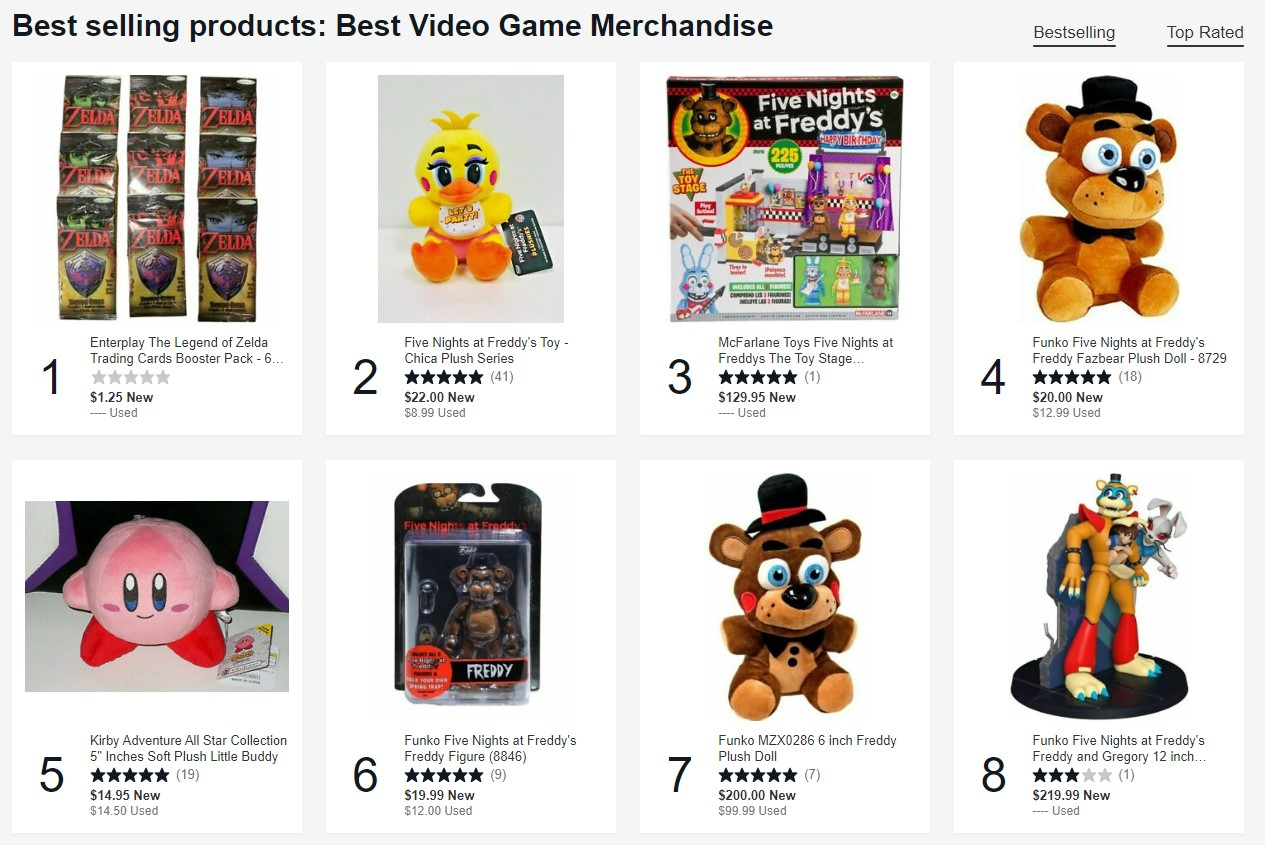 Another category that has seen its rise in recent years is video games merchandise. Due to the pandemic, many people were forced to stay at home - and spend their time with friends by playing online multiplayer games.
Google Trends shows how the multiplayer gaming industry has been on a sometimes slow but steady incline, with a significant spike at the pandemic's beginning.
This, of course, sped up the video game industry as a whole. Research shows that the video game market should be well over $200 billion by 2023 - so why not become a part of this. Finding popular video games in pop culture is easier than ever, so the number of new ones coming out daily is not surprising.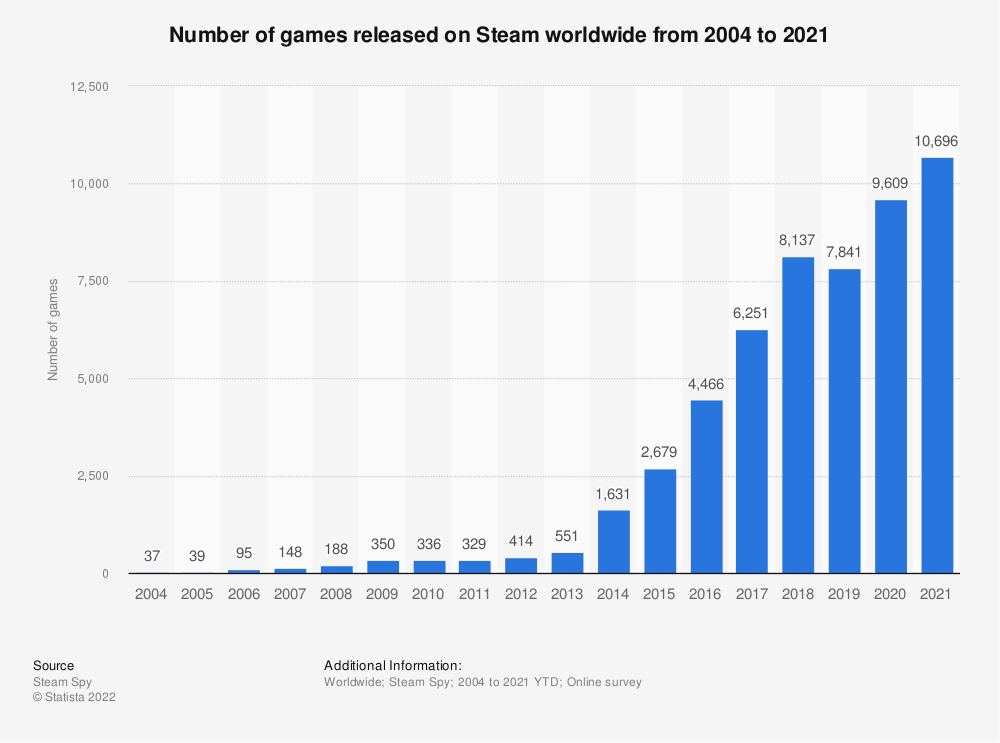 Another reason why selling items connected to the most popular video games and other media categories will bring you profit is not just their popularity but their versatility. For every the huge number of popular video games, there is an even wider variety of merchandise to sell.
There will be something for everyone, from collectible card games to plushies, action figures, and movie character toys. The same applies to the price range - some of the most popular items' price ranges from $1.25 to $219.99.
💡 Reasons to sell on eBay
Many of the top-selling brands (like Nintendo or Five Nights at Freddy's) have a variety of items to offer in this category
The price ranges from $1 thrift gifts to $300 collectible figures
3. Electronics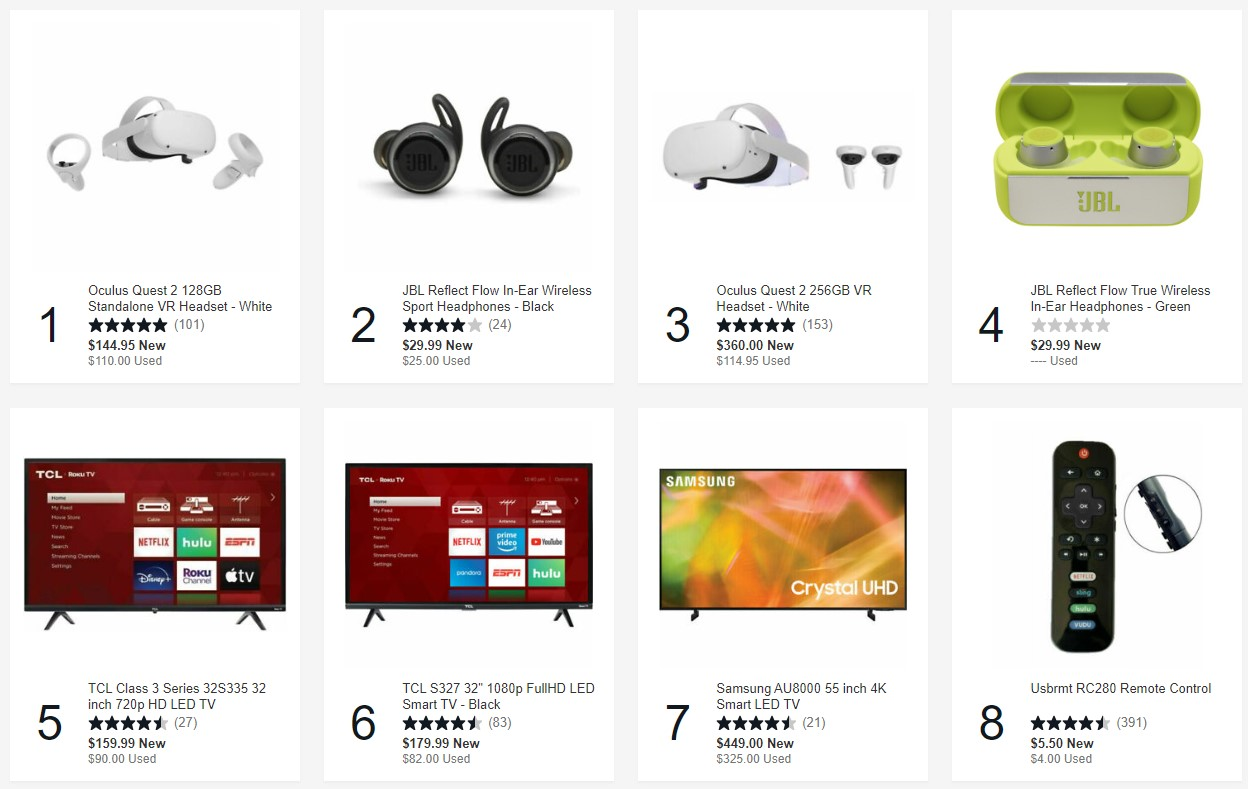 Some of the best-selling products in the world are in the electronics category. Consumer electronics are a huge part of our lives - and you will run into some of the best-selling brands in this category. It is no wonder that the e-commerce revenue in the U.S. is 2nd worldwide - right after China.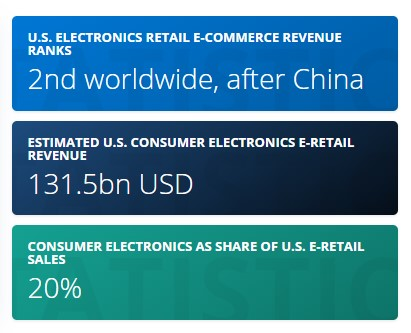 Furthermore, the estimated revenue of $131.5 billion makes this one of the biggest product categories for what you can make by selling items on eBay. This is because there is - once again - a huge variety on offer here, and every item can garner quite a bit of profit from online sales.
For example, let's look at tablets. The revenue made from selling items in this category in the U.S. in 2021 was $19.21 billion, with 58.71 million units sold. These numbers are staggering but paint a very clear picture of what you can earn by venturing into consumer electronics.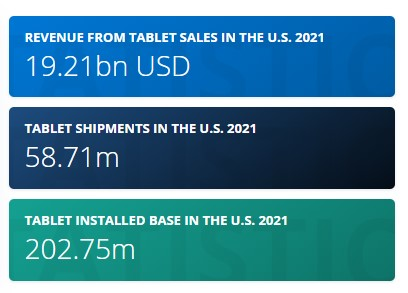 The same applies to every other item in the category - and there are quite a few of them. Many include popular brands like Oculus headsets, Samsung televisions, and pro audio equipment, and the price ranges from anything like $5.50 for a remote control to $449.00 for a 4K TV.
With all this in mind, it is no wonder that the electronics and consoles categories are some of the most popular on eBay.
💡 Reasons to sell on eBay
The industry is popular, and there is always demand for these products
Many of the most popular brands make items in this category
There is no average price of an item - the price ranges from quick purchases to big-time investments
4. Pet Supplies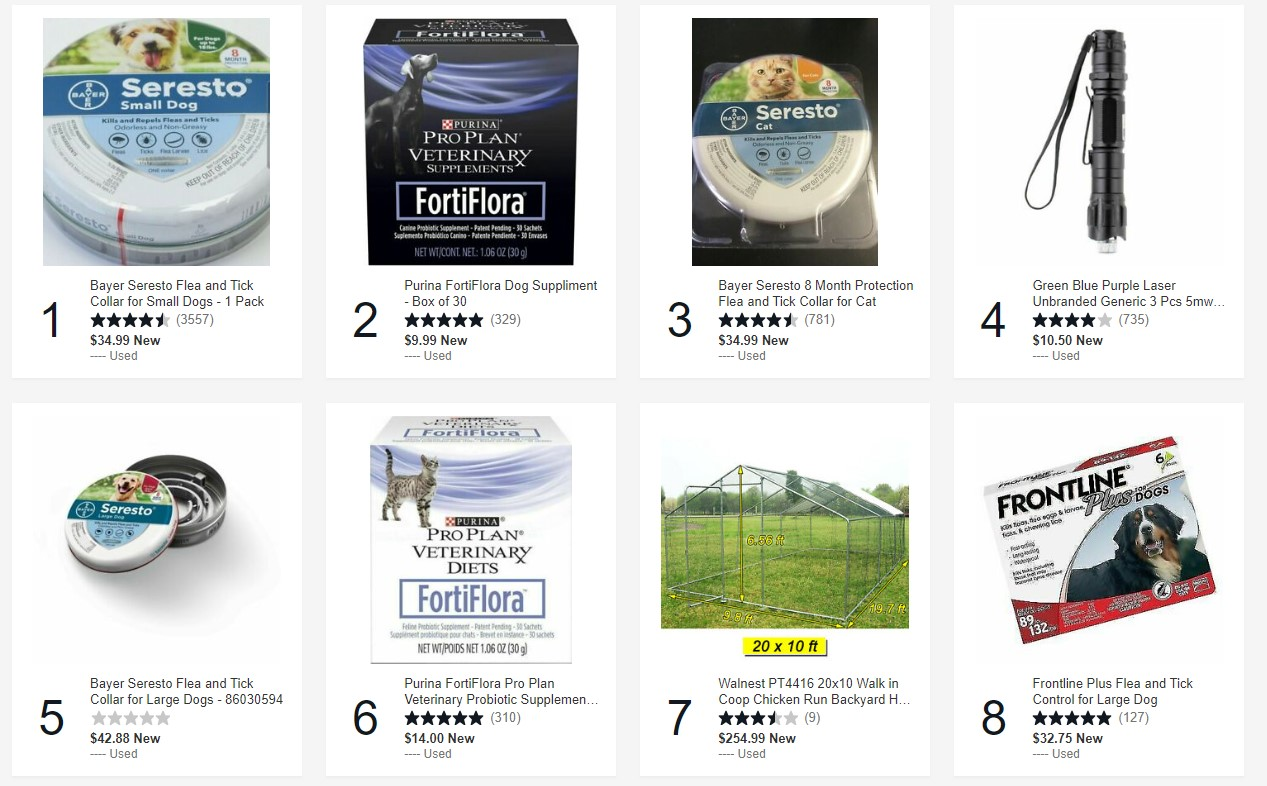 Another factor that has helped people cope with the quarantine and their isolation was pets. And as if in gratitude, popular pet supplies categories have skyrocketed as some of the platform's top-selling items.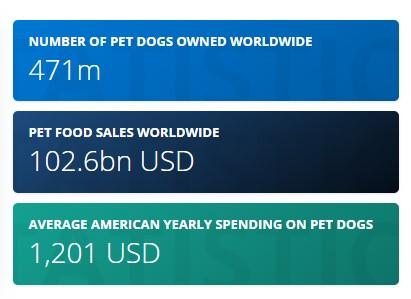 Why are pet supplies some of the best-selling items on eBay? We only need to look at the numbers to make our conclusion! Statista shows that there are 471 million dog owners worldwide and that the pet food market earns a revenue of $102.6 billion.
What's more, the average American will spend $755 on pet food every year - and this gives you ample opportunity to sell items in this category. Google Trends also shows that dog supplies are as relevant as they have always been.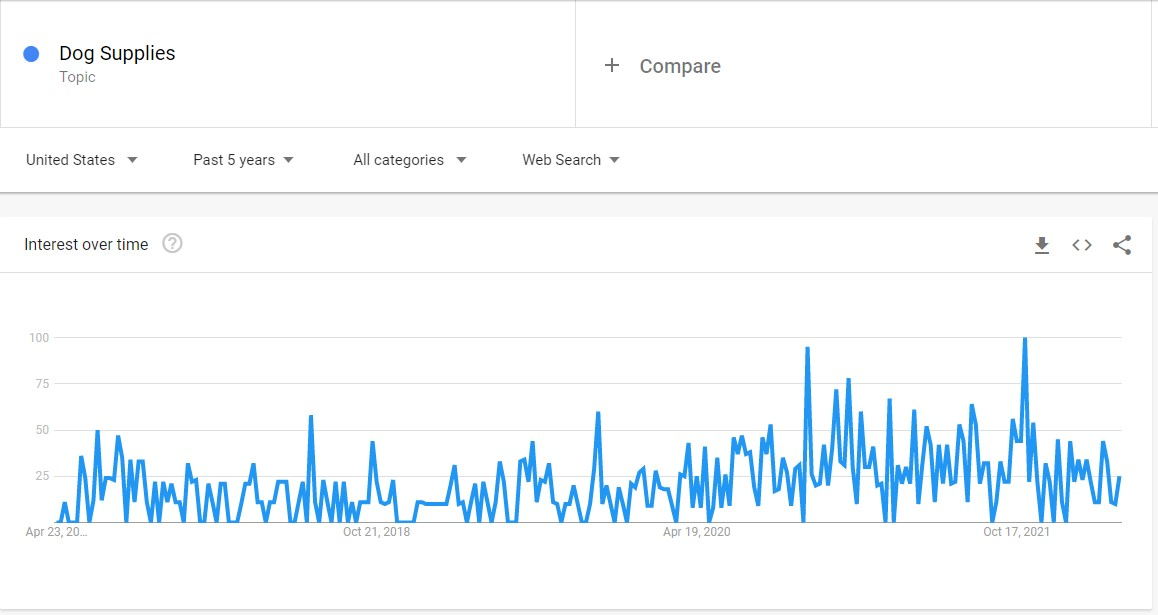 Another reason why this is one of the top-selling eBay categories is - again - its versatility. There is a huge variety of pets and, therefore, many items on eBay for your animal friends.
Out of all the items sold on eBay in this category, the best-selling ones seem to be flea and tick collars and food supplements. Surprisingly, number 7 is a unique pick - it's a walk-in coop that you can use for poultry or rabbits. The rest of the items mostly focus on cats and dogs, and the average price seems to be around $20.
💡 Reasons to sell on eBay
Pet supplies are some of the top-selling items on eBay
There is a big demand for pet supplies
A lot of people prefer to buy pet supplies on eBay over an online store
5. Ourdoor & Garden products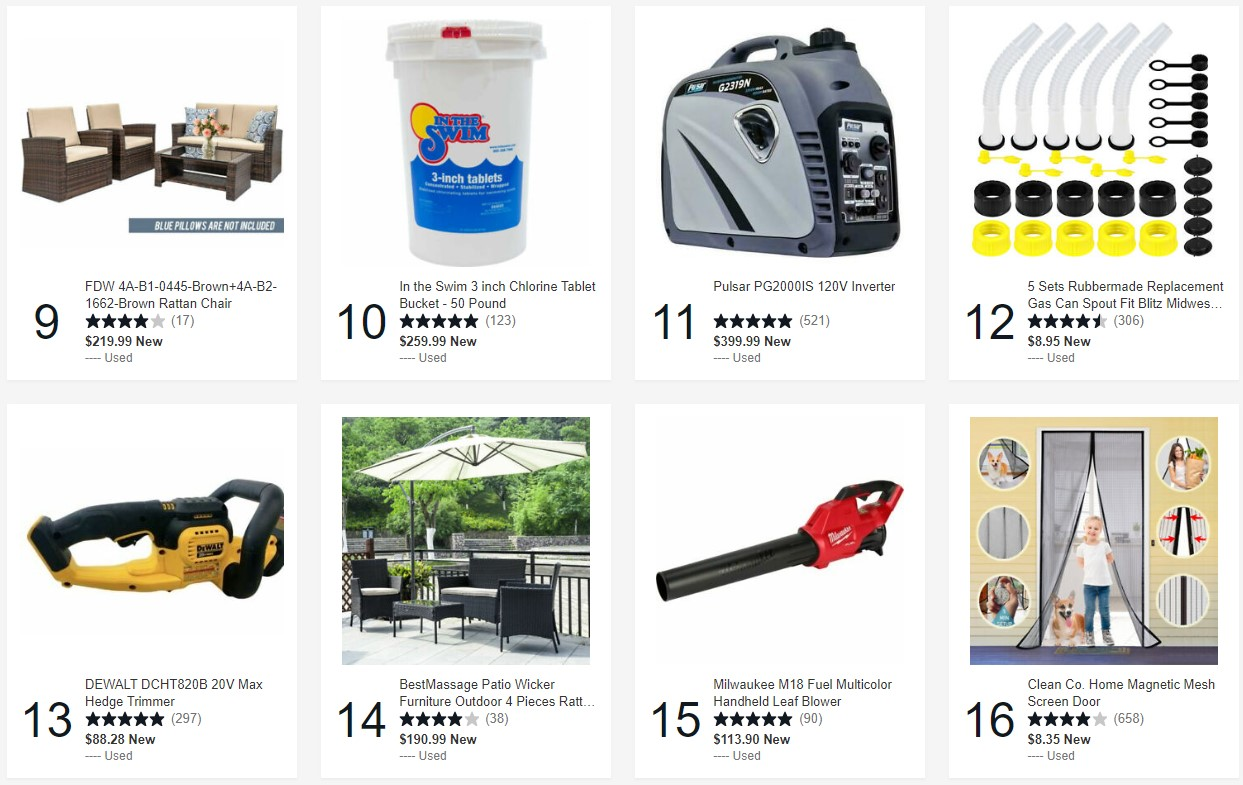 Other than turning towards technology and pets, many people during these strenuous times have turned to hobbies. Hobbies categories have been flourishing, and perhaps none as much as the garden categories.
Since many people were encouraged to stay at home, gardens had become a refuge when we needed a breath of fresh air and some sunlight on our skin. Many people have been investing in garden furniture and supplies, making these some of the top-selling items on eBay.
According to a research report in August 2021, the global garden market is expected to reach $12.9 billion by 2030.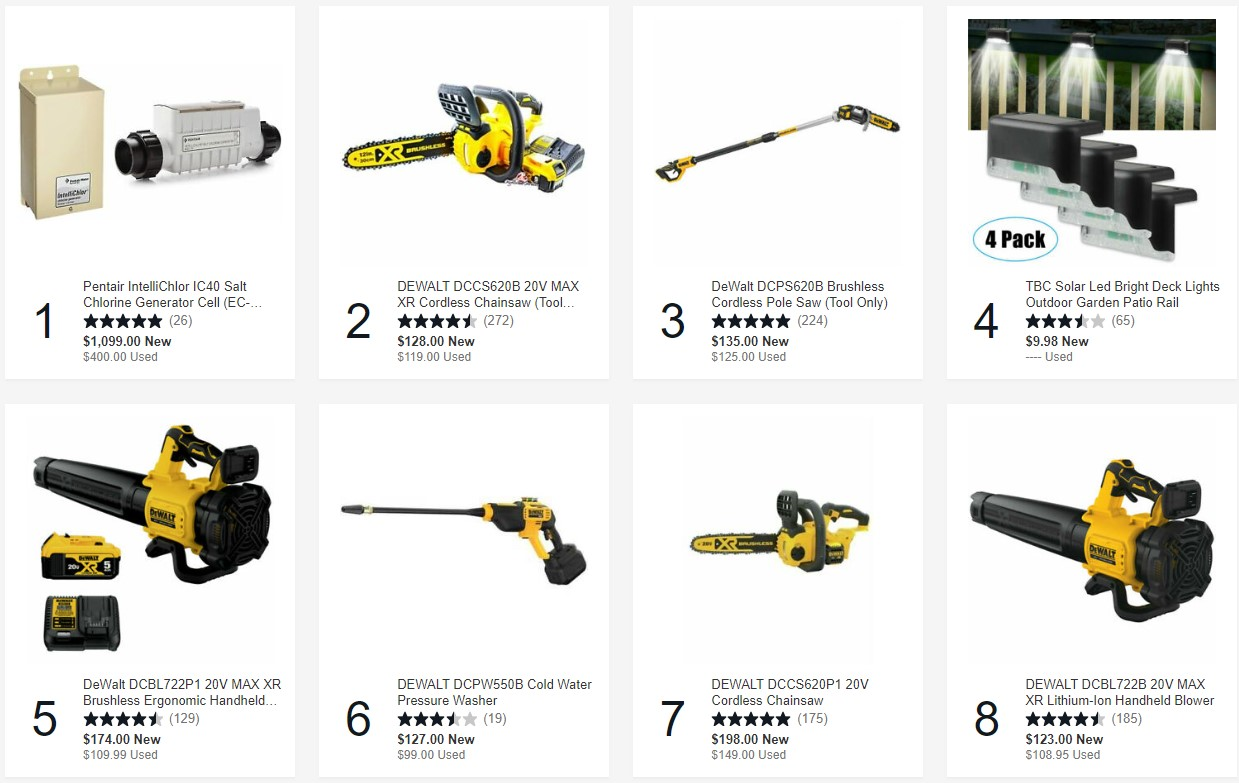 When it comes to the items sold, the best-selling items on eBay are different types of saws (each having a different fixed price) and pressure washers and blowers. The average price for these items is generally above $100, with the best seller being a Salt chlorine generator cell with a fixed price of $999.99.
However, the furniture is not far behind either. There are different garden and patio sets for you to sell, too. The best time to sell these items is in the spring - but depending on where the buyer is from, these are some best-selling products all year round in this category.
💡 Reasons to sell on eBay
Garden supplies are always popular - and some of the best selling items on eBay
The items in this category often sell for a good price
6. Home Supplies & Furniture
Similar to garden supplies and furniture, people have also focused on the inside of their houses. This is a stable enough category for online shopping - look at the gross profits of popular brand goods like Ikea, and you will see.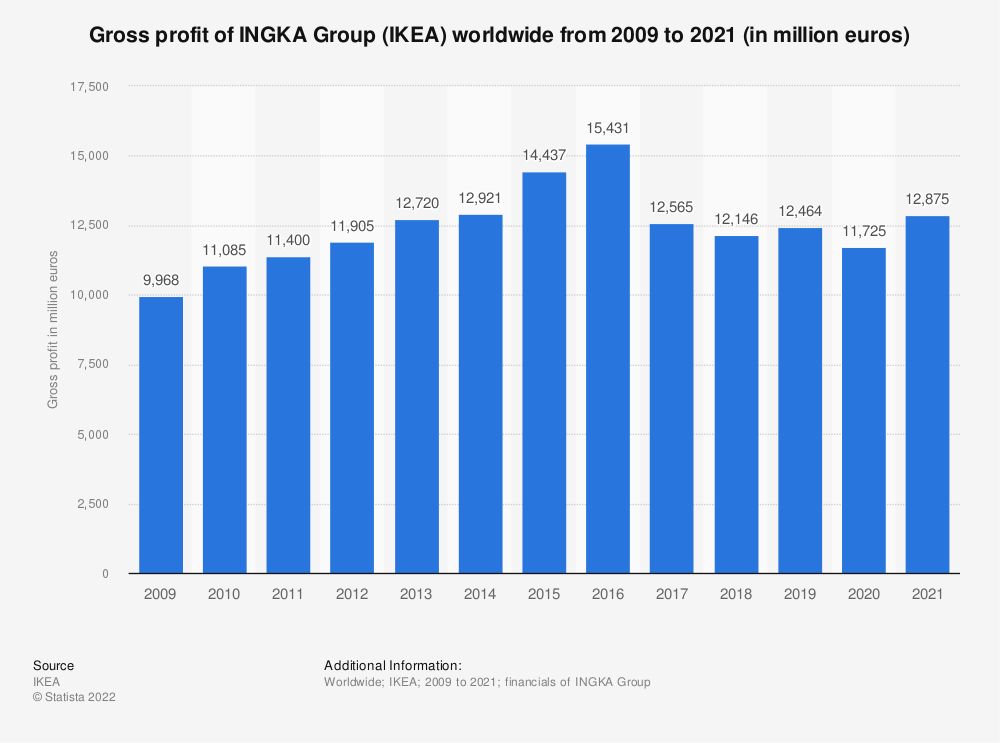 Apart from two odd years (2015 and 2016), Ikea's profits have been steadily on the incline. This makes for a popular business model - people love breathing a new life into their room through new coffee tables or similar statement pieces.
Another reason why these mass-produced products are some of the best-selling items on eBay is the home market boom that is currently happening worldwide. People are buying homes like crazy - and they need furniture for these houses.
People turn to eBay sellers instead of looking into popular brands - which often offer significantly more costly items. And therefore, furniture has become one of the key product-focused categories on eBay.
💡 Reasons to sell on eBay
Industrial product categories are more attractive on eBay than buying from big-name sellers due to the lower item price
There has been a steady sales growth and interest in the items throughout a lot of years
7. Musical Instruments & Gear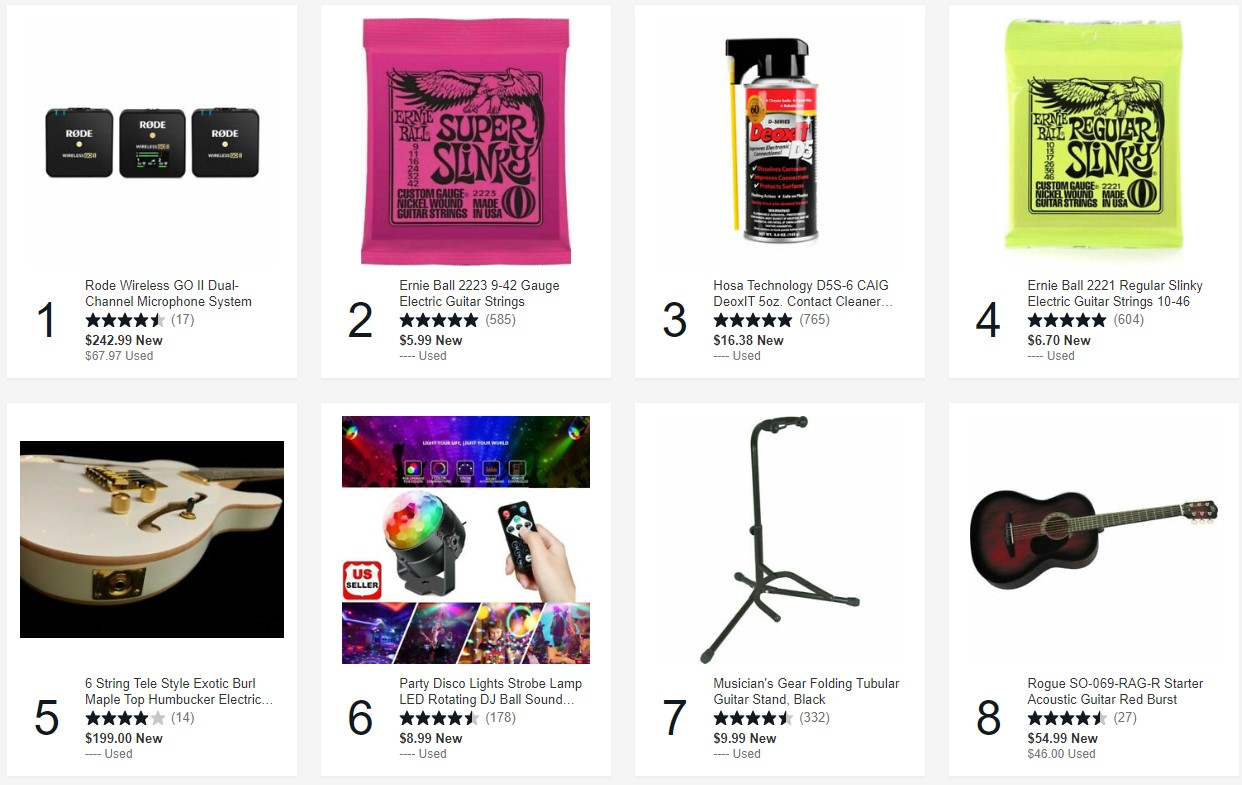 Another one of the hobbies people have been picking up is learning to play a musical instrument. Nowadays, due to the advent of technology, anyone can pick up an instrument, get an online course and become a pretty good player from their own home.
That's how popular musical instruments have become a category of their own - and some of the best-selling items on eBay are from this category.
But it is not just the musical instruments that are being sold - there is a lot of musical gear in the categories analyzed as well! Things like microphone systems, guitar strings, and equipment are also popular.
Guitars seem to take precedence when it comes to the most popular musical instruments. Digital piano keyboards are the second place, and there aren't any other instruments on the list of the top-selling products.
💡 Reasons to sell on eBay
Musical instruments are always trending
There is a big demand when breaking into the niche
Both private label brands and generic brands make their products in this category
8. Sporting goods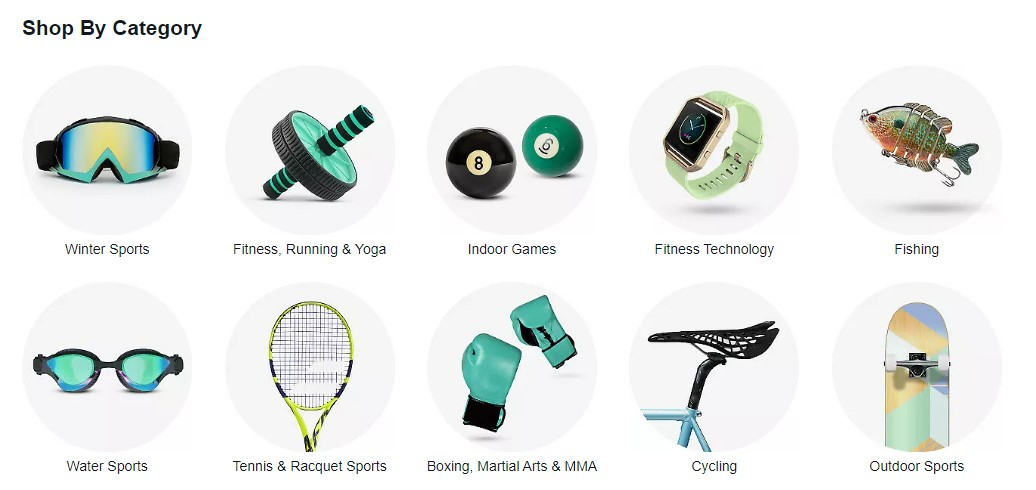 For people who thought gardening and music were too "relaxed," - sport was a way to burn the excess energy. That's why there has been a huge boom in the sporting goods category.
A good reason you might want to sell items from this category is the number of different types of items you can get. There are different categories for different spots, like winter sports, indoor games, cycling, water sports, etc.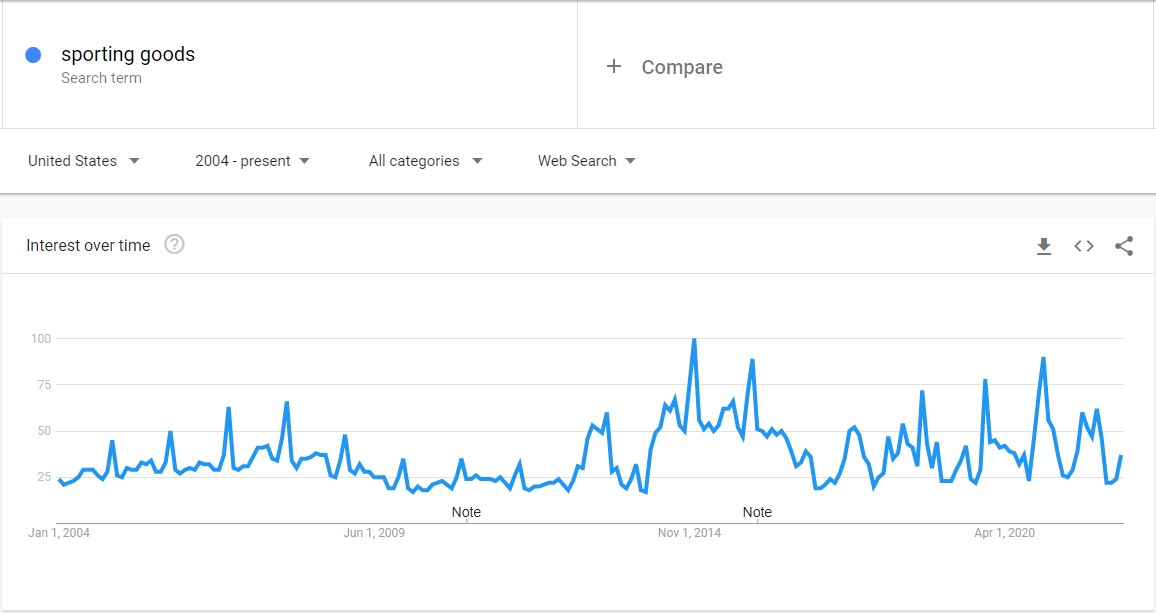 The versatility of the costs on offer is also pretty significant here. On the one hand, some popular sporting goods categories will include lower price items like boxing trunks or shirts (which often average at around $25).
On the other hand, you will find items whose price ranges in hundreds of dollars - like ski masks.
💡 Reasons to sell on eBay
There is always a demand for sporting goods, and this makes them some of the best-selling items on the platform
A huge variety of items can bring you different amounts of revenue based on your needs and budgeting
9. Smartwatches Categories
Along with the increase of sporting items as a category, smartwatches have become prevalent in today's society. You - or someone you know - already own a smartwatch. They have become like a new cell phone, with all the capabilities of one.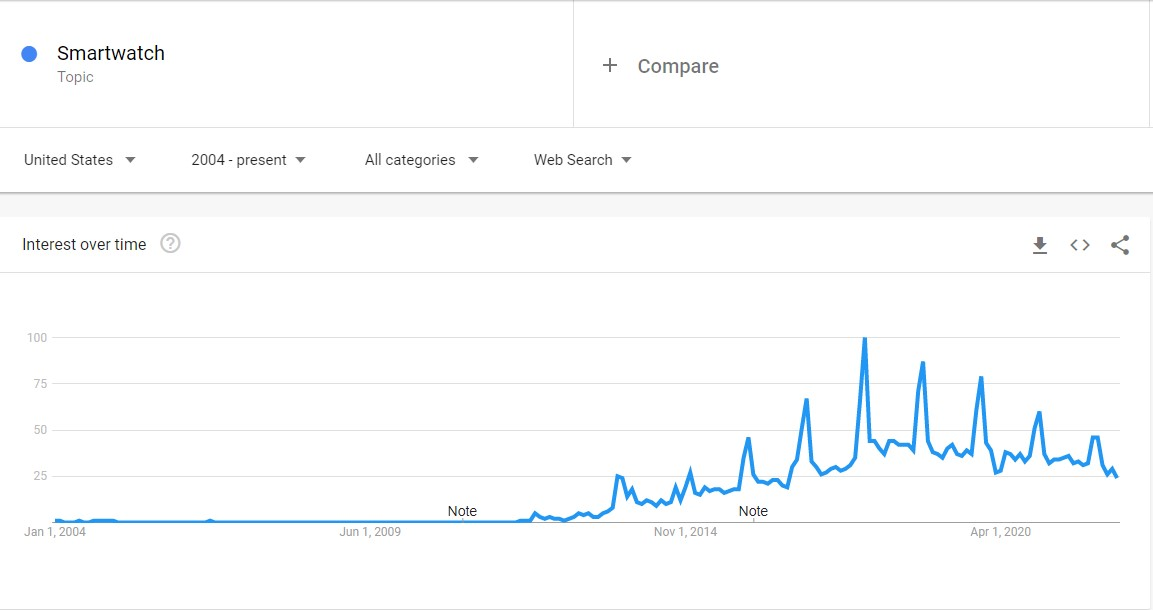 It is no wonder that a smartwatch has become a synonym for a good gift - and that they are some of the best-selling items online. With the need for our technology to offer more and more in a smaller package, they seem to be the perfect solution to all problems.
And just like with other technology - top-selling brands have found their way onto eBay. You can see smartwatches from popular brands like Apple and Samsung among the best-selling items lists.
As you can notice, most of these have an average price that exceeds $100, and most of them even surpass the $200 mark.
These are why the items from this category are a good bet when selling items on eBay.
💡 Reasons to sell on eBay
Popular, high demand items
A variety of prices gives you room to work
Both popular and small brands make products in the category
10. Beauty Products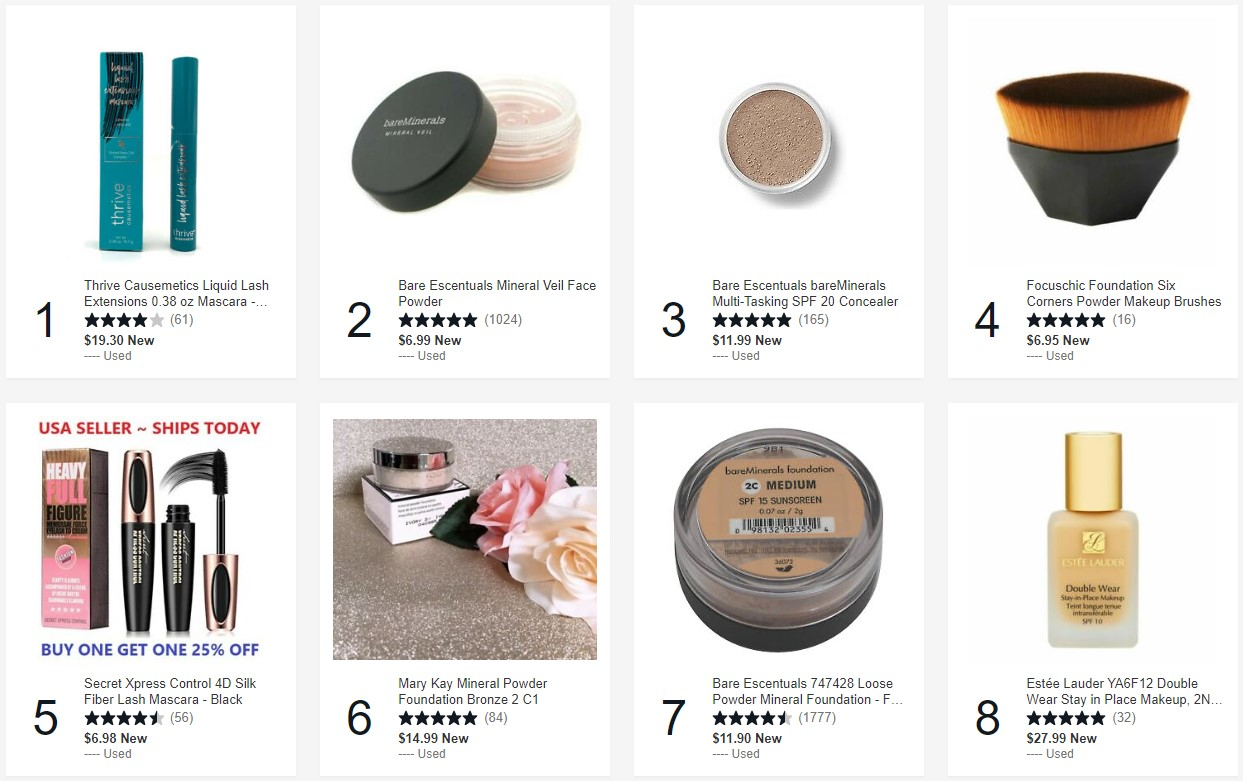 The next category of best-selling items on eBay is the beauty category. Many people have felt excluded during this tough time and need to feel good about themselves. And a good way for this was through the products from the beauty categories.
Just like items from other popular categories, beauty products have a huge variety to offer. From makeup products to skincare items, there is something for everyone.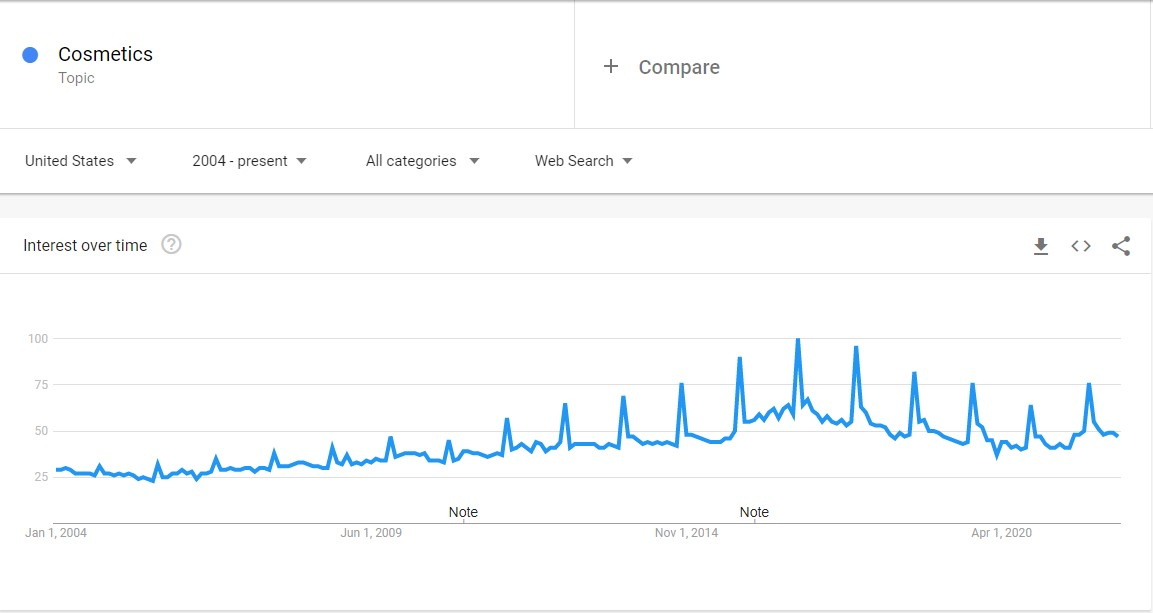 This means that finding buyers will not be tough. The items are also in a flexible price range - with some being pretty cheap while brand products often being over $100. This furthers the idea that beauty categories are a good choice for eBay sellers.
💡 Reasons to sell on eBay
Makeup and beauty items are some of the best selling items on the platform
There is a variety of items for a wide palette of needs
The industry has been gaining steam in eCommerce
11. Clothing

Along similar lines to makeup, the clothing category has also been quite popular on eBay and other online vendors.
While there has been a sudden dip in the clothing interest at the beginning of the pandemic (which is totally understandable), the industry is back on track. Clothing has always been a popular topic, and it doesn't seem like it will stop any time soon.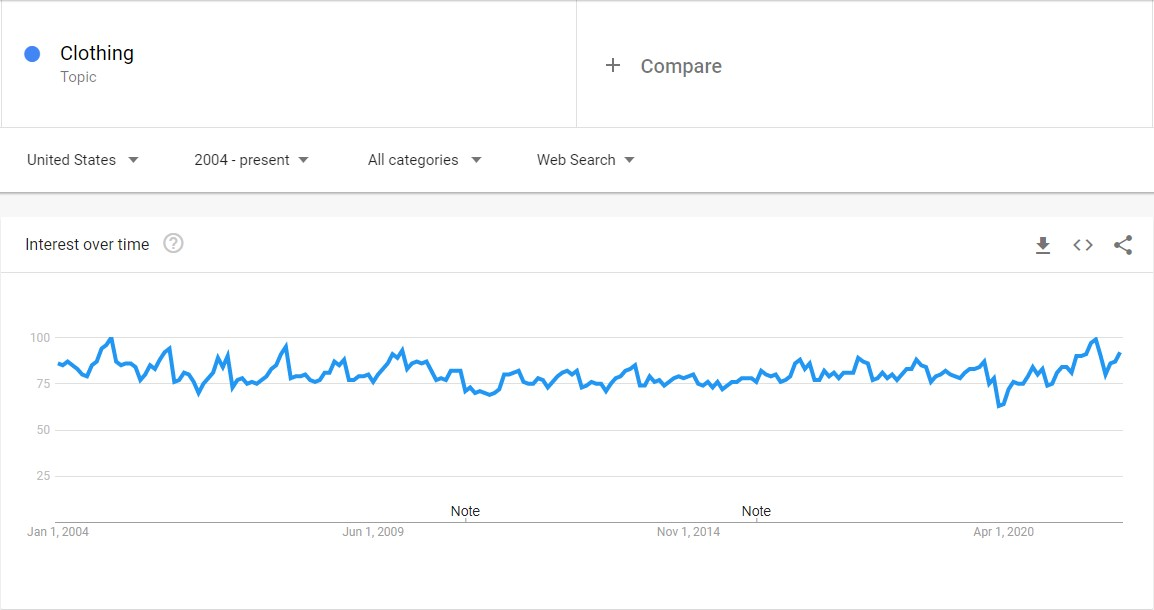 Another reason why popular clothing is a good business model is because of the different sorts of items you can resell. There are women, men, and specialty clothes, clothes for kids, and popular baby product categories.
You can also find a huge variety of stuff to sell within these, from clothing and shoes to bags and accessories. Therefore, there will always be something for everyone - whether they are looking for a cheap option or a big name brand.
💡 Reasons to sell on eBay
Clothing will always be a popular option to sell on eBay
Huge flexibility and options to pick and choose from to sell
The price margins and the revenue you can get from selling clothes can be quite significant
Things all eBay Sellers should consider
Figuring out what the best-selling brands on eBay are isn't often enough. For example, you might have a great idea - like selling power tool batteries - but if you haven't done the research into what batteries to are the best, which power tools are the most popular, etc. - you will be left with a bunch of unsold power tool batteries that you cannot use.
This is why research is the key - and there are a couple of questions that you need to ask (and answer) before you start your journey.
How can I start selling on eBay?
People are often confused about how to sell their stuff - can you just post an advertisement and call it a day? Luckily, the process is quite simple - and it is almost as easy as just posting an ad.
First, you will want to sign up for an account. This way, you will start building your brand - by people leaving positive reviews after successful sales. You can do it by using your name and e-mail address or using an account you already have on Google, Facebook or Apple.
After that, all you need to do is to create a listing. This takes minutes - you upload a description and photos, and you are ready.
Of course, if you want to start a business as an eBay seller, you will need to work a little harder. Luckily, eBay already has a great resource page that you can use to read more about it.
How to Find the Best Selling Brands?
Once you have an eBay account, you should start thinking about what you will want to sell. There are a couple of ways to do this - and you should play around with others as well to find the best fit for your business.
First, you can simply manually look into the categories you are interested in. For example, if you want to work in the photo categories business, then start analyzing them. What products are being sold on eBay in this category? What are their costs - and most importantly - can you sell them at a better price?
Another idea is to look into the eBay Trending Deals page. This can give you insight into what is currently "hot" on the website and might give you an idea of items you can start working with.
There are also a lot of external tools you can find that can help you gain insight into the inner workings of eBay. I suggest you dig deep and see exactly what works for you - because different people will enjoy different approaches to this process.
Final Words - Finding The Top Selling Items On eBay
In conclusion, becoming an eBay seller will not be an easy task. There is a lot of work you need to put into it and a lot of research.
Make sure you are always on the lookout for the latest trend and look into how current trends are behaving to be ready for anything. You can have a successful and thriving eBay eCommerce business through research and preparation.