I used to be on a one-person digital marketing team just like you. I was constantly looking for something that could help me create landing pages quickly on my own, increase conversions, and optimize campaigns.
Plus, I wanted access to deep insights to help make more informed decisions for my business. So I know how desperate you are to find the perfect conversion optimization platform.
I got all this and more from my savior - Unbounce.
But is it the right the best landing page builder for you?
That's what we're here to discuss today.
If you're interested in learning all that Unbounce has to offer and how it can help your business, hop aboard. This Unbounce review dives deep into the features, the pros and cons, pricing plans, and more.
We've got a lot of ground to cover, so let's get started.
🎯 Unbounce Review Quick Summary: Is It Worth It?
Yes, Unbounce is worth it!
Unbounce is currently one of the best landing page builders on the market. Anyone (freelancers, small business owners, mid-sized businesses, and large enterprises) can use it, even if they have zero coding experience. It's full of robust features and a drag and drop builder that makes the platform easy to use. So you can create and launch your landing page in just a few clicks.
But it's more than just a tool for building professional landing pages. Unbounce is also a conversion intelligence platform. It can take any marketing campaign to the next level, allowing you to convert more site visitors into leads - and drive up sales.
Consider Using Unbounce if you:
are a beginner in web development
need a user-friendly platform to build high-converting landing pages regularly
are looking for a quick way to get more sales and generate new leads for your business
want to optimize your landing pages so that visitors don't distractedly wander your site
What is Unbounce?
Unbounce is a platform that helps you build a range of high-converting landing pages, from pop-ups and sticky bars to opt-in forms and confirmation pages and beyond. You'll have the tools to receive and convert Traffic without a line of code!
But Unbounce is more than your basic landing page software. It's full of intelligent marketing features to arm you with Conversion Intelligence. Unbounce offers:
Smart Builder allows you to build optimized mobile-responsive landing pages faster.
Smart Copy allows you to instantly create content for landing pages, advertising campaigns, emails, etc., that align with your brand and target audience.
Smart Traffic allows you to detect changes in visitor behaviors and dynamically track conversion patterns.
With access to these industry-leading tools, your conversion optimization campaign is on autopilot. You have everything you need to grow your skillset and become a better marketer.
Interested in learning more about what the Unbounce platform has to offer?
Sign up for the 14-day free trial today.
Unbounce Features
I bet you wonder what makes Unbounce different from other landing page builders. I've compiled a list of the features that make Unbounce unique.
Landing Page Builder
The first stop is Unbounce's landing page builder.
Creating pages with Unbounce builder is a breeze. Simply use the drag-and-drop builder to create custom landing pages, popups, and sticky bars. Add or rearrange any elements such as page sections, text, boxes, images, CTA buttons, social widgets, forms, etc. Or use the advanced features, including embedded videos, custom HTML, and lightboxes.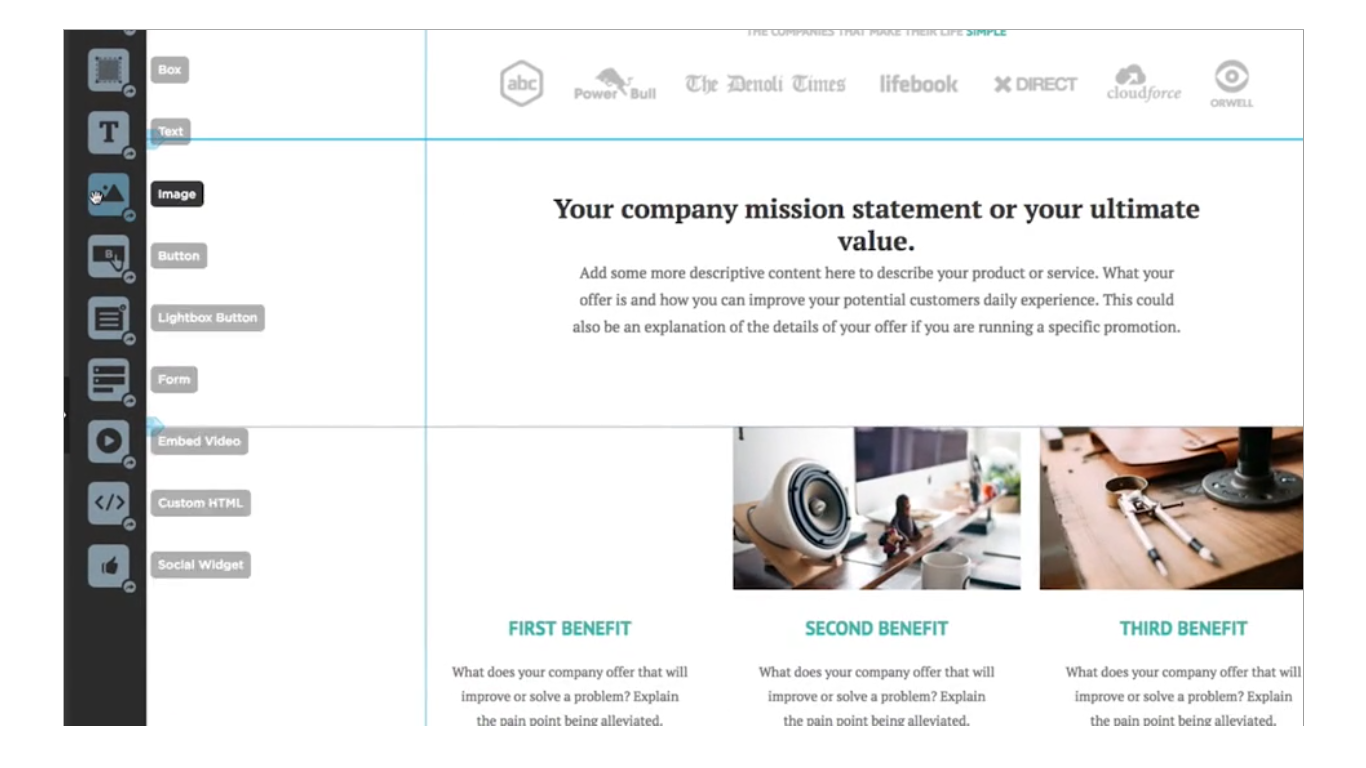 What I like about building landing pages on Unbounce is the ease with which you can:
Copy and paste page elements
Once you create a custom page element for your brand (business logo, custom fonts, brand colors), you can copy and paste it into multiple landing pages without needing to recreate it. Moving common elements from one landing page to another saves time and allows the landing page to look the same as the rest of your website.
Duplicate Unbounce landing pages
Once you have a successful landing page, you can duplicate or edit it to reuse in your other campaigns. Or, if you run a digital agency, this feature allows you to duplicate landing pages and use them between multiple clients.
Landing Page Templates
For all those who doubt the finesse of their design skills, Unbounce has got your back. There are 100+ pre-made conversion-focused landing pages, popups, and sticky bar templates.
Unbounce makes it easy to search for appropriate templates in their template library. Simply refine your search by filtering relevant templates based on your needs. You can browse through the library by selecting:
The type of template you need (landing page, pop up, or sticky bar)
The campaign type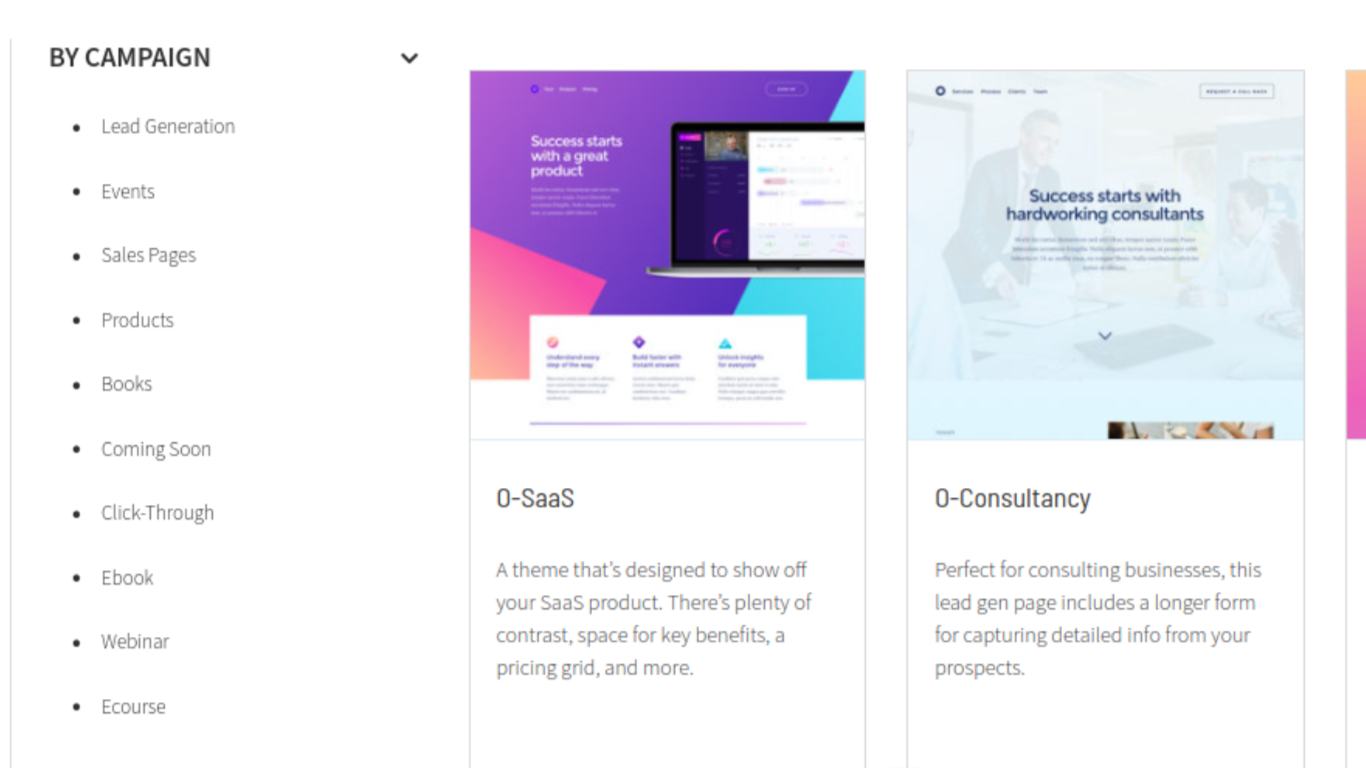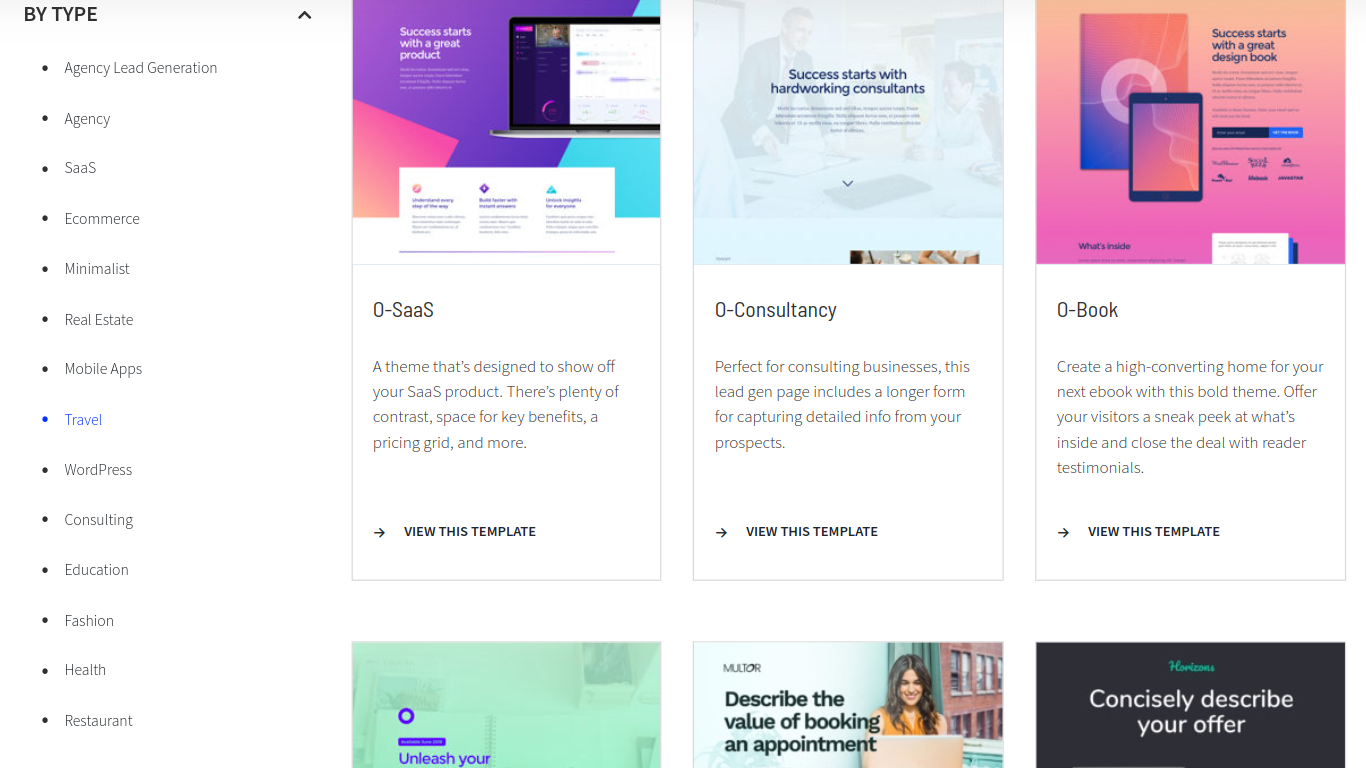 But if you're looking for more template options, you can also download one from ThemeForest Marketplace. This is something that other landing page builders don't support.
Choose the template you need, make a few tweaks, and publish it on your custom domain or WordPress website. Yes, it is that simple.
Even though you have a ton of templates, what happens if you still can't find the perfect template? (It has happened to the best of marketers on their worst days!)
Pretty simple. With Unbounce, you can create your landing page from scratch. You start with a blank canvas and add the text, images, design, and everything else until you have the landing page that you feel works best for your target audience.
Massive Image Library
Need professional-grade images for your Unbounce pages?
No problem.
Unbounce has an impressive collection of images for you - 2000+ free images from its library and 1,000,000+ pictures from Unsplash - for free - right inside the Classic Builder. What's more, you can easily upload any custom image as well.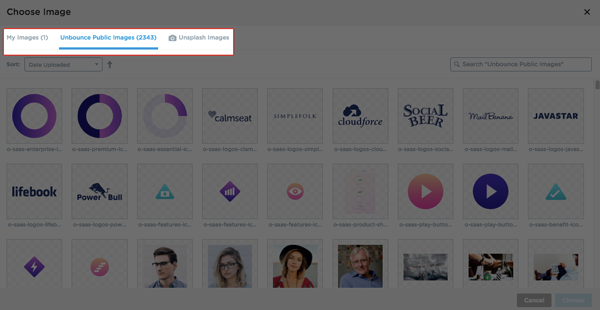 Simply drag and drop the image of your choice into the image option when building your landing pages.
AMP Landing Pages
Unbounce can make mobile UX even better.
How?
With AMP landing pages. AMP pages load faster than standard pages, so visitors have one less excuse to bounce.
Unbounce has 15+ pre-made AMP templates for you to use. The Accelerated Mobile Page Builder automatically resizes your landing pages to load properly and quickly on any device your visitors use, mobiles and desktops. So you can cross off 'check landing page designs' from your to-do list.
What's more, Unbounce also allows you to tweak the mobile pages while keeping the desktop version of your landing page intact and vice versa. This option appears in the bottom right-hand corner.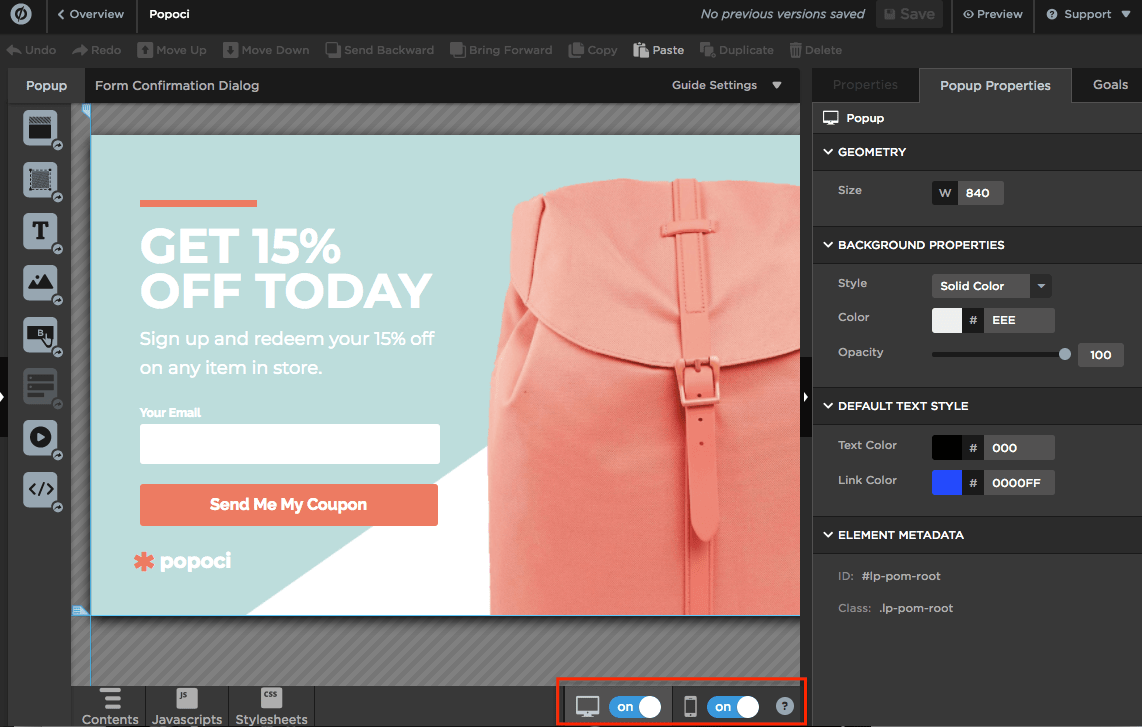 Dynamic Text Replacement
Dynamic Text Replacement (DTR) is your solution to landing page personalization. This feature allows you to tailor your landing pages to match your visitors' keywords.
You can use Dynamic Text Replacement on your Unbounce landing page in the following places:
Title, keywords, and description
Landing page copy
CTA buttons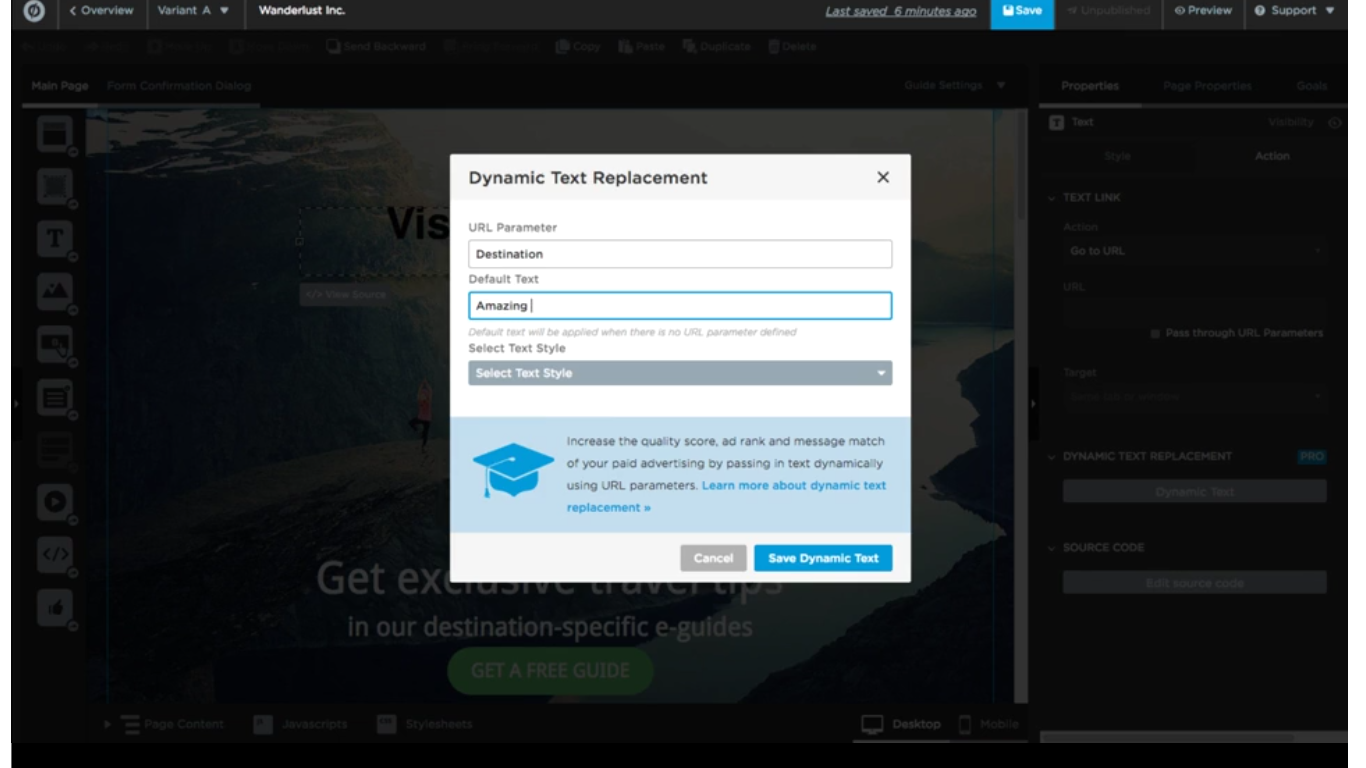 This means that you can use Dynamic Text Replacement to match user intent and personalize anything, including Google Ads, Facebook Ads, banner ads, paid search campaigns, and emails. By improving the relevance of your messages, you have a greater impact on visitors and encourage them to convert. See how easily Unbounce can boost your conversion rates?
Popups and Sticky Bars
Want to see new customers?
Unbounce has the solution.
Unbounce's popups and sticky bars can help you engage with your audience and nudge visitors towards a conversion. You need to present relevant offers and valuable content to get them hooked.
Creating popups and sticky bars from scratch is just as easy as building landing pages. The drag and drop builder is easy to use, so you should be done in minutes. And if you need a little push in the right direction, Unbounce has over 50 templates to help you out.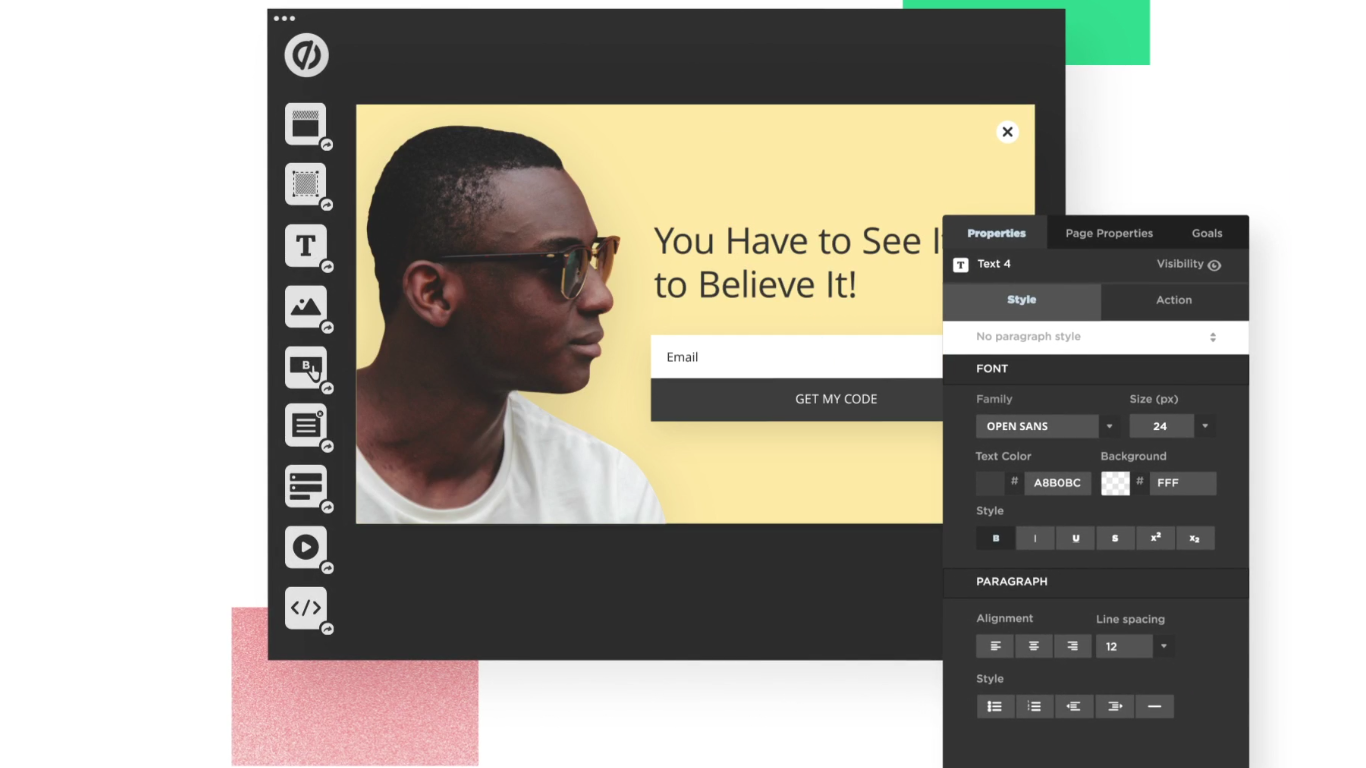 Once you complete the creation process, all you need to do is add a single snippet of code onto your website, and you'll be able to publish new popups and sticky bars anytime - without hiring a dev team!
Wait, there's more.
Unbounce allows you to target your audience down to the T. You can set the rules for where you want to place your popups and sticky bars, who sees them, and how often they appear.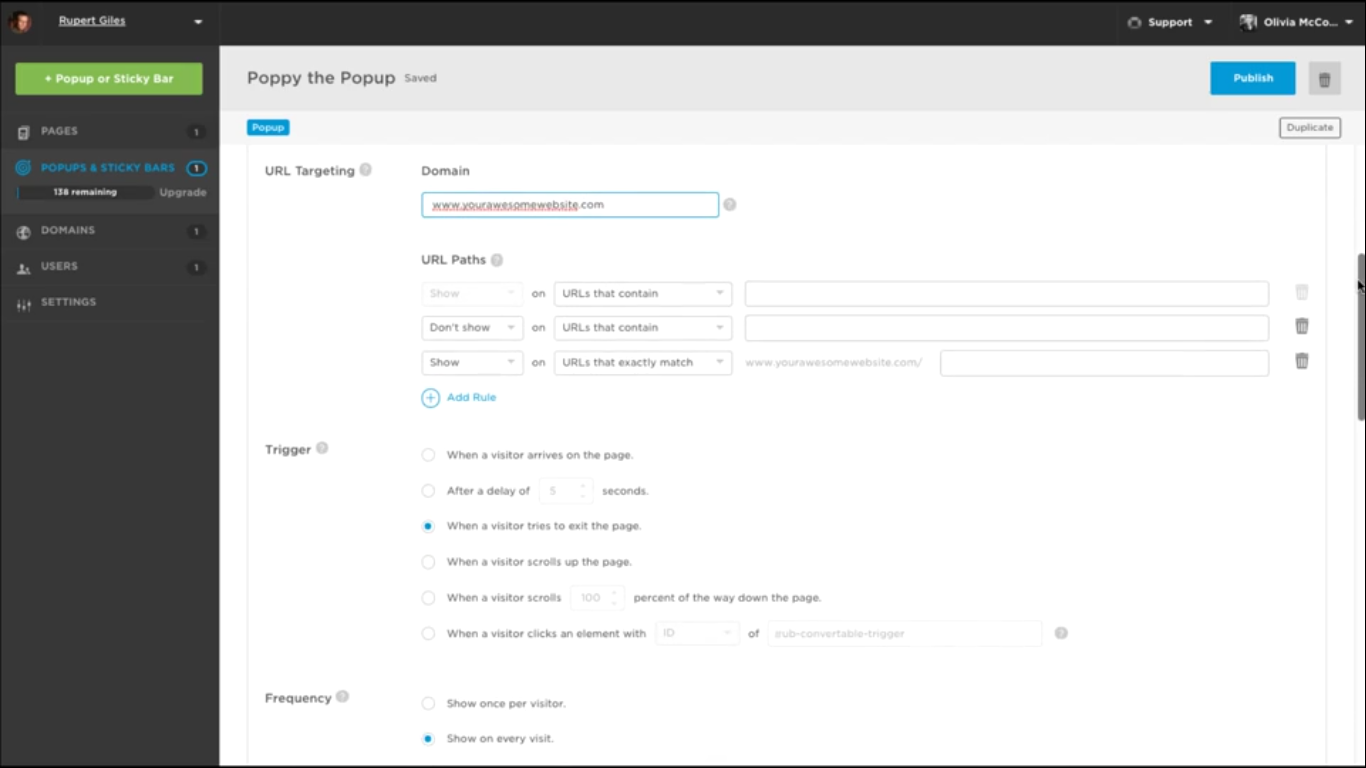 For instance, you can display relevant offers depending on a visitor's location, past behaviors, or the referral source (social, paid, or organic). However, some advanced targeting options are only available on the Accelerate plan.
A/B Testing
You can't have a conversion optimization platform without A/B testing, now can you?
A/B testing on Unbounce is a breeze. You can quickly build several versions of the same page and find the variant that resonates with your visitors. With Unbounce, you can A/B multiple test aspects of your page design simultaneously, such as copy, CTA, image placement, colors, etc.
You can experiment either by:
duplicating an existing landing page, pop up, or sticky bar and subtly test the effectiveness of moderate changes by altering a single variant
creating a new landing page variant from scratch or an Unbounce template to test two completely different concepts
Before you can begin A/B testing, you'll have to assign a weight to each variant. That means your overall traffic percentage will see variant A or B.
What I like about A/B testing on this platform because Unbounce highlights the web page variant that converted the most. The Confidence percentage indicates how often you could expect to get these results if you repeated the same test. So 99% confidence means there's a 99% chance of getting the same results if you repeated the test or a 1 in 100 chance of getting different results.
Analytics and Reports
The sole purpose of this landing page builder is to help you increase your conversion rates. So that means you need to be able to monitor, track, and analyze your Unbounce landing pages.
While A/B testing offers important metrics to determine which landing page performs better, Unbounce also provides in-depth data about your visitors.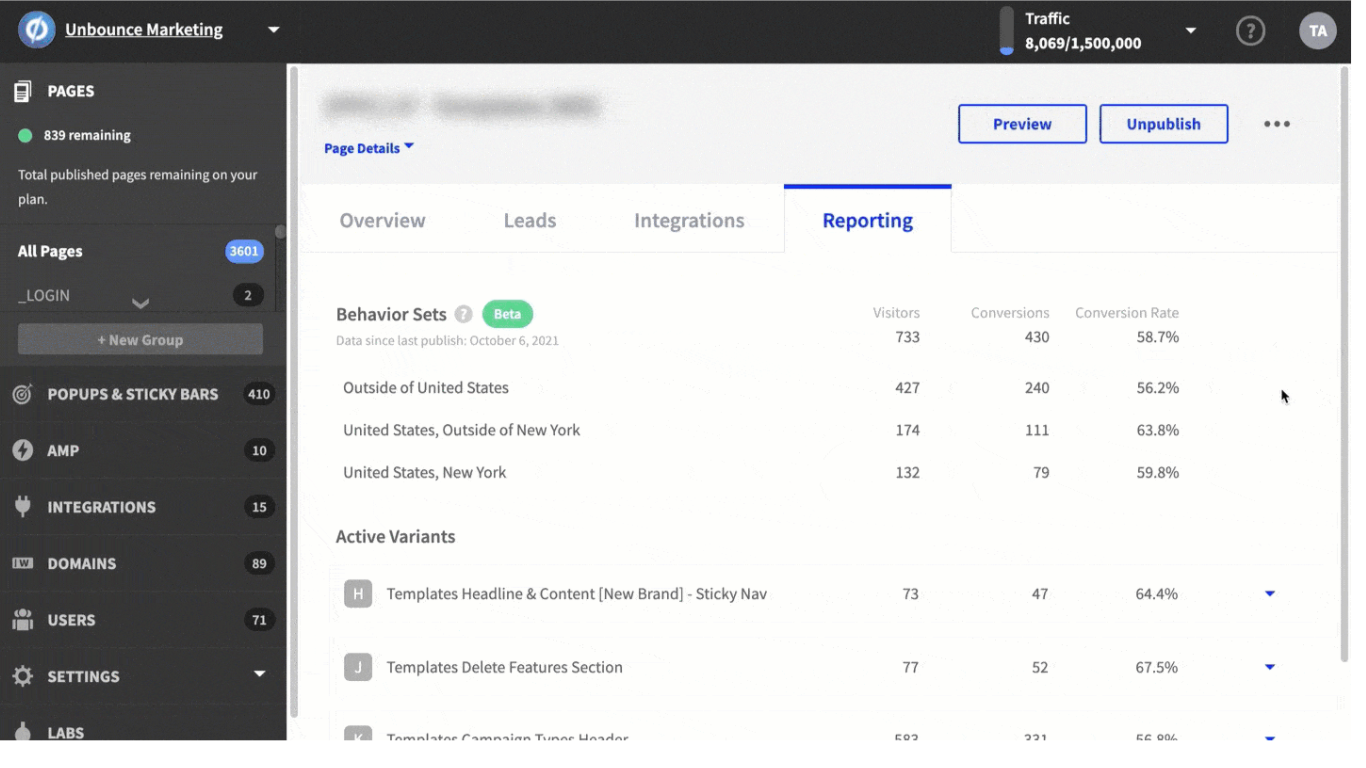 With the help of these reports, you have relevant information that can improve your marketing strategies and scale the company. For instance, you can identify groups of customers with similar conversion characteristics, such as location, device type, or traffic source. You can target these groups better and reel in more customers.
Conversion Intelligence Platform
Want to create high-converting marketing campaigns effortlessly?
Then this is for you.
Unbounce recently launched its Conversion Intelligence platform, a smart marketing tool with AI-powered features to make it easier to drive more conversions - and revenue.
Three key features include:
Smart Builder
Smart Builder comes with a personal design assistant to help you curate the perfect page. It predicts everything (layouts, components, headlines, typography, colors, and more) that will work best for your target audience, industry, and campaign goals.
And even though Smart Builder is in Beta, I can see it getting only better over time.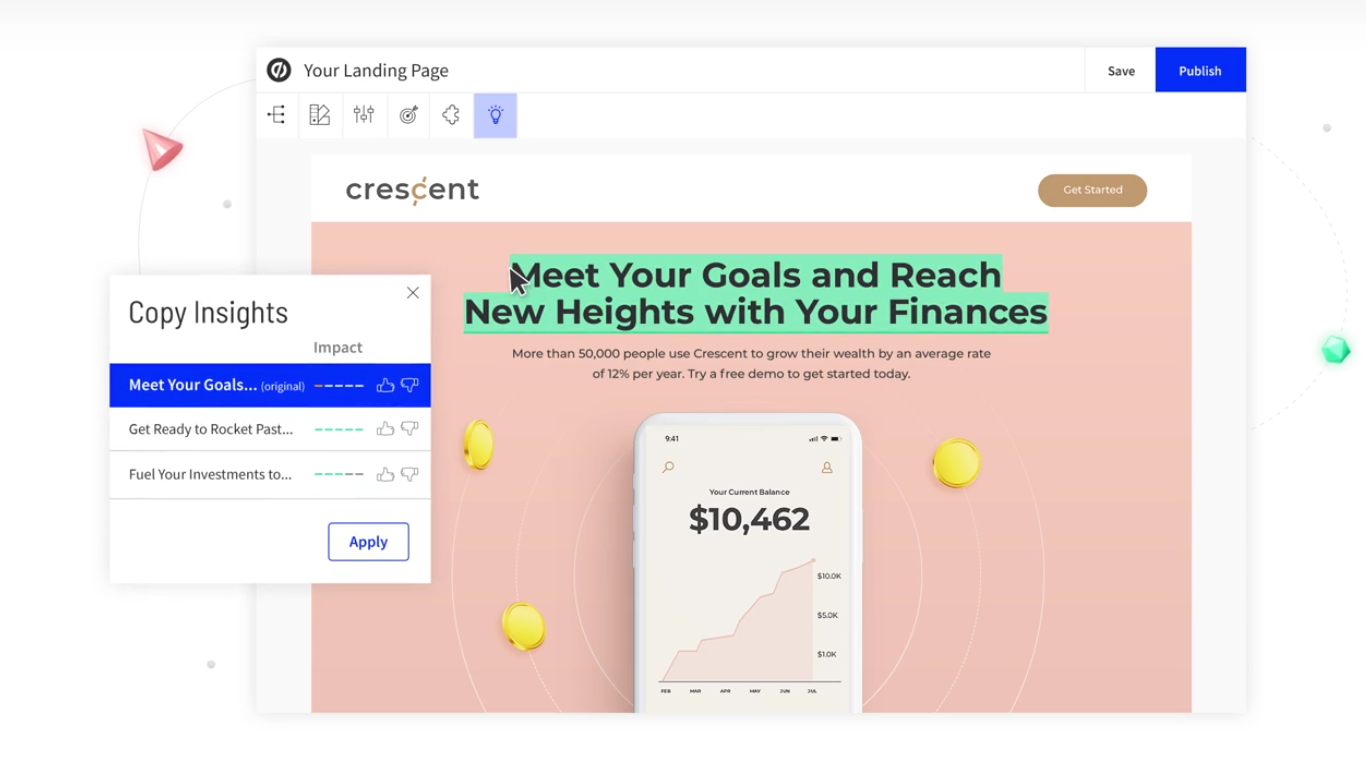 Smart Traffic
It's time you got past the one-page-fits-all approach to conversion optimization. Smart Traffic allows you to direct your visitors to variants of your landing page where they're most likely to convert.
How does it do that?
Smart Traffic automatically analyzes a visitor's attributes, such as their geographical location, device type, time zone, browser, and OS. It starts optimizing after 50 visits and continues to learn about your audience the longer you use it.
The best thing is that Smart Traffic is working even when you're not. It gets your message in front of new prospects and audience segments. Over time, you'll see an improvement in conversions as more visitors land on the right landing page.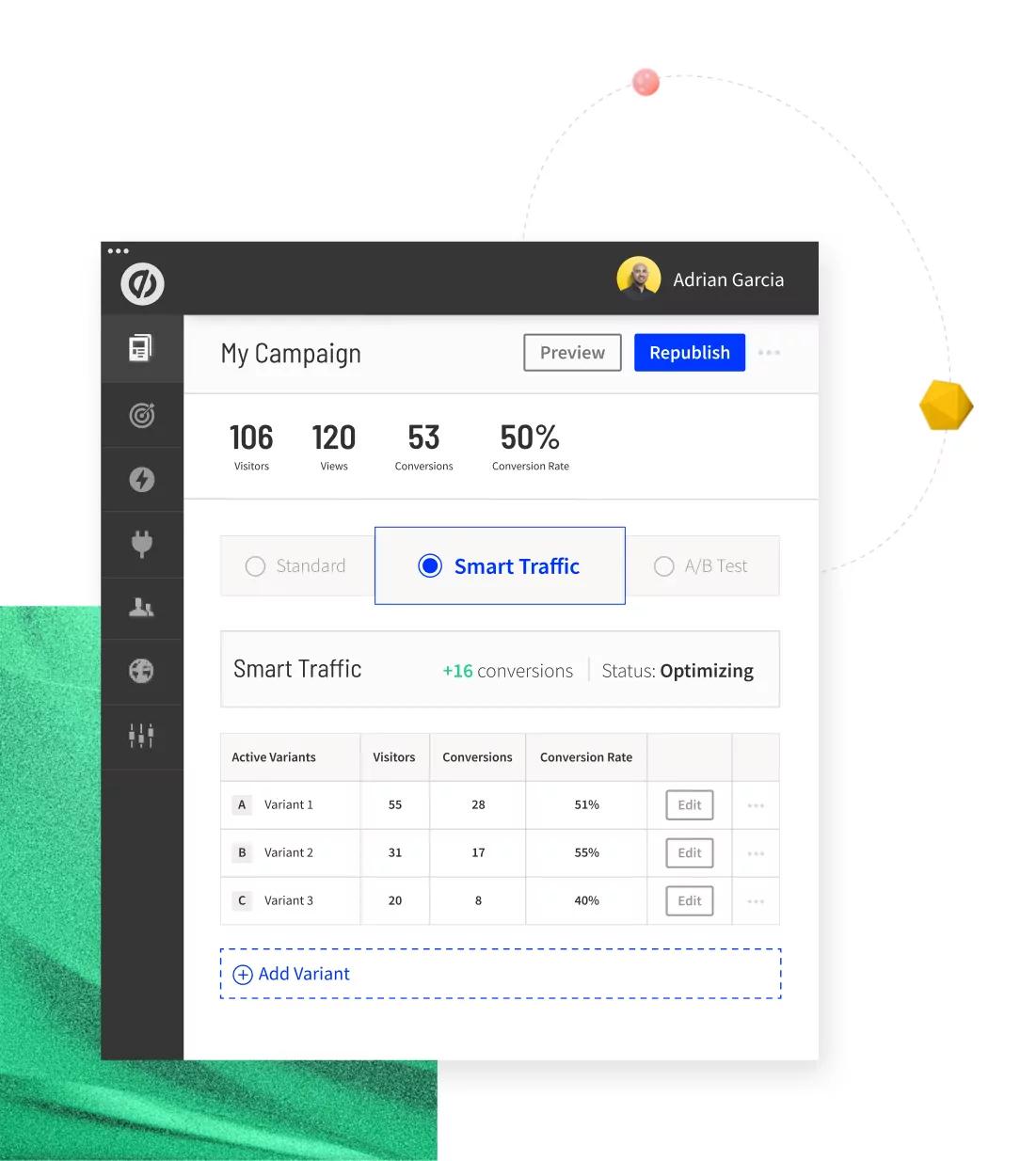 Unbounce has already announced two additional features, Smart Traffic Reports, and Smart Traffic Insights, which will be released soon. The only drawback is that the Smart Traffic feature is currently only available for landing pages, not popups and sticky bars. But since it's still being developed, we should be seeing other features later on.
Smart Copy
Have problems writing the perfect content for your brand and target audience?
Not any more. This landing page builder can help you with that too.
Smart Copy creates, remixes, and expands your copy into content that converts.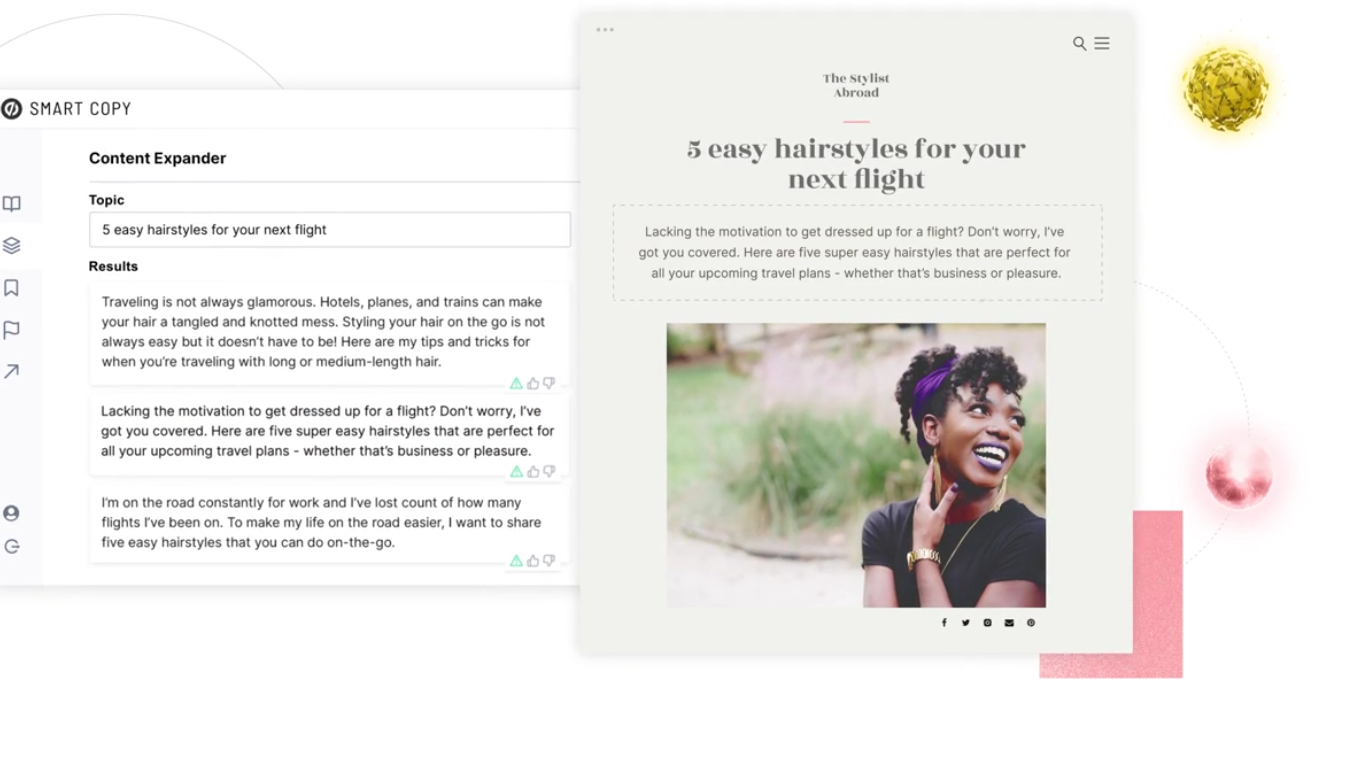 What's more, this tool has limitless applications. It has 30+ templates to help you create ad copy, taglines, headlines, emails, blogs, product descriptions, etc.
But the best thing about his features is that you can generate copy in six languages:
English
Spanish
French
German
Portuguese
Dutch
This means you have an opportunity to connect with a wider audience.
Integrations
Are you wondering how you'll connect this landing page builder with other tools you're currently using for lead generation and conversion?
Listen up, Unbounce users - you don't need to worry about anything. Unbounce integrates with just about every app. It offers seamless in-app integration with major CRM and email marketing software like MailChimp, Constant Contact, Active Campaign, Campaign Monitor, HubSpot, AWeber, etc.
And even if you don't find your favorite tool in the list of native integrations, you can create your custom integration with WebHook. Or you can integrate with Zapier and open up another 60+ integrations that allow you to automate your marketing workflows.
Unbounce Pros and Cons
No Unbounce review would be complete without this section. Let's take a quick look at the pros and cons of Unbounce's landing page builder before discussing its pricing plans.
Pros
Beginner-friendly platform, no previous design or coding experience required
Works everywhere, including on your WordPress site
Very easy to use landing page dev tool, especially with the drag and drop feature
A/B testing is available in every plan
Huge range of useful features, from professional pre-designed templates to AI-backed Conversion Intelligence platform
Customizable dynamic text replacement to maximize search query relevance
Mobile responsive
All of the landing pages are automatically secured with the SSL certificate
Cons
It can get pricey for some small business owners on a limited budget
Limited in-app integrations
Customer support is restricted to business hours
Can't A B test landing pages that have been created elsewhere
A 14-day trial requires credit card information, so you could be charged if you don't cancel on time
Unbounce Pricing
If you've read my Unbounce review this far, I'm guessing you're thinking about investing in this one-of-a-kind marketing software. So you're probably asking yourself, "How much does Unbounce cost?" More importantly, "Will it fit in my budget?"
That's why I'll discuss the pricing in detail.
Unbounce offers two entirely independent products: Smart Builder and Smart Copy. If you need either one, you'll need to subscribe separately to them.
Unbounce Smart Builder
Unbounce's Smart Builder is the product that has the landing page creation and optimization tool. You'll find three subscription plans: Launch, Optimize, and Accelerate. All plans allow users to create unlimited landing pages, popups, and sticky bars. However, the price of each plan depends upon your volume of conversions, visitors, and domains.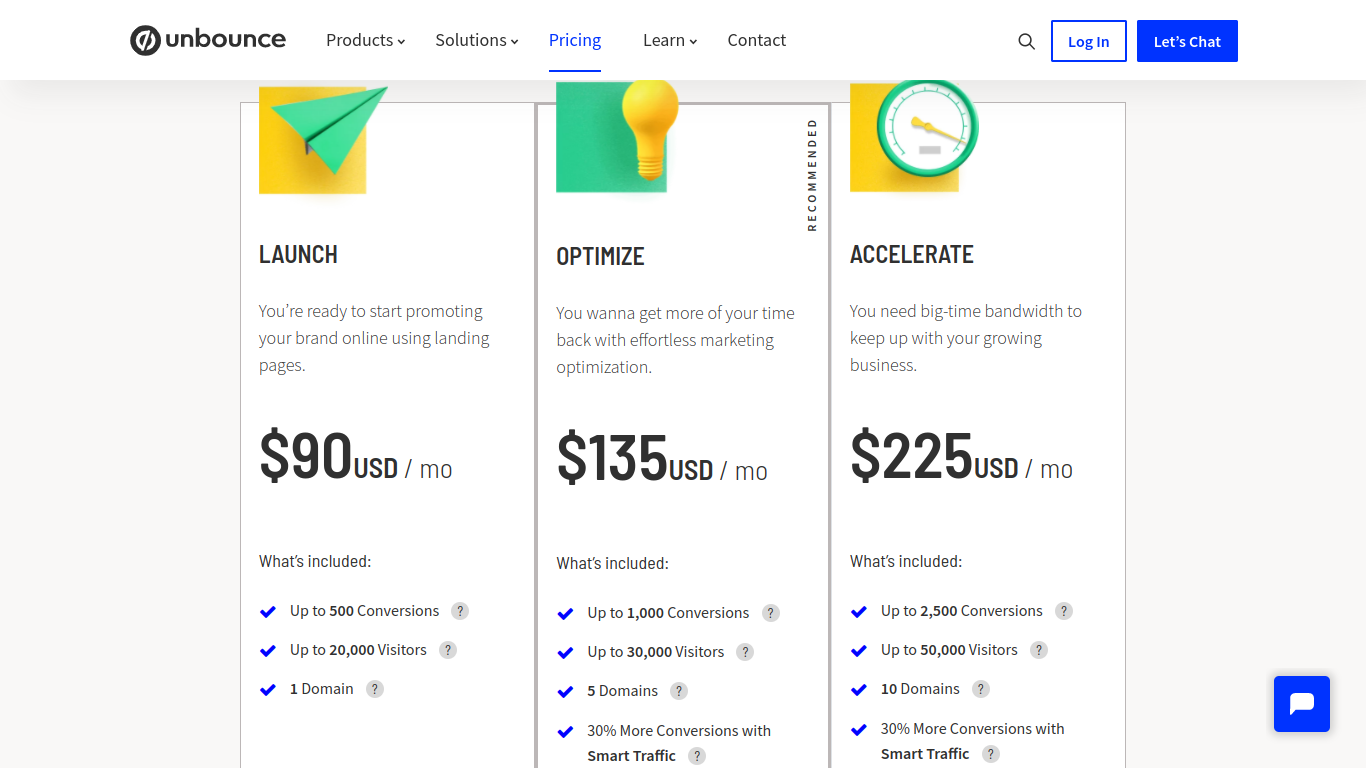 Launch
Best for: small businesses that are searching for ways to build more leads
This is the basic plan to grow your online presence, costing $90 per month ($81/month paid annually).
Up to 500 conversions
Up to 20,000 visitors
One custom domain
Optimize
Best for: marketing teams and agencies that want to improve their marketing efforts
This plan can take your business to the next level, costing $135 per month ($122/month paid annually).
Up to 1,000 conversions
Up to 30,000 visitors
Five custom domains
Smart Traffic
Accelerate
Best for: businesses who have the budget to invest in advanced targeting strategies
This plan can help scale your business, costing $225 per month ($203/month paid annually).
Up to 2,500 conversions
Up to 50,000 visitors
Ten custom domains
Smart Traffic
Unbounce Smart Copy
Unbounce Smart Copy is your copywriting assistant to help you create high-converting messages and fine-tune your content - in 6 different languages. With access to 30+ content templates, you'll never want to start from a blank page again.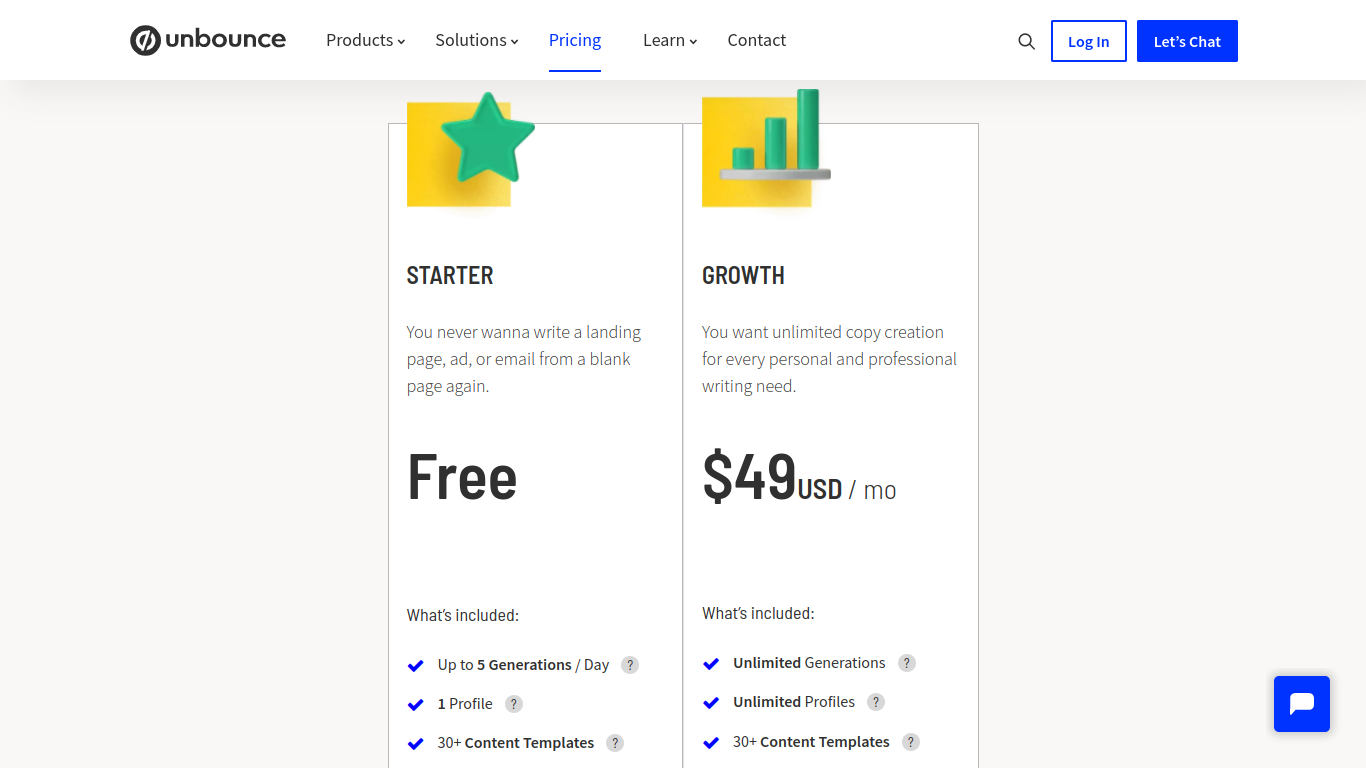 Starter
Best for: anyone who wants to take their copy to the next level
Writing the perfect landing page, ad, and email couldn't get easier. You'll get the following for free:
Up to 5 generations per day
One profile
Growth
Best for: businesses who need a reliable tool to create optimized content regularly
Need help crafting the right message to align with your audience? This is your plan. For $49 per month ($25/month paid annually), you'll receive:
Unlimited generations
Unlimited profiles
Still not quite sure whether this is the right software for you?
Try the 14-day free trial and explore all the Unbounce features.
Unbounce Alternatives
Don't feel as if Unbounce is the one for you?
No problem.
There are plenty of other landing page tools out on the market. Common Unbounce alternatives include:
Leadpages has all the typical features you need from a great landing page builder, such as drag and drop builder and templates. Since its basic plan is priced at under $50 a month, Leadpages is a more affordable option for anyone on a tight budget. However, users claim that creating customized landing pages Leadpages isn't as easy as Unbounce. Sometimes it can be hard to move widgets around and position them exactly where you want to.
Instapage is another popular conversion optimization tool. It's a bit more advanced to expect a higher price tag. But that's predictable as Instapage offers more templates (over 200) and tools than Unbounce.
Some additional features include heat mapping to point out how visitors are interacting with your landing page elements and web-based collaboration so your team can work on more landing pages together.
Convertkit isn't a dedicated landing page builder. It's an email automation software. However, it does let users create landing pages, even if they're basic ones. Convertkit is a good option for anyone on a tight budget who's not ready to invest in a builder at the moment. After all, their free plan is rather appealing.
One of the biggest drawbacks of this platform is that it doesn't have a drag and drop landing page builder. That means you don't have access to advanced design options or the ability to create custom landing pages.
Final Verdict - Is Unbounce the best landing page builder for you?
If you're hunting for a new landing page builder that can bring a breath of fresh air into your marketing strategies, I strongly recommend Unbounce. It just might be the right one for you.
Unbounce is relatively easy to use and has an impressive library of pre-designed landing pages, popups, and sticky bars. What's more, it offers innovative Conversion Intelligence features that other conversion optimization tools don't have. That means you have tools that ensure your marketing strategies are amped up to their full potential, and you can connect with your customers on a deeper level.
Thousands of brands worldwide are growing their brand with Unbounce. Transform your marketing performance with the Unbounce landing page builder and watch your conversion rates soar. It's time you did too.
Let's start building landing pages today!
FAQs
Does Unbounce have a free landing page builder?
No, Unbounce does not have a free page builder plan. However, it does have a free 14-day trial so that you can explore all that the platform has to offer. There are multiple paid packages you can subscribe to, depending upon your needs.
Note that Unbounce currently offers a free tool called the Smart Copy to help you create high-converting content for your ads, emails, headlines, etc., but not long-form content.
What features does the free trial include?
When you sign up for a free trial for any Unbounce plans (Launch, Optimize, or Accelerate), you'll have complete access to its features. You can cancel your free trial by logging into your Unbounce account. Click on Account Management → Subscriptions → Cancel.
Remember that we ask for your credit card information when you sign up for the free trial. So if you don't cancel by the end of your 14-day trial, you will be billed for the subsequent subscription.
Which browsers support Unbounce?
When viewing live pages, popups, and sticky bars, Unbounce works on:
Google Chrome
Mozilla Firefox
Safari
Internet Explorer
Microsoft Edge
But when building landing pages or editing content in the Unbounce app, you can use:
Google Chrome
Mozilla Firefox
Safari
Always use the most up-to-date version of these browsers to get the best UX.