Whether you are looking to invest in your first Cricut machine or are simply curious about this versatile technology, this article answers all your questions and more.
As an avid crafter, you may have heard about the multifaceted Cricut machines and all they can do to make your projects extraordinary and unique. However, the various machines and the sheer number of additional tools can be overwhelming and confusing for beginners, making it difficult to choose the best Cricut machine based on your skill level and preference.
Thus, in the following text, I talk about the different Cricut machines, what they can do, how to operate them, how they are helpful and much more. So, let's begin!
What Is A Cricut Machine?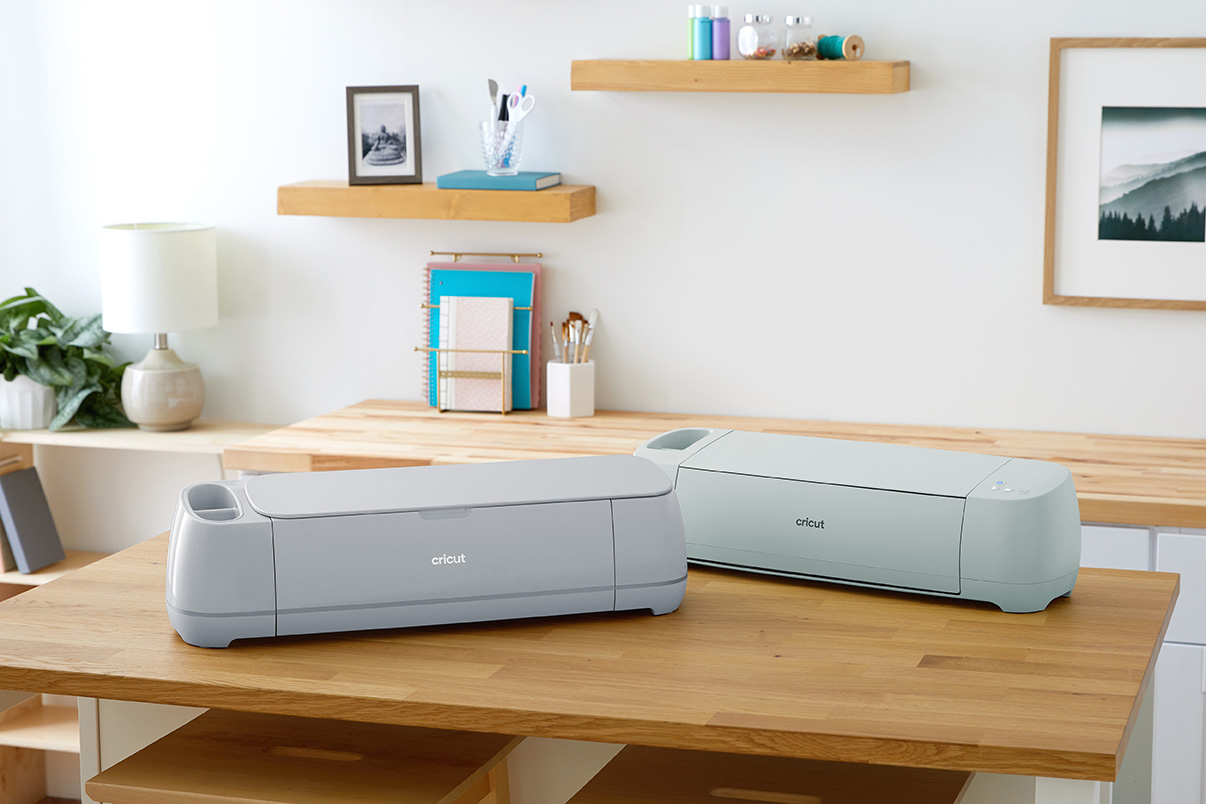 A Cricut is an electronic cutting machine that allows you to cut hundreds of different materials to create stunning pieces of crafts and art projects. It can easily cut paper, vinyl, felt, leather, cardstock, etc. Some of the latest models can even cut wood!
Moreover, its ability to perform precision cutting enables you to create the most intricate patterns quickly and easily. Consequently, you no longer have to fumble with scissors or an X-ACTO to achieve the tricky cuts. Instead, you enjoy a smooth crafting experience and produce quality products.
How Does A Cricut Machine Work?
Once you get used to operating the Cricut cutting machine, it is straightforward and easy. It is akin to a printer where the machine uses a small, mobile blade to cut your design on the material instead of printing it. However, before you can cut your design, you need to create it using the Cricut design software or app.
Here is a step-by-step guide on how to use a Cricut cutting machine:
Connect the Cricut to your computer or mobile device via Bluetooth
Choose your material for cutting, fasten it to the cutting mat, and load it into the machine
Create your design on the native Cricut software called Design Space, available for Windows, Mac, iOS, and Android devices
Send your design to your Cricut cutting machine
Press the button to enable the small blade to start cutting the material precisely
Once the machine stops cutting, remove the material and the mat
You can use the same steps to write, draw, engrave, emboss, and score the chosen material by attaching the appropriate blade or tool to the machine
What Can You Make With A Cricut Machine?
The Cricut opens a world of crafting possibilities with its savvy functionalities and sleek operation.
If you are new to the Cricut world, you may wonder what all the fuss is about? It took me a while to realize its full potential. To give you some perspective, here are a few Cricut projects ideas:
High-end, handmade greeting cards with stylized fonts
Stickers for your planners, calendars, or journaling
Home decoration, such as wall decal, wooden signs, custom doormats, framed quotes, and wall hangings
Party decor includes buntings, paper banners, cake and cupcake toppers, etc.
Throw pillows with personalized designs or monograms
T-shirts, sweatshirts, and baby onesies
3D Gift boxes and paper toys using the scoring wheel
Personalized festive decor, such as your own Christmas ornaments
Quilts made with cut-out appliques or squares
Stencils for wall art, glass etching, painted clothes
You can get many more ideas and inspirations from the Design Space software, online tutorials, and the Cricut blog.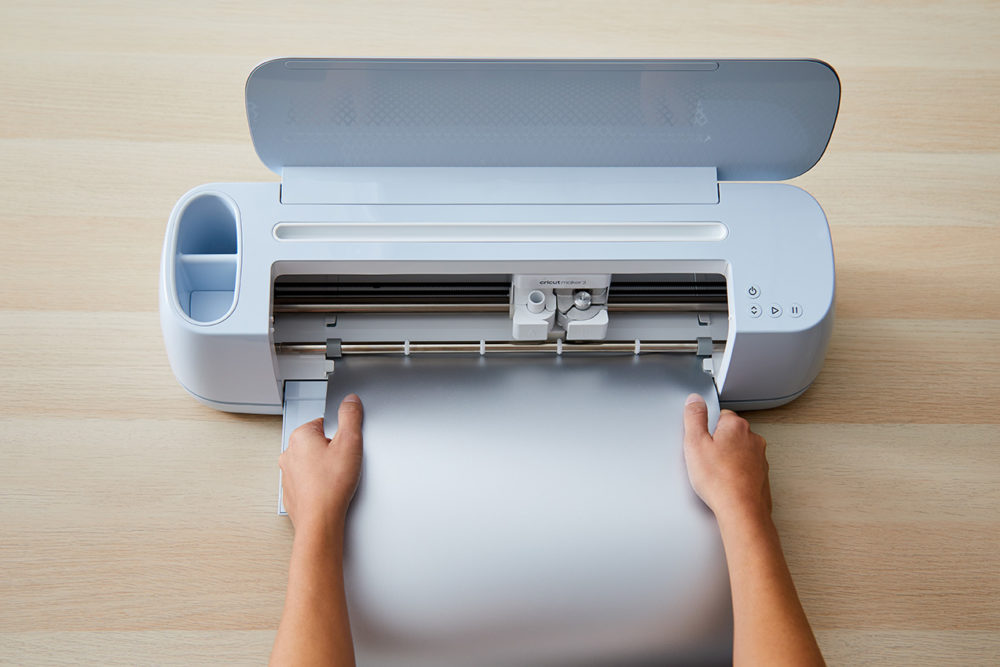 The Cricut machine has revolutionized the crafting world with its multi-dimensional abilities and ease of use. It is typically used to cut a wide variety of materials. However, it is not just a cutting machine.
You can use it to draw your design with specialized pens on different materials, score material for easy folding, and get gorgeous handwritten notes.
Thus, you can make various crafts, such as customized greeting cards, home decor, handmade gifts, vinyl stickers, and custom t-shirts. You can also use it for label-making, homemade party decorations, wooden signs, and more.
Your creativity is only limited by your imagination!
What Are The Different Cricut Cutting Machines?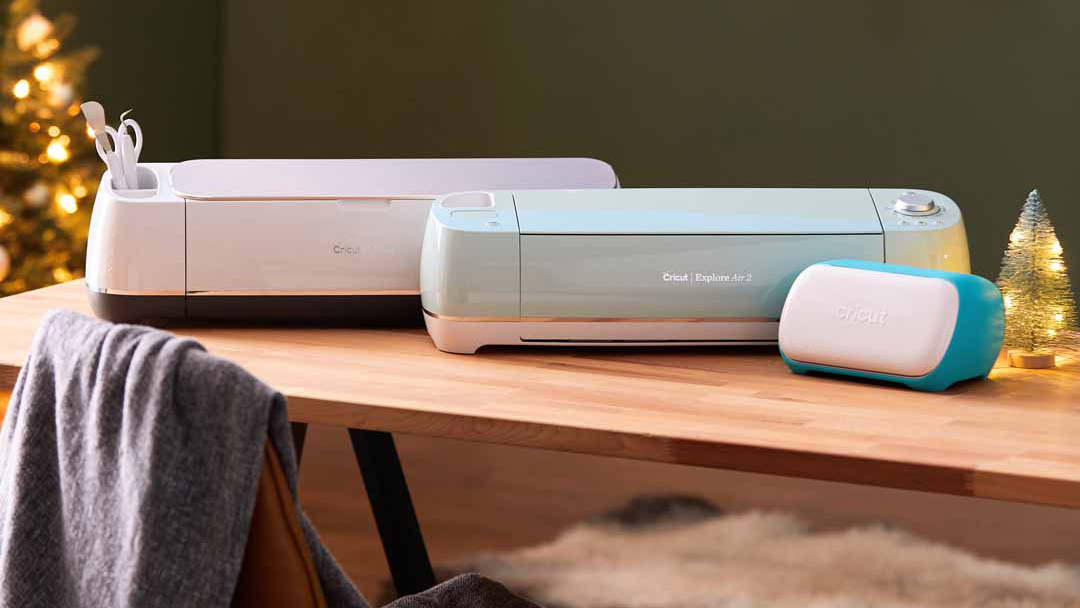 The Cricut offers three different series of cutting machines, each with its pros and cons, price points, and capabilities. These include Cricut Maker, Cricut Explore, and Cricut Joy. The versatile Maker series is more feature-rich and expensive than the Explore series.
Yet, the Cricut Explore family is also very competent and available at reasonable prices. On the other hand, Cricut Joy is for crafters on the go and in a league of its own.
Following are the different models belonging to these series.
Cricut Maker 3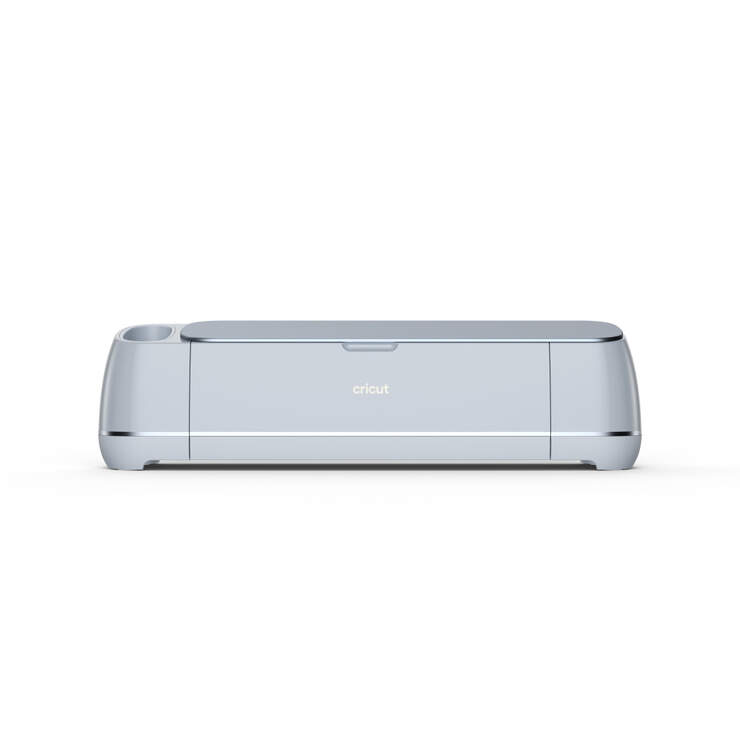 Cricut Maker 3 is the latest model in the Maker series, which delivers commercial-grade performance. It can cut precise patterns on more than 300 types of material and is compatible with 13 different tools for cutting, scoring, writing, engraving, foiling, etc.
The upgraded machine is armed with a powerful, robust motor that can cut twice as fast as the original Cricut Maker and with ten times the cutting force as the Explore 2 series. Finally, it is compatible with Smart Materials, so you do not need a mat and can cut long projects up to 12 feet in length.
Cricut Explore 3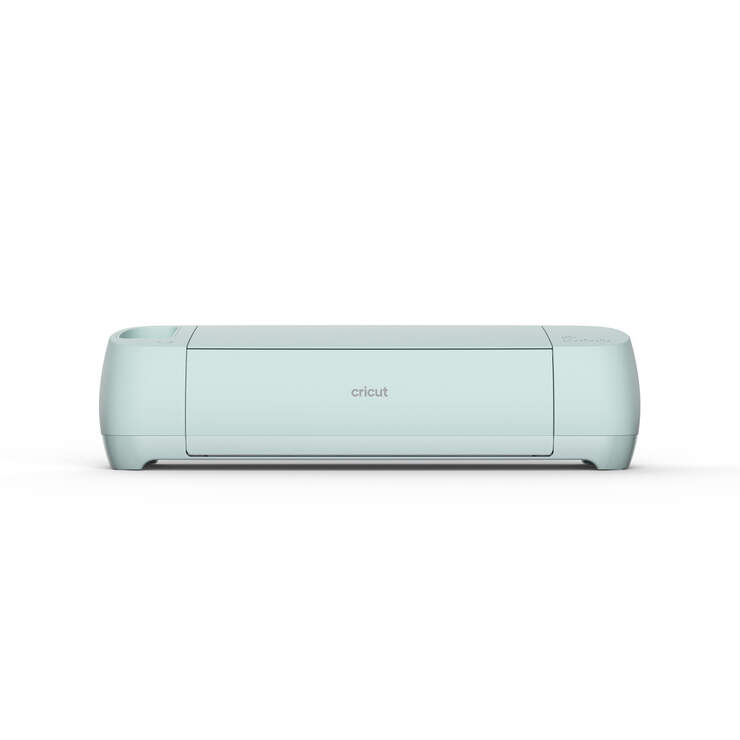 Cricut Explore 3 is the newest model in the Explore series and is quite competent in cutting more than 100 materials, similar to its predecessor. It is compatible with six tools, including a fine-point blade, foil transfer tool, deep-point blade, and scoring stylus.
Cricut Explore 3 has a more powerful motor that delivers twice the cutting speed of the Cricut Explore Air 2. Similar to the Cricut Maker 3, it is also compatible with Smart Materials so that you can make long projects (up to 12 feet) without a mat.
Cricut Maker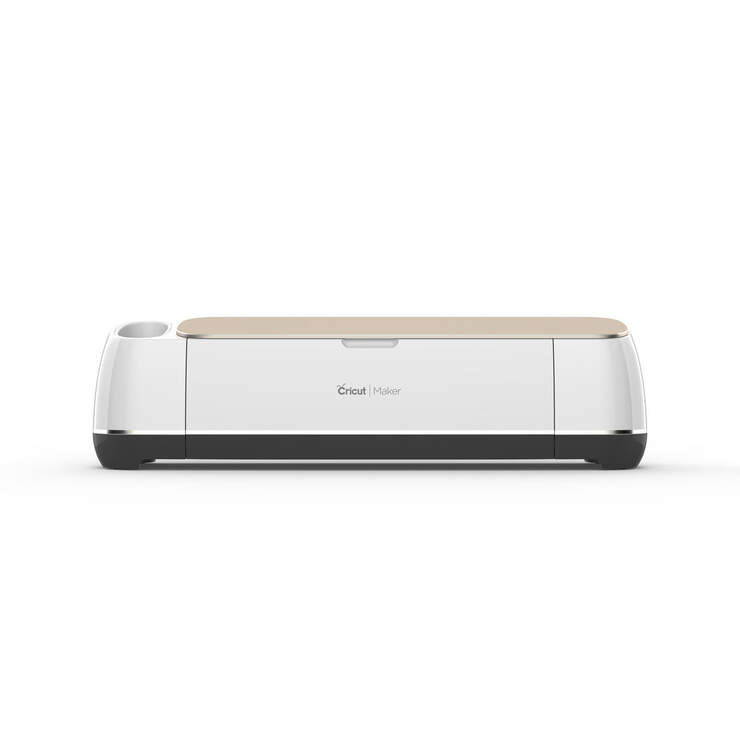 Cricut Maker is another smart cutting machine and the first release in the Maker series. It comes with 13 tools that can cut, score, write, deboss, engrave, and implement other pro-level effects. It also harbors the ability to cut over 300 different types of materials and has ten times the cutting power of Cricut Explore Air 2, which means it can cut thicker material.
The machine has a high cutting speed compared to other machines, except the Cricut Maker 3. It also has the knife blade and rotary blade tools, which are exclusive to the Maker series. Finally, it offers the Print then Cut feature, which is useful for creating professional-looking designs...
Cricut Explore Air 2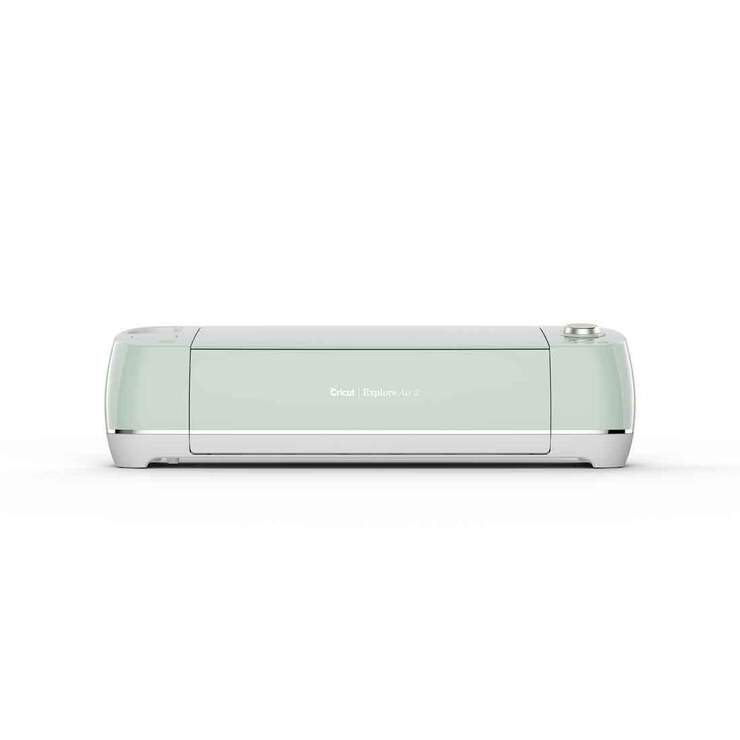 Cricut Explore Air 2 is a fantastic, albeit old, model. It is inexpensive and equipped with the necessary features for most projects.
It may lack the power of Cricut Explore 3 and Cricut Maker 3, but it can cut through over 100 materials and is compatible with four cutting, scoring, and writing tools. These include fine-point blades, bonded fabric blades, and deep-point blades.
Cricut Explore Air 2 also has the Print then Cut feature and works with mats, including 12 by 12 inches and 12 by 24 inches in size.
Cricut Joy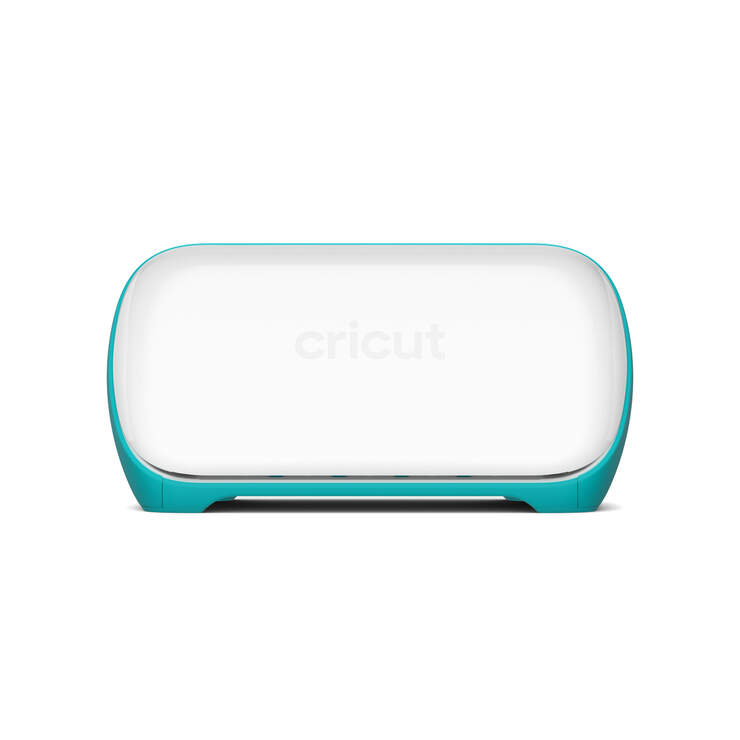 Cricut Joy is a compact machine for quick DIY projects and one of the newer Cricut releases. Its small size and lightweight entail that you can easily carry it around and store it conveniently. The machine can cut more than 50 materials and is compatible with Smart Materials.
While it can only handle a maximum width of 4.5 inches, it can cut four feet-long continuous projects. Cricut Joy is perfect for beginners looking for a cheap Cricut machine to get started.
What Comes With A Cricut Machine?
When you buy a die-cutting machine from Cricut, it comes with many things that you require to get started and perform a test cut after the machine setup process. These include:
Cutting machine
Blade
Accessory Adaptor
Material Samples
USB cable
Charging cord
Safety and warranty documents
Quick Start Guide
Power adapter and power cord (if applicable)
The older models, i.e., Cricut Maker and Cricut Explore Air 2, also came with a pen and mat(s).
Do You Need Other Cricut Accessories?
Yes, if you want to utilize the full capabilities of the Cricut machines, you need additional accessories to create varied projects. The accessories you buy will depend on the crafting project you want to produce and your die-cutting machine.
The good thing is that once you create your design on the Cricut Design Space software and identify the material you want to work with, the program will tell you what tools you need to implement the particular project.
Let me divide this section into two subsets to make it a bit easier for you to understand.
Tool sets
Different tool sets are available on the Cricut website, but the Basic and Essential tool sets are the most common.
Basic tool set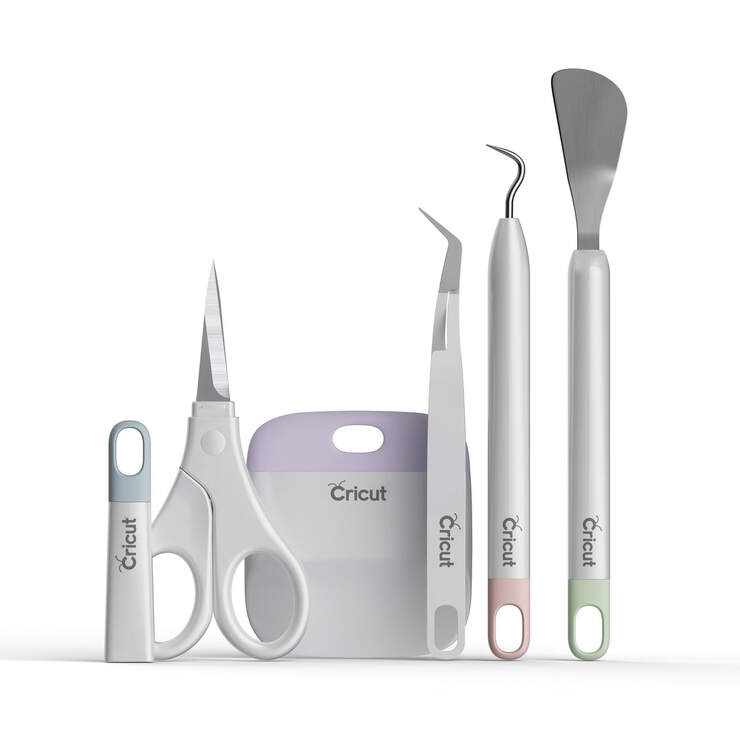 The primary tool set is perfect for all Cricut cutting machines and includes five pieces for lifting, burnishing, snipping, and weeding various materials. These tools are tweezers, weeder, scissors, spatula, and scraper.
Essential tool set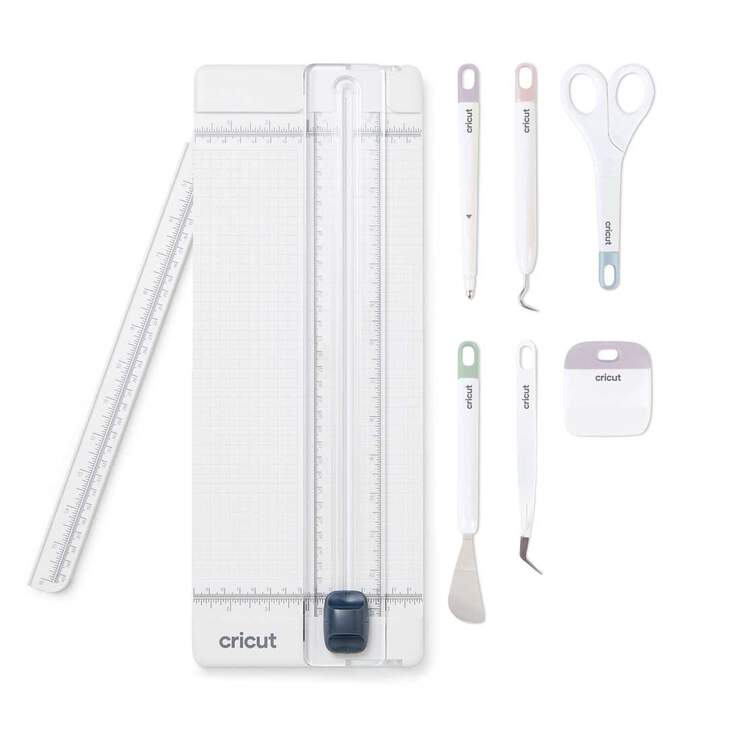 The essential tool set comes with seven pieces and is useful for all Cricut cutting machines, except the scoring stylus, which is only compatible with Cricut Maker and Cricut Explore machines. The toolset can be used for snipping, slicing, weeding, burnishing, trimming, and scoring. It has all the tools as the Basic toolset, as well as a trimmer and scoring stylus.
Bundles
Bundles include all the materials and tools you will require for a wide range of craft projects. They are sold at a much lower price compared to if you buy everything individually. Moreover, there are bundles for all available Cricut machines.
Hence, you can buy the machine first, experiment with it, and then purchase one of the bundles. You can also buy one of the bundles, including the cutting machine, which is cheaper than buying the machine and bundle separately.
I suggest buying one of the bundles available on the Cricut website, as they offer the best value and additional tools, blades, extra cutting mats, and a selection of craft materials, such as card stock and vinyl. It will save you a lot of money and time gathering individual tools and accessories.
What Materials Can A Cricut Cut?
The Cricut machines can cut numerous materials quickly and precisely. The Cricut Maker series can handle the widest variety of materials, while the Cricut Explore series also has an impressive range.
Some of the materials all Cricut machines can cut are:
Plain paper
Cardstock
Vinyl
Heat transfer vinyl
Faux leather
Posterboard
Craft foam
Cardboard
Felt
Parchment paper
Sticker paper
Foil
The Cricut Maker 3 can also cut heavier materials like balsa wood, natural wood veneer, and basswood, as well as fabric and felt using its rotary cutter. Moreover, it can cut thin wood veneer using the deep-point blade. While the Cricut Explore 3 can also cut fabric, it needs a stabilizer fused to the back of the fabric to keep it stiff.
Is It Hard To Use A Cricut Machine?
In the beginning, the machine assembling, learning the software, and starting the first project may seem intimidating. However, you can find multiple helpful Cricut tutorials online that guide you through every step and make the entire process more manageable.
As you get used to operating the machine, it becomes easier, especially if you are tech-savvy. It also helps to have all the materials at hand so you can produce the first project immediately after setting up the machine.
I recommend downloading the Design Space software as soon as you order the machine, finding your way around it, and creating some designs. This will help you feel more prepared and less overwhelmed once your Cricut box arrives.
What Is Cricut Design Space?
Cricut Design Space is a user-friendly software program that is available for free for every Cricut customer. It allows you to create, organize, transfer, and manage your files, so the Cricut machines can implement the required measures to materialize your project. You cannot operate your Cricut machines without the software.
With the Cricut Design Space app, you can use your iOS and Android devices to access the software, in addition to your desktop computer.
Apart from creating your designs using the convenient interface, you can also upload an SVG file to the Design Space software and use the editor to add the final touches before you send the design to the Cricut machine. Moreover, you can also browse through the vast Design Space library for pre-made projects and files ready to download.
While some of these are free to use, others require a subscription to Cricut Access.
What Is Cricut Access?
Cricut Access is a subscription offered within the Design Space software that unlocks access to an extensive range of cut-ready premium images, exclusive graphics, unique fonts, and licensed artworks (from brands like Start Wars, Disney, and Marvel).
You also get exclusive savings (10%) at the cricut.com purchases, including machines, and 20% off all materials with the Premium plan.
The Standard plan is $9.99 per month and $95.88 per year, and the Premium plan is $119.88 per year.
What Is a Cricut blade?
The Cricut blade is the main component of the entire assembly, responsible for performing the primary task. There are a total of seven Cricut blades available that are used to cut different materials. In addition, there are three crafting tools available for the Explore and Maker series.
Premium fine-point blade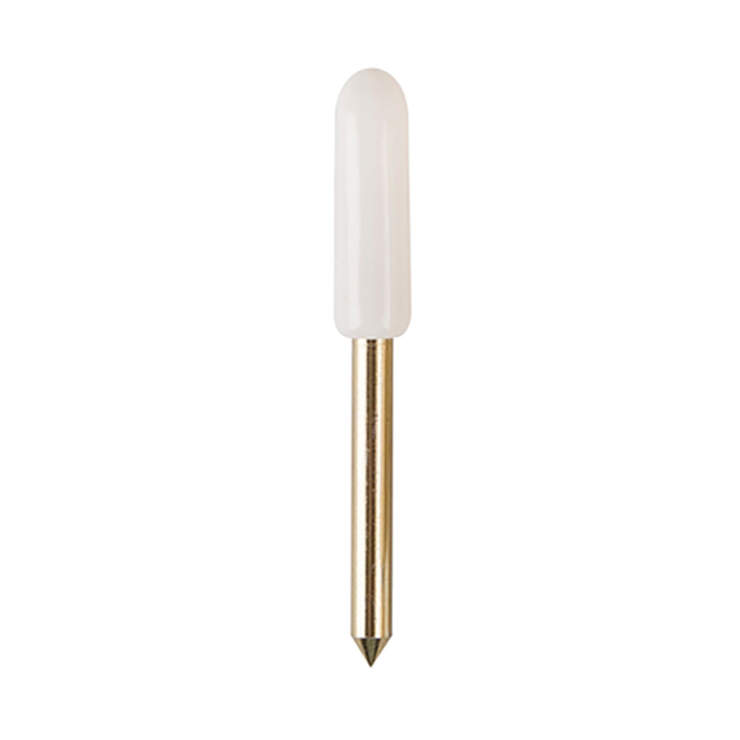 A Premium fine-point blade is ideal for light and medium-weight projects, using paper, cardstock, vinyl, poster board, etc. It was previously available in silver color but now comes in a striking gold hue.
Deep-point blade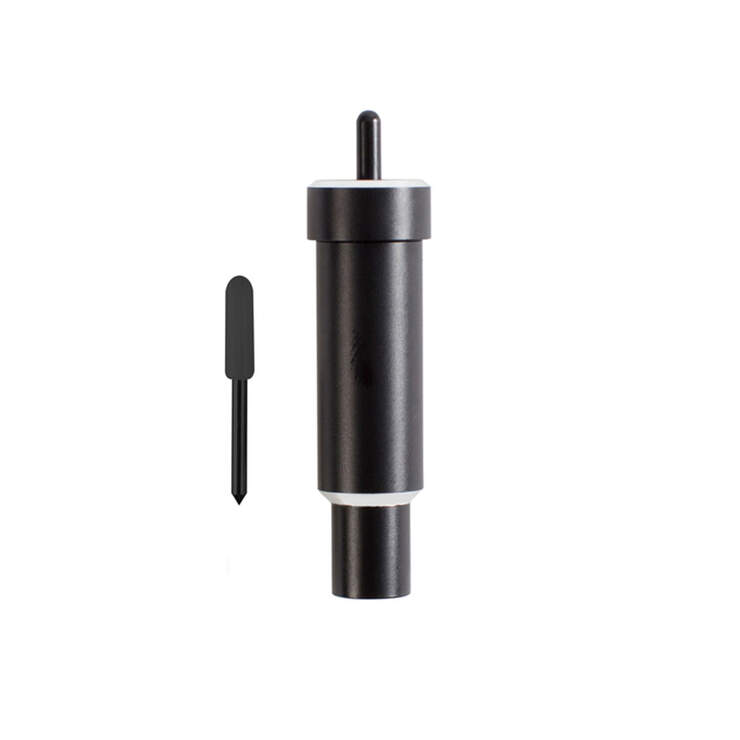 The deep-point blade is made from hard, durable steel and has a steeper blade angle than the fine-point blade. It is black and suitable for cutting intricate patterns on materials like a magnet, thick cardstock, foam sheets, stiffened felt, and some fabrics.
Bonded-fabric blade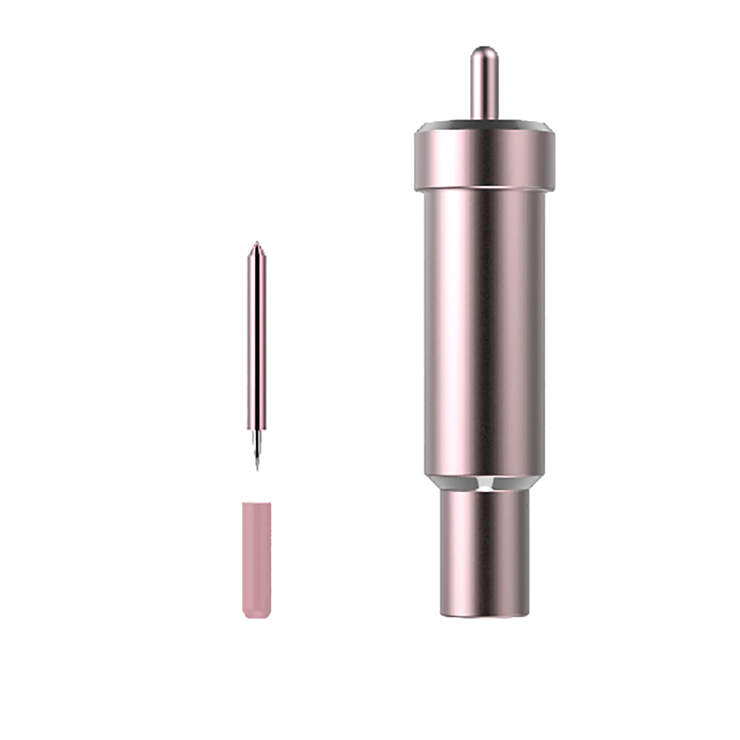 Bonded-fabric blade is useful for cutting a wide variety of fabrics bonded to a stabilizer or a backing material. The main reason behind offering a separate blade for cutting fabric is to ensure its prolonged life and quality. The blade is pink in color.
Rotary blade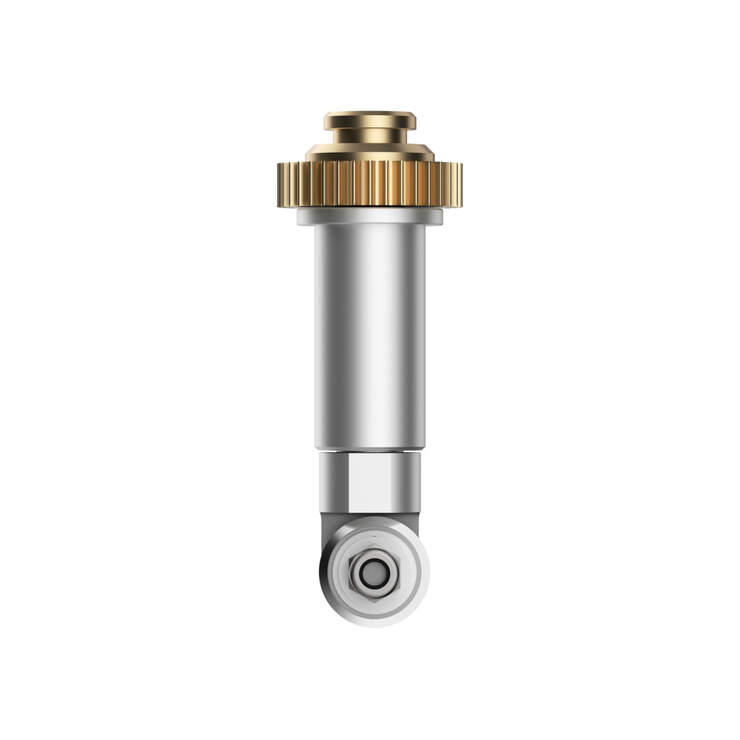 A rotary blade can cut any fabric, including silk, denim, and cotton. It can also cut delicate materials like tissue paper and crepe. Unlike the bonded-fabric blade, it can cut fabric without any stabilizer since the blade rolls and does not pull while cutting. With the rotary blade, fabric cutting becomes a breeze.
Knife blade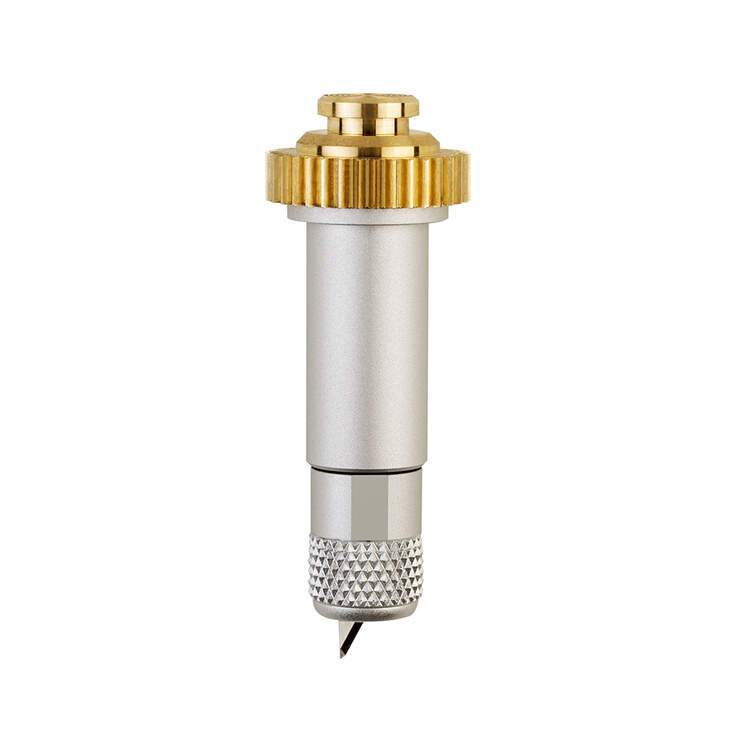 A knife blade is a powerful blade ideal for cutting thicker materials like balsa wood, thick chipboard, leather, etc. The best part is that you can use it to cut material with incredible precision and ease.
Perforation blade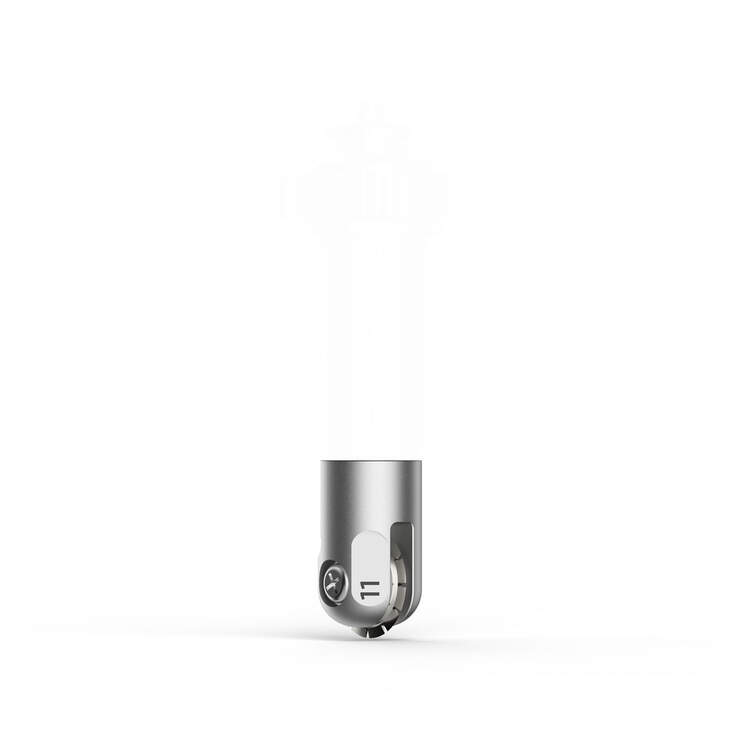 Perforation blade enables you to create projects with a tear finish. You can also get smooth tears and easy peel-offs for curved shapes. The blade attaches to a QuickSwap Housing, which is sold separately.
Wavy blade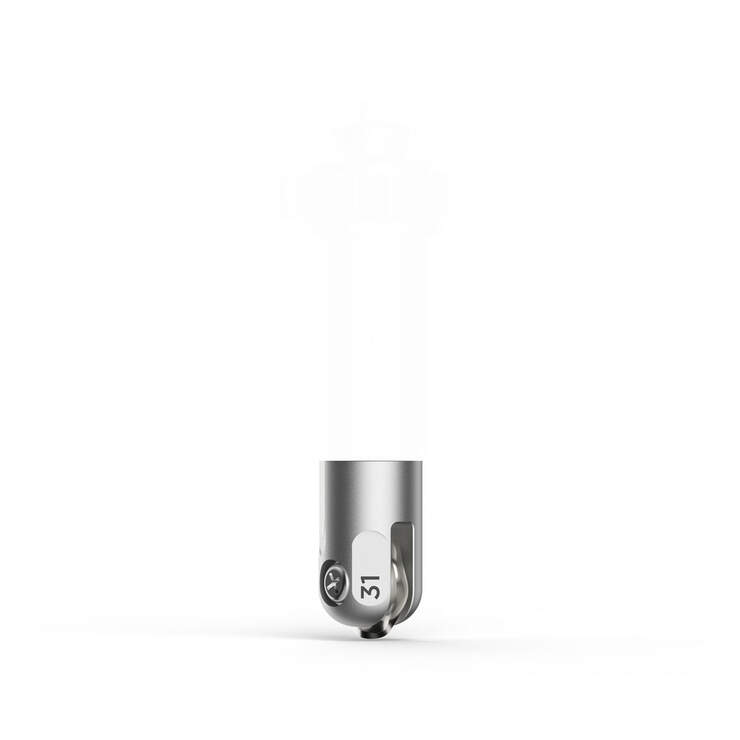 A wavy blade adds a unique, artistic touch to your projects by creating a wavy effect on the edges instead of cutting straight lines, achieved by using the fine-point or rotary blade. It is perfect for original vinyl decals, envelopes, gift tags, iron-on vinyl designs, etc. It attaches to the QuickSwap Housing.
Scoring wheel tip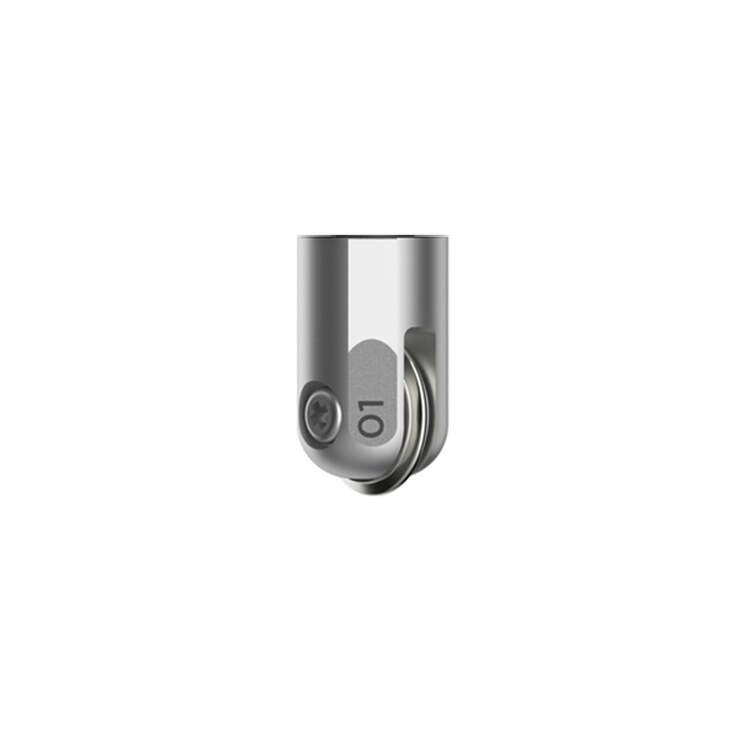 The scoring wheel tip is used to create scoring lines to achieve perfectly smooth and crisp folds on your material and is ideal for people who score often. It delivers ten times the pressure of the scoring stylus to produce extra-deep score lines and attaches to the QuickSwap Housing.
Engraving tip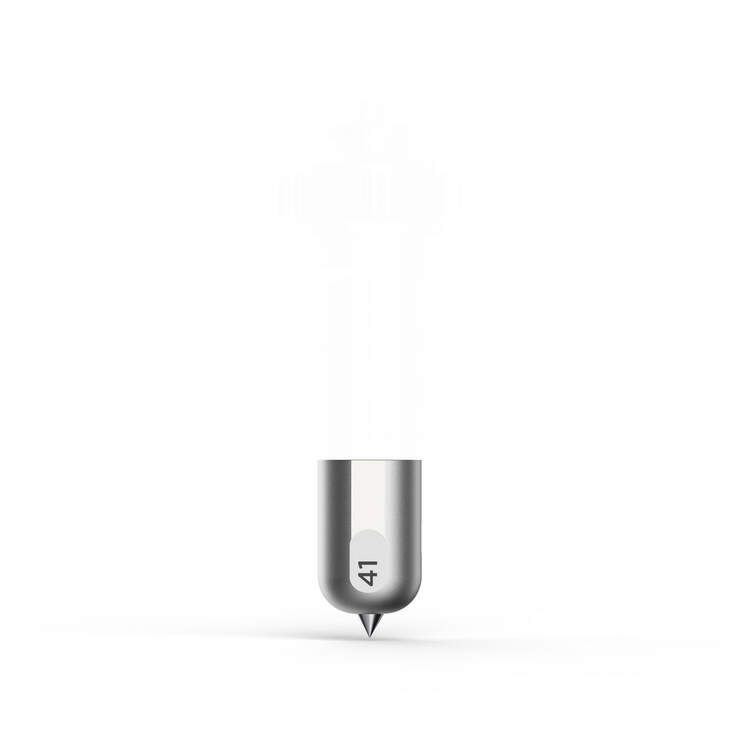 Engraving tip allows you to engrave various types of material to create professional-looking texts, personalized cards, monograms, or engraved keepsakes. The tip easily snaps into the QuickSnap Housing to produce the most elegant projects.
Debossing tip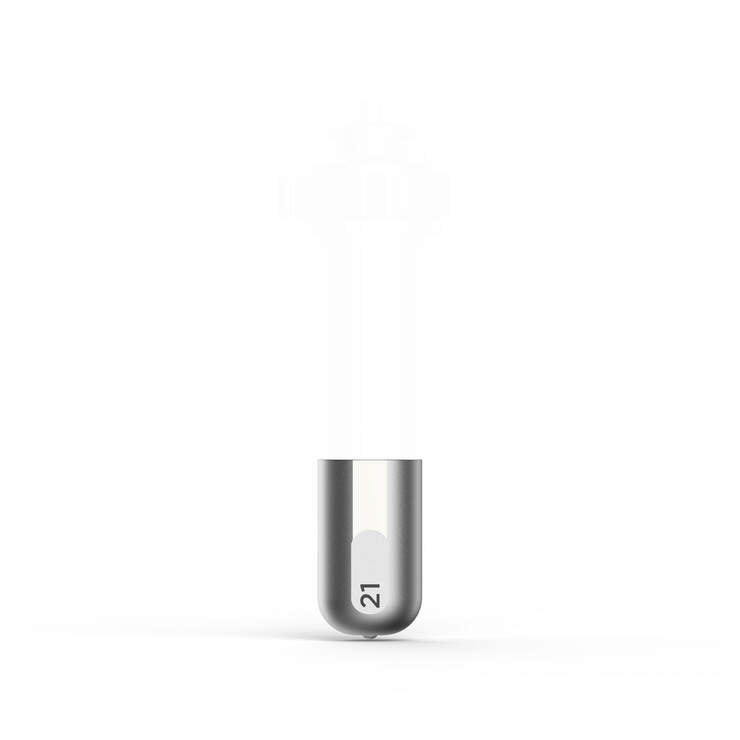 Debossing tip pushes the material in to create detailed and permanent designs using a rolling ball. You can use it on various materials, including coated paper, foil poster board, foil cardstock, basswood, and shimmer paper, after attaching it to the QuickSwap Housing.
Foil transfer kit
Cricut also offers a foil transfer kit besides the blades and tools. It is a 3-1 tool that enables you to create shiny foil effects quickly and easily. It has a fine, medium, and bold tip to help you control the amount of sparkle you want to add to your projects to take them to the next level.
Are All Blades Compatible With All Cricut Machines?
Unfortunately no, not all blades work for all Cricut machines. The new blades released by Cricut are only compatible with the more sophisticated Maker series, which houses the new cutting system called the Adaptive Tool System. This system allows the machine to cut at a force ten times stronger than other Cricut machines.
The following blades are compatible with the Cricut Maker family: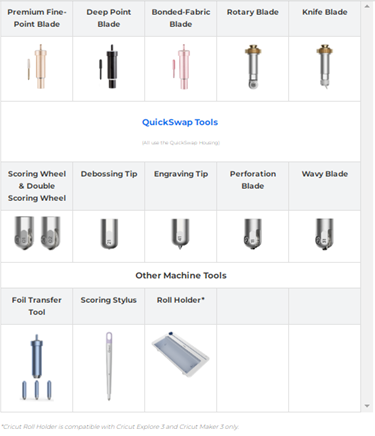 The following blades are compatible with the Cricut Explore family: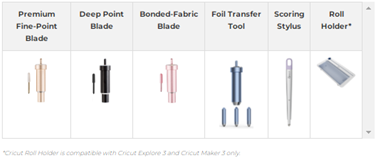 Cricut Joy uses the multi-purpose fine-point cutting blade and a special foil transfer tool, which is only compatible with the compact cutting machine.
What Is Adaptive Tool System?
The Adaptive Tool System is a cutting-edge technology that controls the direction of the blades and tools continuously. It is also responsible for adjusting the pressure exerted by the blades according to the material's thickness and densities. Consequently, you achieve optimum results every time.
The system is only available in the Maker series, while the Cricut Explore family has the Smart Set Dial for manually changing the settings for different materials.
What Are Smart Materials?
Cricut Smart Materials are clever craft materials that eliminate the requirement of a cutting mat. You can load the material directly into the Cricut Maker 3 and Cricut Explore 3 machines. As a result, you are not limited by the dimensions of the mat and can create much longer projects.
Smart Materials are available in three types: Smart Iron-on, Smart Vinyl, and Smart Sticker Cardstock.
What Are Cricut mats?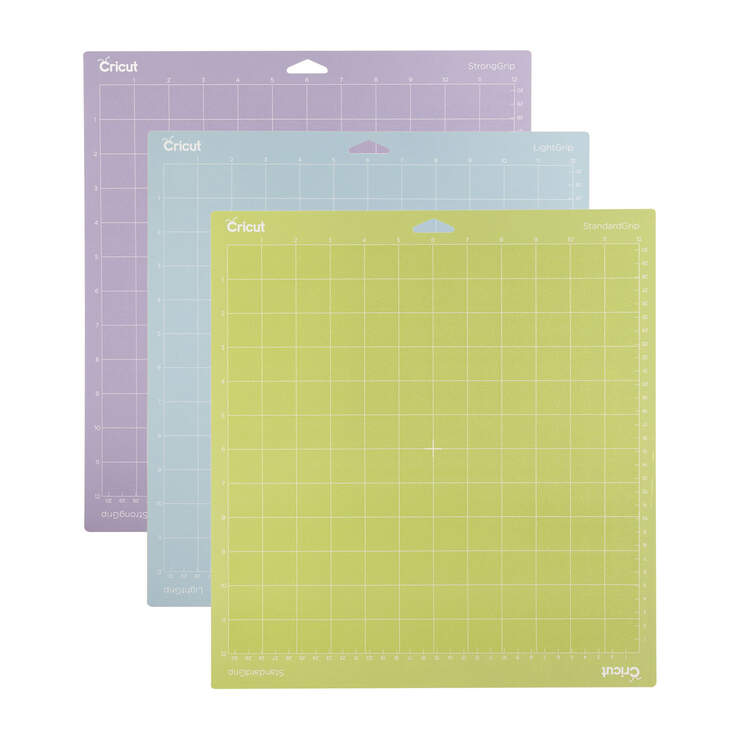 A Cricut mat is a reusable, adhesive mat that grips your material and holds it in place while the Cricut cuts your projects. There are different mats offered by Cricut with varying levels of stickiness, each with a different color for identification.
After the cut is complete, you can easily peel off the cut materials from the mat. To maintain the optimum condition of the mat, use the scraper to scrape off excess pieces still stuck to the mat and store the mat after replacing its clear cover.
There are two sizes of mat available:
12 by 12 inches
12 by 24 inches
What Are Cricut pens?
Cricut offers a range of specialized pens and markers to write text, draw doodles and illustrations, and color on the material. These include everything from fine tips to calligraphy pens to glitter gels pens.
The best part is that all Cricut machines support pens. However, while the Maker and Explore series can use the pens interchangeably, you need special pens for Cricut Joy that are smaller in size. Simply attach an uncapped pen to the tool holder of the Cricut machine and begin creating your design.
What Is Infusible Ink?
Cricut Infusible Ink is an ink transfer material used to create and transfer designs to a base material. Unlike the iron-on and HTV process that attaches on top of the base, the Infusible Ink artwork becomes one with the material.
Hence, you get bright, breathtaking, and seamless results that are also durable. Designs made with Infusible Ink do not peel, crack, or flake, making them perfect for selling, gifting, or personal use.
Can A Cricut Machine Print, Laminate, Emboss, Or Sew?
The Cricut machine can do many things, but it has limitations.
Print: While the Cricut cannot print, it has all the tools necessary to draw, outline, color, etc. using its pens and markers
Laminate: The Cricut cannot laminate
Emboss: Cricut Cuttlebug was the only Cricut machine that could emboss materials. However, it has been discontinued. None of the other machines can emboss, but the Maker series can deboss
Sew: The Cricut cannot sew, but you can use it to cut fabric neatly and accurately before you sew them together
What Is A Cricut EasyPress?
Cricut also offers EasyPress machines. The Cricut EasyPress is an incredible heating device that allows you to transfer your iron-on, heat transfer vinyl, or Infusible Ink design to a particular surface.
Currently, Cricut offers six heat press devices that range in size and use.
Cricut Autopress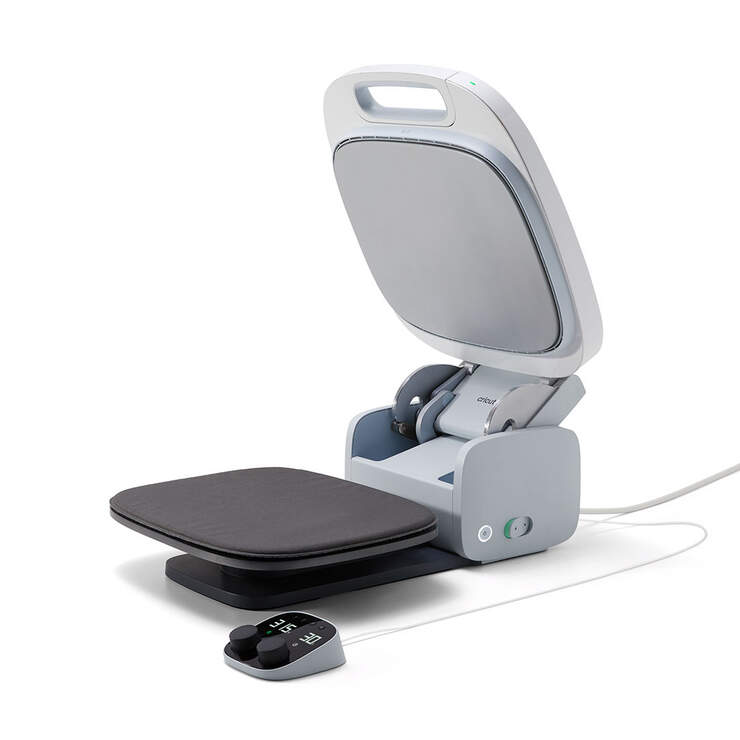 Cricut Autopress is a new heat press device and the most expensive Cricut machine ever.
The plate offers edge-to-edge heating, ensuring even and high-quality results. It features a 15 by 12 inches heat plate and an extra wide clearance border to prevent accidental burns. The large plate also means you can press more significant projects on your desired material.
The Autopress is extremely easy to use, with a new "Zero Effect" technology that allows you to close the device with just two fingers and auto-release it once the pressing cycle finishes.
The machine adjusts its height automatically, depending on the width of the project. Moreover, you can use materials of up to 2 inches in thickness.
Autopress has a relatively steep price, so it is only ideal for people with a t-shirt printing company who can make the most use of this sophisticated device.
Cricut EasyPress 3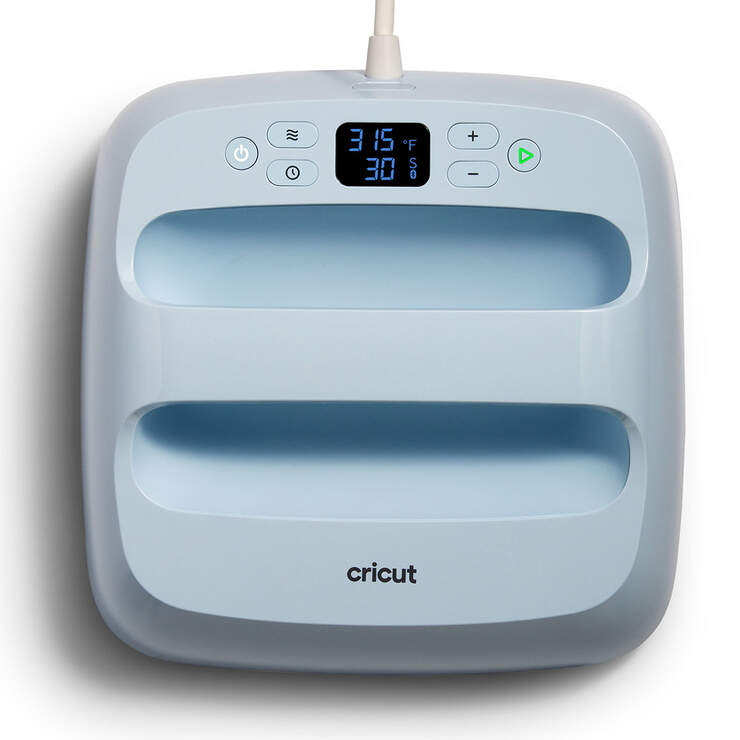 Cricut EasyPress 3 is another heat press device with impeccable functionality. It has a dual heating element and a ceramic-coated plate, enveloped by a sturdy, compact housing. It is available in two sizes; 9 by 9 inches and 12 by 10 inches.
The plate can heat up to 400 degrees Fahrenheit, so you can use it to heat press custom designs on multiple surfaces, including t-shirts, aprons, coasters, etc.
The cool part about this EasyPress device is that it connects to the Cricut Heat app via Bluetooth and allows you to control the time and temperature with a single tap. The app also makes the transferring process much smoother with simple instructions and helpful prompts.
Cricut EasyPress 2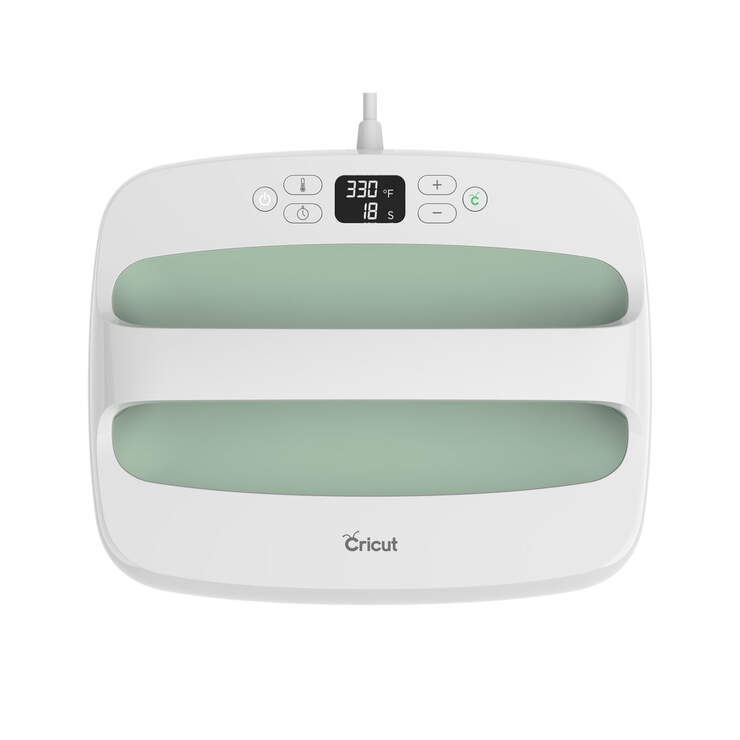 Cricut EasyPress 2 is an older model yet still available to buy at the Cricut store. It is available in two sizes, the smaller 9 by 9 inches one and a slightly bigger one in 12 by 10 inches.
It offers the same high-quality heat press results as its successor, with the heat evenly distributed across the base plate and precise temperature control that can go up to 400 degrees Fahrenheit.
However, it is not compatible with the Cricut Heat app. Instead, you can refer to the online Heat Guide to determine the ideal heat settings based on your project.
Cricut EasyPress Mini
Cricut EasyPress Mini is a small heat press device (3.25 by 1.92 inches), perfect for small projects and awkward surfaces, like shoes, baby onesies, caps, pockets, etc. Despite its compact size, it delivers the performance associated with a Cricut machine. The lightweight also makes it easy to store and carry around.
It has a ceramic-coated heat plate, which allows even heating. The device comes with three heating settings, low, medium, and high, which work for most materials. The ergonomic handle design manipulates the device effortlessly.
Like most heat presses, it works with HTV, Infusible Ink, and sublimation projects. EasyPress Mini is the ideal companion for your Cricut cutting machine and larger heat press devices.
Cricut Hat Press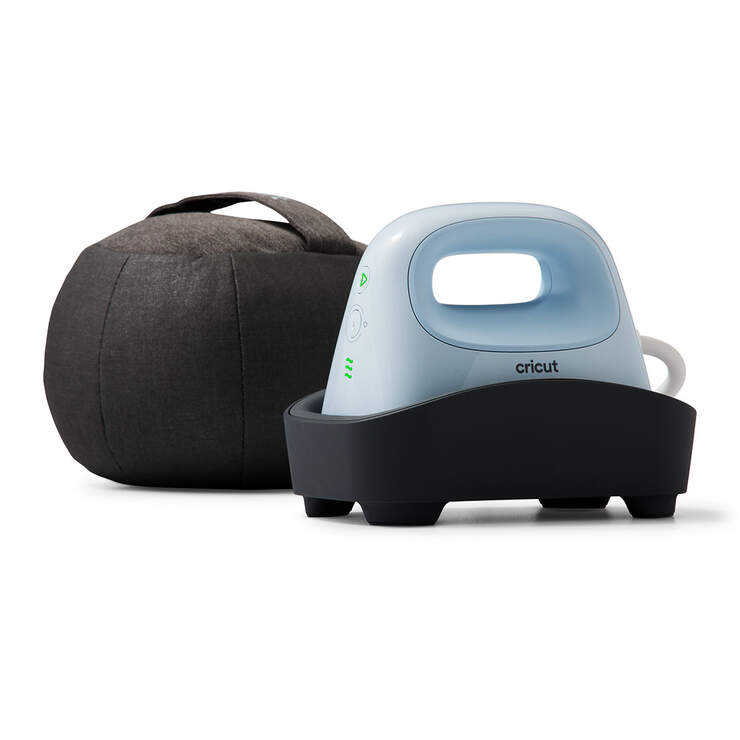 Cricut Hat Press is a small device used exclusively for creating custom designs on hats and caps. The device works on most materials and surfaces, making it useful for people who create customized headwear for teams, corporate events, etc.
The curved shape of the hot plate allows it to mold to the cap or hat, producing flawless, durable results. You can easily adjust the heat settings, which can reach up to a temperature of 400 degrees Fahrenheit.
Like EasyPress 3, you can also connect your device to the Cricut Heat app for convenience and ease of use. Finally, it is compatible with iron-on, Infusible Ink, and sublimation products.
Cricut Mug Press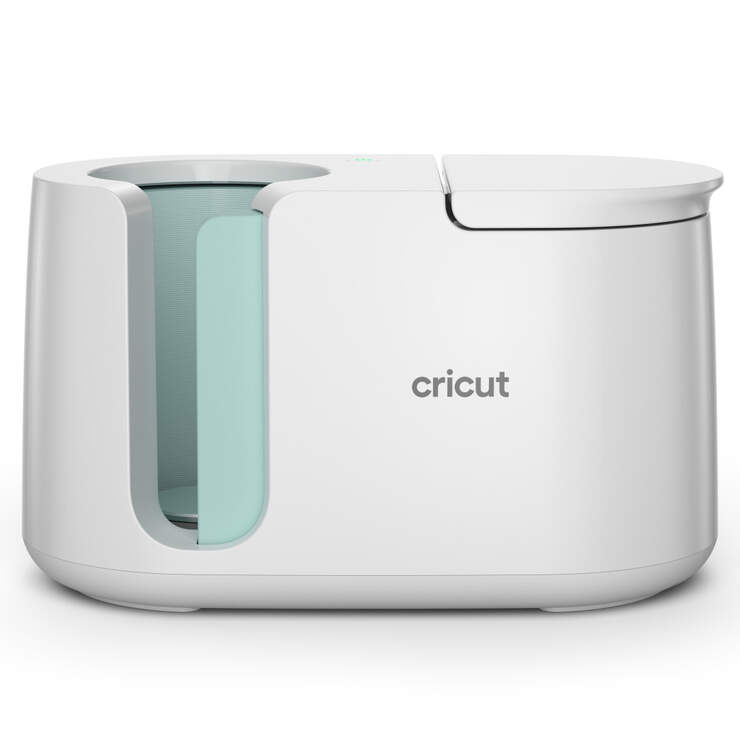 Cricut Mug Press allows you to make peel-proof, dishwasher-safe, long-lasting mug designs using Infusible Ink sheets, pens, and sublimation prints. You can use the device to make mugs for corporate branding, gifting, selling, or personal use.
The device is very simple to operate, with a one-press function that automatically sets the temperature and pressure. However, you cannot design just any mug. You need to purchase special mugs from the Cricut shop.
Is A Cricut Machine Worth It?
It all depends on your passion for crafting, how often you create projects, and your budget.
If you love to produce new things, use your scissors or x-acto often, and feel that you would use your Cricut machine all the time, I would suggest you to go for it.
The machine will save you a lot of time and effort that goes into painstakingly cutting materials for your projects. It quietly, quickly, and seamlessly cuts the most complex patterns at the press of the button. The quality of your designs will also be far superior to crafts you cut by hand.
While we cannot ignore the price a bit high, it is worth the investment if you get good use out of it. In addition, the range and thickness of materials it can cut are unparalleled.
Finally, you can wait for one of Cricut's promotions to score a good deal or opt for a bundle that includes a lot of material, tools, and the machine at a reduced price.
Which Cricut Machine Should You Get?
If you ask me about the best Cricut machine, I would say Cricut Maker 3 is hands down the most capable cutting machine. It can cut hundreds of materials and is compatible with all the newer tools that make crafting much more fun. It can also cut faster and with more force than any other Cricut machine.
Moreover, we can easily expect more releases of new tools and blades in the future, which will make use of the Adaptive Tool System, available only in Cricut Maker 3.
On the other hand, you may not require the extensive range of tools available with the Maker 3. You may only need the most basic blades for your craft projects. In that case, you will be paying a lot of money for capabilities that are useless to you.
In that case, you can check out the Cricut Explore 3, which is perfect for beginners with a smaller budget. It can cut over a hundred materials, including cardstock, vinyl, bonded fabric, cork, and glitter paper.
Thus, think about what kind of materials you want to cut and what projects you would make most often, and then choose the machine you should buy.
Wrapping up
So there you have it. A detailed description of almost everything related to the Cricut machines. Hopefully, the article has answered many of your most pressing questions, especially if you had no idea what a Cricut machine is.
To summarize, the Cricut cutting machines are smart devices that can quickly and easily cut detailed patterns on numerous materials, making crafting a dream. Cricut also manufactures a number of proficient heat press devices to create designs on shirts, shoes, pillowcases, caps, mugs, etc.
Thus, if you are looking to buy a Cricut machine, make sure it fulfills your requirements for a sublime crafting experience.
Comment below to let me know if you have used a Cricut machine before and what is the one project you made with the Cricut that you are most proud of!