Email marketing is amongst the oldest yet most effective communication channels that have persevered despite the rise of social media and its numerous marketing opportunities.
When done right, email marketing has a fantastic ROI where for every $1 you spend, your email generates around $36 in return.
Therefore, I am sure you are dedicating all your efforts to curating emails that entice the recipients to read your content before sending out your email blast. But wait!
Did your email just end up in the recipients' spam folder? Did all the hours and hours of strategizing, planning, and creating just go down the drain?
As devastating as that is, it is time to reevaluate your emails and determine what could be the reason(s) that your emails are going to the spam folder. Below, I have compiled an exhaustive list of reasons your email is flagged as spam. I have also included actionable insights on how to tackle the issue.
18 Reasons Your Mail End Up In Spam Folders and How to Avoid it
Due to the prevalence of spam emails, numerous internet service providers, like Google and Yahoo, have developed strict spam filters that flag an email at the slightest hint of misconduct. Consequently, in September 2021 alone, almost 84% of the 105.67 billion emails were marked as spam.
However, occasionally even the legit emails cannot bypass the filter and are marked as spam. This can lead to a frustrating situation that can hurt the brand's reputation and eventual profit margins.
Therefore, if you have recently asked yourself, why are my emails going to spam? I have got you covered.
Check out the list below to determine what's causing your emails to find their home in the spam folder and how you can fix the issue.
1. Your recipients flagged your emails as spam
One of the most apparent reasons your email was flagged is that your recipient never signed up to get emails from you or bought an email list. It is strictly against email marketing ethics to send an email without the recipient's permission.
You are potentially violating the CAN-SPAM Act and may be subjected to severe monetary penalties. You also alienate a user that might have been a prospective lead, missing any chance of a future conversion.
Solution:
Focus on creating an authentic subscriber list. If you could generate some leads, approach them with a personalized email to entice them into subscribing to your email list. You can also offer something in return, such as a discount code, a PDF, a free sample, or an e-book to nudge users into sharing their email addresses.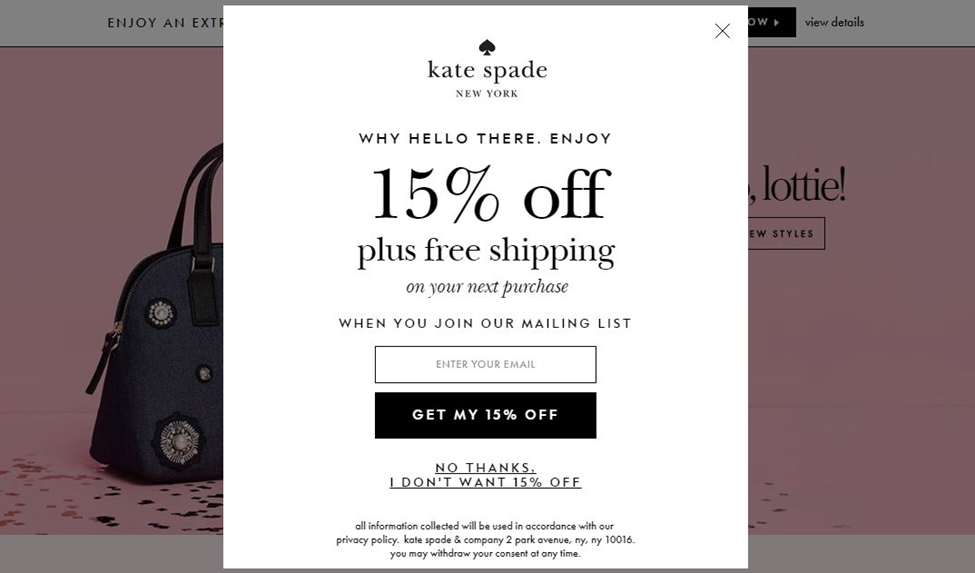 2. Your subject lines are misleading and triggering spam filters
The subject line has a huge responsibility that can ultimately decide the fate of your email marketing campaign. It needs to captivate the reader at a single glance and compel them to open the email.
It is not surprising that many marketers stoop to shady tricks such as generating misleading email subject lines just to increase their open rate. They may be able to achieve their target but is this tactic worthwhile?
The answer is a big resounding no!
This is because it is against the CAN-SPAM Act to intentionally mislead the reader into viewing an email with a deceiving subject line, and one of the main reasons emails go to spam.
According to a survey by Litmus and Fluent, more than 50% of the participants said that they "have felt cheated, tricked, or deceived" into clicking on a promotional email after reading the false subject line.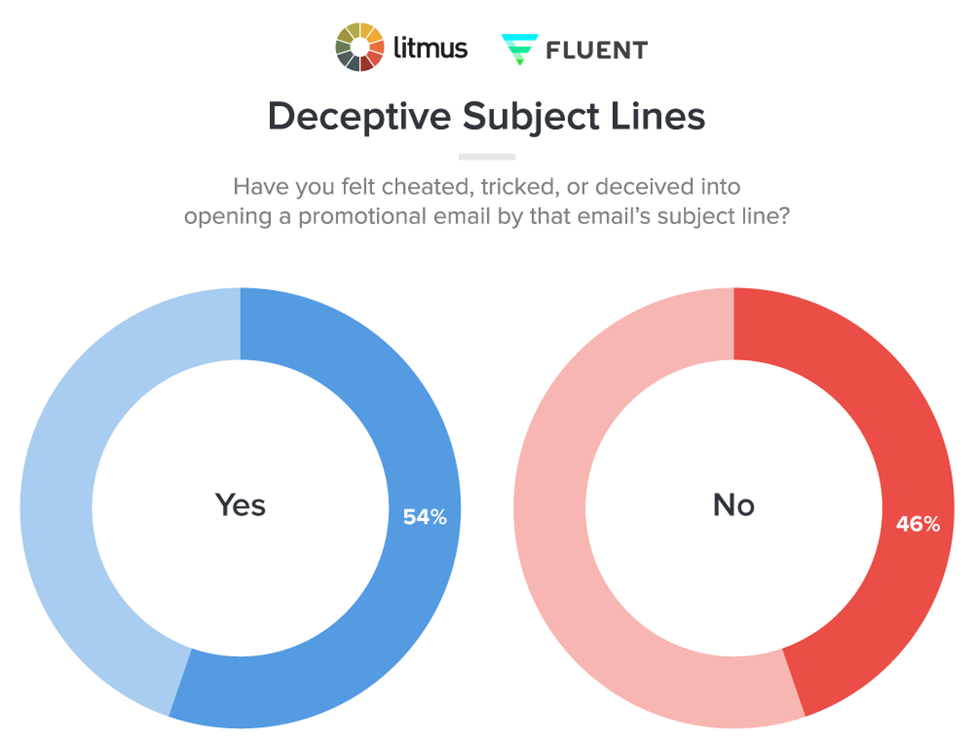 Solution:
Subject lines are the cornerstone of successful email marketing. According to an infographic by Invesp, 47% of the email recipients view the message based on the subject line alone.
Therefore, write subject lines that highlight the email content most compellingly and avoid disappointing your subscribers with false promises. Misleading subject lines can decrease the open rate of your subsequent emails and harm your integrity as a brand.
3. Your email content includes spam trigger words
Certain words can trigger spam filters when used in the email content or subject line. If your email has some other issues (mentioned on this list) in addition to these spammy words or phrases, you will find your emails in the recipient's spam folder.
Some of the spam trigger words and phrases to avoid are:
· Free
· Check or money order
· Lowest price
· Easy money
· Amazing
· Congratulations
· Great offer
· Online biz opportunity
· Cash bonus
· Incredible deal
· Profits
· Dear (name/email)
· No strings attached
You should also prevent including words in all caps, exclamation marks, and a trail of emojis, primarily in subject lines, as they are often associated with spam.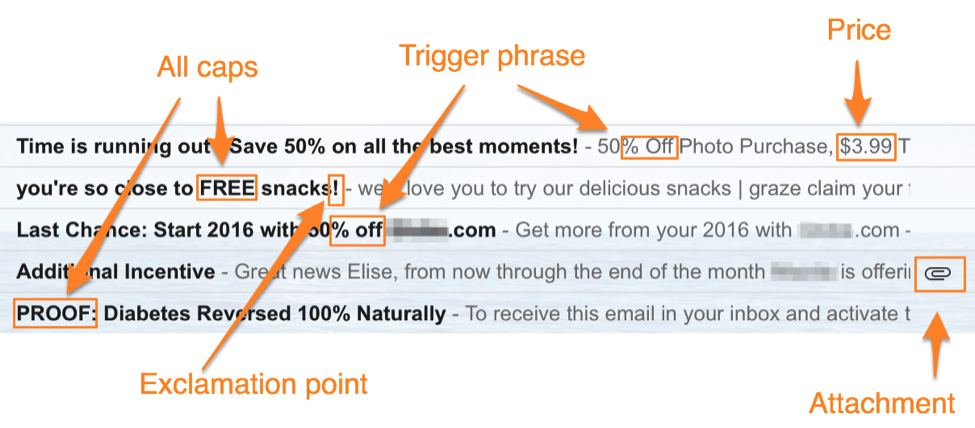 Solution:
The simple solution to ensure that your email content does not contain any spam trigger words is to use tools like Litmus or Mail Tester. These sophisticated tools monitor your emails for spam words and expedite your email marketing efforts.
4. Your subscriber list contains multiple inactive email addresses
Another factor that can alert spam filters is the number of inactive email addresses on your list. An inactive user account refers to an account that has not been used in a long time.
Hence, if your email service provider discovers that you have a lot of inactive accounts relative to the active accounts, they can consider it a red flag. Moreover, these accounts also affect your open and bounce rates, making you look bad as a sender.
Solution:
As a fellow digital marketer, I understand how hard you have worked to curate your subscriber list. However, a list of inactive accounts is not doing you any favors.
Hence, to avoid your emails being flagged as spam, you have to clean your list periodically. Remove any recipients that have not opened your emails in the two years. You can try to give your email subscribers one last chance to interact with your campaign.
Check out this email from Canva. It gets straight to the point and provides the recipient with one last option to continue receiving emails.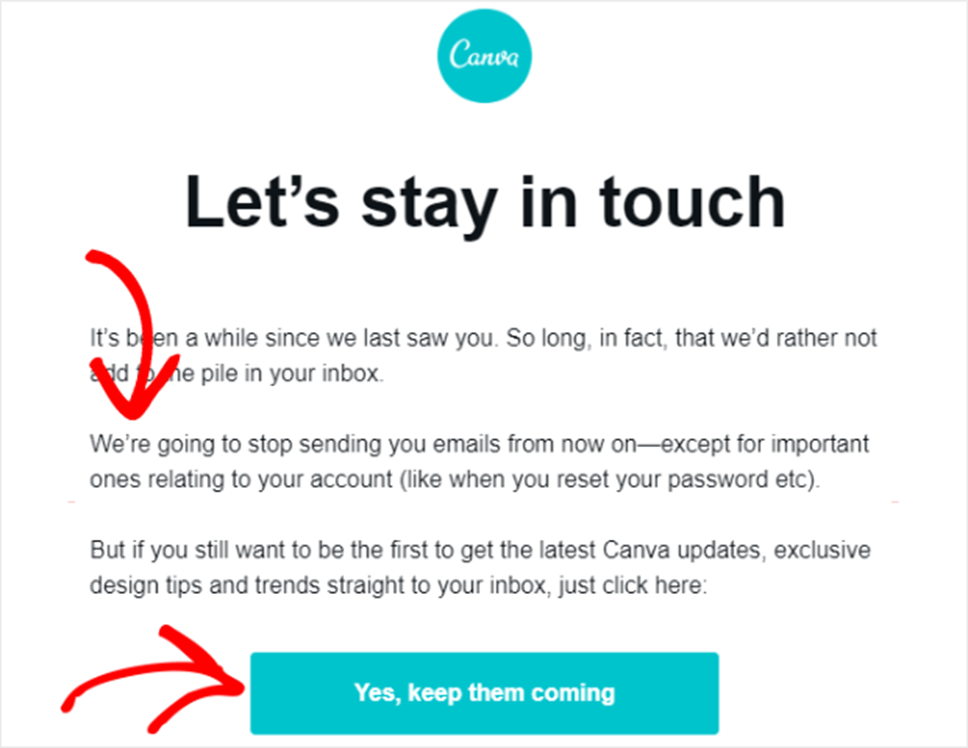 5. Your physical address is missing from your sender information
It is a legal requirement to include your physical address in every newsletter. Non-compliance with the CAN-SPAM Act can be incredibly costly. To top it off, the absence of a valid physical address triggers the spam filters.
Solution:
Include a valid physical address in all your emails. By valid, I mean an address where your subscribers can reach you via postal service, not the address of an empty lot in the middle of nowhere.
If you do not have a physical business location and cannot include your current street address, you can get a post office box registered with U.S. Postal Services. You can also get a private mailbox registered with a commercial mail receiving agency that has been established under Postal Service regulations.

Moreover, when you include a physical address in every marketing email, you provide proof of your company's credibility. It tells your subscribers that you are a legitimate business accessible to its consumers.
6. Your emails do not include the "Unsubscribe" button
Email marketers put in so much effort in generating a converting newsletter. It seems almost counterproductive to add an unsubscribe link. You want people to stick around to keep them in the loop about your business.
Sadly, you are mandated by the CAN-SPAM Act to include an unsubscribe button. Recipients can also register spam complaints against you if they are unable to stop receiving your emails, which is the last thing you want.
Solution:
Include the unsubscribe link in every email at the top or bottom of the page.
Keep it simple and easy to opt out. If the recipients have to jump through the hoops to terminate their subscription, it can be frustrating and generate negative reviews about your brand.
You are also required to process the unsubscribe request within ten business days.
However, you can use this opportunity to learn more about your potential customers. Once they click on the opt-out link, send in a survey to determine the reason for this action. Use these answers to improve your future email campaigns.
7. Your email authentication is not configured
Spam filters pay special attention to the sender's reputation and the email content. Email service providers may forego slightly spammy email content if the sender has an impeccable record.
So how can you preserve your reputation?
Solution:
If you use a service like Gmail, you can skip this point. However, if you have a custom email address, you can benefit from adequately authenticated emails.
Email authentication refers to verifying the sender's true identity and the origin of their emails.
You can use methods such as DomainKey Identified Mail (DKIM) and Sender Policy Framework (SPF) to make your emails appear more trustworthy and protect your brand's reputation. Without an authentication, your emails have an increased probability of going to spam.
8. You are not using a dedicated email sending service for the website
If you do not use an email service provider but send your emails from your website, they can go to spam, especially if you have a WordPress site. WordPress's default mail method to send emails has several issues.
Solution:
You should use a dedicated email sending service (SMTP provider) to avoid this problem. An SMTP service provider allows you to send emails reliably from your website to your users. These SMTP servers use proper authentication, ensuring that your emails land in the inbox.
I would recommend SMTP.com and Sendinblue since they are among the top SMTP service providers. SMPT.com has a generous 30-day free trial and nominal monthly charges.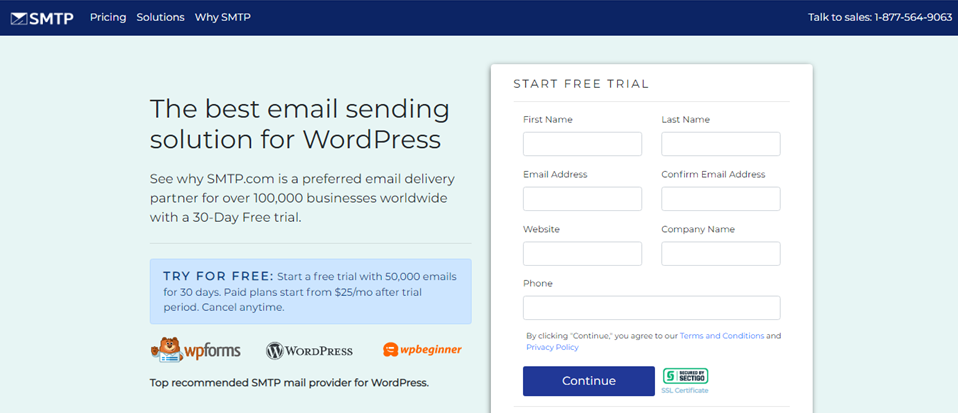 Sendinblue is great for beginners with a free plan that allows you to send 300 emails per day.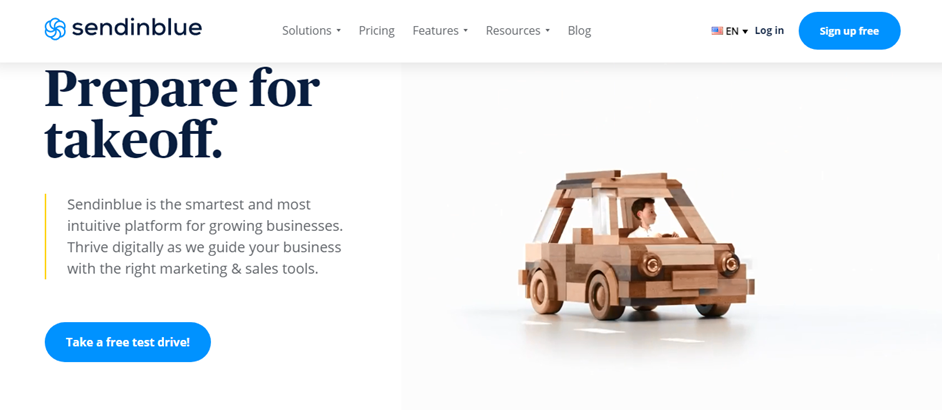 9. Your emails are not following HTML best practices
You want your emails to convert the readers, which is not always possible with text-only emails. Check out the example below. The email has a lot of text that can be cumbersome to read.
Therefore, you may want to add HTML elements to elevate the engagement rate of your email marketing. The following image includes the business's branding, attractive images, and a CTA button, making the message appear more compelling.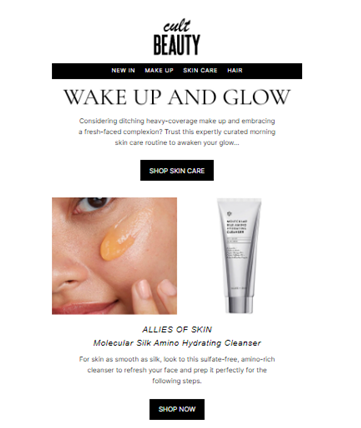 However, if the HTML in your message is not formatted correctly, the web browser may not be able to render the information correctly. Consequently, your subscribers will fail to view the email as you had envisioned it.
Solution:
To make sure that your recipients receive the most engaging content and your emails are not marked as spam, you should adopt the following HTML best practices for email:
· Keep the maximum width of your email to 600-800 pixels
· Make sure the image-to-text ratio is low
· Keep your HTML code as clean and light as possible
· Use clean, readable fonts
· Optimize the images
· Make your emails mobile-friendly
10. Your emails are not targeting the right audience
Expanding the email subscriber list is the top priority for most email marketers. But did you know that you may inadvertently sabotage your email marketing campaign by adding just anyone to your list?
Allow me to elaborate!
Email service providers and internet service providers analyze specific email metrics to determine whether the email is spam. Thus, when you send an email to a subscriber, who is not interested in your content, and they repeatedly:
· Fail to open it
· Open it but immediately exit it
· Move it to the junk/spam folder
· Delete it without opening it
These send a negative signal, increasing the probability of your subsequent emails being marked as spam.
On the other hand, when the subscribers are willing to connect with you, they:
· Open your emails
· Click on your CTA button
· Move the emails from spam to inbox
These are positive signals which indicate the success of your email marketing strategy.
Solution:
It's pretty simple; you should focus on quality versus quantity and getting the right kind of audience for your emails. Use tools to target the most relevant audience instead of casting a wide net.
You can also invite people following you on your social media pages to join your email newsletter. If they are already interested in your brand, they will be more likely to interact with your emails.
Finally, give your recipients unique content that offers value. Apart from just sending promotional newsletters and product launches, try to address their pain points and offer suggestions to alleviate their issues.
Below is an excellent example of such an email: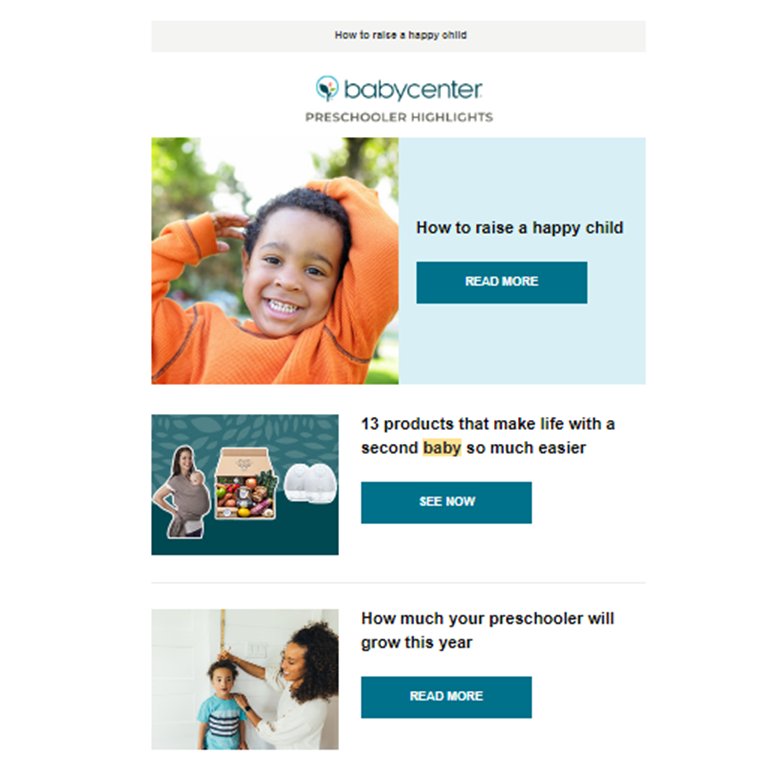 11. Your recipients are not engaging with your emails
As discussed above, email and internet service providers look at certain metrics to filter spam. These include open rates and read rates, which refer to how well your recipients engage with your emails.
So, if you are still suffering from a low engagement rate despite targeting the right audience, you may be committing one of the following mistakes:
· Sending emails at a bad time or in bulk
· Writing a dull email subject line
· Failing to maintain your subscriber list (discussed below in detail)
· Failing to segment your list
Solution:
You can systematically boost your engagement rate by targeting each issue mentioned above.
Use A/B testing to determine the best timeframe to send out your emails for starters. Next, stagger your email blasts, so your recipients do not feel overwhelmed (and send you to the spam folder).
Most importantly, divide your email list into segments. You can add tags to your subscribers based on their buying behavior or demographics. Consequently, you can optimize the email content based on the recipient (a recent subscriber, paying customer, young individual).
12. Your IP address was used to send spam
Even if you have always practiced ethical email marketing, your IP address could cause your emails to land in the subscriber's spam folder.
So, why does this happen?
If you send out your emails through an email marketing service and other users use the same service to email spam, it can affect your email deliverability.
Solution:
Use a trustworthy and reputable email service provider, as they have strict regulations to keep the sender's reputation intact and prevent malpractices.
You should also check your IP reputation regularly to ensure that other users are not sending spam emails using the same IP address as yours. You can use one of the many IP reputation checkers that rank IP addresses according to their reputation to see how your IP ranks on the list.

13. Your recipients don't remember you
Occasionally, recipients forget that they signed up for your newsletter and flag your emails as spam. If these spam complaints exceed a certain threshold, all your future email campaigns go to the spam folder instead of the recipient's inbox.
As a business owner or an email marketer, nothing more saddening than when this happens because it is something beyond my and your control. So why is this happening, and what is the solution?
Solution:
There can be two reasons for this problem.
Firstly, your marketing emails lack memorable and captivating branding. Therefore, create a consistent email marketing campaign where the brand colors, fonts, and templates remain relatively the same.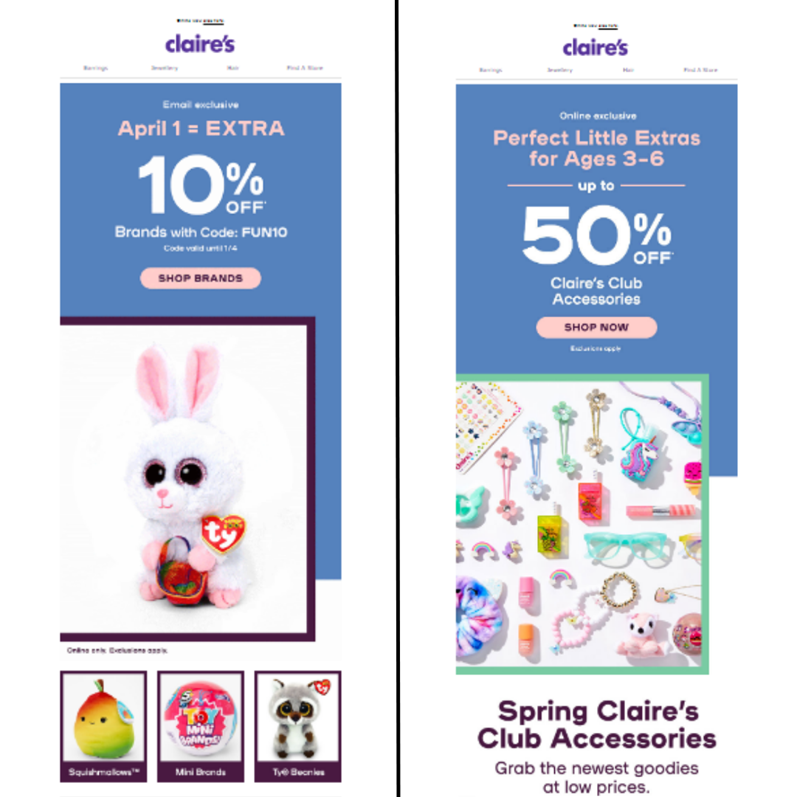 Secondly, your subscribers may not remember your because your emails are too staggered, causing them to mark your emails as spam.
Therefore, establish regular correspondence with drip campaigns or autoresponder series, with valuable content in every email. It also helps to remind the recipients that they have subscribed to the emails just to have your basics covered.

14. Your "From" info is misleading
The "From" line tells the recipient about the sender, which must be accurate. Misleading or incorrect "From" information is another reason emails go to spam since it is strictly against the CAN-SPAM Act. It also causes irreparable damage to your brand image.
The email below is an example of fraudulent activity, where the sender entered incorrect "From" information. The official-looking email was sent out to hundreds of people to scam them into sharing their personal details.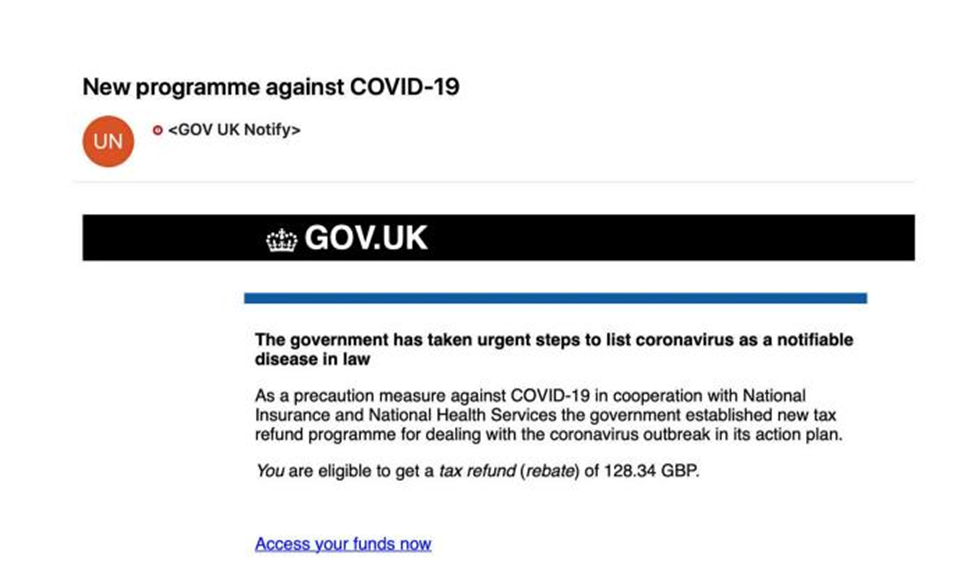 People use misleading sender information to make their emails appear important or time-sensitive to prompt recipients to open the email. Even if you manage to increase your open rate with this tactic, the fate of your future campaigns is doomed.
Solution:
Simple- always include accurate sender information in the "From" field.
Moreover, enter a name in your "From" field that is memorable and keep it consistent so the subscribers know that the email is from a brand they have allowed to send newsletters.
You can also add an element of personalization to your "From" field by including an individual's name and your company name. This imparts a human touch to your email campaign and makes it look more realistic.
Finally, include the originating domain name and email address to add credibility to your "From" field.
15. Your emails contain links to shady or misleading websites
One of the most obvious signs that an email is a spam is that it contains an ambiguous link and directs you to click on it.
Spam filters can flag your emails if the links you included lead to a spammy website with copyright infringement, malware, or other issues. It is also possible that the website itself is legit, but it is in close proximity to another domain that is spammy.
Another reason is that your display URL does not match your destination URL. So the reader clicks on a link thinking it will lead to the website mentioned in the URL but ends up on a completely different website.
Solution:
If your email has shady or misleading links, it will trigger spam filters. Therefore, make sure that all your links lead to a reputable site. Avoid using link shorteners as they are abused by spammers and can hurt your email's deliverability.
Instead, you can use HTML to transform any text or image into a link or add the link to an attractive CTA button.
16. Your emails have too many attachments
Spammers are notorious for sending malicious attachments that spread malware and viruses. Therefore, attachments are considered spam triggers.
If your email contains attachments, spam filters will most likely flag it and send it to the spam folders. Sending bulk emails with large files, especially the .exe or .swf files.
Solution:
It is always better to err on the side of caution and avoid sending attachments in your newsletters. If you do send attachments, keep the number to a minimum.
Generally, .gif, .jpg, .zip, and .pdf files are deemed safe to open. However, an even better option is to upload the file on your website or one cloud storage service, like Dropbox or Google Drive. You can then include the file link in your email.
These services are also great for sending larger files as some mail servers have a size limit.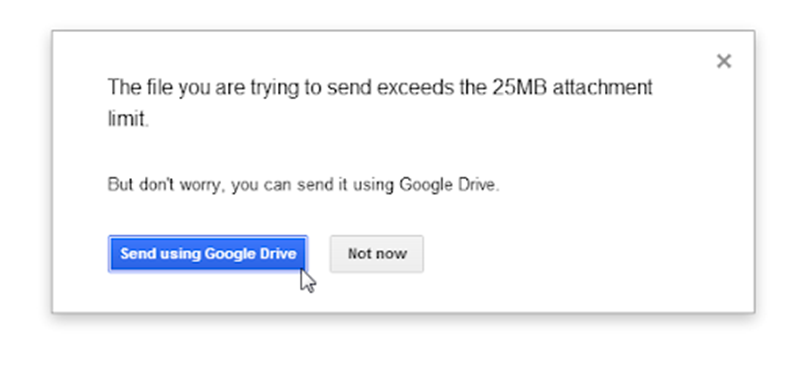 17. Your subscribers are not whitelisting your emails
Before we dive into how to make your subscribers add you to the whitelist, let's discuss why you want to be on the whitelist.
For starters, when a subscriber whitelists your email address, you are added to the approved sender's list. This is the ultimate stamp of trust, which means that your emails appear in the subscribers' inbox every time and are prevented from going to spam.
It allows you to get the most out of your newsletter and keeps you in front of your dedicated subscribers, so they do not forget you. Whitelisting also improves your credibility as a sender in front of the spam filters.
But how can you get on this coveted whitelist?
Solution:
Sometimes all you have to do is ask!
Whitelisting is a one-time task that is simple and quick. Thus, when you send the welcome email to your recipient, ask them to whitelist your email address. Most prominent brands make use of this strategy to improve their deliverability.
You can also add an instructions link on adding a contact to the whitelist to help the subscribers take suitable measures.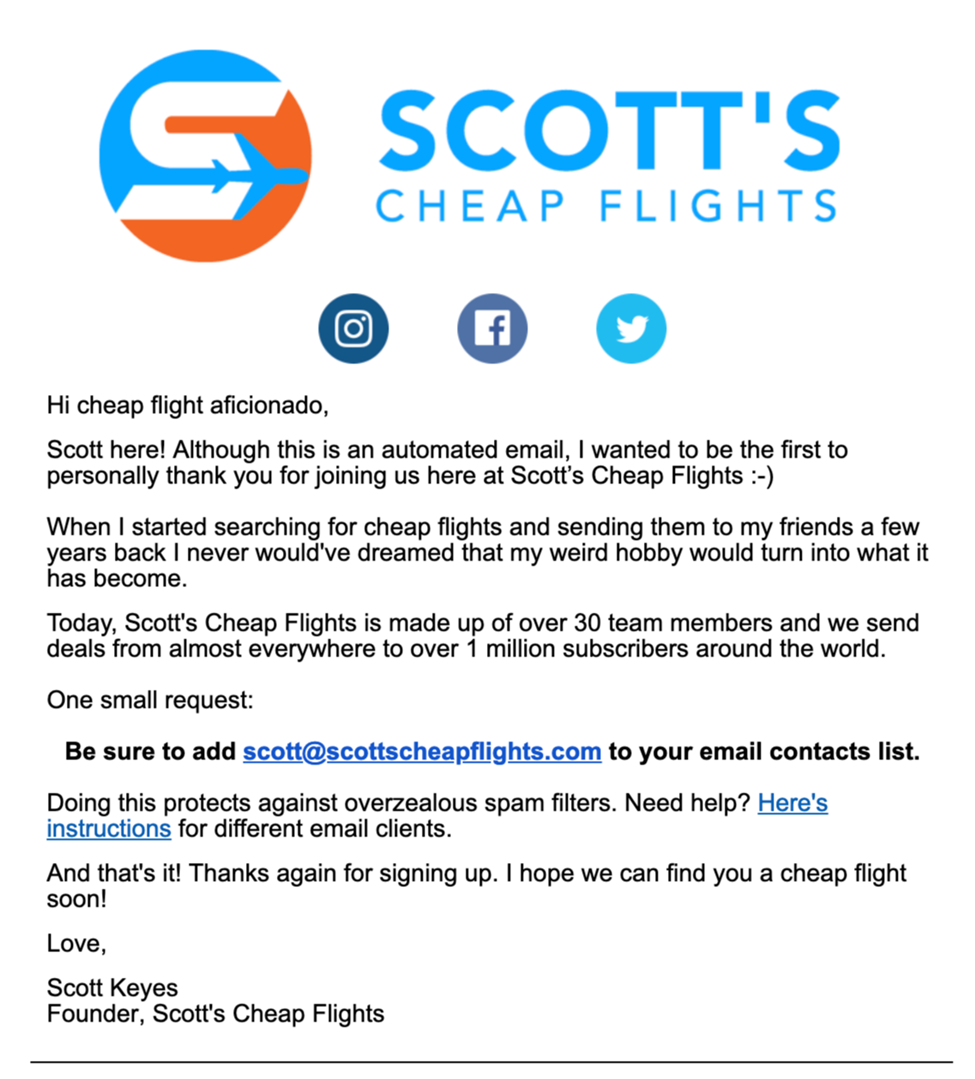 18. You are not utilizing a spam checker tool
If you are doing everything correctly and your emails still go to spam, you are missing one final step to ensure that your newsletters bypass the filtering process.
Solution:
Invest in a spam check that tests your emails for any issues that can trigger spam filters. These email optimization tools scan your emails to determine if they are spammy and other factors that can hinder the deliverability.
I have already talked about Litmus and Mail Tester, which have comprehensive testing capabilities.
Wrapping up
Spam filters have evolved to combat the increasing issue of spammy emails. Consequently, numerous reasons can cause the spam filters to flag your emails. The best course of action is to evaluate each problem and resolve it quickly following the above solutions.
The best practices prevent your emails from ending up in the spam box and augment your credibility as a brand, maximize the effectiveness of your email marketing campaign, and eventually improve your conversion rate.